So you've come to Santa Barbara and you've heard a lot about this "whale watching" business and you feel like it's time to embrace your inner adventurer and set out to sea to go find these magnificent creatures.
That was me, last October, seasickness pills in hand ready to feel like I was stepping foot into a Discovery Channel documentary.
There are a few different options for whale watching tours in Santa Barbara, and I debated for hours trying to make the right decision on which company to go with.
I didn't want to book a once-in-a-lifetime whale watching tour, which can be a significant investment of time and money, only to find that the crew weren't dedicated or the experience left me feeling more like I was Robinson Crusoe lost at sea without much direction or whale spottings.
In the end, we took the Condor Express whale watching tour in Santa Barbara and it turned out to be the best decision of our trip.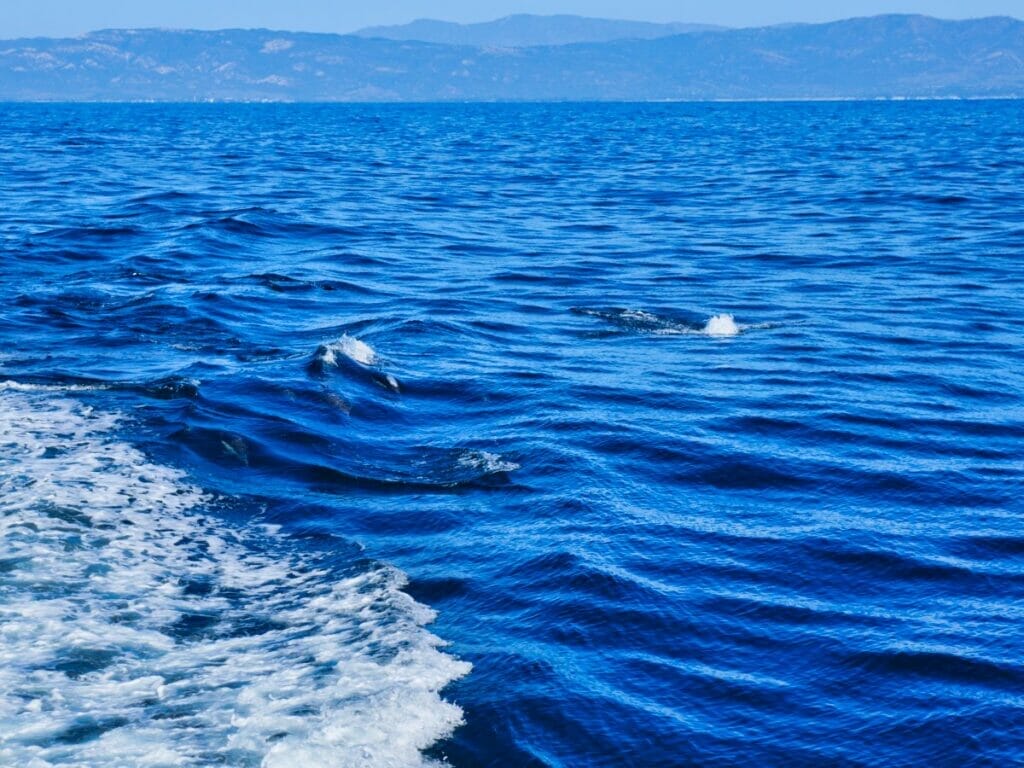 In this honest Condor Express whale watching review, we'll go step by step through the experience so you know what to expect and why the Condor Express is the best choice (ps – this article is not sponsored or associated with them, I just really love them and their dedication to whales).
What Whale Watching Tours does Condor Express Whale Watching Offer?
Condor Express is one of the only whale watching tours in Santa Barbara that offer whale watching tours year-round, which I appreciate because we came in October which is not a prime month for whales along coastal Santa Barbara (that season is the Gray Whale migration in the Spring!), so our tour took us further out towards the Channel Islands.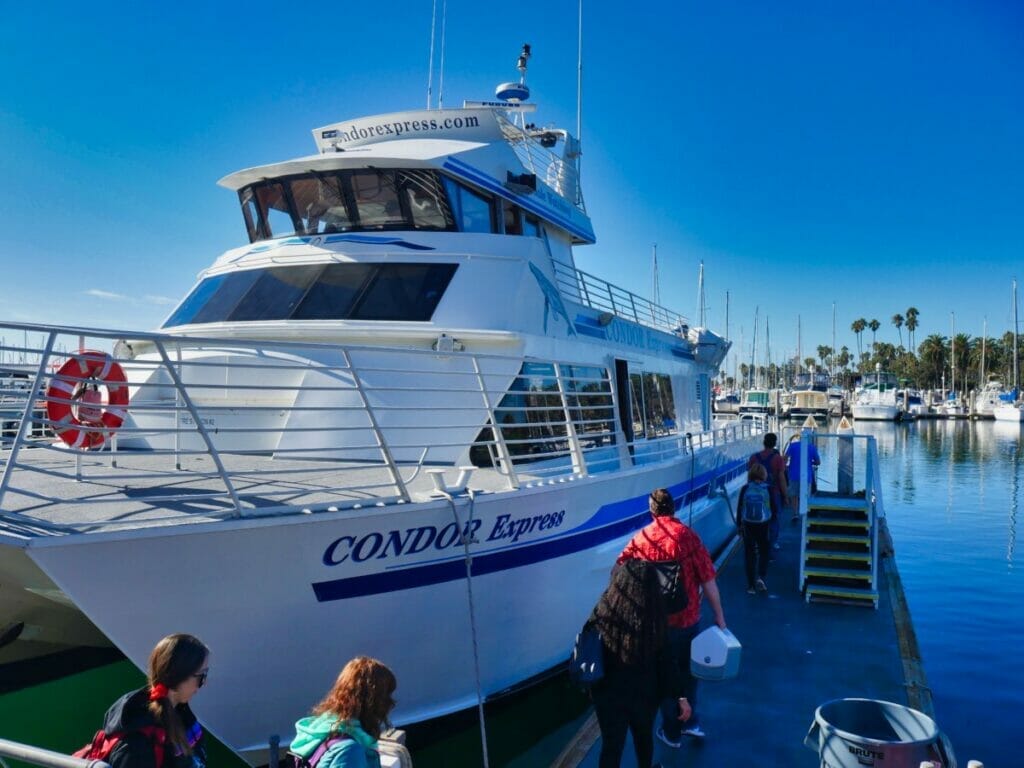 I've got a whole whale watching in Santa Barbara guide if you want to learn more about why Santa Barbara is such a haven for marine life and the different whales you'll discover.
Anyway, Condor Express offers the following:
Winter Islands Whale Watch: 4.5 hours gray whale spotting
Spring Coastal Whale Watch: 2.5 hour gray whale spotting and possible humpback
Summer Coastal Whale Watch: 4.5 hour humpback, blue, and minke whale spotting
Fall Islands Whale Watch: 4.5 hours humpback, blue, gray, and minke whale spotting
You'll notice that two of the seasons are coastal tours and two are islands tours.
The coastal tours will keep you closer to the Santa Barbara coast because Spring is when the gray whale migration takes place in that area and summer is when many whales feed off of krill and groups of fish off of the coast.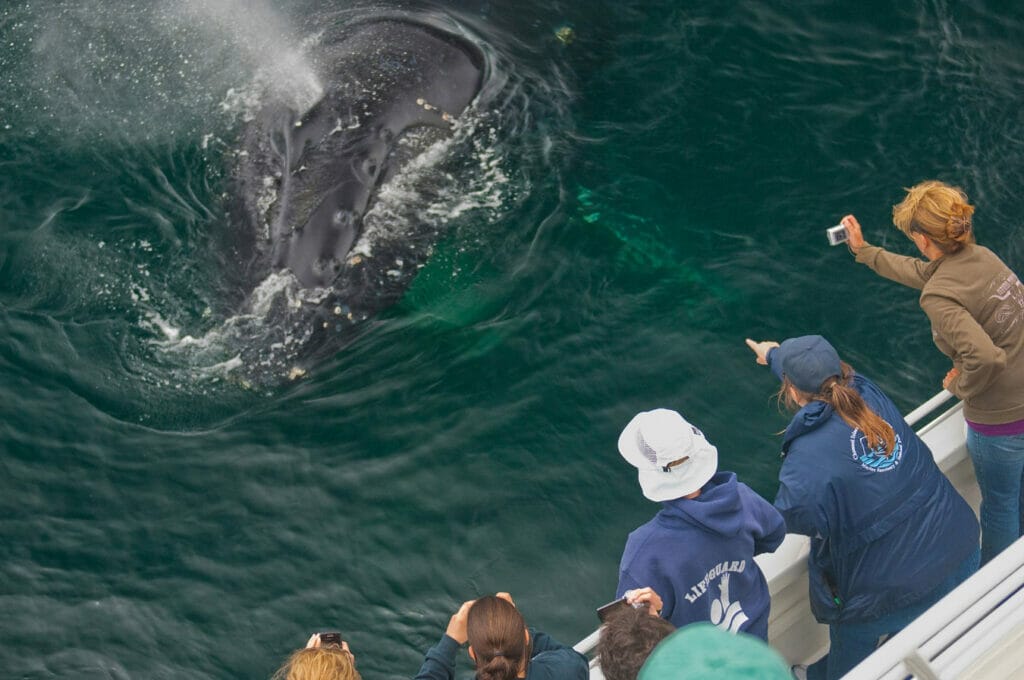 These 2.5 hours tours are fantastic to pack into a day trip to Santa Barbara if you don't have the 4 and a half hours to spare.
The fall and winter islands tour take you near the Channel Islands, as whale activity is more centered in this nutrient-rich area further from the shore.
We took the Fall Islands whale watching with Condor Express, as it was an October booking.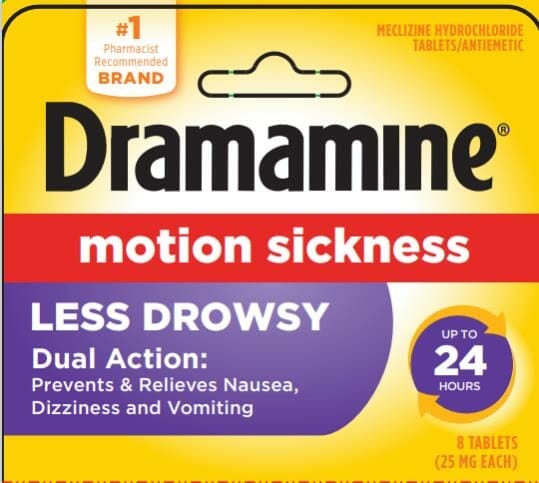 🤢 If you get seasick like me, do not forget to pack seasickness medication like dramamine (click here to see on Amazon).
Seriously, those waters can be rough.
Practical Things to Know
How much: The 4.5 hour tours are $119 for adults, and the 2.5 hour tours are $70 for adults.
How often: Tours run once a day in the Summer, Fall, and Winter, and three times a day during the Spring migration season
The Booking Process
The booking process with Condor Express is extremely easy, which is fantastic because it's the 21st century and you shouldn't have to call or send a fax or carrier pigeon to book a tour these days.
All you do is head to the website, plug in your date or view the calendar, and you'll see all of the future tours available with the green meaning "spaces available" and the red either meaning sold out or private chartered.

You'll be taken to a screen to fill in your passenger information, then to a payment page, and then, boom, e-mail in your inbox with your booking confirmation and you didn't even have to talk to a single person to book.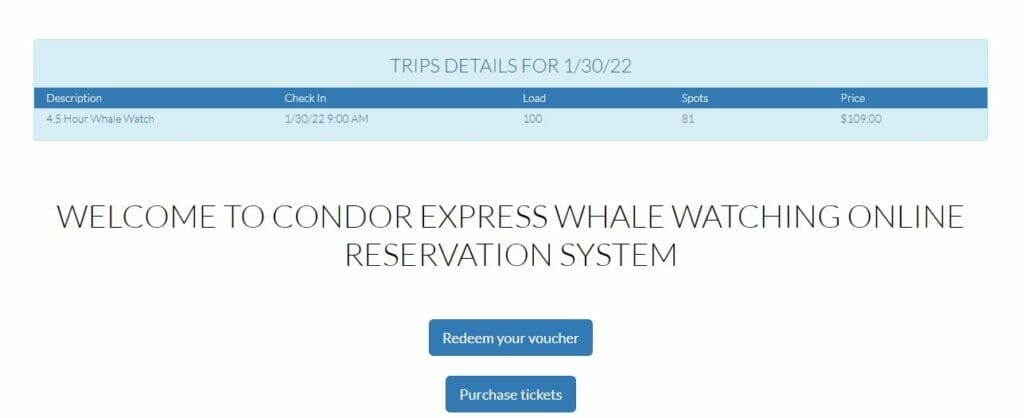 Arrival and Boarding
Condor Express recommends arriving an hour before your departure time, as time is needed to park, get checked in, and board the boat.
We ended up arriving about 40 minutes ahead of time (thank you traffic and being lost in a new city) and were fine, but note that they allow you to board based on the time you arrive (a line begins to form) so the earlier you get there, the better seats you can choose.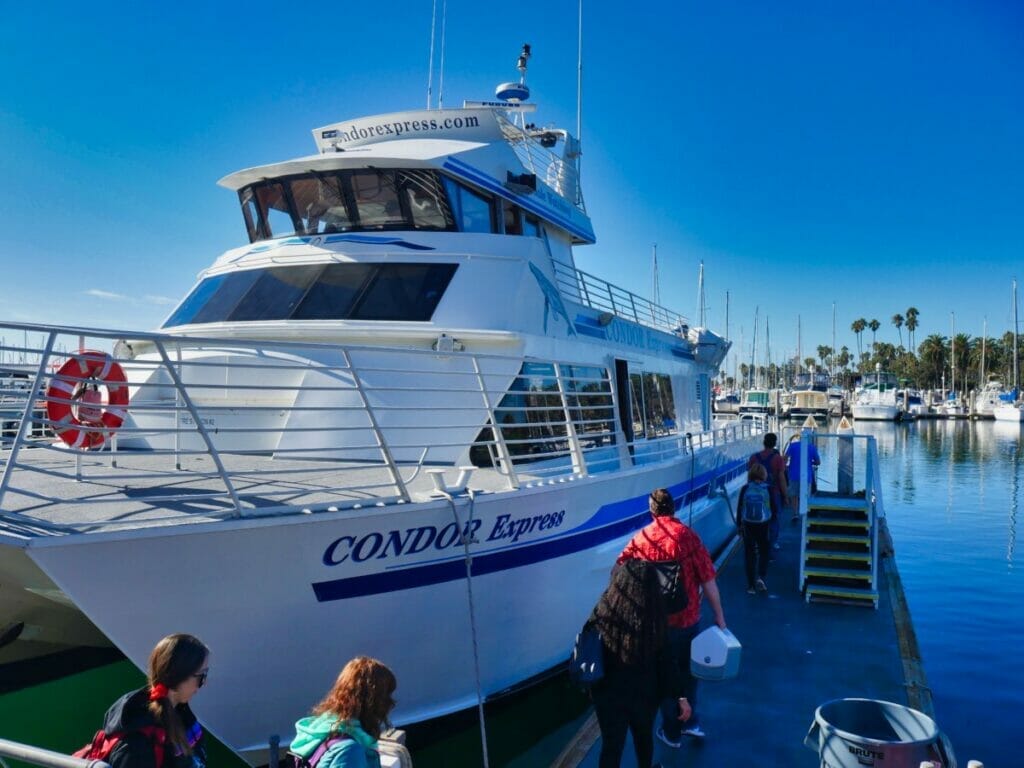 Similarly, the experience needs to run on time for all of the passengers and crew, so it's not going to wait for you if you didn't heed the warnings to arrive early!
On arrival, you can park in a parking lot right next to the dock for the boat (they give instructions in their e-mail as to which spaces are okay), but this lot was full on the day we went, so we had to go a little bit further away to park in the harbor's main parking area.
We did have to pay for parking in the harbor parking lot, charged hourly, but we were so excited to see some whales that we threw money at the machine and never thought about it again.
Follow the instructions on the e-mail you'll receive from Condor Express to find their boat and building, and you'll head inside to the desk to check-in and let them know that you have arrived.
There are bathrooms you can use (there are some on the boat, but always better to go on land if you can or you get seasick like me!) and then you join the line waiting to board the boat in a first-come, first-served basis.
One top tip: as you're waiting in line, look over into the water and check out the potential marine life on the rocks below.
While this entire review is about whale watching, I saw my first wild octopus on the rocks under the water while waiting to board and it was absolutely magical.
The Crew and Captain
Before we talk about the actual whale watching and boat experience, let's talk about the crew and captain because part of the fun of whale watching is the enthusiasm shown by the crew and their ability to help you spot them and give out information about what you're seeing.
The captain and crew were all amazing at both of these tasks, sharing their own excitement about seeing the whales as well as telling us where to look, more about whale behavior, and even radioing a cargo ship that was headed (unknowingly) towards the whales we had found and asking them to change their course to protect the whales.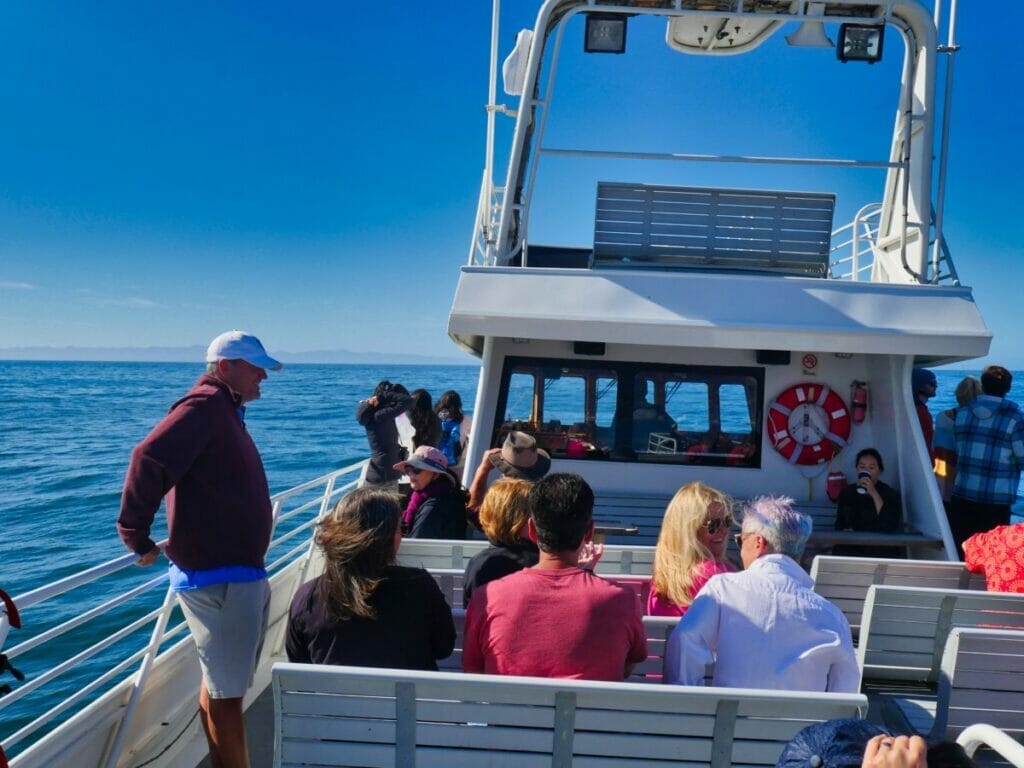 They also had great advice for seasick passengers, of which there were a few of us, and one of them came around to the back where we were all looking worse for wear to give us tips and ask if we were okay.
I managed a half-hearted thumbs up while trying to keep my eyes on the horizon, but appreciated very much in that moment that someone was at least sympathetic to our plight.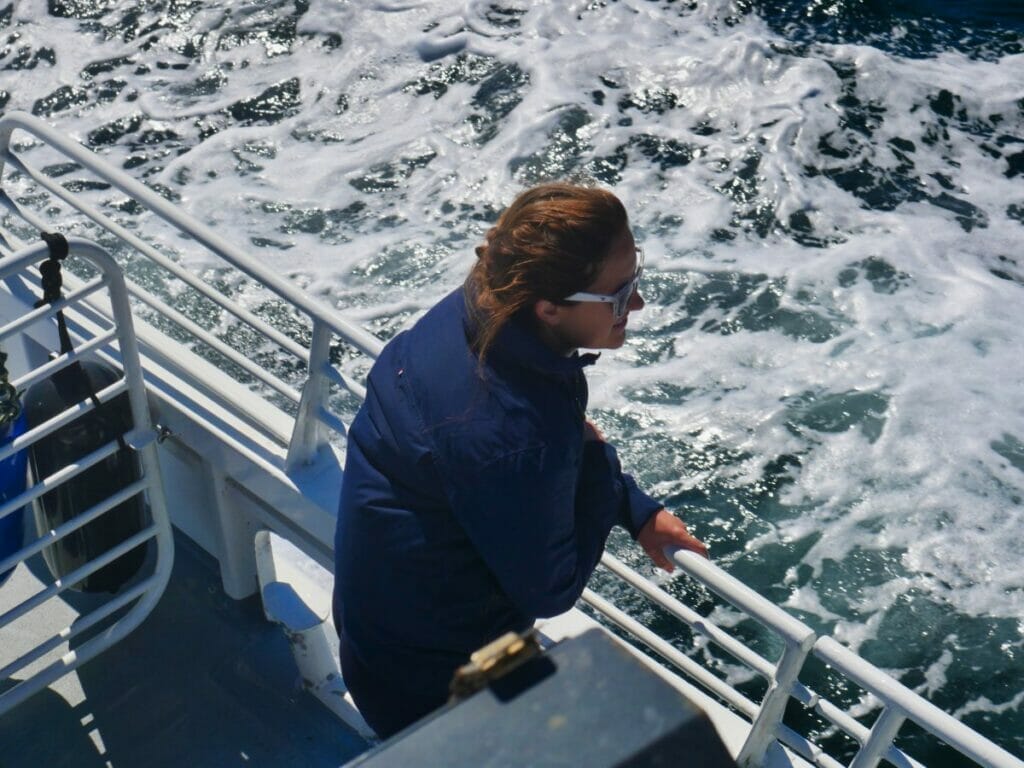 Condor Express Santa Barbara Whale Watching Experience
Once on the boat, you can choose to sit anywhere you'd like.
There's the bottom deck, closest to the water, and then there is a mid-tier deck as well as the tippity top area (bad for seasickness, good for seeing whales).
This multi-level spread allows for maximum viewing as you're not all crowded around the same place, and where you choose to sit really depends on you!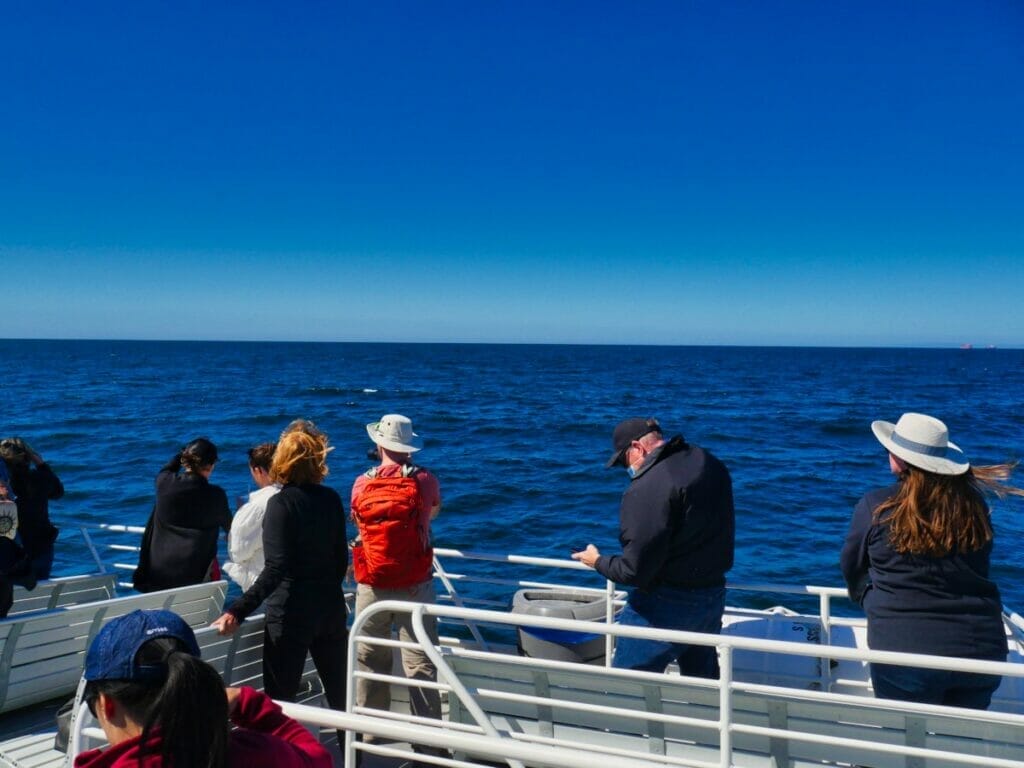 The mid-tier was the most popular, and was particularly good for the whale watching as it was easy to see a larger area around you on both sides of the boat.
The bottom deck, however, is where anyone with seasickness should be, as well as the best choice for dolphin viewing!
Dolphins like to play and swim alongside the boat, and if you stand on the bottom deck, you're going to have the absolute best view of them and truly to get to see them up close.
The seats themselves were not cushioned seats, but hard benches and seats.
If you really think this will bother you or you have pain on sitting, bring your own travel cushion, but for the most part, you're up and around looking at the marine animals.
This is a whale watching adventure, not a movie theater, so don't worry.
The tour starts by leaving the harbor, and it was here we saw some seabirds as well as California sea lions.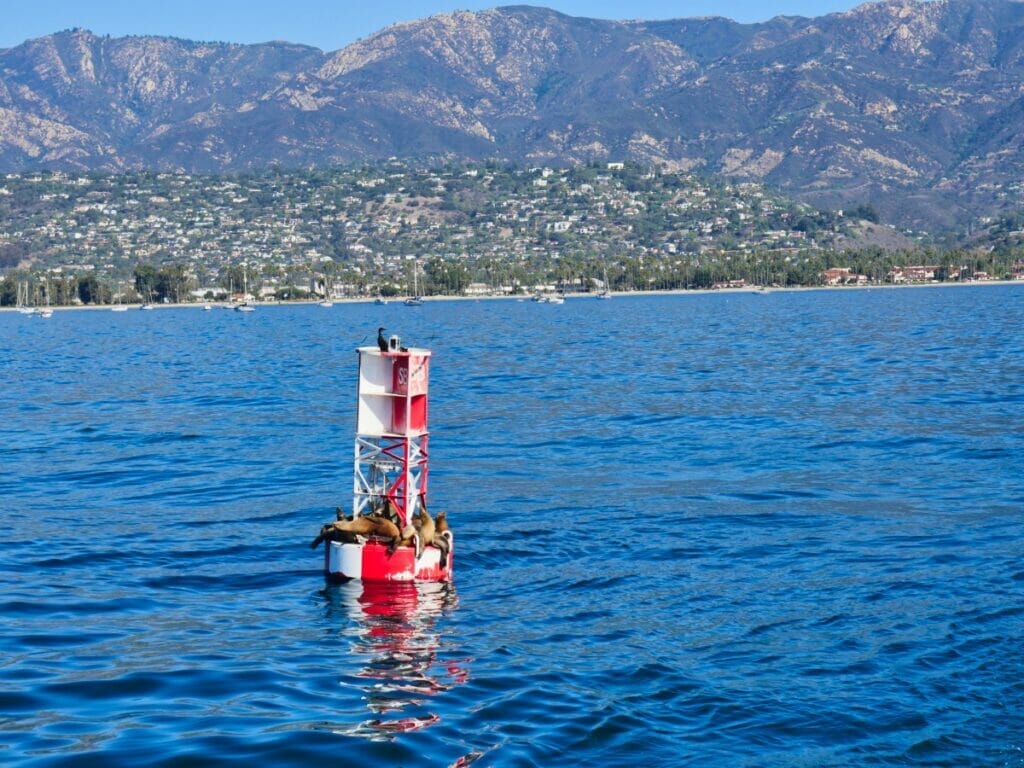 Then begins your journey out to the waters of the Channel Islands.
Along the way, people are getting settled, ordering snacks or drinks from the cafe/bar (there is a full service cafe/bar where you can order things like sandwiches, chips, and drinks).
We saw a couple dolphins at one point, but nothing like the dolphins we'd see on the way back (more on that in a second).
Once we had gotten closer to the Channel Islands, it was time to do some whale spotting.
The captain and crew know just what to look for and the areas that are popular with the whales, and soon, one had been spotted!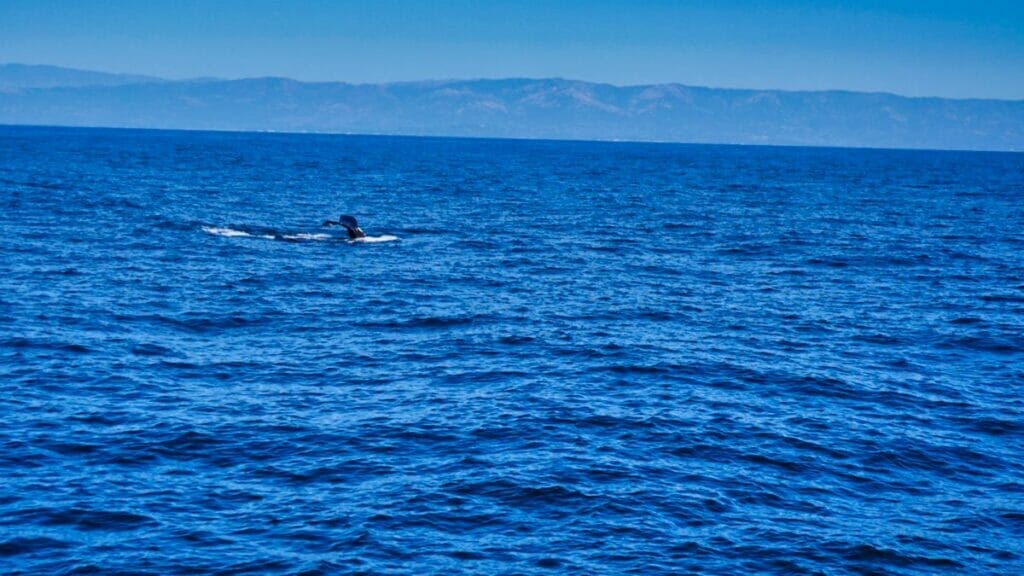 It was a humpback whale, breaching every so often and dipping its tail out of the water, and we then turned off our engines and started our watch.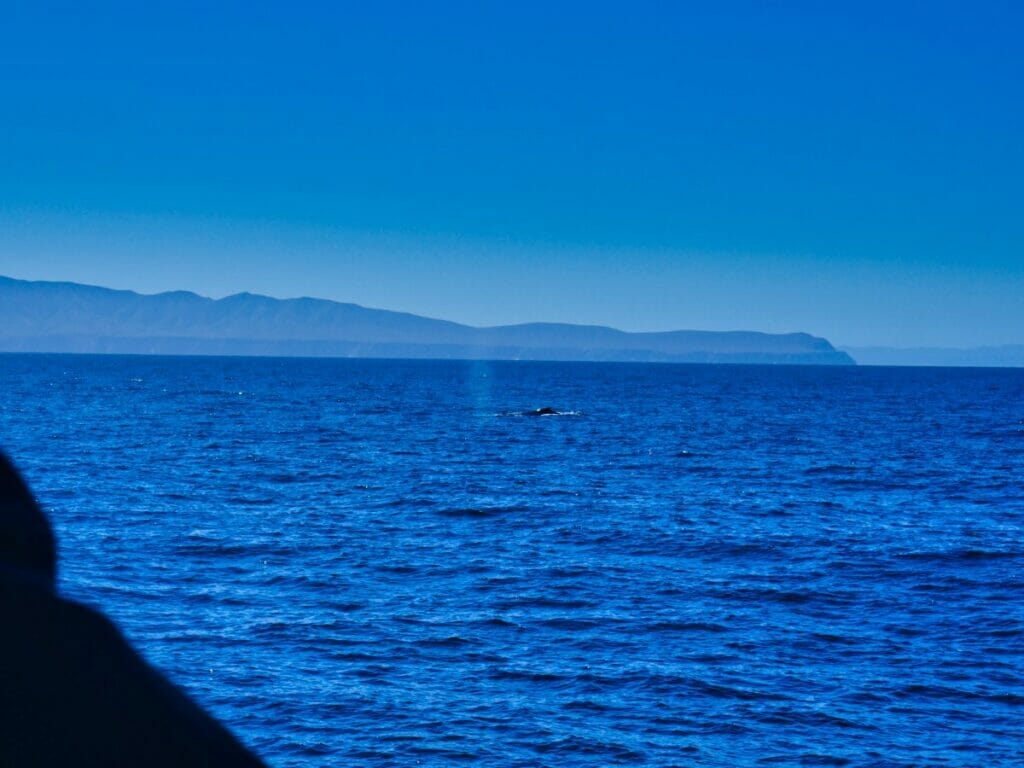 It's hard to describe how you feel when you see a whale in the ocean.
Aside from orcas (actually a member of the dolphin family), I had never seen such a creature and definitely not one in its natural habitat.
Even when we could only spot them breaching momentarily, you really get a feel for their size and every person on that boat was mesmerized by it.
Once a whale is spotted, people do crowd to the side of the boat that the whale is on, but there should be plenty of room for you to see and people try and make way for each other.
These are wild animals, as well, so sometimes it would disappear and then end up on the other side of the boat which most people hadn't predicted, so those closer to the other side would end up in the "front row" for the viewing.
You really never know where they're going to pop up!
Throughout the experience, we went to a couple different locations and ended up seeing more than one humpback whale, each time requiring a little patience and peeled eyes and then paying off!
When it was time to start making our way back to the harbor, we then had another out-of-this-world marine experience.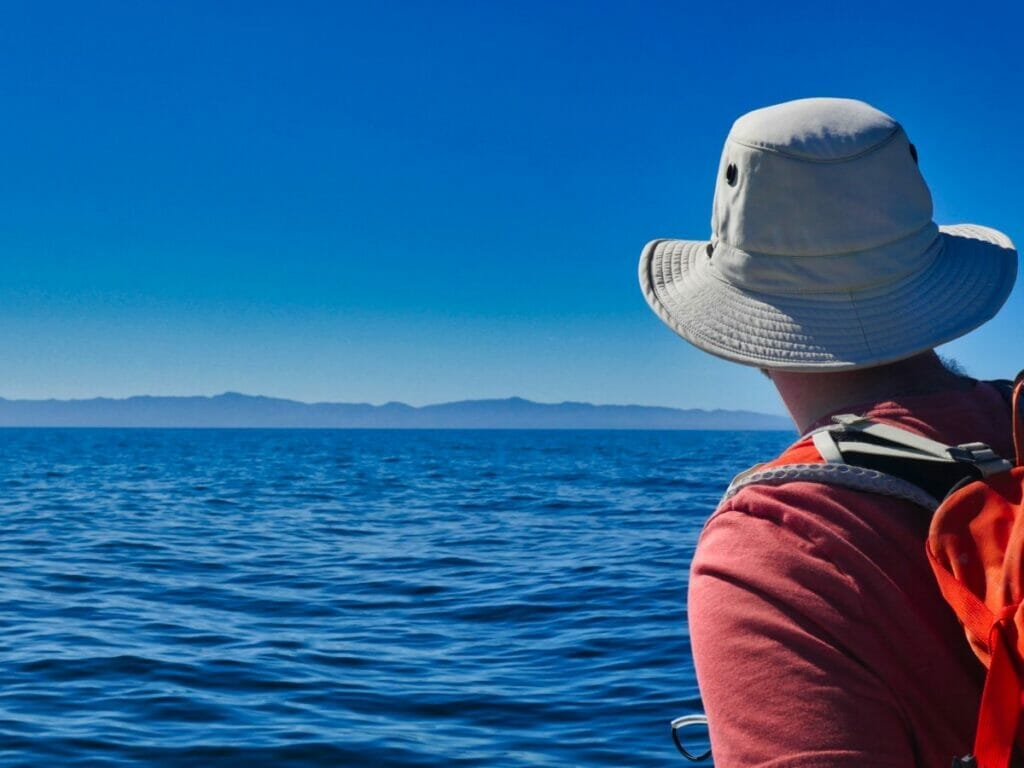 Typically, dolphins travel in pods of under 200, so while it is common to see dolphins swimming together, it's not as common to see the spectacle that we saw: a megapod of dolphins.
That's right, a megapod, of over 1,000 dolphins swimming together and alongside the boat for a solid 20 or so minutes (at least).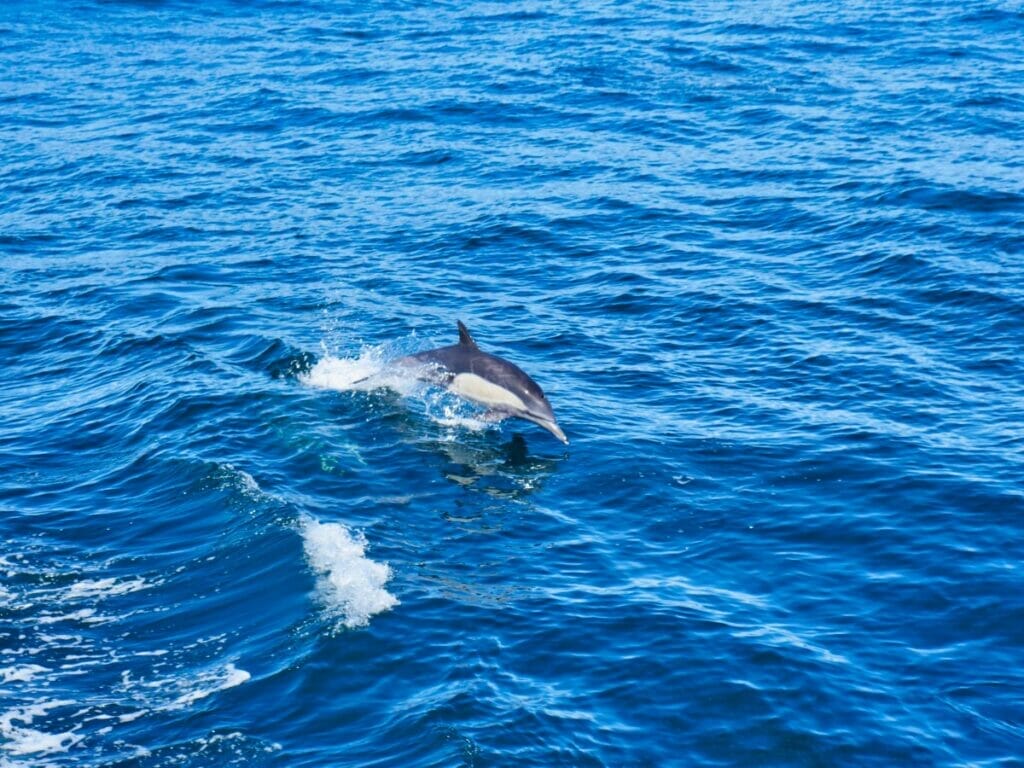 It's hard to describe what it looked or felt like, but imagine that you're looking out near the boat and everywhere you look, there are dolphins.
And I mean, everywhere.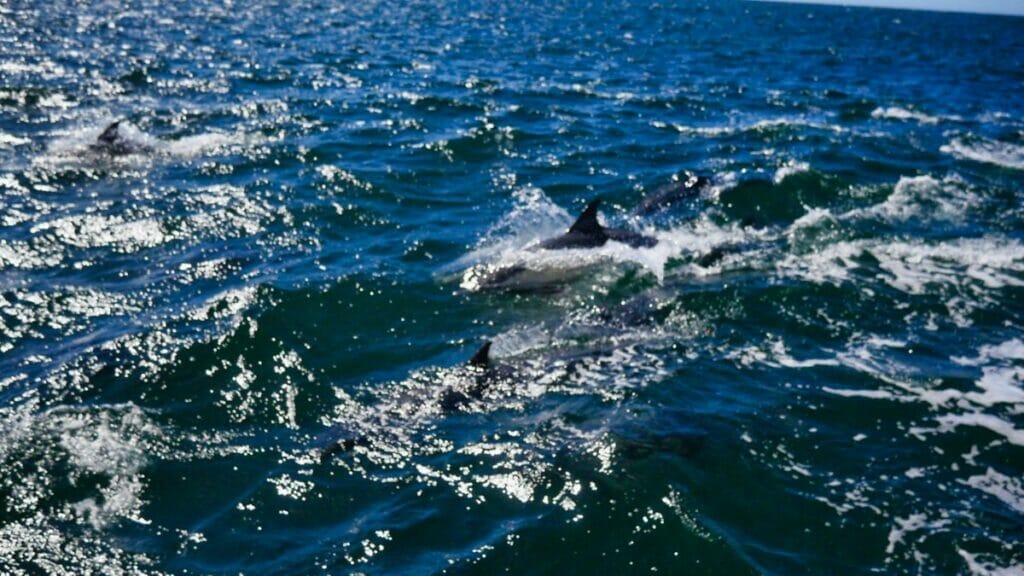 Looking down straight into the water from the side of the boat, you could see them doing their classic dolphin swim (you know the one) and it was just like piles and piles of playful dolphins as far as the eye could see.
Seeing a megapod is a relatively rare occurrence and the captain and crew were as excited as the passengers to get to experience it.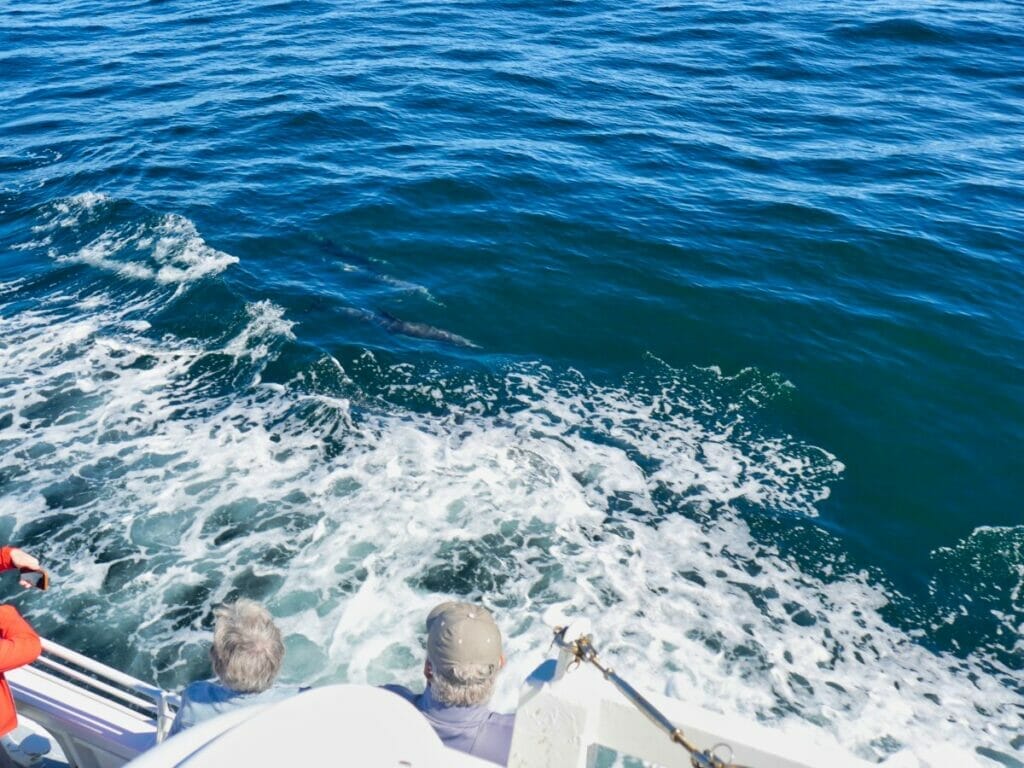 It's likely that you will see some dolphins on your Condor Express tour, but you'll have to cross your fingers that the dolphin stars are aligned to see such an amazing show of 1,000s!
From there, we made our way back to the dock and it was back on dry land for us, everyone still talking about everything that we had seen.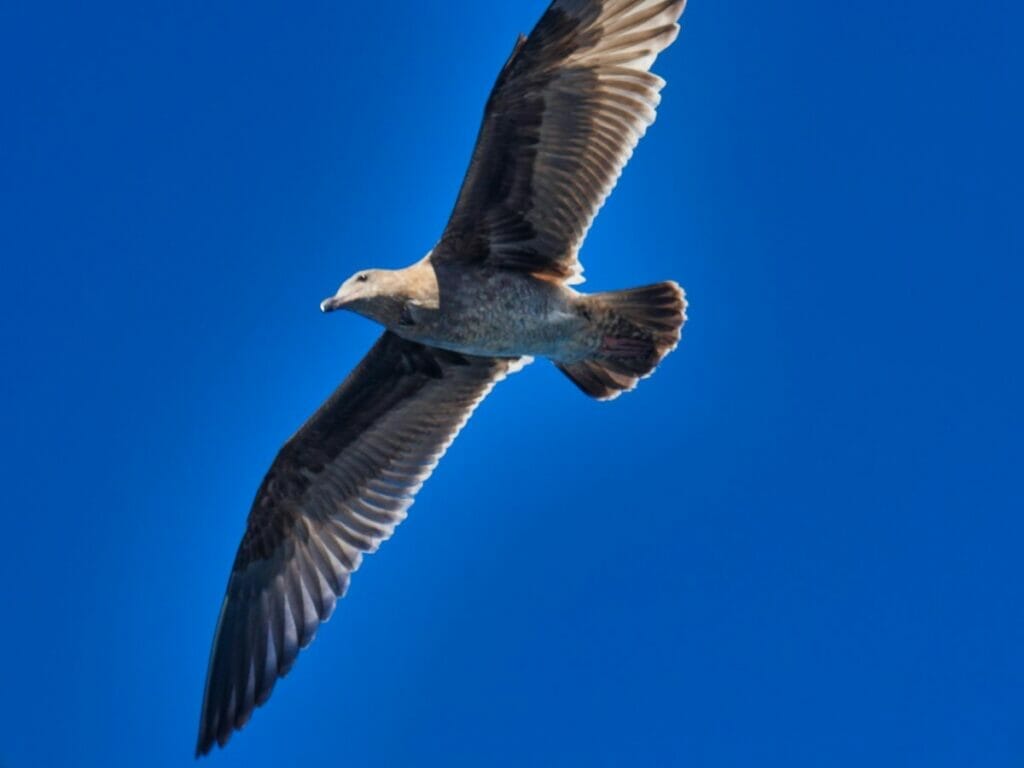 Will I Get Seasick?
Seasickness depends typically on how rough the seas are and your general predisposition to getting seasick.
There were only about 3 of us on our boat who were seasick enough to actually show it (one woman lying down for much of the ride and 2 of us standing at the back, gripping onto the handrails and trying to let the wind hit our face and look out to the horizon).
I had taken seasickness medication and I still got seasick, but I know that about myself and knew to expect it (particularly based on how choppy it was).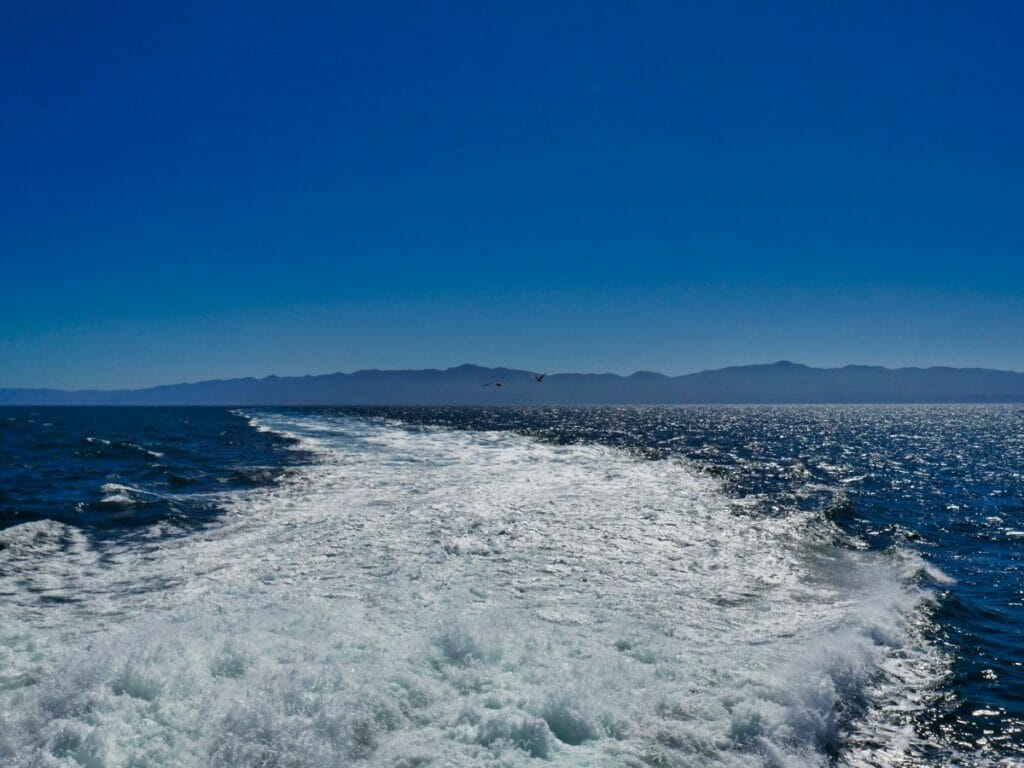 Despite feeling rough for the entire 4 hours, I still had the best time and would do it again and again because the second I saw those dolphins next to the boat or the whales breaching, it was so worth it.
Seasickness Tip
If you're not sure if you'll get seasick or you do have a tendency to, take your seasickness medication as instructed on the box usually up to an hour before you step on the boat. It needs to be in your system before your queasiness kicks in to really make a difference.
Is it Worth the Money?
At over $100 per person for the longer whale watching cruises, costs can easily add up for families.
It's not an insignificant investment, but is it worth it?
For me and for anyone who is even remotely interested in marine life or having these truly memorable experiences, yes, it was worth the money and we'd do it again in a heartbeat.
It's one of those things that are etched in your mind.
I remember our trip to Santa Barbara in general, but the details get fuzzy with time.
With the whale watching tour, I can remember it all, specifically, in vivid detail, and can't imagine forgetting what it was like to see the humpback whale's tail strike the water or the joy of watching the megapod of dolphins around us.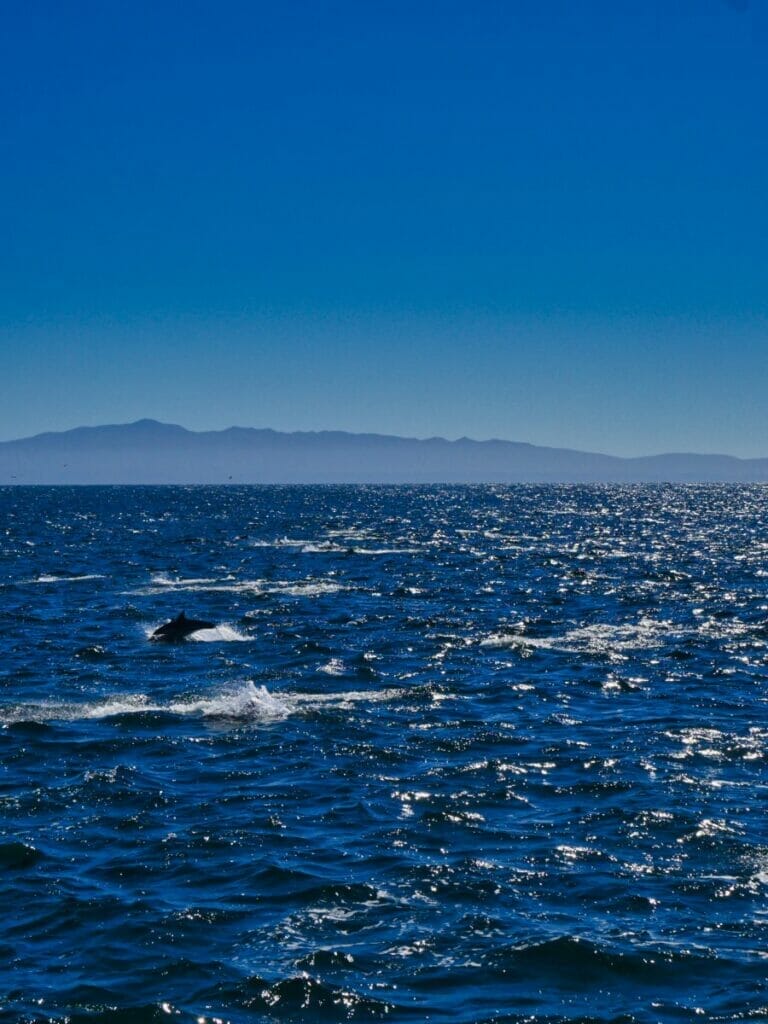 There aren't a lot of places in the world where whale watching like this is possible, and certainty not year-round.
The Pacific coast is one of the best places for it, and Santa Barbara in particular is a great place to do it.
Take advantage while you're there and save money in other areas if you have to.
It was more than worth it.
What if I Don't See Whales?
Condor Express Whale Watching tries very hard to make sure you see whales and know all of the best places to go and how to spot them, but if the whales are being their wild animal selves and not letting on to their location that day, you get to take advantage of the Whale Guarantee!
Yes, that's right, if you don't see whales or other marine animals, you can take another tour during the season free of charge.
How to Contact Them
Website: https://condorexpress.com/
Phone number: 805-882-0088
Email: info@condorexpress.com
Address: Sea Landing, 301 W. Cabrillo Blvd., Santa Barbara, CA 93101-3886
Pin for Later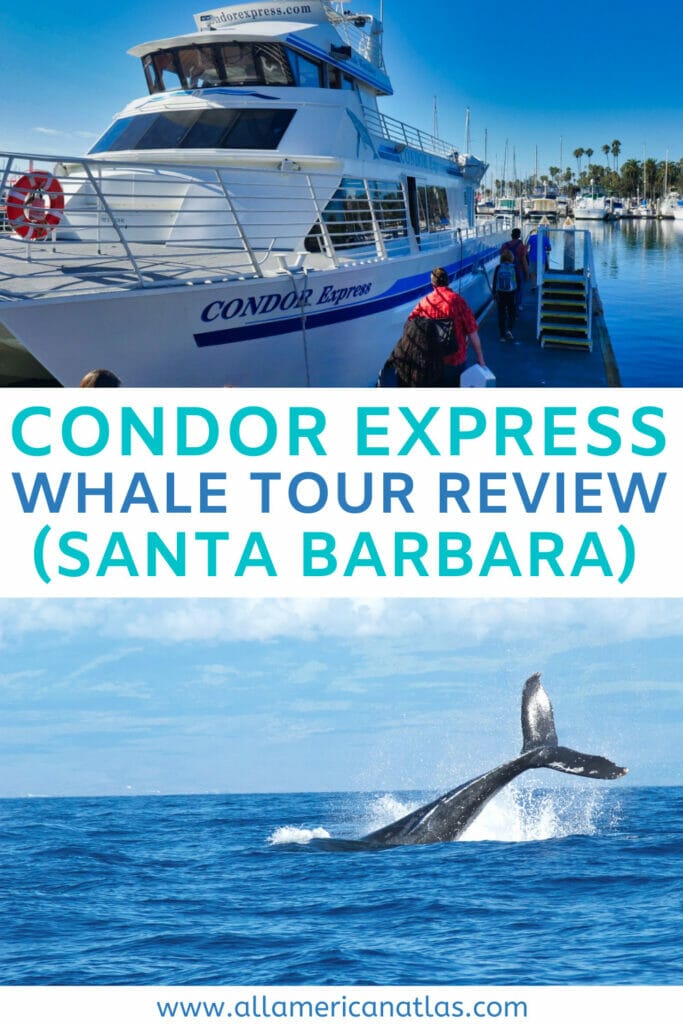 Get the All-American Travel Secrets!
Don't miss out on America's hidden gems!