Salty spray in your face. Majestic whales breaching up above the waves. Breathtaking scenery.
Whether you've always dreamed of seeing a humpback whale, an orca, or a migrating gray whale, whale watching in Santa Barbara is one of the most magical experiences in California and a true reminder of just how small we are in comparison to the natural world.
Many people know Santa Barbara, the "American Riviera," as a mecca for foodies and shoppers with its almost Disneyland-like architectural quality and abundance of shops and restaurants.
But step foot onto one of the Santa Barbara whale watching tours, and soon you'll be in an enchanting land far, far away (seriously, pretty far out!) closer to the Channel Islands.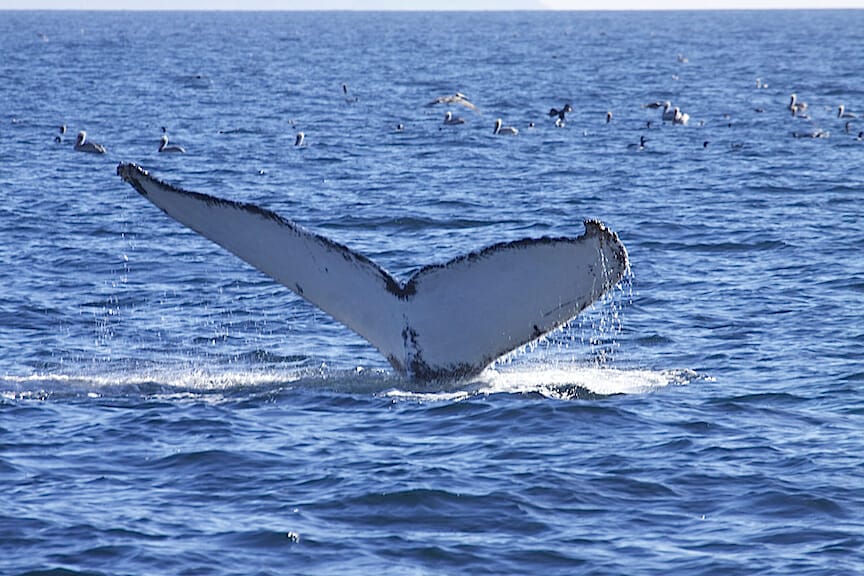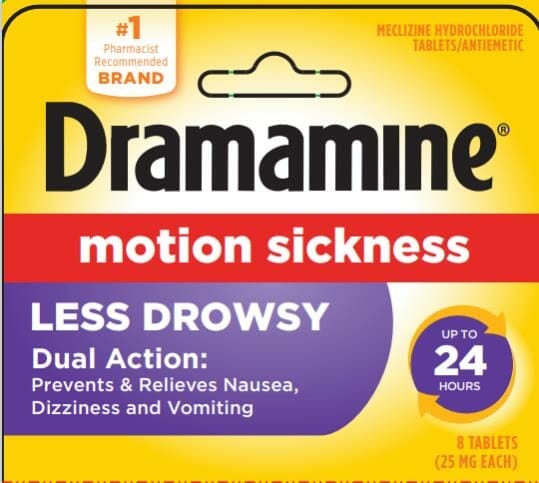 🤢 If you get seasick like me, do not forget to pack seasickness medication like dramamine (click here to see on Amazon).
Seriously, those waters can be rough.
Is Santa Barbara Good for Whale Watching?
Santa Barbara isn't just good for whale watching in California: it's one of the absolute best locations.
Now, when it comes to Santa Barbara whale watching, we're talking about whale watching from boat, not from the shore.
Yes, you can bring your binoculars and check out some of Santa Barbara's scenic bluffs to see if you see whales heading past (particularly during whale migration season,) but the best chance for whale watching is a little further out, near the Channel Islands.
Between the mainland and these islands is the Santa Barbara Channel, home to multiple different species of whales that show up at various times of the year (think of them as college students away from home and coming back to get their laundry done at different times).
Not only that, but the nutrient-dense waters make it home to plenty of seabirds, dolphins, and other marine animals so it's truly a sea party out there.
Whether you're on a day trip to Santa Barbara or staying for a longer visit, whale watching tours here are so worth it.
Best Time to See Whales in Santa Barbara
Technically, Santa Barbara whale watching season is every day of the year because different species show up at different times.
In general, the Pacific gray whales undertake their great Southern migration from December to February, and then their great Northern Migration from February to April (with calves in tow!).
The best time to see whales in Santa Barbara if you're looking for humpback whales or blue whales is from around May to October.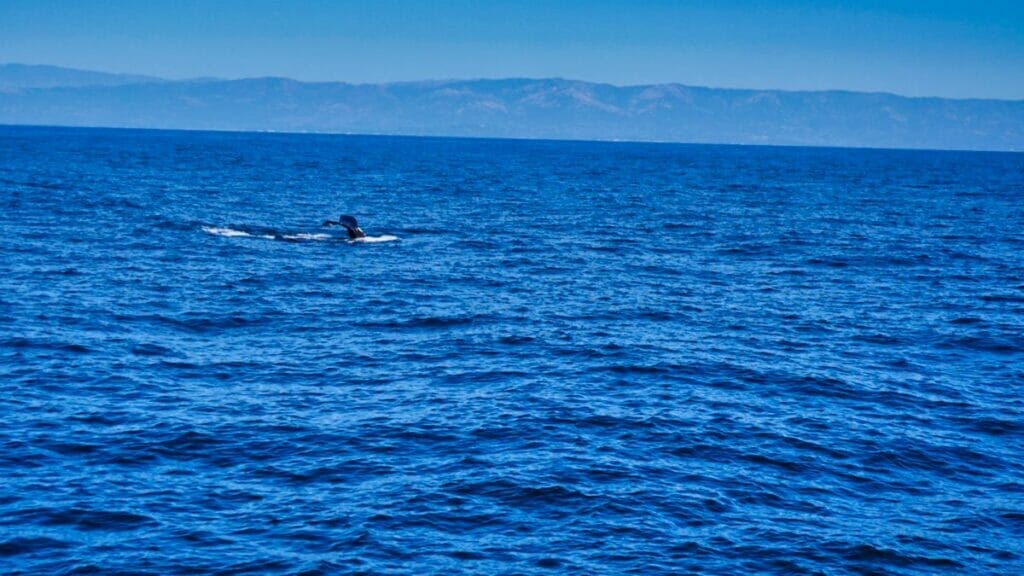 November is the one month that has possible sightings of whales, but not as excellent as the other months, so that's something to keep in mind when planning.
What Kinds of Whales are in the Santa Barbara Channel?
Think of a type of whale, and it's likely that it passes through the Santa Barbara Channel at some point in the year.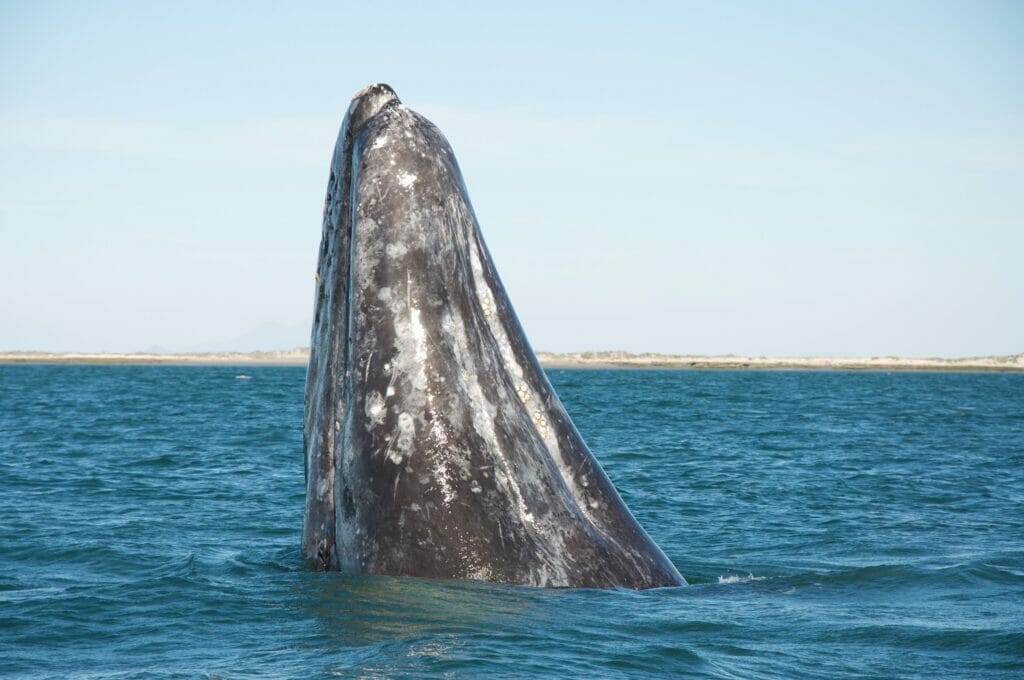 Gray whales, known for their gray bodies and "knuckle" like bumps between the dorsal hump and tail flukes, take center stage in the Santa Barbara Channel during their migration from around December to May.
Their first stop is the warm waters of Baja California, which is their destination when they start heading south in late November and December.
Then, after a little bit of whale party time and some newborn calves for the mothers, they head right up back the coast towards the Bering Straight in Alaska in the Spring (this is when many of them tend to hug the coastline rather than staying too far out, which can be the time for fantastic whale watching in Santa Barbara from the shore).
Their migration is one of the longest that any animal on Earth undertakes, and they can be particularly curious with boats.
All of the whale watching companies in Santa Barbara and whale conservation organizations in the city work hard to make sure that these whales have a safe and pleasant migration every year without human interference.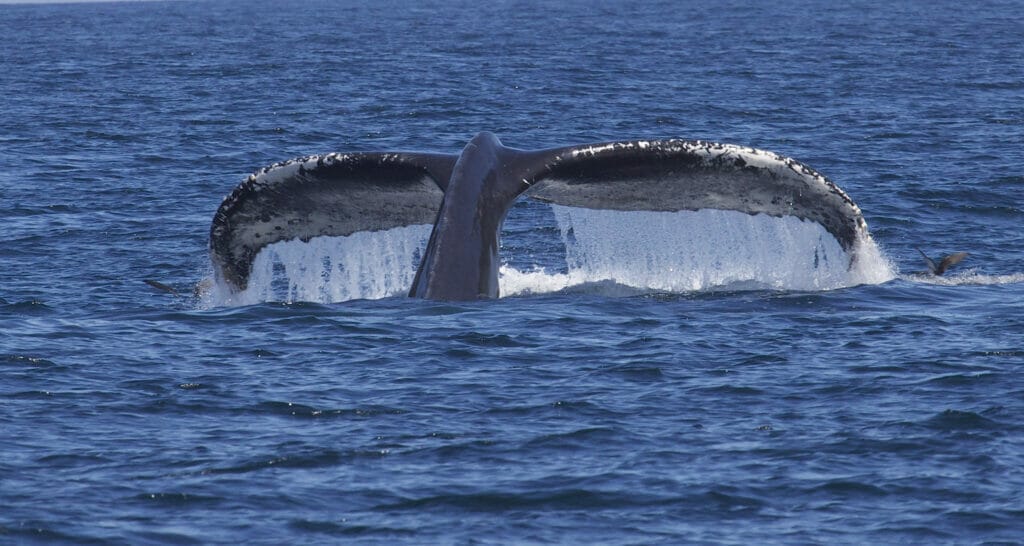 Humpback whales can be seen in the Channel from around April to October every year, and is the kind of whale we saw on our tour with the Condor Express.
They're known for their distinctive bodies (long fins and a knobbly head) and they have distinctive breaching patterns which can make them easier to spot as they come up to the surface.
Blue whales follow the same type of pattern as the humpback whales and can be seen around the same time, from May to October.
The best chance for spotting is in those warmer summer months when they're feeding off the coast (krill is their snack of choice!)
Blue whales are the largest living animal on Earth, and to see one in person is truly an otherwordly experience that ranks for many people as one of the best experiences of their entire lives.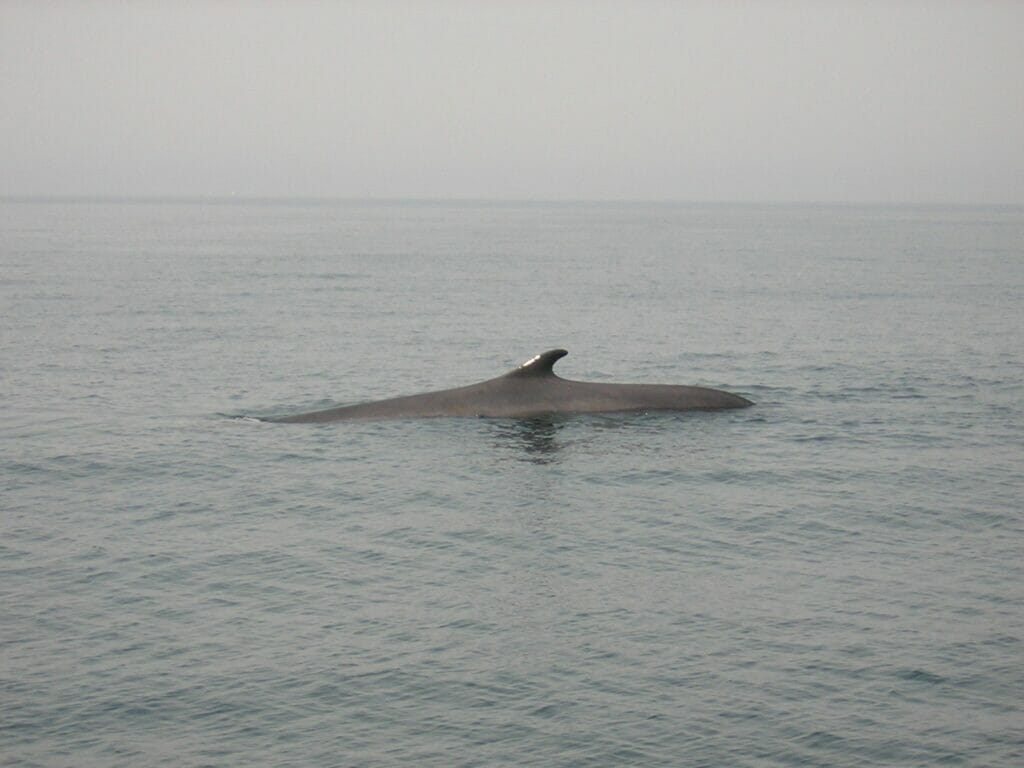 Finback whales are the second largest animal in the world after the blue whale, and they can be spotted off the Santa Barbara coast from June to September.
Their nicknames are "razorbacks" because of the distinct ridge behind their dorsal fin, and they are considered an endangered species which makes it even more important that support goes towards research and conversation to help them remain in the wild.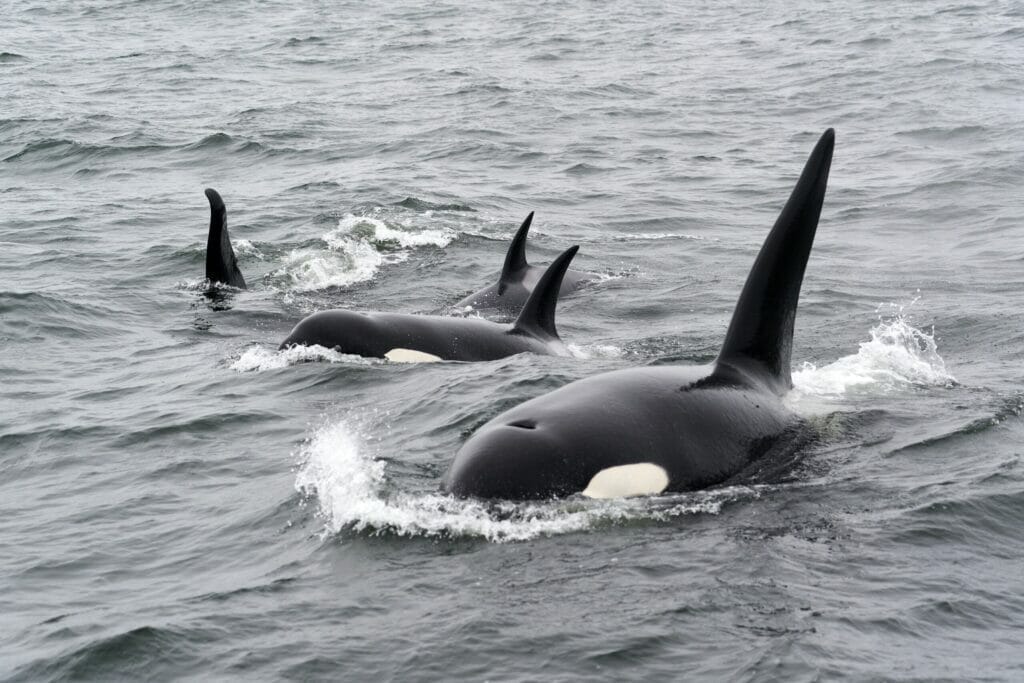 Many people are familiar with the distinctive pattern on the orca whale, that classic black body with the white underbelly and white patches that everyone thinks is the "eye" but is instead a white patch above their eye (masters of illusion, they are!).
Technically, orcas are part of the dolphin family but regardless, they are a real treat for anybody who gets to see them on a whale watching tour.
The best months for orca spotting off of the Santa Barbara coast is between December and May, though it is possible to see a pod of them in September and October.
If you want the absolute best months for sightings, it's January, April, and May.
These are very playful animals who like to slap their tails on the water, and they also have some beautiful breaching characteristics and can appear to jump out of the water more than some of the other whales.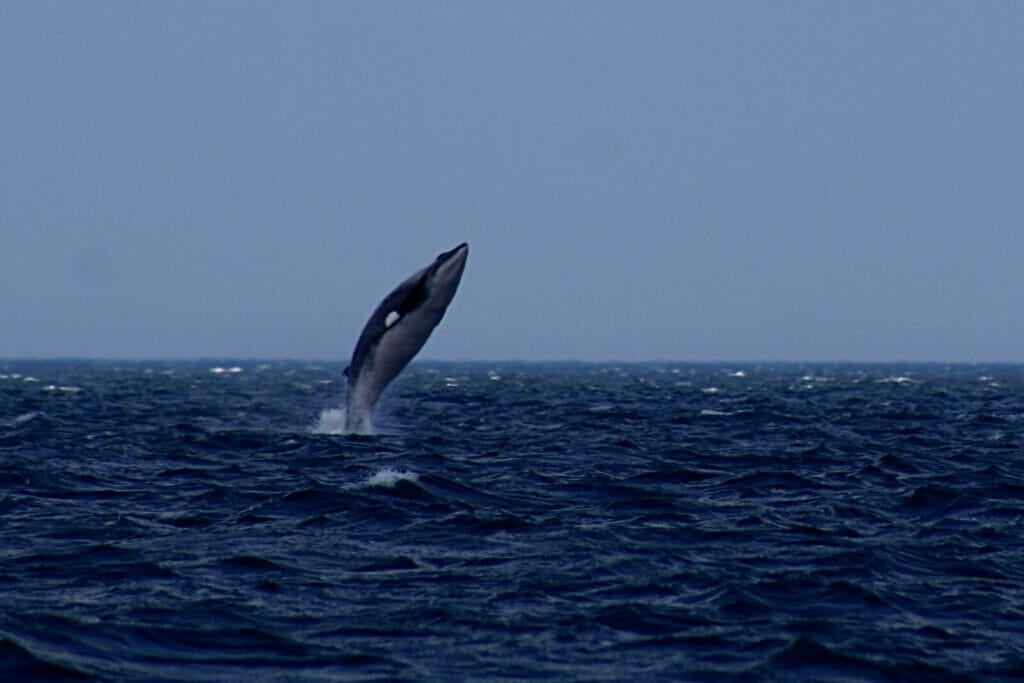 Introverts out there can relate to the minke whales, as these whales tend to travel solo rather than in pods.
There are different species of minke whales, but the most common in the Santa Barbara channel is called the Northern Minke whale, and spottings are possible year-round, but more common from June to September as they feed off of krill and small fish.
Their bodies are smaller than that of many other whales and are a distinctive dark gray.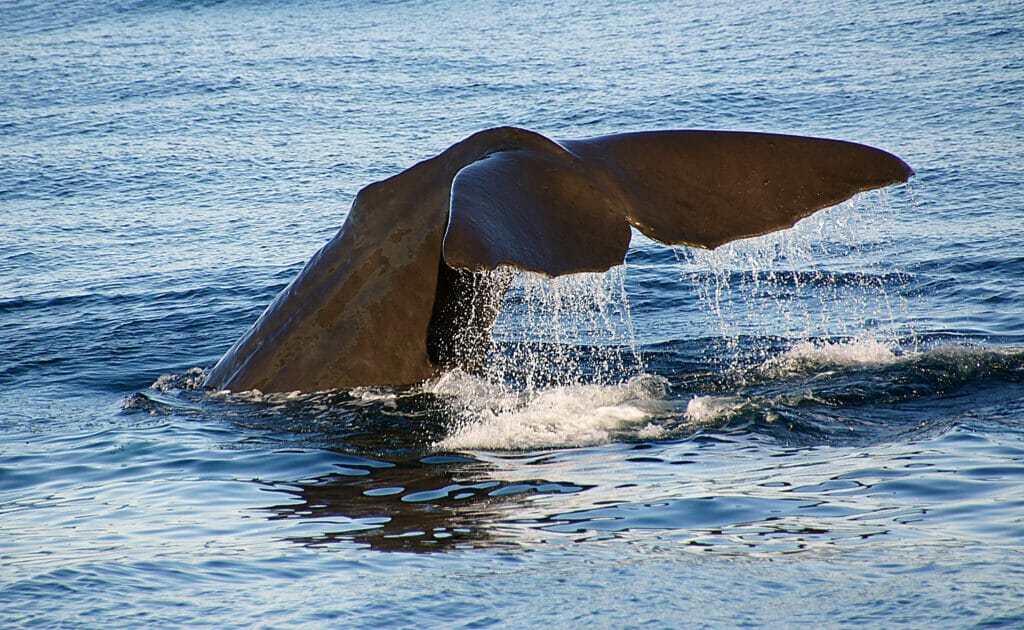 Sperm whales, with their distinctive shape caused by a large, block-shaped head that can take up most of its body, can be seen in the Santa Barbara Channel from around October to February.
However, sightings of these whales are less frequent and are categorized by many whale watching tours as "possible," rather than "a good chance."
Best Santa Barbara Whale Watching Tours
There are multiple whale watching tour options in Santa Barbara, but it's very important to do your research (or read below because we've done your research for you) before booking.
Why?
While it is possible to see whales off the coast of Santa Barbara year-round, there are only a couple of tours that offer a "whale check," ie, a "rain check" for another that same year tour if you don't spot any whales.
One of these tours, the Condor Express, also offers year-round whale watching tours in Santa Barbara, whereas many offer seasonal ones during the Pacific Gray Whale migration only.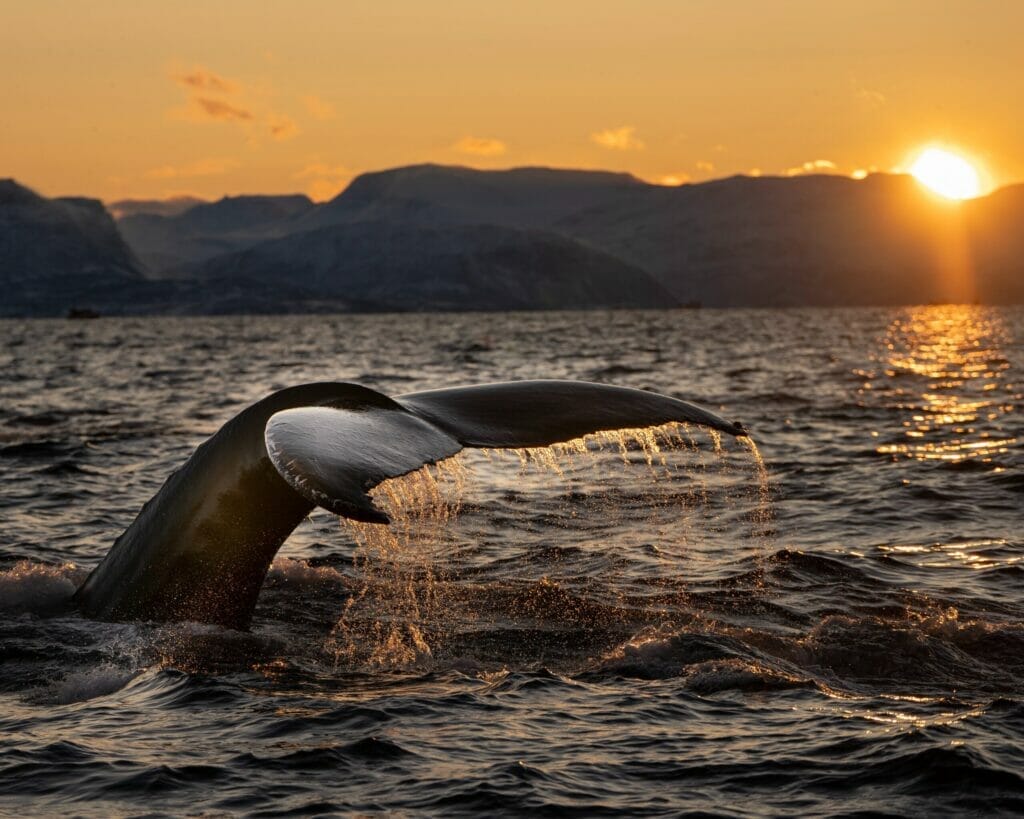 | | | | |
| --- | --- | --- | --- |
| Santa Barbara Whale Watch Tour | When | Price | How Long |
| Condor Express | Year-round | $109 for 4.5 hours, $65 for 2.5 hours | 2.5 hrs/4.5 hrs |
| Celebration Cruises | February – May | $50 | 2 hours |
| Santa Barbara Sailing Center | February – May | $65 | 2 hours |
| Channel Island Dolphin Adventures | February-May | $69 for 60 minutes, $89 for 90 minutes | 60-90 minutes |
| Captain Jack's Tours | Year-round | $125 for 4.5 hours, $75 for 2.5 hours | 2.5 hrs/4.5 hrs |
| Sunset Kidd's Sailing Cruises | Year-round | Private charter | Private charter |
The Condor Express (read my Condor Express whale watching review here) is the whale watching tour that we went on in October in Santa Barbara.
With the most comprehensive knowledge of whales in the Santa Barbara Channel and regular sighting updates on their website along with the Captain's blog, this company lives and breathes whale sightings and is the best whale watching in Santa Barbara.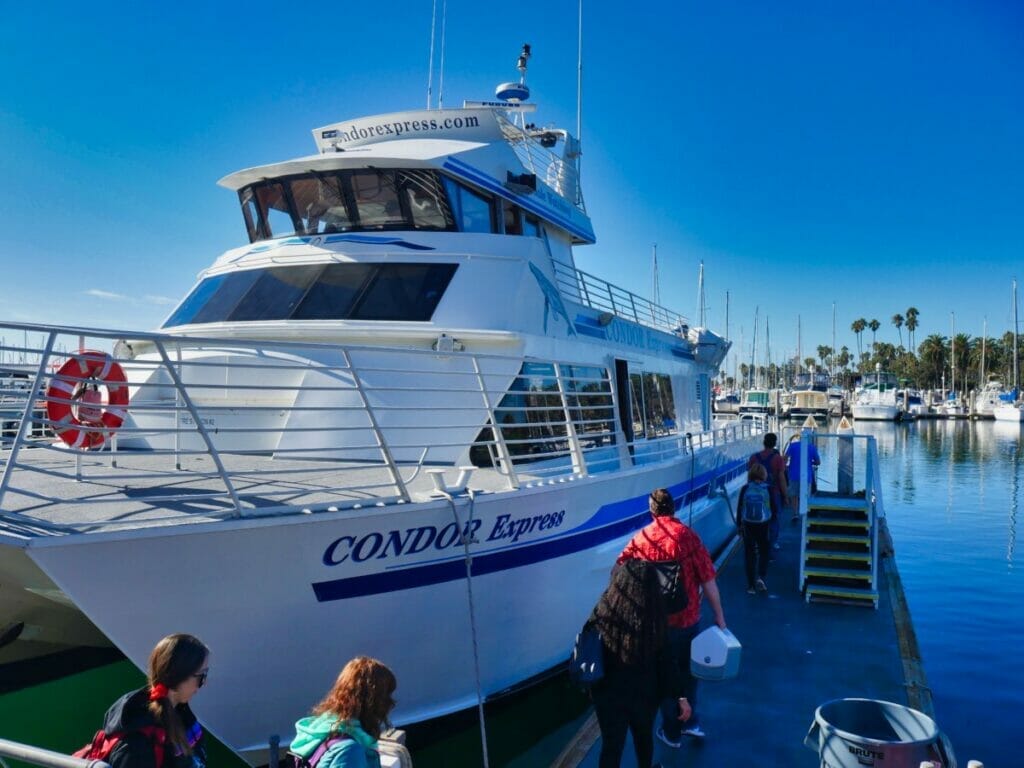 As mentioned above, during the times of the year when the Pacific Gray Whales are not migrating through the Santa Barbara waters, this tour company takes you on a tour further out towards the Channel Islands so you can see other whales like humpbacks.
This "off season" tour is longer, at 4.5 hours, but ensures that you can have your whale spotting experience any time of year.
During Gray Whale migration season in the Spring, their tours are shorter, at 2.5 hours, and they run more frequently throughout the day because it is easier to make sure that you see the whales as they hug the Santa Barbara coast.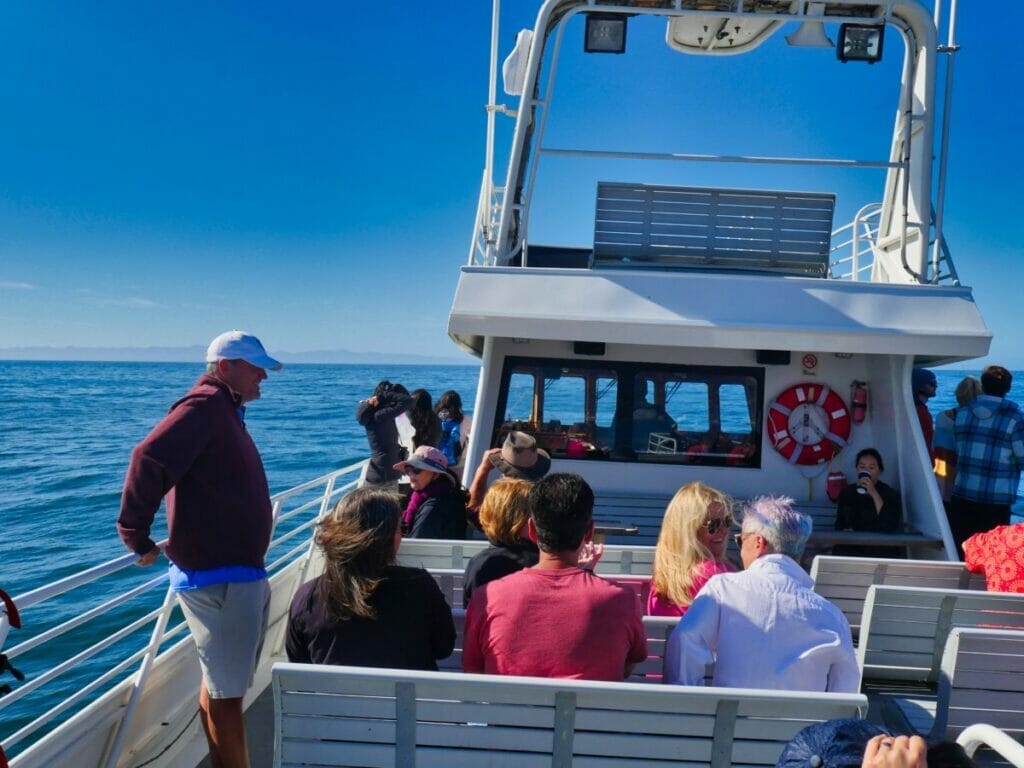 They also offer private and charter cruises if you want to make it a special event, and their staff on the boat are absolutely top notch and friendly, even taking the time to help myself and some other seasick passengers at the back of the boat with tips on how to overcome those queasy feelings.
The boat is a high speed catamaran, great for a smoother ride, and they offer a café and bar so you an buy drinks, lunch, and snacks during your experience.
When: Year-Round
How Long: 2.5 hours during Pacific Gray Whale migration season (February to May) and 4.5 hours the rest of the year
How Much: $109 for adults and $65 for children for the 4.5 hour cruises, and $65 for adults and $45 for children (ages 5-12) for the 2.5 hour cruises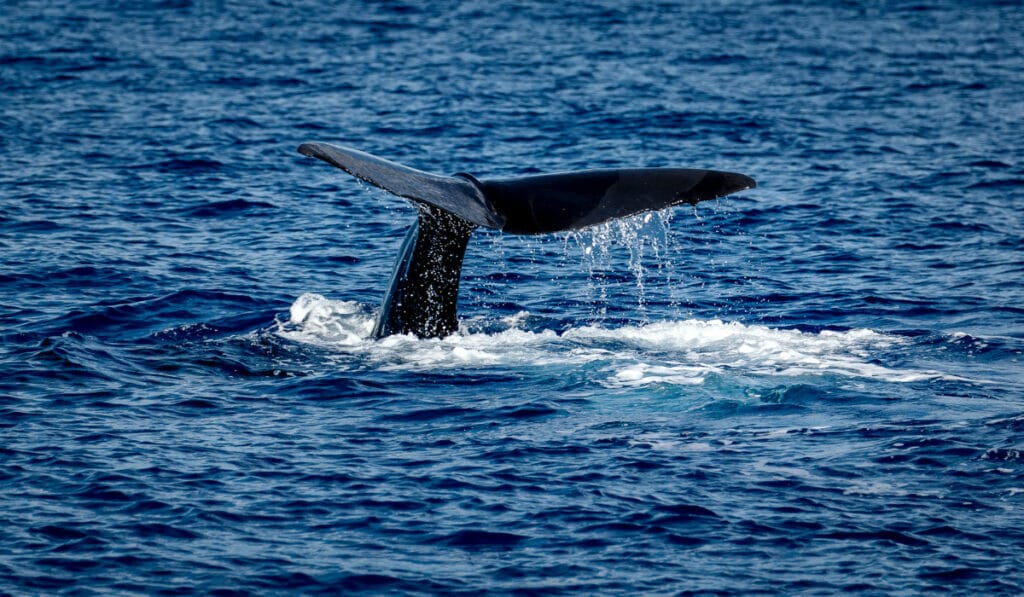 In addition to regular sunset and coastal cruises, Celebration Cruises offers a whale watching cruise during the Spring Gray whale migration season (February to May).
They offer a guarantee that if you don't see a whale on your tour, you can come back the following season (year) for free.
This isn't as flexible as Condor Express's guarantee, which they offer all year-round.
Their focus is on total comfort, as their multi level yacht offers cushions on all of the seating as well as first class options that give you access to the upper deck and drink and boarding priority.
There's also a full cocktail bar on board so they live up to the "celebration" in their name!
Great for couples and those wanting the first-class experience.
When: Mid-February to Mid-May
How Long: 2 hours
How Much: $50 for adults and $40 for children ($55 for first class tickets, available to ages 12 and up).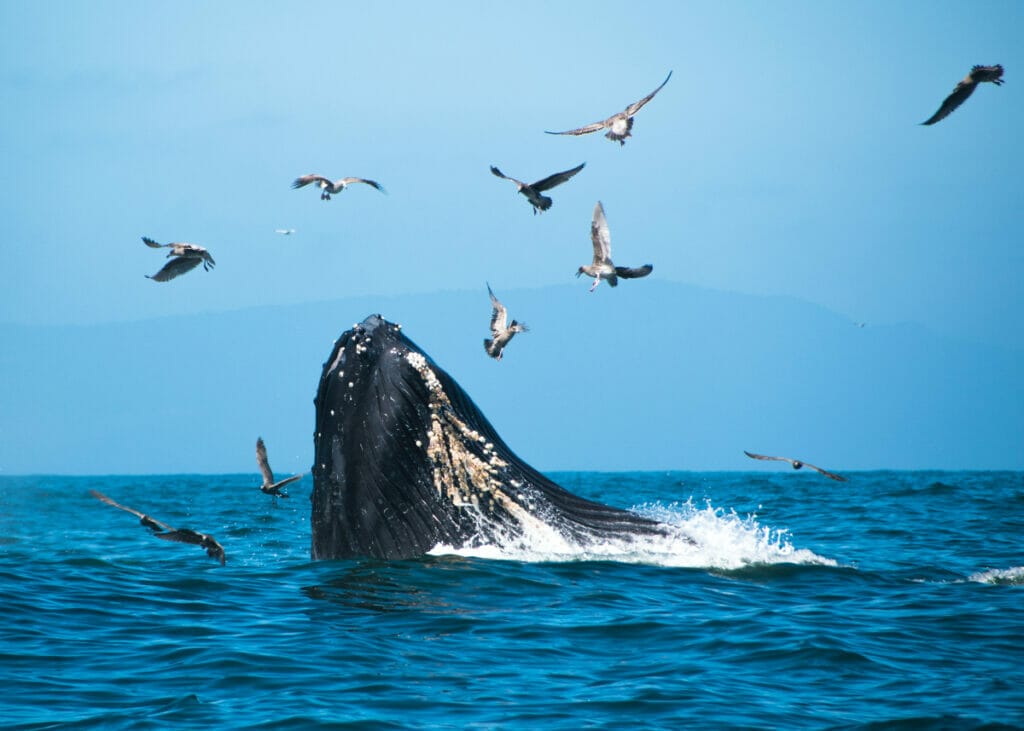 This seasonal whale watching cruise takes you on the Double Dolphin, a mid-sized catamaran (good for stabilization in rougher waters) that will let you get up close to the Spring Pacific Gray Whale migration!
This Santa Barbara whale tour is offered twice daily and a bar on board has drinks and gourmet snacks for sale if you need something to munch on while you enjoy the sightings of some of the largest animals on the planet.
When: Mid-February to Mid-May
How Long: 2.5 hours
How Much: $65 for adults and $45 for children 12 and under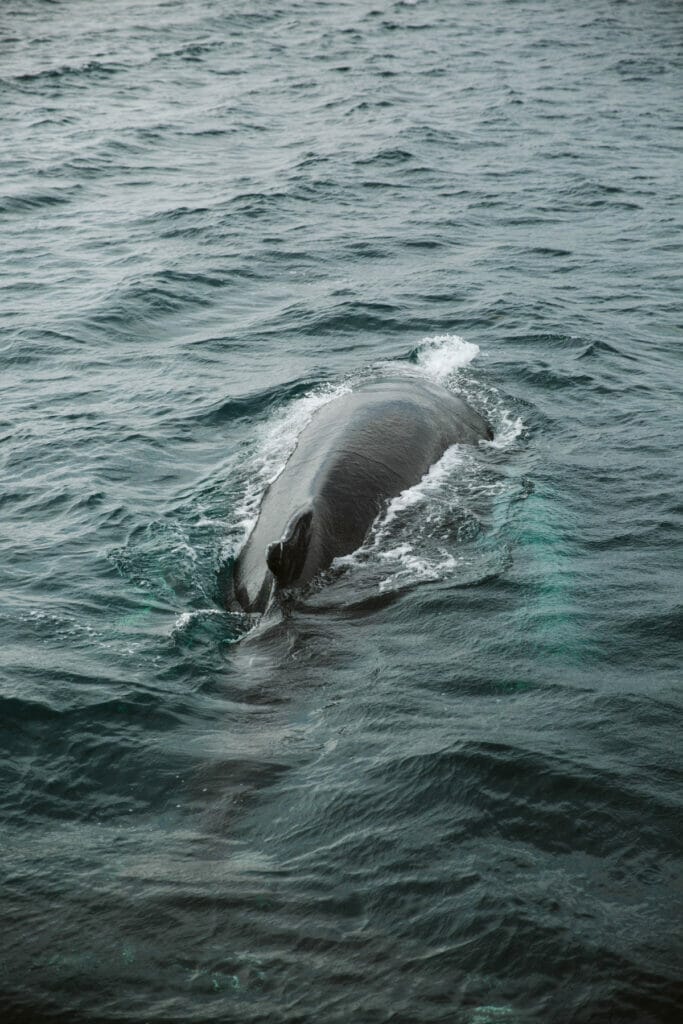 Based in Oxnard, just south of Santa Barbara, this is a great seasonal whale watching tour if you're staying closer to this area or want to take the tour as a stop on a trip from Santa Barbara to Los Angeles.
This is primarily a dolphin spotting tour for most of the year, but during those migration months from mid February to mid May, it also doubles as a whale watching tour as the whales will be abundant in the water and easier to spot.
They do not guarantee whale sightings at any point in the year unlike some other companies, but are a great choice if you're based in Oxnard and offer private charter options on their boat and are a much more intimate experience with room for 12 people rather than 50+ like on some of the others.
When: Mid-February to Mid-May for possible whale sightings, but run tour years round
How Long: 60 – 90 minutes
How Much: $69 for 60 minutes and $89 for 90 minutes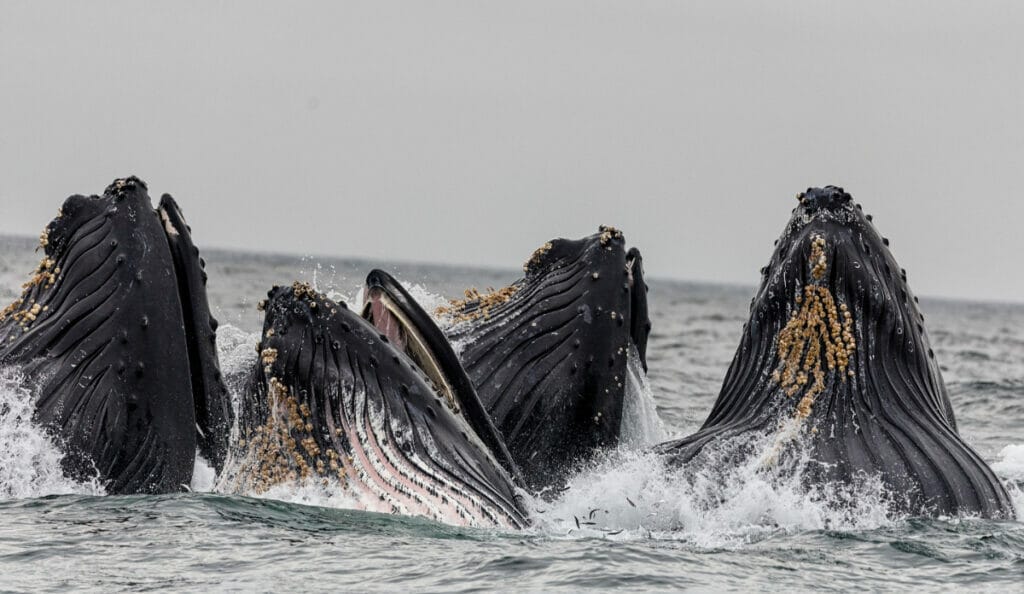 Captain Jack's are one of the only other Santa Barbara whale watching tours that operate year-round in addition to the Condor Express.
Captain Jack's offer everything throughout the year from wine tours to sunset tours and kayaking tours, but when it comes to whale watching, they've also got you covered!
They've got a slower, more leisurely catamaran for the Pacific Gray Whale migration season, as well as a higher powered catamaran that will take you further out during the "off season" on a longer tour to make sure you still have a good chance of seeing whales (you can also opt for the higher speed catamaran at times during the whale migration season as well if you want a more adventurous ride).
The company was started in 2005 by locals who wanted to bring the type of adventure-travel to Santa Barbara that they had just experienced on a trip to Hawaii, and the atmosphere of the company remains local.
You do need to call to book many of the tours instead of booking online, which is something to mention for anyone international who may not be able to make the call or would prefer to book online.
When: Year-round
How Long: 2.5 hours for February to May sailings and 4.5 hours for May to January sailings
How Much: $75 adults and $55 for children for 2.5 hours and $125 for adults and $75 for children for 4.5 hours (children 0-3 are free)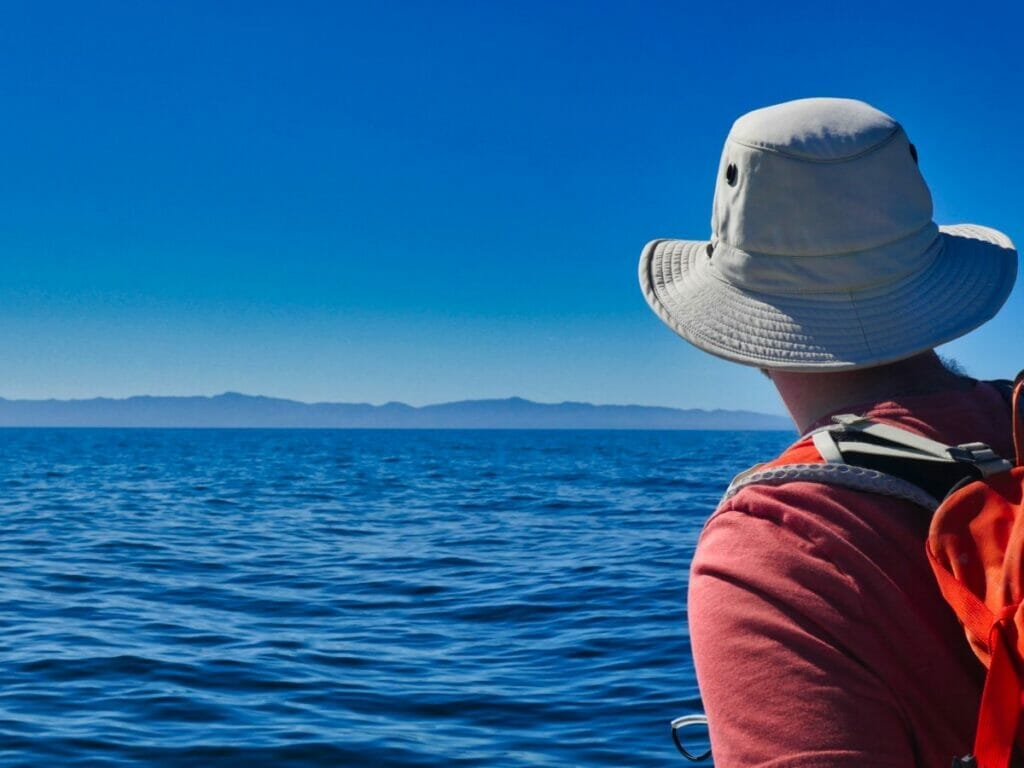 If you want a private charter option, Sunset Kidd's is for you!
They specialize in whale watching charters during the "season" of the migration from mid February to mid May and have experienced crew, a comfortable yacht experience, and welcome food on board so you can spread out and enjoy some snacks or drinks while keeping your eyes on the ocean.
This also means your dogs are allowed, and they can help arrange special surprises like proposals!
When: mid February to mid May for specific whale watching charters
How Long: private sailings so you decide!
How Much: dependent on how long, how many people, and what type of charter – get quote by calling
How Much Does it Cost to Go Whale Watching in Santa Barbara, California?
As you can see from the whale watching tours section, the costs to go whale watching vary and are typically cheaper from mid February to mid May when it is prime whale migration season (you're looking at range of $50-75 for adults).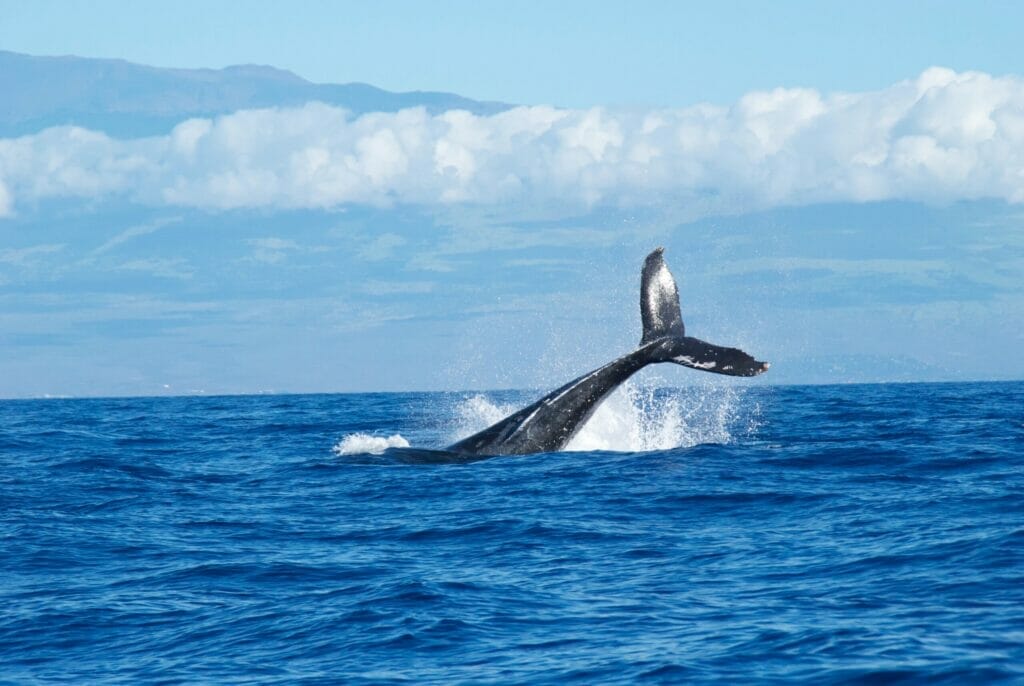 During the off-season where longer tours are required to get you closer to the Channel Islands to see whales, the price is around $109 to $125 for adults.
While this may seem like a major investment and it's certainly not a cheap activity in SB, it is absolutely, 100% worth it to really see the power of Mother Nature and get up close to animals that you have probably only seen on Planet Earth productions!
What to Pack and Wear for Whale Watching
If you've never been whale watching or out on a boat far out in the ocean before, it's really important to check out our list of what to wear and bring because it's easy to be caught off guard.
Where Can I See Dolphins in Santa Barbara?
Dolphins are abundant off of the shores of Santa Barbara and can be seen year-round (including some more rare species like the Pacific White Sided Dolphins from May to September).
The best way to ensure you see one is to take one of the whale watching tours (whales AND dolphins on one tour means more for your money).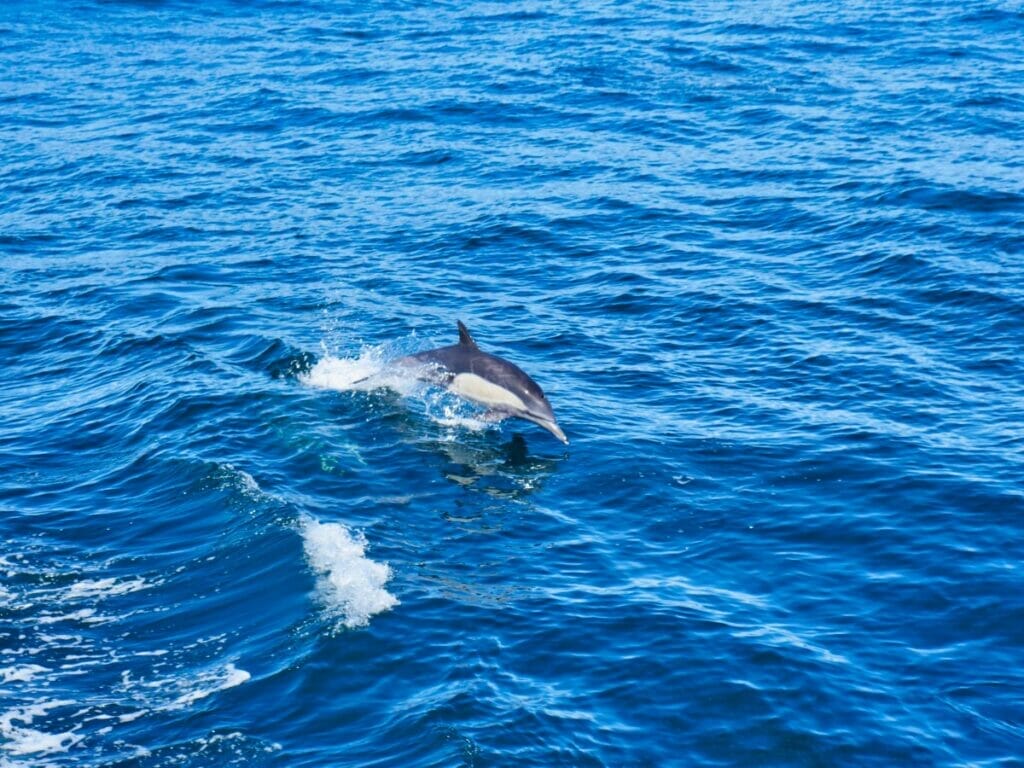 However, you can also take some dolphin-specific tours in Santa Barbara that are cheaper than the whale watching tours and are aimed at seeing dolphins and perhaps sea lions and birds.
The best ones are either the coastal cruises or the sunset cruises from Santa Barbara Sailing Center on the Double Dolphin catamaran.
Coastal cruises happen in the daytime, while the sunset cruises happen, as you expect, during sunset.
The "waterfront" tour is not the same, and won't take you far out enough for a good chance at seeing dolphins.
Coastal cruises are $55 per person and the sunset cruises are $65 per person.
Pin for later!
Get the All-American Travel Secrets!
Don't miss out on America's hidden gems!