From enchanting state parks to historic small towns, these day trips from Dallas are all fantastic ways to spend a day away from the big city streets.
Go boating on Texas' best lakes or spend a day shopping at Magnolia Market in Waco.
Stay closer to home by visiting somewhere nearby like Fort Worth, or pack everyone up early to reach further flung destinations like Texarkana or even San Antonio (here's how to get back from San Antonio to Dallas the fastest).
If you're in the San Antonio area, be sure to check out the best places to eat!
Or if you're headed to Houston on a solo trip, head on over to our ultimate travel guide.
Whether you're interested in shopping, nightlife, natural scenery or off-the-beaten-path sites (ever heard of the World's Littlest Skyscraper?!), these Dallas day trips should definitely be added to your Texas itinerary.
For each destination, you'll find the approximate driving time in minutes so you can decide if it's a day trip for you, and you'll also find the best sights and places to eat so you can just get in the car and go, knowing we've pointed you in the right direction!
Pin it for later!
1. Fort Worth, Texas
While Fort Worth is actually part of the Dallas – Fort Worth metro area, it is about a 33 minute drive from downtown Dallas and an easy Dallas day trip if you're not wanting too long of a drive.
Visit the Fort Worth Stockyards, where you'll be transported back to the time of a thriving cattle trade with saloon doors on every corner and plenty of cowboy boots in the store windows.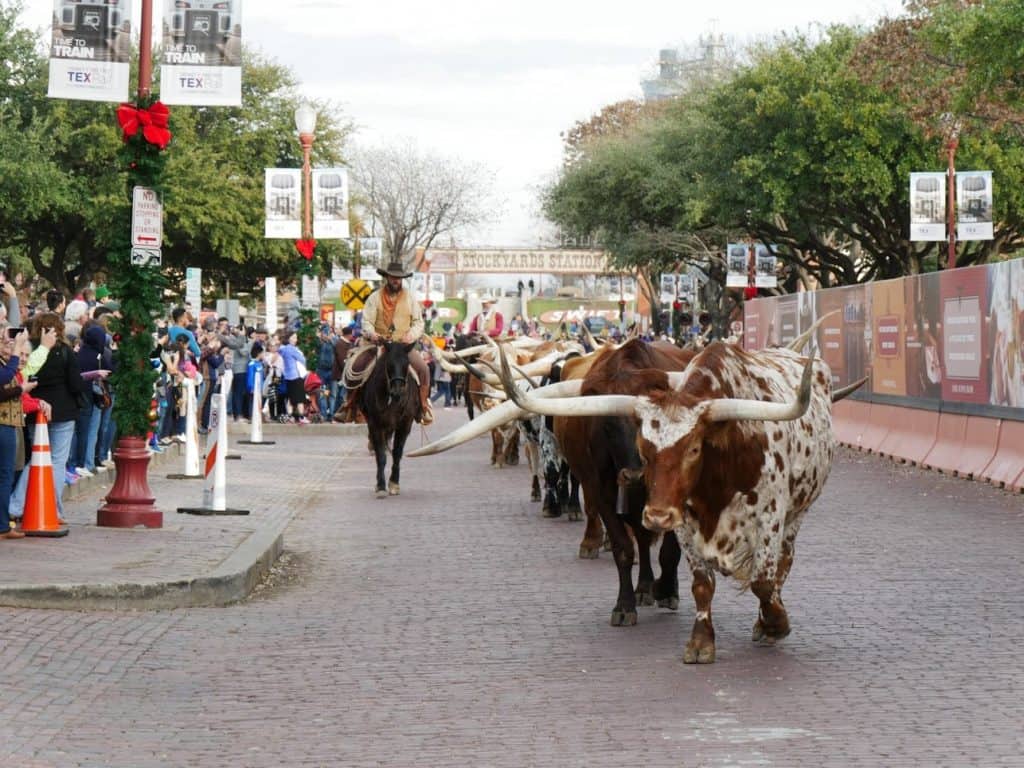 If the weather is nice, the Fort Worth Botanic Garden is a wonderful way to spend the day, wandering past the ponds and plants and soaking in the sunshine.
Art lovers will fall head over heels for the Kimbell Art Museum with its extensive Asian and European art collection.
Grab a bite to eat at Panther City BBQ, known for their smoked meats and Southern sides at reasonable price, or try some of the Tex Mex that is so famous in the area at places like Los Vaqueros near the Stockyards.
On a budget?
This guide to the best free things to do in Dallas and Fort Worth will help you keep the costs down.
If you're looking for a day trip from Dallas for families, Fort Worth is also a great choice as you can spend the day at the Fort Worth Zoo, home to over 7,000 animals.
Bring their swimming suits to take advantage of the Safari Splash water play area!
Distance from Dallas, in driving minutes: 33 minutes
2. Waco, Texas
While Waco has been known for many different things in its history, some tragic and some uplifting, today it is a perfect day trip from Dallas for couples who are interested in home renovation, college football, and antiqueing!
Perhaps the most famous thing to do in Waco is a visit to Magnolia Market, the destination dreamed up by Chip and Joanna Gaines from the hit HGTV show, Fixer Upper.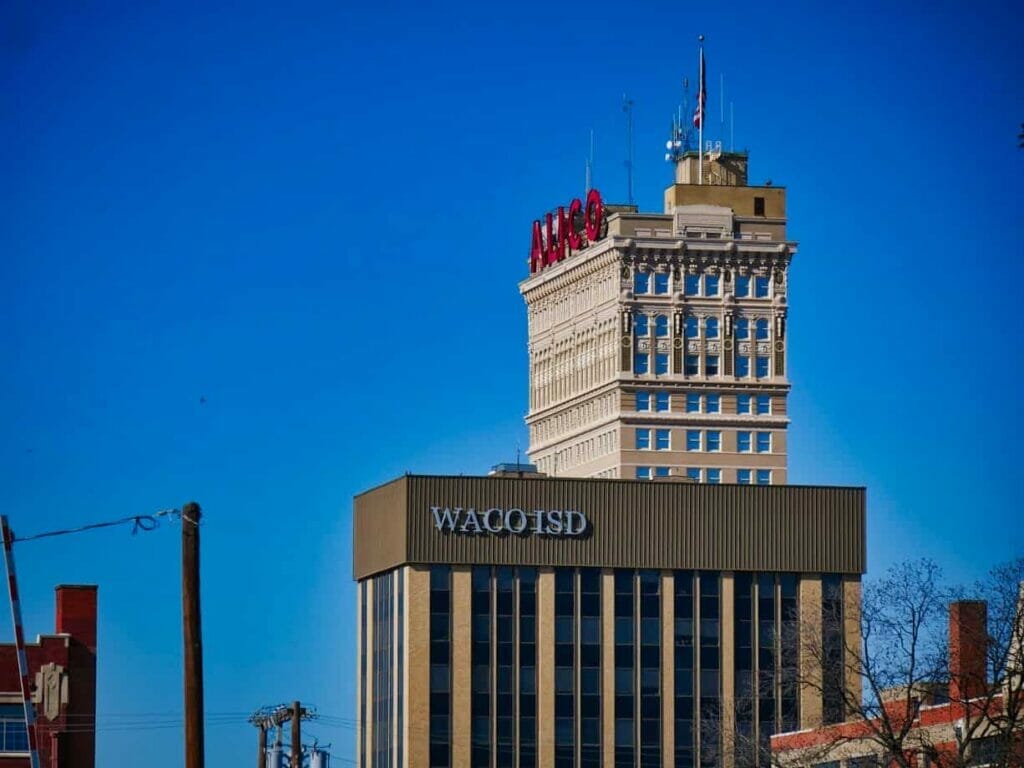 At Magnolia Market, you'll find everything from plenty of outdoor space to hang out with your family and play lawn games to a thriving store with plenty of home decor and Magnolia Market merch (demo day, anyone?) to a bakery with the best cupcakes you'll ever eat.
You can also eat at their restaurant, Magnolia Table, and there is a tram (okay, it's basically a golf cart) that will take you to other areas of Waco as well.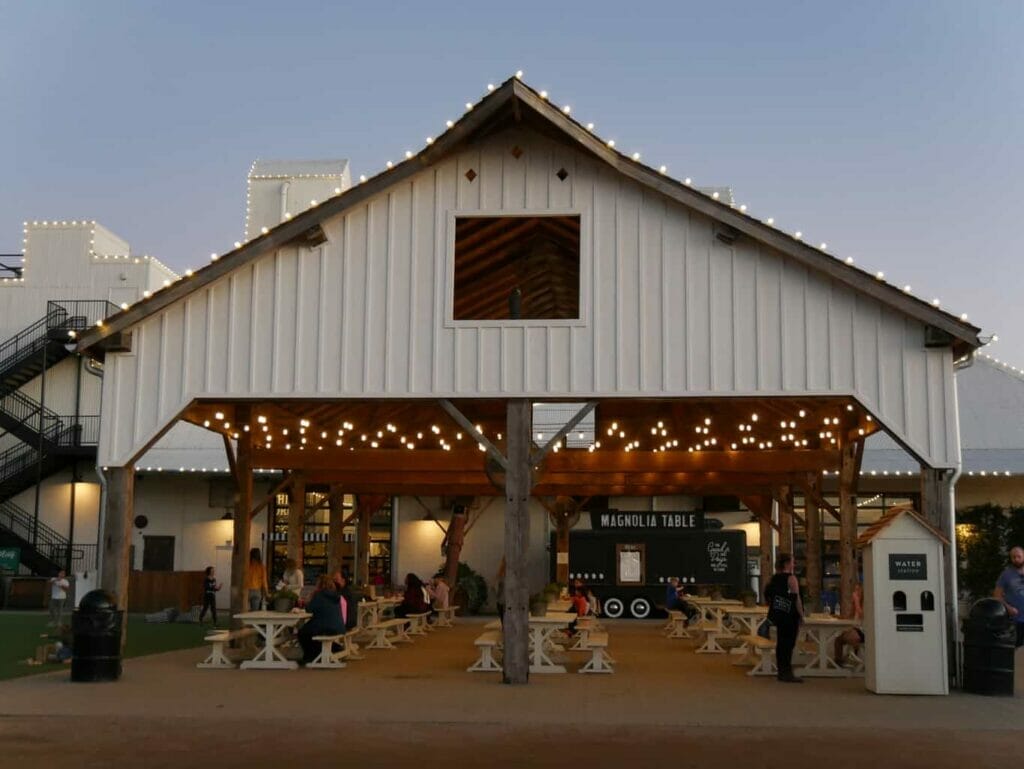 Visit Waco on a Baylor gameday to see some of the most enthusiastic sports fans in all of Texas, or if you'd like something a bit more low key, spend your day checking out the wonderful array of antique shops in the city.
There is also a Dr. Pepper Museum for any soda lovers, as well as the Cameron Park Zoo for some outdoor fun.
If you want an authentic Waco experience, get some coffee from Common Grounds Waco, a coffee shop with rustic decor that draws locals for live music and great talks.
This is also a great day trip from Dallas in the winter as there is plenty to do inside, so it doesn't matter what the weather feels like doing.
Distance from Dallas, in driving minutes: 1 hour, 32 minutes
3. Wichita Falls, Texas
Ready to see the World's Littlest Skyscraper?
That's right, the Newby-McMahon building is the source of local legend as this "skyscraper" only stands 40 feet tall.
The building dates back to 1919, and local stories have it that the developer drew up blueprints for a skyscraper 480 inches tall, and the investors didn't bother to ask questions and assumed he meant 480 feet.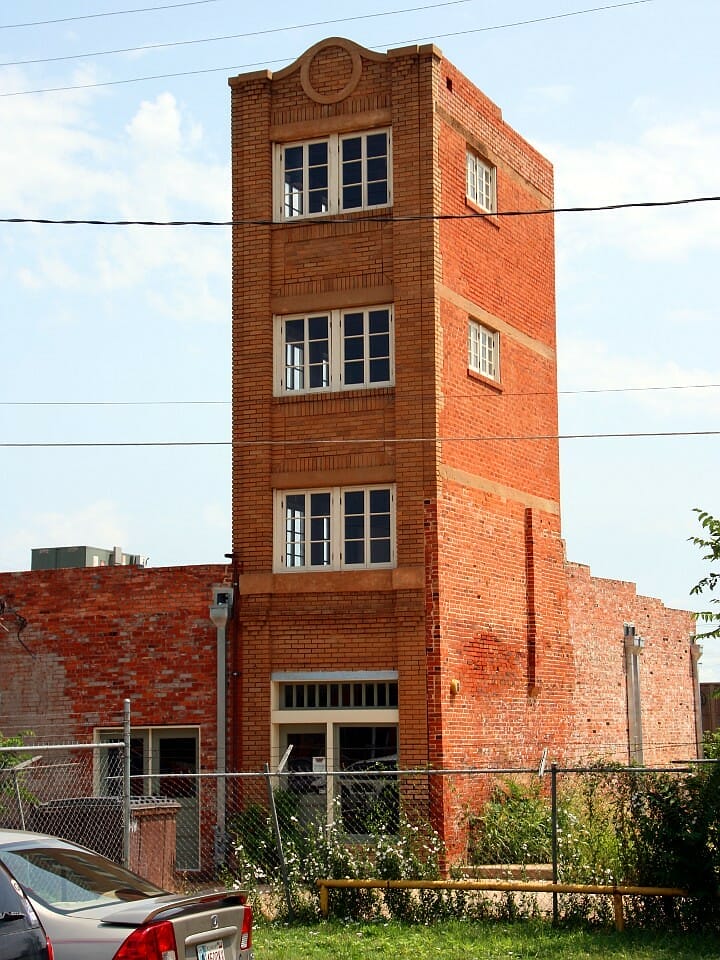 It was the swindle of the century, and today you can visit an antiques shop in the building.
Wichita Falls also has plenty of other (non-swindling) activities, including the Museum of North Texas History where you can learn about Native American culture and the history of the oil & gas industry.
Visit the Kell House, dating back to 1909, to take a walk through a period home and see what life would have been like back in the day, or take a walk through Wichita Lake Park (also including a dog park!).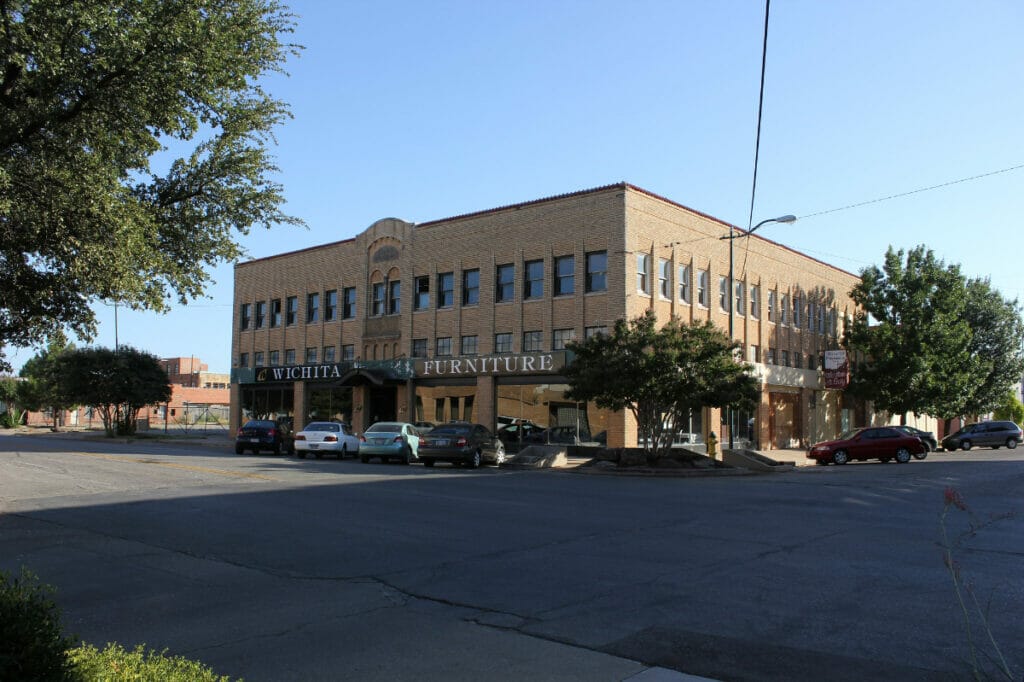 Stand-out restaurants include The Highlander Public House and Gypsy Kitchen & Bar, both downtown.
Get some drinks from Wichita Falls brewing company which has an awesome selection of beers and some of the best pizza in the area.
Distance from Dallas, in driving minutes: 2 hours, 7 minutes
4. Texarkana, Arkansas (and Texas)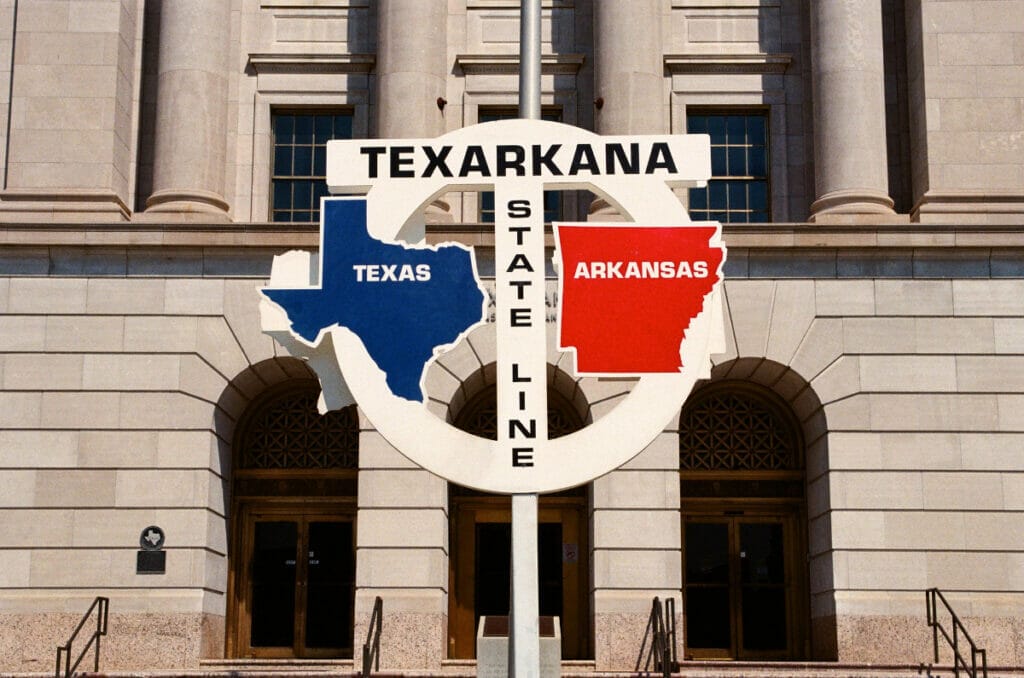 Not only can you take a day trip from Dallas to other parts of Texas, but you can reach other states!
If you've ever been curious about a city that spans two states, Texarkana is the place to go as half is in Texas and half is in Arkansas.
Check out downtown Texarkana where you'll find the Ace of Clubs House, a house built in 1885 that's actually shaped like a playing card club.
The Four States Auto Museum is a must-do for car lovers, and there's also the Museum of Regional History which uses a 19th century office building to teach locals and visitors about the history of Texarkana and beyond.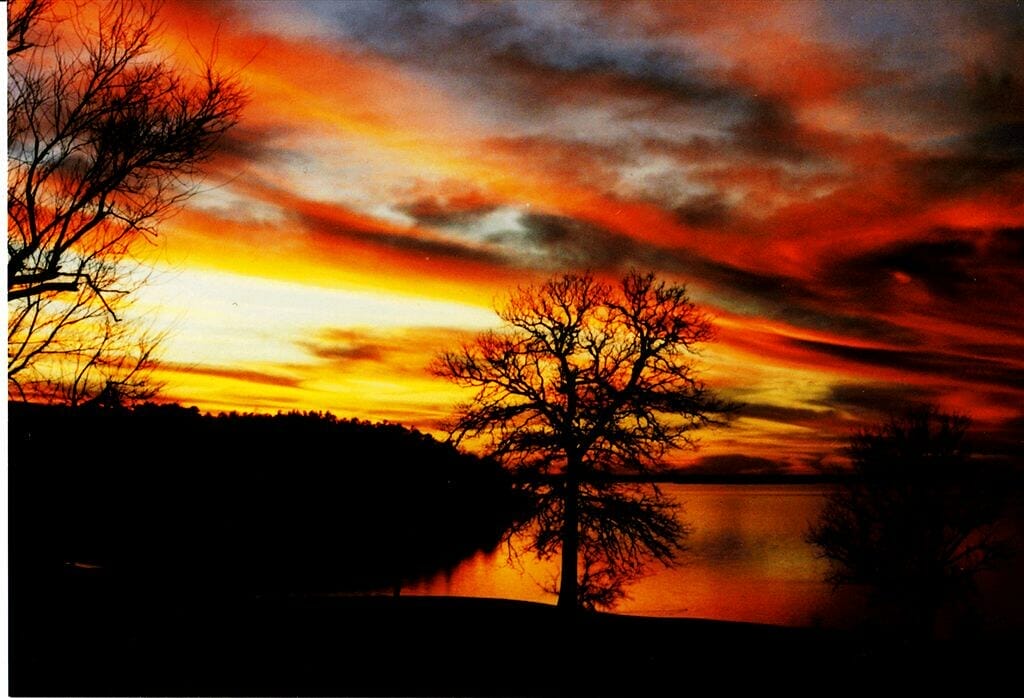 For great food, stop by the Pecan Point Gastropub (try the burger and duck fat fries!) or Zapata's for authentic Tex Mex food.
If you're wanting to explore other parts of Arkansas, this is a great in-between point on a road trip from Texas to other Arkansas destinations like Hot Springs or Fayetteville.
Distance from Dallas, in driving minutes: 2 hours, 43 minutes
5. Texas Motorplex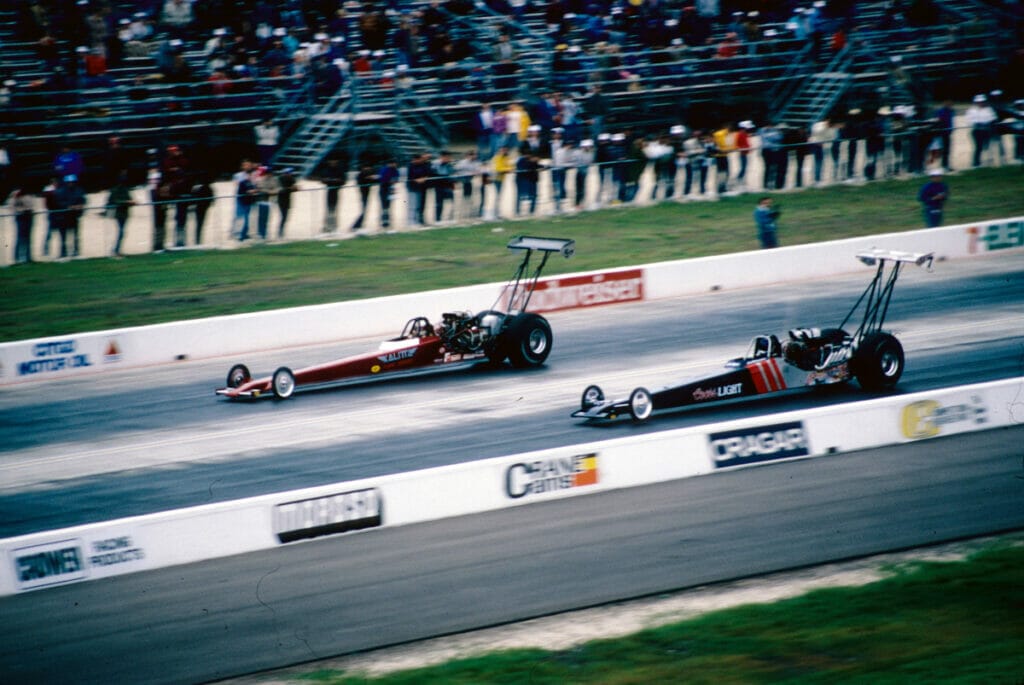 Located near Ennis, Texas, the Texas Motorplex is one of the best places to watch drag racing for anyone who loves the thrill of fast cars.
They've won plenty of awards from the National Hot Rod Association (NHRA) for the quality of the venue, and there are regular races on, including championships.
The quarter mile strip often breaks speed records and there are also other events hosted here like concerts, bike racing, rodeo events and even monster truck events.
With concession stands and a restaurant on-site, you don't have to worry about where you're going to eat, and it's close enough to Dallas that you can be there in less than an hour.
Distance from Dallas, in driving minutes: 39 minutes
6. Cedar Creek Lake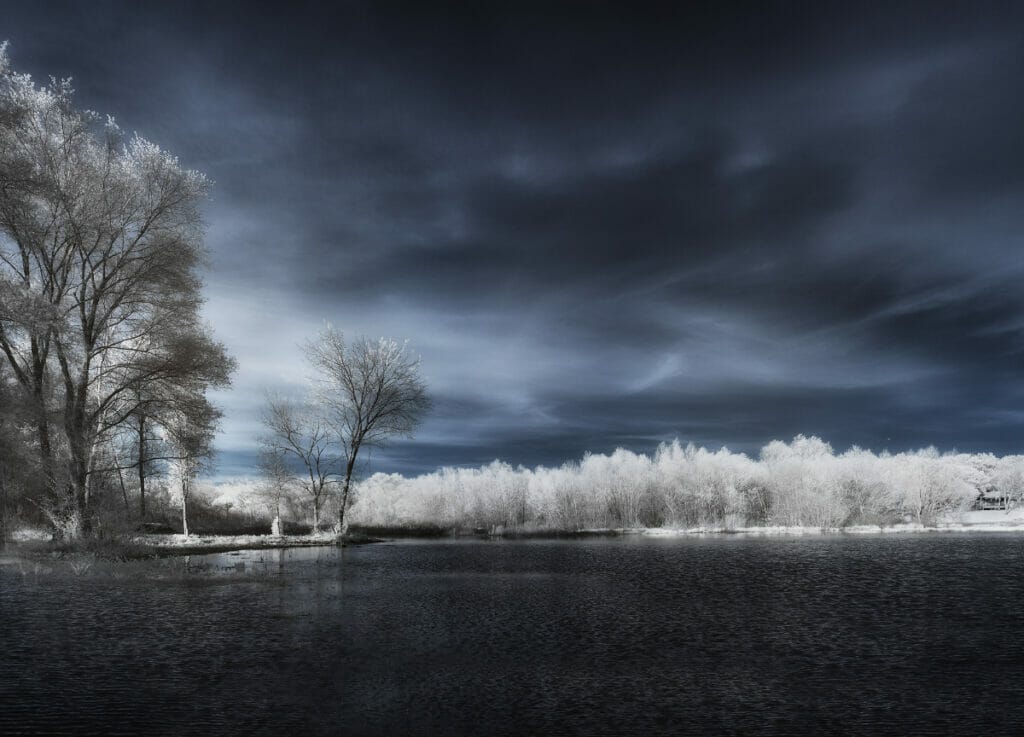 One of the best day trips from Dallas for outdoor lovers is Cedar Creek Lake.
Not only is it the fourth largest lake in Texas, but it has everything from fishing to boating to the opportunity to just sit on the shore with a picnic.
The history of the area dates back to 1835, and people have been enjoying the water and natural scenery since then.
If you like to fish, you'll find the lake teeming with catfish and white bass, with the bass being more prevalent in the spring and catfish being year-round.
Five marinas offer excellent boating opportunities, as well as plenty of coves where you can go swimming and enjoy the Texas sunshine.
If you don't have your own boat, you can also rent kayaks, pontoons, paddle boards and waterskis.
There's really nothing better than a day at the lake, especially when you want to get away from the hustle and bustle of Dallas.
Distance from Dallas, in driving minutes: 1 hour, 7 minutes
7. Tyler, Texas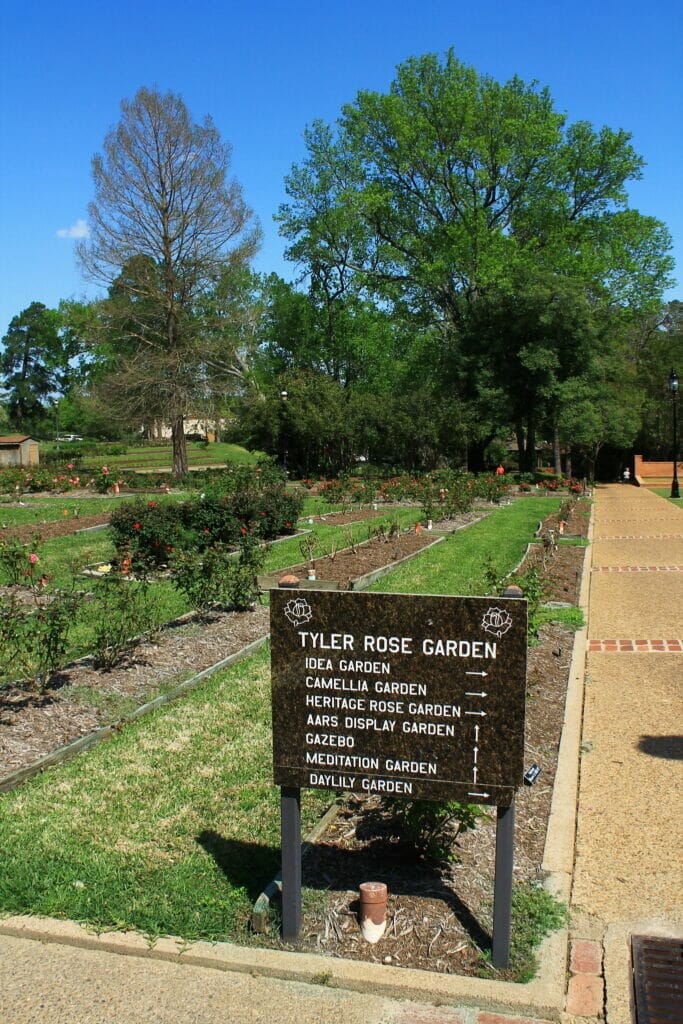 Known for its rose cultivation, Tyler, Texas is a gorgeous place to explore on a day trip from Dallas.
Start at the Tyler Rose Museum, where you'll learn about the history of the Rose Festival and plenty of memorabilia from the rose cultivation history in the city (they really, really like roses).
If you prefer other types of history in addition to…well, floral, visit the Cotton Belt Depot Museum to learn about the history of trailways in the area or the Goodman-LeGrand House with Civil War-era furnishings.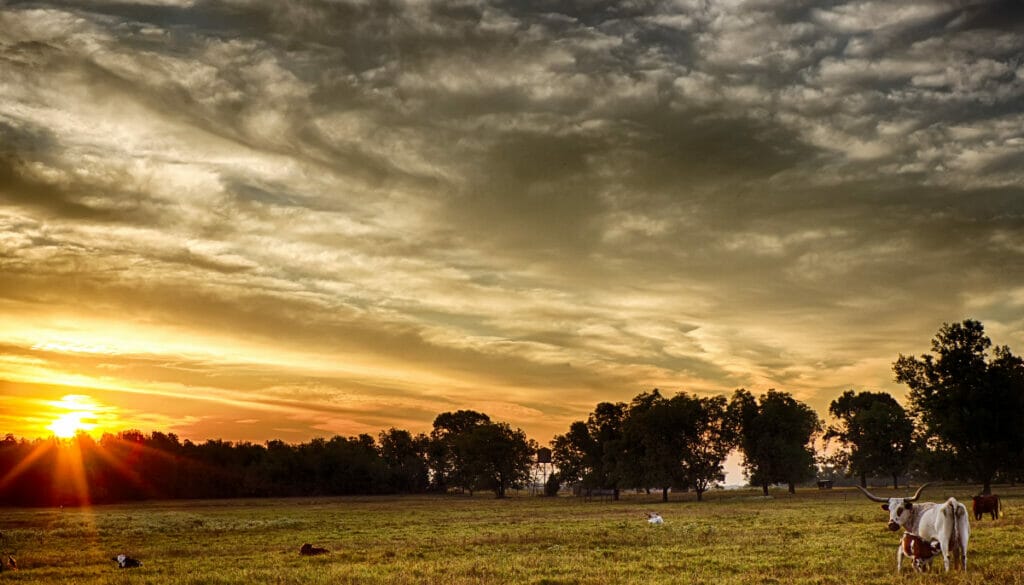 Got the kids in tow?
Try the Discovery Science Place, an interactive children's museums with everything from a giant ship to a pretend doctor's office where your child can put on the stethoscope and pretend to be the one in charge!
Drop by the Caldwell Zoo for an afternoon of family fun, or get a bit more sophisticated at the Tyler Museum of Art.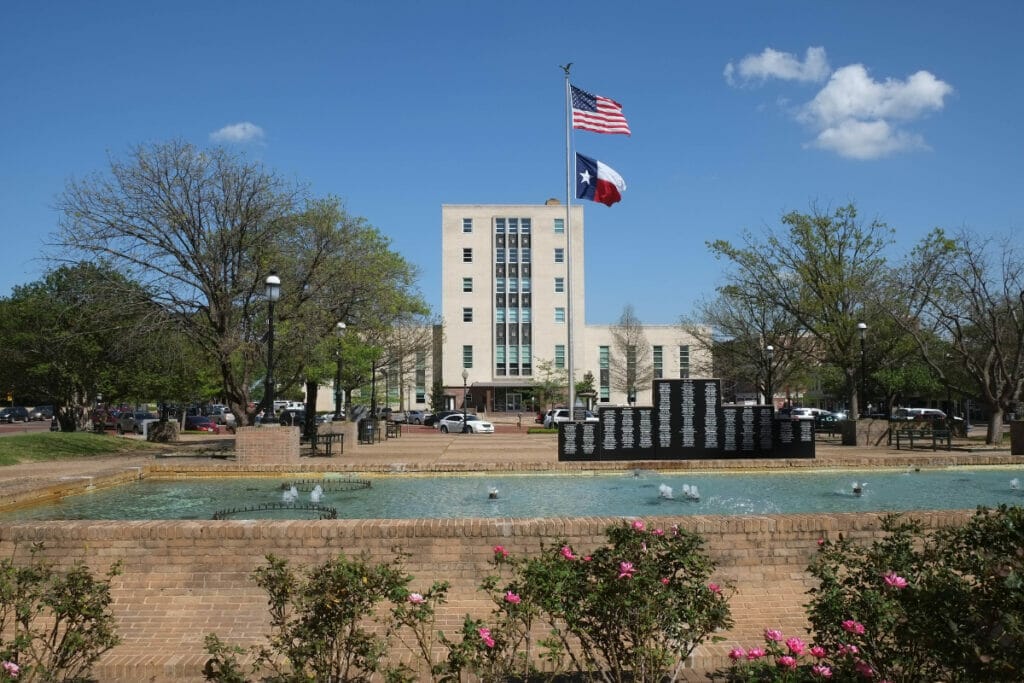 For Southern food you'll remember forever, visit Rick's on the Square with southern seafood and steaks that'll rock your Texas-loving world.
Distance from Dallas, in driving minutes: 1 hour, 35 minutes
8. Angelina National Forest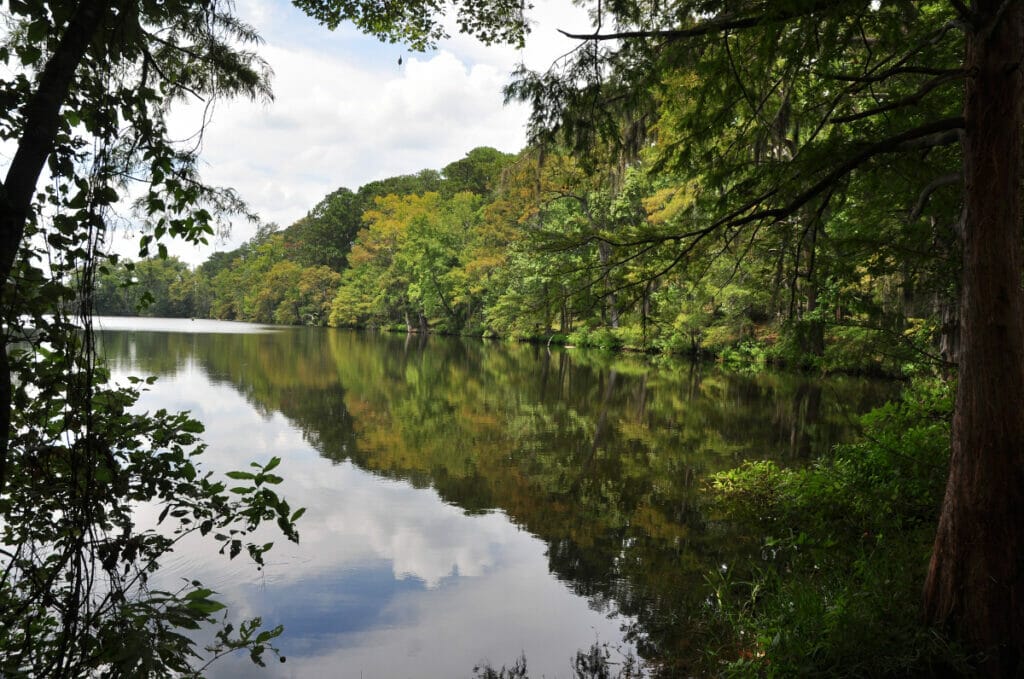 It's a hefty drive, but a fantastic hiking day trip from Dallas.
The Angelina National Forest has over 100,000 acres of recreational area and is the perfect option for camping, hiking, or finding peace in nature.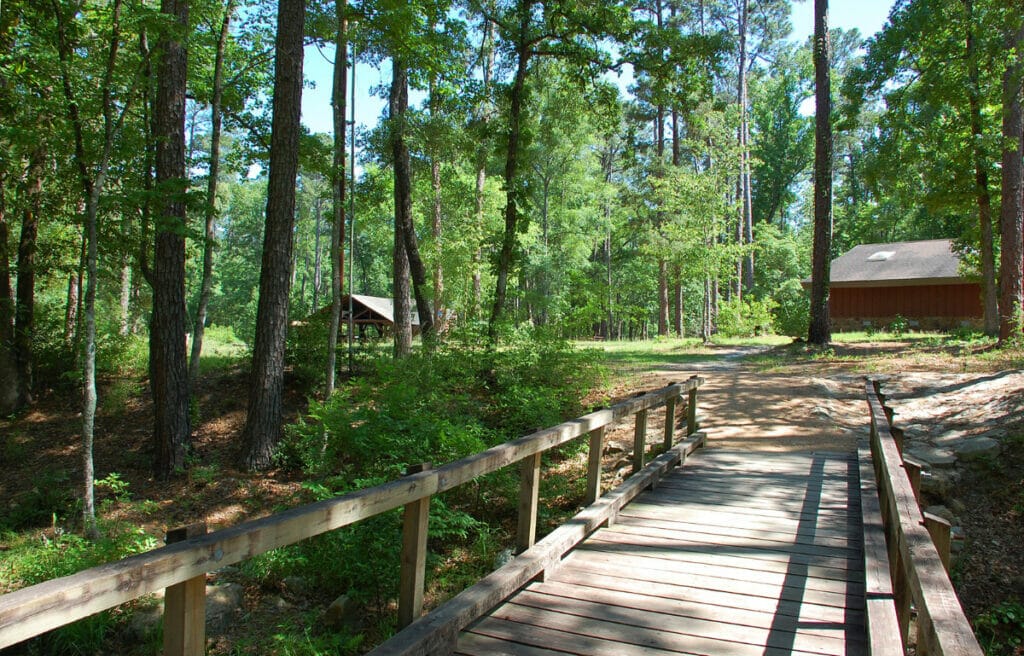 Go birdwatching to spot the abundant local wildlife, or bring your tent and use one of the secluded campsites to reconnect with family and friends.
There's also a beautiful lakefront with fishing opportunities, and plenty of marked trails so you can set off on an adventure and still make sure to end up back at your car at the end of the day.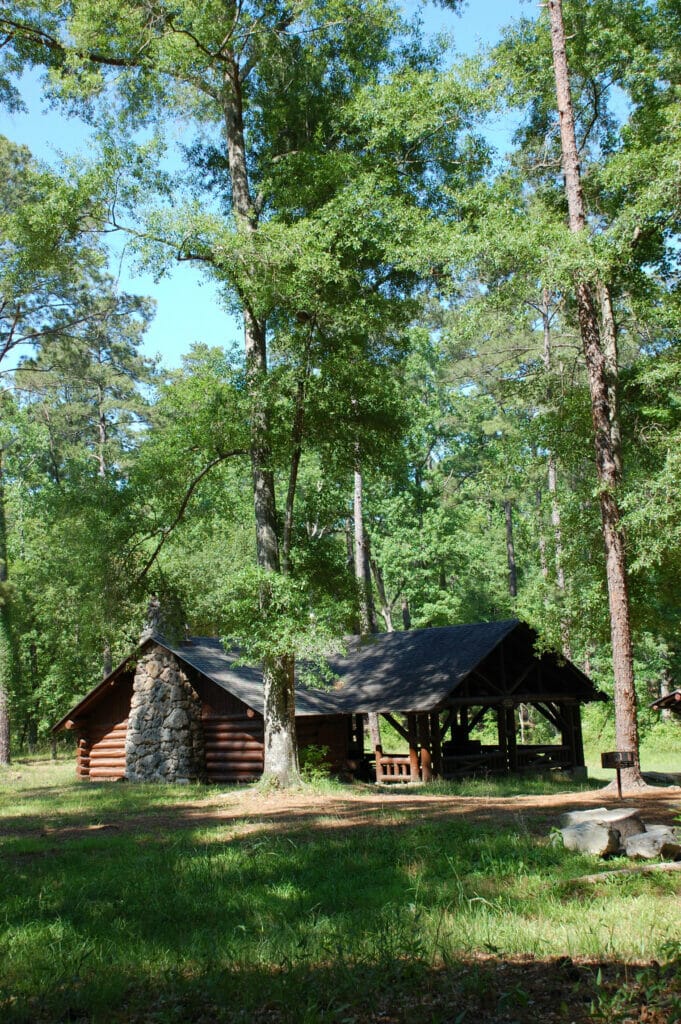 Go early in the morning and leave late to make the most of the day, as the drive can eat up quite a bit of time if you don't plan correctly.
Distance from Dallas, in driving minutes: 2 hours, 53 minutes
9. Davy Crockett National Forest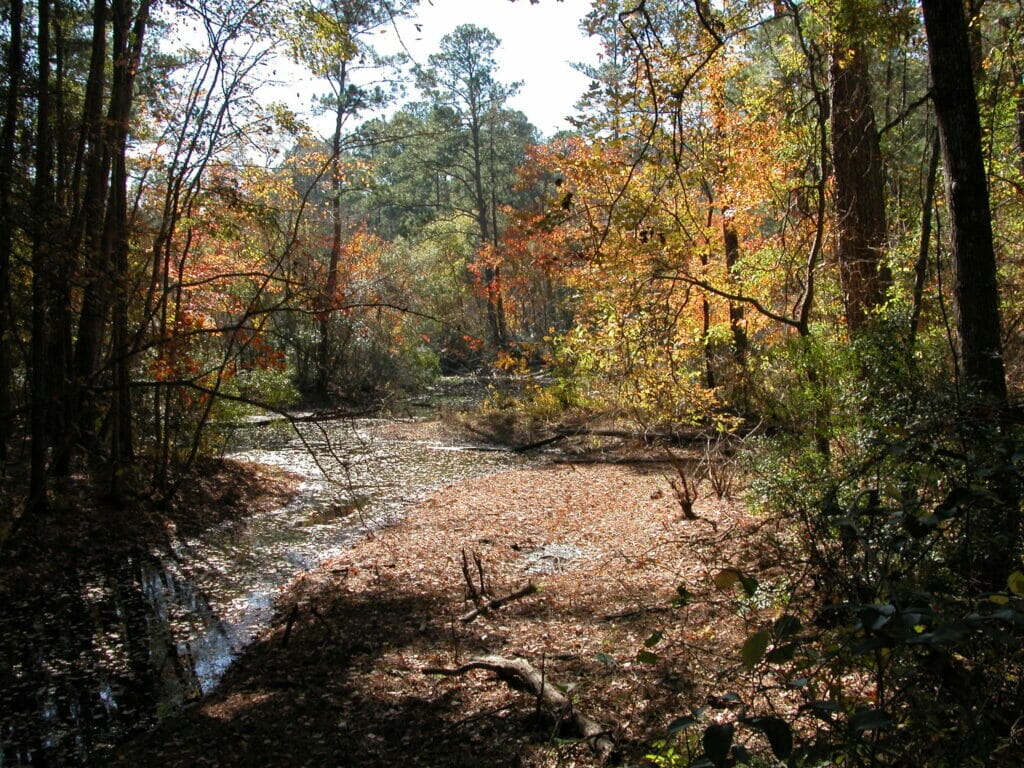 There's nothing like embracing the wild American scenery at the Davy Crockett National Forest, named for a historic figure and legend in American culture (you're probably singing "king of the wild frontier" in your head right about now!)
The forest became a National Forest in 1936 with the help of FDR, and ever since then it has been a family-friendly place to camp, hike, fish, practice outdoor sports like archery, and get back to the basics in life.
If swimming is your thing, there is a swimming beach at Ratcliff Lake, or stick to dry land as you go hiking on the Four C National Recreation Trail.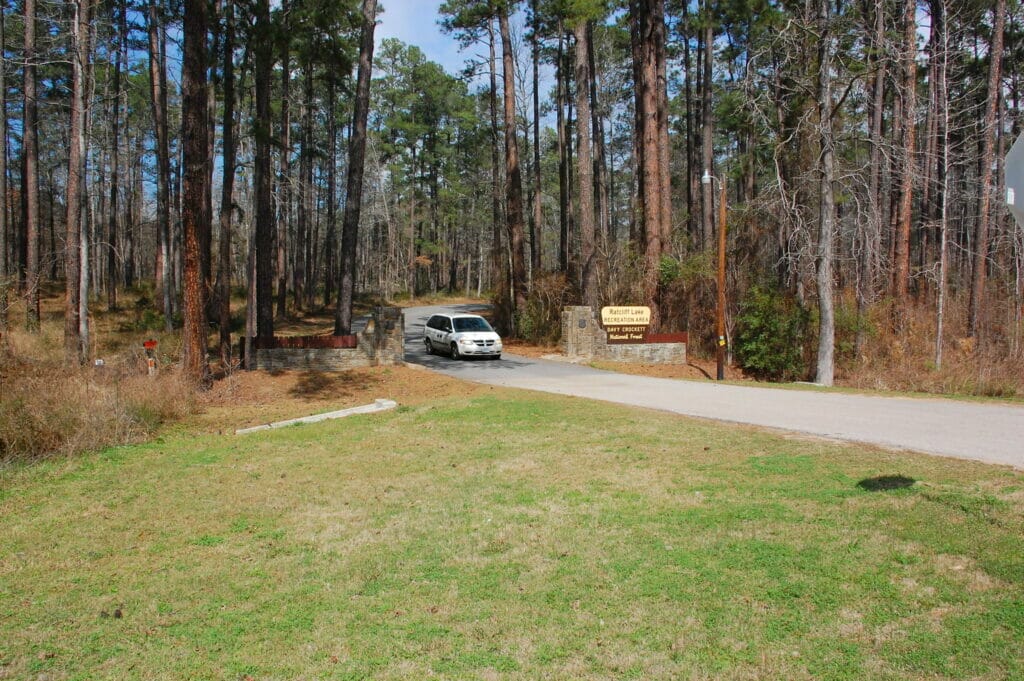 Horseback riding is popular on the Piney Creek Horse Trail, and primitive camping is available in the forest in secluded locations.
Look out for woodpeckers, deer, turkeys, and more wildlife who call this gorgeous place home.
Visitors find the campgrounds clean and quiet, and the sunrises within the park are stuff of legends so don't sleep in!
Distance from Dallas, in driving minutes: 2 hours, 47 minutes
10. College Station, Texas
There's no beating around the bush.
If you're visiting College Station, Texas on a day trip from Dallas, there's a 99% chance that the reason you're there is for an Aggie game!
Texas A&M is a popular and well-loved university across much of Texas, and you'll find the beautiful campus and the giant stadium for the Aggie football team in College Station.
This is a university town through and through, with plenty of student hang out spots and sports options.
The Aggies play in Kyle Field, the fifth largest stadium worldwide (it's always bigger in Texas!) and Texas A&M fans descend on College Station every game day.
If you're looking for other things to do before or after the game, or maybe are on a college visit, check out the George HW Bush Presidential Library or get some Texas barbecue from C&J Barbecue off Wellborn Road.
Also don't miss a fresh donut from Donald Donuts, because there is nothing that college students love more than donuts so why not join in on the fun?
Distance from Dallas, in driving minutes: 2 hours, 48 minutes
11. Lake Whitney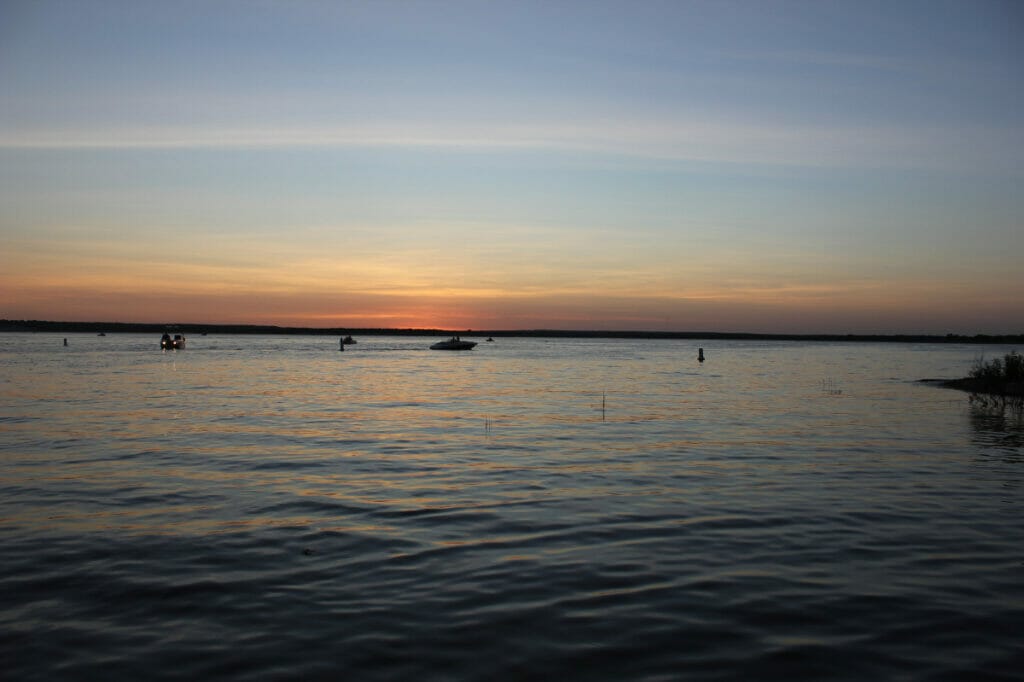 To the southwest of Dallas, water babies will find their oasis in Texas, Lake Whitney.
This is where the Brazos River flows into Lake Whitney, and there are so many boating, kayaking, camping, and state park options that you'll be spoiled for choice.
Go camping at Lake Whitney State Park with its spacious campgrounds and water views, or base yourself at McCown Valley Park where you'll find family-friendly camping and a few small cabins for those who don't love the tent life.
Head to the Cedar Creek Park boat ramp or the Lake Whitney marina for all of your boating needs, and enjoy days spent out on the lake without a care in the world.
There are plenty of places to buy essentials nearby, including the town of Whitney which has everything from a sports bar to auto shops to hardware stores and an urgent care center.
It's easy driving distance from Dallas and a great way to get out on the water.
Distance from Dallas, in driving minutes: 1 hour, 38 minutes
12. Granbury, Texas
This historic Texas town makes a great Dallas day trip for those interested in historic architecture, great museums, plenty of friendly faces and boutique shopping to please even the most obsessed shopaholics.
Head to the Historic Downtown Square for vibrant festivals and social life, as well as down to earth restaurants like the Filling Station (the hamburgers are a must-eat).
You'll find art galleries, wineries, and memorabilia shops all within just a few minutes walk from each other.
Stop by the Hood County Museum for a historic tour of an old jail, or try the Bridge Street Historic Museum which focuses on one Granbury family and their role in greater Granbury society.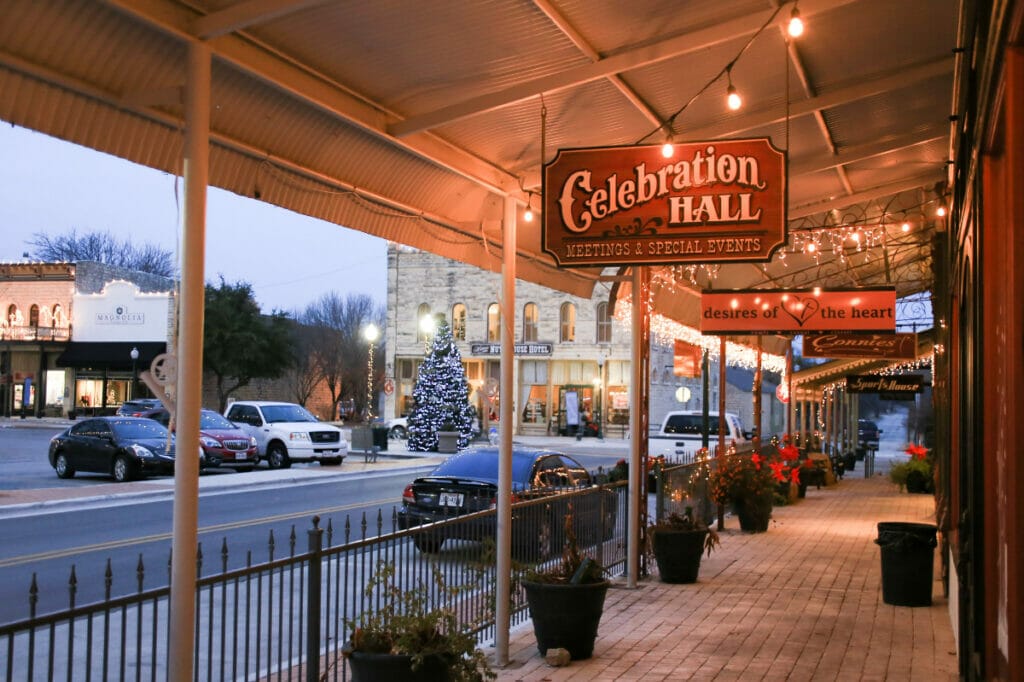 Granbury City Beach Park offers some space to swim and sit on the sand while soaking in the rays along the Brazos River.
It's really not surprising that Granbury has been consistently voted as one of the best small towns in Texas!
Distance from Dallas, in driving minutes: 1 hour, 17 minutes
13. Eisenhower State Park (Oklahoma/Texas border)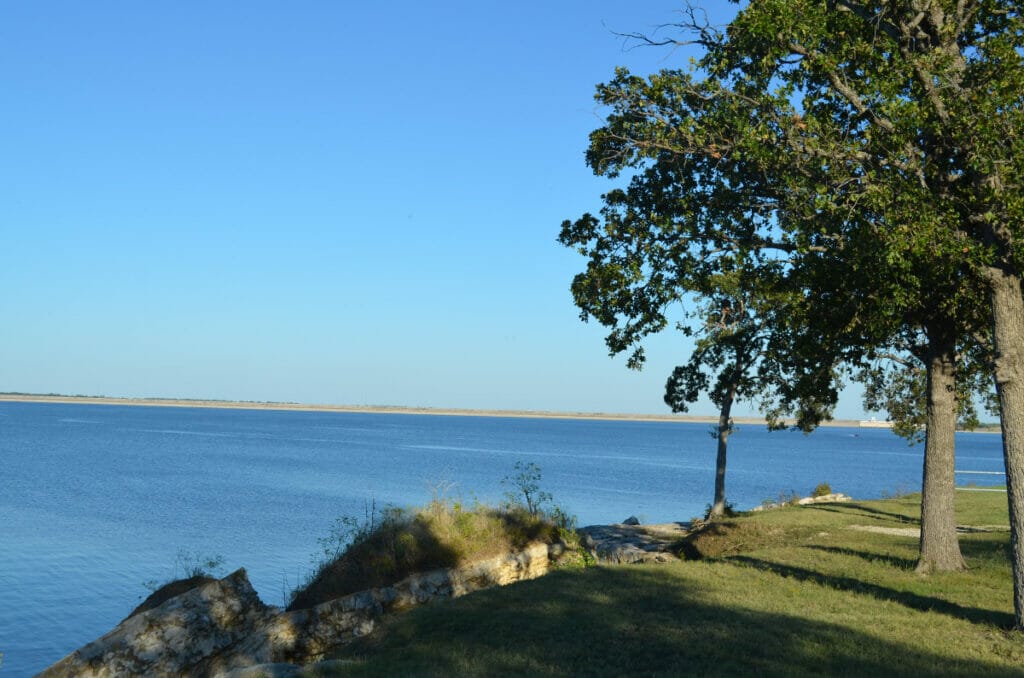 Located in Texas, but on the water border between Oklahoma and Texas, Eisenhower State Park is a fantastic day trip in Texas for hiking (check out this helpful full guide to Eisenhower State Park!)
The park is well-maintained and there's a great trail around the lake for walking or biking (over 6 miles!).
There are also lots of picnic tables, as well as swimming options and a marina with boats for rental in case you prefer life on water to life on land.
Don't forget to check out the enchanting cave area, as well as the gift shop with a few essentials and some memorabilia!
Distance from Dallas, in driving minutes: 1 hour, 26 minutes
14. Caddo National Grassland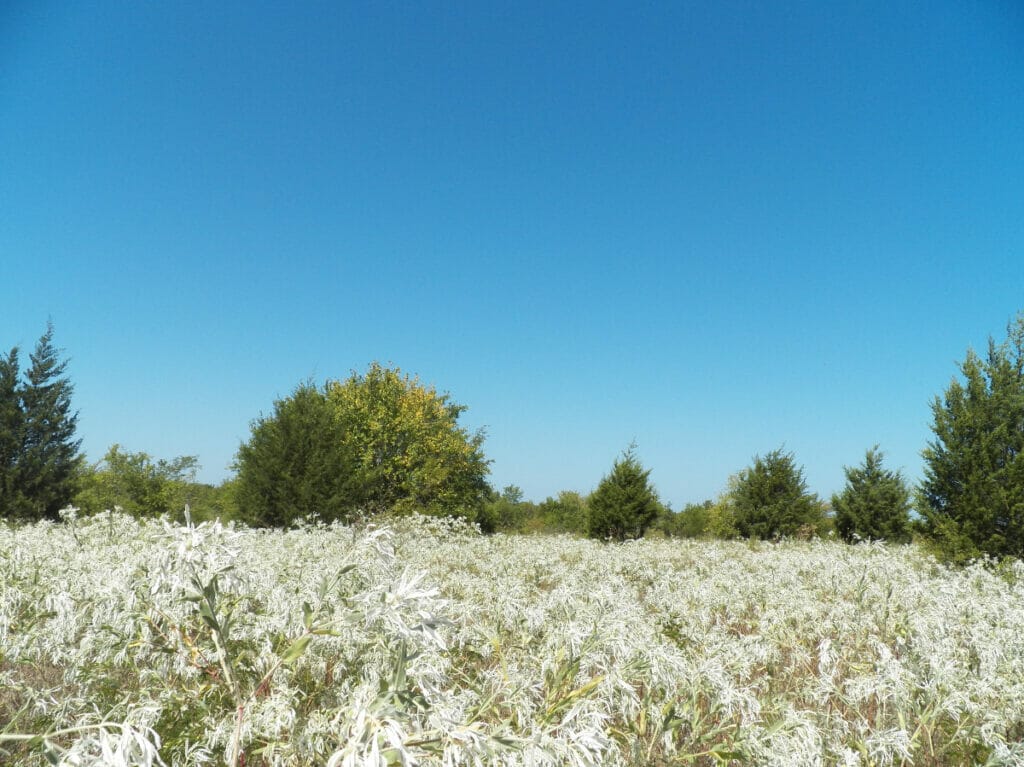 Whether you're into hiking, fishing, archery or just wildlife watching, the Caddo National Grassland is a fantastic Dallas day trip!
It's quiet, with only the sounds of the rustling of squirrels in the distance, and there are picnic tables so you can enjoy your food in between fishing and hiking.
Trail riding is available for those on horseback and the camping areas are clean and well-maintained.
Even more exciting for those willing to stay until late are the dark skies over this area, allowing you to see so many bright stars that are invisible over the brighter lights of Dallas.
Distance from Dallas, in driving minutes: 1 hour, 47 minutes
15. Cooper Lake State Park
This secluded state park is a great place to get some fresh air with easy walking trails and some beautiful flowers and plants to watch bloom in the Spring.
There is camping available to those who want it, but day trips are just as fun for fishing or walking around the area.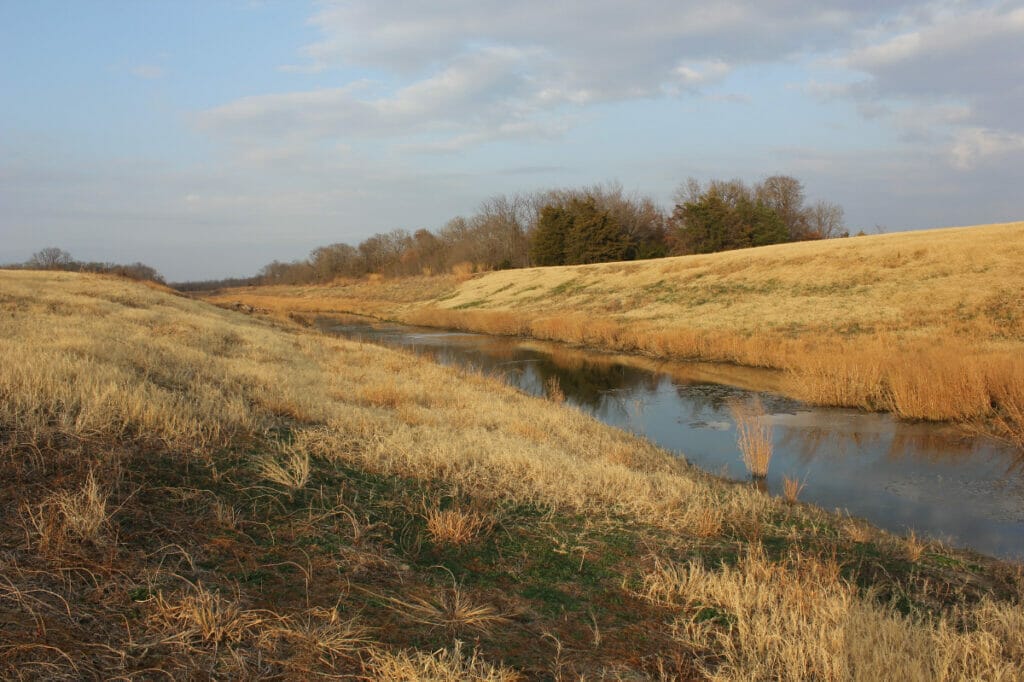 While Dallas does have some city parks, being able to drive to somewhere so open and free and untouched by too many human hands is a fantastic way to clear your mind and reconnect with your travel companions.
Distance from Dallas, in driving minutes: 1 hour, 27 minutes
16. Richland Creek Wildlife Management Area
If you want nature in Texas, but prefer the "rugged" method instead of paved nature trails, Richland Creek Wildlife Management Area is for you.
Here, you'll find plenty of open space for birdwatching, fishing, hiking and hunting.
There are wetlands, swamps, marshlands and more in this vast area, and you'll be sure to spot wildlife like reptiles and pigs and other animals that you might not usually see in nature parks.
The rangers are friendly, the views are gorgeous, and the air is clear, so what are you waiting for?
Distance from Dallas, in driving minutes: 1 hour, 31 minutes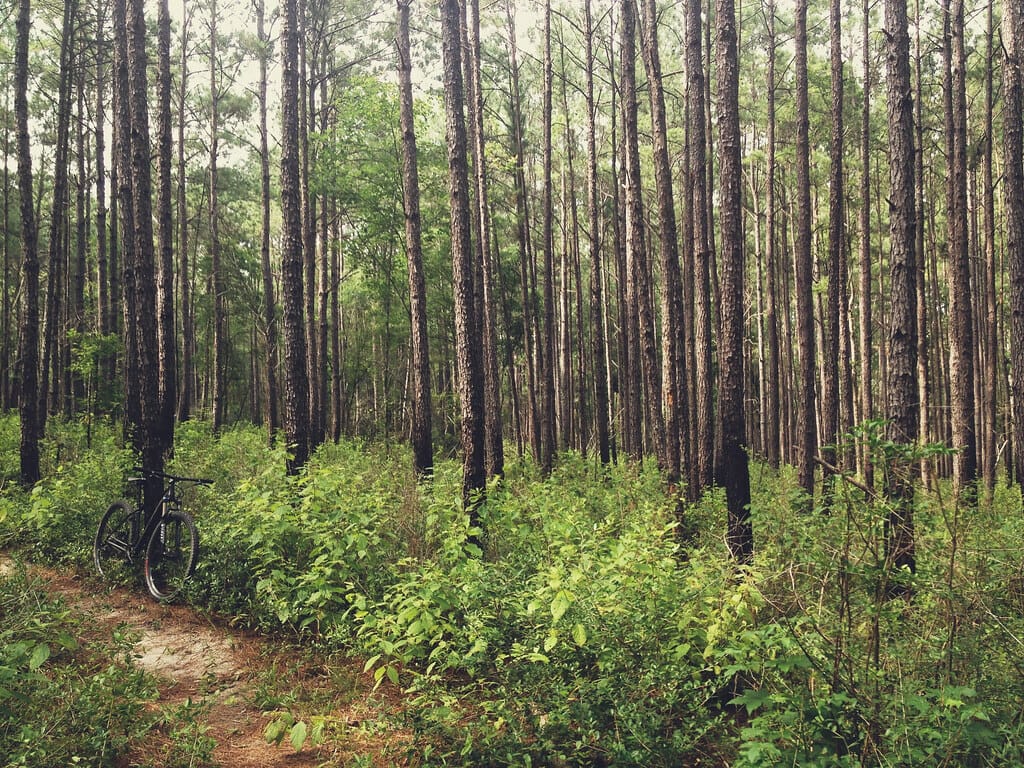 As one of the very astute reviews on this Dallas day trip states, "It's a forest. It has a lot of trees."
And yes, there are lots of trees here, but also lots of room for hiking, biking, camping and even boating if you have your own boat.
It's a popular getaway for Texas A&M students, not too far from College Station, and the sunset from the lake is seriously stunning.
Hiking trails are also an option for a day hike, and it's a great area for nature lovers within a day's drive from Dallas.
Distance from Dallas, in driving minutes: 2 hours, 32 minutes
Pin for Later!
Get the All-American Travel Secrets!
Don't miss out on America's hidden gems!