If you're at all familiar with Fixer Upper on HGTV, Chip and Joanna Gaines, you'll immediately know why we took a journey to the Silos at Magnolia Market in Waco, Texas (if you're not, make sure to buy their book on the Silos here.)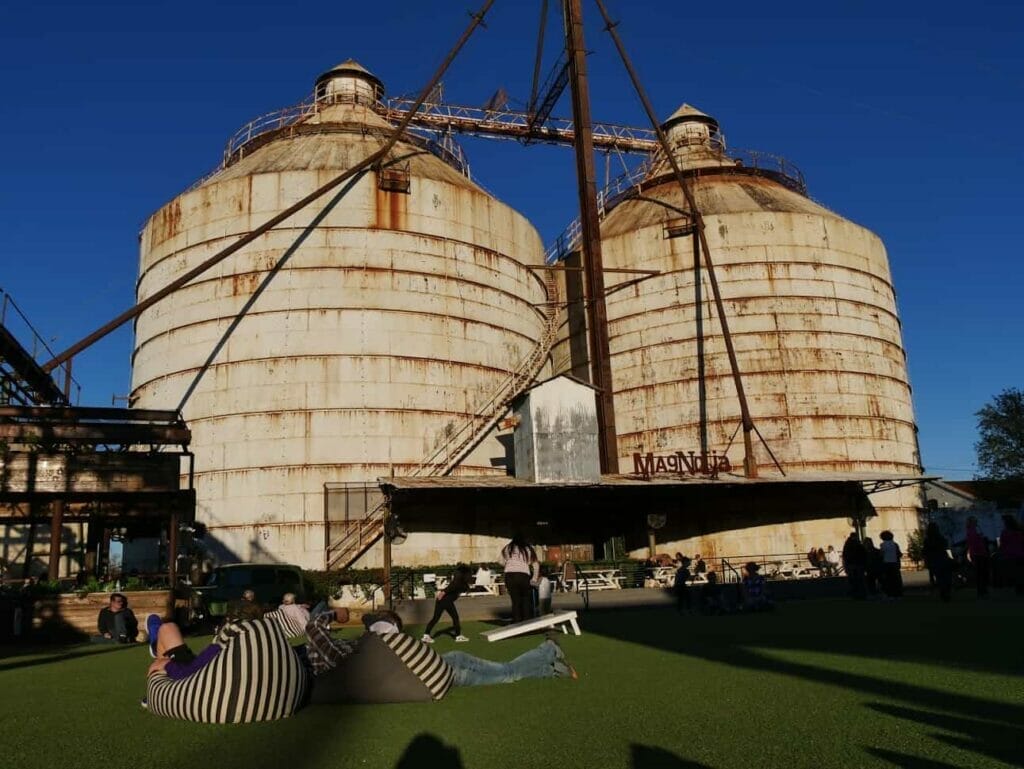 Actually, we were in Dallas thanks to cheap flights on Spirit Airlines and then decided to go on a day trip to Waco for the sole purpose of seeing Magnolia Market at the Silos and for my husband to live out all of his dreams of being Chip Gaines.
Chip and Joanna feature Waco on their now-ended home renovation show, Fixer Upper, and the world fell in love with their rustic taste and shiplap EVERYWHERE.
My husband, being the British person that he is, didn't grow up with a life of HGTV, and now that he's experienced it, he's making up for lost time.
In some ways, our trip to the Silos at Magnolia Market and the tips I have for visiting the Silos at Magnolia Market are based on the fact that this was a trip to his mecca.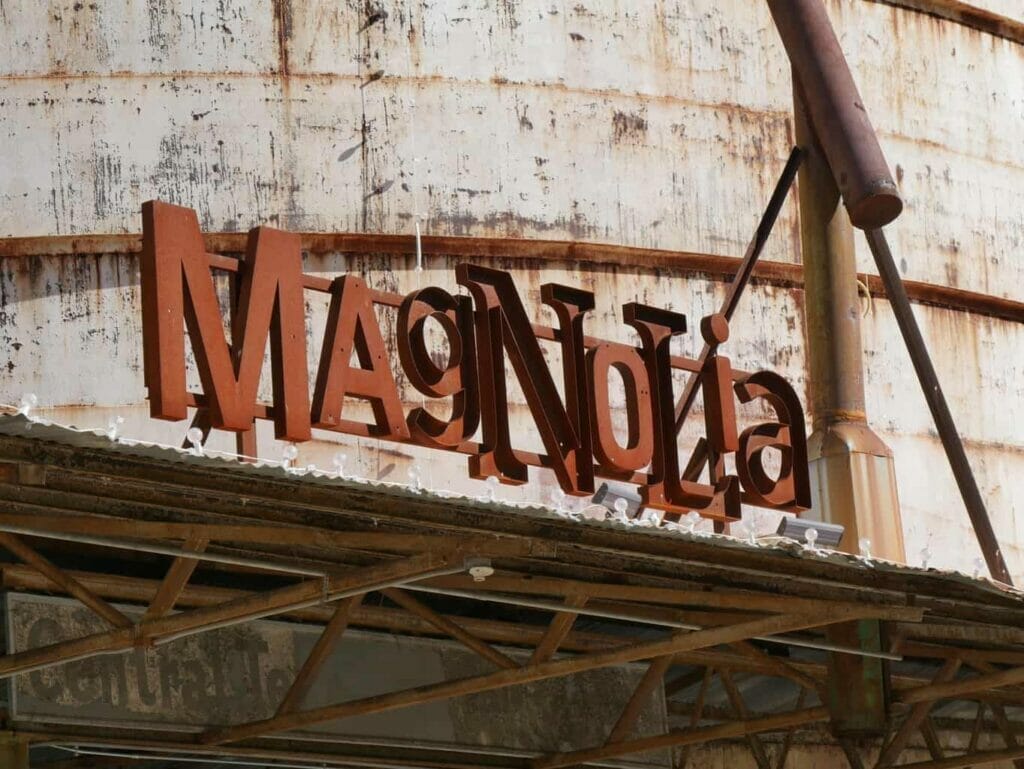 This wasn't just a "fun day out," it was a dream come true for someone who spends as much time as possible yelling things like "TEAR DOWN THAT WALL" and "NEEDS MORE SHIPLAP" at the television.
Let it be known that you can also visit the Silos at Magnolia Market if you don't know who Chip and Jo are, as this beautiful family space is just an overall great place to hang out.
So, without further adieu, please enjoy this jam-packed guide for any visitor to Waco, Texas and the Silos at Magnolia Market so you can leave feeling refreshed, inspired, and a lot lighter in your wallet area.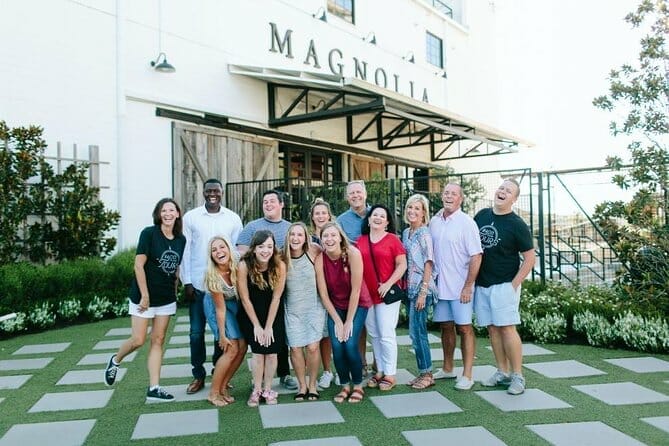 Visiting the Silos at Magnolia Market in Waco, Texas
Getting to the Silos at Magnolia Market
The easiest way to get to the Silos at Magnolia Market is to drive.
If you're not from the area, Texas is very driving-heavy and not very accessible by public transportation, so renting a car or bringing your own is almost a necessity.
We recommend using Discover Cars price comparison to find the cheapest deals.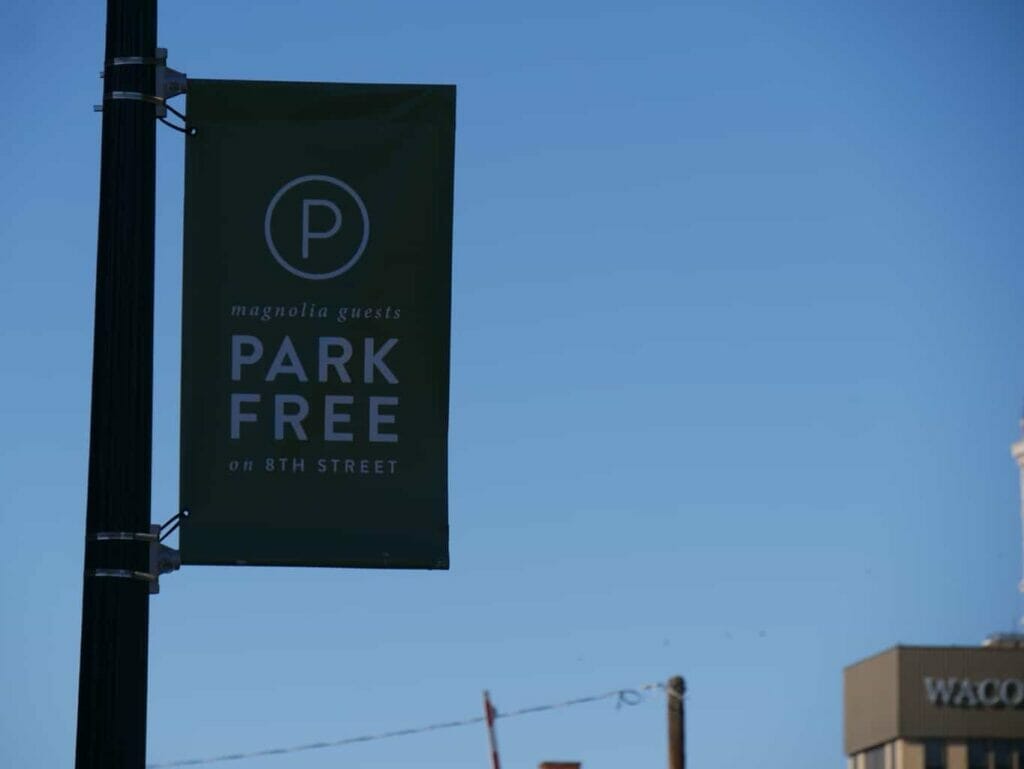 We drove from Dallas after experiencing the Sixth Floor Museum at Dealey Plaza, which took about an hour and a half (making it one of the best day trips from Dallas).
There is plenty of parking in the area, even when we went on a Saturday, and we found a space in the official Magnolia parking lot after just a minute or so of seeing who was leaving.
If you're coming in by plane, you could fly into Waco Airport and get a cab from the airport to the Silos or your accommodation.
Alternatively, if you're going for the true All-American experience, you can road trip to Waco from anywhere in the states!
I suggest purchasing a map of Texas first like this one, so you can ditch the phone and stop at other sites!
What to Wear to the Silos
Can you really head to the Silos without your best Chip and Jo gear?
I don't think so.
Get these adorable Demo Day shirts, or this gorgeous homebody shirt to wear during your visit.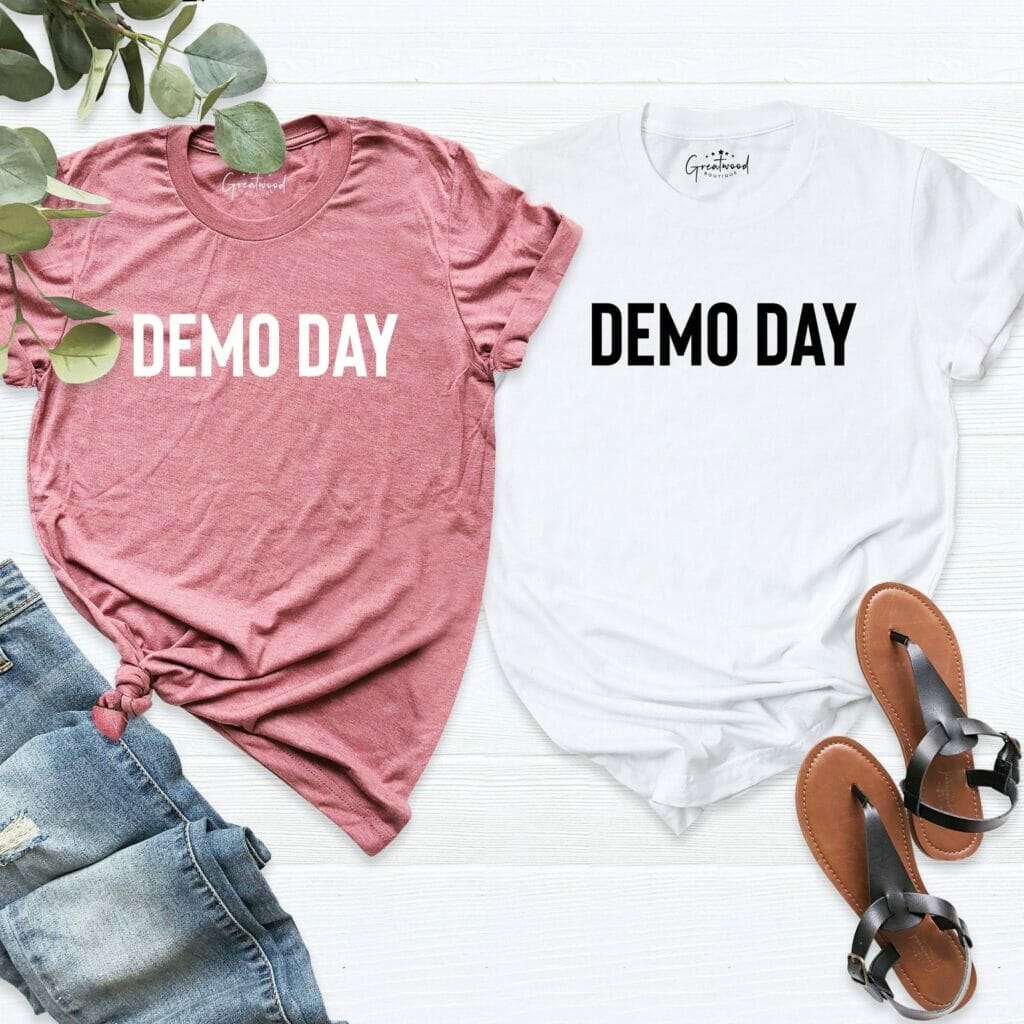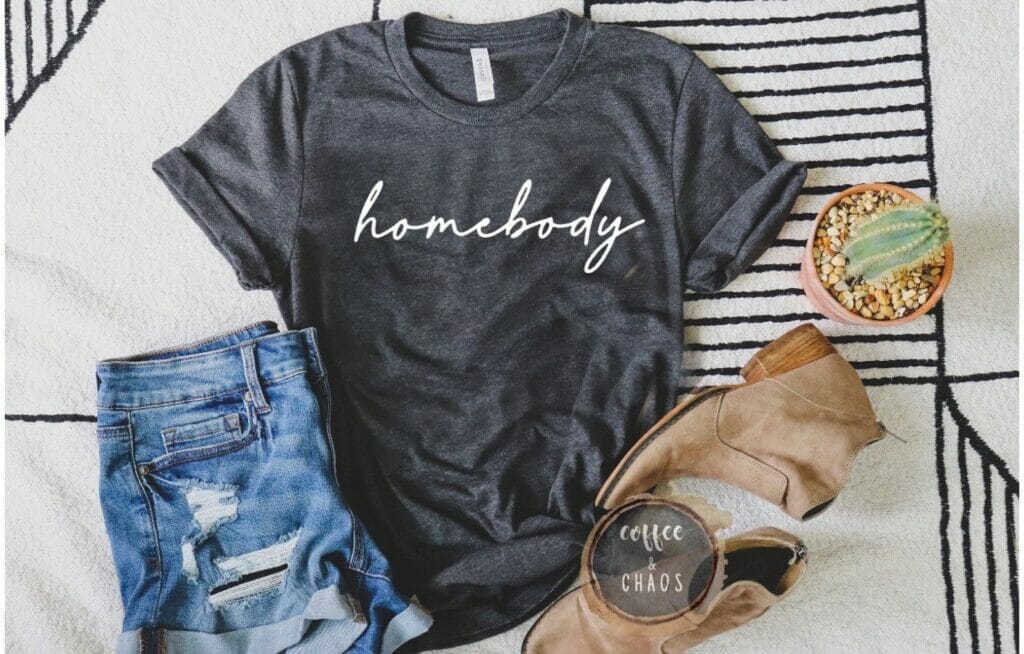 Where to Stay in Waco
Waco is relatively easy to get around, so you can stay pretty much anywhere and be within close proximity to the Silos, but these are our favorite hotels in Waco.
Budget: Splashing Out ($150+ per night)
If you're looking for stylish and sleek in Waco, Hotel Indigo is your best bet.
Rated as one of the best hotels for visitors to the Silos and downtown Waco, you'll feel like you stepped into a charm-filled boutique getaway.
The on-site restaurant offers incredible dining options, and the rooms are colorful and modern.
Guests rate the staff highly, and while it is one of the more expensive in Waco, Waco isn't expensive in the first place compared to other US destinations, so don't count this one out without checking the prices first as you may be surprised.
Budget: Mid-Range ($100 – $150 per night)
Not only is the Aloft Hotel Waco one of the most budget-friendly hotels in Waco, but it's also one of the most beautiful. Every effort went into the gorgeous and sleek design of this hotel, and from the hotel lobby to the bar to the outdoor swimming pool, you'll know you're staying in the land of good design!
The rooms are air-conditioned (a must in Waco) and there's free Wi-Fi as well as plenty of lounge space, a pool table, comfy chairs where you can sit and post your Insta snaps from the day, and more.
Budget: Uh…on one! ($100 or less per night)
If you just want a clean place to sleep in Waco without spending much, Knights Inn is the place to go.
It's clean, friendly, and also pet-friendly if your furry friends are traveling with you.
They've got all the essential amenities and while there's nothing flashy about it, it's a perfectly good option to save the money for your Silos shopping!
Eating at the Fixer Upper Silos
There are two options for eating near Magnolia Market.
Firstly, you can do as we did and get food from the food trucks that are scattered around the main entrance and around the perimeter of the Silos.
There were tons of options with something for everyone.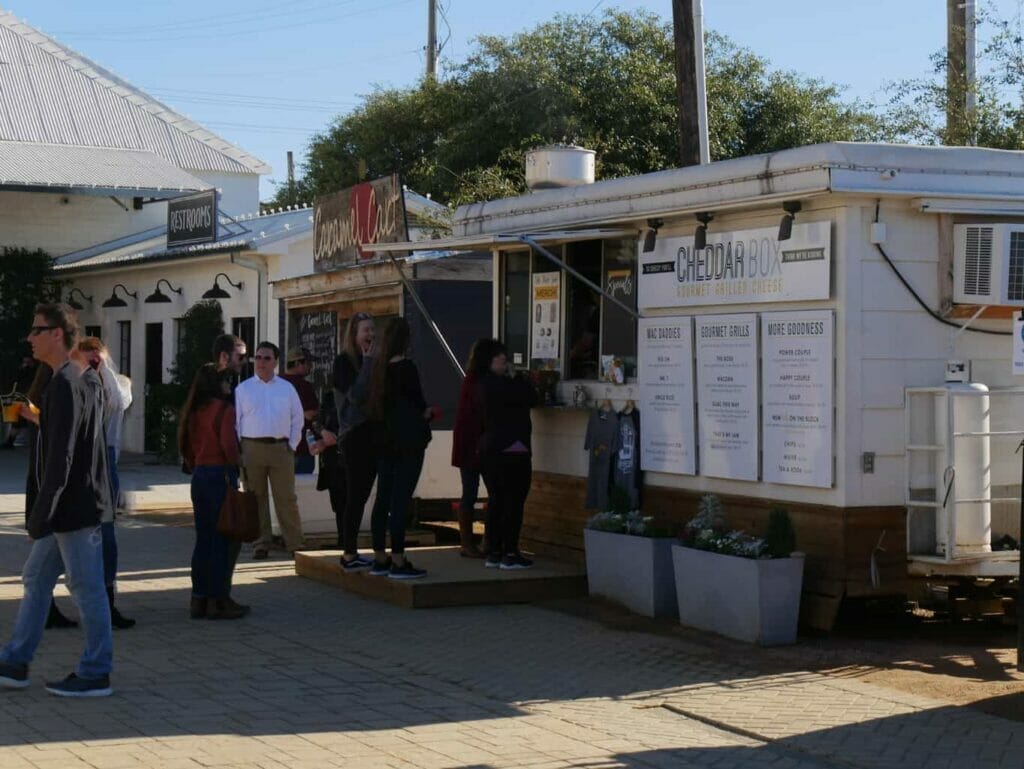 In addition to things like mac and cheese and burgers, you could get a fresh glass of sweet tea and truly bask in the Texas sunshine.
If you want to do the full Chip and Jo experience in Waco, you'll need to head over to their restaurant, Magnolia Table.
They don't take reservations and operate on a first-come, first-served basis, so get your party headed over there as soon as you can.
This dining area is separate from the Silos, and they run a regular shuttle from the Silos to the restaurant.
Shopping at Magnolia Market
Walking into Magnolia Market at the Silos, the actual store filled with Chip and Jo and their inspiration TO THE BRIM, is like walking into a Pinterest board titled "Rustic chic" or "Living your best life" or "At home on the farm."
You can buy Joanna's recipe book, Magnolia Table, which I HIGHLY recommend.
You can also check out her Hearth and Home collection for Target, like this super cozy throw blanket that all houses need right now.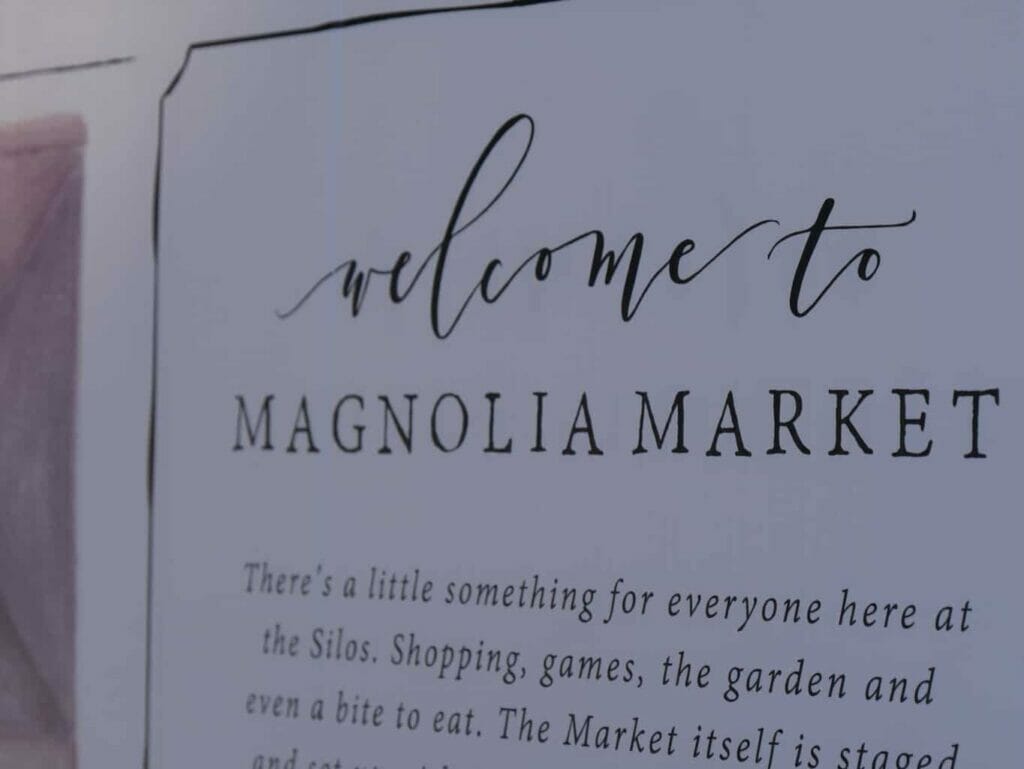 If Jo's style is your thing, then you're going to absolutely love this shopping experience.
If it's not your thing, I question why you're there in the first place!
There are multiple sections to Magnolia Market, including Chip's corner filled with men's t-shirts and various knick knacks that would be perfect stocking stuffers for the DIY-er in your life.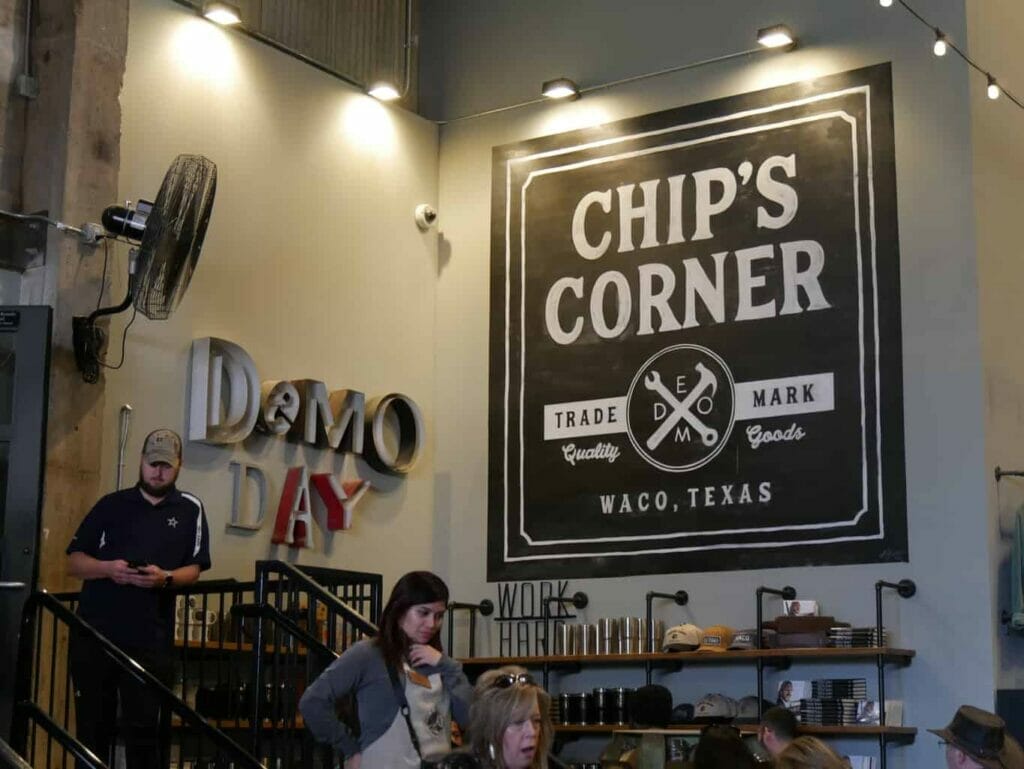 You've also got a kid's section with adorable toys, a kitchen section where you can buy all of the spoon holders you ever dreamed of, and a home section where gorgeous throw blankets scream your name.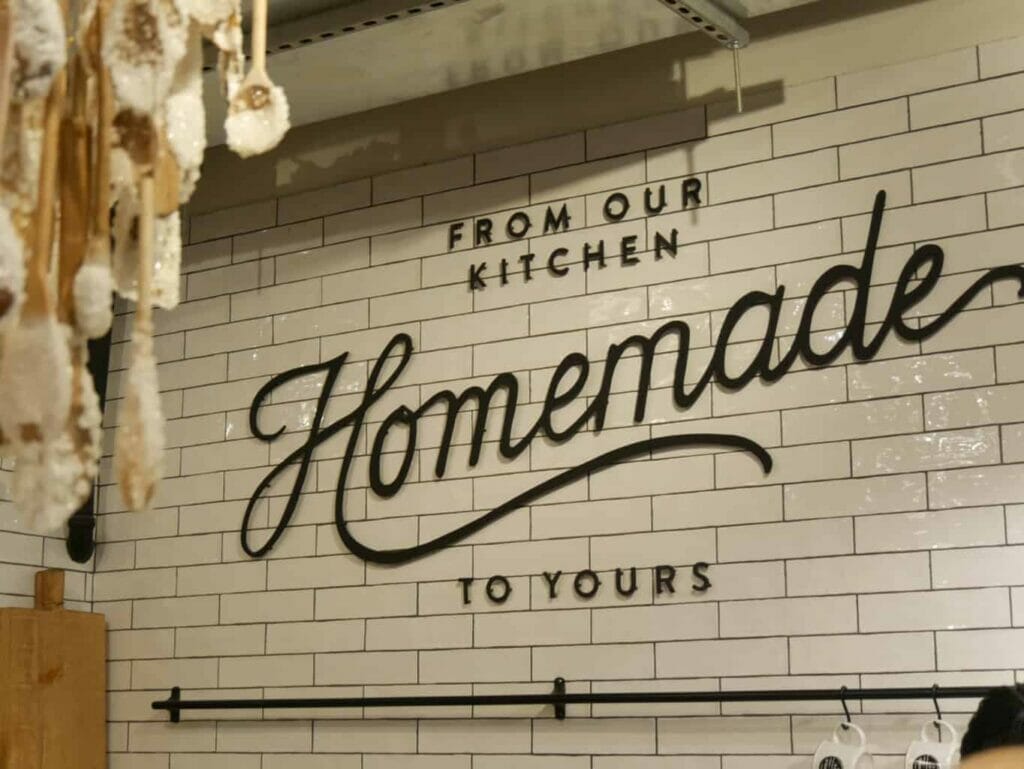 The store is meant to work together and have that Chip and Jo-flow (I just came up with that, but we're going with it).
You know how every single house Chip and Jo do seems to be open concept?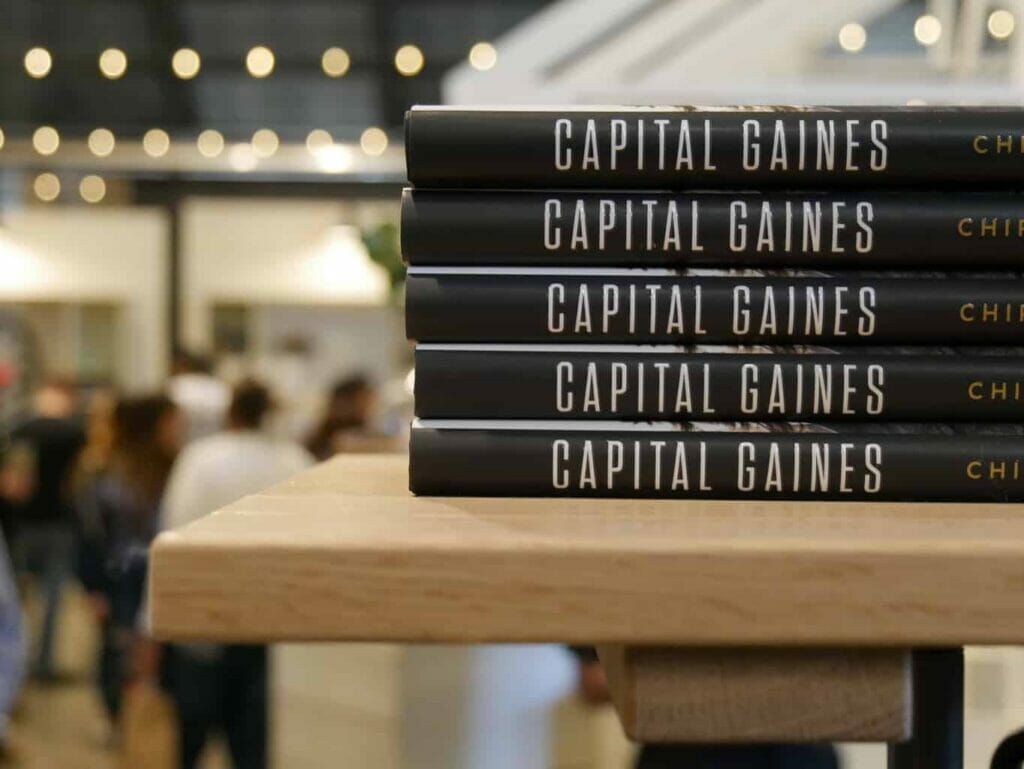 Yeah, well this store is OPEN CONCEPT all the way.
It's actually a converted barn, which is very meta Chip and Jo in and of itself.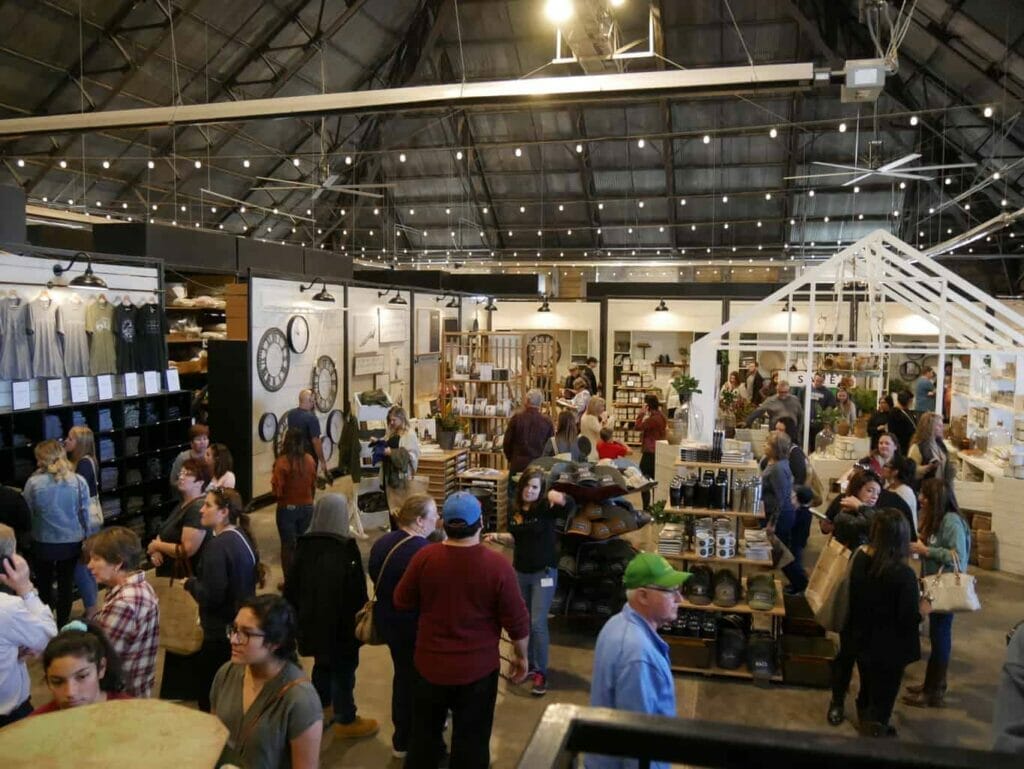 We made a few purchases, including a Magnolia Market magnet, one of the aforementioned spoon holders, and my husband got a Magnolia Farms hat that Chip wears in a lot of Fixer Upper episodes, because did I mention he wants to be him?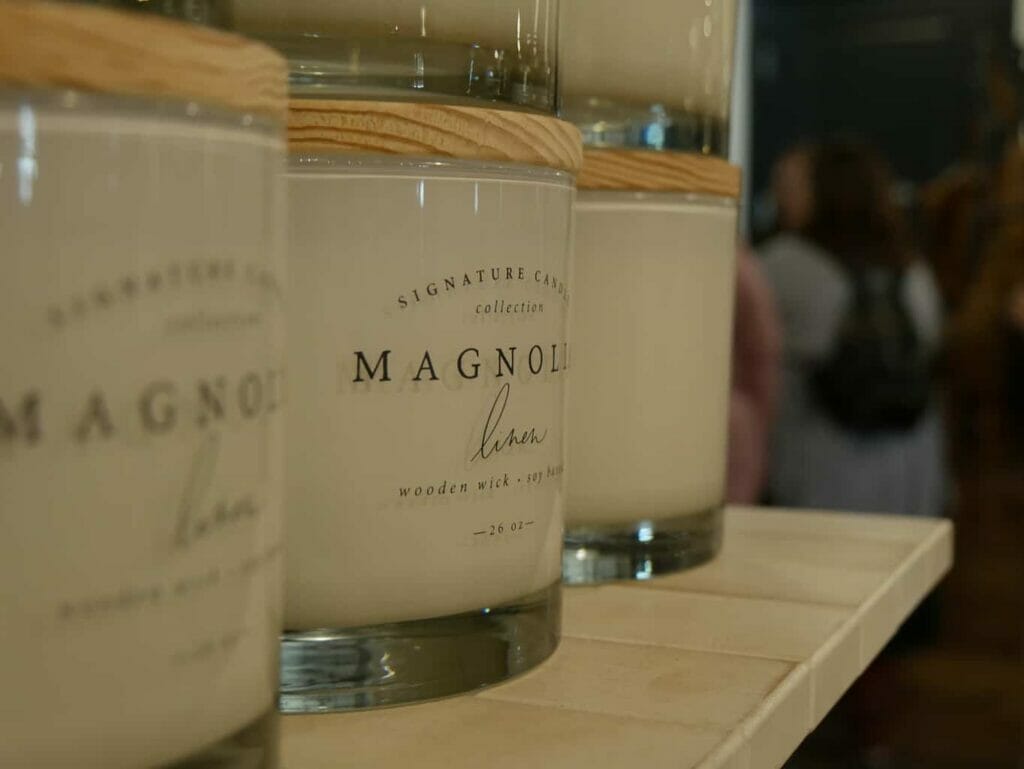 Fulfilling your Sweet Tooth at the Silos Bakery
One of the top things on your list when visiting Magnolia Market in Waco is to head to the Silos Bakery.
This little bakery almost always has a line clear out the door, especially on weekends, and it's so busy that you're given an order form to mark your choices ahead of time so you know what you want before you actually get inside.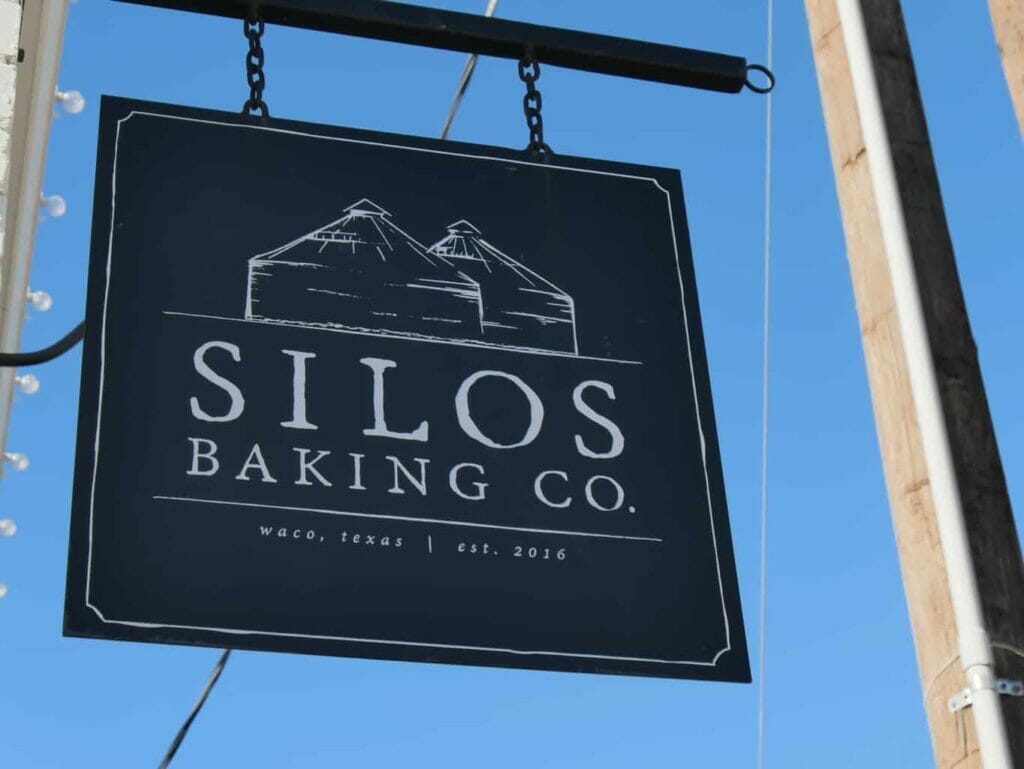 There's even someone whose job it is to sit at the front door and tell the next group of people to come in.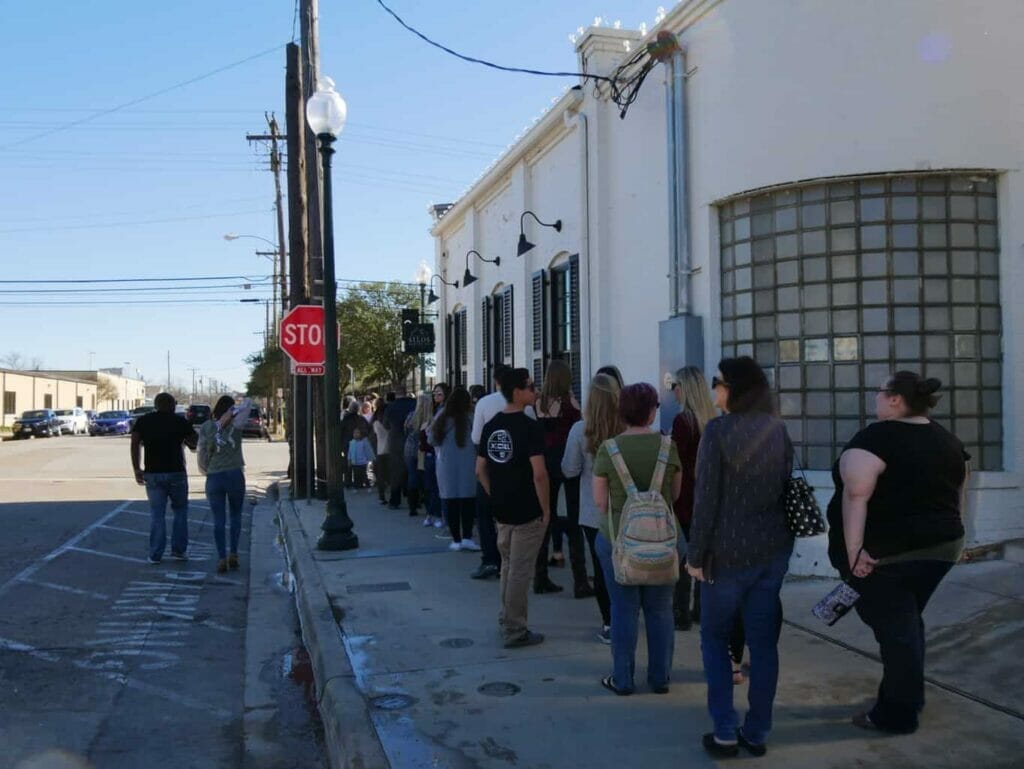 As we had enough time, we decided to brave the line to see what could be in store for us and OH MY GOD, YOU GUYS.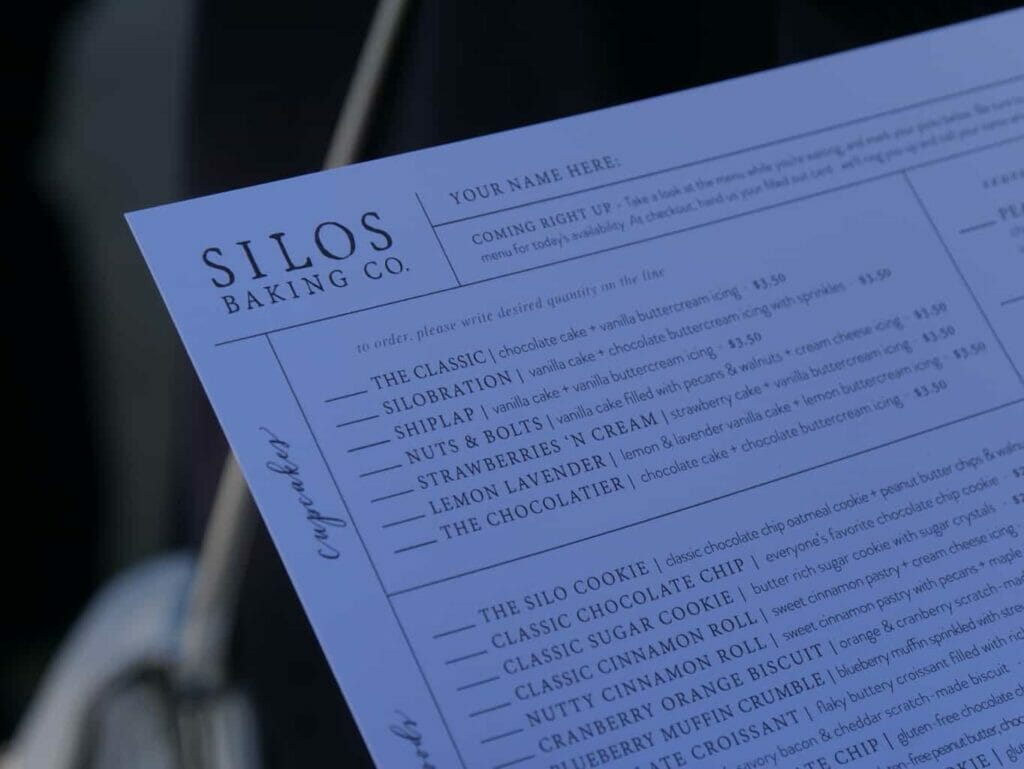 I sort of hate just saying how great the Silos are because Chip and Jo are just TOO likeable sometimes, but the cupcakes here were genuinely amazing and I have gained 50 pounds in the past year so I am a cupcake guru, thank you very much.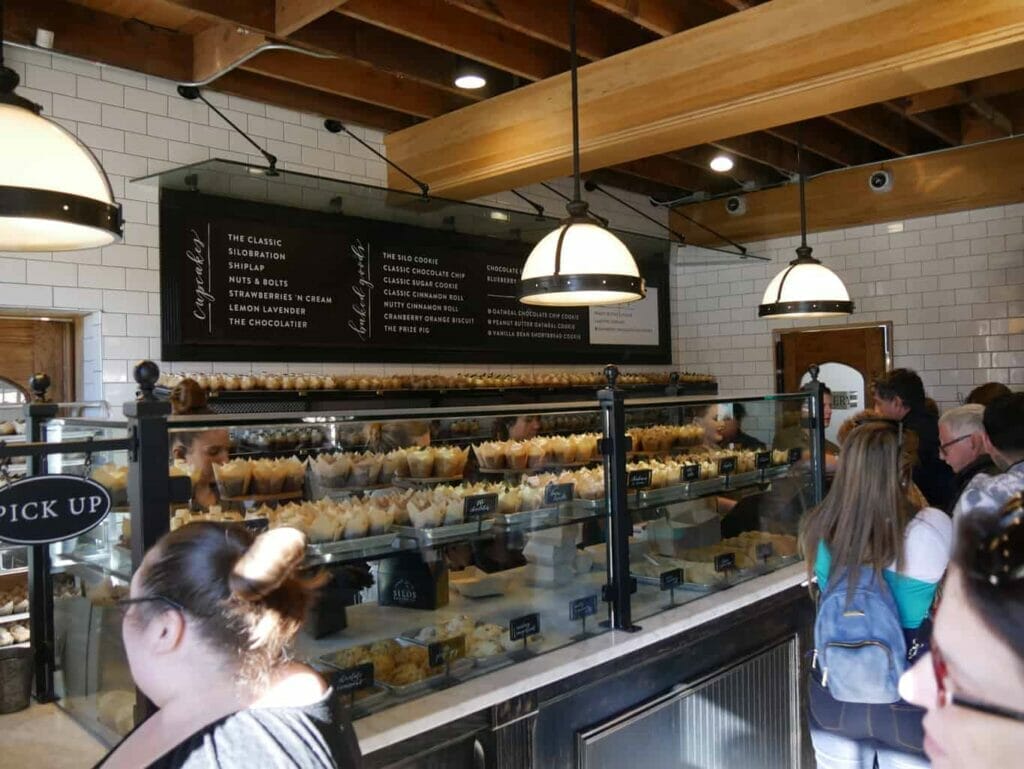 There were options besides cupcakes, but cupcakes were the main thing on offer so we decided to go for it and they were so deliciously moist and perfect and yes – 10/10, would recommend Silos Bakery.
I loved it so much I even bought a shirt.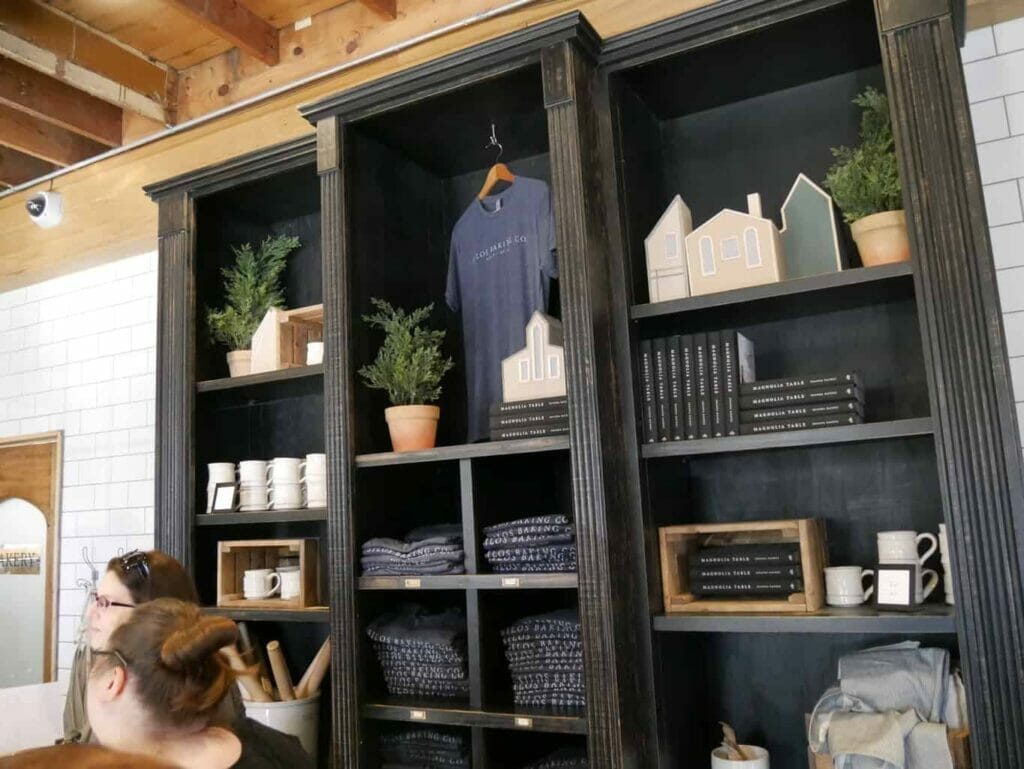 If you're worried about the wait, you should know we waited maybe 20 minutes on a Saturday afternoon to order, which may sound like a lot or a little depending on your outlook.
We didn't think it was too long when it came down to how good the cupcake was and how we could then check the bakery off of our list of things that we had seen at the Silos.
Will You See Chip and Jo at the Silos at the Silos?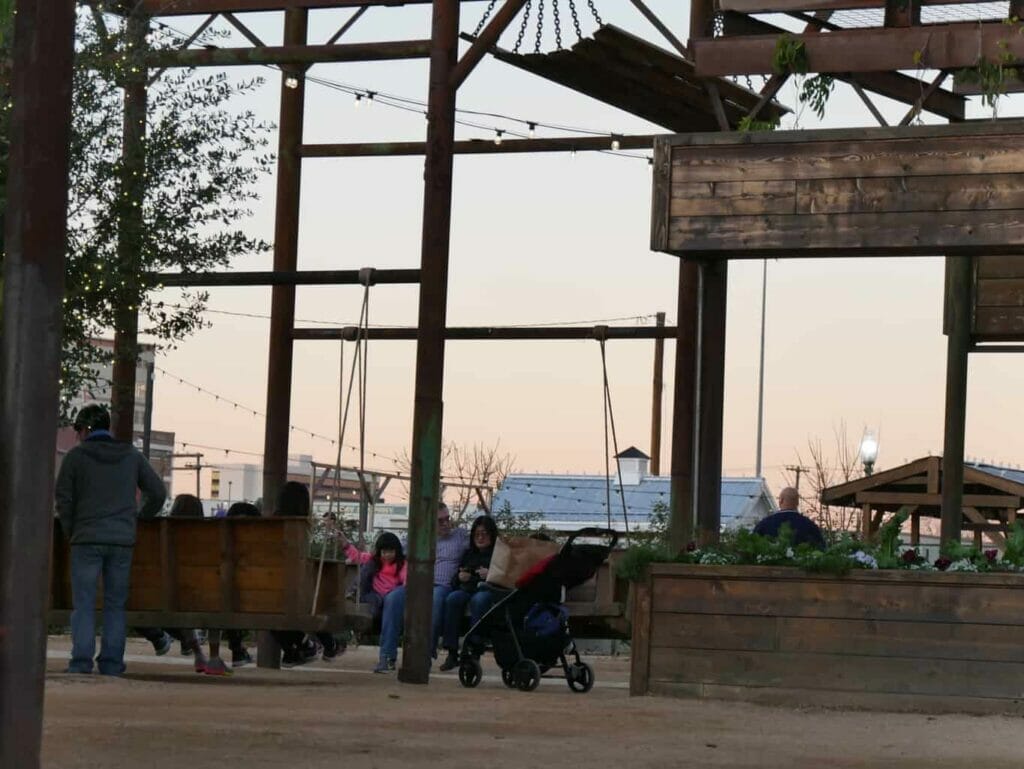 One of the biggest misconceptions among Fixer Upper viewers is that Chip and Jo just hang out at the Silos all the way, walking around and greeting visitors.
While this was their brainchild and they are owners and obviously do show up in public during public events like Silobration, they're not just hanging out at the bakery serving you dessert on a weekend.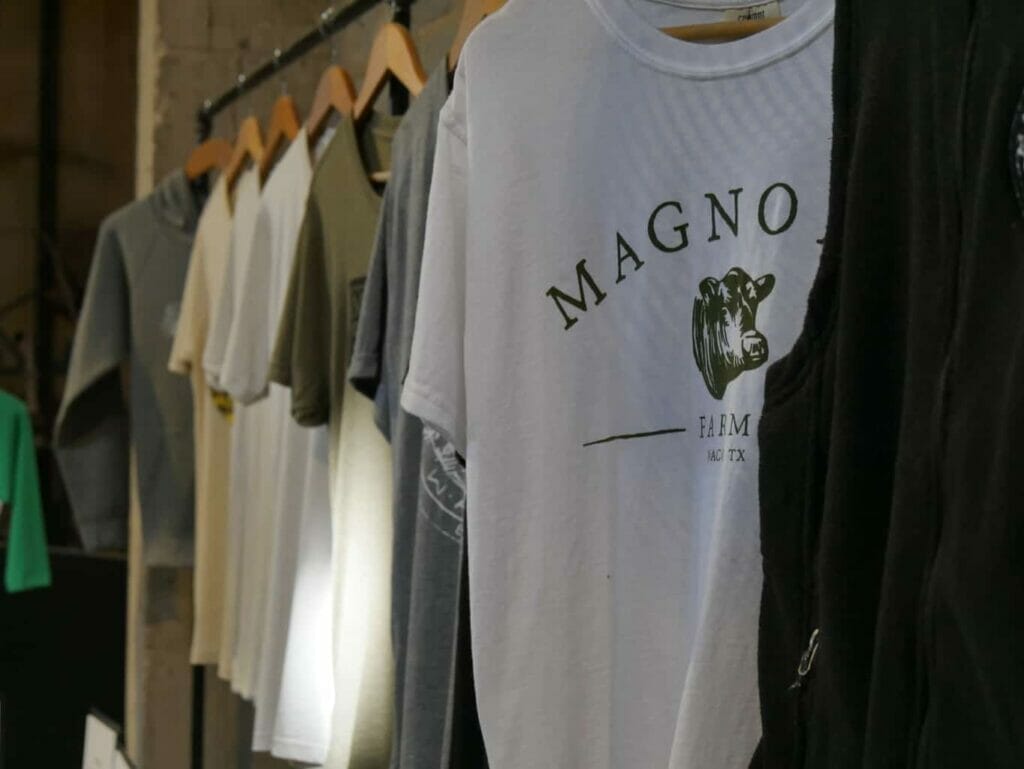 In fact, it would be a huge security risk if they were, as Chip and Jo are celebrities in their own right due to their success on HGTV.
I mention this just so you know not to expect a Chip and Jo sighting – you can wrap yourself in their books and get pictures of you in front of their shop and pretend you ARE them, but you probably won't see them.
Magnolia Seed and Supply at the Silos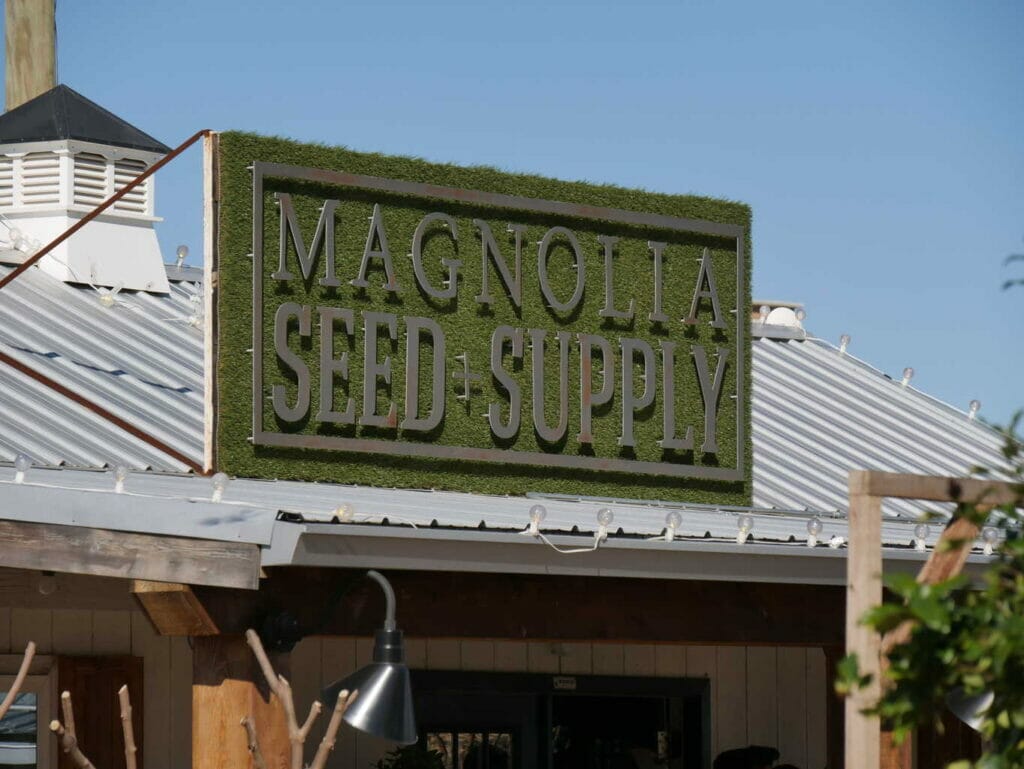 In addition to the main Magnolia Market and food trucks and bakery is another slightly hidden gem of The Silos, straight towards the back opposite the entrance.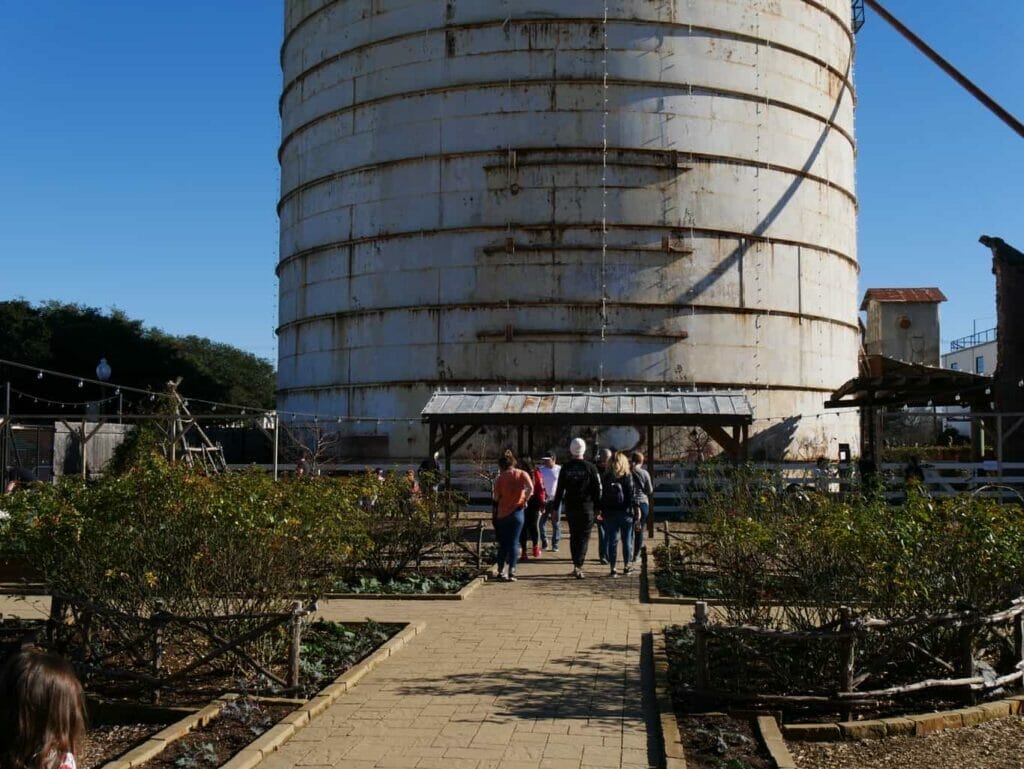 That lovely experience is the Magnolia Seed and Supply, which is a tiny garden shop surrounded by loads of growing plants and vegetables.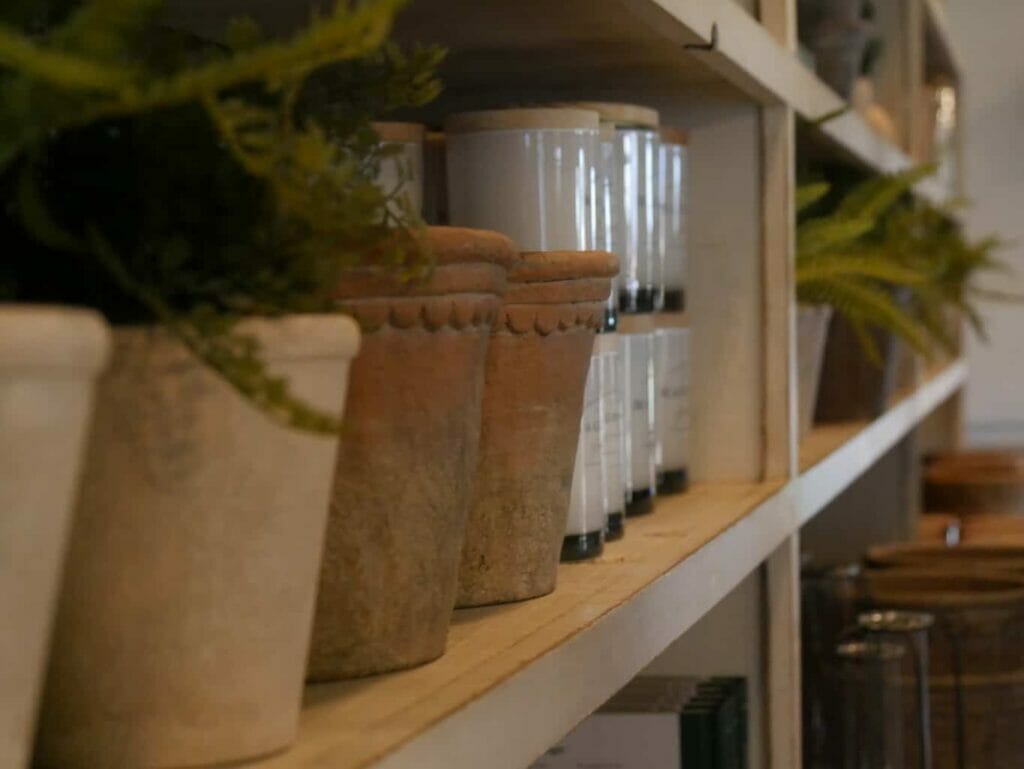 In the shop, you can buy seeds, gardening tools, and some other items of home decor.
When I say "tiny," I do mean tiny and it almost operates on a one-way system where you work your way around the shop otherwise there's no room to move, but it is cute and worth a visit.
The Lawn at the Silos
My absolute favorite aspect of the silos at Magnolia Market was the artificial turf in the center of everything.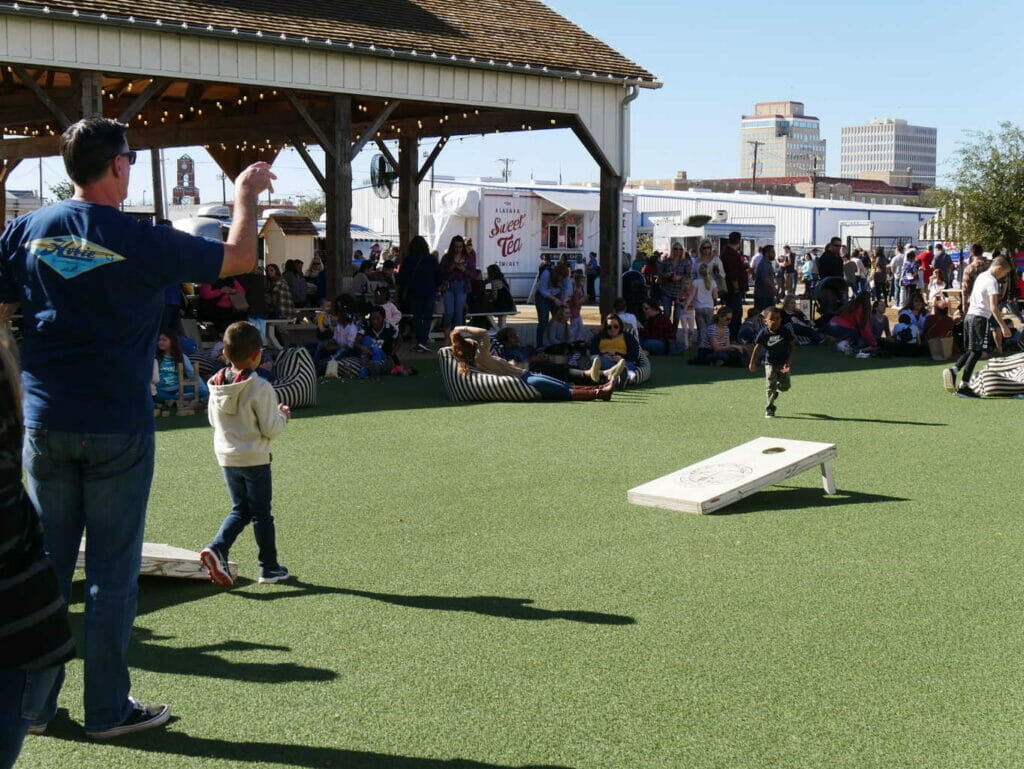 On it were these amazingly comfortable bean bag chairs (my friends went to go buy some and they were out of stock because of how loved they are!) and lots of lawn games to play.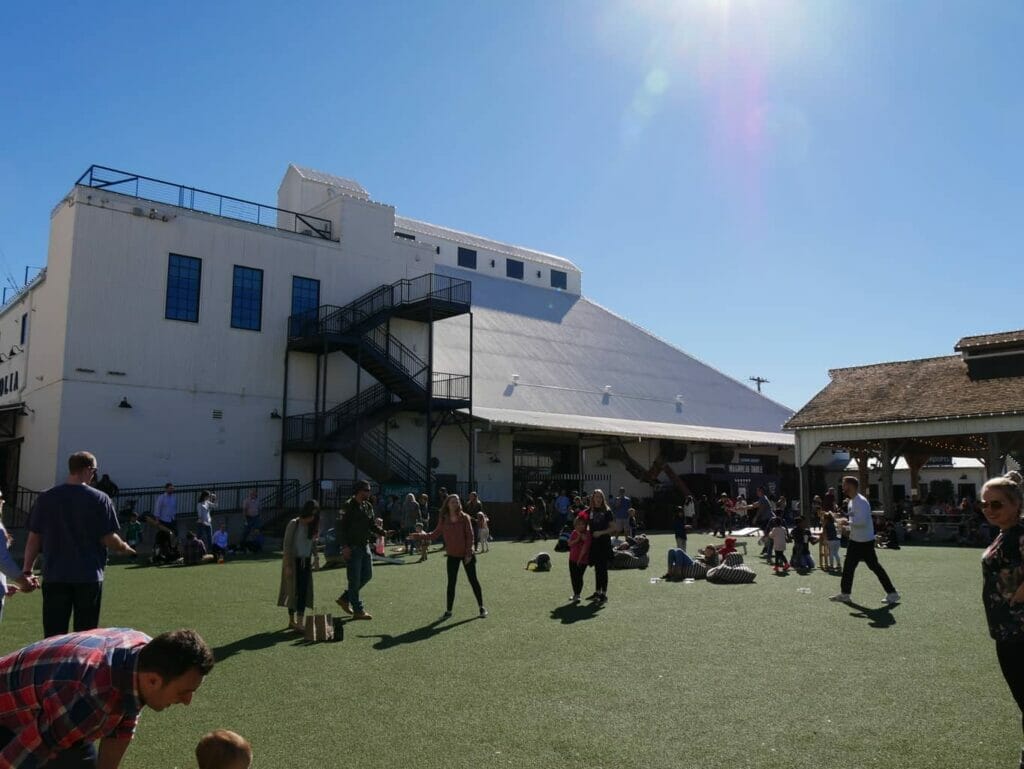 If you had just a short visit to the Silos, you might do nothing more than walk across the lawn, but we made a point to enjoy the sunset and the beautiful views after we were finished wandering around.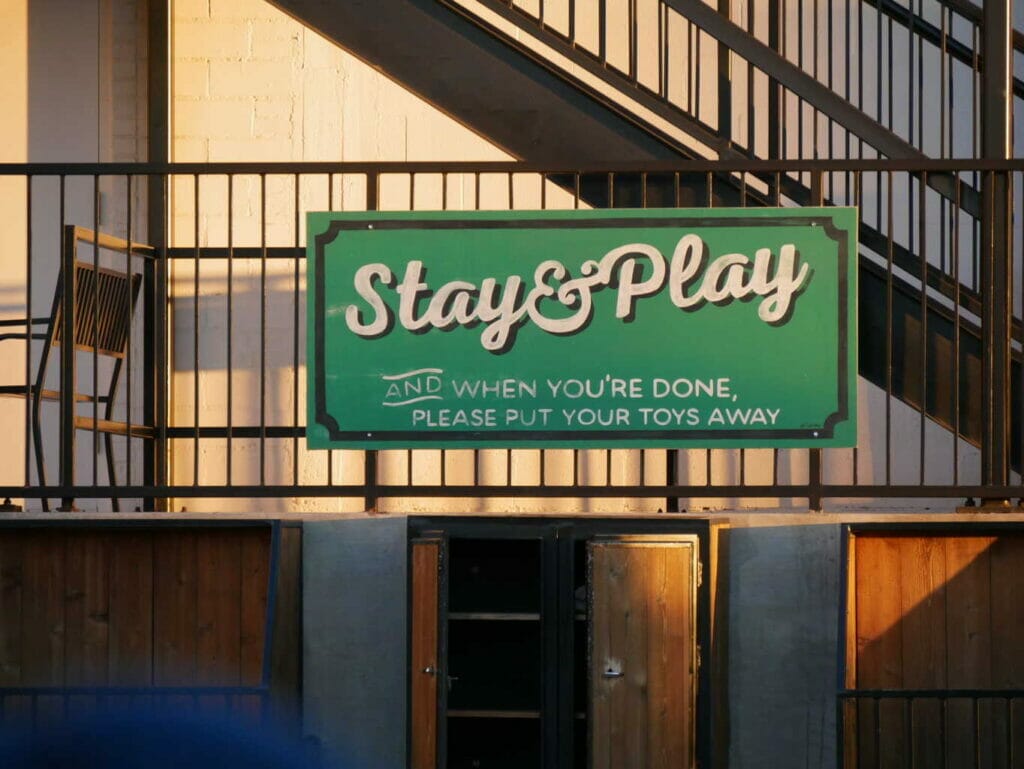 It was absolute perfection – the sounds of families enjoying themselves in the air, the sun sinking behind the silos, the smell of popcorn coming from my hands because I couldn't help myself and bought a giant bag of popcorn from the popcorn stand…!
This was the moment I truly fell in love with the Silos.
There was something about the atmosphere that truly accomplished what Chip and Jo had hoped it would do – bringing together both visitors and the local community and encouraging and enabling them to spend times with their friends and family.
How Long To Spend at the Silos at Magnolia Market
When deciding how long to spend at the Silos, you need to figure out what your purpose is.
Are you there to explore every nook and cranny?
Do you want some hang out time with your best friend and need a backdrop for doing it?
Or do you just want to get a glimpse so you can say you've been there?
The actual "things to do" at Magnolia Market don't take a long time – you've got the bakery, Magnolia Market and the Seed and Supply shop.
There's a picture opp and food trucks and places to relax, but in terms of "things to see," you could probably do it in about 1.5 to 2 hours.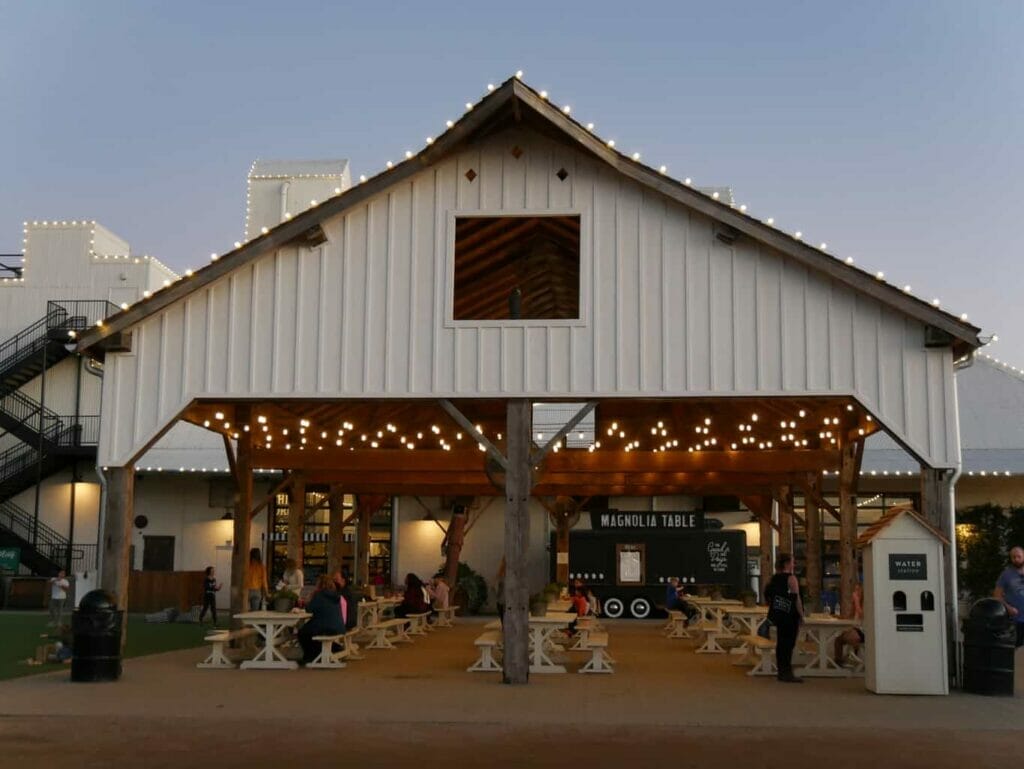 For us, we got there around lunchtime and didn't leave until late afternoon, probably spending about 4 to 5 hours there.
This gave us enough time to not rush and enjoy the experience and atmosphere.
Things to Do in Waco Besides the Silos
If you're new to Waco like we were and looking for things to do in addition to Magnolia Market at the Silos, you need to really have a game plan and do your research because Waco is very much still a small town!
The local university, Baylor, may have events going on, or you can take the Waco trolley tour which departs from outside the Silos and takes you in a square around the downtown area.
There's an antiques shop nearby which deserves a look in.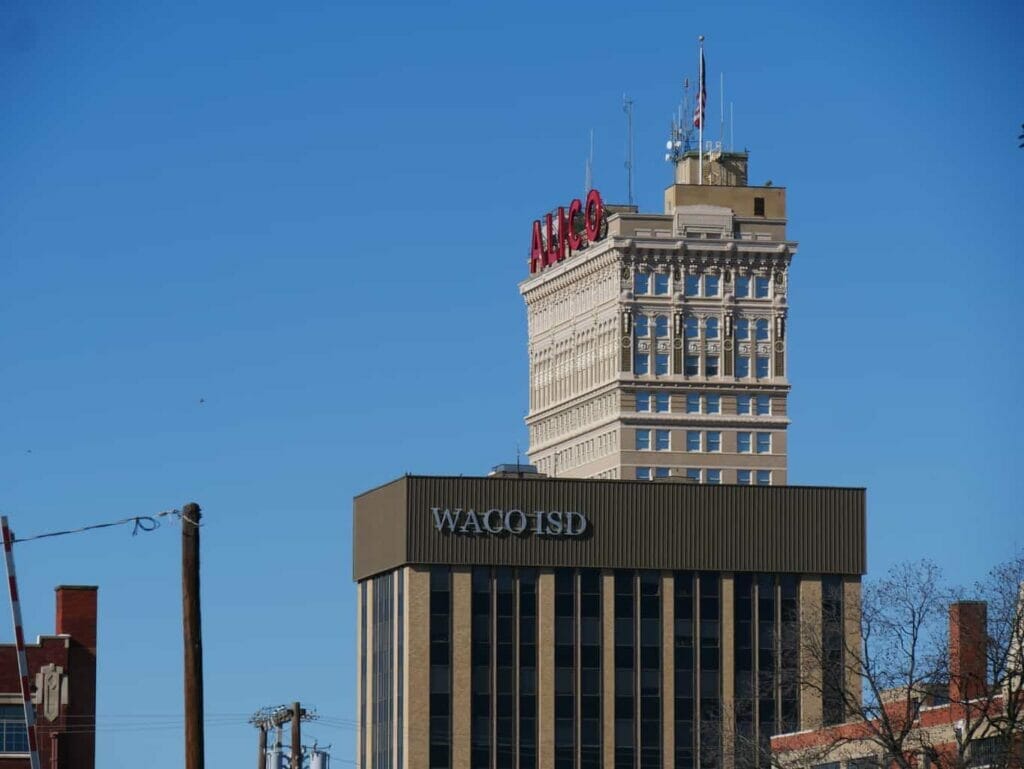 You've also got the Dr. Pepper Museum and the Cameron Park Zoo, as well as the Texas Ranger Hall of Fame Museum and a shopping area called Spice Village (which has nothing to do with spices, really).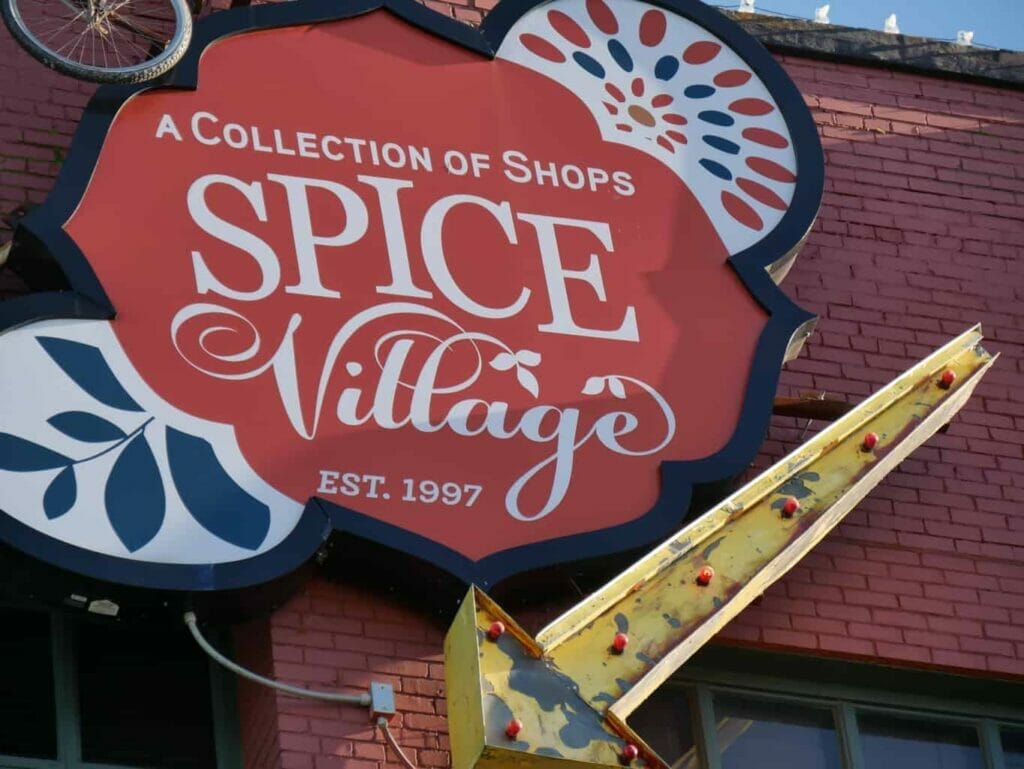 All in all, including the Silos, Waco is more of a day trip or weekend destination town.
4 Tips for Visiting Magnolia Market at the Silos
If you're planning your own trip to Chip and Jo's mecca, I've thought long and hard about my experience there and have some tips for you to make the most of your visit to Magnolia Market.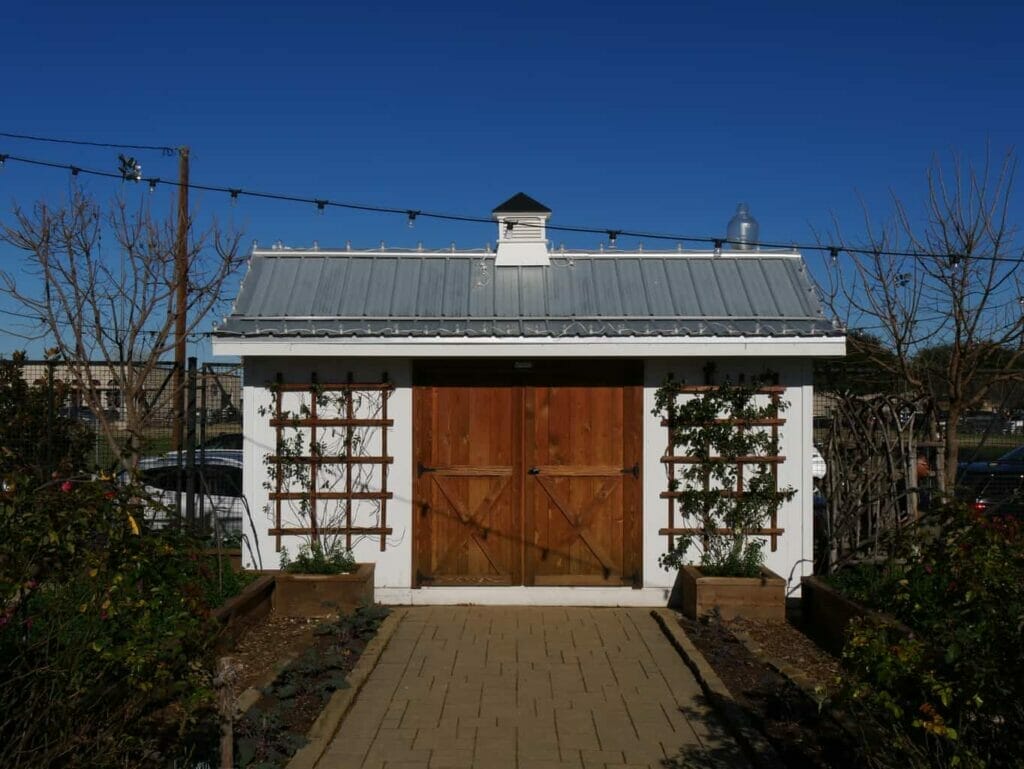 1. Bring other people
The Silos were designed to be best enjoyed with family and friends.
If you have to go on your own, then you do you, there's no shame in that, but if at all possible, try and bring a friend along!
Between waiting in lines at the bakery/the checkout line/the food truck lines and just sitting on the lawn watching the clouds, there's something very wholesome about reconnecting with someone while spending a day at the Silos.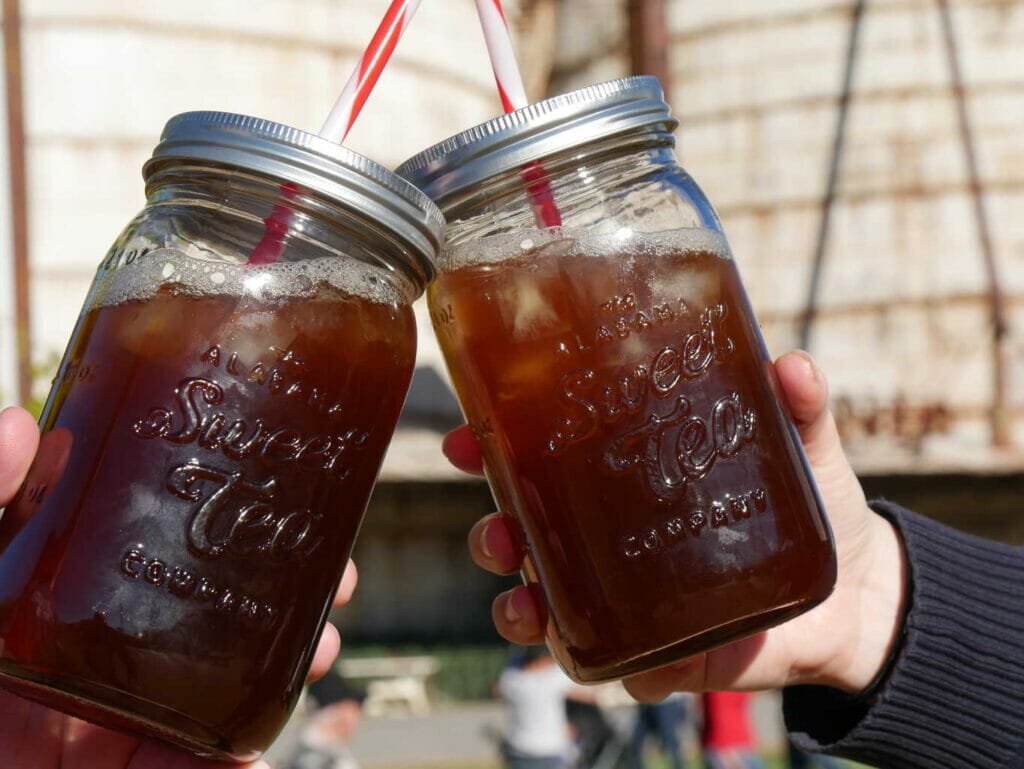 2. Expect heavy crowds on a weekend
As mentioned, we traveled to Waco on the first Saturday in January and it was packed.
Not so packed that we couldn't do anything or move, but it was pretty busy.
These crowds would only expand when it got warmer out and kids were out of school and people off work.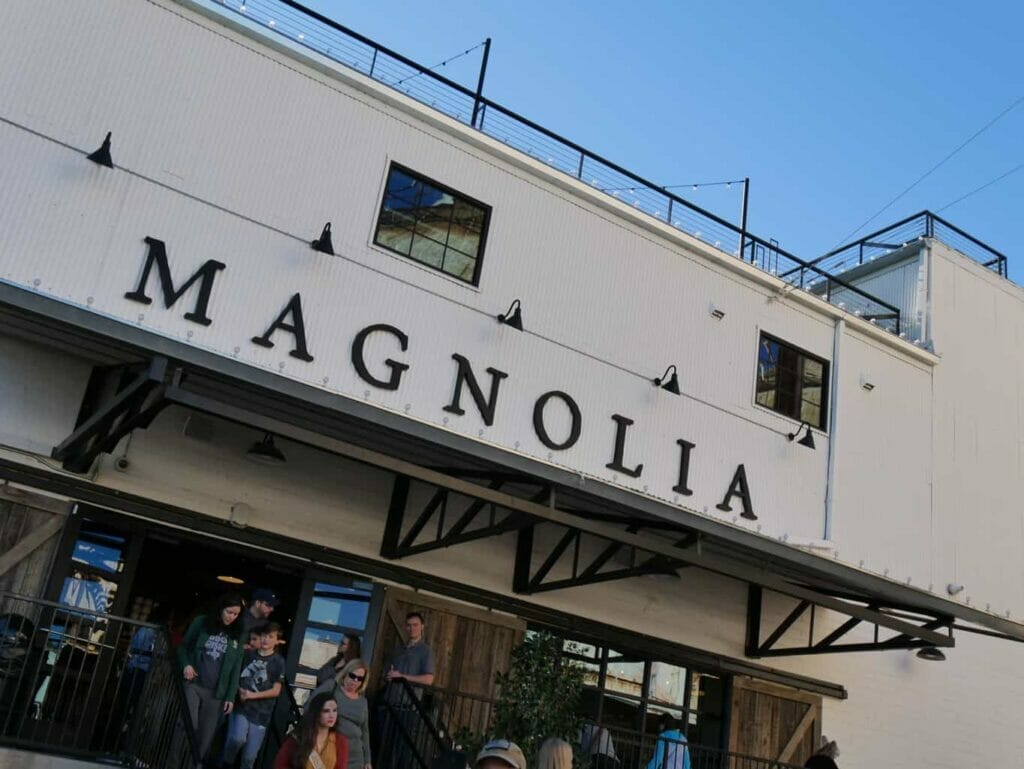 I really appreciated the atmosphere that having a lot of people there created, but if you're crowd phobic, try to go on a weekday or get there absolute first thing.
3. Leave plenty of time
The Silos at Magnolia Market are sort of like the Disney World of DIY in the sense that there are a lot of lines to wait in.
If you're a real Fixer Upper fan you're going to want to leave yourself plenty of time to wait in said lines and do alllllll the things.
If you have more time than you need, you can always relax at a picnic table or see something else in Waco, but don't try to rush the Silos and leave yourself 30 minutes or something ridiculous to fit it all in.
4. Come on an empty stomach
The food trucks at the Silos were one of my favorite parts!
Don't come on a full stomach or you'll miss out on all of the culinary southern delights to be had!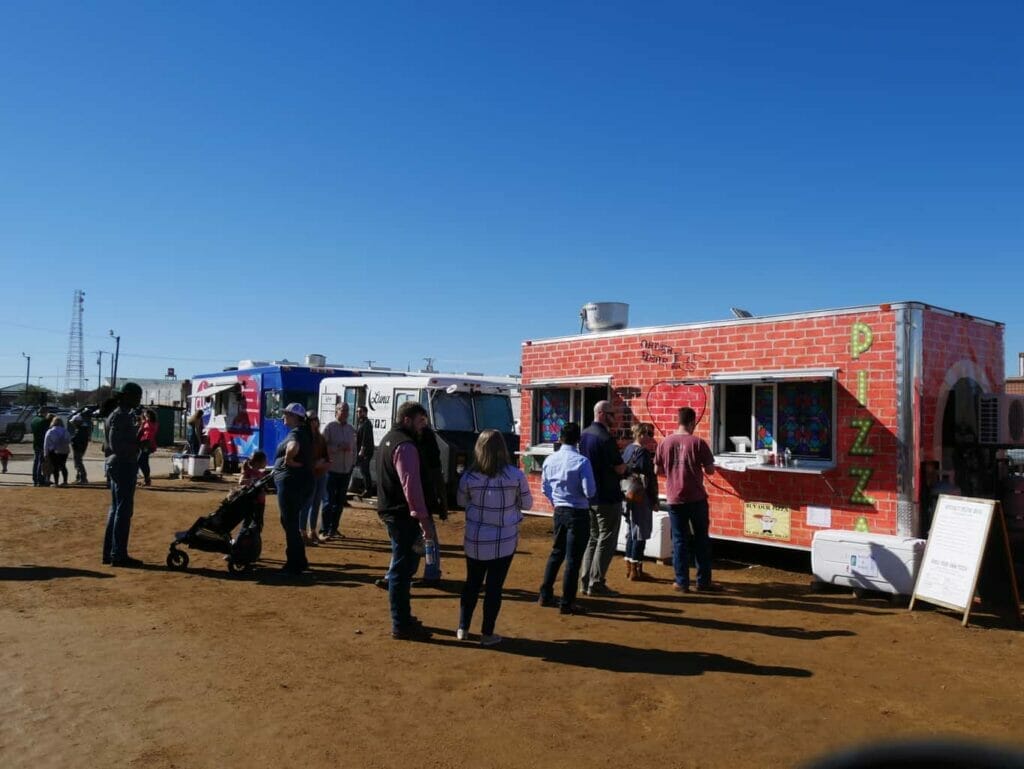 Staying in Texas Longer?
If you want to make visiting Waco Texas part of a bigger vacation in the Lone Star State, check out some of these great experiences as well!
NASA Space Center Visit: If you find yourself in Houston, the NASA Space center is a must for engineering and space lovers alike!
Welcome to Fort Worth: Referred to by "Hell's Half Acre" by cowboy's of the past, this cattle drive has a rich history. And did I mention cows!!!
Dallas JFK Assassination Tour: Whether you're looking to learn about the lasting legacy of one of America's most popular presidents, or the conspiracy surrounding his death, this 3.5 hour experience will leave you with answered questions, but new curiosities!
Get the All-American Travel Secrets!
Don't miss out on America's hidden gems!