Awe-inspiring Northern Lights. Charming coastal towns. Stunning National parks.
These are 25 of the best places to visit in Alaska, ranging from the biggest cities to the most gorgeous nature preserves and tiny towns in one of the five Alaskan region that have a story to tell.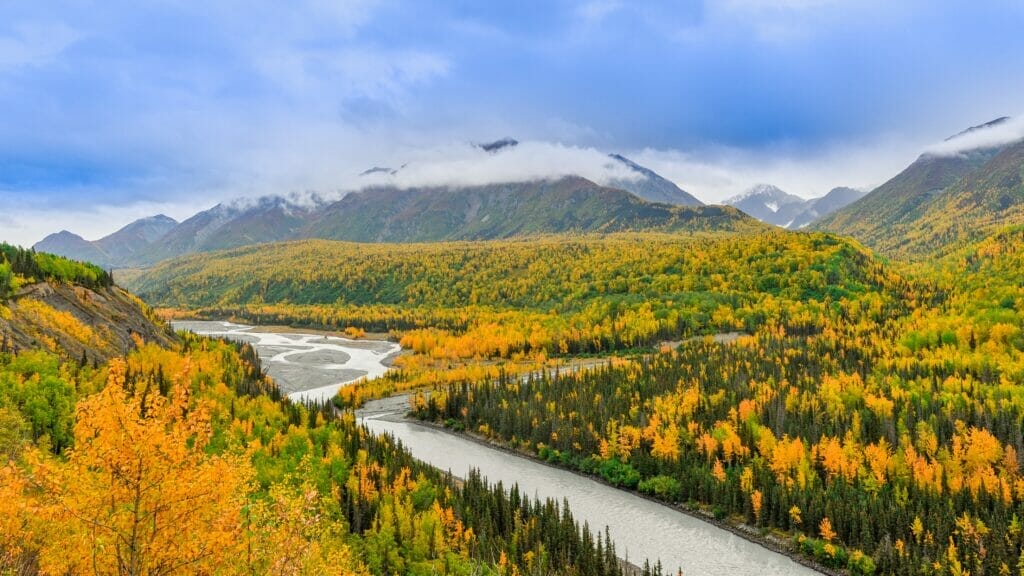 As the largest state in the US and one of the most sparsely populated, planning the best places to go in Alaska can feel daunting.
It's not so easy to just hop from place to place, and sometimes you need a combination of plane and snowmobile to get there!
And, of course, you should make sure you are aware of the varying sunlight hours in Alaska, with the winter months having almost none in some areas and the summer months having a seriously impressive amount (up to 24 hours in some places on some days!)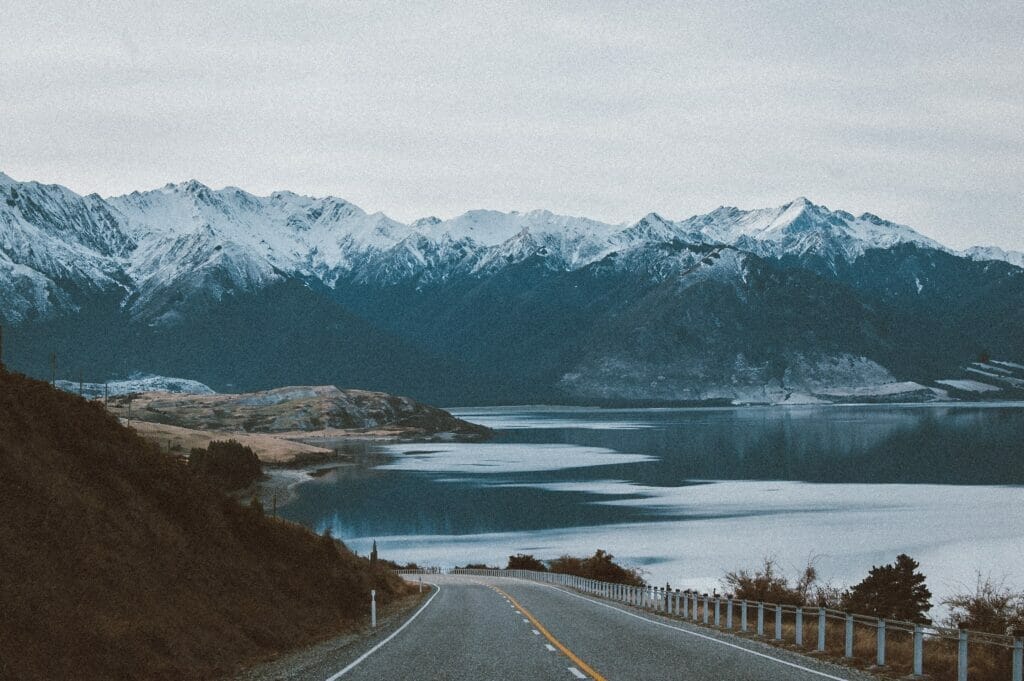 Here are the best places to visit in Alaska, from Fairbanks to Sitka to Denali to the Yukon Delta.
What to Pack for Alaska
If you're coming to Alaska in the summer, then you'll be good with layers (shorts and shirts during the day, longer layers for in the evening), but if you're coming in the winter, you need to make sure you're prepped for a truly Alaska winter wardrobe (read: ALLLLL kinds of bundled up because you're about to be freezing!)
Sturdy pair of winter boots – your feet are one of the most important places to keep dry and warm in a Duluth winter, and they're going to be exposed to a lot between the salt, the slush, and the bitter cold. Make sure to invest in a quality pair of winter boots like these for women and these for men.
Warm beanie – beanies are all the rage in Alaska when the cold comes, and you can get them in so many different colors. Get a fun pattern like this one, or go plain with ones like these.
Warm socks – did you know that you also need to think about your socks? Yeah, leave your short summer ones at home. Invest in a pair of warm socks like these to give you an extra layer of protection.
Wool or fleece leggings – for the girls who are wanting to keep extra warm underneath your jeans or are going bare-legged in your dress for a night out on the town, invest in fleece leggings like these to keep your legs extra warm.
Gloves with touchscreen technology – there's nothing worse than having to constantly take your gloves off to text or dial phone numbers or look up directions, so invest in a warm pair of gloves with touchscreen technology like these.
Warm coat – you want a super warm, down coat or sturdy coat through a brand like North Face to get you through the Alaska winters. Your thin hoodie isn't going to cut it!
Turtleneck – turtlenecks are totally in fashion in a Alaska winter, especially layered underneath all of your other clothes. The key is to bundle up from bottom to top, so don't leave your neck out and try a fashionable turtleneck like this.
Thick scarf – no matter who you are or what kind of fashion you're into, you're sure to find a thick scarf that makes sense for your wardrobe, and this is a fantastic way to add another layer of warmth and act as a shield against the biting winds.
1. Anchorage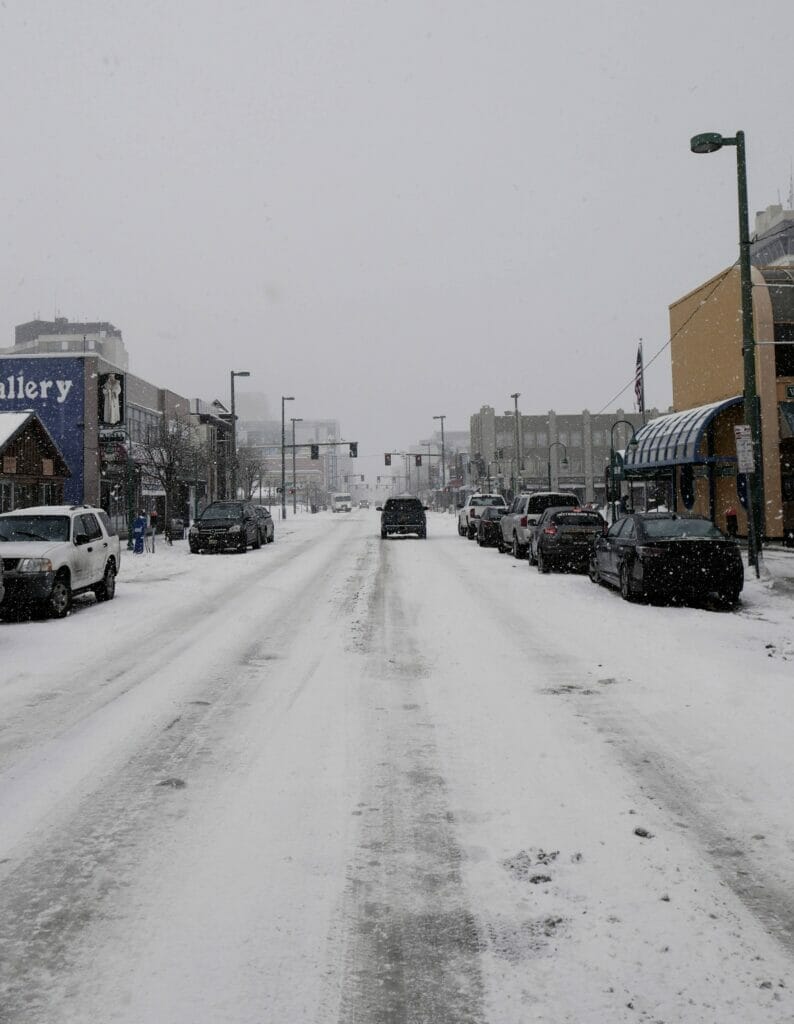 The largest city in Alaska, Anchorage is one of Alaska's main hubs for culture, outdoor adventure, and wildlife viewing.
Check out this amazing Anchorage tour to see the city and beyond.
Spend your day at the Alaska Zoo, where you can check out both native and Alaskan animals, or go walking in Kincaid Park for some fresh air and great water views.
You can also go to the Alaska Native Heritage Center for an introduction to indigenous life and appreciate native dwellings.
Flight gurus will fall in love with the Alaska Aviation Museum, filled with replicas of historic planes and a flight simulator so you can take to the skies in your own way.
There are also breweries, coffee shops, restaurants, and stores that you would expect from city life like Costco, Target, and Walmart, so you don't have to worry about forgetting anything!
Anchorage is home to the University of Alaska Anchorage, as well as Alaska Pacific University, and has a sizeable student population.
Many people use Anchorage as a base for exploring the surrounding wilderness, including Chugah State Park, the Knik River, and more.
How to Get There: Fly into the Ted Stevens Anchorage International Airport, or drive.
Where to Stay: The Lakefront Anchorage (Click here to check out rooms and prices).
2. Fairbanks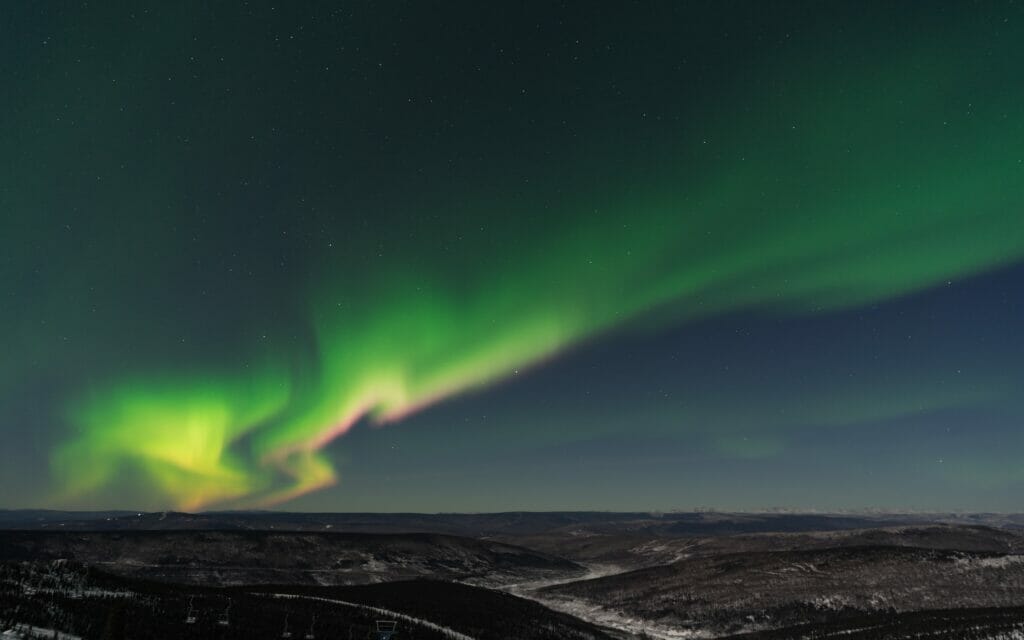 Located in the Interior of Alaska, Fairbanks is known for its incredible aurora borealis viewing opportunities, and many people come here to "chase the aurora."
The second most populated city in Alaska, Fairbanks has a thriving cultural scene that includes the Morris Thompson Cultural and Visitor's Center, as well as the Fountainhead Antique Auto Museum.
If you need to stretch your legs, Pioneer Park offers some space to run around, and sports fans will find hockey games at the nearby Carlson Center.
Like Anchorage, there are plenty of bars, restaurants, and stores so you're very much in a thriving area with plenty of resources in case you don't want to cook or need to go buy some warmer clothes!
From Fairbanks, visitors go in search of the Alaskan wilderness by following the Tanana River or checking out the Chena River State Recreation Area.
If you've come for aurora season specifically, you can go on a guided tour that helps you find the best places to see the lights, or you can do it yourself by bookmarking places like Creamer's Field, a bird sanctuary with often excellent views, as well as pullovers on the Steese Highway or the Murphy Dome.
How to Get There: Fly into Fairbanks International Airport, or drive.
Where to Stay: Pike's Waterfront Lodge (Click here to check out rooms and prices).
3. Nome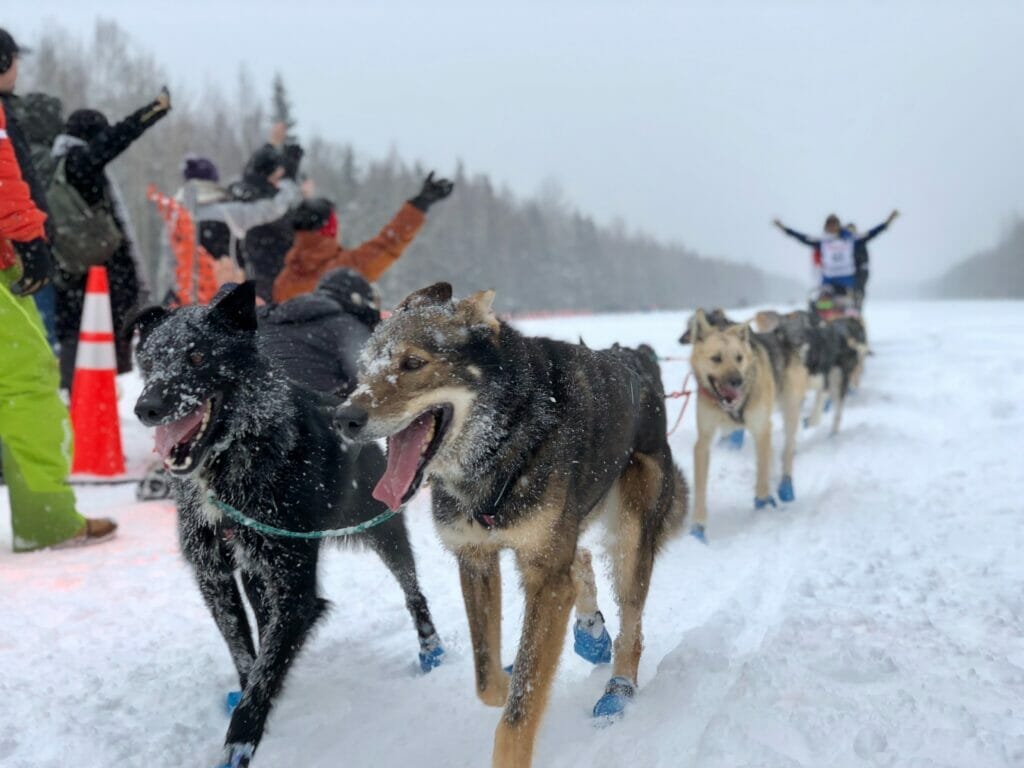 Known as one of the most wild places in Alaska where you can still get modern amenities, Nome is a mining town that was incredibly popular back in the days of the Gold Rush.
Today, the population is estimated at just under 4,000 and locals enjoy its beautiful location on the Bering Sea.
If you visit in the summer, you can take part in activities like bird-watching, gold panning, and self-guided walking tours that take you past Nome's historic buildings.
In the winter, chase the Northern Lights, take part in cross-country skiing, or visit in March to see the end of the famous Iditarod race that ends in Nome.
While you're out and about on the trails, it isn't unusual to see a reindeer or a moose!
Nome also offers great shopping if you're looking for Native art.
History buffs will love the Carrie M. McLain Memorial Museum, which contains lots of information on the Gold Rush history as well as the history of indigenous people.
And of course, you can take your pictures with the world's largest gold pan, because why not?
How to Get There: Nome is not connected to the Alaska Highway System, which means that the only easy way for visitors to arrive is by plane into Nome Airport via Alaska airlines.
Where to Stay: Pike Suite (Click here to check out rooms and prices).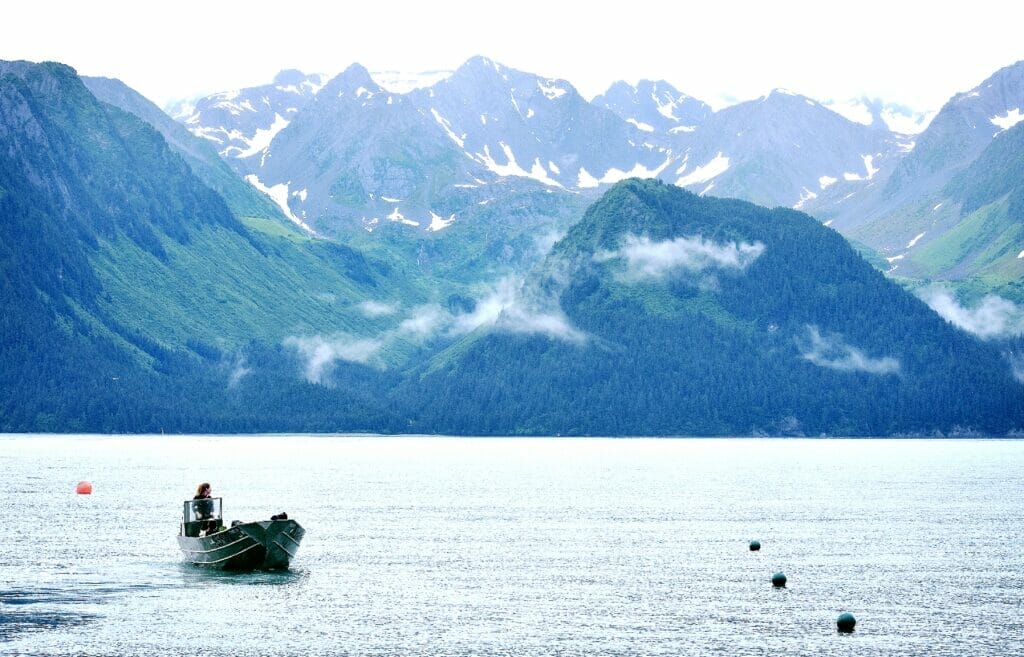 Located in the south of Alaska, south of Anchorage, Seward is a popular tourist destination as it's on the port list for many cruise lines.
It also has great road links to Anchorage and awesome dog sledding tours like this one.
For this reason, the summer season is much more active in Seward, but there are plenty of things to do year round.
Located on Resurrection Bay, Seward is a fantastic place to view marine wildlife.
From humpback whales to sea otters to harbor seals, there are so many gorgeous creatures to spot.
If you want to get active, try renting a bike or doing a dog sledding tour.
Fishing lovers will enjoy guided freshwater or saltwater trips by experienced skippers.
Staying on land?
The Alaska Sealife Aquarium is a public aquarium, perfect for families, and the Alaska Native Heritage Center is a fascinating culture center.
You'll also find art galleries, coffee shops, family-owned restaurants and live music venues.
Don't forget to check out Seward's murals, done by local artists all over Seward to give it a colorful and friendly vibe.
How to Get There: Most visitors either come by cruise line, fly into Ted Stevens Airport in Anchorage and then drive down (2 to 4 hours depending on traffic), or you can take a train during the summer months.
Where to Stay: Summit View Lodge (Click here to check out rooms and prices).
5. Gates of the Arctic National Park and Preserve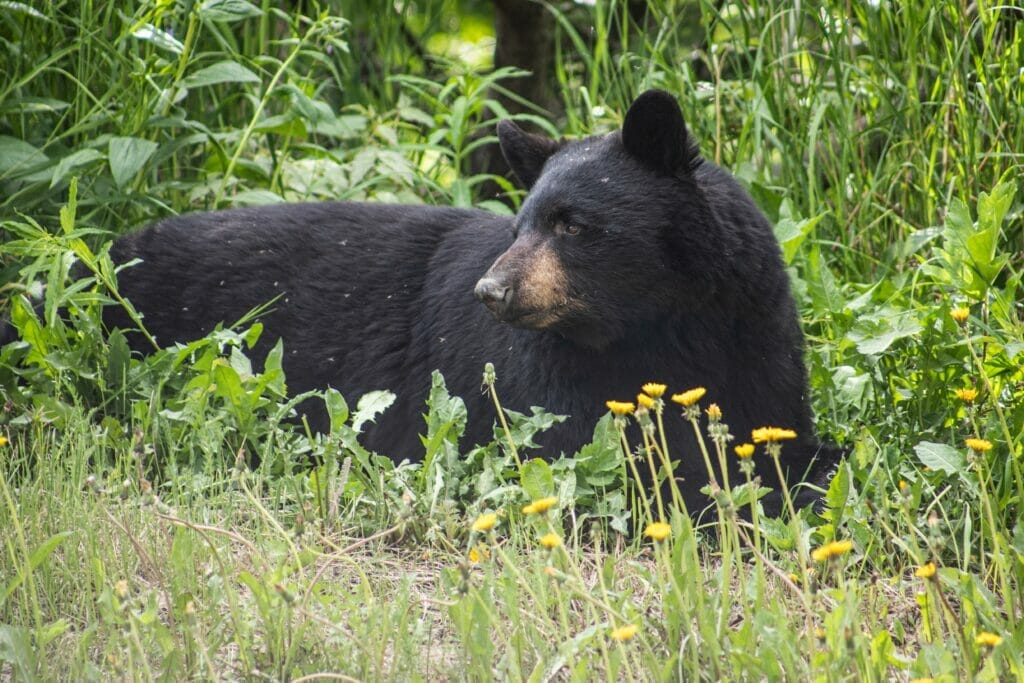 When you consider a visit to the Gates of the Arctic National Park, you should know that this is truly untouched wilderness.
There are no roads, no trails, no service stations – nothing but millions of acres of preserved and unfiltered Alaskan land, shaped only by Mother Earth.
Only experienced backcountry survivalists should visit on their own. If that isn't you, don't worry.
There are plenty of guided tours that offer the chance to backpack, canoe, and hike your way through this national park with experienced guides who can show you the ropes when it comes to outdoor living.
You might spot a caribou, a grizzly bear, or other wildlife who call this area home, and you'll definitely be able to enjoy the absolutely stunning views that include mountains, lakes, and forest.
The park is largely visited in the warmer months, as the freezing temperatures in the winter make it unhabitable for most.
The closest major area is Fairbanks, where many tours start, and from there you may hop on a smaller plane to one of the small settlements closer to the park.
This is Alaska the way it was intended to be explored. Leave no trace, and take nothing but photos.
How to Get There: Head to Fairbanks and take a guided tour, like these by Arctic Wild.
6. Denali National Park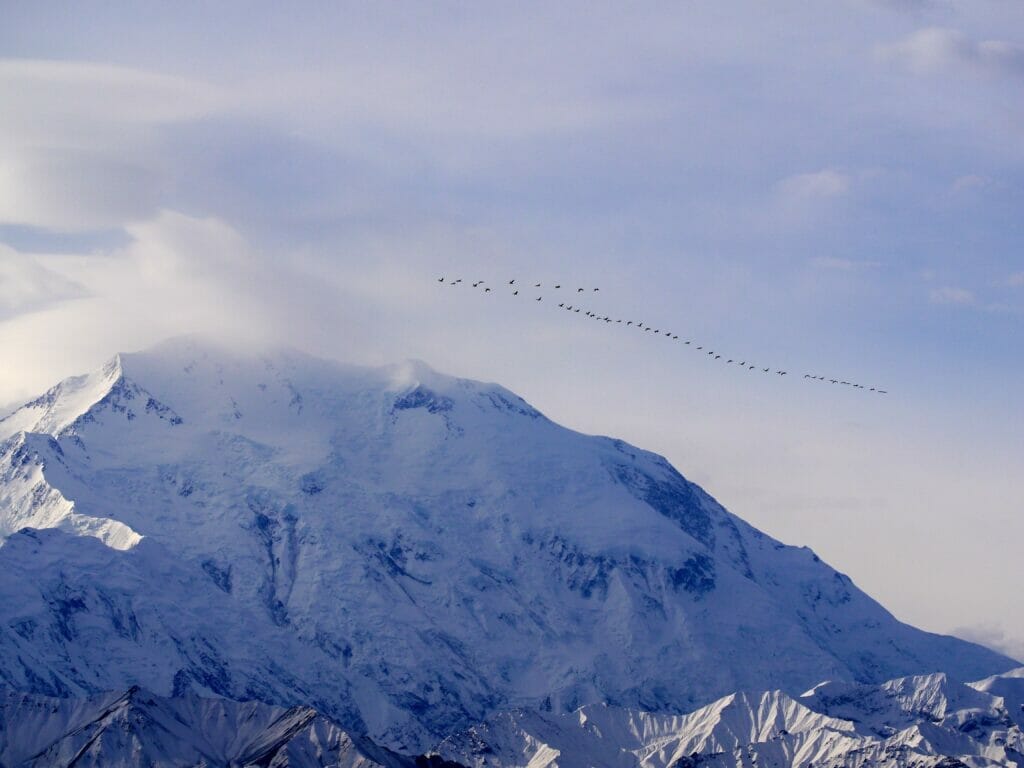 Perhaps the most famous National Park in Alaska, Denali is visited by over 400,000 visitors each year.
There is one road through the park, with most of it being untouched and ready for exploration.
Keep your eyes peeled for moose, bears, hares, and other Alaskan wildlife.
This is one of the best tours of Denali.
There are a few popular ways to see Denali, one of which is a bus tour through the park, which are usually narrated and includes stops for lunch.
If you want to get up close to Denali, the actual mountain and summit of the park, there are airplane tours to give you a close-up even if you're not a mountaineer.
Even in the winter months, while some of the road is closed to visitors, you can visit the first few miles and explore the area with snowshoeing or telemark skiing.
The park recommends two full days of exploration, which gives you time to take guided tours, go hiking and visit the visitor center.
How to Get There: Most visitors in the summer come by car, via the Alaska Railroad, or via a sightseeing bus tour from Anchorage or Fairbanks.
Where to Stay: Denali Park Hotel (Click here to check out rooms and prices).
7. Juneau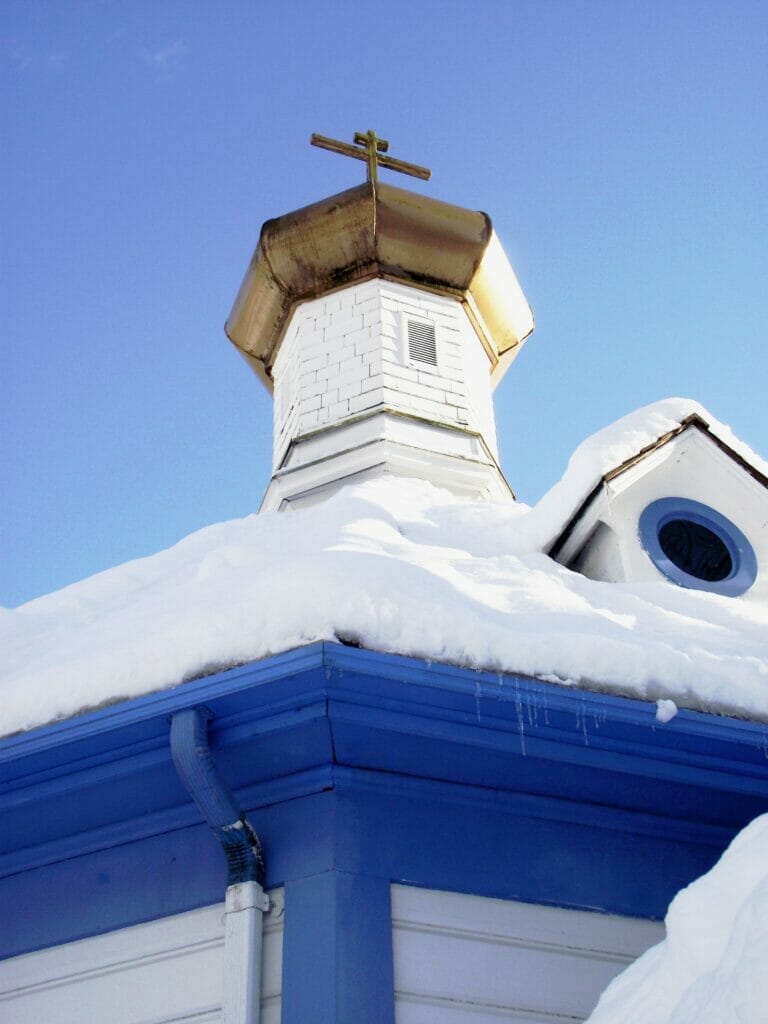 While Juneau is Alaska's capital, many are surprised to find that it's not connected to the rest of Alaska by road (check out more Alaska fun facts like this in our epic list!).
The surrounding terrain is too rugged, which means that anyone or anything coming to or from Juneau goes by plane if you're coming from the mainland.
It's also a huge stop for cruise ships in the summer, providing a thriving summer economy.
Check out the Mendenhall Glacier, one of the most beautiful glacier experiences in the world which you can get close to by foot, kayak, or plane.
There's also fantastic orca whale watching, as well as salmon fishing and a trip to Admiralty Island to see the bears and nesting bald eagles.
And of course, don't miss the downtown streets of Juneau, where you'll find the Alaska State Capitol, plenty of coffee shops, bars, restaurants, and historic shops on Franklin Street.
How to Get There: Fly into Juneau International Airport.
Where to Stay: Four Points by Sheraton (Click here to check out rooms and prices).
8. Sitka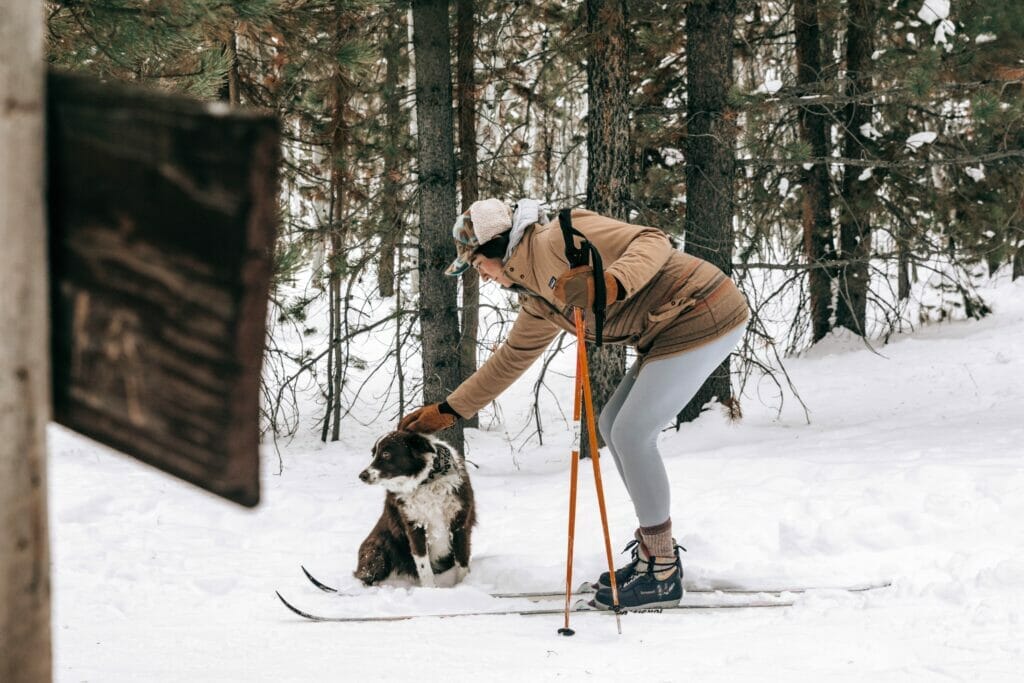 On the outer coast of Alaska's Inside Passage is Sitka, a place many rom-com fans may have heard of as it was where the characters played by Ryan Reynolds and Sandra Bullock went to visit his parents!
For residents, though, Sitka is simply a place of natural wonder and beauty, essentially an island community because it can only be visited by land or sea.
In Sitka, you can do everything from fly fishing to ATV riding to traditional dancing to hiking to cultural visitors to the St. Michael's Orthodox Cathedral.
Spend a day at Baranof Castle, or enjoy some golfing or yoga surrounded by stunning views.
In the summer months, Sitka is visited by cruise ships, while in the winter, it's filled with people searching for the northern lights or going snowshoeing or backcountry skiing.
Sitka doesn't experience the same intense light cycles as in Northern Alaska, which means the winter days aren't quite as short and the summer days aren't quite as long.
How to Get There: Take a cruise or fly into Sitka Rocky Gutierrez Airport.
Where to Stay: Sitka Hotel (Click here to check out rooms and prices).
9. Wrangell St-Elias National Park and Preserve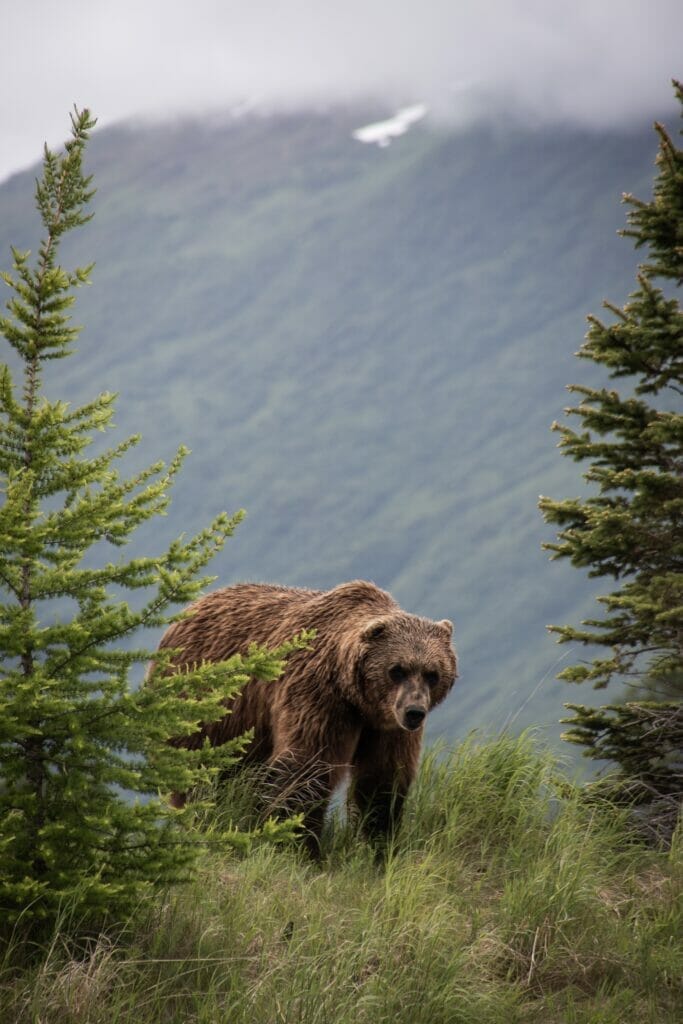 It's probably no surprise that you can visit the largest national park in all of the United States when you visit Alaska.
With two roads leading into the park, multiple visitor's center, and plenty of natural experiences, this is one of the best places to visit in Alaska if you want to check out volcanoes, glaciers, as well as wildlife spot to see if you can sneak a peek at the bison, Dall sheep, black and brown bears and mountain goats.
You can also take part in hiking, mountain biking, backpacking, camping, horseback riding, kayaking, and so much more.
Plan to visit during the summer months, when the park is accessible.
While the roads are open year-round, they are not maintained in the winter months and visitors from around the world are welcomed from around May to September.
How to Get There: Drive from nearby Chitina or take a guided tour.
Where to Stay: Kennicott Glacier Lodge (Click here to check out rooms and prices).
10. North Pole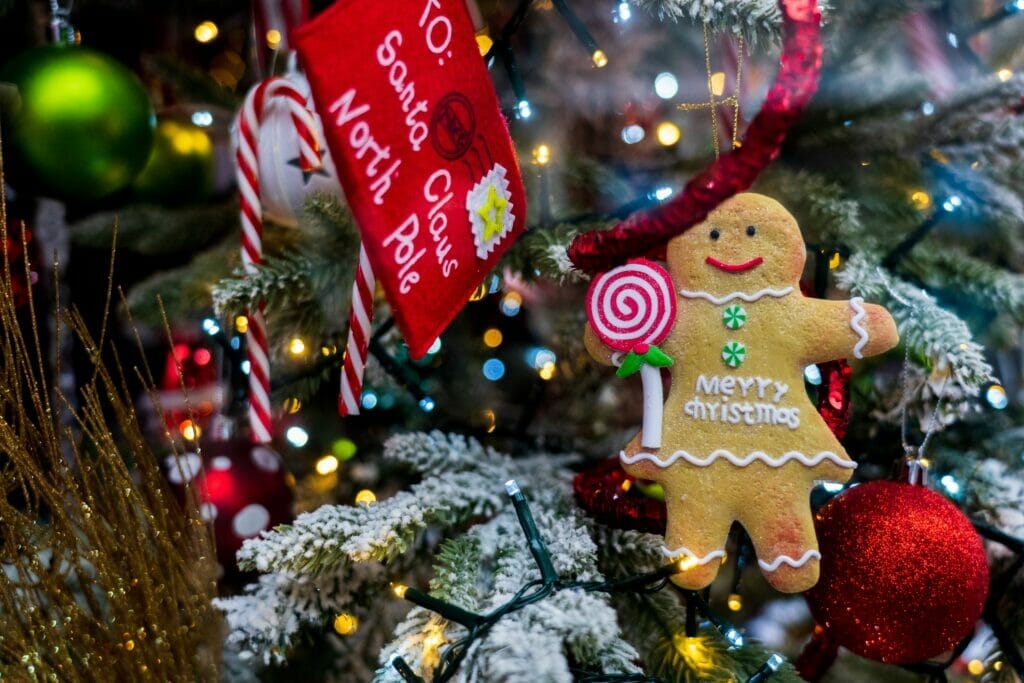 Yes, you can visit the North Pole..in Alaska!
Known for its year-round Christmas decorations, this small town near Fairbanks has adorable street names like Mistletoe Lane and plenty of candy cane striped street lights.
Visit Santa Claus House, a Santa Claus themed gift shop, as well as nearby shops Christmas in Ice and a reindeer experience at Antler Academy!
North Pole has an elementary school, a middle school, and a high school, as well as a library.
How to Get There: Drive from Fairbanks
Where to Stay: Hotel North Pole (Click here to check out rooms and prices).
11. Bering Land Bridge National Preserve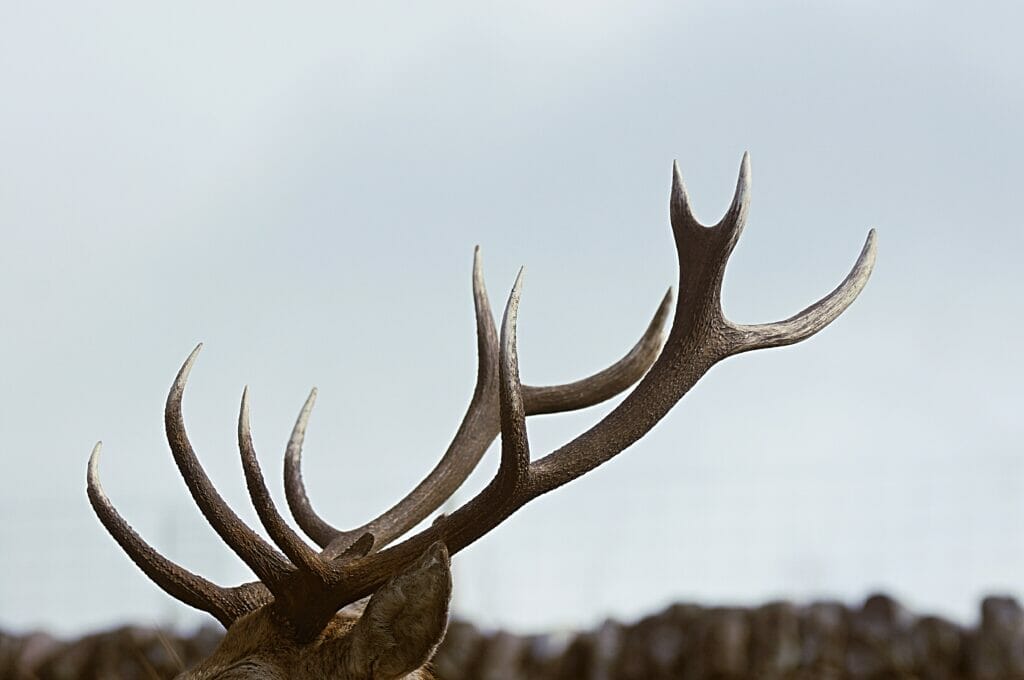 One of the most remote national parks, Bering Land Bridge National Preserve is the place to go in Alaska for anyone who wants to journey to the end of the Earth.
Quite literally, too, as this used to (10,000+ years ago) be part of the land bridge that connected Asia to America!
It's located on the Seward Peninsula in Northwest Alaska and here you'll find the opportunity to get lost (not for real) in a world of caribou, forest, hot springs, and more.
Visitors to this national park love the Serpentine Hot Springs, which are hot springs that you can use, like a natural hot tub!
There's also plenty of wildlife spotting.
There are no roads in the park, so access is by small plane or snowmobile.
How to Get There: Take a tour with Arctic Wild
Where to Stay: Stay in Kotzebue overnight before your tour.
12. Alaska Highway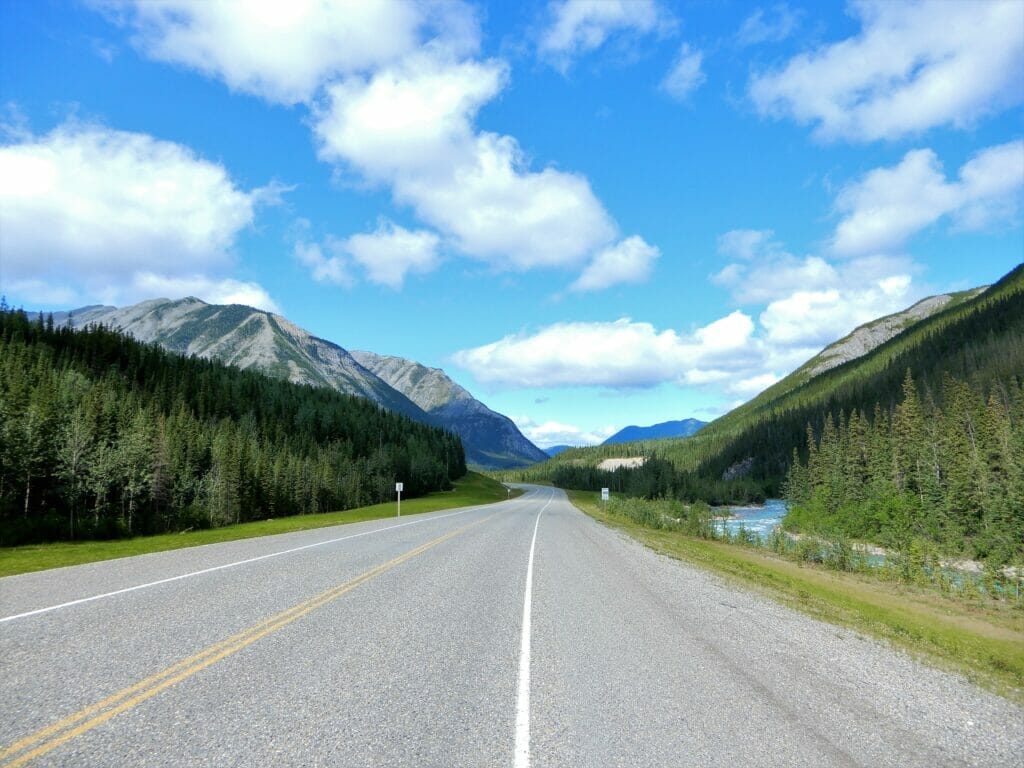 At over 1300 miles across Alaska, the Alaska Highway is one of the best scenic drives in the entire world.
You could plan a whole trip just cruising this highway and stopping off at points along the way, as it goes all the way from near Fairbanks to British Columbia, Canada.
Established in World War II, millions of visitors have rented a car and taken off on an adventure over the years and it's definitely something to add to your bucketlist.
Because of the remoteness of Alaska, you do want to make sure that you're prepared for the weather, know where your next stop is, and aren't traveling without proper equipment through the more dangerous winter months.
13. College
Unsurprisingly, "College, Alaska" is just outside of downtown Fairbanks and is home to the University of Alaska Fairbanks.
With surrounding trails, public modern art on campus, and an ice skating rink, it's worth stopping by to have a look.
Many people are fascinated by the campuses of universities across the country, so don't miss the chance to see an Alaskan one on your visit to Fairbanks!
How to Get There: Drive or fly into the Fairbanks International Airport.
Where to Stay: Downtown Fairbanks
14. Yukon-Charley Rivers National Preserve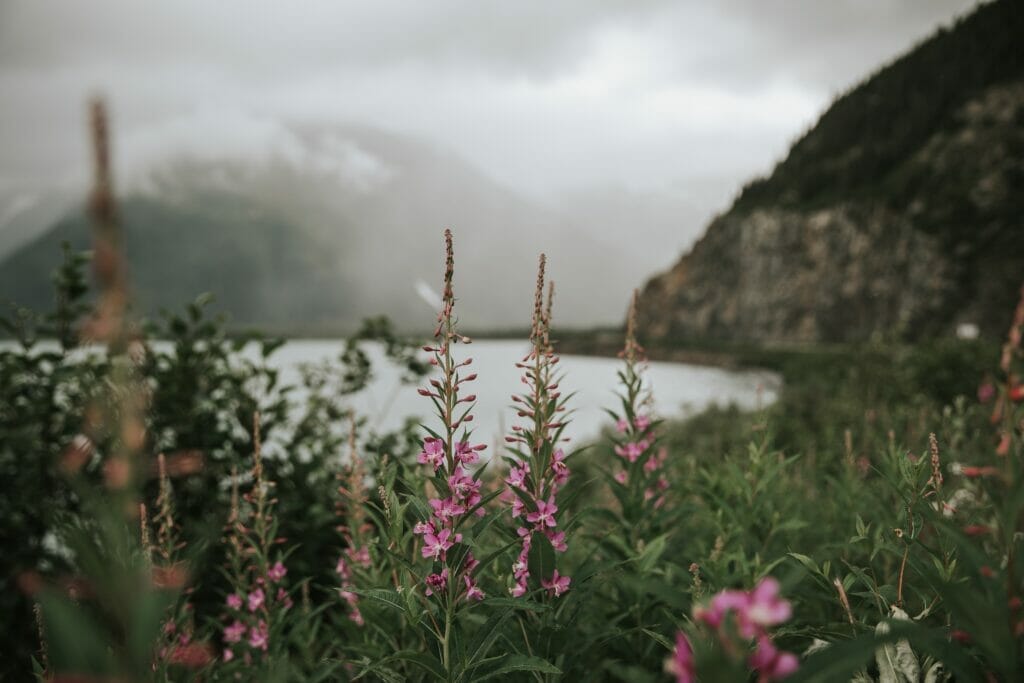 It's time to embrace the beauty of the Yukon and Charley rivers at this Alaska national park.
One of the most popular activities here are, of course, floating down the Yukon river or Charley river.
You can experience canoeing, whitewater rafting, hiking, wildlife watching, and plenty of outdoor adventure.
With public cabins that can be used for free along the river banks (first-come, first served), many like to float down the river and stop off each night in a cabin.
Of course, remember that the climate in Alaska means that May through September are the ideal months for experiencing this part of the state, and always remember to come prepared with all of the gear recommended by Alaska's National Park service, including bearproof belongings!
How to Get There: Drive to one of the towns along the river, like Circle or Beaver.
Where to Stay: Beaver Lodge Tour and B&B.
15. Chugach National Forest
Just one hour from Anchorage, the Chugach National Forest is a treasure trove of wetlands, rain forest, coastal woods and more.
Unlike some of the more remote national parks and forest in Alaska, Chugach is easily accessible without any backcountry knowledge, and has two visitor centers, 500 miles of maintained trails, cabins, and campgrounds.
You can do everything from hiking to guided glacier walking to fishing to kayaking.
You won't see it all, of course, as the entire area is larger than the state of New Hampshire!
First time visitors are recommended to spend about 2 days exploring the forest to get a taste for the natural wonder and beauty.
How to Get There: Drive from Anchorage (about 1 hour).
Where to Stay: The Spencer Glacier Public Use Cabin.
16. Glacier Bay National Park and Preserve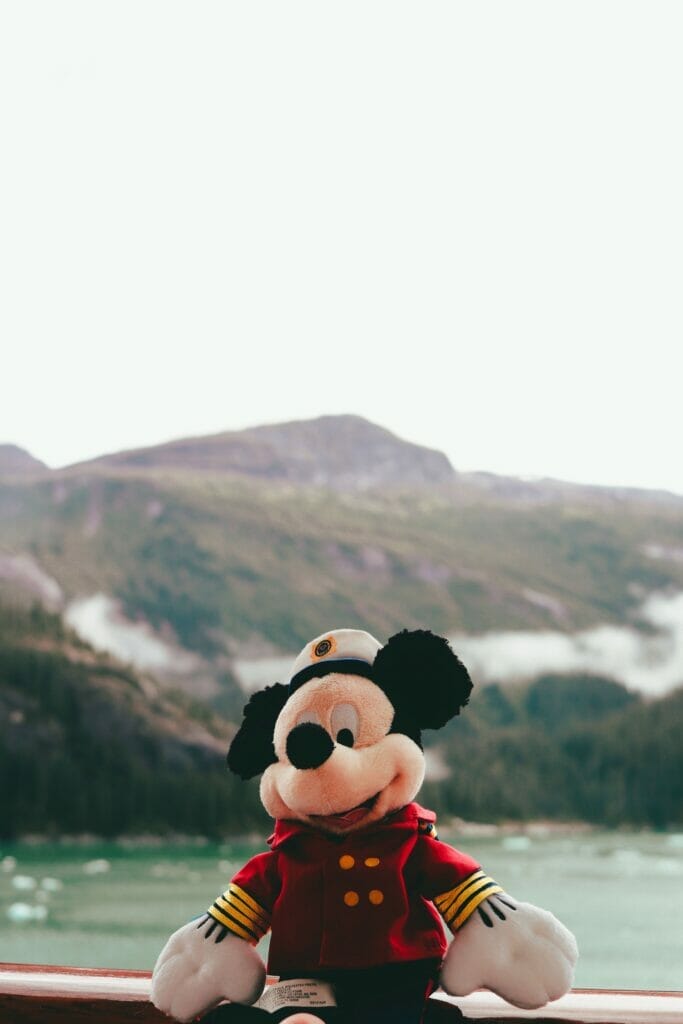 Most visitors visit Glacier Bay National Park via cruise ships, as this is the easiest way to see the beauty of this magical place.
Not only is it a preserved area and hub for scientific research on our planet, but the actual beauty of the sparkling glaciers, whales jumping in the water, and endless blue is out of this world.
While the cruise ships do not dock in Glacier Bay, they spend time sailing through it and getting as close as possible without spoiling the environment.
You'll hear the cracking and shifting of the glaciers, try and spot otters on the shore, and so much more.
You can also go on a backcountry sea kayaking experience.
For the native people of the area, the Tlingit, stories about Glacier Bay are part of their history and culture, and it's not hard to see why.
How to Get There: Taking a cruise that sails through here is the easiest way.
17. Iditarod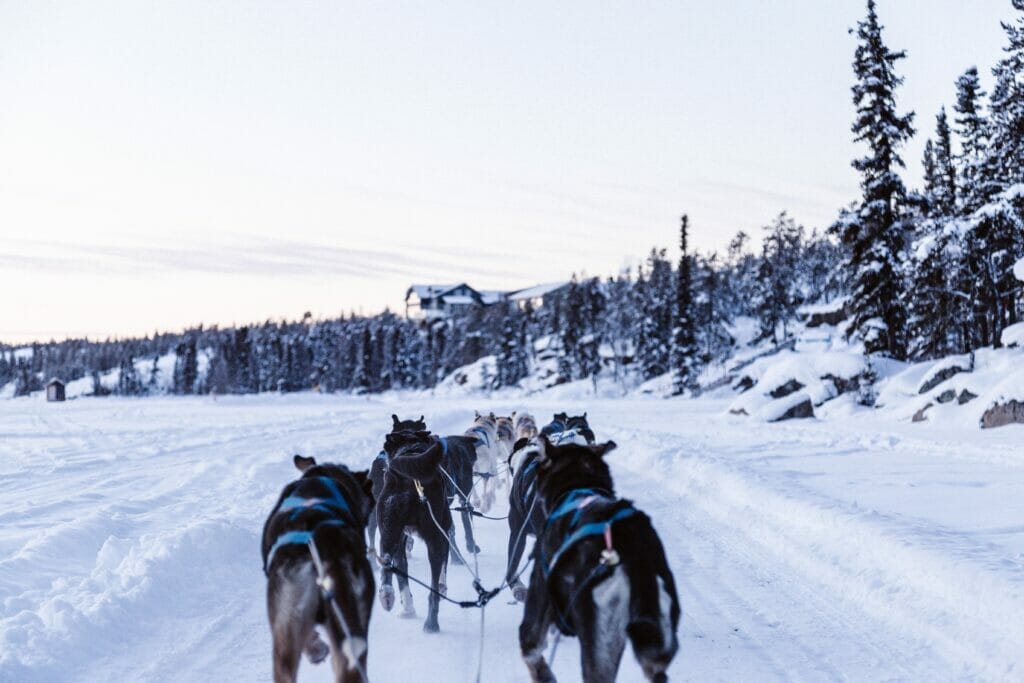 Today, a ghost town, Iditarod is in fact the town that shares a name with the Iditarod dog race.
Back in the day, during the gold boom, it was a thriving community with shops, a few hotels, and a liveliness to it.
Now, it is run down buildings frozen in time, but every year it is a stop used as a checkpoint for the Iditarod race!
You can still see some of the historic site, no longer in use, and it's a fascinating piece of Alaskan history that still has a connection to the race.
18. Lake Clark National Park and Preserve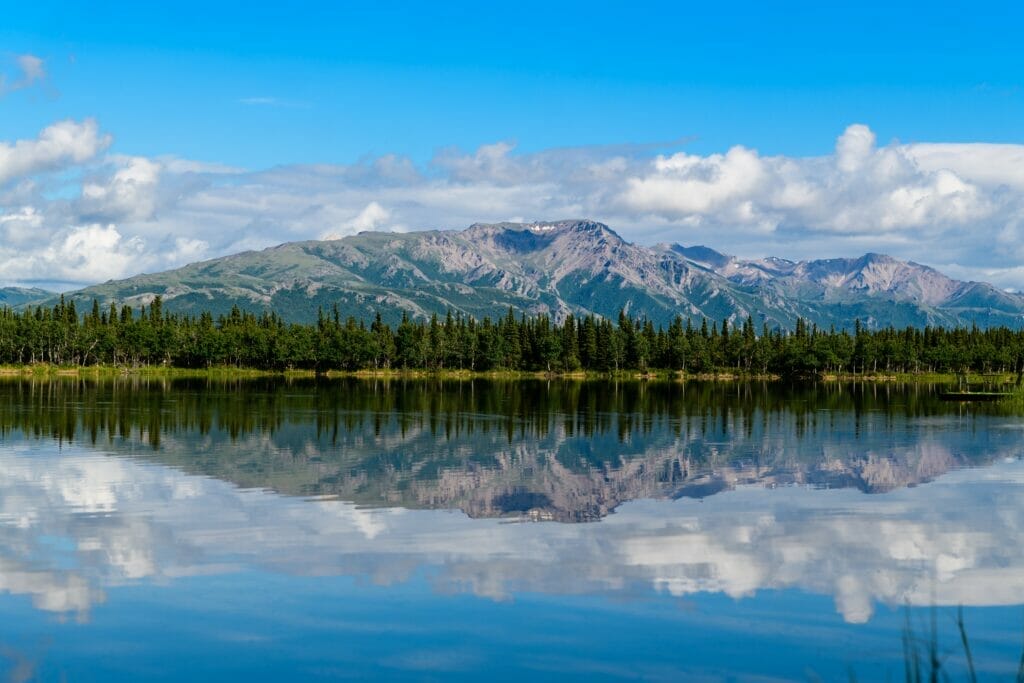 About 100 miles southwest of Anchorage is Lake Clark National Park, a rugged and stunning place to go in Alaska that welcomes visitors to explore the lake and surrounding vistas.
One of the most notable things you'll find here is lots and lots of bears!
This is their natural habitat, and you may see them eating, foraging, pawing the water, and more.
The lake itself is milky blue, sparkling in the sun in the summer, and the backcountry hiking is some of the best in Alaska.
Salmon return from the sea to Lake Clark to spawn every year, and there are some magnificent views of the teeming salmon during the season.
How to Get There: You have to arrive by seaplane or boat, usually on a guided tour as there are no roads to the park.
Where to Stay: Check out Alaska's Back Country Inn in Port Alsworth, the most built up area in the park.
19. Wasilla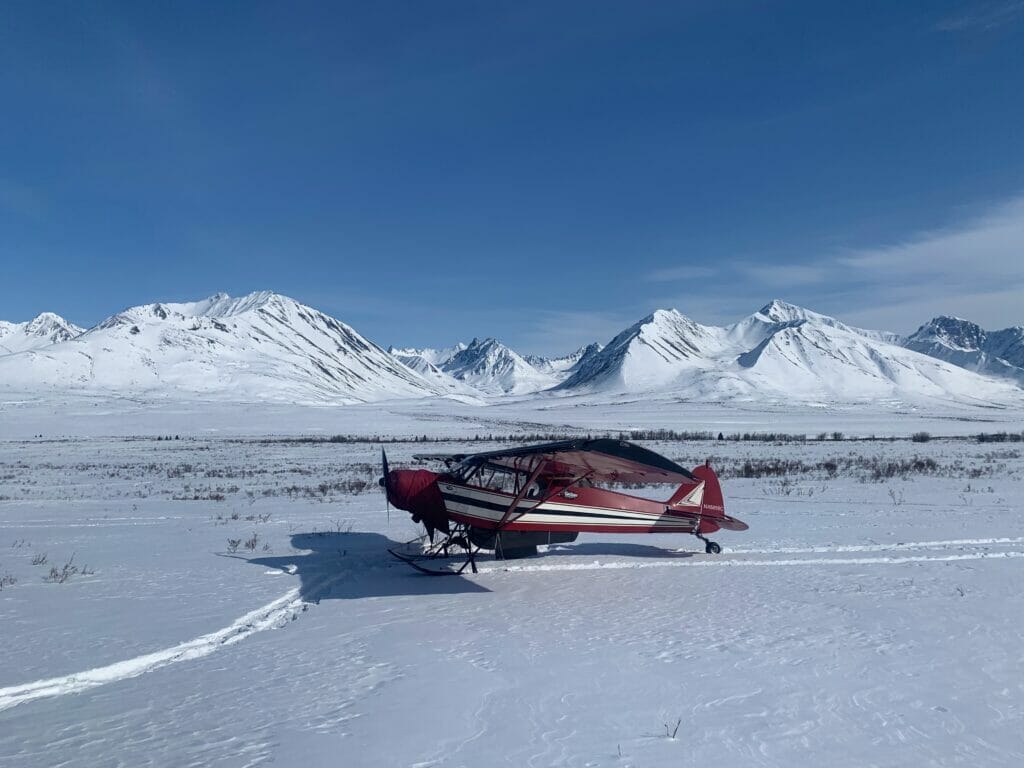 The sixth-largest city in Alaska, Wasilla has big city amenities like grocery stores, clothing stores, and bars and restaurants, but it is still very much a small town feel.
Experience the city where the Iditarod is headquartered, spend some time at the Wasilla Museum & Visitor Center, enjoy the vintage planes and trains at the Museum of Alaska Transportation, or explore the city parks like Lake Lucile Park with gorgeous views of the mountains beyond.
Many people use Wasilla as a gateway to further adventures in Alaska's wilderness, including lakes and rivers.
If you're really into the history of the Iditarod, you can actually visit the Headquarters and see the museum of this famous and race and how it all got started.
If you want to experience the local flavor (literally), try out the family-owned restaurants and coffee shops and dig into the cultural scene of the city's residents.
How to Get There: Fly into Wasilla Airport or drive
Where to Stay: Alaska's Lake Lucille Bed and Breakfast (Check here to see rooms and prices).
20. Yukon Delta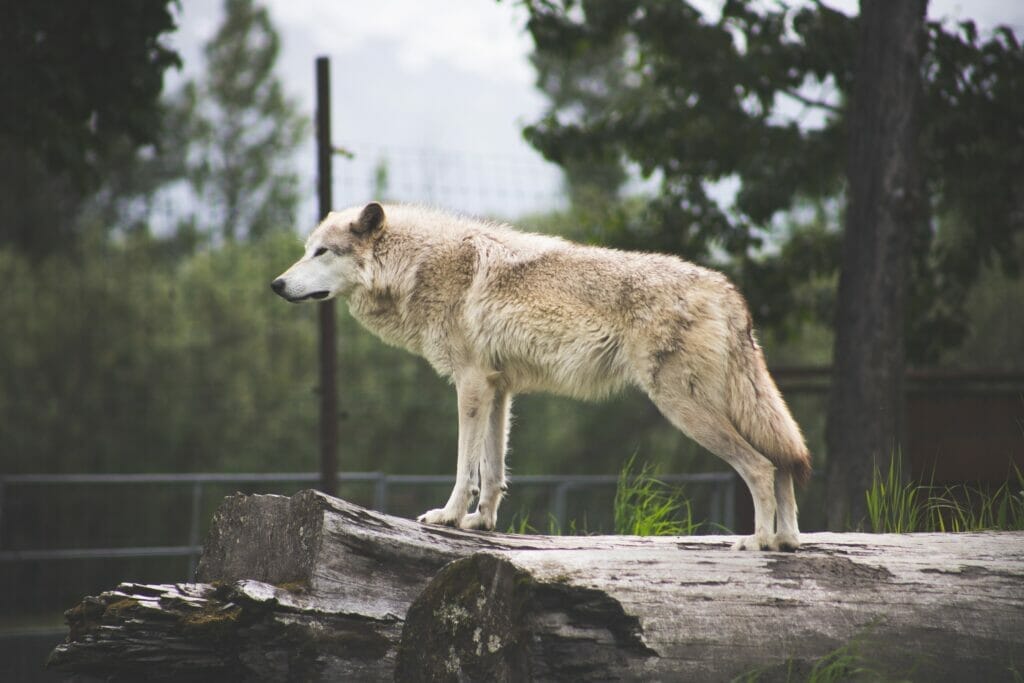 The Yukon Delta is one of the largest river deltas in the world, and unlike other parts of Alaska with towering mountains, it is mostly comprised of tundra and flat stretches intermixed with streams, rivers, and ponds.
Here, you'll find water birds, plenty of brown and black bears, and caribou, moose, and wolves.
There's not just one place to visit here, as the expansive nature of the delta means that people are scattered everywhere.
And that's right, it's important to mention that this is an inhabited delta!
About 85% of the 85,000 residents are native Alaskan people, and there are about 35 villages.
Come here to go rafting, take wildlife photos, hiking, or kayaking.
And if you're wondering where the most populated area is, it's in Bethel, which has gift shops, a movie theater, banks, and other amenities that you might want to be around and use as a base for exploration.
How to Get There: Fly into Bethel airport
Where to Stay: Long House Hotel
21. Katmai National Park and Preserve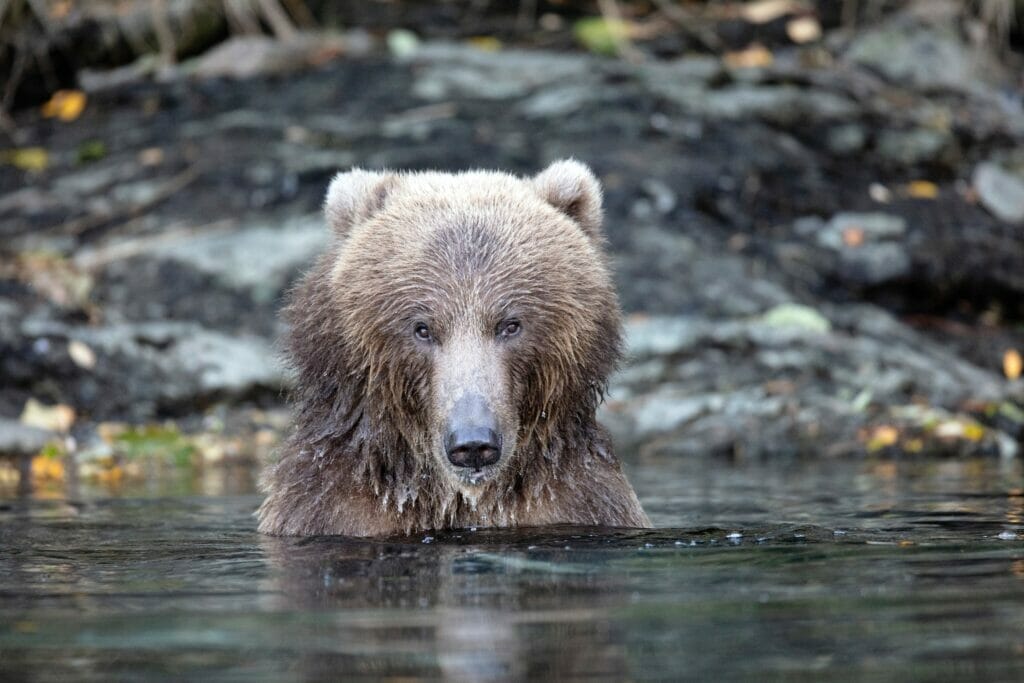 Did you know that Alaska has volcanoes?
One of them is known as Novarupta and erupted in 1912, creating the landscape that is now known as Katmai National Park.
It's also one of the most inhabited areas of the world by…brown bears!
Over 2,000 of them live here, and there are dedicated bear watching tours you can go on that depart from neighboring towns and cities.
Katmai itself isn't accessible by road, and visitors need to come by boat or float plane.
One of the most popular places to watch bears here is known as Brooks camp, where you can see the bears pawing at the salmon they're planning on eating as a snack.
A viewing platform lets you get an up close, safe, view of the activities.
There are over 4 million acres in the park, and you can camp in the backcountry, kayak in the rivers, or hike through the more remote areas on a guided ranger tour.
How to Get There: Floatplane or boat
22. Meadow Lakes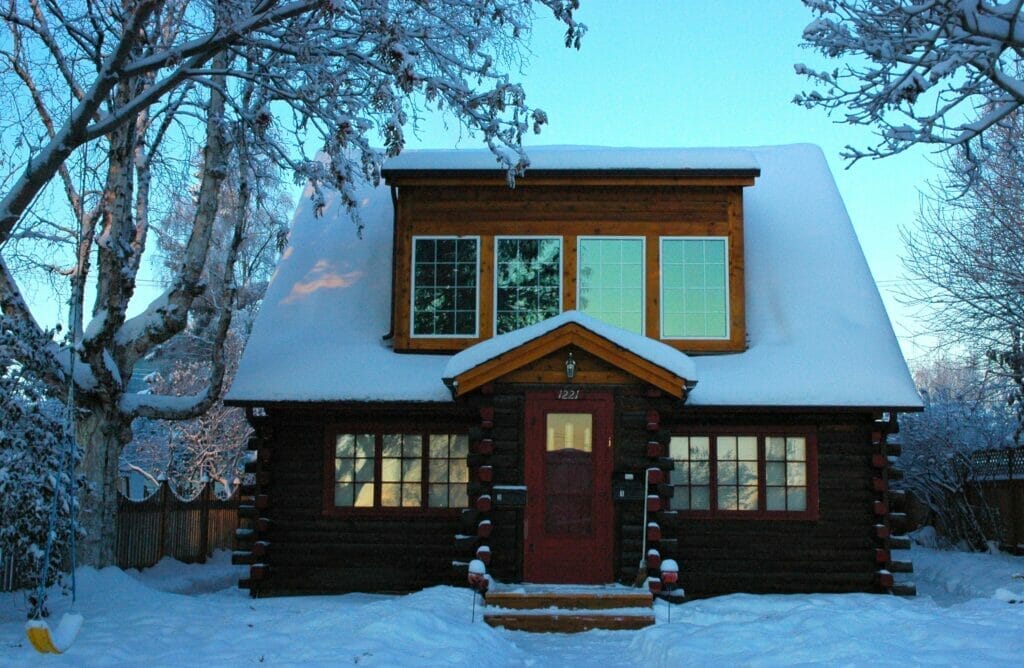 Meadow Lakes has made the list if you're looking for somewhere to go in Alaska to give you an idea of what local life is like.
About an hour drive from Anchorage, this is a town of about 7,000 that is surrounded by dirt roads, gorgeous tree-lined pathways, and of course the fresh Alaskan air.
The main store in town, Three Bears Alaska, sells food and drinks, and there are a few restaurants and other shopping options around, as well as a Baptist Church.
You won't necessarily want to stay in Meadow Lakes, but having a meal here to explore and meet some local residents is a great idea if you're near Wasilla.
23. Kobuk Valley National Park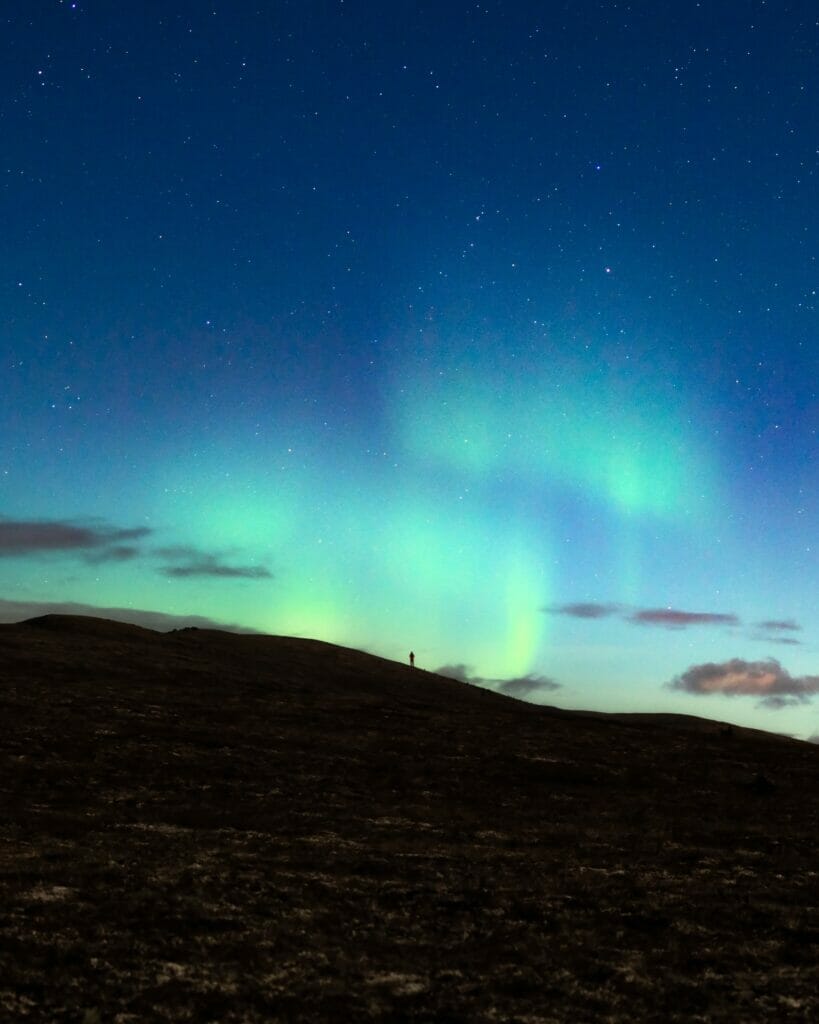 From thousands of caribou to unexpected sand dunes, Kobuk Valley National Park is one of the best wild national parks for visitors to explore who just want to get away from it all.
The sand dunes were a product of the Ice Age, and a natural process that meant melting glaciers ground the rocks around them into sand.
They are stunning and towering, making it look more like an alien landscape than something in the Arctic.
Then you've got the mass caribou migration, a true sight to behold twice a year.
The rest of the time, you can spot the caribou footprints left from their stampedes.
In the winter, come to chase the Northern Lights to take advantage of the location in the Arctic circle. In the summer, hiking and camping are popular options.
Keep in mind that that is truly the backcountry.
There are no roads that lead into the national park, and it must be accessed by small planes from surrounding areas.
You should be versed in outdoor survival techniques and really be ready to become one with nature, respecting what you find and leaving nothing behind.
How to Get There: Plane from Bettles or Kotzebue.
24. Kodiak Island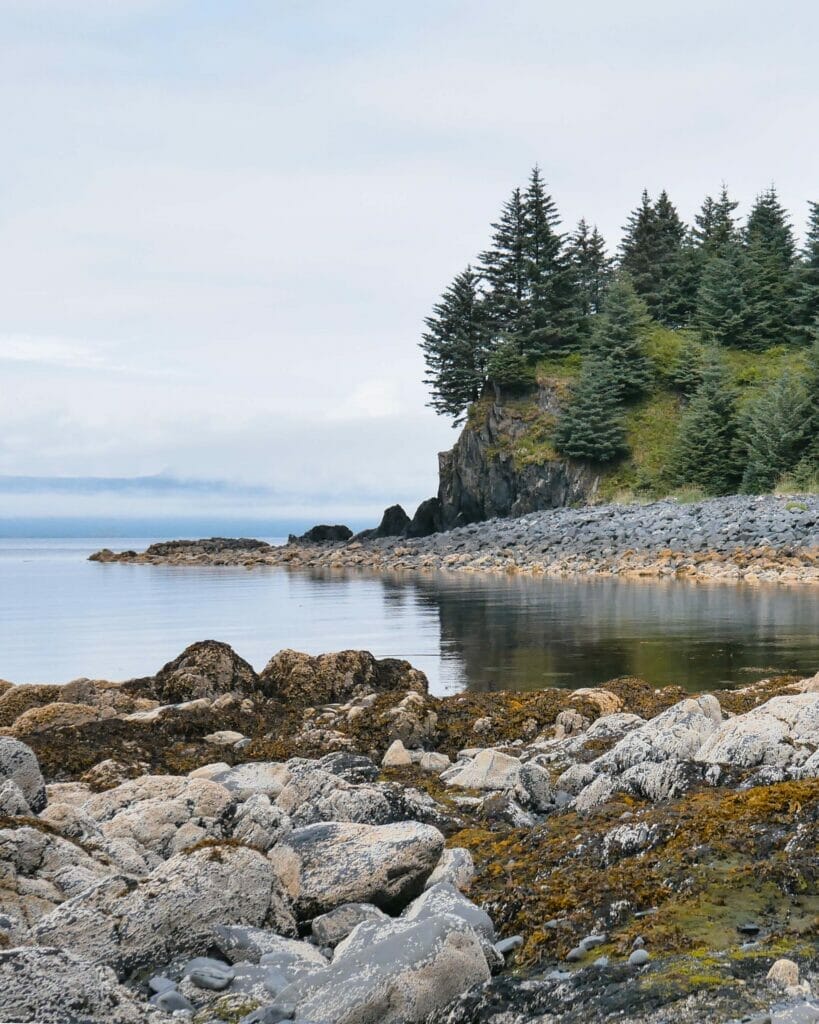 Sharing a name with the bear of the same name, Kodiak Island is most definitely a picture-perfect adventure.
Here, you'll find a small town fishing community that has some gorgeous scenery, a huge bear population in the wildlife preserves, amazing fishing opportunities and the chance to really explore what is known as the "Emerald Isle."
Unlike some other northern Alaskan places, the weather here is much more mild in both the winter and summer, and summers are not overcrowded with tourists.
You've got all of the amenities you need including grocery stores, but unparalleled access to nature on your doorstep.
The main village is Kodiak itself, but there are a couple of others dotted around the island that are inhabited.
How to get here: By boat or plane from the Alaskan mainland
Where to Stay: Kodiak Russian River Lodge (check here for prices and rooms).
25. Steese National Conservation Area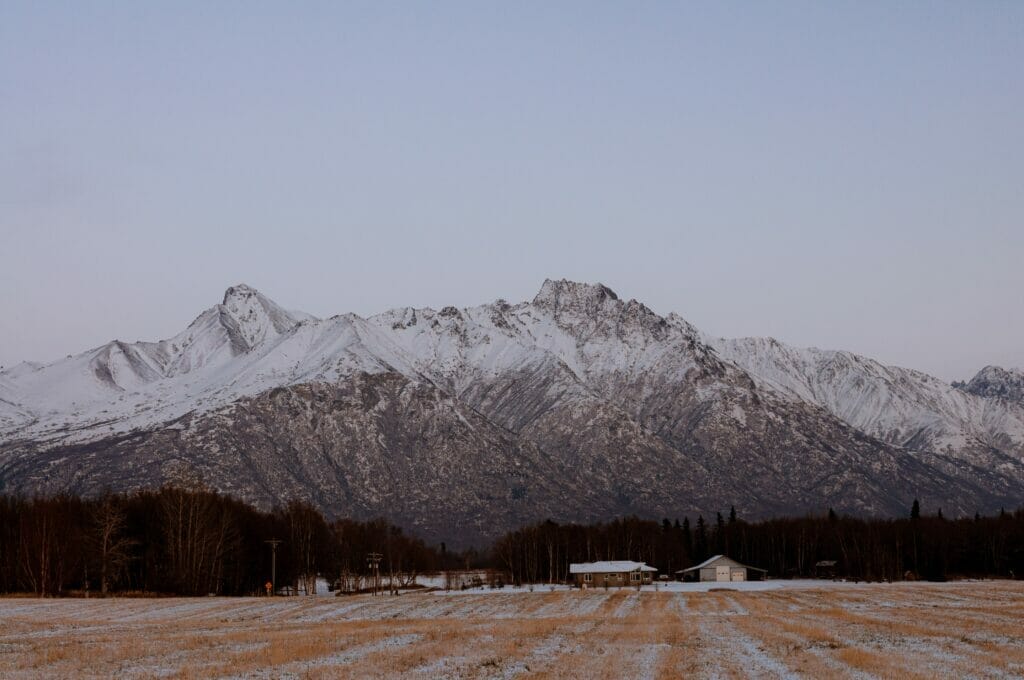 Just north of Fairbanks, about a half day drive, is the Steese National Conservation Area.
The area itself has a small town nearby, Circle, but is mostly remote and for visitors who are self-sufficient and want to explore without running into other people.
Hiking, camping, backpacking, fishing, and picking berries are all allowed within the area, and the northern location means that especially in the summer, visitors can experience the thrill of the "midnight sun" which means daylight hours go on, and on, and on.
The Pinnell Mountain Trail is a primitive trail that has been maintained, offering stunning views of the white Mountains and the Alaska Range.
This trail is in the north of the conservation area, which is more suitable to hikers and backpackers.
The southern part of the conservation area is best for those accessing via watercraft from the Birch Creek River.
Get the All-American Travel Secrets!
Don't miss out on America's hidden gems!