Welcome to Chesapeake!
Here in the city, you'll find some awesome eats from many different cuisines.
We've tried to stick to either small chains or independent restaurants where possible, and all of them serve up a hearty portion of good feelings with their food!
Here is our selection of the best restaurants in Chesapeake, Virginia.
Bon Appetit!
Hey! Looking for more expert Virginia guides? Check these out!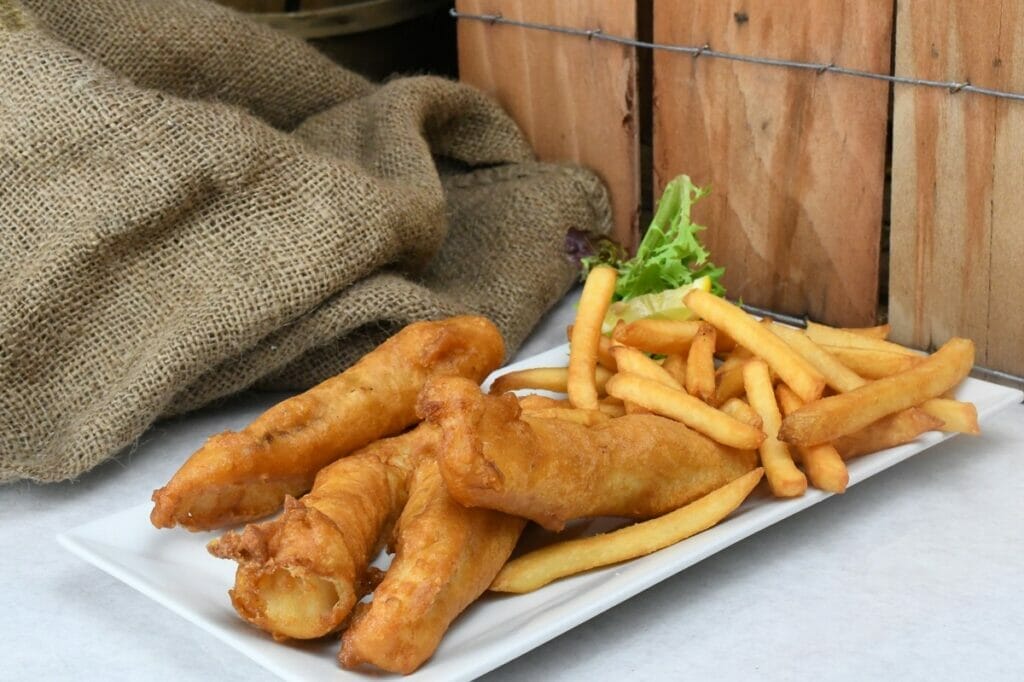 You can't come to Chesapeake and not sample the seafood – in particular the crab.
And where better to do that than Wicker's Crab Pot!
It's a Chesapeake institution that's been in the family for four generations and is popular with locals and visitors alike.
There are lots of different options, but the best place to start is a 'build your own' steam pot.
Choose from oysters, mussels, shrimp, clams, and various species of crab, all served with seasoned red potatoes and corn.
The crab cake also comes highly recommended!
If you aren't expecting to find great Jamaican cuisine in Chesapeake, think again!
Cutlass Grille Jamaican Jerk Barbecue serves up exactly that, and the combination of amazing flavors, heaps of personality, and friendly service makes it one of Chesapeake's best restaurants.
The food created by chef and owner Shawn is inspired by his Jamaican heritage; he helped his mom cook classic Jamaican dishes when he was growing up, and carries that love of food through to his restaurant!
The curry shrimp with rice and peas is a customer favorite, but we're also tempted by the jerk chicken, curry goat, or oxtails. Repeat visits are in order!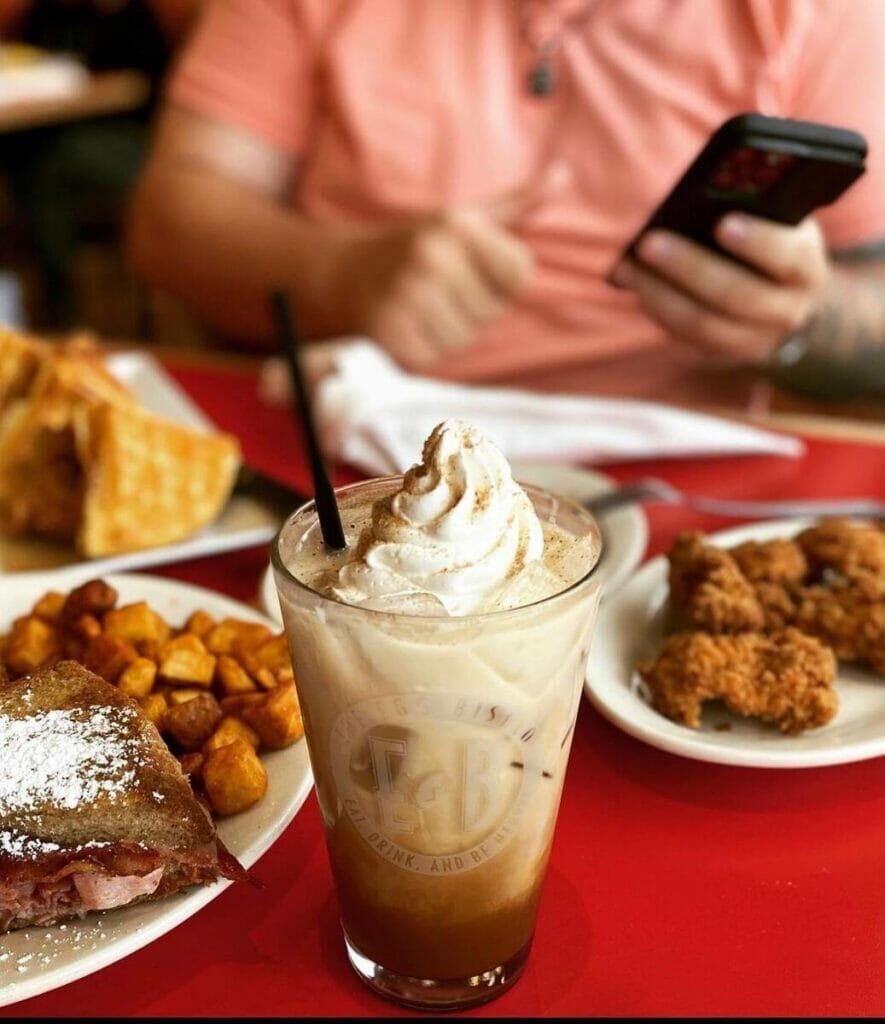 An independent small chain (there are two other restaurants in Virginia Beach), The Egg Bistro is the place in Chesapeake to get breakfast!
Whether you want something that will keep you going all day or a healthy option, sweet or savory, The Egg Bistro's extensive menu will have an item to tempt you.
Try the "Dig In" Breakfast Bowl – peppers, onions, tomatoes, and cheddar served with bacon or sausage over home fries or hash browns.
Or perhaps Benny and the Grits – grit cakes with three kinds of cheese, sausage, cajun shrimp, curry sausage, onions, peppers, and eggs!
For those with a sweet tooth, look no further than Pineapple Upside Down Pancakes – delicious!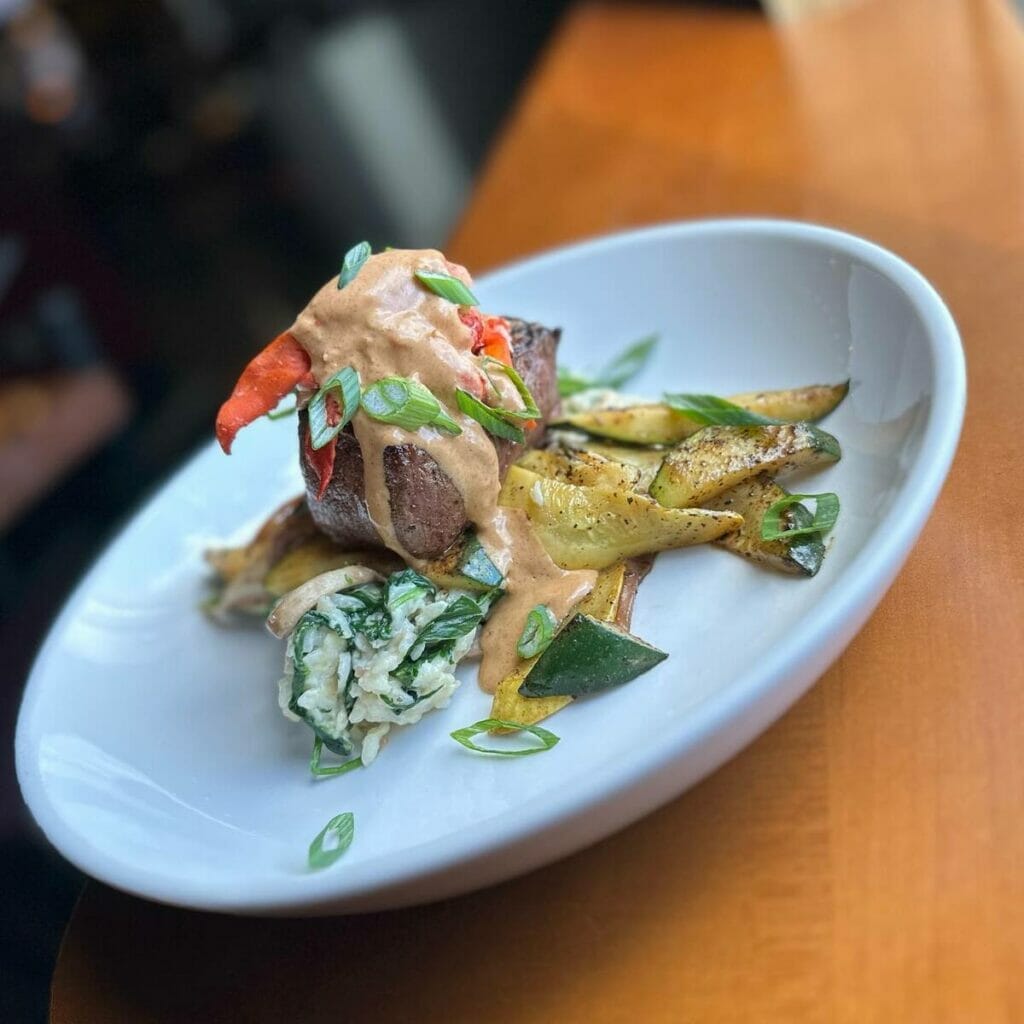 Offering their take on the classic American Steakhouse, The Butcher's Son provides excellent food, service, and atmosphere.
All in all, it's one of the best places to eat in Chesapeake.
Popular with locals for an occasion, the dinner menu is full of delicious offerings, from fresh fish to sandwiches.
Unsurprisingly though, it's the grills where this restaurant shines.
Try the prime rib or buffalo black garlic pork chop, or if you're in the mood for something really special the bone-in cowboy ribeye never disappoints!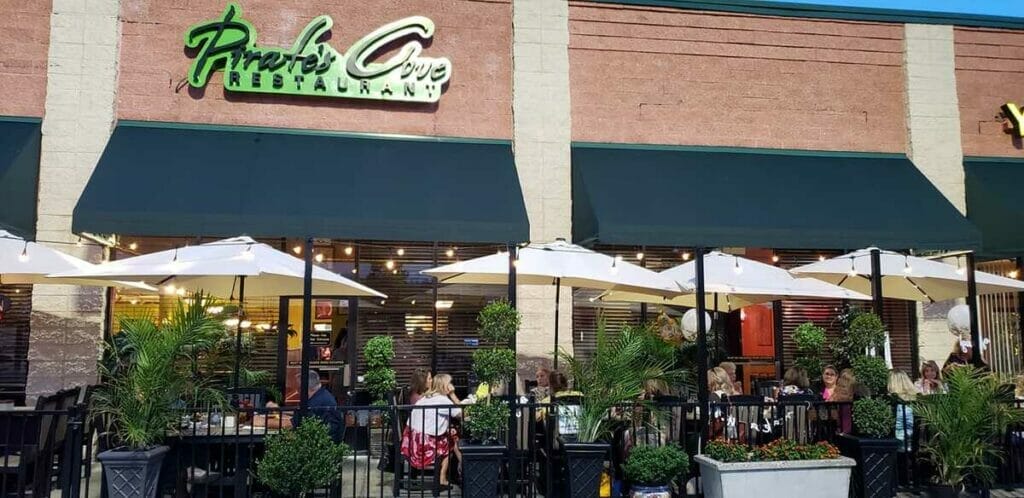 Everyone needs a laid-back local favorite on their go-to list, and Pirate's Cove is exactly that.
With nightly specials for a bargain and chalkboard specials changing daily, it's the kind of restaurant you could eat at every day and not get bored.
The food is tasty home cooking, offering everything from fish and chips to she crab soup, via sandwiches and salads.
As you'd expect from a family-oriented restaurant, there's also a great kids' menu. Plus your little ones will love getting a picture with the pirate statue on the way out!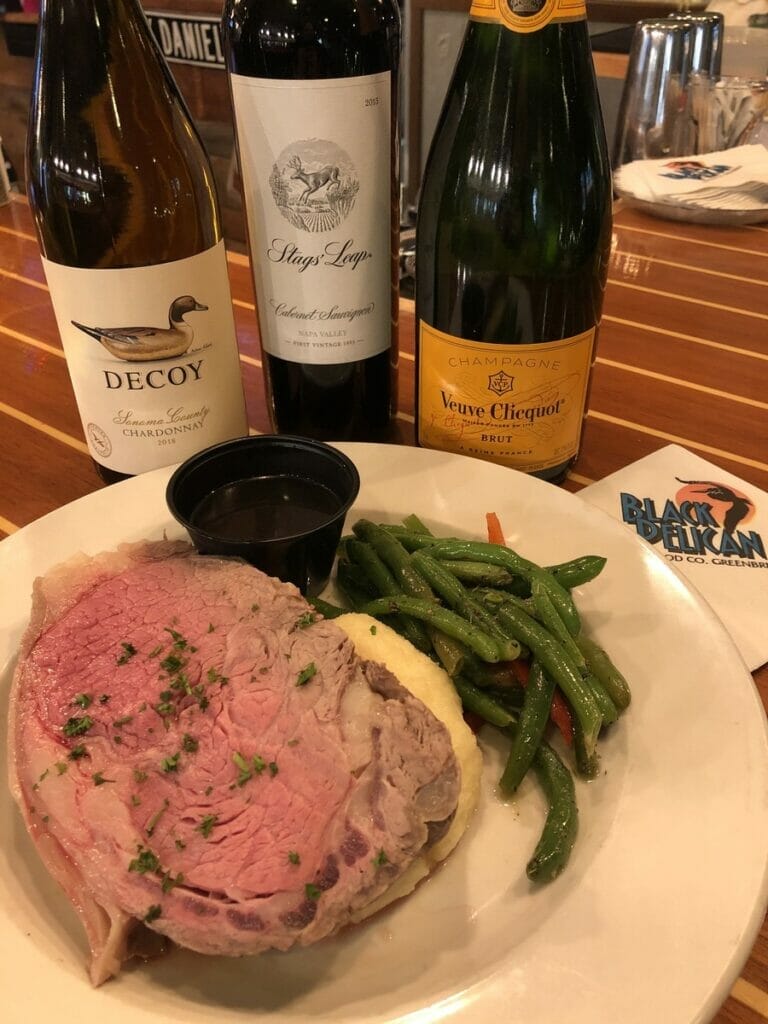 This nautical-themed independent restaurant is full of local charm without compromising on quality. It's named for the coastal legend of The Black Pelican – a bird who comes to protect mariners from trouble. Haven't heard the legend? Read all about it on the Black Pelican's website!
Now, folklore over, let's get to the food – it's actually hard to find something on their menu that doesn't come recommended!
The obvious place to start is seafood, with a great selection of delicious entrees and appetizers.
Pecan-crusted mahi or baked shrimp and crab would be our picks!
If you'd prefer something a bit more turf than surf, their beef, pork, and chicken selection are all mouthwatering!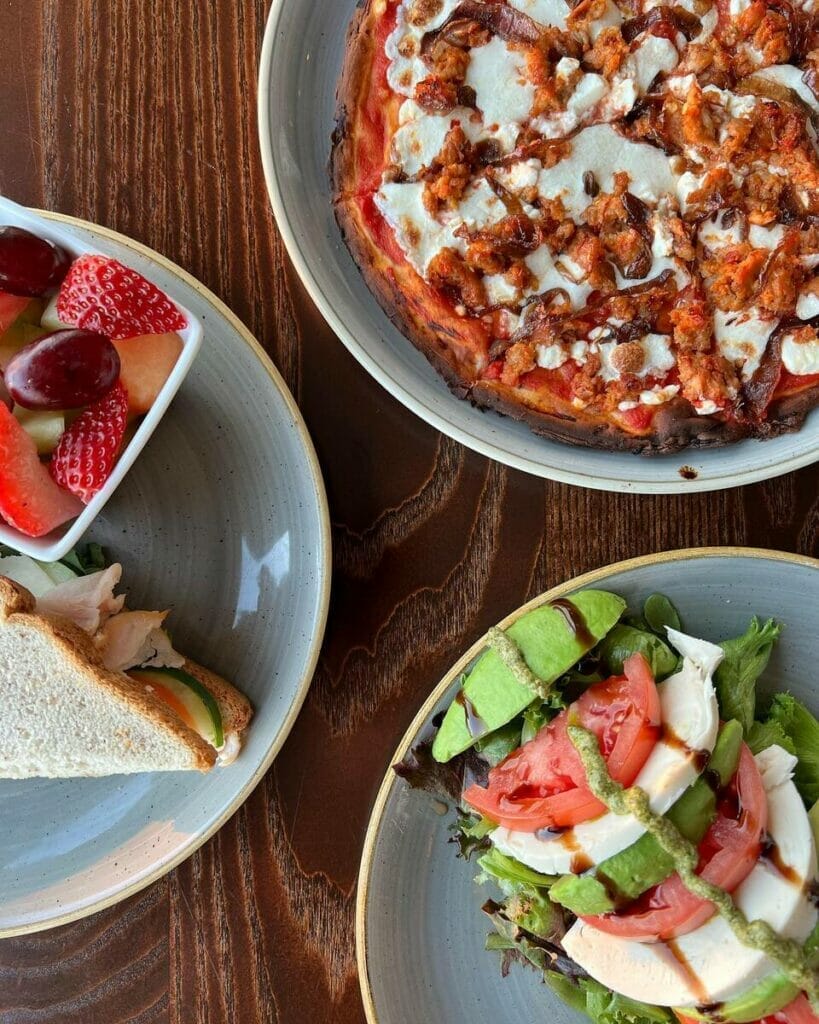 This small local chain has been described as being one of the best restaurants in Chesapeake, Virginia – high praise indeed!
Baker's Crust is open for breakfast, lunch, and dinner, with a great selection of tasty dishes on the extensive menu.
There's also a special gluten-free menu, which makes dining easy for anyone with allergies.
Whether you fancy wood-fired pizza, street tacos, burgers, or artisanal sandwiches there's going to be something that catches your eye!
The BC Combos are perfect for lunch – choose two items from the salads, soups, or sandwiches selection.
Going for breakfast? Try the Baltimore Benedict – lump crab meat, poached eggs, and hollandaise on an English muffin.
Or if you want something sweet, the Jamaican French Toast – cinnamon bread, bananas flambeed in spiced rum, brown sugar, and coconut – will be the perfect start to your day!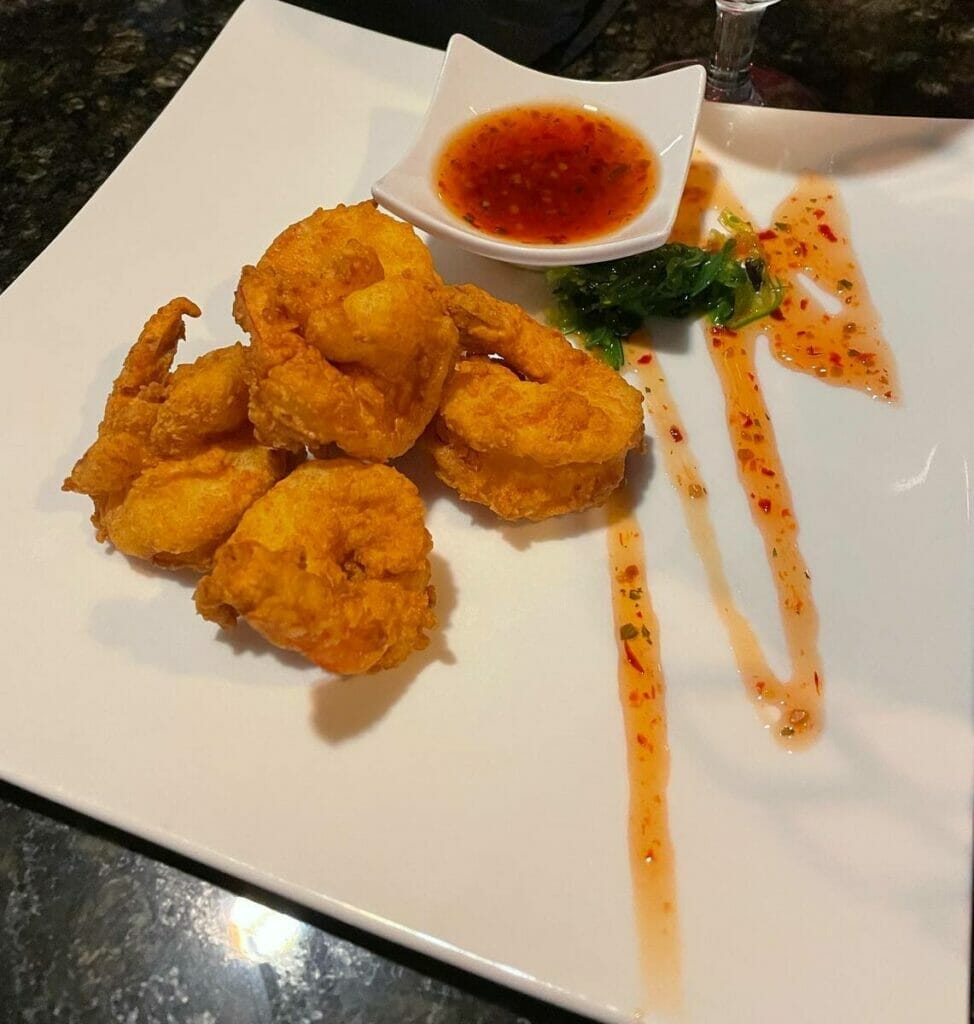 Billed as 'a night to remember', this waterside restaurant is often found high up on lists of where to eat in Chesapeake, Virginia.
Italian chef Carmelo Muroni has a strong focus on local produce and seasonality, so you know the food is going to be made with the best ingredients!
There are some great pasta dishes on the menu, but the entrees selection contains delights such as mahi mahi served with mango beurre blanc, pork chop served with fig sauce, and crab stuffed shrimp.
A great place for a special occasion, or if you just want to treat yourself!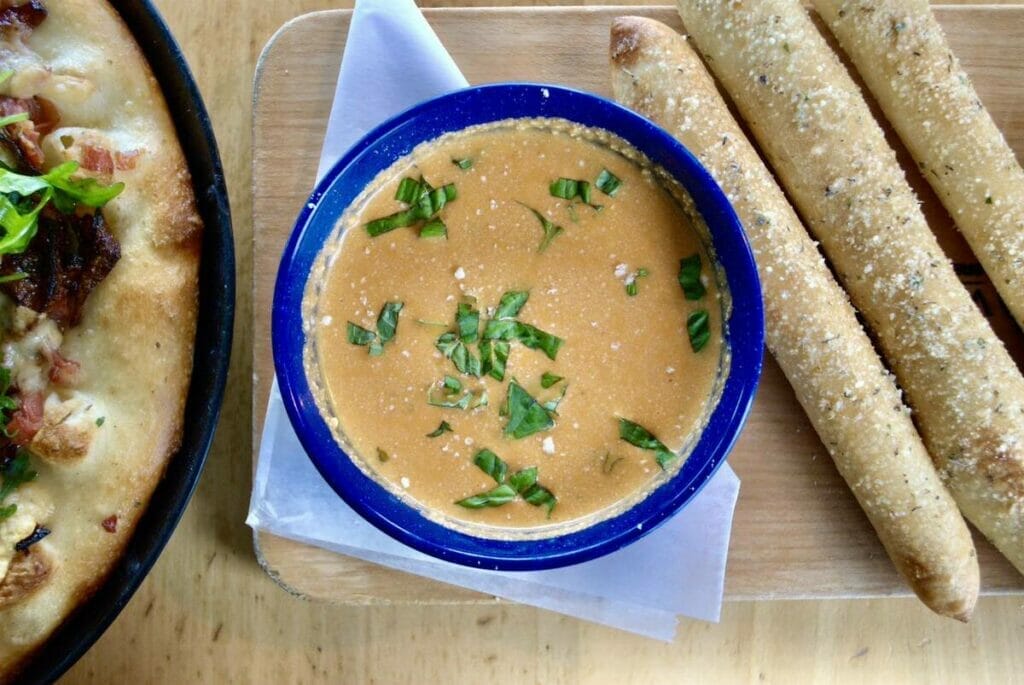 This Chesapeake eatery is a lot of fun!
A great local brewery with a German focus, who are barking mad about hunds (that's dogs to you and me)!
All their food has a dog-themed name, from the Burly Bulldog pizza to the Puppy Tails appetizer.
The menu is pretty much a mix of a pizza place with some extra German twists – bratwurst, fries, and German potato salad to be exact!
As it's a brewery, there's a great selection of house-brewed beers to sample with your meal, but this is also a very family-friendly place so bring the kids – they'll love the kooky food names.
Bring your dog too – the terrace is pet friendly!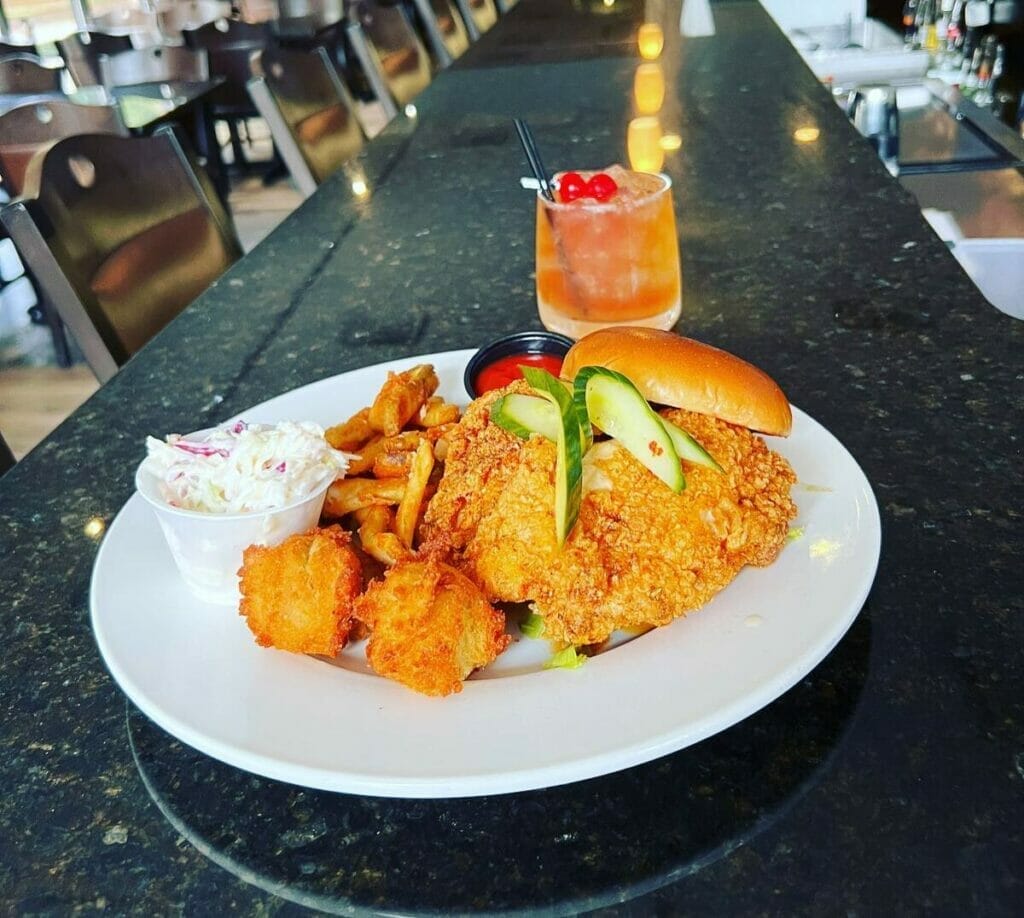 Award-winning seafood restaurant Off the Hook has had everyone talking since it opened in 2014.
A lot of people would agree that this is where to get some of the best food in Chesapeake!
Their seafood menu of full of local fresh produce, including scallops, crab, and oysters.
Or if you fancy something more land-based then their chophouse specials are there to be enjoyed!
The crab dip appetizer is award-winning, so that's probably the best place to start!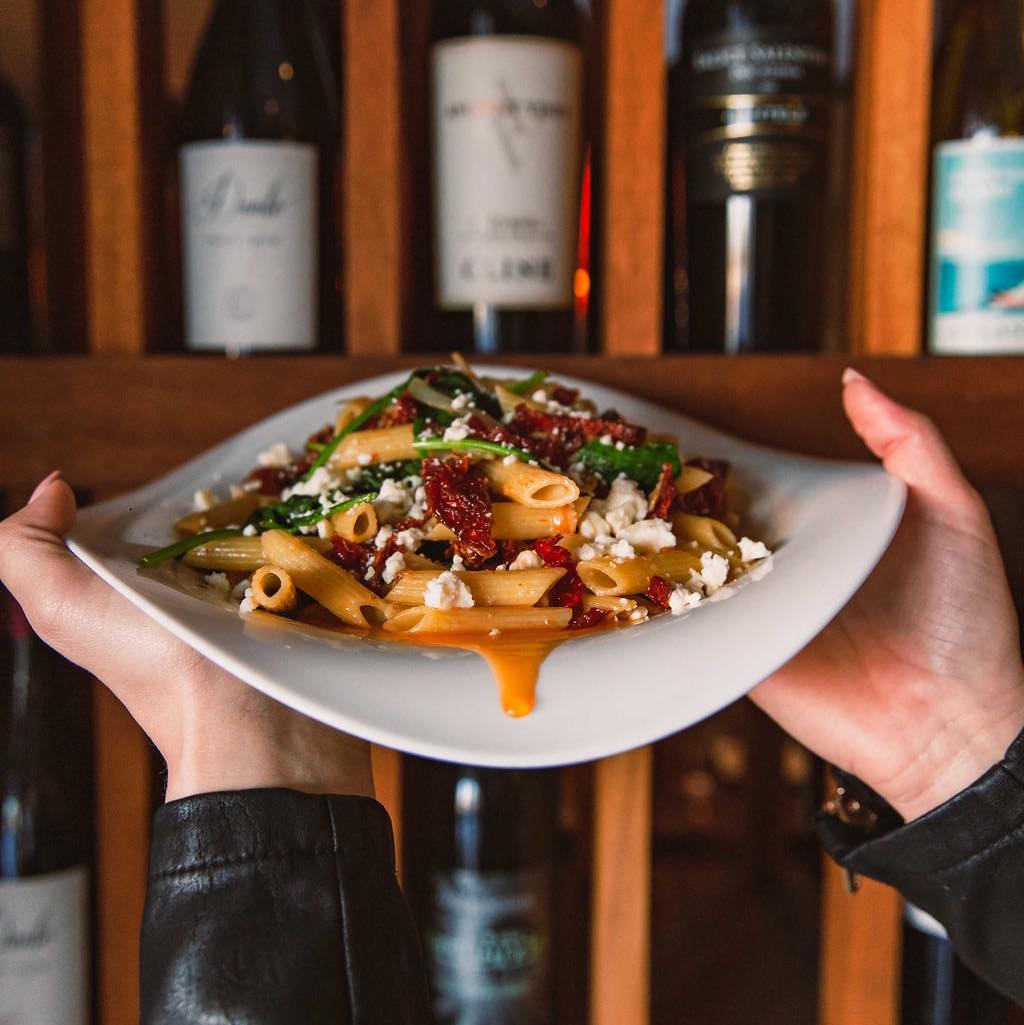 A restaurant that is focused on using as much local produce as possible, Vino Italian is a superb local bistro with heart.
The bread, pizza dough, and pasta are all made in-house for that true Italian feel.
Start with some of the Vino Tapas Appetitos, designed to be shared by the table – Oysters Rockefeller is always a popular choice! Move on to the Entrees, and you'll find a great selection of chicken or veal scaloppini.
Of course, there's always pizza and pasta to choose from too!
It's easy to see why this is such a local favorite!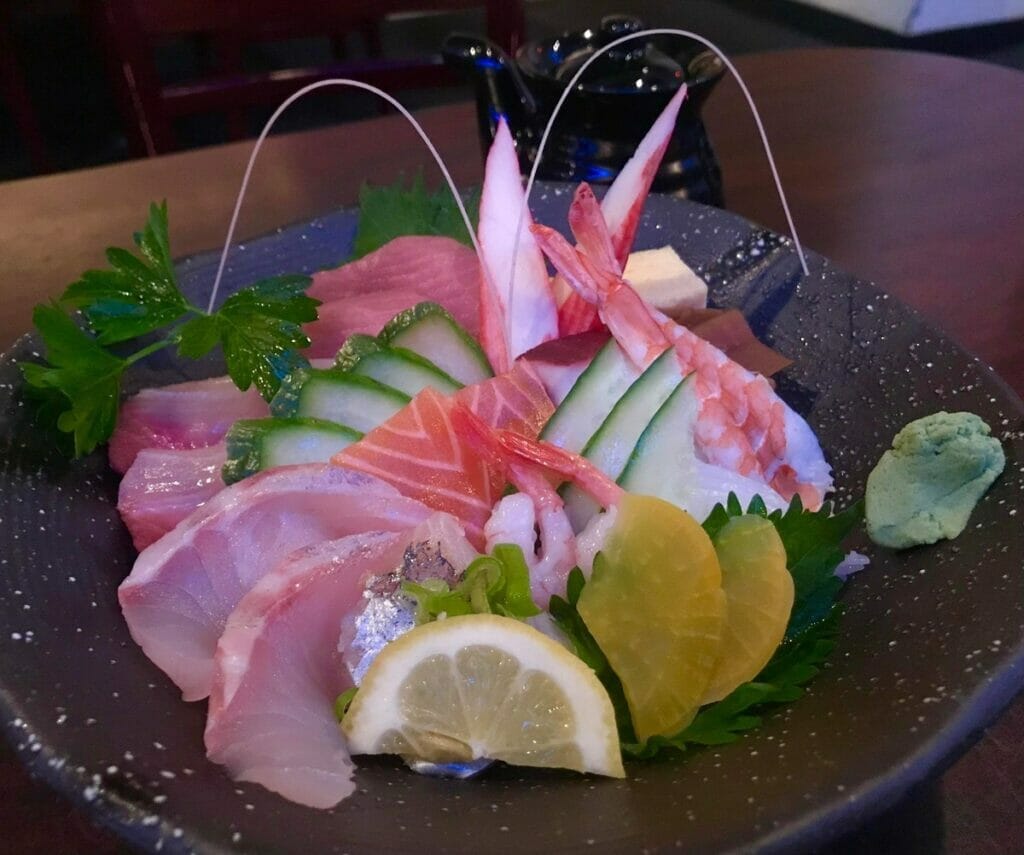 This great neighborhood sushi house is an awesome place to experience authentic Japanese cuisine.
It's popular with Chesapeake locals as a date night restaurant, perhaps because it serves a bit of flare with its dishes – dinner and a show under one roof!
You can watch the chefs creating sushi marvels, or eat your dinner in a traditional tatami room.
If sushi isn't your thing, don't worry – plenty of teriyaki and noodle dishes are on the menu too!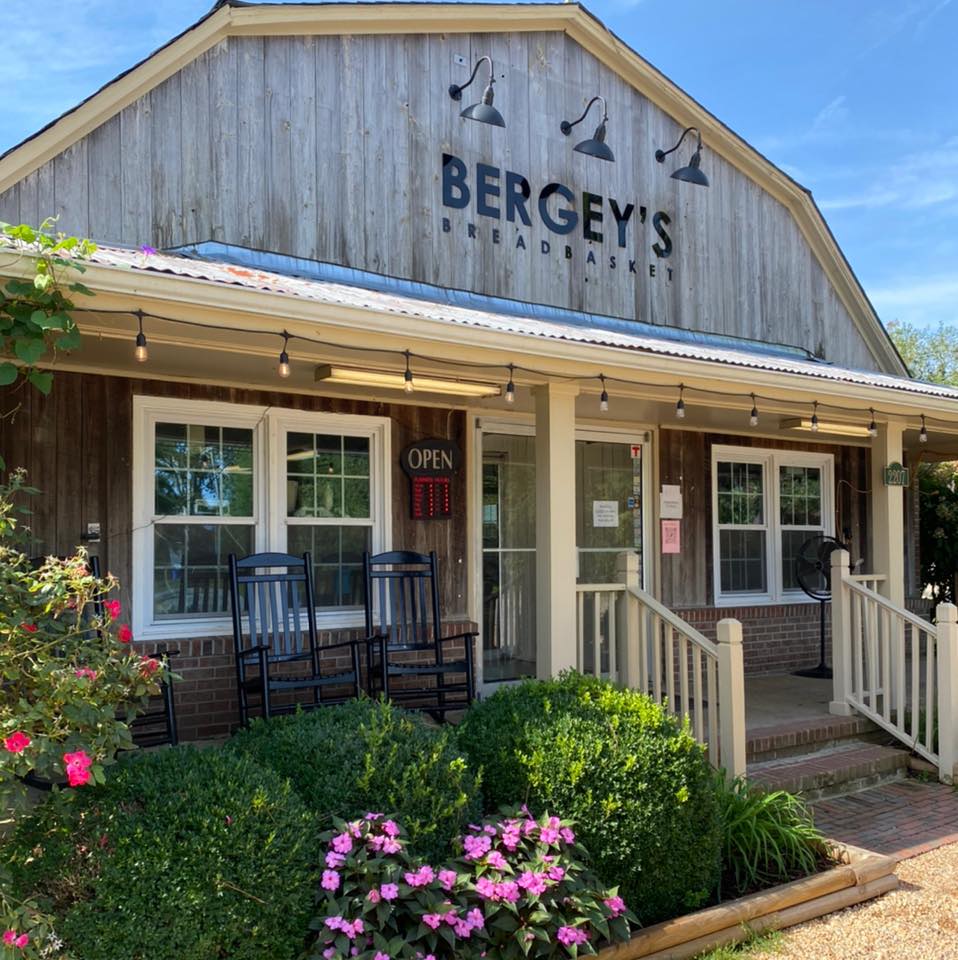 Does Bergey's count as a restaurant?
It does now!
Situated on a farm, Bergey's is a fun-for-all-the-family bakehouse and ice cream parlor, popular with locals and visitors alike.
While you're there, sample their sandwiches or cinnamon rolls, and grab one of the famous pies to take home.
Chicken pot pie is always popular, but it has to be the strawberry pie when they're in season.
Back to those sandwiches: they're fully customizable and served with homemade soup in winter and salad in summer.
All of the produce is grown on the farm, where possible, so you know you're getting the very best Virginian produce!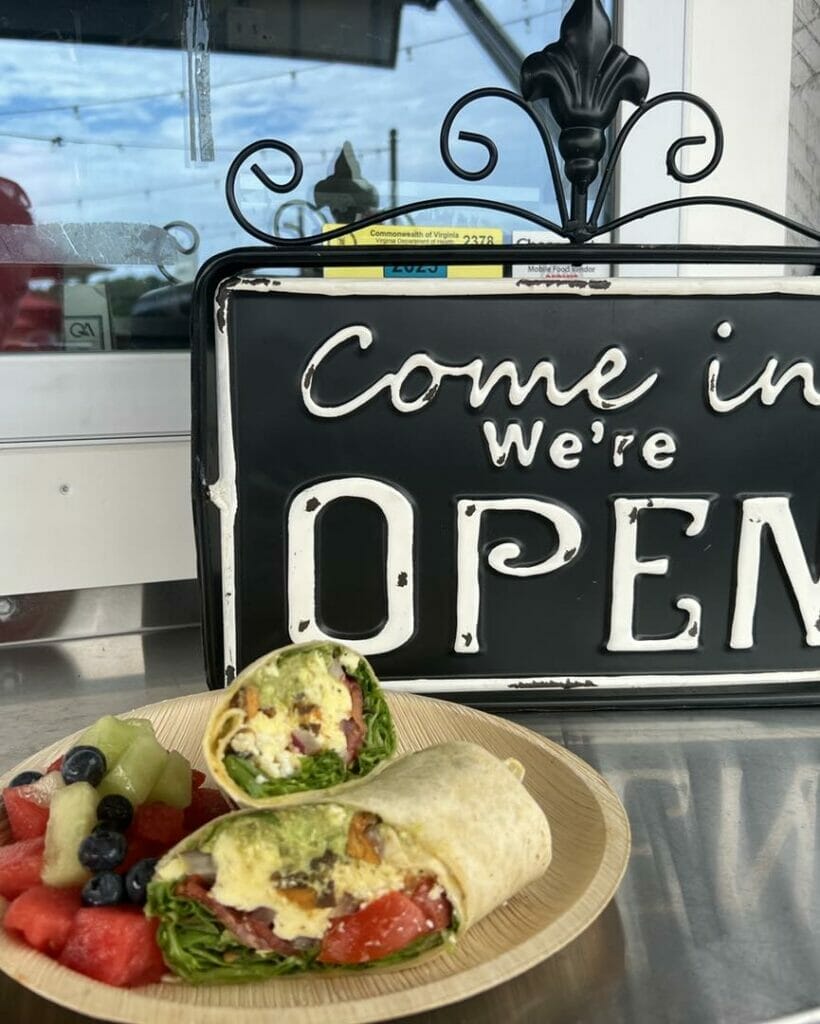 Located at Historic Greenbrier Farms, The Hive offers a true farm-to-table approach for its diners. It's closed over the winter, but opens up each spring to great fanfare!
They serve food throughout the day, with a special breakfast menu offering cutely named plates such as 'The Hangover'.
With smoked pork, avocado, biscuit, scrambled eggs, cheddar, chorizo gravy, and peach bacon jam, your hangover should certainly be gone after that!
Lunch and dinner offerings range from fresh and fruity salads to seafood platters, via po' boys and burgers.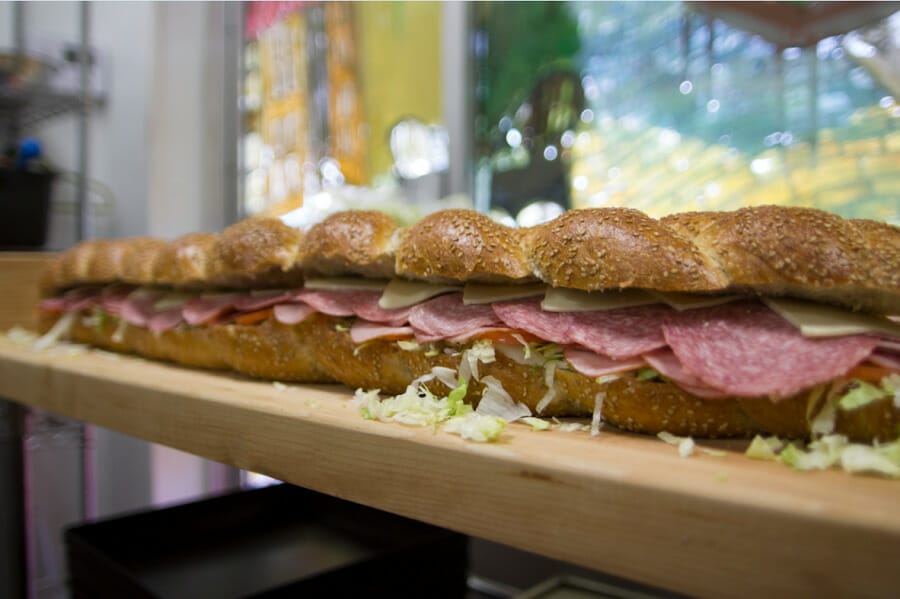 Serving up great subs and pizzas since 1972, Mister Jim's is a Chesapeake institution not to be missed!
Before we get to the subs, let's zone in on the pizzas.
For one thing, they're square – gasp, what would the Italians say?!
But the pies and Pizza Pals (ie. slices) served up are cheesy, packed full of flavor, and completely delicious!
You'll be hard-pressed to choose which sub to get for your lunch; the menu is extensive!
If you're a total carnivore, you have to go for the 5 meat Grandmaster loaded with ham, bacon, salami, Italian salami, and capicola ham!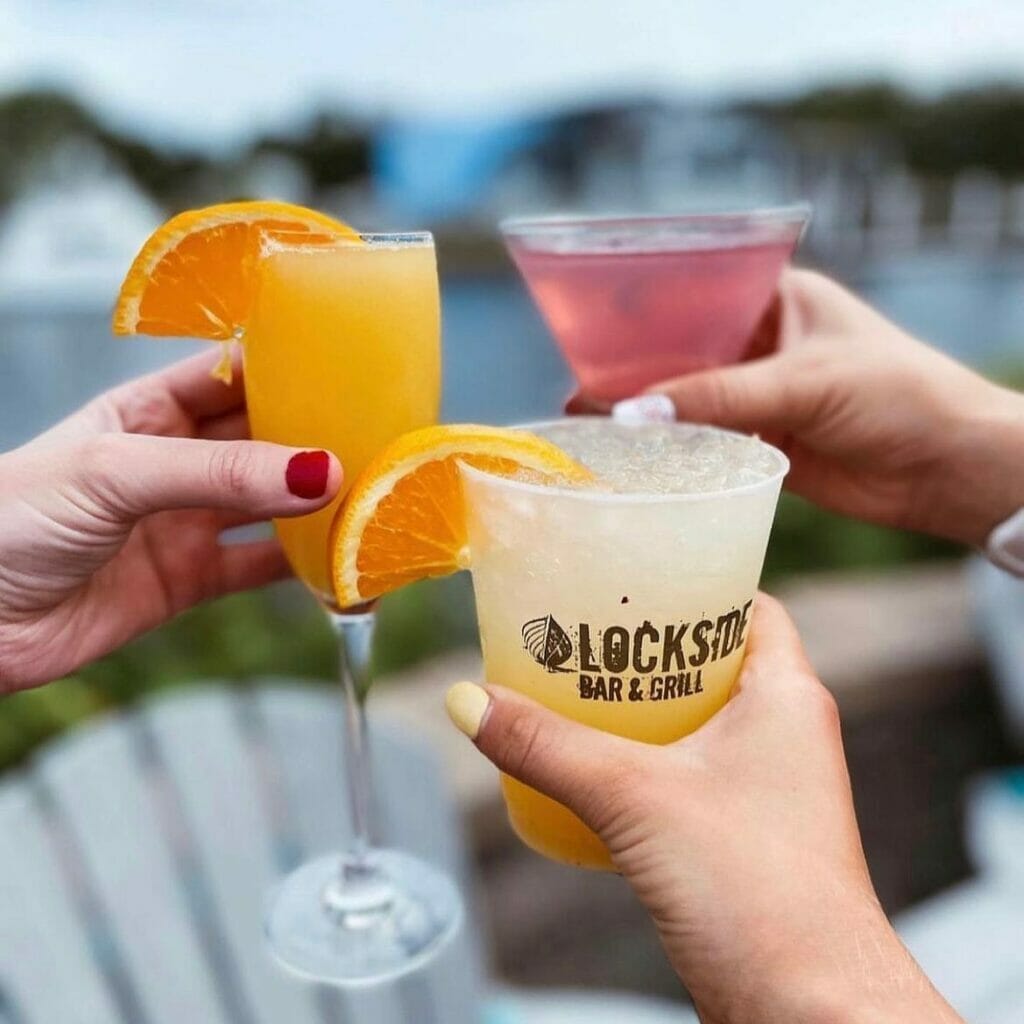 If you like dining in the great outdoors, look no further than Lockside Bar & Grill.
Their covered patio overlooking the river makes dining here a real experience.
They specialize in seafood and steak and pride themselves on buying most o their produce from local fishermen and farmers.
The dinner menu gives you the option of dining from the 'sea', 'farm', or 'bayou'.
We'd go for that last option and sample the Seafood Etouffee – delicious!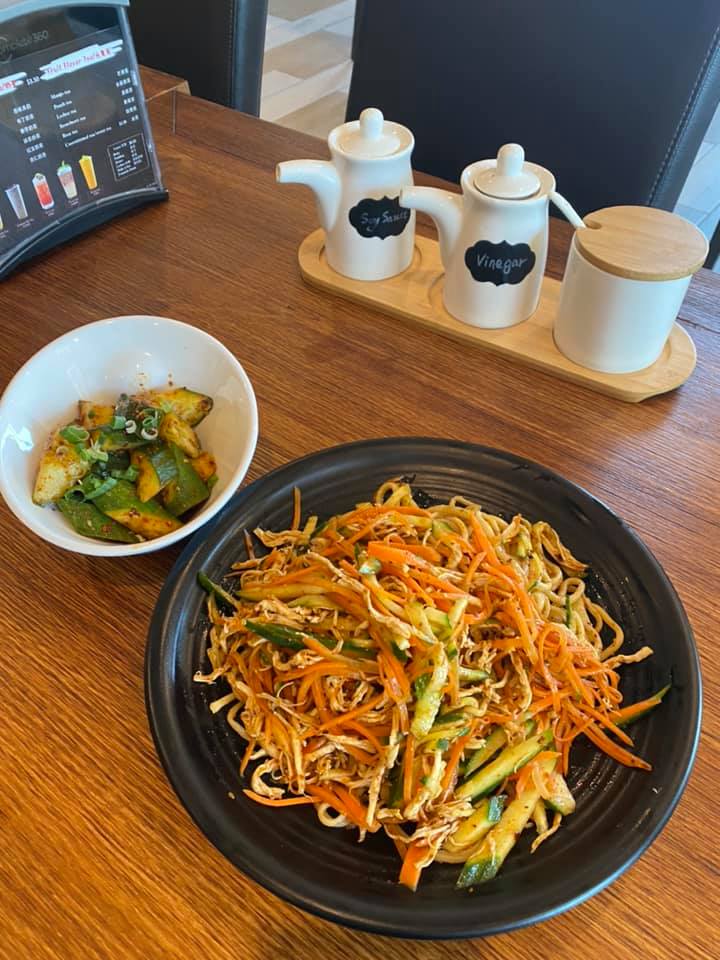 There are some great Chinese eateries in Chesapeake, and Noodle Man makes it onto the list because the noodles are hand-pulled in the restaurant.
There are plenty of delectable options on the menu, but you have to go for something with noodles!
There's knife-sliced noodle soup – the beef brisket sounds amazing!
Or go for a classic – Kung Pao Chicken stir-fried noodles. And remember to slurp your noodles!
Hey, foodies! Want more of our city food guides? Check these out!
Pin for Later!
Get the All-American Travel Secrets!
Don't miss out on America's hidden gems!