After a day of exploring the city, make sure you treat yourself to a delicious meal.
Lucky for you, this Midwestern gem has plenty of incredible restaurants with scrumptious food.
Whether you're in the mood for international cuisine, classic American fare, or something in the middle, the following 19 best restaurants in Fort Wayne will definitely satisfy your cravings.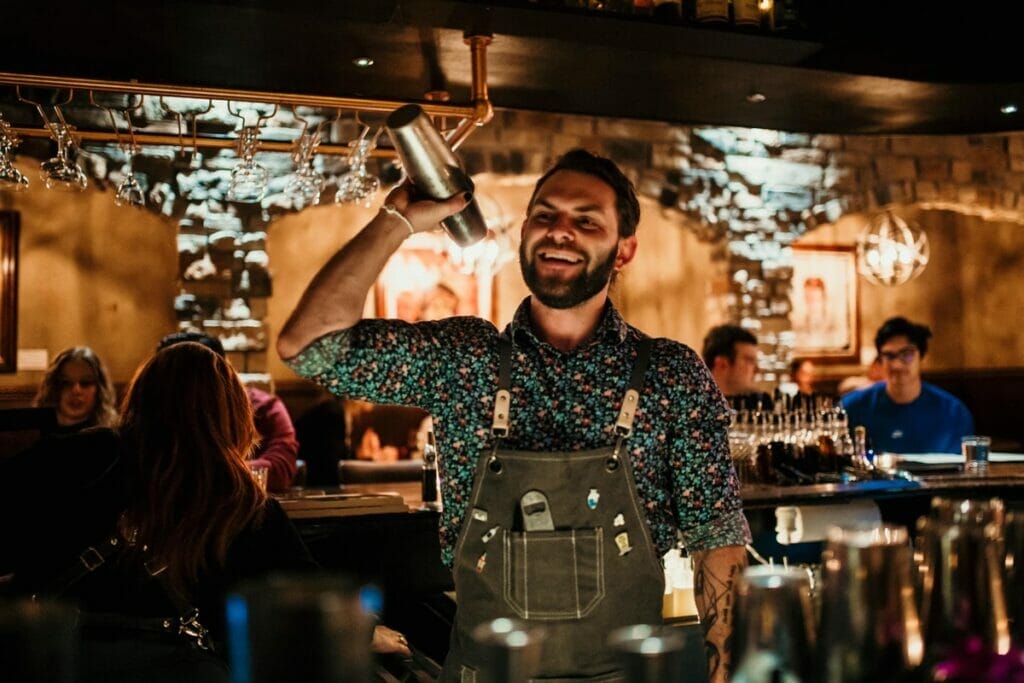 Copper Spoon is an award-winning fine-dining restaurant that offers locally produced dishes and unique cocktails, and has a surprisingly long liquor list.
It has been nominated for the Best American Bar Team & World's Best Cocktail Menu, while chef Aaron Butts is a James Beard semifinalist, so you know you're in for a treat!
When you're here, try their ribeye with chorizo butter, sea salt, charred onion ranch, and BBQ baby carrots, or their pan-roasted chicken breast with vegetables and a creamy sauce—both are a hit!
They also have a 60-page menu for drinks, but you won't have a hard time choosing since the servers provide helpful suggestions that you can pair with your food!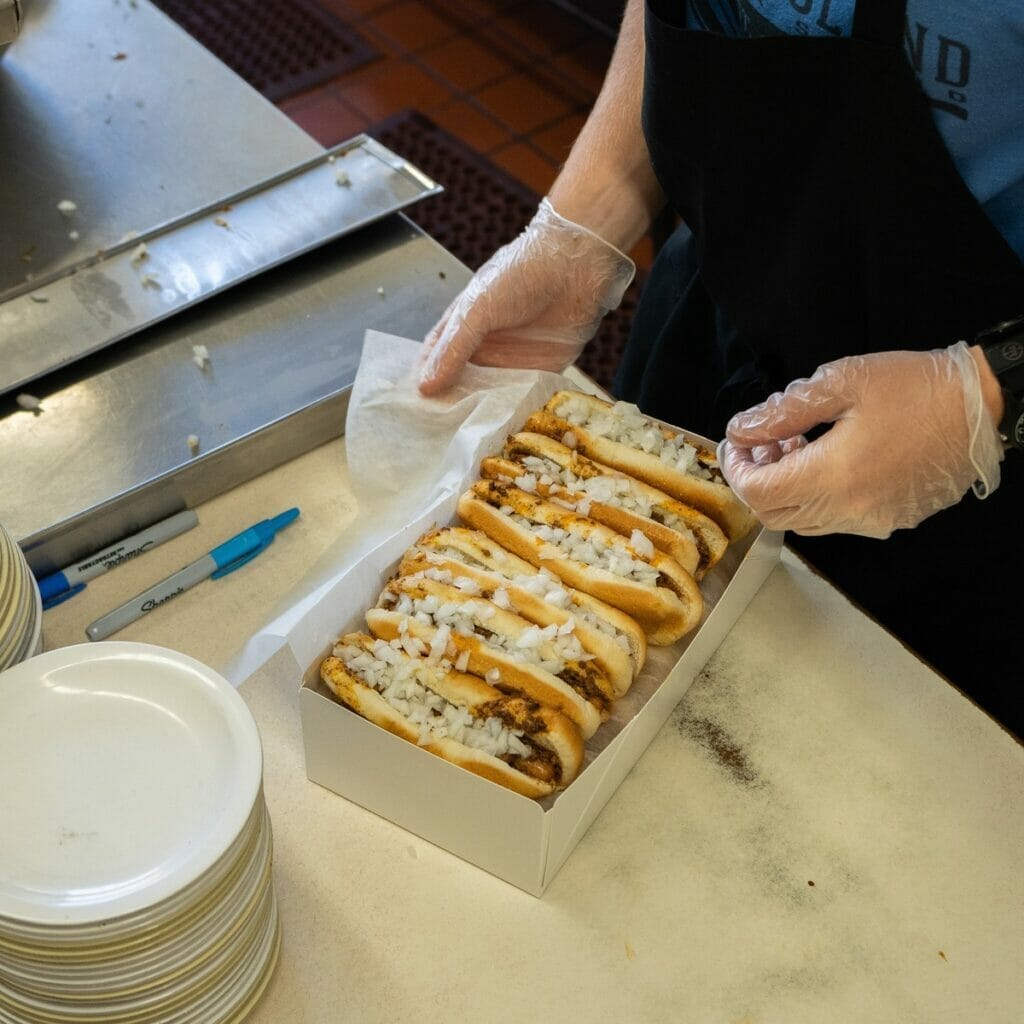 The Coney Island Wiener Stand is a family-operated hot dog stand that has been around for over 100 years (opened in 1914) and offers a casual dining setting.
It's best known for its Coney Hot Dogs, which includes chopped onions, a secret Coney sauce, and mustard.
Despite its simple menu, the place is a crowd favorite, and you'd be lucky if you found a seat at their sought-after tables.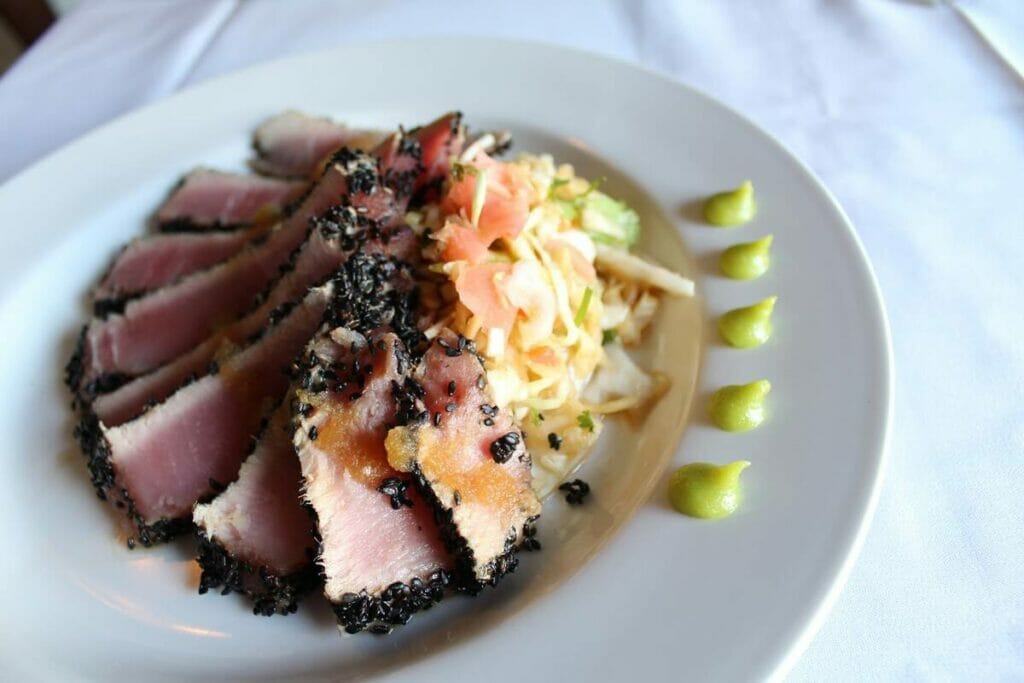 What was formerly a historic gas plant is now a white tablecloth steak and seafood house.
Don Hall's The Gas House depicts the city's history with its décor and exposed bricks, and has some of the best food in Fort Wayne.
The restaurant serves USDA choice steaks that are aged and butchered in-house.
When it comes to steaks, you can choose a filet Mignon in different styles, such as pan-seared with garlic-herb butter and au Poivre in pepper crust with brandy mushrooms.
Meanwhile, the seafood menu includes gulf shrimp, yellowfish tuna, Atlantic salmon, and Australian lobster tails.
On weekends, you can also get prime ribs. All main courses come with a side dish and your choice of salad, gumbo, or soup.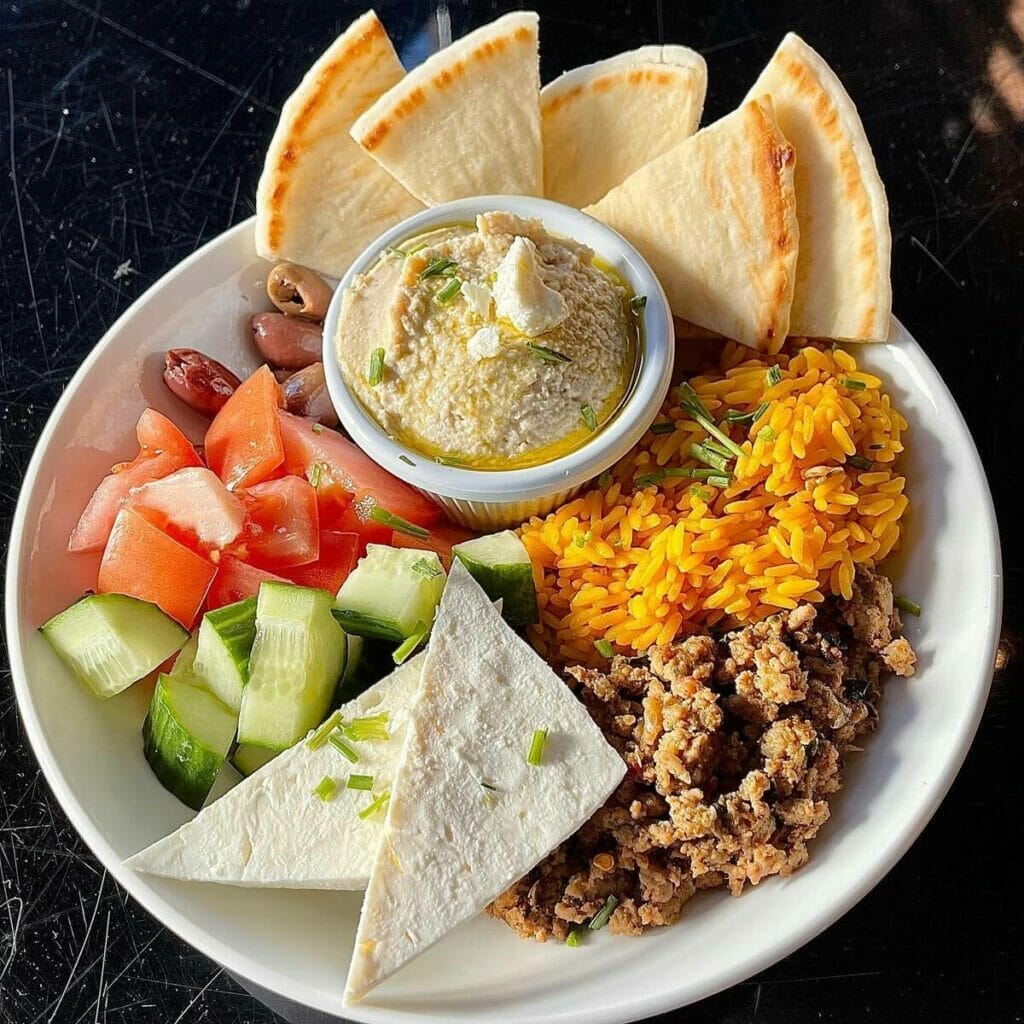 Club Soda is a restaurant-cum-nightclub and is for those over 21 years.
The menu here includes cocktails, steaks, and club soda.
While the place is famous for its shrimp cocktail, you should also try different pork, veal, lamb, and Angus beef dishes with custom glazes and herbs that bring out the flavor of the meat.
Our recommendation?
The 14-ounce New York Strip Steak with hollandaise sauce and asparagus.
The delectable food is accompanied by jazz on the weekends, making the meal even more enjoyable.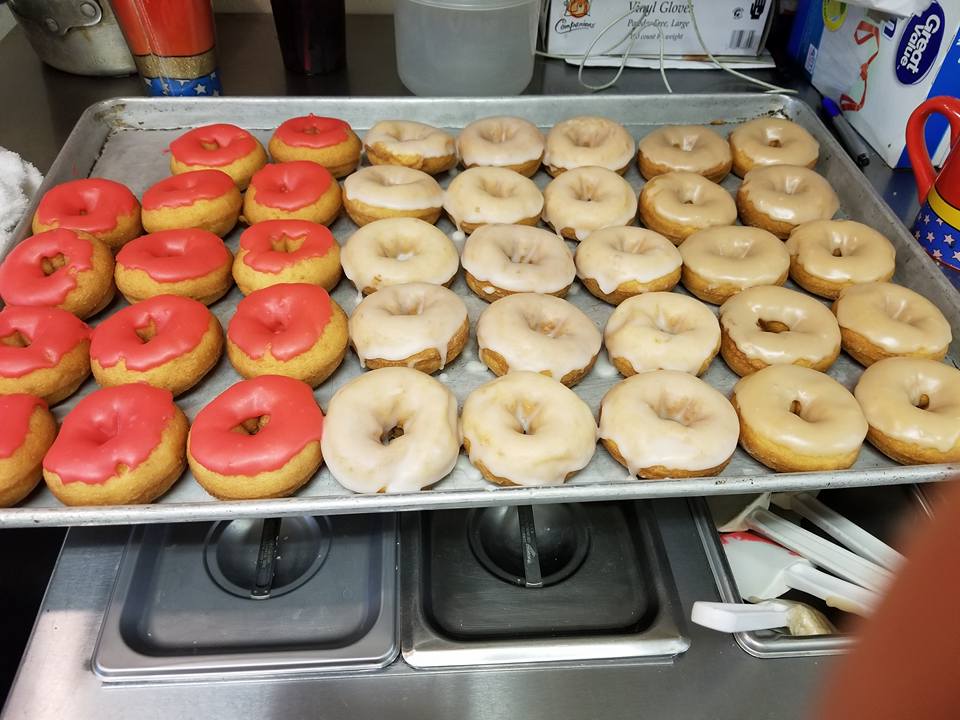 Cindy's Diner, previously known as Paul's Diner, is an old-fashioned diner (you'll really be transported back to the 50s) with only 15 counter seats to dine it.
Despite its limited seating, it's the locals' favorite spot for breakfast, and rightfully so. Its specialty garbage plate (yes, that's what it's called), which is a blend of onions, cheese, potatoes, eggs, and ham, as well as its pancakes are absolutely divine.
You can stop by the diner for lunch, too, and choose from a selection of sandwiches, melts, soups, sides, and burgers.
As you'd expect from an old-school diner, there's a jukebox, too, so make sure to bring some quarters!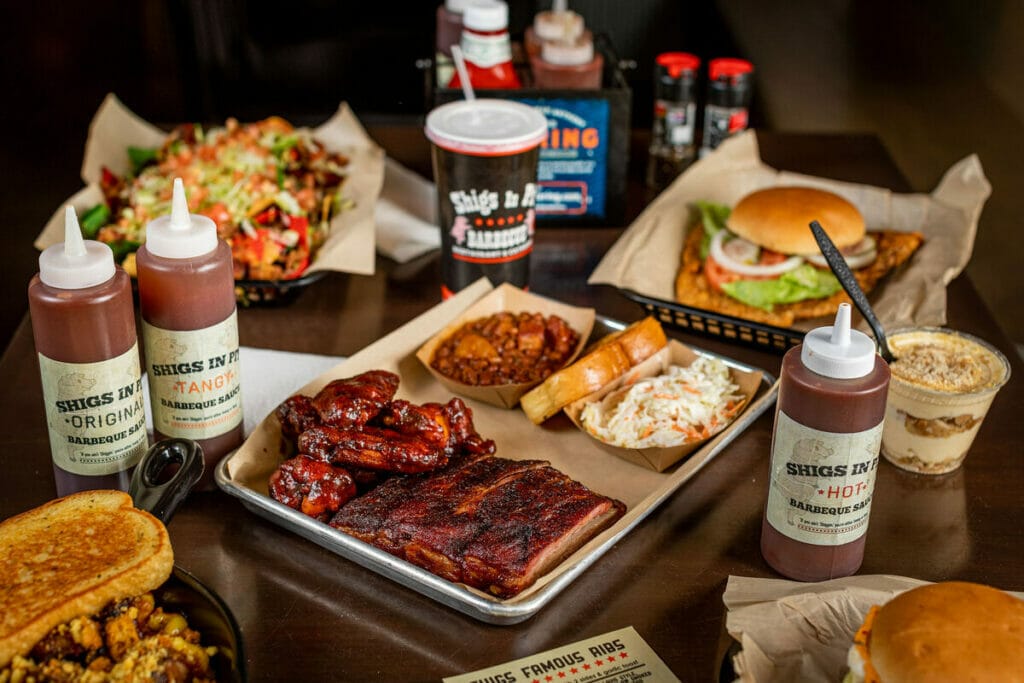 Shigs in Pit is a counter-service style, multi-award-winning barbecue restaurant and is one of the best restaurants in Fort Wayne.
It's quite a unique restaurant with a cartoon-style mural of dancing pigs on the wall, white and red checkered tablecloths on tabletops, and food served in paper-lined baskets with plastic silverware and paper boats.
The menu includes typical barbecue meats, including ribs, wings, chopped chicken, briskets, pulled pork (bestseller), jalapeño cheddar sausages, pit ham, and burnt ends.
You can choose the number and kind of meat, and you'll be served with Texas toast and two sides like creamy salads and apple pie baked beans.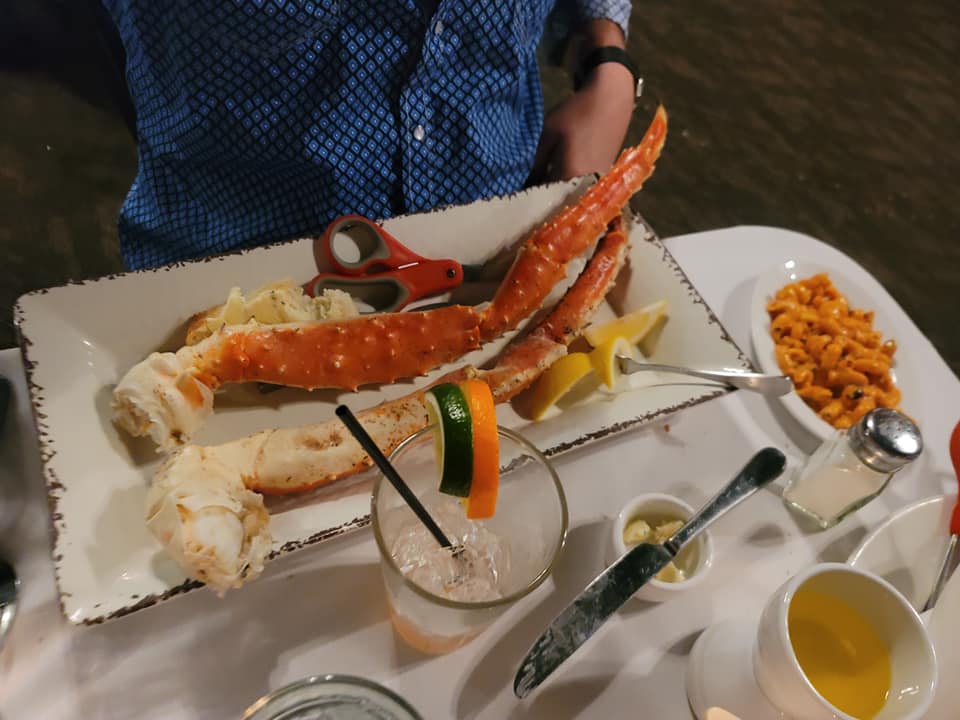 Paula's On Main is a casual fine-dining seafood restaurant that only uses the freshest ingredients available.
Think of it as a contemporary restaurant with a country cottage setting and a refined atmosphere.
For appetizers, we recommend a plate of their bestselling crab cakes that are served with spicy jalapeño tartar or almond walleye planks.
For the main course, try one of their signature dishes, such as blackened salmon with blue cheese glaze, Baja fish tacos, Alaskan king crab legs, and sesame-crusted Thai tilapia.
If you're not a fan of seafood, don't worry—you can try the Louis Armstrong filet medallions or the orange almond chicken.
Oyster Bar is one of the oldest seafood restaurants and taverns in Fort Wayne (it dates back to the 1800s) and is famous for serving the freshest oysters and scallops on half-shells with their signature drinks.
The ambiance is lively and friendly, and coupled with comfort fare and classic pub cuisine, is a great way to wind down after a hectic day.
When you're here, you have to try their signature classic oysters, and their sea bass special is also a crowd favorite.
Other items on the menu include Tuscan shellfish, seafood au gratin, sirloin steak, smoked salmon, and filet Mignon.
Meanwhile, the drink menu includes classic cocktails, casual wines, and draft and craft beers.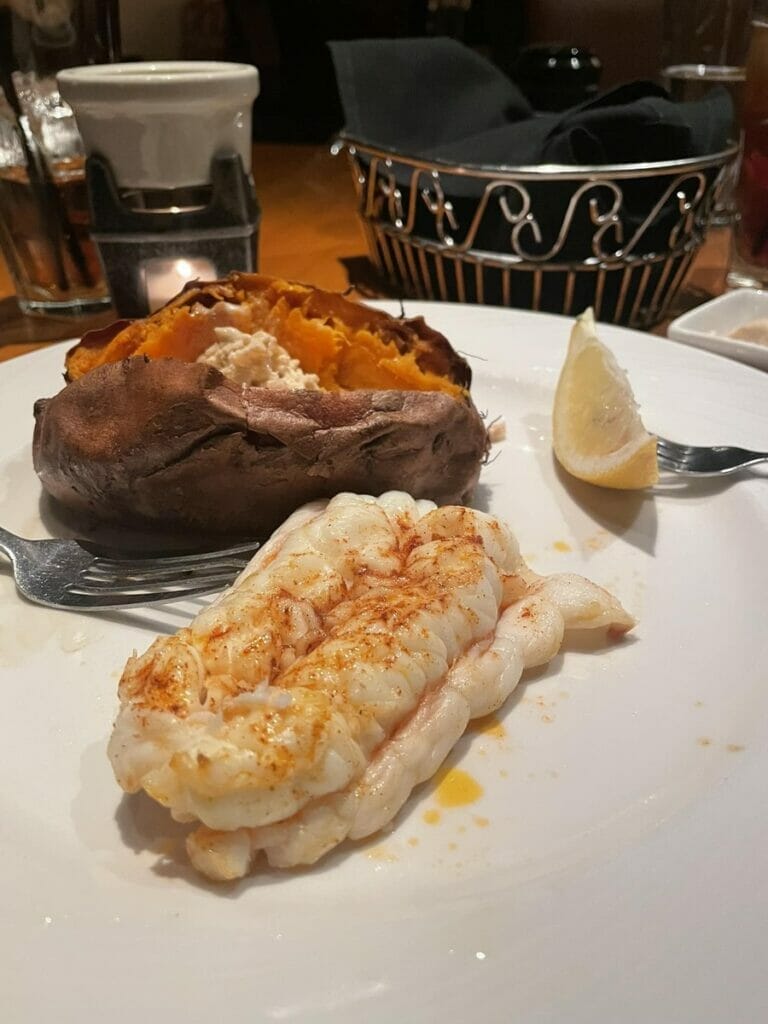 Cork 'N Cleaver is a South-western-themed steakhouse and seafood restaurant that serves award-winning chophouse fare.
The menu here includes succulent USDA choice steaks, ocean-fresh seafood, free-range pork and chicken, and vegetarian and gluten-free dishes.
It's one of the best family-friendly restaurants in Fort Wayne with its friendly and vintage environment, dim lighting, menus on cleavers, and Southwestern, ranch-style setting. 
Before trying anything else, head over to the salad bar, which includes a variety of fresh and organic salads.
For the entrées, try the teriyaki filet Mignon or the Atlantic salmon with blue cheese.
Pair that with a handcrafted cocktail, craft beer, or fine wine from their full-service bar.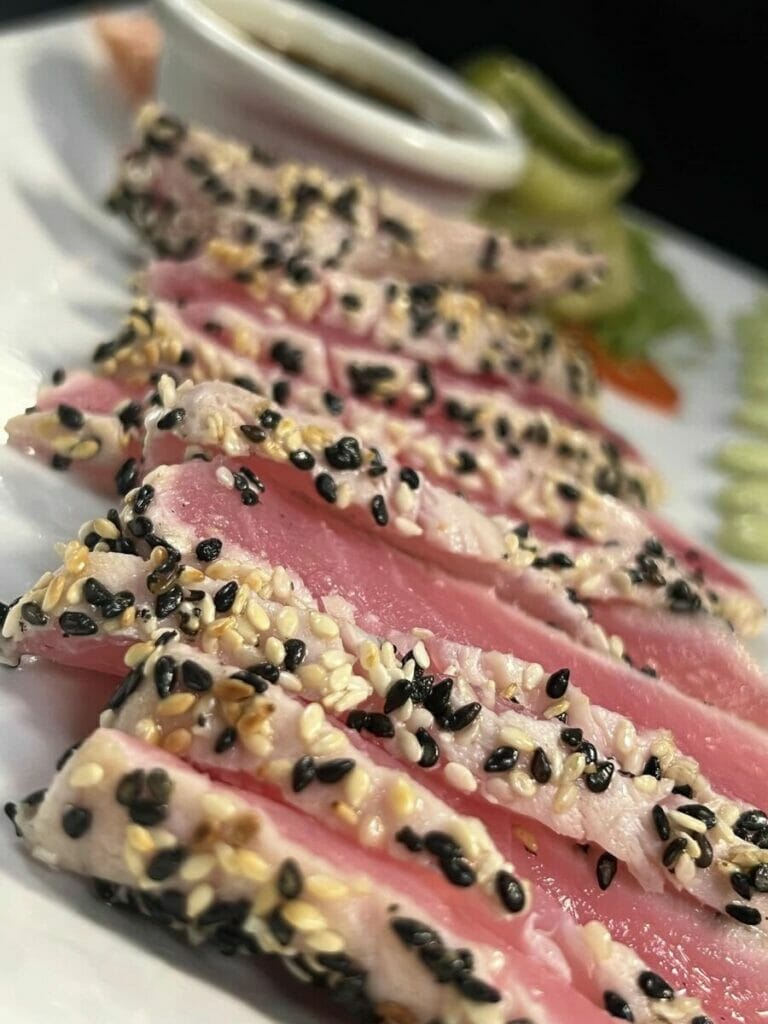 Chop's Steaks & Seafood is an upscale, locally owned restaurant that specializes in classic steakhouse fare.
The dining booths, dark wood interior, and warm lights make for a welcoming environment.
On the menu are prime USDA chops and steaks, homemade soups, salads, and fresh seafood.
Their signature dishes include crab cakes, risotto, blackened shrimp, filet Mignon served with horseradish butter, and our favorite, black sesame and almond-crusted walleye.
Combine that with a classic cocktail, wine, or craft beer from their full-service bar, and you're in for a treat!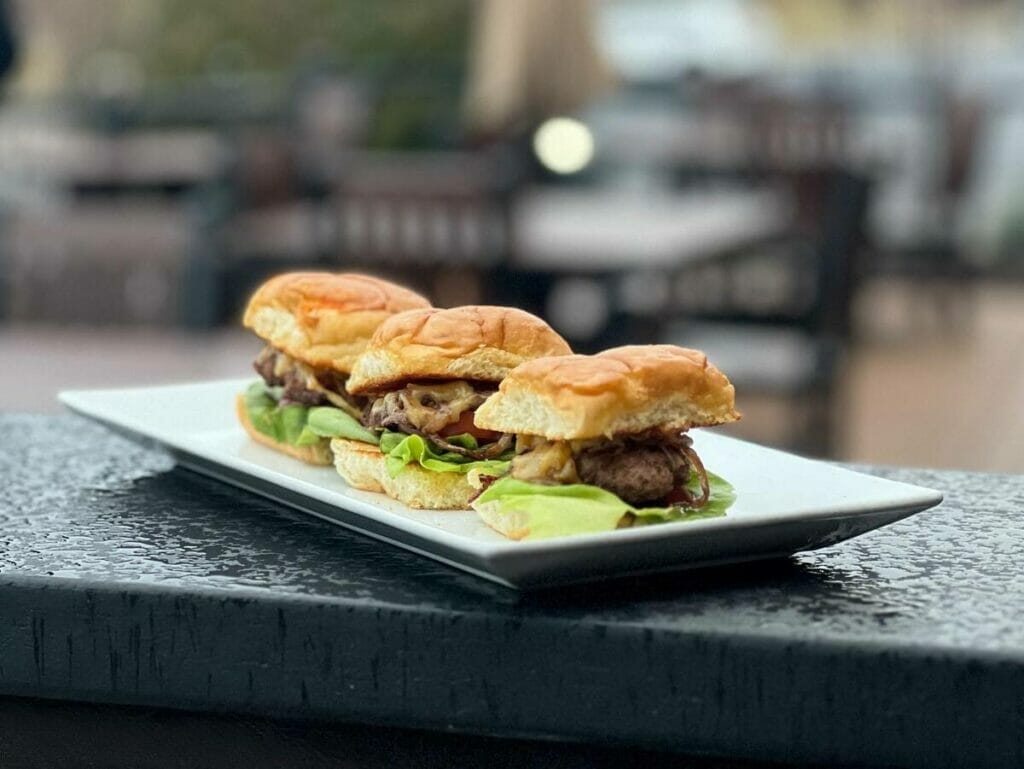 BakerStreet is another locally owned fine-dining steakhouse that specializes in contemporary American cuisine.
In addition to prime USDA steaks and chops, you can also get fresh salads, fresh seafood, other creative dishes, and divine desserts.
We recommend trying out the Filet Mignon that's served with soy and asparagus vinaigrette and whipped potatoes.
Pair that up with a wine from their diverse list to round off your meal.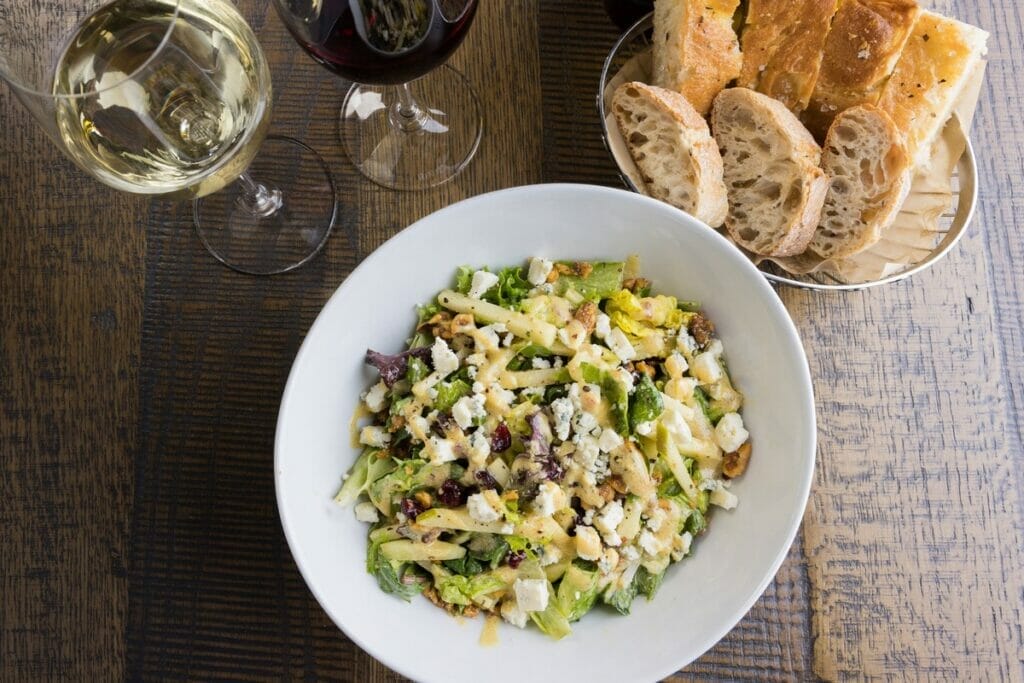 Wondering where to eat in Fort Wayne for some authentic Italian?
Head over to Biaggi's, a casual restaurant with a welcoming ambiance and a range of imported and house-made pasta, prime steaks, fresh seafood, soups and salads, and wood-fired calzones and pizzas.
It's also a family-friendly restaurant with a comfortable dining space and exceptional service.
As you'd expect, the Italian fare here is quite divine.
We particularly love the sea scallop risotto, baked ziti al Fomo, spaghetti Bolognese, and eggplant Parmesan.
And at the very least, we recommend that you try at least one of their signature pasta.
Wash that down with your choice of wine from Italy, craft beer, or classic cocktail.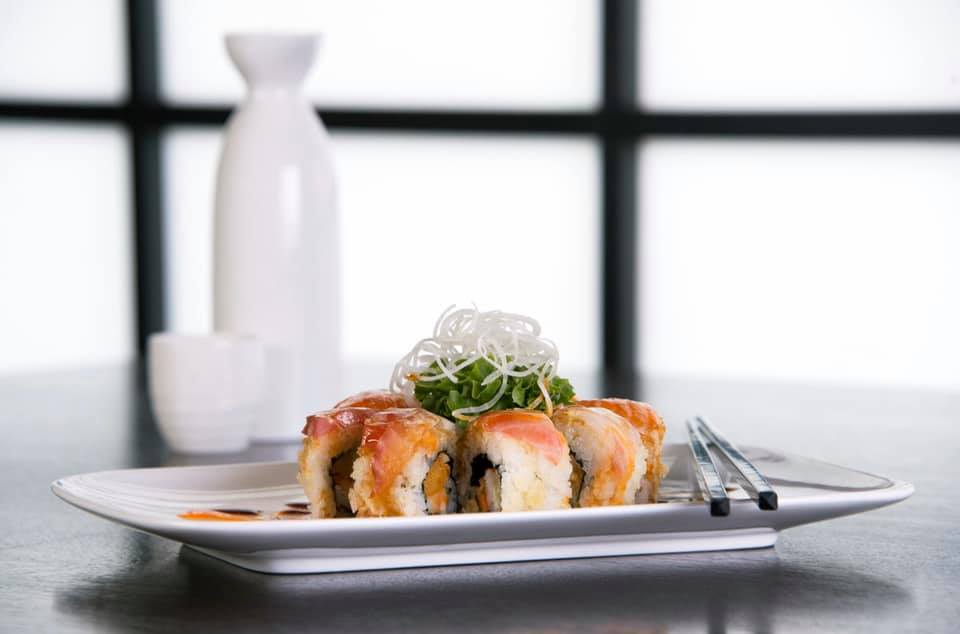 Asakusa is a stylish restaurant that specializes in contemporary Japanese cuisine as well as fresh handmade sashimi and sushi.
The atmosphere of the restaurant is pretty sophisticated yet inviting and features modern decor.
Items on the menu include California rolls, sashimi, sushi, hibachi, tempura, and teppanyaki. In addition to that, you can get fresh salads, soups, and seasonal tempura.
The range of drinks available is also nice and includes classic cocktails and sake.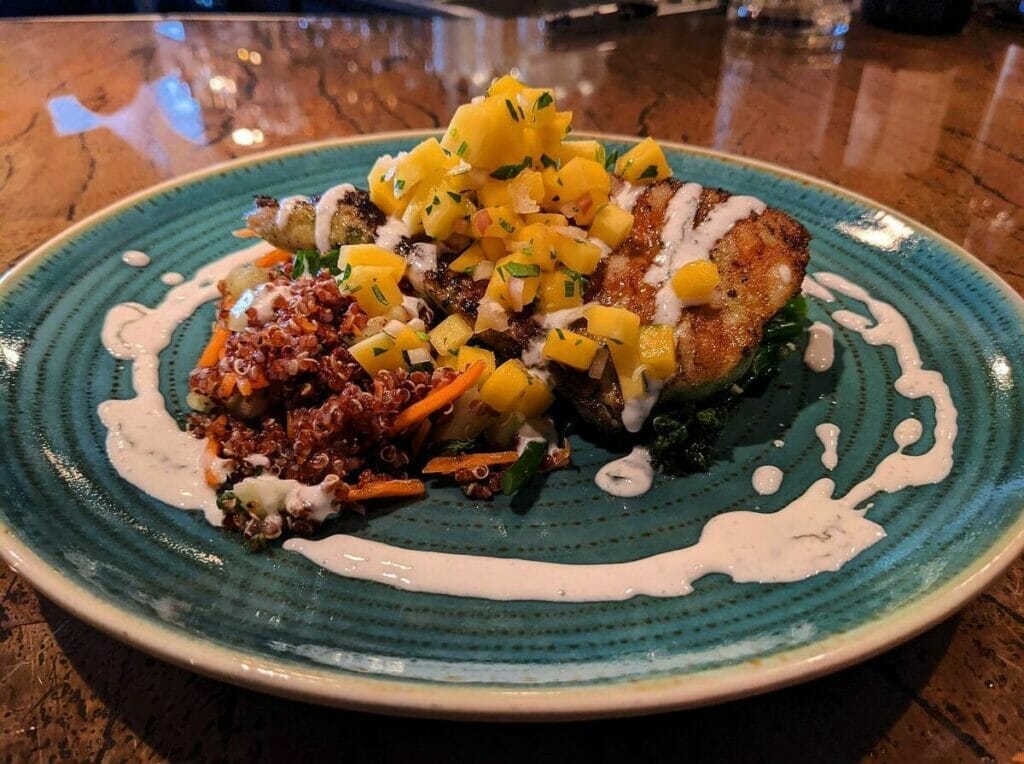 Catablu's Grille's food is as enticing as its interior and ensures a lovely casual-dining experience in the heart of the city.
The eatery is based on the restored Cinema Blue, which is one of the city's historic landmarks (over 75 years old) and maintains the integrity of the theater's interior.
Once you step foot inside, you'll notice theatrical touches, wine barrel lighting, industrial open ceilings, and artworks by local artists on the wooden walls.
Some interesting dishes here include duck flatbread, lobster mac & cheese, green chili chicken meatloaf with Lima beans, buttermilk fried walleye pike, and spice-roasted Faroe Island salmon.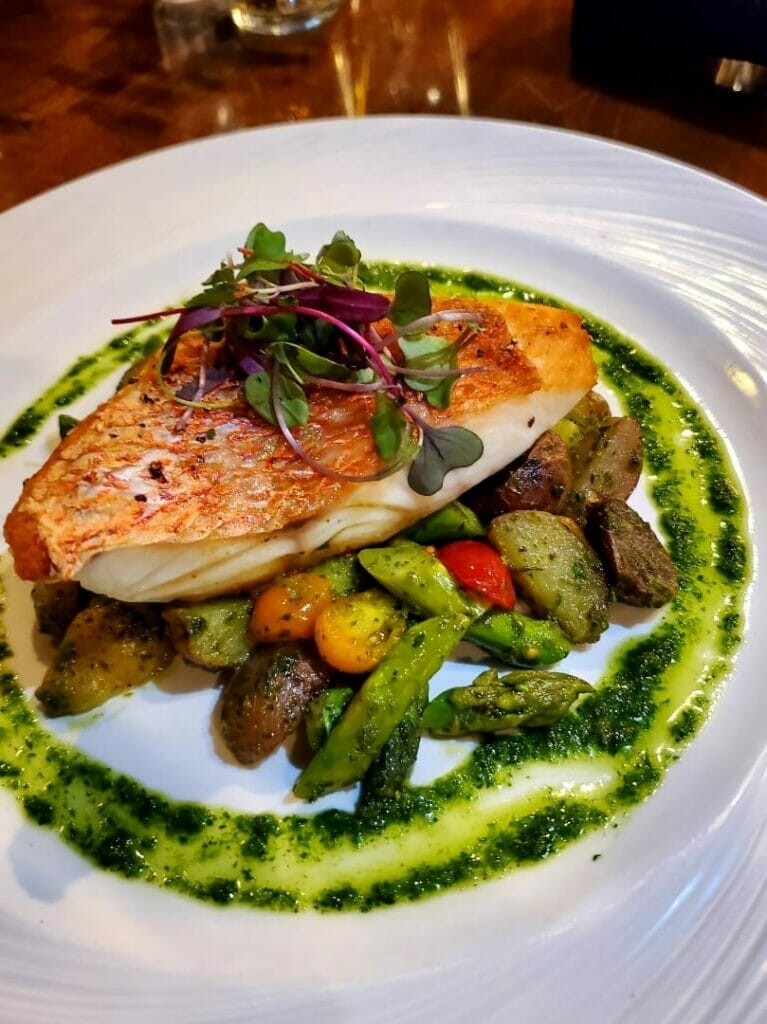 A list of Fort Wayne's best restaurants is incomplete without Hideout 125, a prohibition-themed eatery known for its contemporary American cuisine and premium cocktails.
The restaurant uses only high-quality ingredients (the finest beef and freshest seafood) and locally grown produce, and all items are made from scratch, even the pasta.
Items on the menu include signature plates of crab cakes, sea bass, filet medallions, and shrimp linguine.
Other offerings include sandwiches, soups, and salads.
Their craft cocktails and premium wines are also a treat for the taste buds!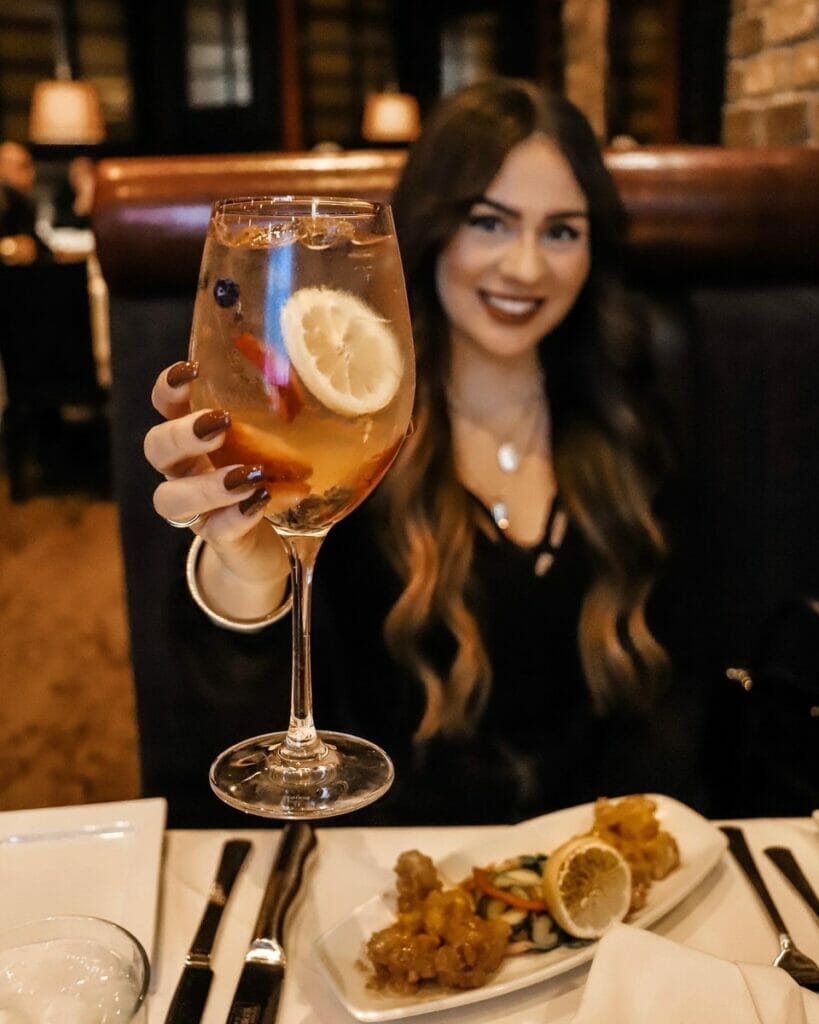 This is another upscale steakhouse famous for its chophouse fare, including the succulent chops, as well as sizzling steaks.
The contemporary décor with leather and dark wood accents and low lighting makes your dining experience better.
The restaurant only serves thick, house-butchered USDA choice steaks, fresh seafood, and free-range pork and chicken along with some vegetarian options.
It also has an award-winning wine list and perhaps the best-handcrafted cocktails and vintage wines in the city.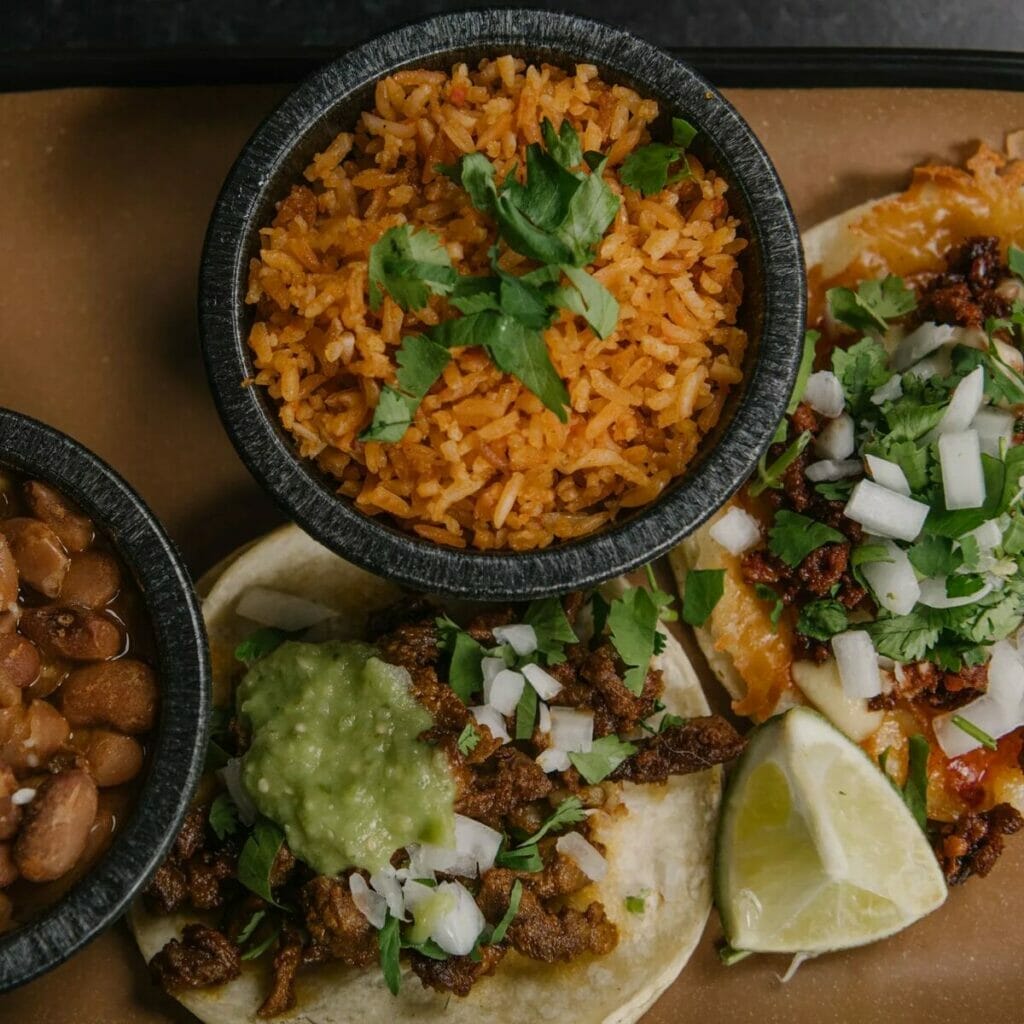 What started as a food truck is now a fully-fledged Cali-Mexican spot if you're ever in the mood for something casual.
The place is pretty chic with paintings and colorful murals on the walls and black & white tiles around the bar.
Some of the crowd favorites here include tacos (including fish tacos and pinto bean falafel tacos for vegetarians), the Pachola burger (which includes a double smash patty with American cheese, guacamole sauce, white onions, and lettuce and served with Duro chips made with wagon-wheel pasta), Asada fries, wet burritos, and fajita bowls.
The drink selection here is also quite nice.
You can get cocktails with Agave spirits or margaritas if you're looking for something alcoholic, while nonalcoholic can try fruit-flavored Jarritos, Winter Jamaica (blackberry-spiced hibiscus refresher), or horchata rice milk.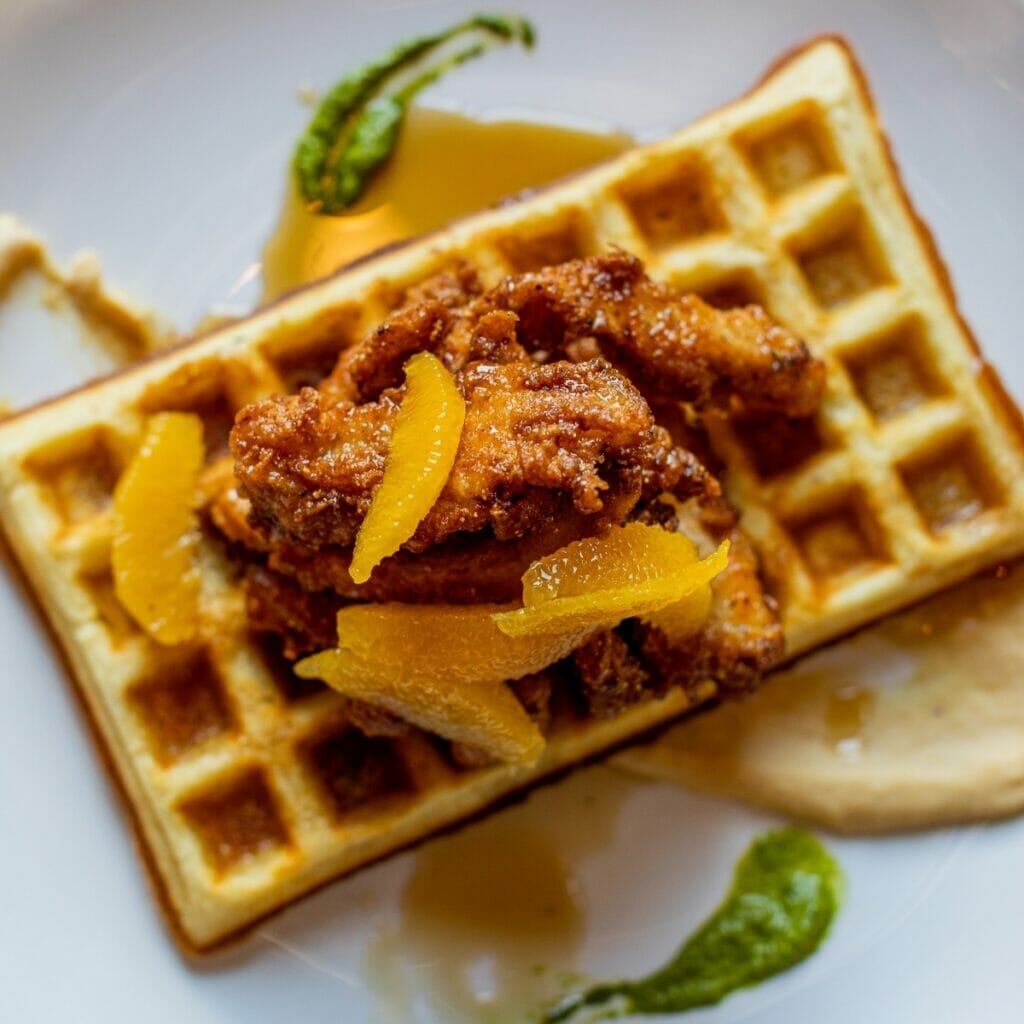 Looking for craft beers and creative food choices?
Then Junk Ditch Brewing is your place!
Spend Sunday morning getting your boozy brunch on with delicious dishes like the Braised Veal Hash or the Chicken & Waffles featuring a delicious Maple Chickpea Puree.
Wash down your breakfast with New Grist Gluten Free Pilsner or try the Elvis AF Non-Alcoholic Hoppy Grapefruit.
If you're stopping in for lunch definitely try the Shrimp Bahn Mi Burger that includes Shrimp Patty, Pickled Onion, topped with a delicious Garlic Aioli.
Don't forget dessert!
They're known for their Vanilla Bean Creme Brulee (it's even gluten free!).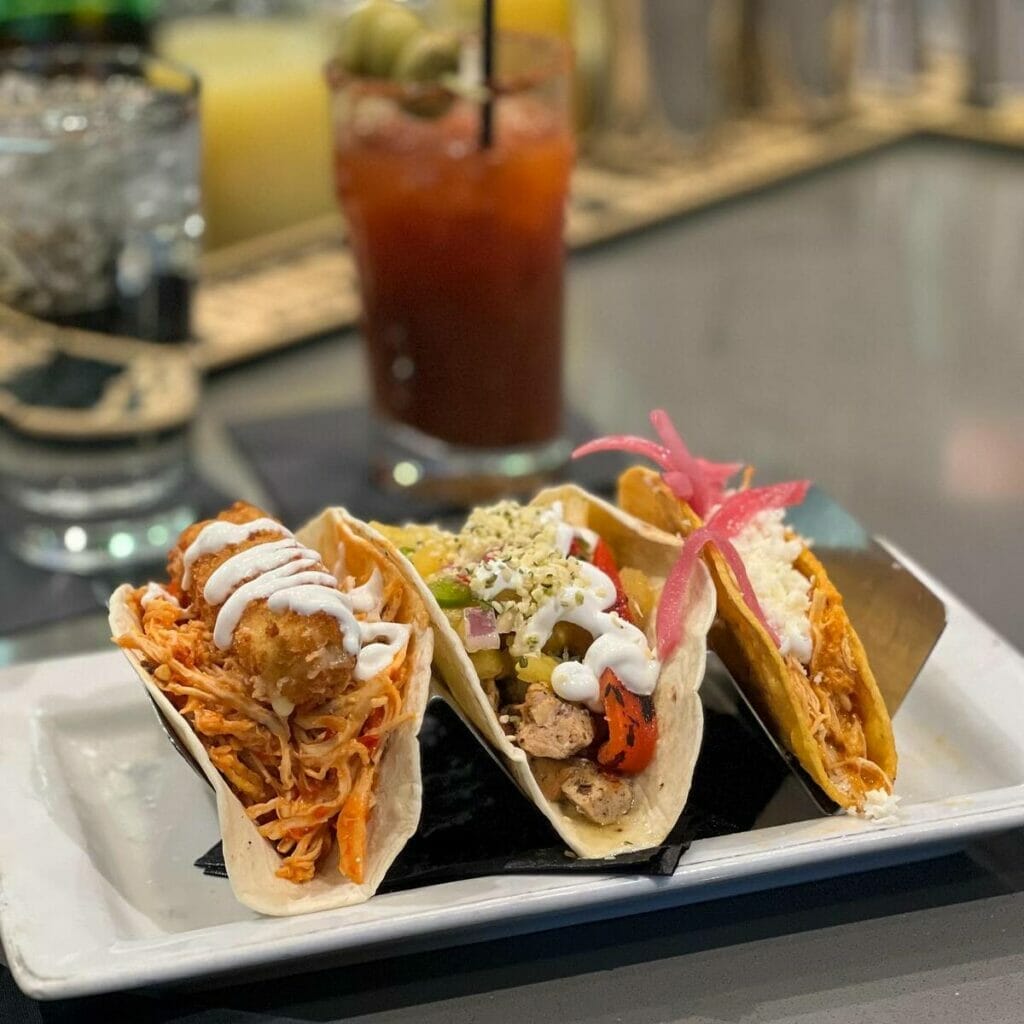 Not sure where to dine in Fort Wayne for some delicious tacos?
We recommend the Happy Gnome!
This casual gastropub offers American cuisine with a slight Mexican touch and is best known for its unique tacos.
If you like spices, make sure you order the Dante's Inferno taco, which includes sour cream, jack cheese, 7 levels of hell sauce, and pulled chicken.
And if tacos aren't your thing, don't worry; try out the Asian Tuna Tartare which includes guacamole and sashimi-grade tuna, we're sure you'll love it!
Hey foodies! Want more of our restaurant guides? Check these out!
Pin for Later!
Get the All-American Travel Secrets!
Don't miss out on America's hidden gems!