It's safe to say that Pittsburgh knows a thing or two about how to make and serve great food.
The community of restaurant owners are always excited to welcome new people to Pennsylvania with promises of dreamy food and tasty drinks.
The Guy Mitchell song about Pittsburgh fails to mention the many eateries in the city and the travelers and locals who regularly frequent them.
That's where we step in – to do what Guy never did.
Read on to discover the best restaurants in Pittsburgh.
Long nights of great company, lasting memories, and delicious food await those wise enough to venture into the heart of Pennsylvania.
1. Bae Bae's Kitchen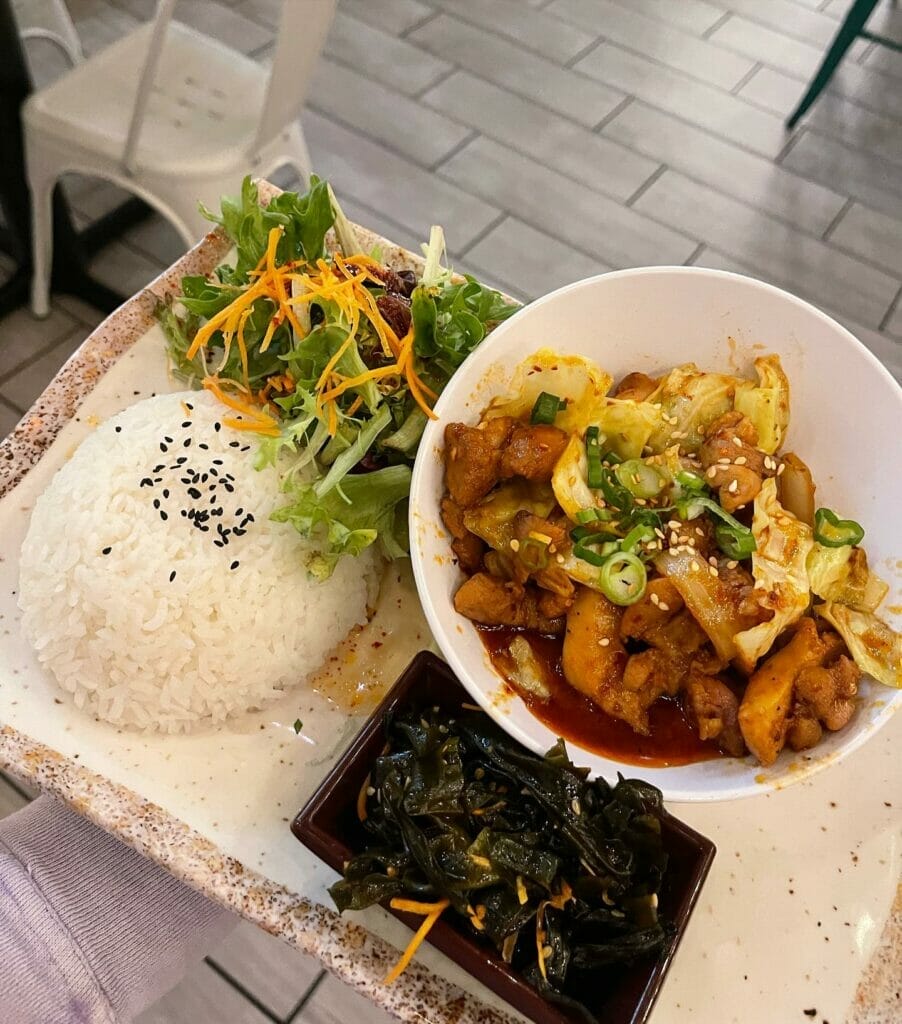 The best Korean fare in Pennsylvania can be found at Bae Bae's Kitchen – home of delicious Korean fried chicken.
This much-loved outfit doesn't serve food by the book, instead offering a more personalized process.
You'll be invited to build your own meal – picking a base, protein, side salad and daily side dish.
Who knew food could be this personalized?
Bae Bae's kitchen did!
This restaurant fosters a cool vibe alongside pretty décor and healthy food options.
Bae Bae's Kitchen should be on every vegan's bucket list, offering a delicious tofu alternative that replaces the need to eat meat.
2. Meat & Potatoes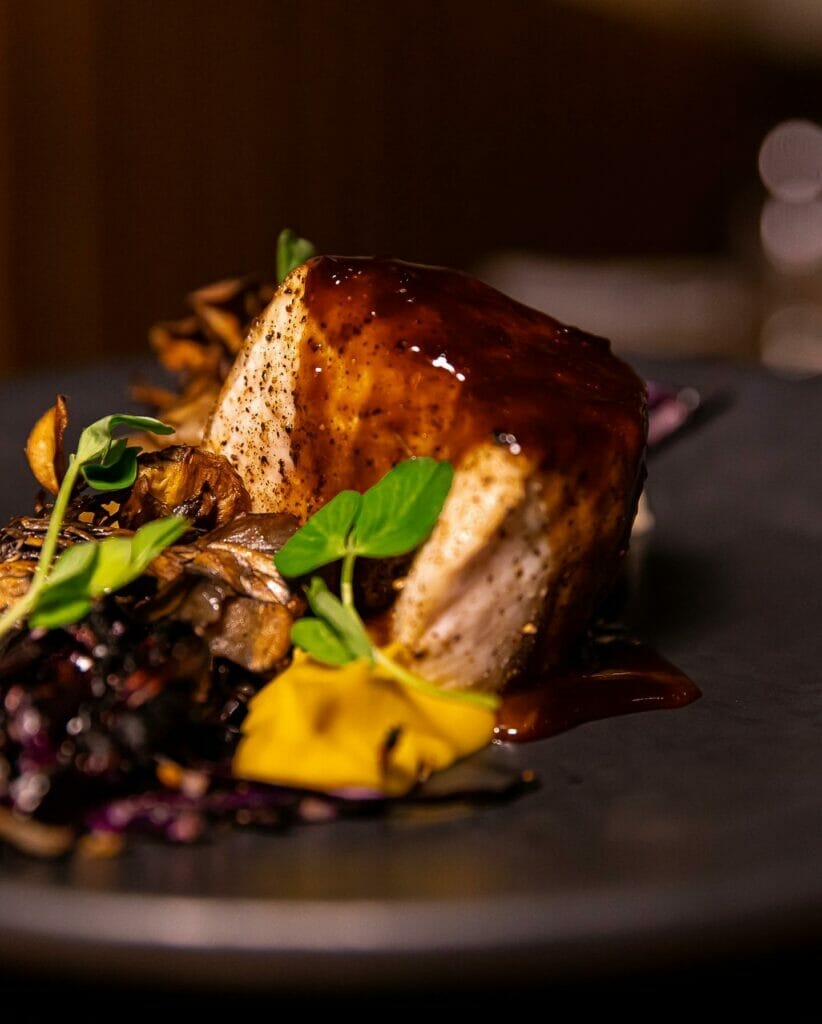 You'd be forgiven for thinking that Meat & Potatoes is an English restaurant.
After all, meat and potatoes are a staple of almost every meal across the pond.
Meat & Potatoes is instead focused on developing and serving tasty New American dinners, eclectic brunch items and inventive mixed drinks.
You've simply got to visit Meat & Potatoes to know what all the fuss is about.
If you manage to finish the 50oz tomahawk, congrats – it's a hell of a task!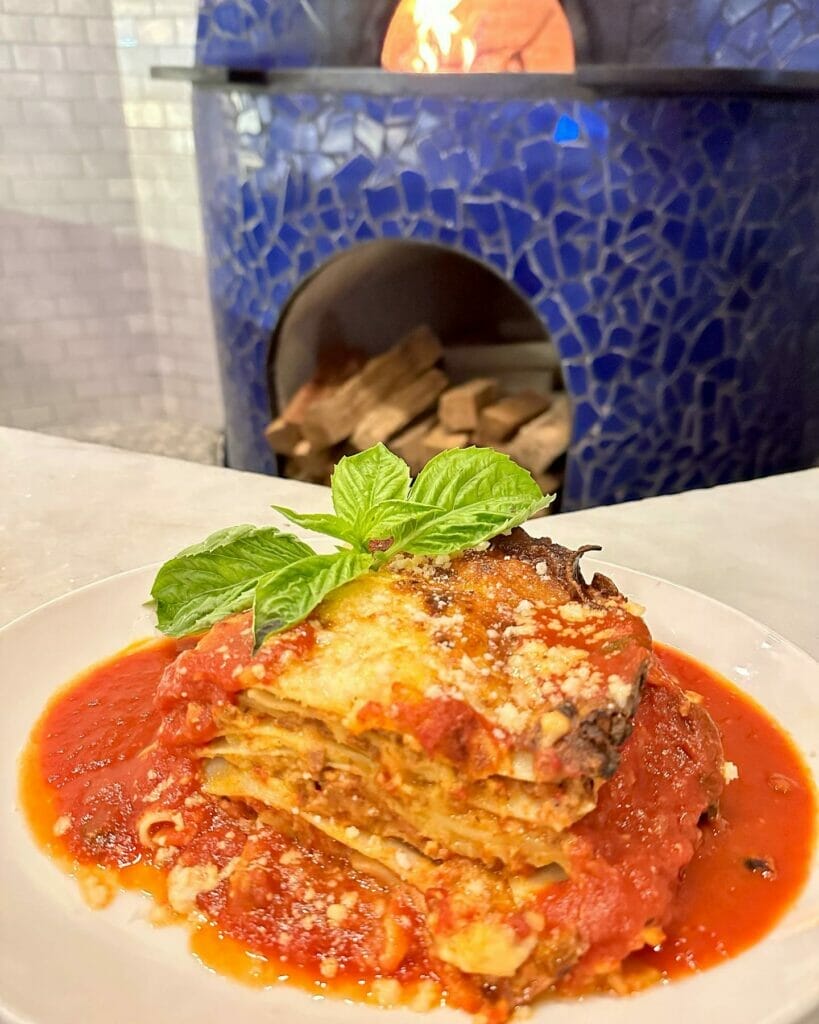 Imagine this.
You're walking along the street and can't help but notice the divine smell of Italian cooking.
The scents of pizza dough, mozzarella, tomato sauce, balsamic vinegar fill the air and your nose makes the call – you must find this restaurant.
We can help you with that – it's Pizzaiolo Primo you can smell.
This restaurant is Italian to its very core, serving wood-fired pizzas, housemade pasta and the very best Italian wines.
Those wanting to play it safe will love the magical margarita pizza, while the more adventurous among you should opt for the fantastic fungi.
It's no wonder Gaucho Parrilla Argentina is one of Pittsburgh's best restaurants.
They cook all their meats on a wood-fired grill and you can really taste the difference when compared to meats at other eateries.
Their best item by far is the manzana and queso sandwich – gruyere cheese, grilled apples, and caramelized onions on toasted ciabatta bread.
Yes please!
Gaucho Parrilla Argentina welcomes dogs, and so no one in your party needs to be left out.
This eatery also operates a BYOB policy, meaning that you can take alcohol into the venue with you.
This is a good way to save a little money and take the pressure off picking a drink when you arrive.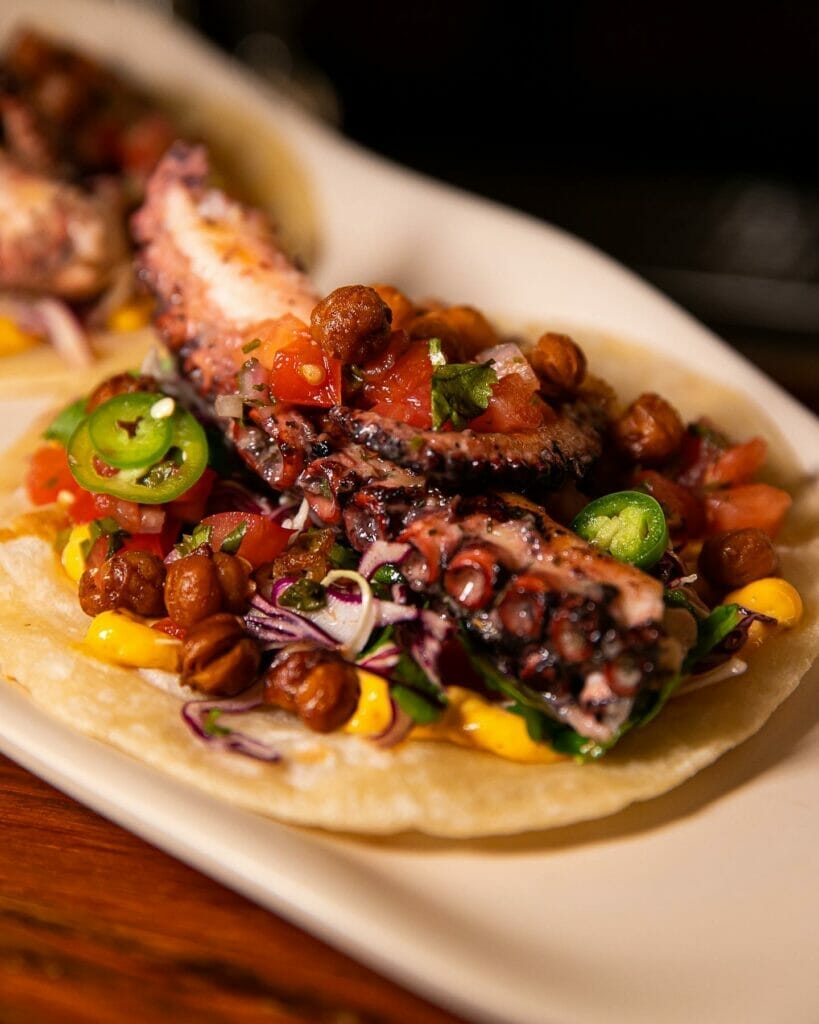 This restaurant is so popular with local residents that you'll need to book a table ahead of your visit to avoid disappointment.
Täkō is a Mexican eatery so lively that it'll have you visiting time and time again.
Visitors enter the front door to this trendy establishment under a quirky movie theater sign displaying the types of food you can expect inside.
You can choose whether to be seated upstairs, downstairs, or outside – the latter being a perfect choice for sunny days.
Tacos here come in twos, making Täkō a great place to visit as a pair.
You'll want to try the chorizo and pollo asado tacos – they're simply delicious!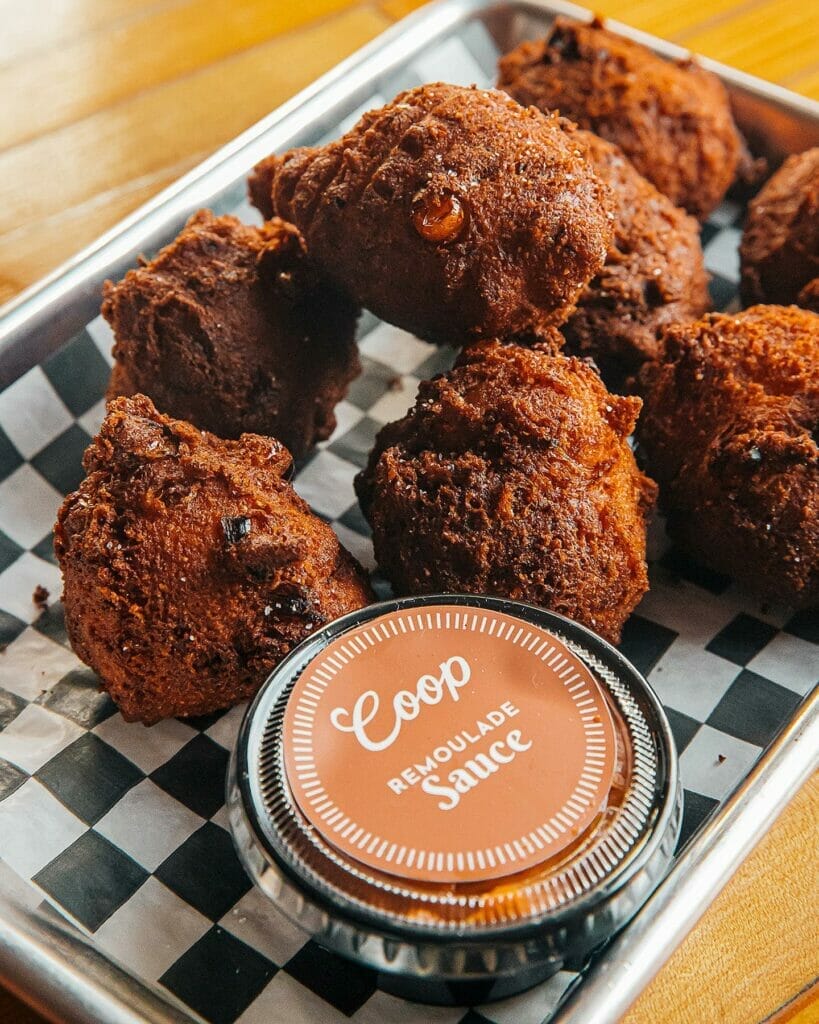 Unsure where to eat in Pittsburgh, Pennsylvania?
This down-to-earth haunt has everything you need for a fun night with friends.
Coop De Ville probably has the fastest service of anywhere we've been.
Attentive and helpful staff make this fast-casual restaurant extra special.
Expect seasoned fries, sandwiches and cookies.
Gamers rejoice! Coop De Ville is more than just a simple eatery.
You'll lose hours challenging your friends to a game of bowling, playing on new and vintage arcade and pinball machines, and trying your luck with a game of billiards.
7. Thai Me Up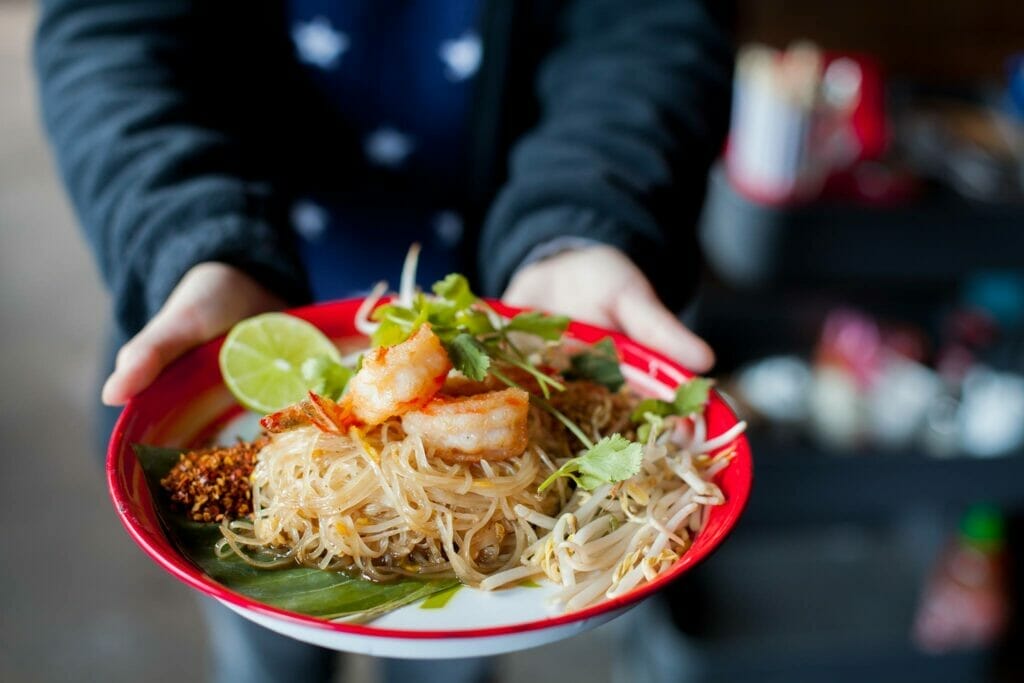 Great food is to Thai Me Up like beavers are to building dams – it's their passion and they'll stop at nothing to achieve it.
This bustling, chic restaurant is deserving of its spot on this list of best places to eat in Pittsburgh.
Thai Me Up's signature dishes include their vegan chive dumplings, crab rangoon and Thai-style chicken noodle soup.
One visit won't be enough.
With so many fantastic options, you'll definitely need to visit more than once.
Thai Me Up invites guests to bring their own alcohol, meaning you can drink whatever you'd like.
Operating a BYOB system means that this restaurant can concentrate firmly on developing a varied and enticing menu.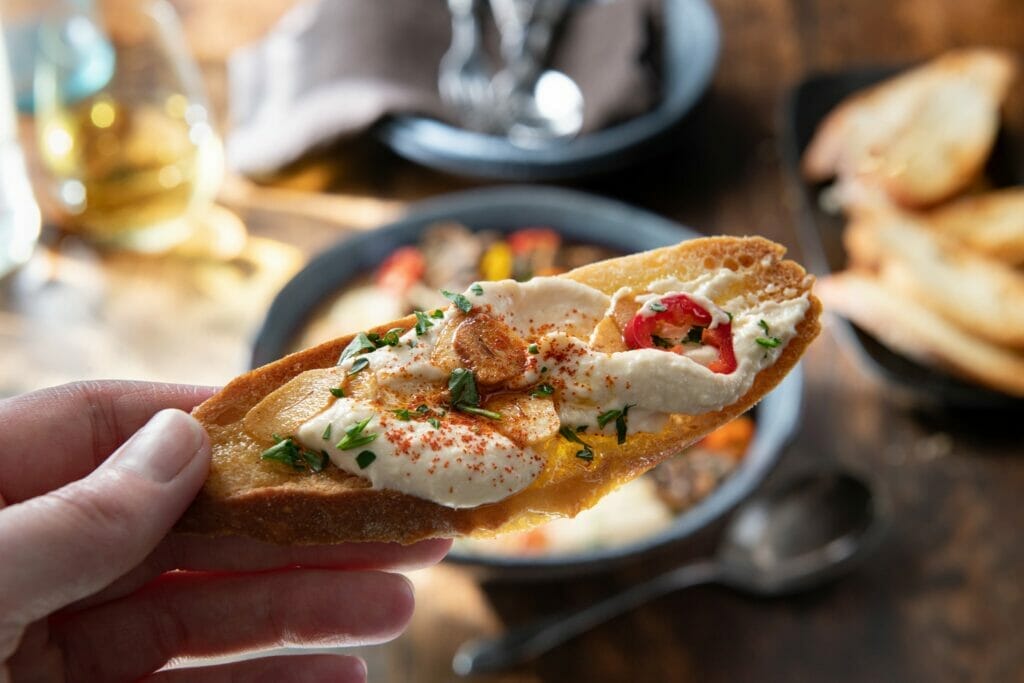 In the market for all-you-can-eat meat?
Fogo de Chão Brazilian Steakhouse has people like you in mind every time it opens its doors.
With a variety of meats, including beef and pork, and delicious chocolate molten cake for dessert, there are no excuses for leaving this eatery with a rumbly tummy.
The meats here are carved at the table, which will be an interesting first-time experience for most guests.
Fogo de Chão Brazilian Steakhouse has elegant décor and free parking, alleviating the anxiety of driving around for ages looking for a place to leave the car.
Wanting to host a more private event outside of the hustle-and-bustle of the main restaurant space?
This restaurant has secluded areas that are ideal for birthday parties and reunion events.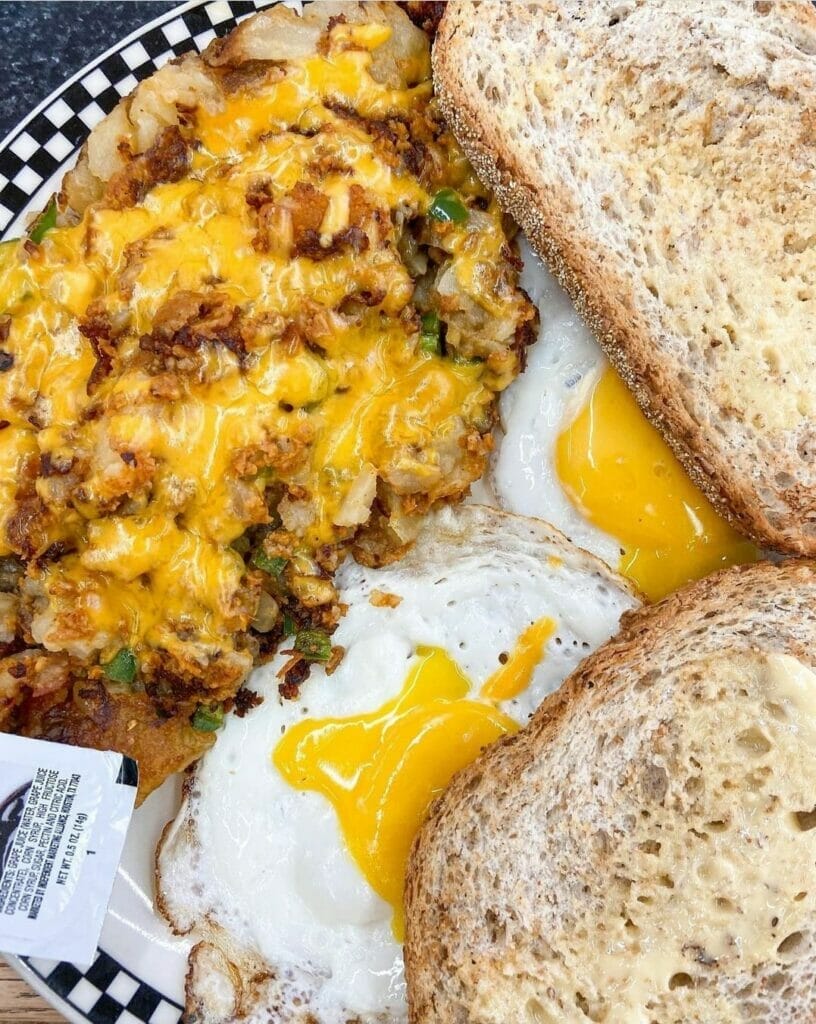 For a blast from the past, why not visit Pamela's Diner near the edge of the Allegheny River.
This chic vintage-style diner guarantees big portions, tasty food and memorable moments.
Diners are central to the American identity and this eatery pays homage to that wonderful tradition with old-fashioned booths, flooring and uniforms.
Our recommendations are the Tex-Mex omelet, chorizo hash and specialty hotcakes.
You'd need to travel a long way to find a diner with tastier food than this one.
Don't forget to take cash with you as Pamela's Diner doesn't take card payments.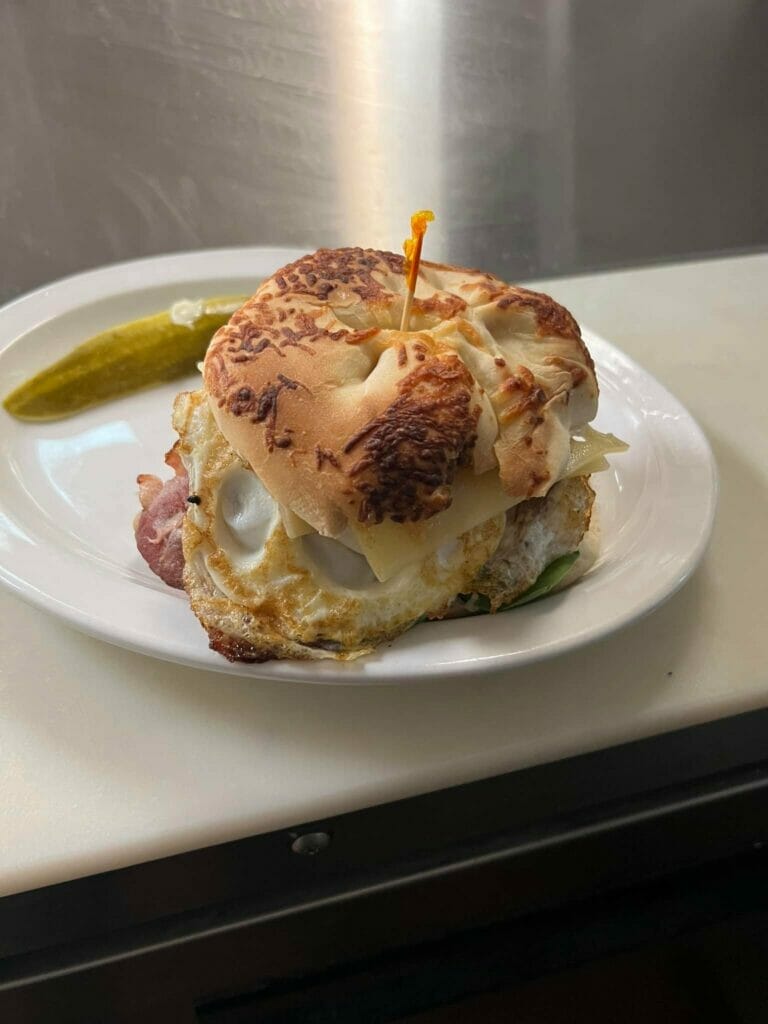 Anyone for bratwurst?
Identifying a gap in the Pennsylvania food scene, the owners of Max's Allegheny Tavern decided it was time to bring high-quality German pub grub to our shores.
That was over 30 years ago, but this European outlet is still drawing crowds to this day.
Being a wholly German restaurant, you can expect great pints of beer on tap and friendly servers ready to offer up their finest recommendations.
You may be familiar with bratwurst, but have you ever tried knackwurst (a beef sausage) or weisswurst (a veal sausage)?
You can sample these delights at Max's Allegheny Tavern.
We can't decide on our favorite type of sausage, can you?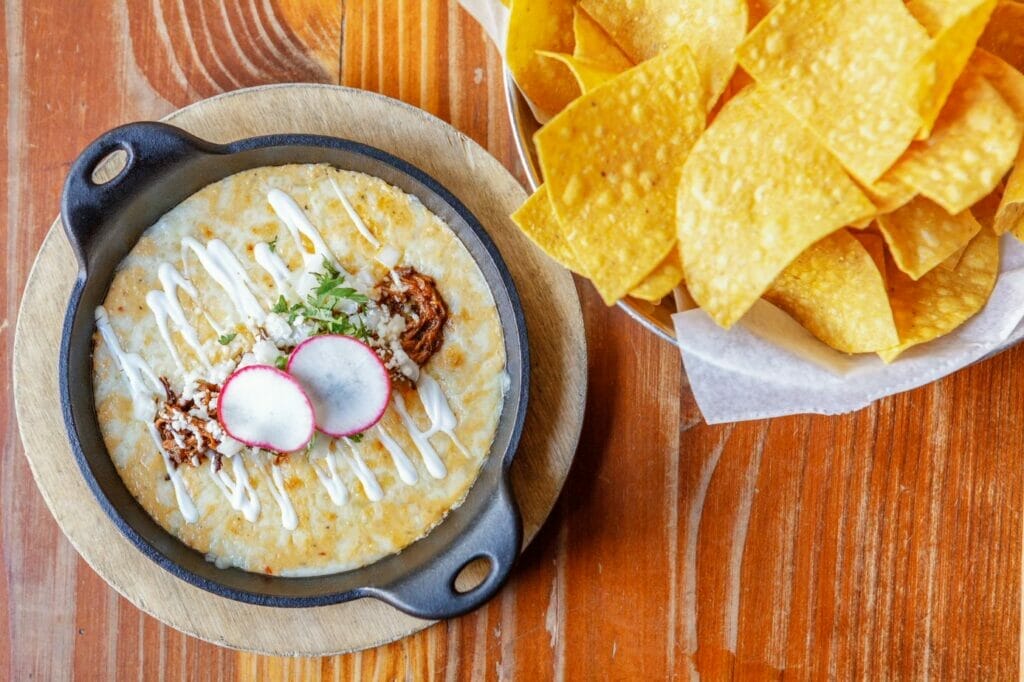 Looking for a restaurant that is hip, hop and happening?
Then Bakersfield is the place you've been craving.
People visiting this eatery can expect to find tacos, tequila and whiskey.
Bakersfield is proud to serve authentic Mexican street food and you'll be spoilt for choice on the drinks front with over 100 tequilas and whiskeys to choose from.
Their beers are poured into quirky boot-shaped drinking glasses, creating a unique moment for customers as they raise a toast with old friends.
Prices here are so reasonable, you'll forget you're in an expensive part of town.
At J & J's Family Restaurant & Catering we guarantee you'll find at least a few slices of food heaven.
Not sure where to start on this culinary adventure?
We recommend the avocado toast or the meatloaf stack for hungrier foodies.
Milkshake addicts, you're in luck.
J & J's Family Restaurant & Catering sells hand-spun milkshakes in 14 different flavors including chocolate, strawberry, salted caramel pretzel, and even bacon.
You heard us right, bacon milkshake.
Now that's unique!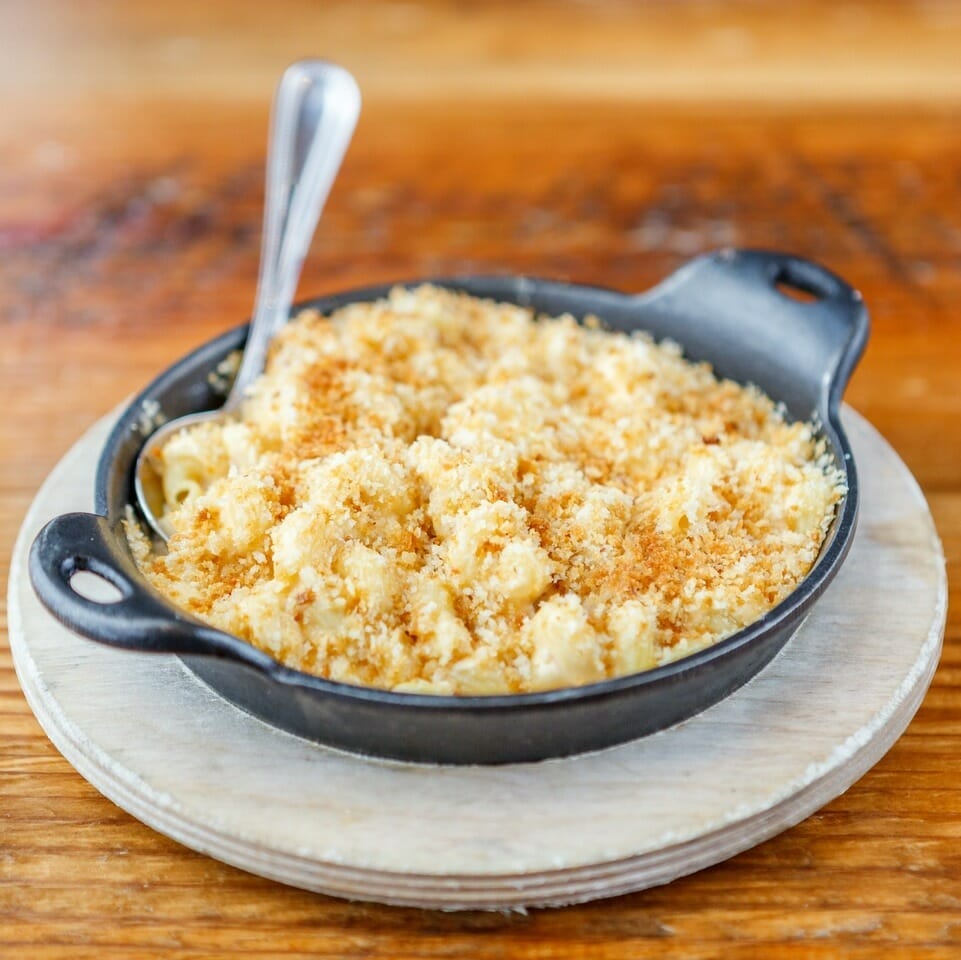 The blues-heavy soundtrack is the key ingredient which gives this downtown eatery an upbeat atmosphere.
There's no better place in Pittsburgh than The Eagle for a quick bite to eat in the company of other foodies.
With half a dozen locations across the US, this food outlet welcomes fans of fried chicken from far and wide.
Their hush puppies are widely raved about – corn, jalapeno, cheddar and comeback sauce (yum!).
Bartenders at The Eagle are experts in delivering drinks that hit the spot, and are happy to make recommendations if you're unsure what to try first.
Previous attendees to this lively restaurant couldn't believe how cheap it was, especially being in a prime location in the heart of Pittsburgh.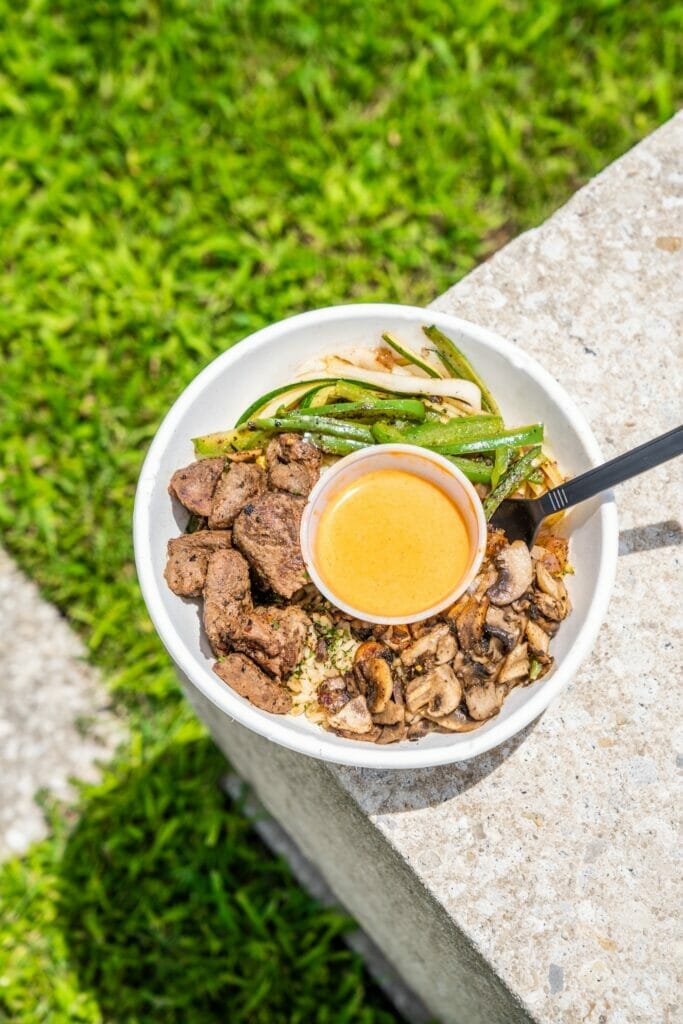 Looking for the best food in Pittsburgh?
We've found it.
This restaurant is every healthy-eater's idea of a good time.
At SoFresh, they prioritize nutritious and delicious food over gimmicky flavors.
Their warm bowls, salads, wraps, and quesadillas are comprised of health foods including quinoa, broccoli, black beans, spinach, and chickpeas.
Vegans rejoice!
SoFresh has lots of vegan options that are so good you'll want to recreate them at home.
Their kale and apple smoothies are bright green – so you know they must be healthy. You'll definitely get your five-a-day at SoFresh!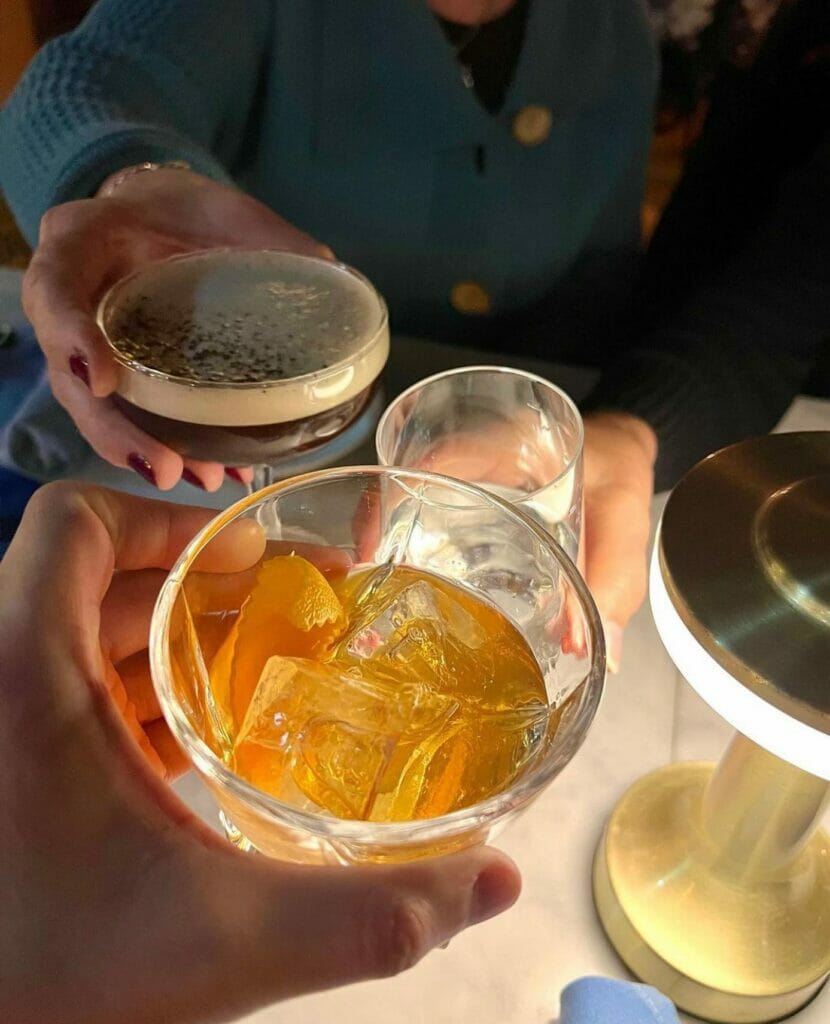 You'll struggle to find Pennsylvanian hospitality like that on display at Bridges & Bourbon.
Perhaps the most globally-focused restaurant in Pittsburgh, this popular eatery provides a great social space and food options from around the world.
The outside area now contains domes for a truly unique dining experience. Be sure to book these ahead of your visit to avoid missing out.
Bridges & Bourbon is one of only a few restaurants in the region to offer alcohol flights, permitting you to sample many delicious drinks at once.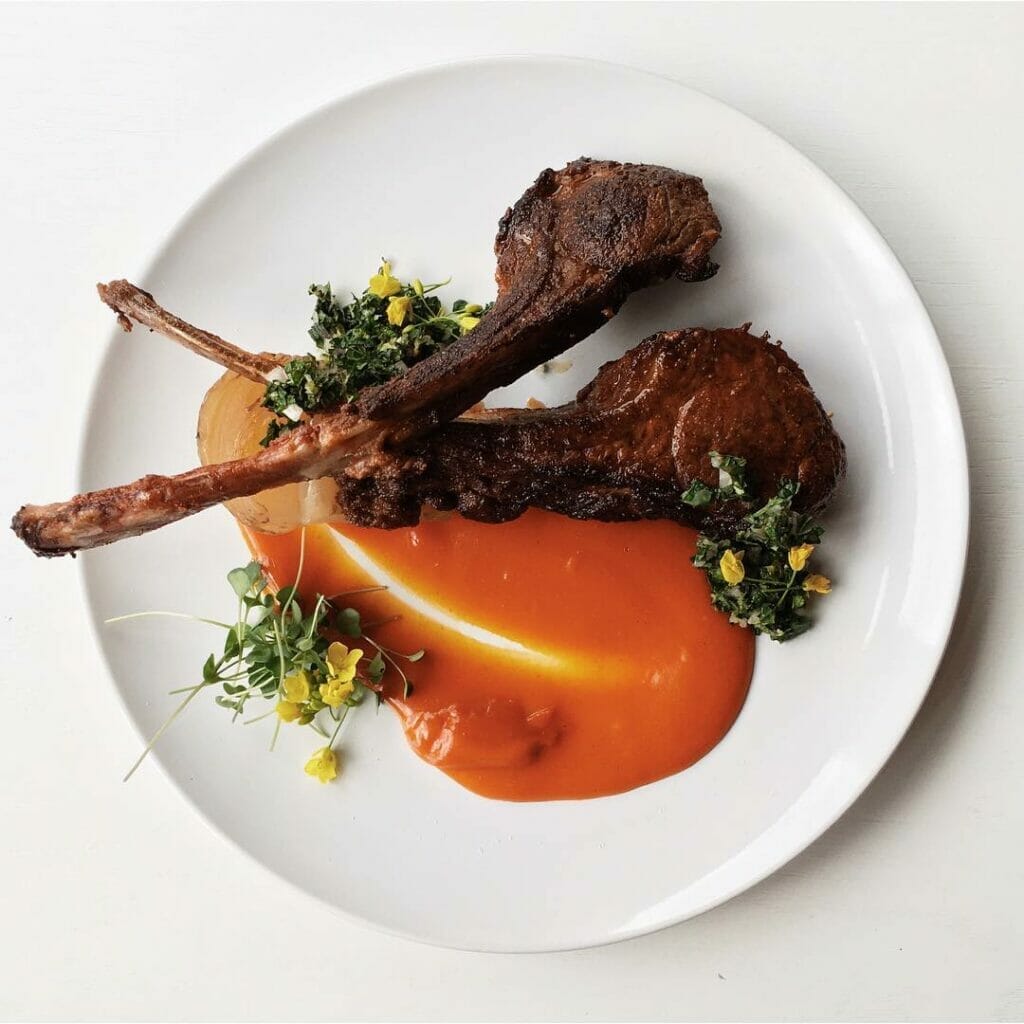 Hoping to find a cheap and cheery restaurant in Pittsburgh?
Let us introduce you to The Vandal.
Don't be fooled into thinking that cheap means poor-quality. Not at The Vandal.
A night at this quaint establishment promises all who visit a delicious meal at an affordable price.
We're confident that their crab croquettes will rock your world, while their sharing duck will make you question why you've been picking chicken for so long.
The Vandal proudly list their farm partners on the website and can provide more information on request.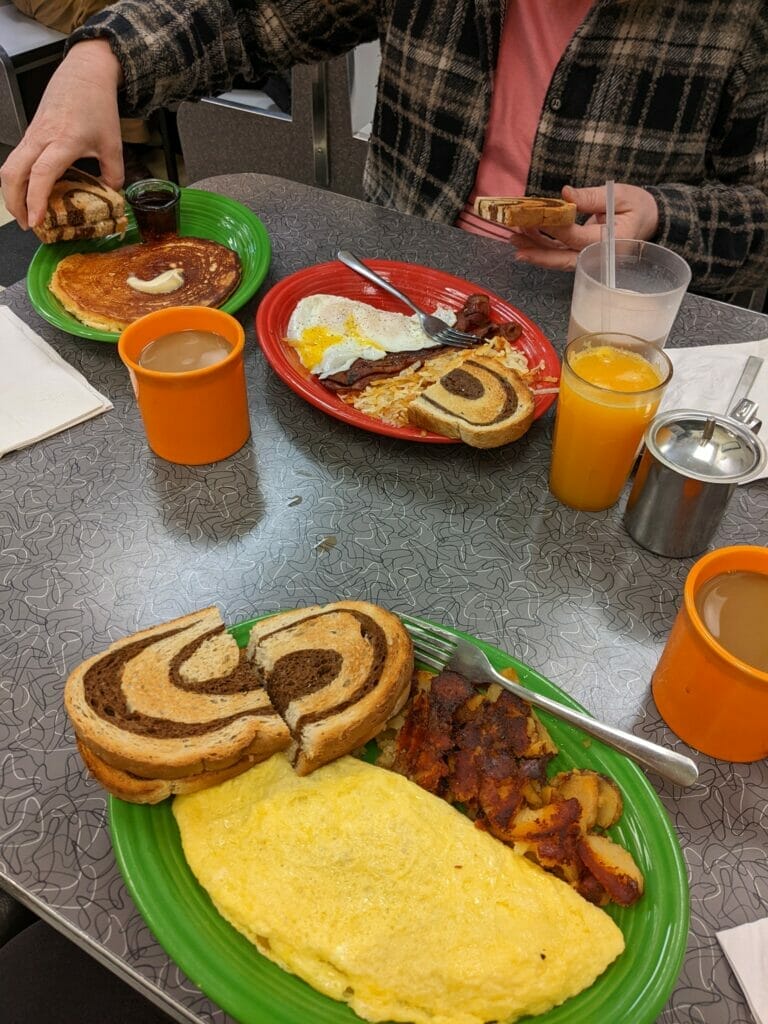 Kelly O's Diner in the Strip is perfect for those conscious consumers looking to support women-owned establishments in Pittsburgh, Pennsylvania.
This all-American diner is a great place to eat, no matter the occasion or time of day.
The staff at Kelly O's Diner in the Strip are very friendly and it's clear they take pride in their role of delivering great food to guests.
This establishment serves everything you'd expect from a diner – eggs, bacon, sausages, waffles, burgers and lemonade.
Kelly O's Diner is a family favorite, being an ideal place for parents to take their children.
The diner has a great kids menu starting at just $8.99.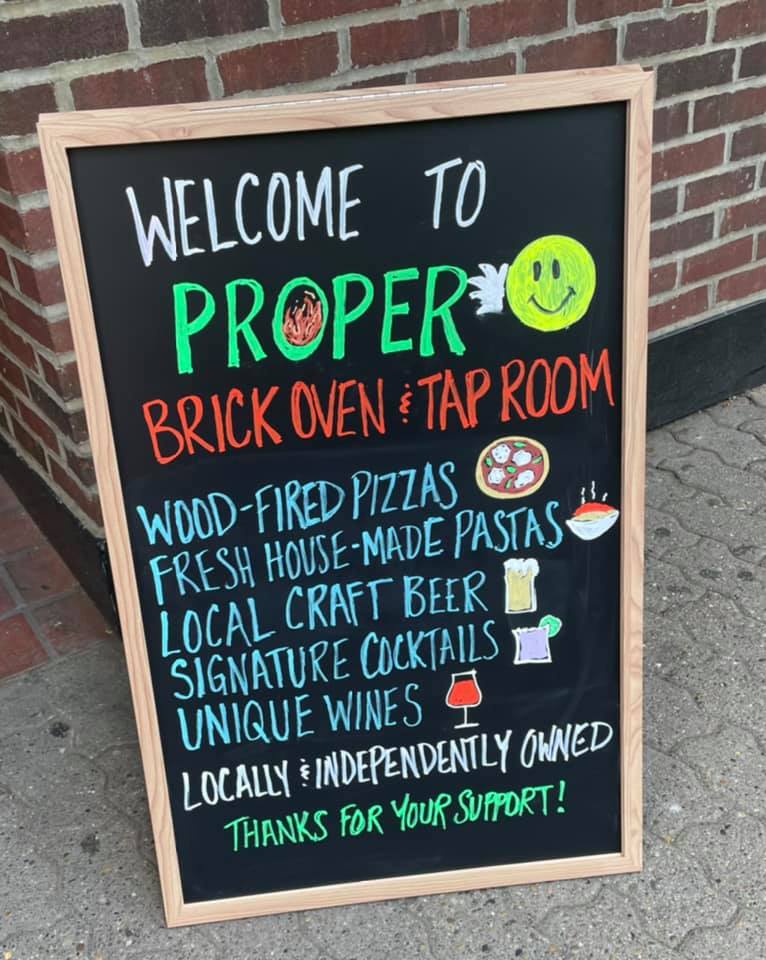 Eat, drink and be merry at this independent women-owned restaurant on 7th Street.
Brick Oven Proper Tap Room's craft beer selection has something for everyone and previous guests shout about tasty chicken wings, lovely staff and great prices during happy hour.
Brick Oven Proper Tap Room offers an easy bite to eat that'll prepare you for the afternoon ahead.
The majesty of The Grand Concourse can't be overstated.
It's the definition of fine, elegant dining and it's well-located – being right on the river's edge.
This upscale restaurant has given the historic Pittsburgh & Lake Erie Railroad Station a new purpose, and people travel from across Pennsylvania to sample their good food and amazing service.
The stained-glass vaulted ceilings, marble columns and dramatic staircase will wow even the most traveled eaters.
The Grand Concourse offers an affordable Sunday buffet lunch and a happy hour between 4pm and 6:30pm every Monday to Friday.
Hey, foodies! Want more of our city food guides? Check these out!
Get the All-American Travel Secrets!
Don't miss out on America's hidden gems!