Atlanta is the seventh-most visited city in the United States – and for good reason.
It has the most dense urban tree coverage of any city in the country, which has resulted in rooftop bars becoming very common here.
Atlanta rooftop restaurants are second-to-none.
But with such a huge number of them on offer, which are the best rooftop restaurants in the city?
Read on to discover the 21 best rooftop bars and restaurants in Atlanta, Georgia.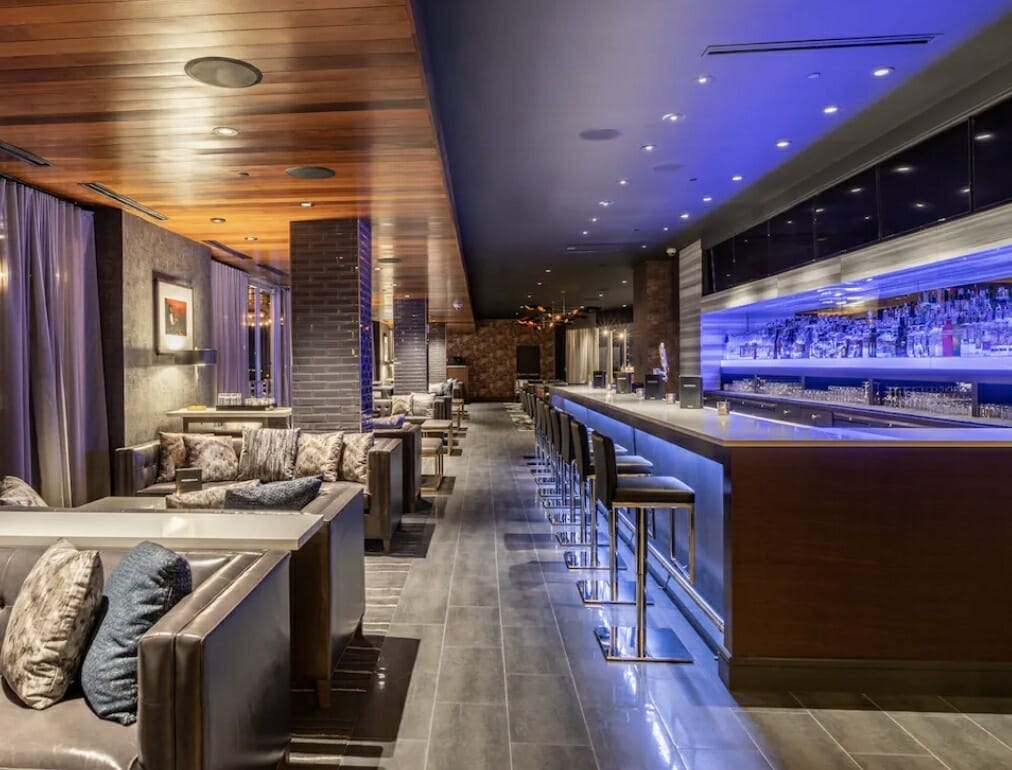 Looking for one of the most sophisticated Atlanta bars with a view?
Look no further than Rosé & Rye on Peachtree Road.
Serving craft cocktails amid picturesque city views, this venue is a great option for visitors and locals alike.
Rosé & Rye has a distinct ambience and promises high-quality service at every stage of your visit.
As well as inventive cocktails, you'll find over 25 bourbons, 10 ryes, 20 scotches, and 10 whiskeys.
We're confident you won't discover a more comprehensive range anywhere else in Atlanta.
Why not try their frozen Southern Smash cocktail? – strawberry and lemongrass Grey Goose essence, lemon juice, strawberry purée, and peach.
You're on Peachtree Road after all!
2. RT60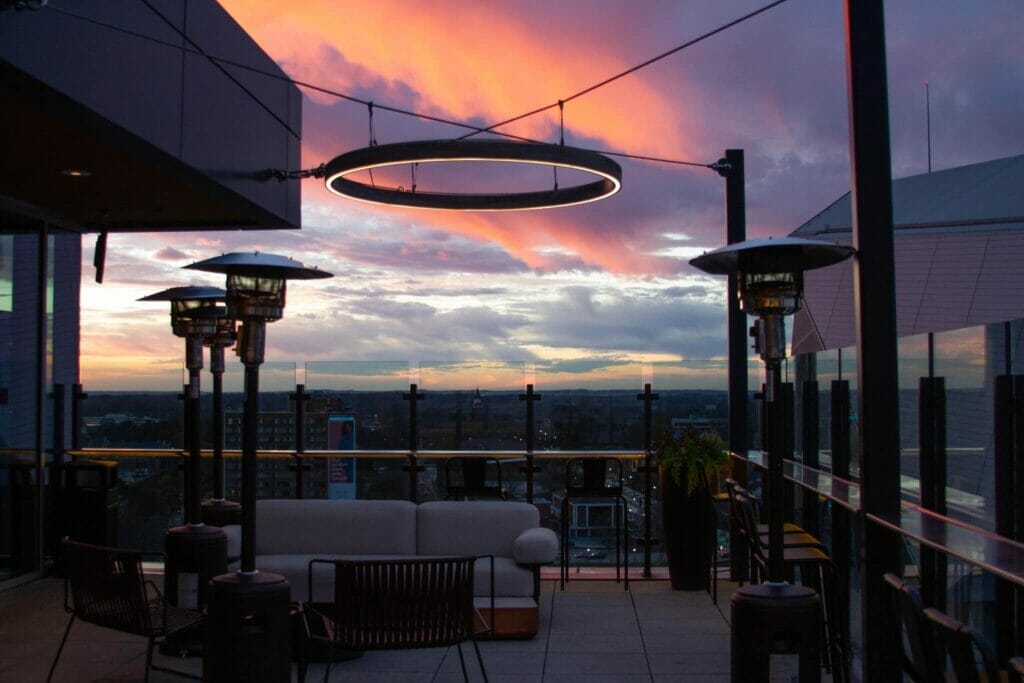 A firm favorite with the locals, RT60 is one of the Atlanta rooftop bars you don't want to miss.
Located in the city's downtown area, you'll find plenty of yummy options to eat and drink here.
It's probably the best downtown Atlanta rooftop restaurant you'll find.
RT60 regularly hosts live musicians, who will delight you with their catchy songs as you look out across the cityscape.
Our favorite combo from this extensive menu is the sausage sandwich with hot honey and blackberry margarita.
If you're planning an extra special night, why not try their Perrier Jouet champagne at just shy of $100?
3. Virtue Rooftop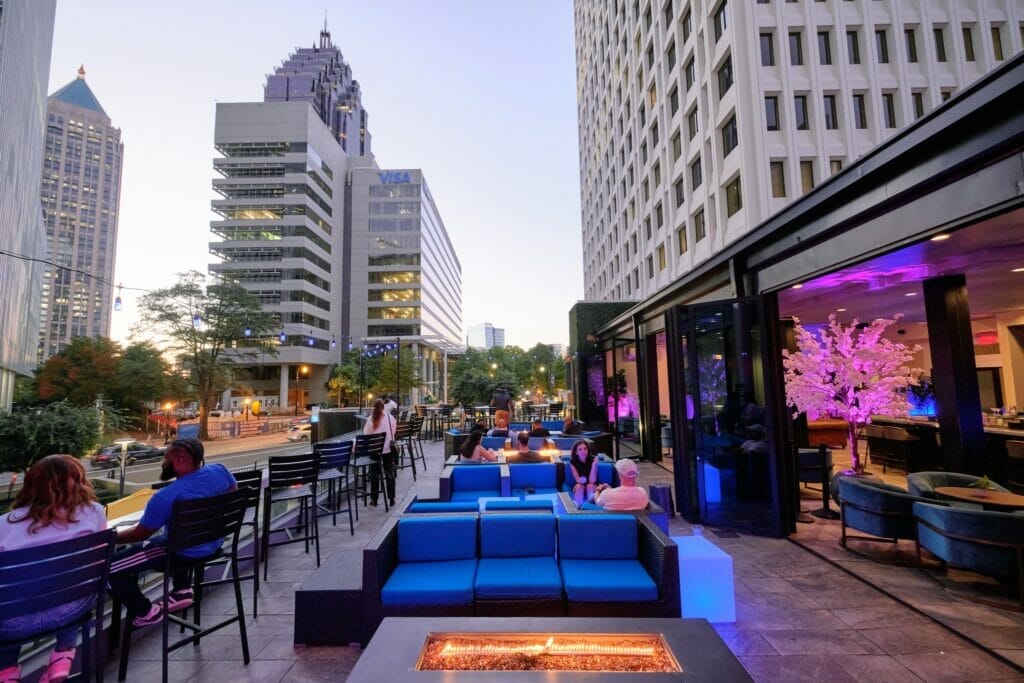 Advertising itself as 'the sexiest rooftop bar in midtown', Virtue Rooftop promises a unique social space overlooking the city and has a dress to impress policy – asking guests to wear only their best clothes.
Their specialty cocktails are reasonably priced, and include Holy Water – a delicious mix of bulleit bourbon, sweet tea, lemon juice, blackberries, mint, and blue agave.
You can also expect to find beers, wines, and prosecco here.
The firepits at Virtue Rooftop will keep you warm whatever the weather, as you drink delicious beverages and dine on sliders, tacos, hummus, and chips.
4. The Roof at Ponce City Market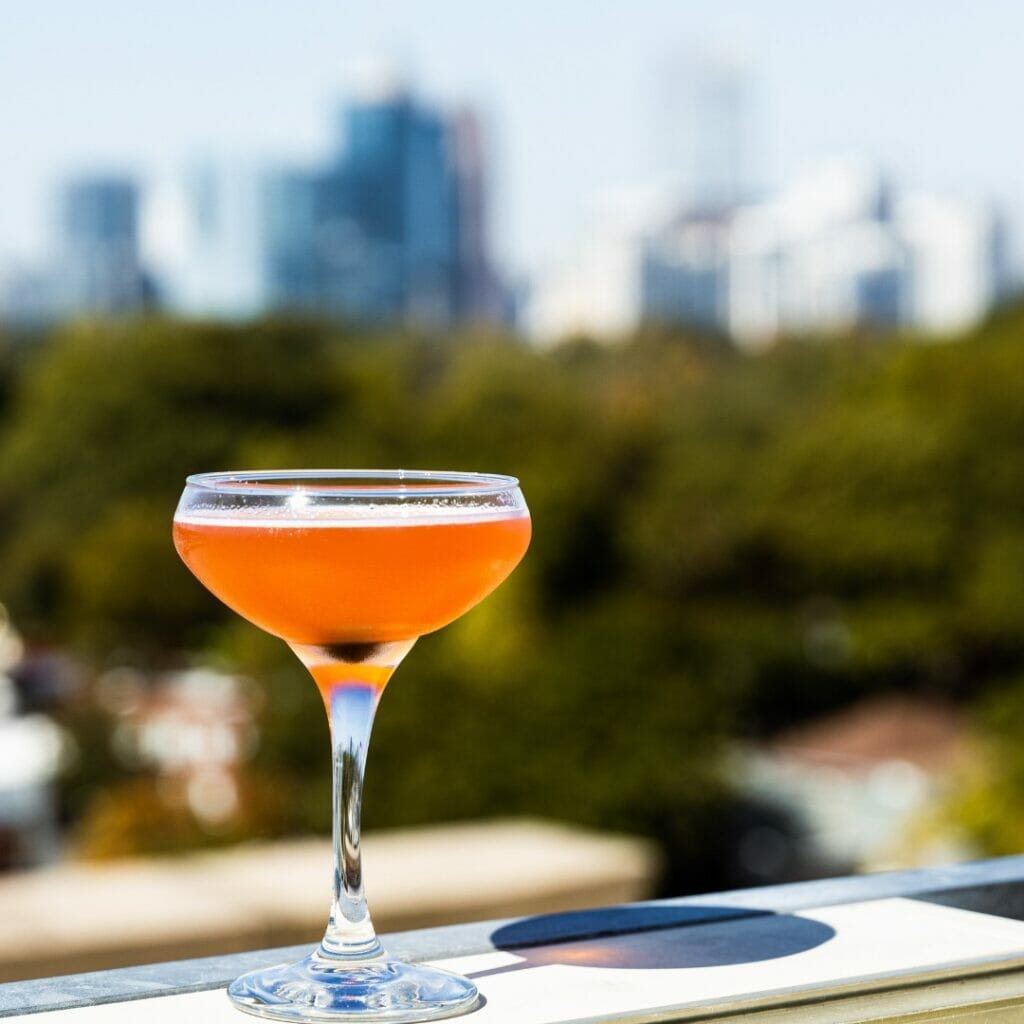 The Roof at Ponce City Market is more than just a rooftop bar and restaurant – it's a whole night out and more in a single space.
It's the very best rooftop Atlanta has to offer.
Perfect for date nights or fun evenings with friends, this establishment offers guests the chance to play carnival-style games as well as housing a mini-golf course and ice skating rink.
The Roof at Ponce City Market overlooks the beautiful Atlanta skyline.
Expect great views and classic cocktails.
Their dining options range from casual to sophisticated, making this a suitable space for everyone.
The most important thing to remember at The Roof at Ponce City Market is to have fun.
Play games, sip a famous frozen lemonade with Belvedere vodka, and tuck into a charcuterie board.
A night of fun and laughter awaits!
5. 12 Cocktail Bar
Uniquely, 12 Cocktail Bar doesn't have a drinks menu.
You're instead invited to let bar staff know what flavors you like, and then they'll make you a custom drink you're bound to love.
12 Cocktail Bar is a 21+ establishment, which means no loud children ruining the ambience and great music selection.
This rooftop bar also offers cocktail classes at certain times of the year.
Aptly named, we'd definitely give this quirky speakeasy a 12 out of 10.
6. Republic Social House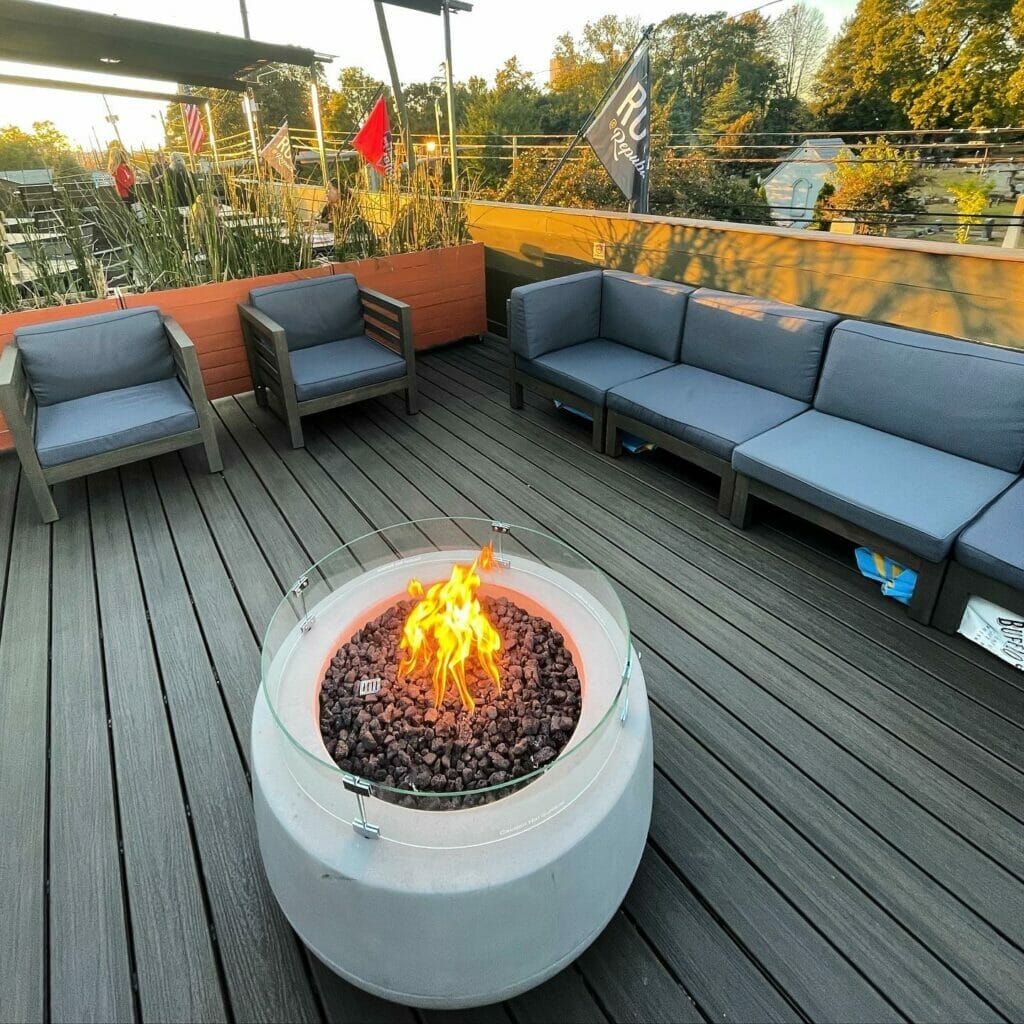 Open until late on Fridays and Saturdays, Republic Social House is one of the best spots to visit in the Atlanta food and drink scene.
Expect wings, tacos, and more.
Don't miss Burger Mondays or Taco Tuesdays for cheaper prices on your favorite dishes.
This sports bar shows lots of major games, meaning you'll never miss a minute of the next big tournament.
Sober friends, rejoice! Republic Social House serves a range of tasty non-alcoholic beers.
7. 1231 Rooftop Bar
Have you been searching the city for a hidden gem but had no luck?
Well, your luck is about to change.
Introducing 1231 Rooftop Bar – an upscale eatery and bar which sits in the sweet spot between Atlanta's sophisticated and laid-back cultures.
You'll visit 1231 Rooftop Bar for the delicious food, but stay for the spectacular view of the city.
While their menu is limited, you can tell that each dish is the result of lots of hard work. Two portions of skyline wings and two amaretto sours on the roof please!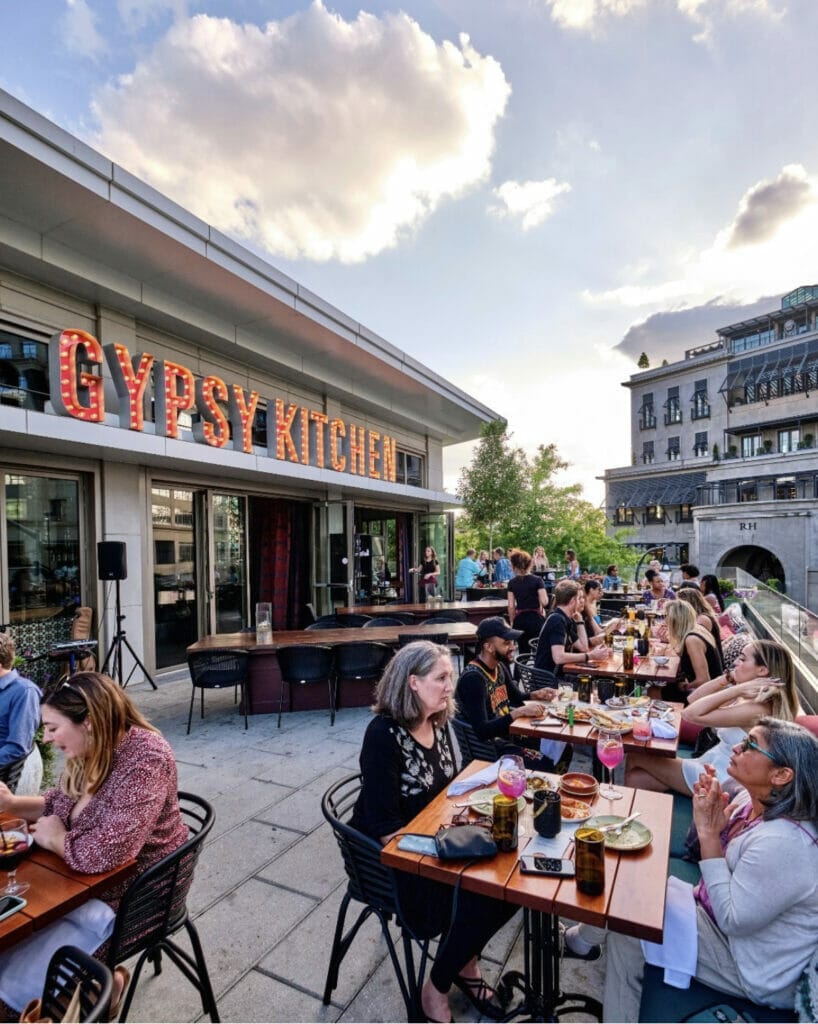 On the hunt for tasty tapas?
This eatery is unique in Atlanta, being one of only a few rooftop establishments serving Spanish food. Gypsy Kitchen has a young crowd, but is open to people of all ages.
The patio is the star attraction, offering great views and a chance to soak up the sun.
Gypsy Kitchen's guitarist is very popular, adding to the already spectacular ambience at this hip restaurant.
Don't miss happy hour every weekday from 4pm to 6pm.
You can expect to find great value dishes including patatas bravas and croquetas de pollo.
Gypsy Kitchen is one of the best tapas-serving rooftop restaurants Atlanta has to offer.
9. Little 5 Corner Tavern
Looking for a laid-back spot to grab a bite to eat and savor a few pints of beers?
Little 5 Corner Tavern was created with you in mind.
Despite being more of a pub than a bar, this enjoyable spot deserves its place on our list.
What could be better than sitting on the rooftop, tucking into a delicious portion of nachos or a steak and cheese sandwich?
Little 5 Corner Tavern is suitable for families.
They offer a separate kids menu with items costing just $6.25 each.
This food outlet has a wide range of spirits behind the bar, including vodka, tequila, rum, and gin – which can be enjoyed during a game of pool or darts.
10. Nikolai's Roof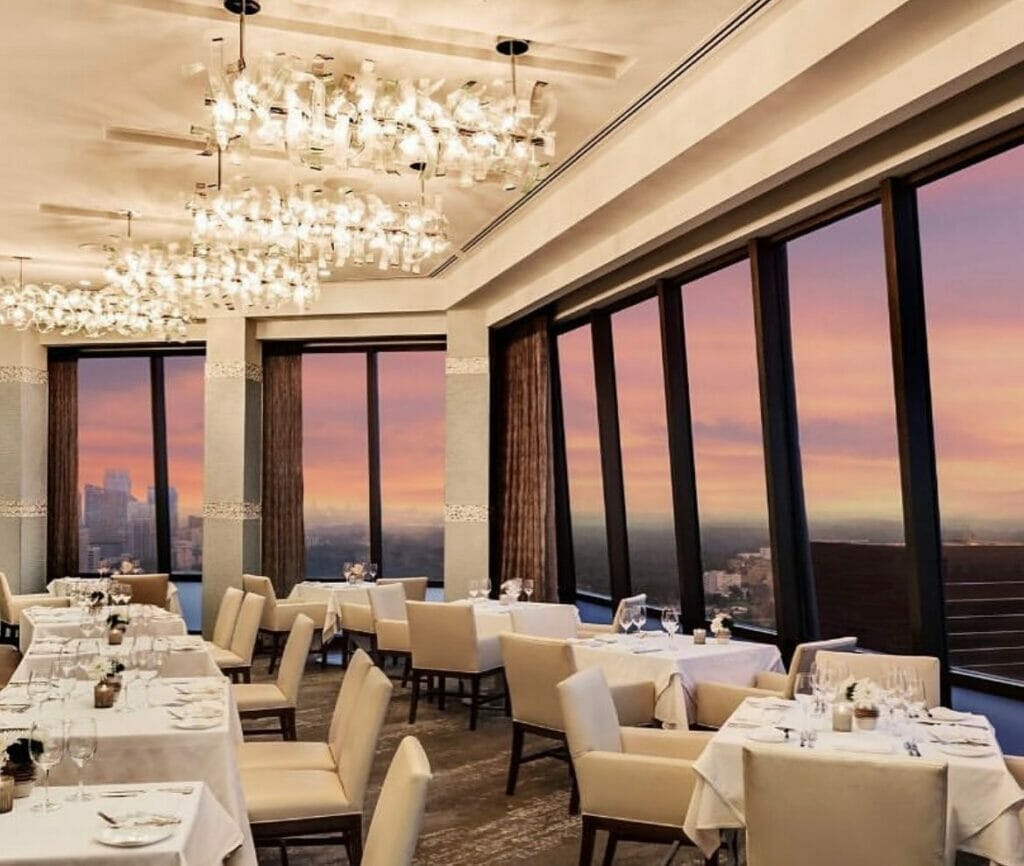 Sometimes we all need an opportunity to get dressed up and enjoy a classy evening with our nearest and dearest.
At Nikolai's Roof, guests can expect the perfect setting for enjoying tasty food, fine wines and five-star service fit for Hollywood A-listers.
One of the best Atlanta restaurants with a view, Nikolai's Roof proudly presents French-Russian cuisine that's so out-of-this-world you won't believe us until you've tried it.
From duck breast to oysters, this restaurant is fine-dining at its very best.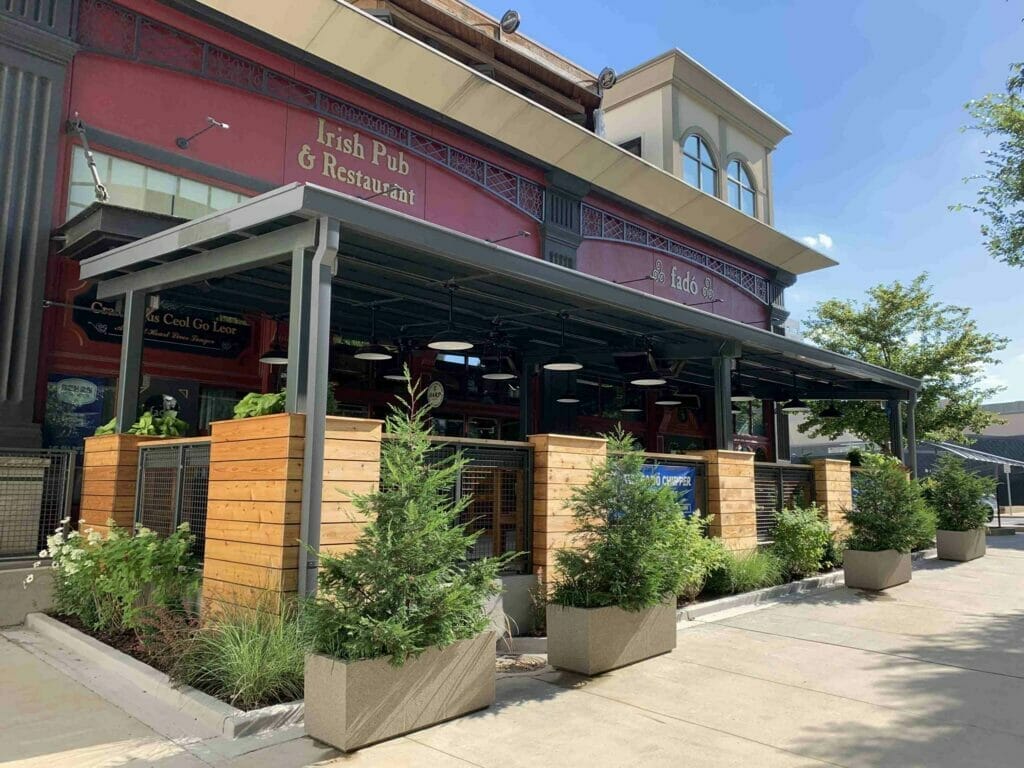 No one knows great-tasting beer like the Irish, and Fadó Irish Pub is a testament to that.
They serve the best beers around, including Guinness, Goose Island IPA, and a range of Belgian beers.
Fadó Irish Pub streams all of Liverpool FC's soccer matches, meaning that this bar has become a hub for supporters in Atlanta.
They also show F1 races and dozens of other European sports.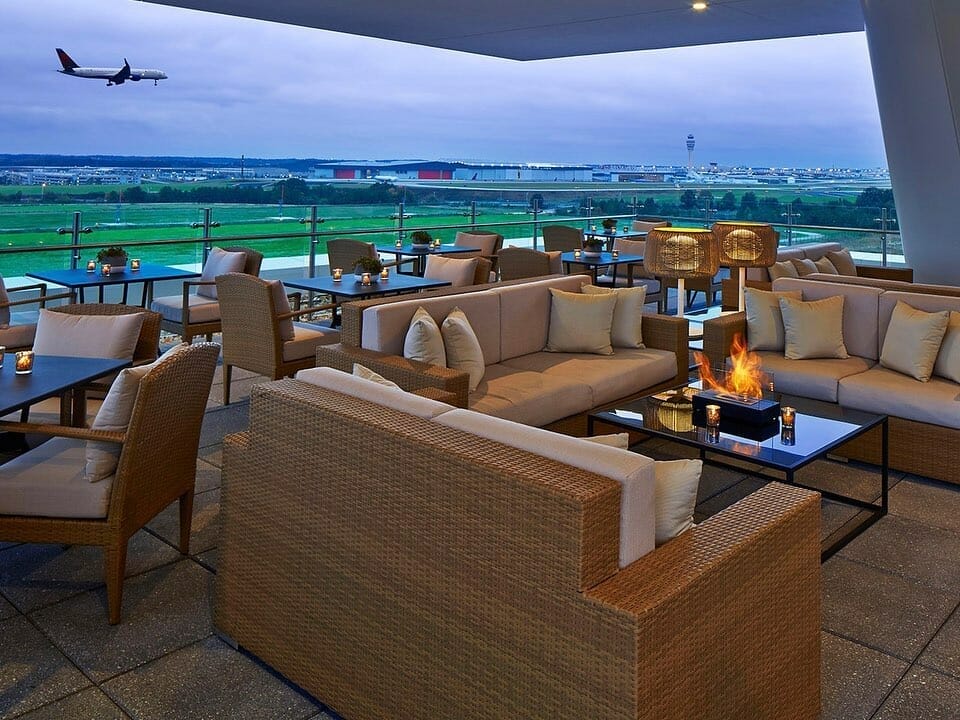 The Rooftop at Overland is one of the best rooftop restaurants in Atlanta.
It serves creative dishes that are always high-quality and great-tasting.
This establishment overlooks the Porsche driving experience, meaning you can watch expensive cars race around the track.
It is also on the edge of the runways at Hartsfield Jackson Atlanta International Airport and so expect to see planes up-close as they compliment the stunning panoramic views.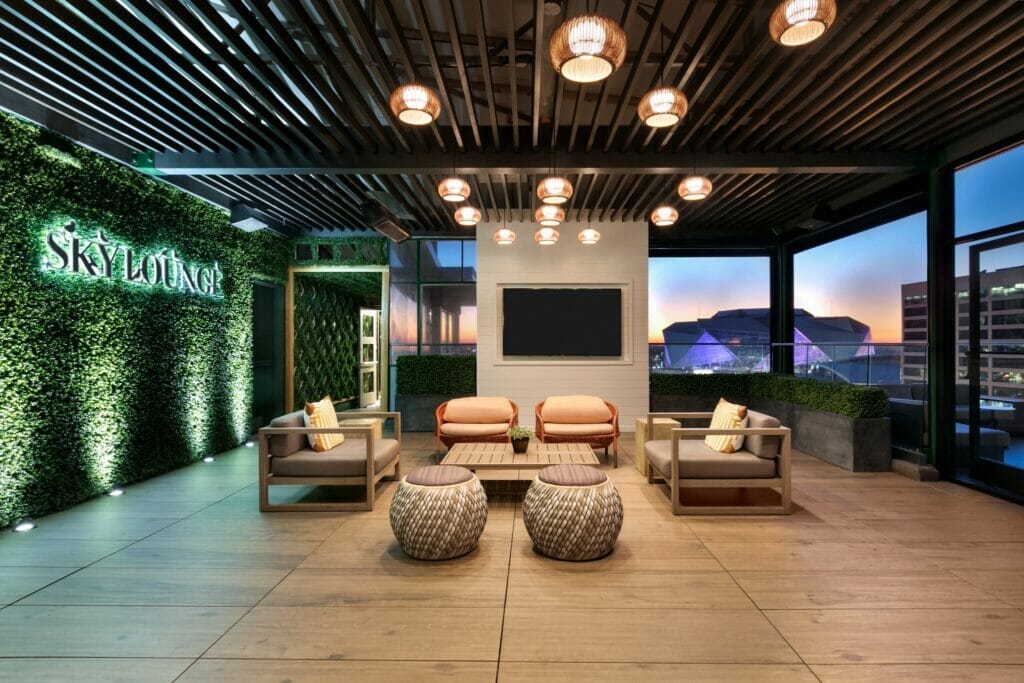 On top of the Glenn Hotel, you'll find the amazing SkyLounge restaurant and bar.
With quick service and yummy plates, this food and drink outfit has to be seen to be believed.
Their rooftop lounge offers comfortable furniture and warm lighting, inviting you to bask in the nighttime lights of the Atlanta skyline.
The menu at SkyLounge only includes five items, but each is perfectly presented and tastes delicious.
The chorizo flatbread is a taste sensation not to be missed.
Size isn't everything, and Match Bar & Oven prove it.
This small but interesting eatery serves moreish dishes alongside fruity tiki-style drinks.
If you're looking for a sophisticated night out, this isn't it.
But Match Bar & Oven are proud to facilitate laid-back nights with friends and bar grub.
What's not to love!
You'll want to try their Flaming Bob Marley cocktail – a unique combination of five different rums, orange juice, pineapple, grenadine, and blue curacao.
Reviewers love the music being played at this restaurant and shout about the great service – with polite staff checking everything is satisfactory during your meal.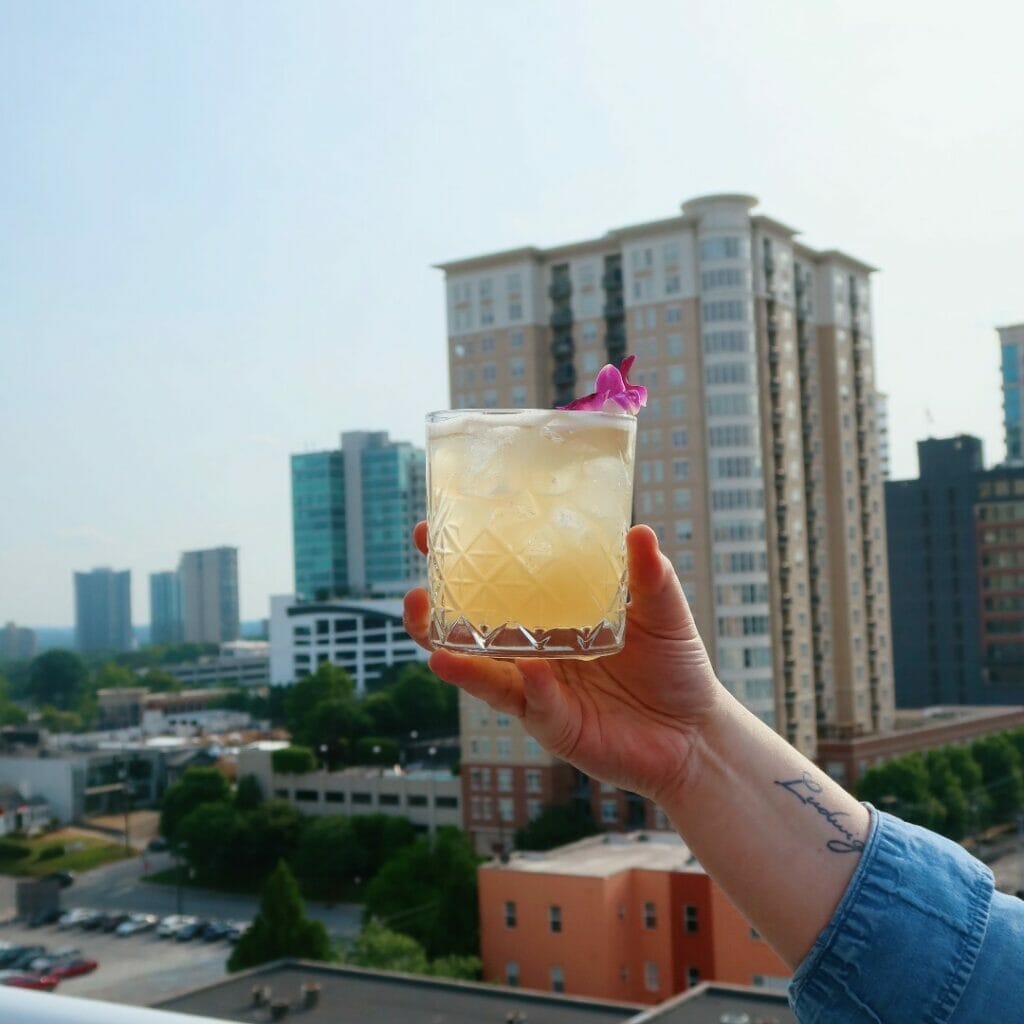 Cameras at the ready!
St. Julep in Atlanta is a great hangout spot that you should definitely put on your go-to list.
Friendly staff go above and beyond in this funky and fun space.
This quirky bar doesn't get super crowded, which is ideal for those wanting a little more space.
St. Julep has an in-house DJ playing the best R&B and hip-hop music, which greatly compliments the trendy vibe.
Frankly, you've not seen an Atlanta sunset until you've seen it from St. Julep.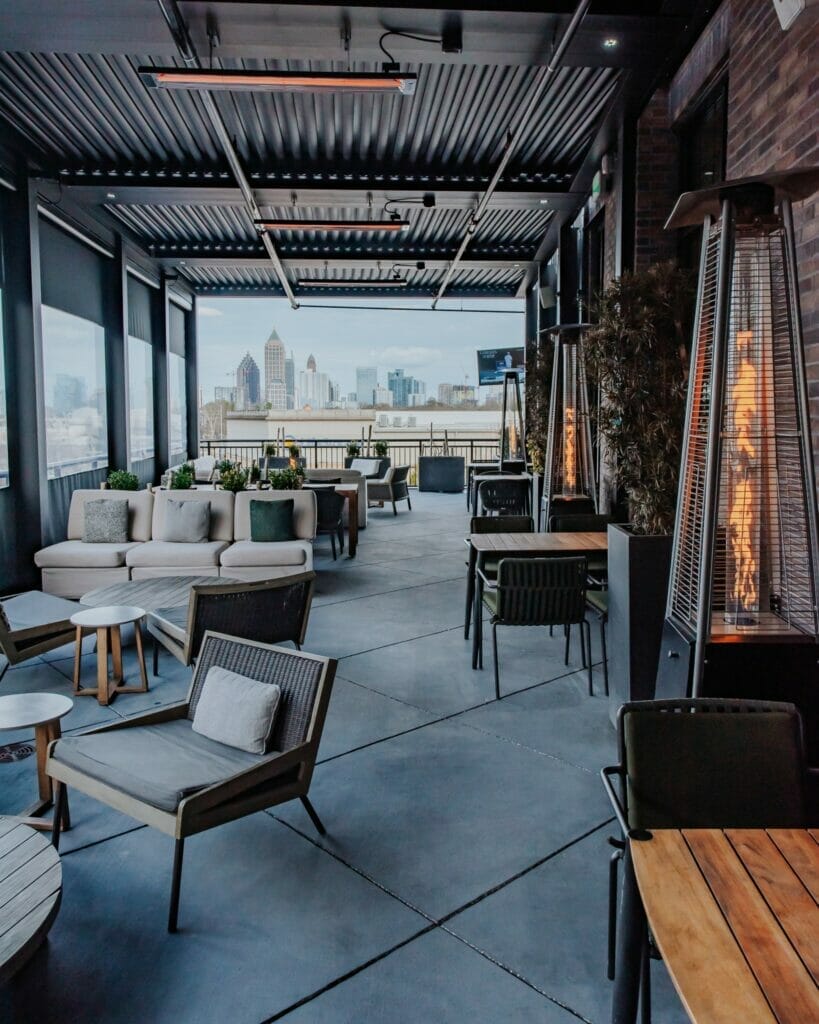 Serving the very best shrimp and catfish in Atlanta, Drawbar is a stylish haunt in the Bellyard Hotel.
The owners of this classy bar know that nothing compliments a delicious meal better than a great dessert, offering tort, tart, and pie.
Drawbar's outdoor seating area is a great spot, tucked away from the hustle and bustle.
Hanging lights make this a warm and cozy space.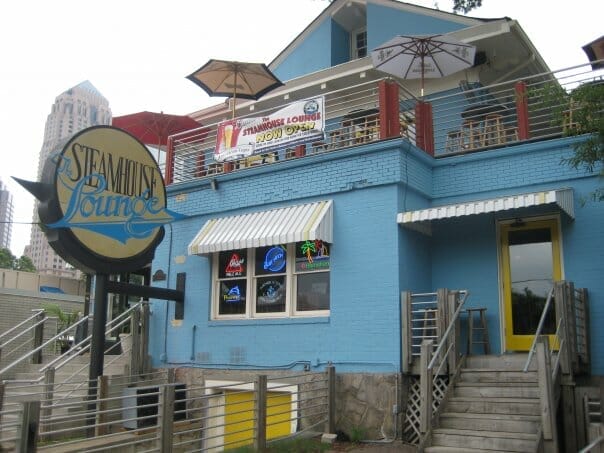 If seafood is more your vibe, then The Steamhouse Lounge is about to become your new favorite restaurant.
This casual eatery specializes in delicious food from local waters.
Fill up on shrimp, oysters, mussels, clams, and calamari.
The Steamhouse Lounge offers an outdoor dining experience which overlooks the street below – perfect for people watching in the Georgia sun.
18. The Rooftop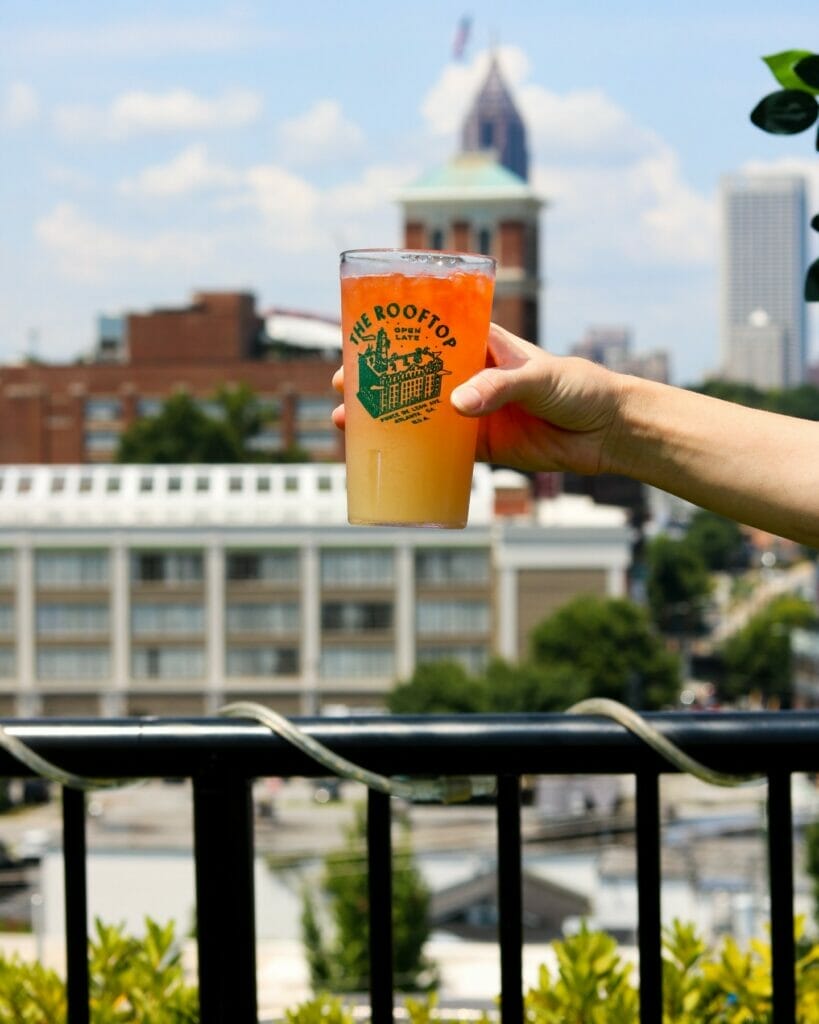 Rally your friends and dine-out on mouth-watering food at The Rooftop in Atlanta, Georgia.
This bar and restaurant is perched on the top of Hotel Clermont and has an enjoyable retro feel.
Offering the ultimate rooftop experience, this establishment is perfect for quick catch-ups at lunch or long nights filled with happy memories.
Due to its status as one of the best rooftop restaurants in Atlanta, you'll want to book ahead to avoid missing out on their finely-crafted street food.
If we could only use two words to describe this impressive rooftop restaurant and bar, we'd pick style and substance.
Vision Restaurant and Lounge has both in abundance.
From the moment you walk through the front door, you'll notice how sleek the whole venue is.
Visitors can expect to sample the best hookah in Atlanta, served by friendly staff – and with valet parking, you've no excuse not to visit.
One previous visitor rated Vision Restaurant and Lounge 10/10, perhaps forgetting that 11/10 would better encapsulate the immense hospitality at this establishment.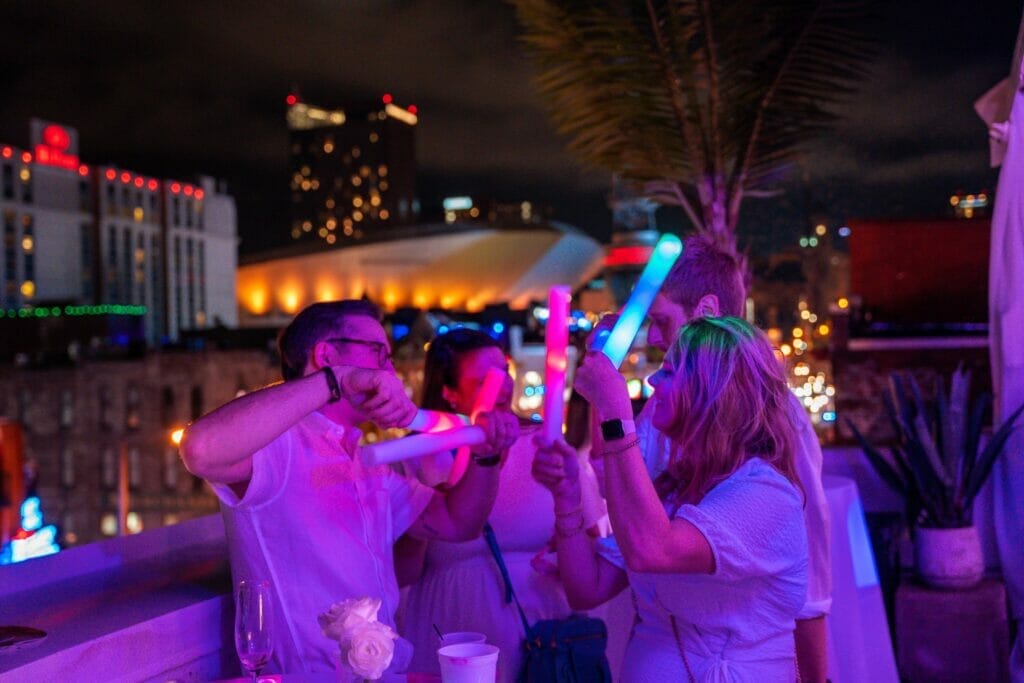 When looking through Atlanta's best rooftop restaurants, few rank as highly as The Ivy.
This sports bar promises an energetic experience from start to finish.
Our favorite menu items are the chicken fingers basket, jalapeño honey fries and turkey, bacon, and avocado sandwich.
Attentive staff are always on hand to share their recommendations and prepare you a drink that'll get your taste buds tingling.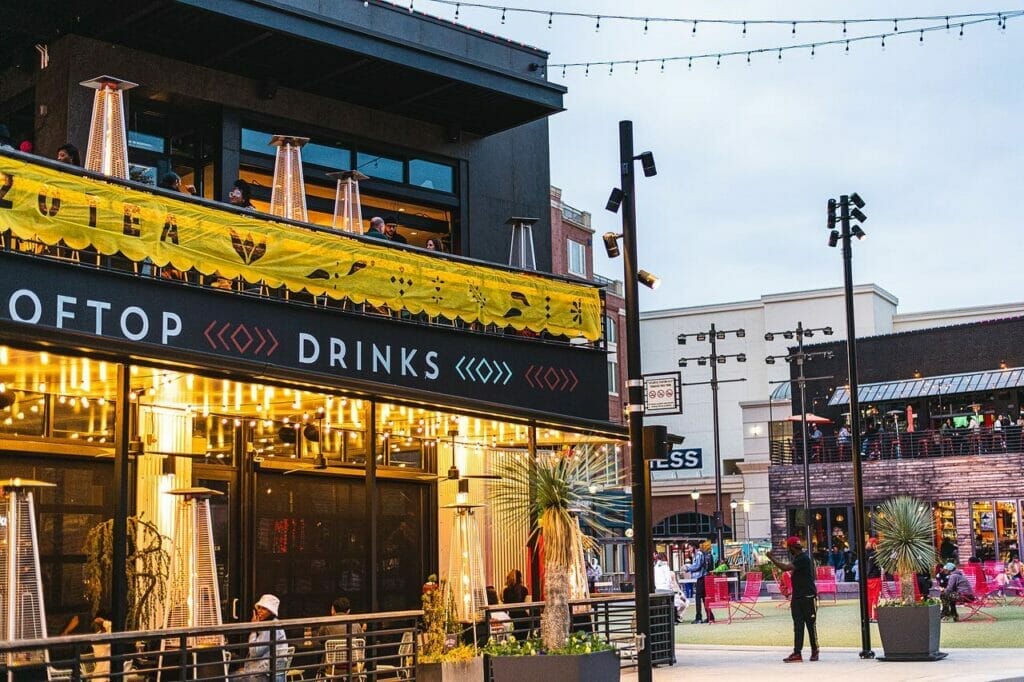 Of all the Atlanta rooftop restaurants, this may be our favorite.
With some of the most helpful staff anywhere in the world, Azotea Cantina is the finest rooftop experience Atlanta has to offer.
For a unique taste sensation, try Azotea Cantina's carne asada tacos with churros to follow. You won't regret it.
Hey! Want more excellent rooftop bar guides? Check these out!
Get the All-American Travel Secrets!
Don't miss out on America's hidden gems!