Memphis is one of the most famous towns in America, despite only having 633,104 residents!
In more recent years, the second most-populated city in Tennessee has become a tourist hotspot for its rooftop bars which overlook beautiful sunsets on the Mississippi River.
In this handy guide, we'll let you know about the 13 best rooftop restaurants in Memphis.
Memorable nights await those willing to make the journey to the very top floor of these high-quality establishments.
At 79 Madison Avenue, you'll find a perfect late-night spot overlooking the Mississippi River.
Despite only offering a limited menu, this eatery offers one of the best sunset views you'll find anywhere in Memphis.
At the top and middle of every hour during sundown, the light show on the Hernando DeSoto Bridge will dazzle you.
We promise you'll be in total awe.
You'll spend most of the evening with a glass of wine in one hand and your phone in the other – taking pictures of the spectacular scenes unfolding before your very eyes.
In this list of Memphis best rooftop restaurants, there's a reason why we've put it first. It's our absolute favorite view of all those available across this great city.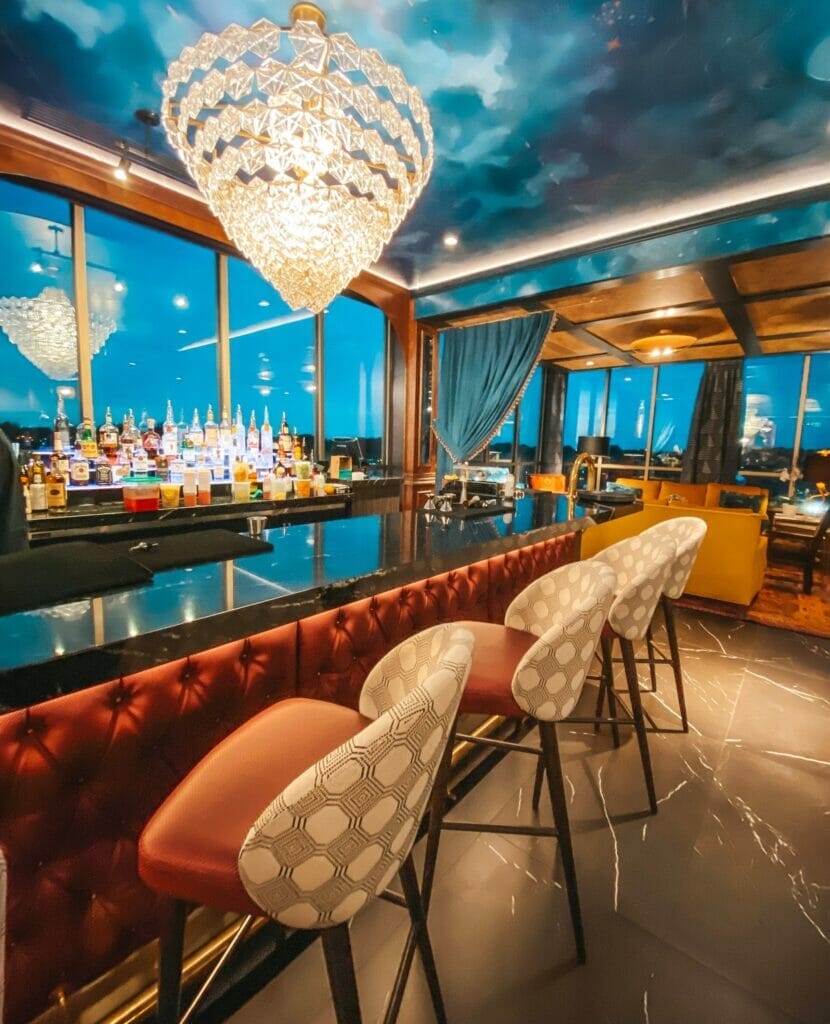 Tiger & Peacock is so much more than just your average rooftop bar.
It's a whole experience under one roof – and on it too.
The atmosphere at this energetic bar is intimate and there are a heap of Instagrammable moments to enjoy.
Snap pictures of you and your friends as you sample the delights of his eccentric venue.
Probably the most quirky of all Memphis rooftop bars, Tiger and Peacock offers a range of light bites including olives, tiger fries, and chocolate fondue.
You'll find like-minded people here amongst the stylish decor.
Expect glitter balls, funky wallpaper and neon signs galore.
It's what the Love Island villa would be like if it were a rooftop bar in Memphis.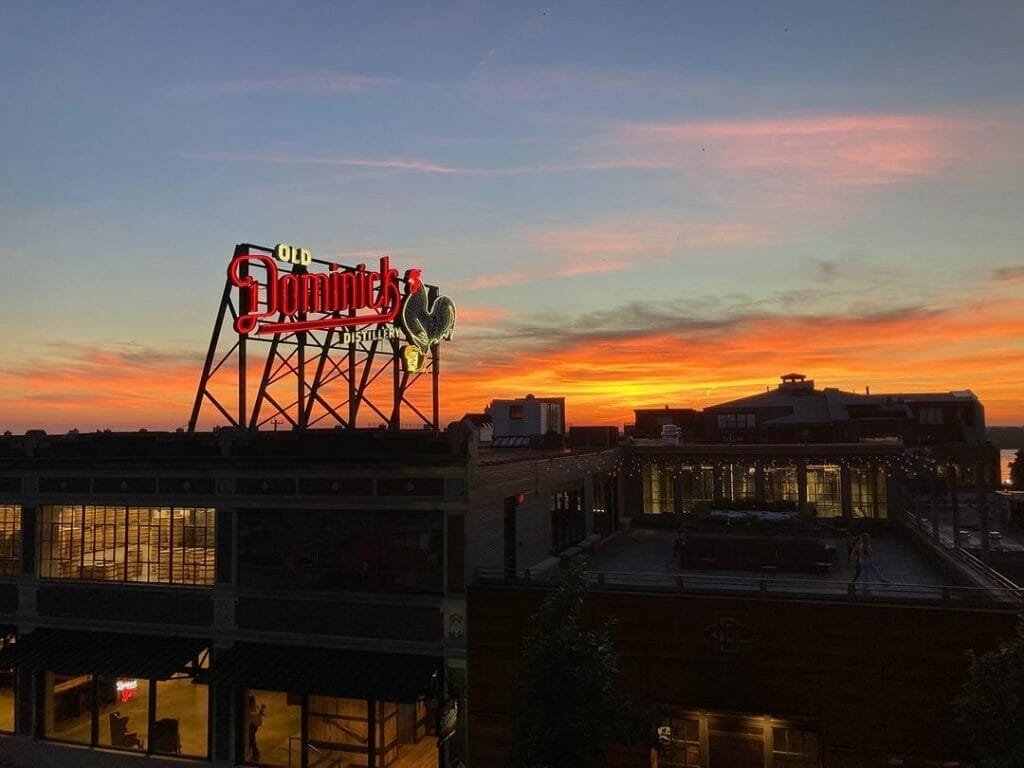 Proudly serving the only whiskey that's entirely distilled, barreled, matured, and bottled in Memphis, this distillery offers a great view of the cityscape, bridge and river.
Nothing beats the rush of fresh air you'll feel as you sip on a smoky whiskey created right below your feet.
Old Dominick Distillery also offers tours of their facilities and bottles to take away.
Imagine this. You're looking out onto the streets below from a rooftop bar.
You've ordered the soup of the day, with pineapple upside-down bread pudding to follow.
Life is good.
You're at Paulette's Restaurant – the best downtown Memphis rooftop restaurant.
Over 40 years in business, Paulette's Restaurant answers the question 'where can I find scrumptious dishes, tasty wines, and five-star service'?
Our food recommendation here is the goat cheese and onion tart for lunch or the crab cakes for dinner.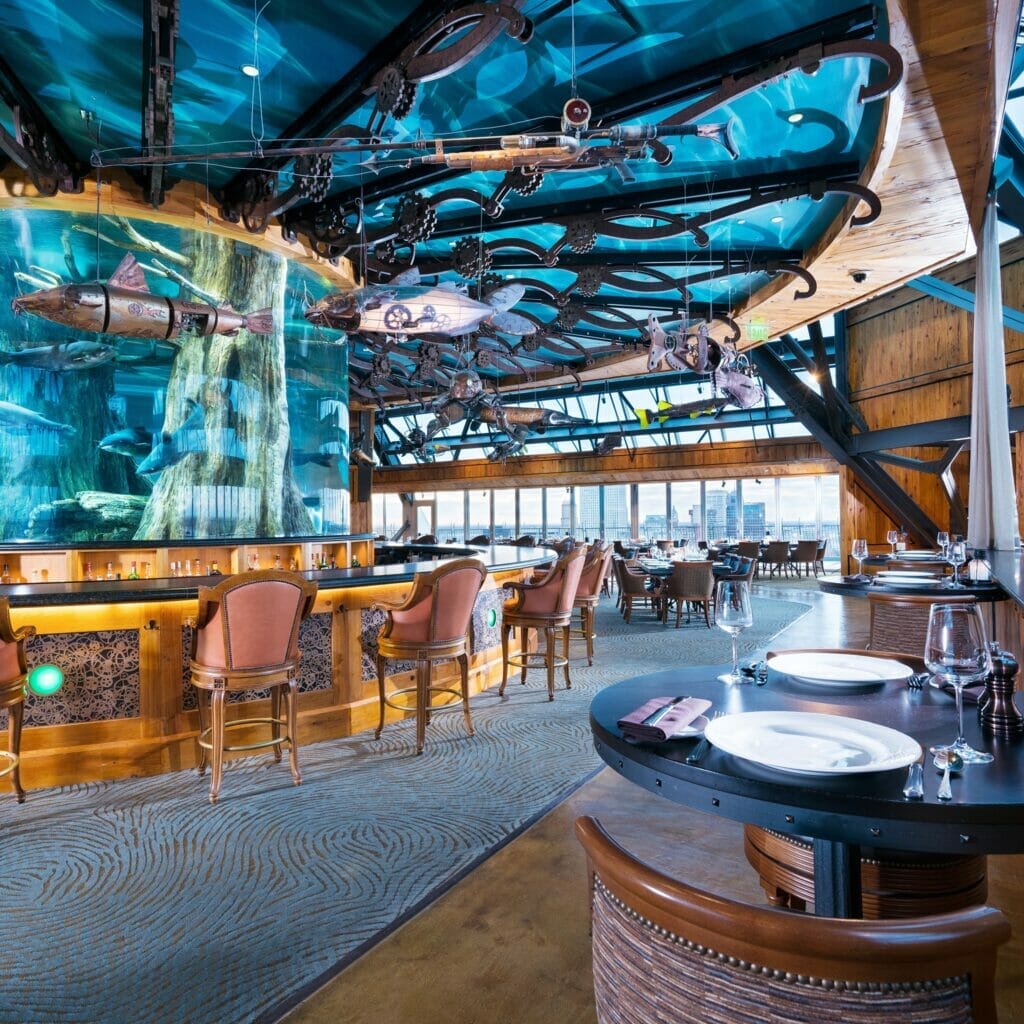 The under-the-sea décor at The Fishbowl at the Pyramid is sure to delight even the most stubbornly unamused in your traveling party.
Expect an aquarium bar and giant metal fish.
You heard that right, giant metal fish! It'll make more sense when you see it.
Our favorite menu items here include the elk sliders, smoked turkey club sandwich, and tomato mozzarella salad.
From The Fishbowl you can ride the elevator to the observation deck, which promises a stunning panoramic view of the Mississippi River from 28 floors up.
The Fishbowl at the Pyramid is undoubtedly one of the most unique rooftop restaurants Memphis has to offer.
6. Residence Inn by Marriott
Are you looking for a place to stay that also has a spectacular rooftop for drinks and nibbles?
You're in luck, Memphis' Marriott branch has a rooftop where you can sip a drink at sunset before hitting the hay.
Note that this rooftop is only available to those who have booked a room for the night.
If you haven't got a room here, don't waste your time traveling to this location.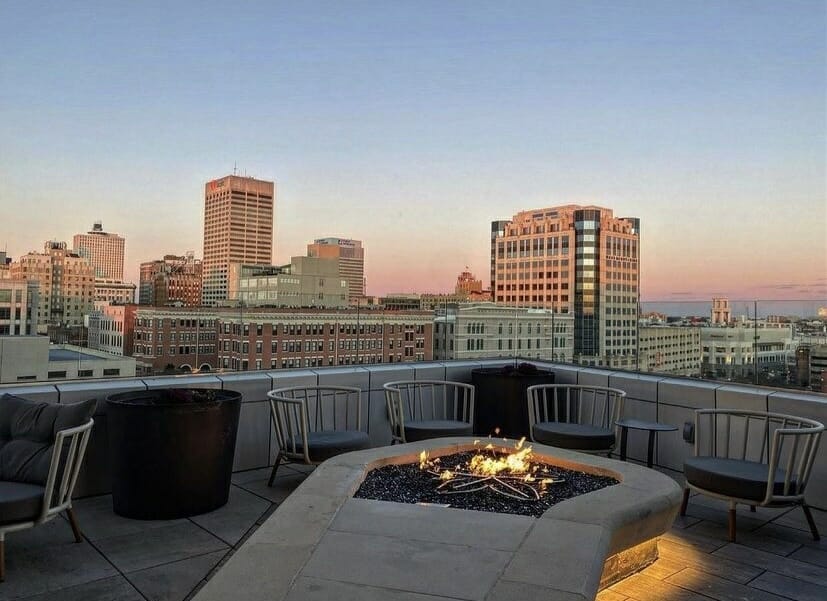 Looking for one of the ultimate Memphis bars with a view?
Beck & Call is here to provide you with a night to remember.
The Memphis skyline always looks superb during the day, but you just wait until it turns dark – that's when this bar's wow factor really comes into play.
On Thursday nights, you'll dance the night away as the resident jazz band plays some of the best classic and new jazz songs.
Beck & Call enforce a strict dress code policy to ensure their whole venue feels sophisticated at all times.
As such, we recommend leaving the workout apparel and flip-flops at home.
If having lots of space to bust out your dance moves is your idea of a good night out, you'll love The Peabody.
Lively bands, expertly-crafted drinks, and 360° views of downtown Memphis make this one hell of a party.
Rooftop parties at The Peabody don't happen all year round, and so be sure to check when the next one is planned before taking the trouble to visit.
As Dean Martin once sang: when the moon hits your eye, like a big pizza pie – that's amore. At Aldo's Pizza Pies, you'll have the opportunity to take in stunning moonlight views while tucking into pizza pie with those you love.
Offering the quaintest rooftop Memphis has to offer, this midtown eatery sells delicious whole pizzas as well as individual slices.
There's even a tasty food option exclusively for children, making Aldo's Pizza Pies the perfect location for family nights together sharing stories under the stars.
Situated inside the Pyramid complex, Mississippi Terrace is a unique place to meet old friends or make new ones.
Offering gorgeous views of the orange sunset, you'll find true happiness here as you tuck into a cheese board and sip on cocktails.
It's one of the best rooftop restaurants in Memphis – hands down!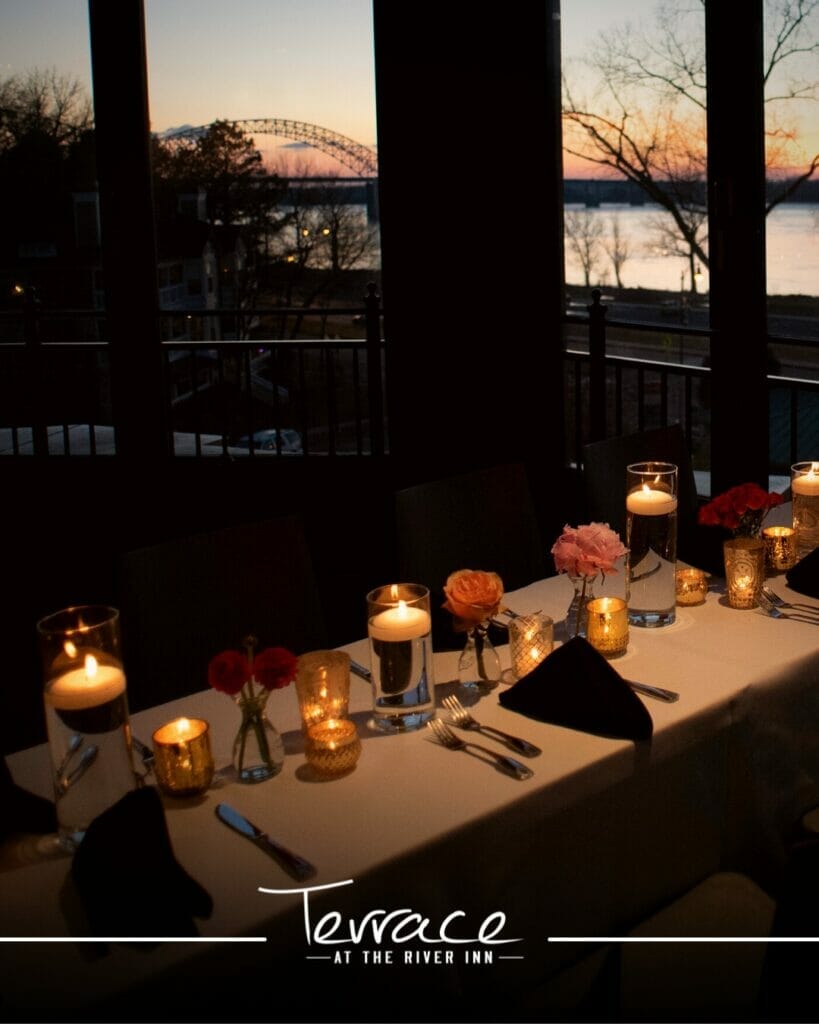 Situated on Harbor Town Square at the edge of the world-famous Mississippi River, Terrace at The River Inn is your go-to place for delicious grub and an unbeatable atmosphere.
Rather than being a rooftop per se, this local-favorite eatery is a terrace.
Here you can eat indoors away from the elements while gazing out of large open windows into the horizon.
Terrace at The River Inn is an ideal location for couples looking to rekindle their love.
There's nothing like a pink-orange sky, yummy food and interesting cocktails to fire up the sparks of romance.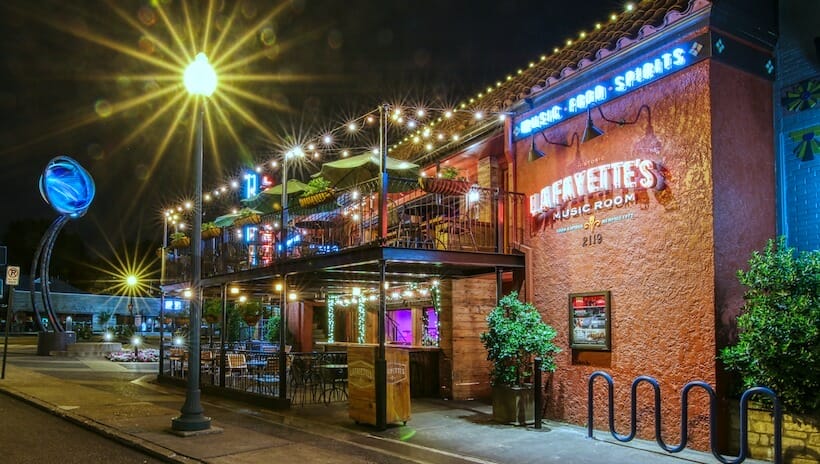 Ask a local to point you in the direction of a great rooftop bar and they'll likely tell you to go to Lafayette's Music Room.
Open daily, this bar celebrates the long-standing musical history of the city.
This music-focused bar has at least one act performing every day, making this a great location for rock fans to discover new music and up-and-coming talent in Memphis.
If you're passionate about finding Memphis restaurants with a view, this isn't one of them.
But with great music, tasty wood-fired pizzas and beers on tap – you wouldn't have time to look out over the skyline anyway.
Although not strictly one of the Memphis rooftop restaurants, Tin Roof is too good to miss off the list (and hey, it has roof in the name at least).
This southern-style live music bar is a must-visit for fans of draft beer, delicious American-style bites and rustic surroundings.
Expect a lively, youthful crowd and great music acts throughout the week.
Favorites at Tin Roof include the chicken tinga tacos, street corn quesadillas and tater tots.
It's an all-American eatery worth a visit (even without a rooftop).
Hey! Want more excellent rooftop bar guides? Check these out!
Get the All-American Travel Secrets!
Don't miss out on America's hidden gems!