St. Petersburg, known affectionately to the locals as St. Pete, is a city in the US state of Florida.
It's a unique place to visit, enjoying an average of 361 days of sunshine per year.
We hope you don't play your visit during the other 4 days!
Between a packed program of sightseeing, museum visits, and afternoons relaxing on the beach, you'll need to find some spots to eat and drink. That's where we come in.
St. Pete has loads of sophisticated rooftop bars and restaurants that we're dying for you to see.
Read on to discover the 11 best rooftop restaurants in St. Pete.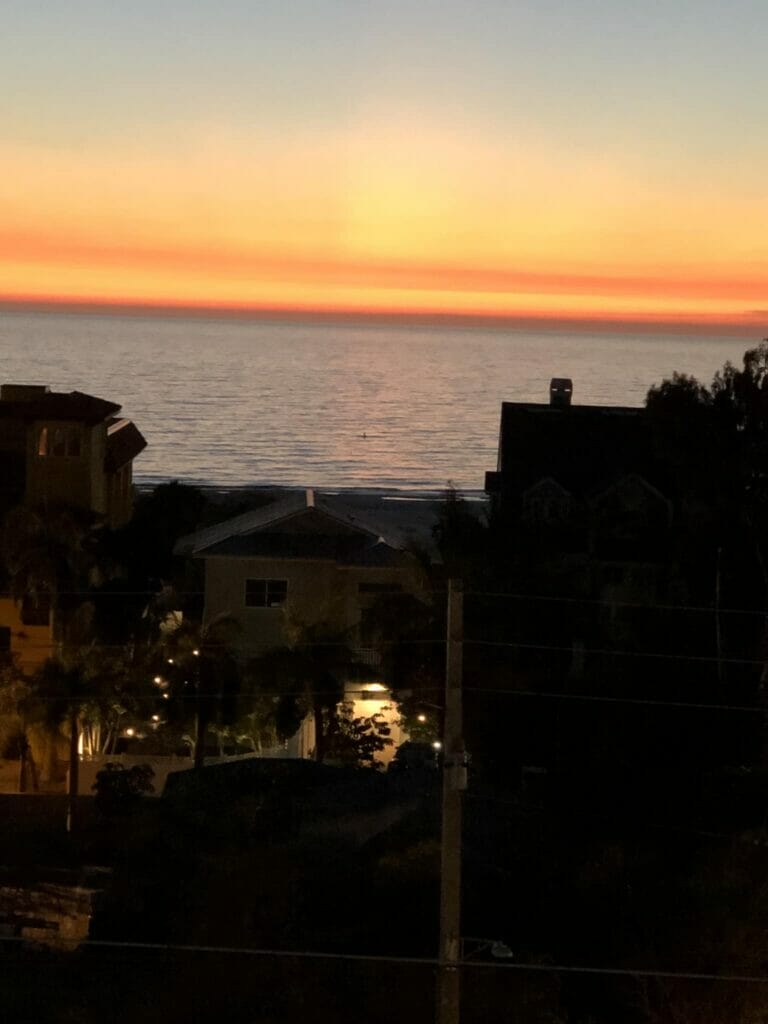 360 Rooftop is aptly named, promising full panoramic views of the Gulf of Mexico that'll delight you and your traveling party.
The use of astroturf on the roof here successfully creates a well-designed outdoor space and accommodating waiters are on-hand to boost the mood.
A fun and energetic atmosphere awaits.
360 Rooftop is a great venue for a celebratory night.
You'll dance the night away while snacking on roasted cauliflower and sipping on crafted cocktails. What's not to love!
The cabanas at 360 Rooftop are first-come-first-served – so be sure to arrive early for the best experience in all of St. Petersburg.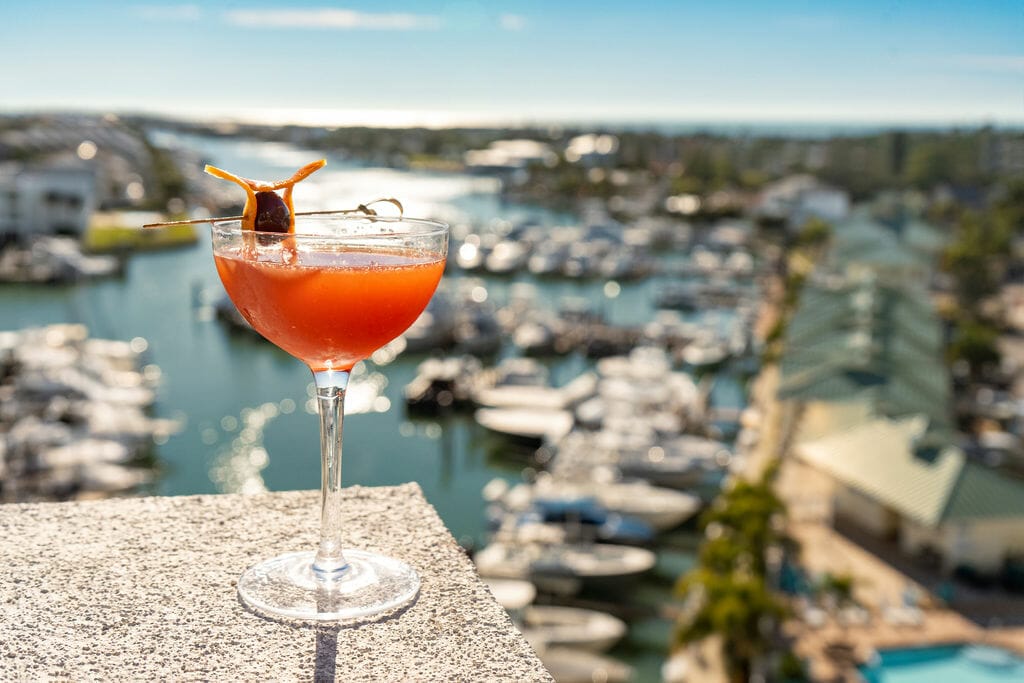 Anyone for watermelon feta salad under the sun?
Vista at the Top can provide exactly that, for just $13.
This minimalist setting on Madonna Boulevard is one of St. Pete's best rooftop restaurants and features elevated tapas fare suitable for sharing.
For an evening of comfort and high-quality service, book your spot in the rooftop lounge at Vista at the Top.
Of all the St Pete bars with a view, Birchwood Canopy stands apart from the crowd.
Serving light bites and cocktails in a stylish rooftop environment, visitors can expect stunning views of Tampa Bay.
It's the ultimate downtown St. Pete rooftop restaurant.
Menu favorites include the margarita flatbread, cheesy tots, and Canopy burger.
Every type of drinker is catered for at Birchwood Canopy – with beers, wines, cocktails and alcohol-free options available.
For a romantic evening watching the sunset, make sure you book strategically. It's an ideal location for a first kiss under the moonlight, or even a proposal…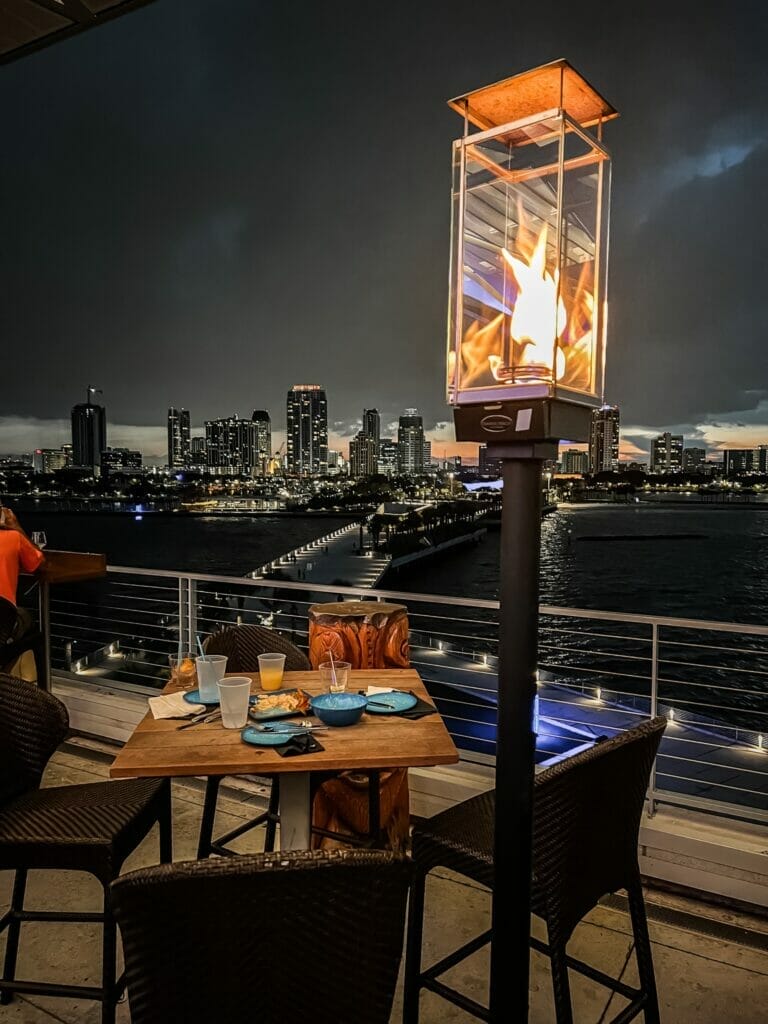 Looking for the quirkiest rooftop St. Pete has to offer?
Pier Teaki has an enjoyable tiki theme which appears throughout your experience.
Boasting the best pina colada in Florida, this establishment is one of the best rooftop restaurants in St. Pete and will become your new favorite chill-out spot in no time.
The picturesque view here has to be seen to be believed.
Bar bites start from as little as $4, and 28 types of rum guarantee you'll never sip the same drink twice.
You can rely on the DJ at Pier Teaki to play the best tunes around.
You'll feel like you're in a movie as the DJ's catchy soundtrack accompanies your longing looks across the city.
5. Vantage Rooftop Bar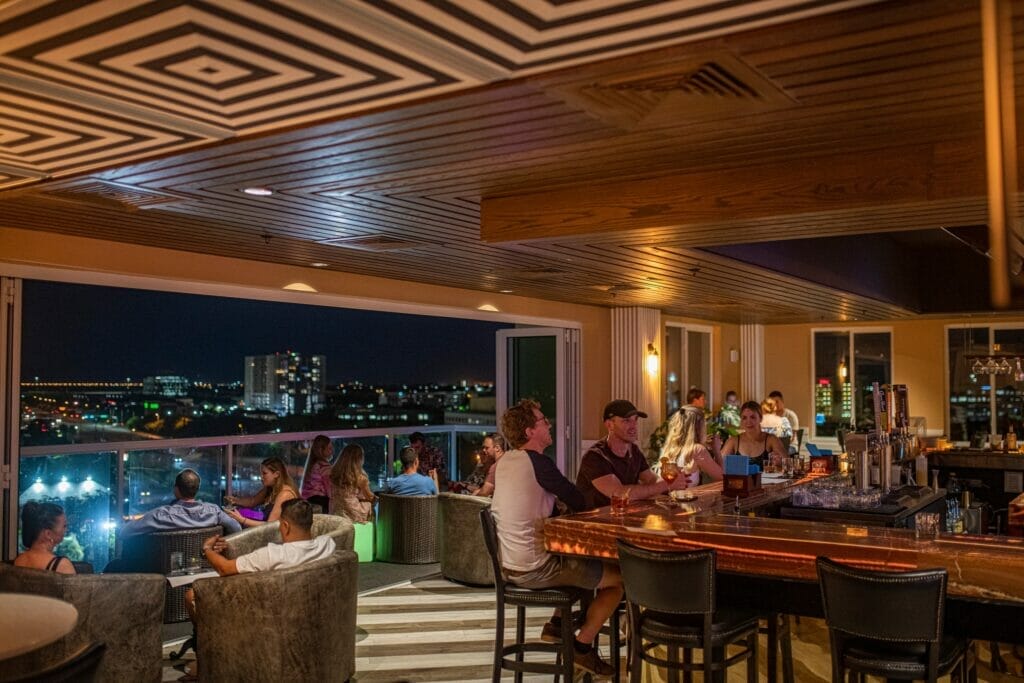 A vantage point is a place affording a good view of something, and there couldn't be a more accurate description of this rooftop bar on top of The Karol Hotel.
Vantage Rooftop Bar is a diverse setting – ideal for a ladies' night out or for a family catching up after time apart.
The unbelievable views on display here are a great conversation starter.
Visitors to this establishment can expect to find flavorful wines from Italy, France, Germany, New Zealand, Washington, Oregon, and California.
Our cocktail recommendation is the Karol Bliss – a sinful mix of wheatley vodka, elderflower, lime and raspberry.
6. Level 11 Rooftop Bar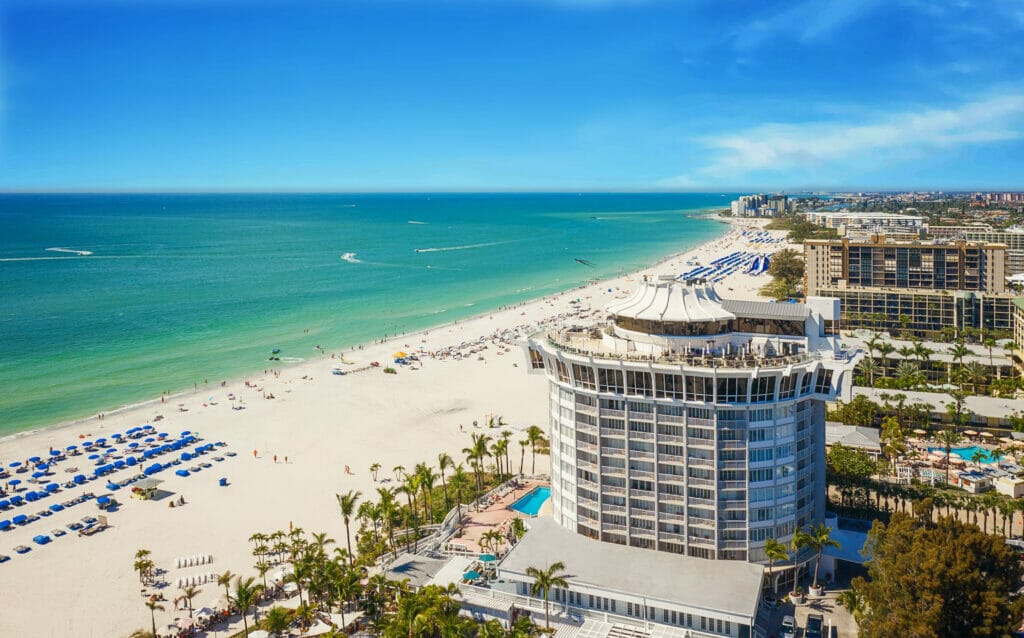 Located on the beach, this bar is one of the most interesting rooftop restaurants St. Pete has to offer.
Expect stunning sunset views and a vibrant environment of like-minded people.
Level 11 Rooftop Bar is adults-only, making it a great spot for meeting new people.
This eatery and bar has successfully created the perfect vibe.
You'll feel like you're on a permanent vacation here, even if you're a local resident.
It doesn't cost too much here for delicious food, which includes charcuterie boards that are perfect for sharing.
The hummus platter is also a must-try.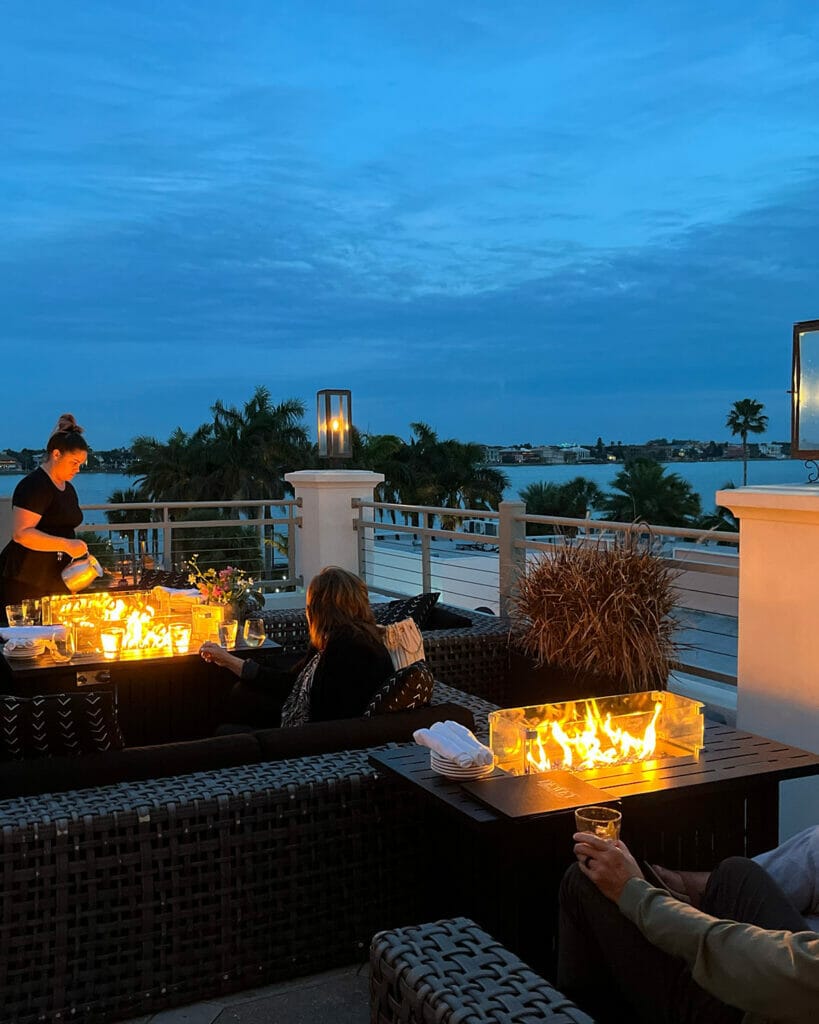 One of the newest additions to St. Petersburg's rooftop market, Gulf Primeval On The Roof is already making waves.
The 360° view available here includes the city, Tampa Bay and the Gulf of Mexico. You won't know where to look first.
This establishment has a classy vibe and offers a limited but delicious menu of oyster dishes.
The Oyster Evander, truffled potato chips and a glass of your finest white wine please bartender!
Rooftop seating, coastal fare and a cool gulf breeze?
Yes please!
82 Degrees is a perfect hang-out spot selling flatbreads, soups, seafood, cocktails, wine, and beer.
It's one of our favorite St Pete restaurants with a view.
The nature-imbued interiors blur the line between spaces in this trendy eatery overlooking the Gulf of Mexico.
It's called 82 Degrees because that's the average daily temperature on St. Pete Beach.
Wow!
Don't worry, umbrellas are available to provide shade.
Imagine this.
You're sitting looking out onto the water, excited to get back in for a swim, but you're enjoying the food you're eating too much.
You're dining at The Dewey on St. Pete Beach.
The delightful shrimp and grits for sale here offer newcomers a taste of Southern tradition.
Other popular items on the menu include the steak and eggs, Scottish salmon and tofu scramble.
Top off the perfect lunch break with a bourbon peach brown butter cake – you won't regret it!
With so much delicious food on offer and great views to inspire your next adventure, you can't go wrong at The Dewey.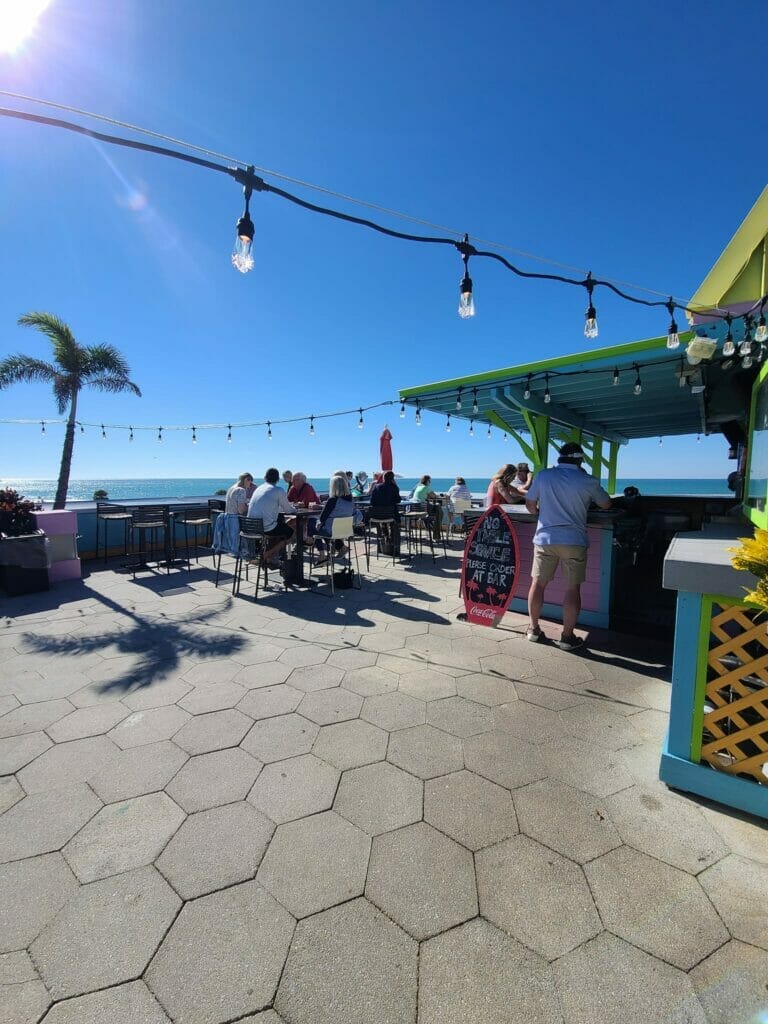 Hurricane Seafood Restaurant doesn't just serve delicious seafood fare, it serves up gorgeous views too.
Set within a Victorian-style building, this eatery is one of the most unique St. Pete rooftop restaurants.
It has a colorful decor consisting of vivid yellows, greens and pinks.
Staff at Hurricane Seafood Restaurant are experts in their field and are able to provide information about how the food on their menu is sourced.
We recommend the lobster bisque or grouper sandwich.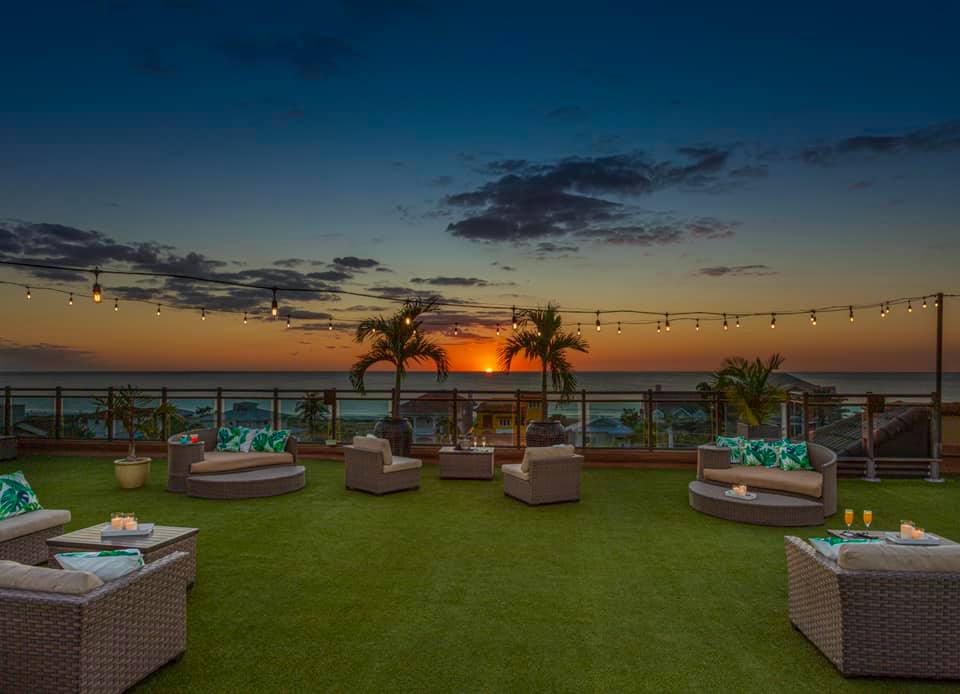 Are you looking for the crème de la crème of St Pete rooftop bars?
The Hotel Zamora opened its doors to answer your prayers.
Whether you socialize at the bar, or chill away from the hustle-and-bustle on plush lounge furniture, a night packed full of memories is guaranteed.
You won't believe the majesty of this sunset as it unfolds before your very eyes.
Hey! Want more excellent rooftop bar guides? Check these out!
Get the All-American Travel Secrets!
Don't miss out on America's hidden gems!