Formerly most famous for the Columbus-style pizza, that delicious mix of cracker-thin crust and rich sauce, Columbus' food and drinks scene has recently gone from strength to strength.
Whether you're looking to sample some of the city's increasing array of international options that hail from Vietnam to Ethiopia or want to taste some of the best, fresh seasonal produce that the rich farmland of Oho produces, the city has you covered.
And there are always the delights of the city's rich coffee culture and thriving beer scene to wash it all down with.
And there are no better places to sample all of this than the best rooftop restaurants in Columbus, marrying the best food and drink in the city with horizon-spanning views and wide open skies.
Hey looking for more great Ohio content? Head here!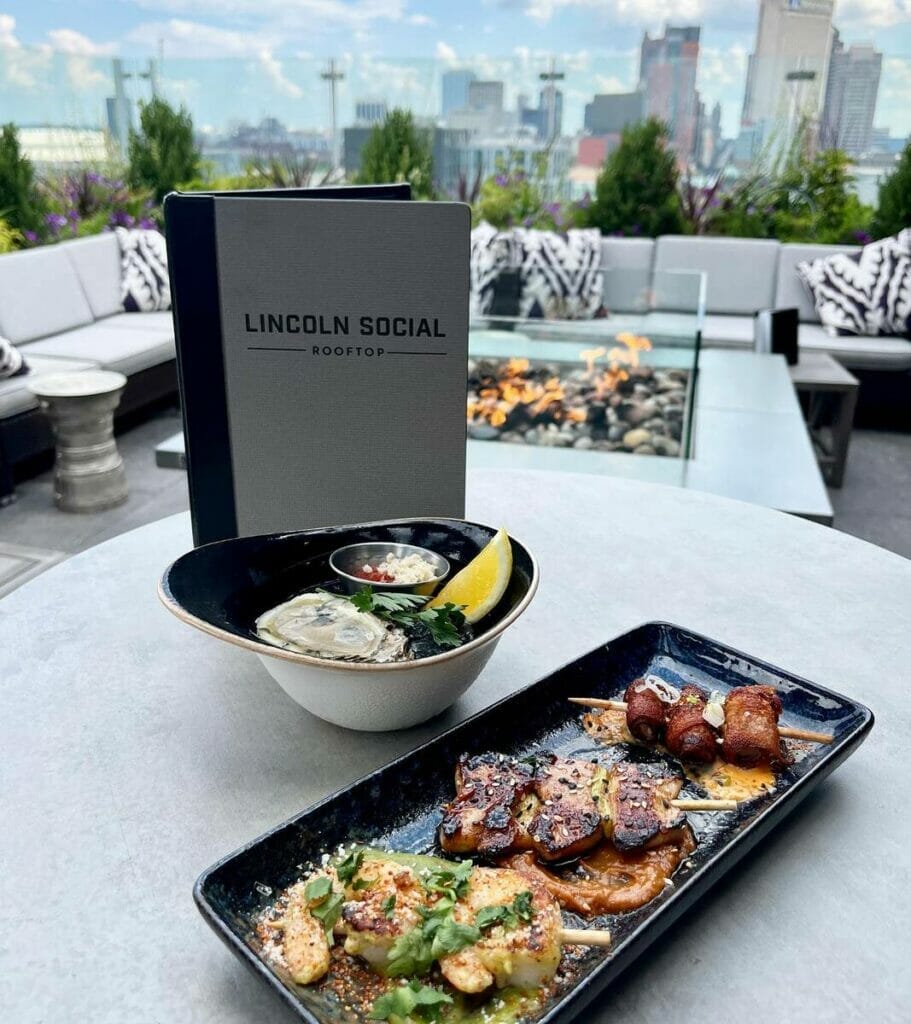 A sleek drinking spot in the sky, the Lincoln Social Rooftop gives you great views down into the glittering city streets from the ninth floor.
Watch the city thrum along below you while sipping on one of their mixologist-designed cocktails and taking your pick from their array of small plates.
The sun setting over the Columbus skyline, a fragrant taco in one hand and a craft cocktail in the other, it doesn't get much better.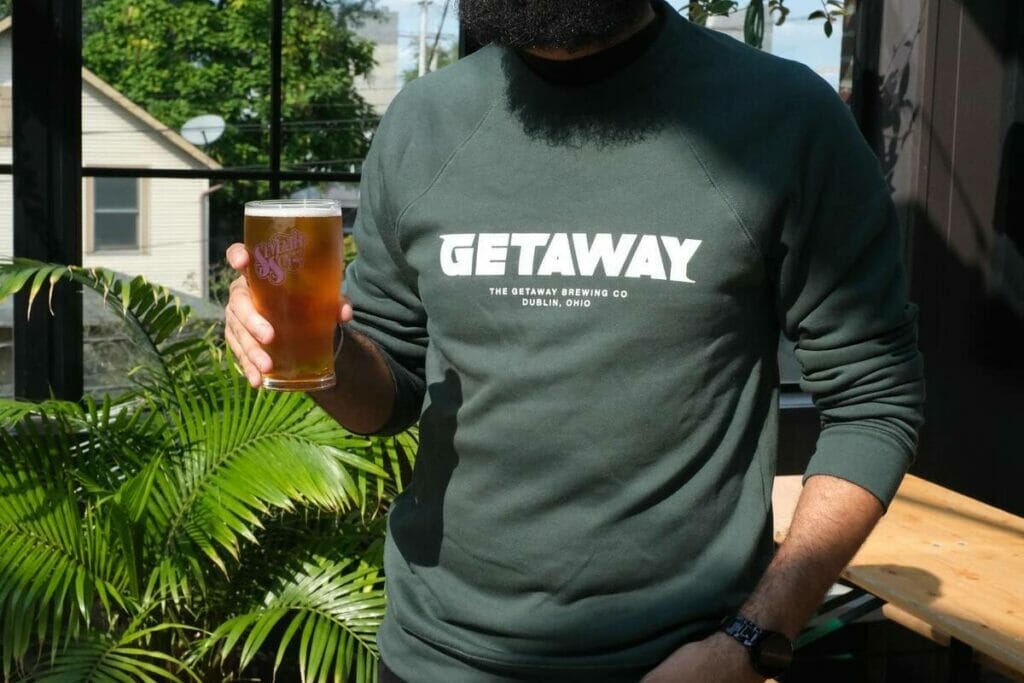 Nestled amid the historic charm of Columbus' Italian Village you'll find the beer-led charms of Seventh Son Brewing.
They're one of the breweries that have helped put the Ohio craft beer scene on the maps, staking out Columbus as a destination spot for beer aficionados.
And their patio is a delight, with a retractable roof it offers all-weather sunset/star-gazing and is the place to be on a summer weekend, drinking the city's best beer with great music and great people.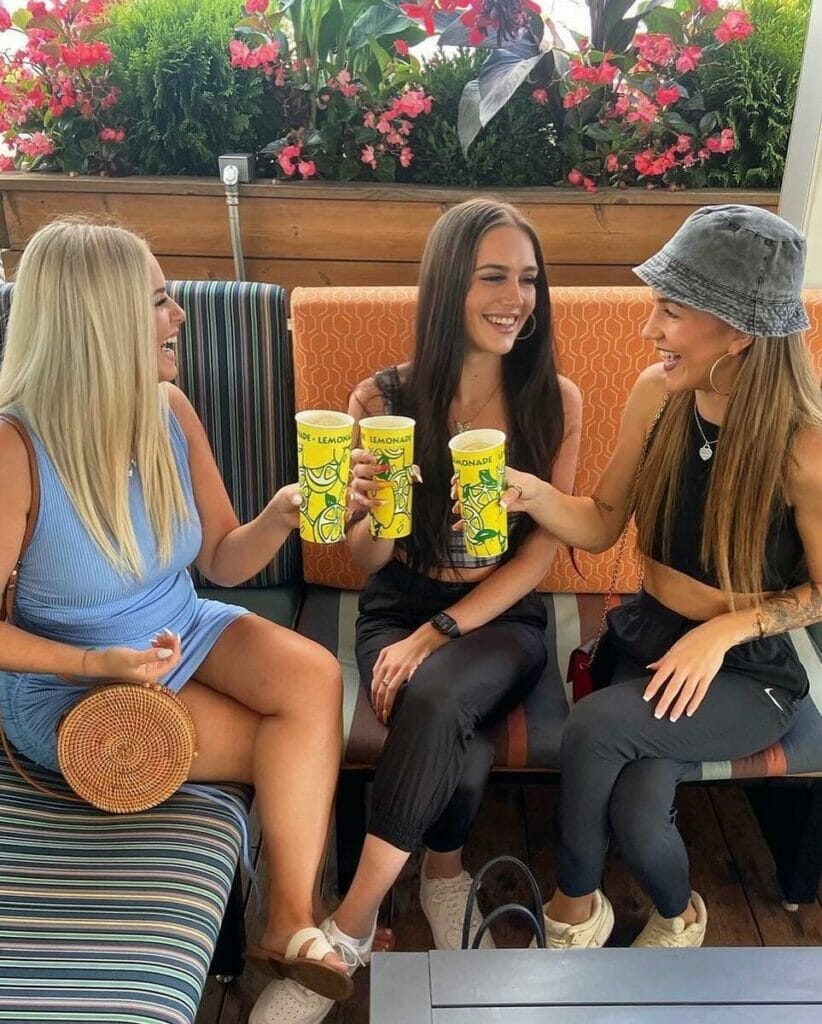 Not so much a bar or restaurant but a collection of the finest Columbus rooftop restaurants, a maze of eight individual kitchens serving up some of the city's most innovative food, all in the same place.
Come along to spend an evening meandering between the separate spaces, eating a little bit of this, trying a little bit of that, tasting some of the city's best cooking as the sky goes from radiant blow to deep, golden orange.
Take a little drive out of the city, heading north to Dublin on the outer edges of Columbus, and you will be treated to one of Columbus's best rooftop restaurants, with views looking out onto the city that stretches away to the horizon in front of you.
The views truly are panoramic and their charms are amplified by the tapas-style Spanish-inspired dishes that are being served up around the firepits and Ibiza-esque furniture.
The stylish setting is set off by the delicious craft cocktails that have been cooked up in-house and are served by professional mixologists.
It might not be snug in the center of downtown but that short trip north rewards you with one of the best Columbus rooftop bars going.
Mandrake pitch themselves as 'the ultimate rooftop experience' and, you know what, they're not far wrong.
It's a lush, decadent space of overhanging plants and low lighting that looks out to the horizon as the city grows into skyscrapers in the distance.
It's fairly new on the rooftop bar scene and you can tell, everything feels flush and modern, from the luxurious furniture to the slick tapas-style menu and inventive cocktails.
Whether you're celebrating with friends or taking that special somebody out on the town, Mandrake will always bring a little glamor.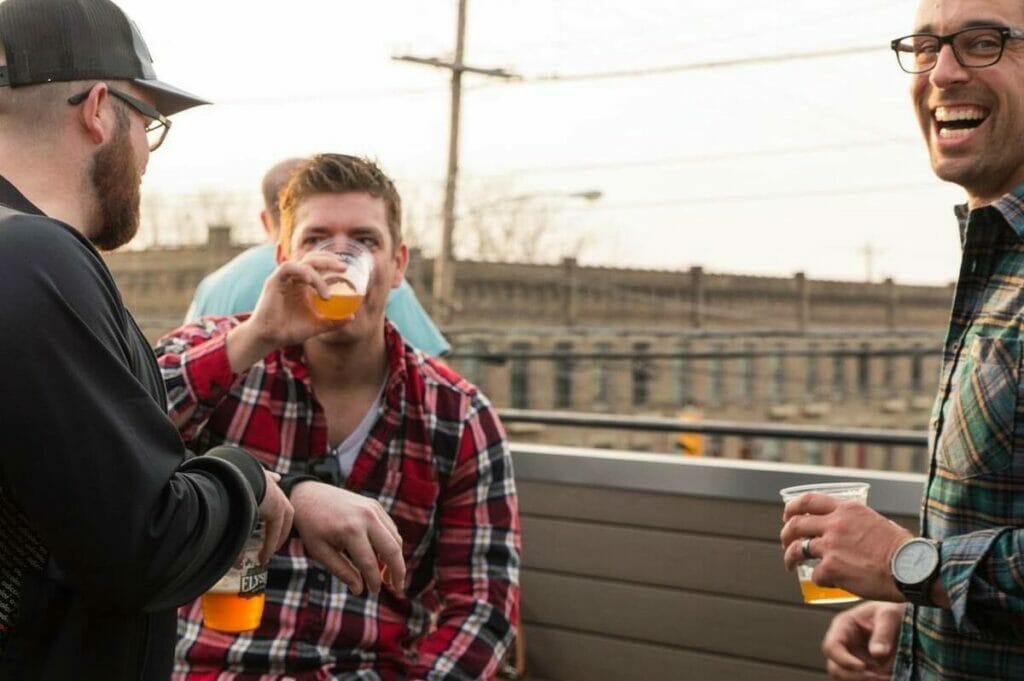 Nestled down in the Arena District you'll find a rooftop that stands out among the other Columbus bars with a view.
This isn't the place for refined small plates or auteur cocktails, but great music, a thriving atmosphere and casual eating and drinking under a horizon-wide sky.
The drinks pack a punch, as do the regular food trucks and street food pop-ups that cater to the hungry masses as the sound of guitar rings out over the wide patio space.
Grab some friends, come grab a drink and enjoy some of the city's best informal live music.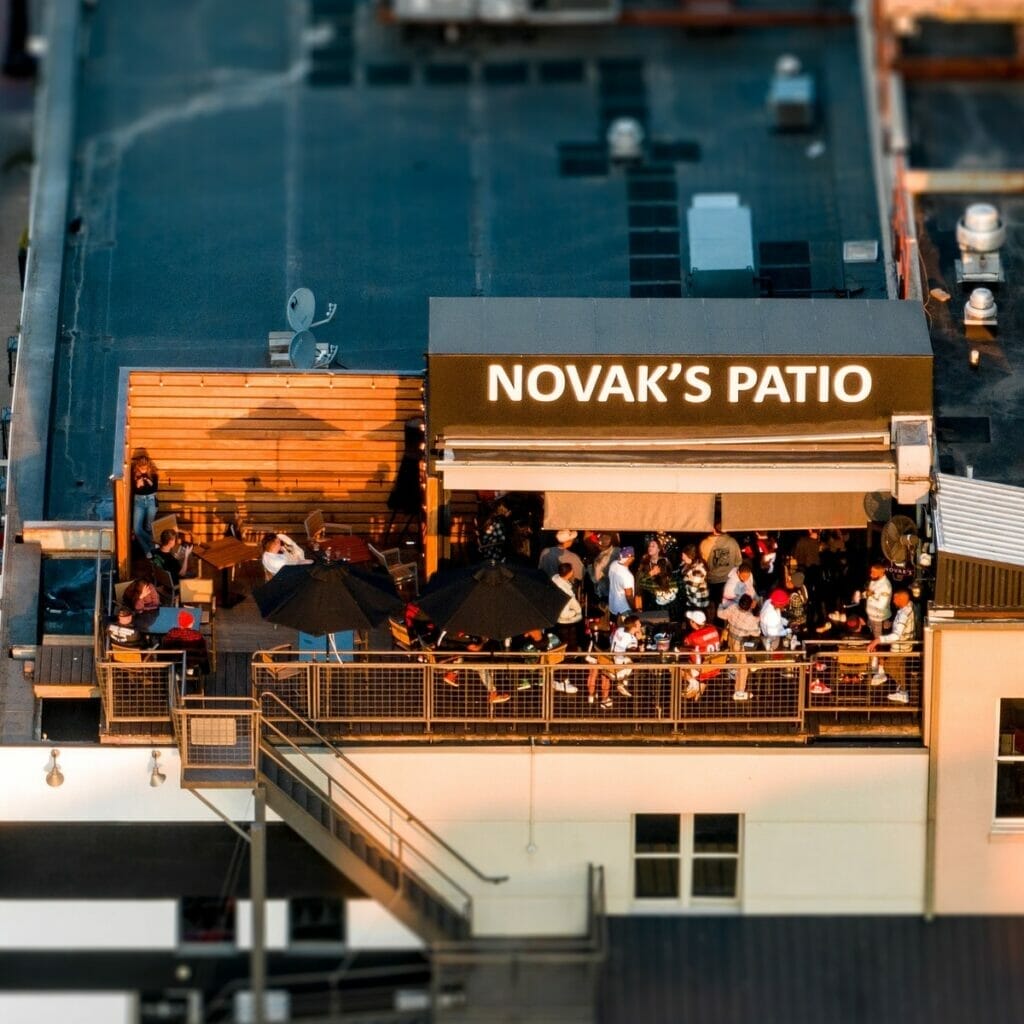 The view out over North Market might not be the most scenic that Columbus has to offer, but what Novak's lacks in high-altitude viewing it makes up for in down-to-earth charm and all-around fun.
The house cocktails are a guaranteed good time (you can never go far wrong with their Lemon Shake-Up) and while they are kitchen-less, their ingenious team have partnered up with the nearby Barley's Brewing Company to let you order their food directly to your table.
Two great Columbus establishments working together.
We love to see it.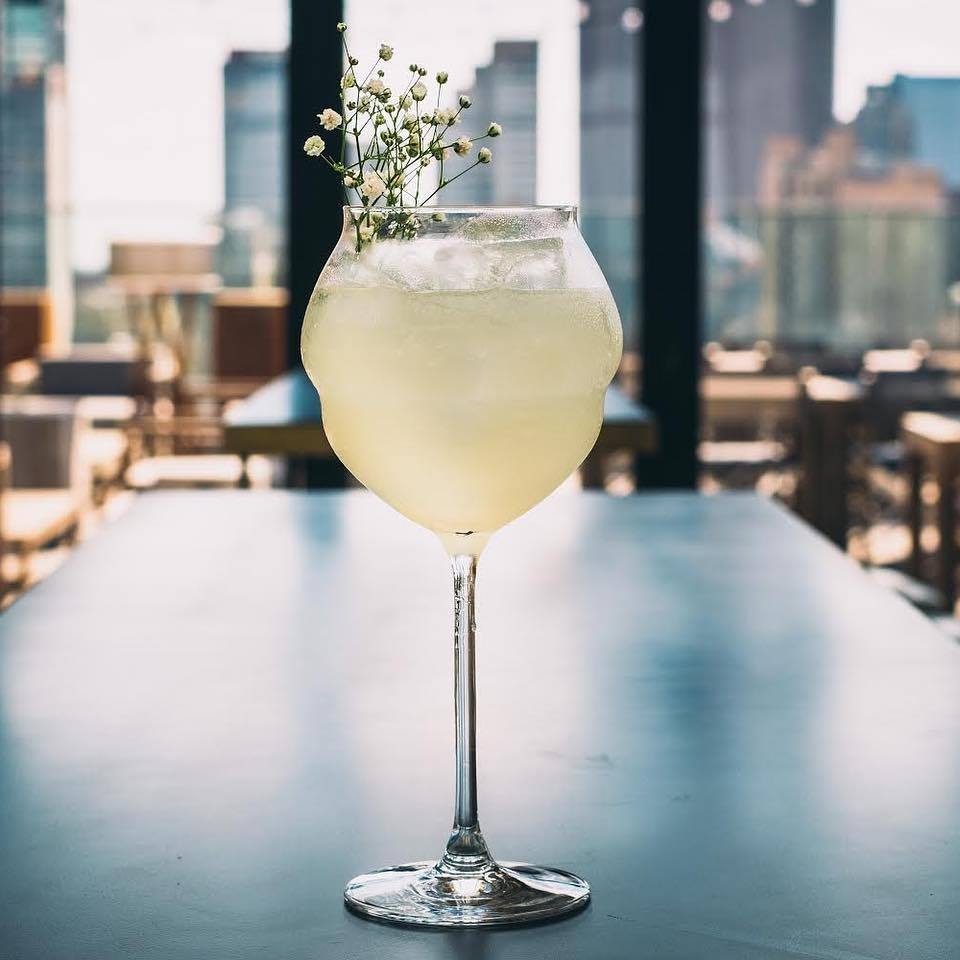 Recognized as one of the best rooftop restaurants in Columbus, Goodale Station combines cutting-edge contemporary dining with some of the best views the city has to offer.
Grab a table looking out over the flush green of Goodale Park and dine on the chef-led menu, featuring specialties such as short rib with a coffee rub, local Ohio seasonal veg refreshed with a harissa vinaigrette, or some of the best sushi grade fresh salmon you'll find in the country.
With the sky stretching out around you and the flavors singing like that, it's a treat for the senses.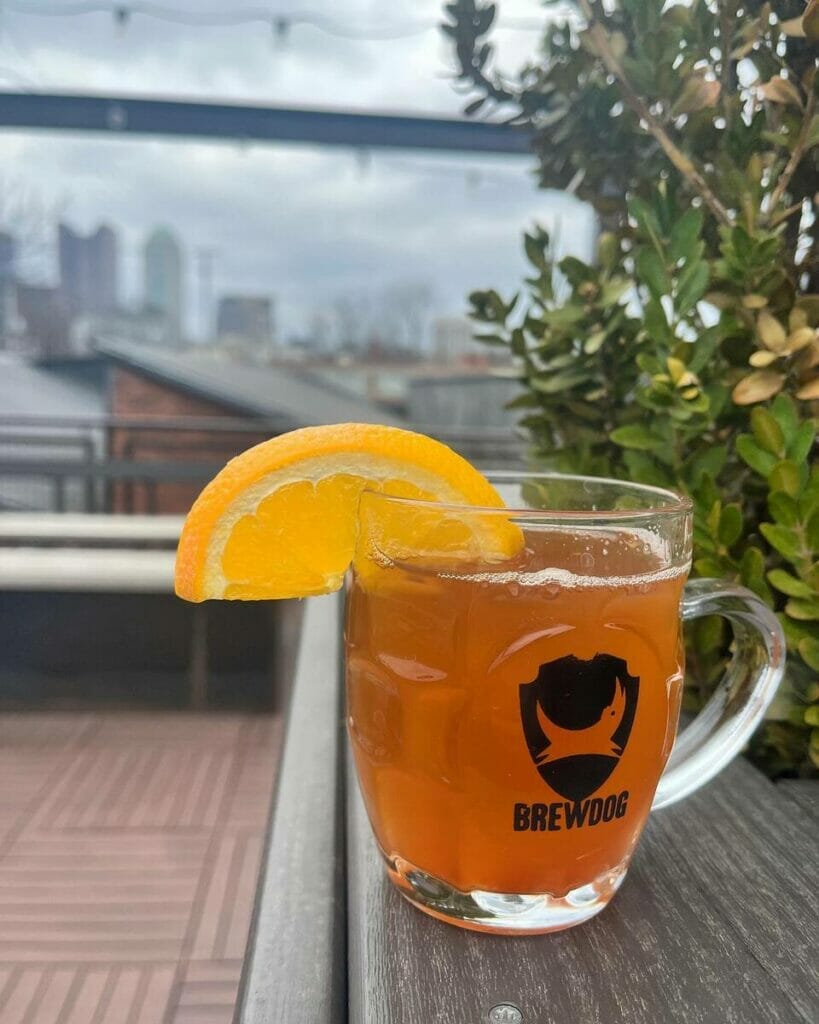 We all know BrewDog by now and their Franklinton branch plays the hits – a solid selection of craft ales, a young, lively crowd, and reliable pub food.
What sets this one out is its buzzy rooftop.
Head along here on a weekend night to see the city in full flow, young things enjoying life under the lights and open sky with reliably great beer (you can choose from the 40 that are on top), and good music.
A slightly more sophisticated option, the glamorous RH Rooftop is one of the most glamorous rooftop restaurants Columbus has to offer, a place of green leaves, glitzy chandeliers, and the flow of indoor fountains.
It's perched on the third floor of a design gallery and shares in that attitude of carefully curated appeal, all surrounded by views that stretch out to the sky behind the city.
And there is substance to the show, there in the huge selection of fine wines and local craft beers that accompany the inventive, modern menu.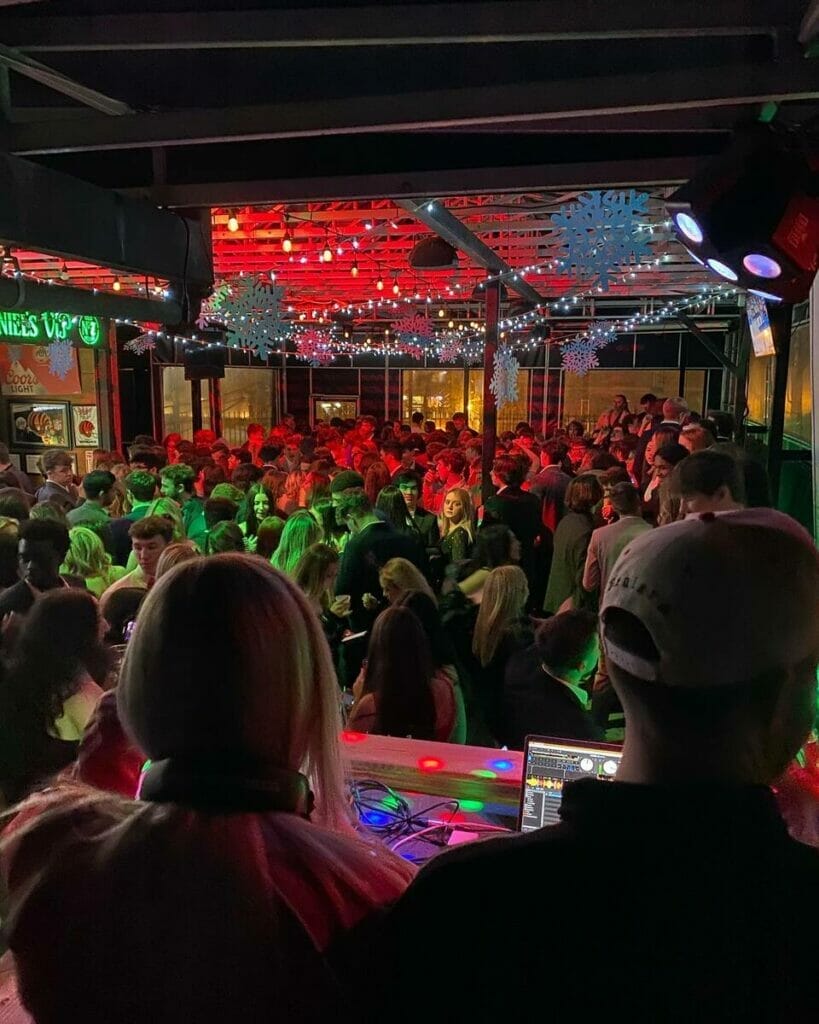 If you want to see the liveliest rooftop Columbus has to offer, look no further than Callahan's.
It's a mingling of sports bar and pulsing nightclub spread out over two floors, mixing a dance area and open rooftop patio together to make what can only be described as a good time.
If you're feeling peckish you can customize your own pizza or inhale one of their delicious pork sandwiches, but this isn't some glitzy downtown Columbus rooftop restaurant.
Leave the appetite at home and come along for the best under-the-stars dancing the city has to offer.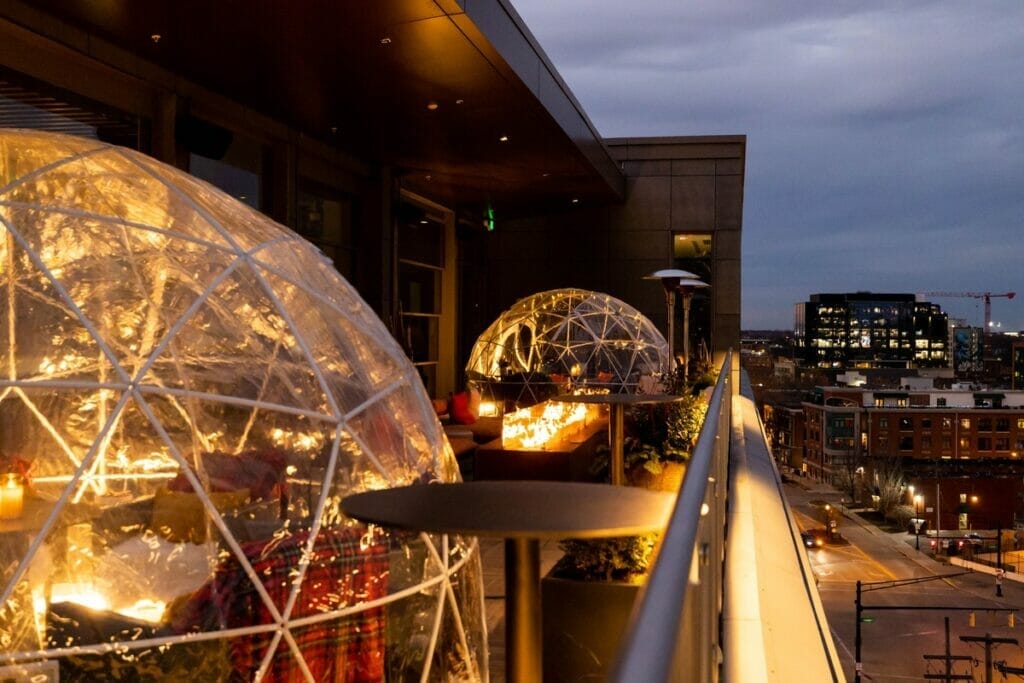 An altogether different proposition, Lumin is the place to come along to bring a little touch of sophistication to your evening.
It's close to Goodale Park (and Goodale Station bar if you want to go two rooftops in one night) and its prime location makes it the perfect jumping-off spot for an evening out on the town.
Come along around sundown and grab a banister-side seat to watch the city turn from day to night – sun setting, building lights flickering to life, echoing the stars appearing above, and know that, cocktail in hand, you've started your night right.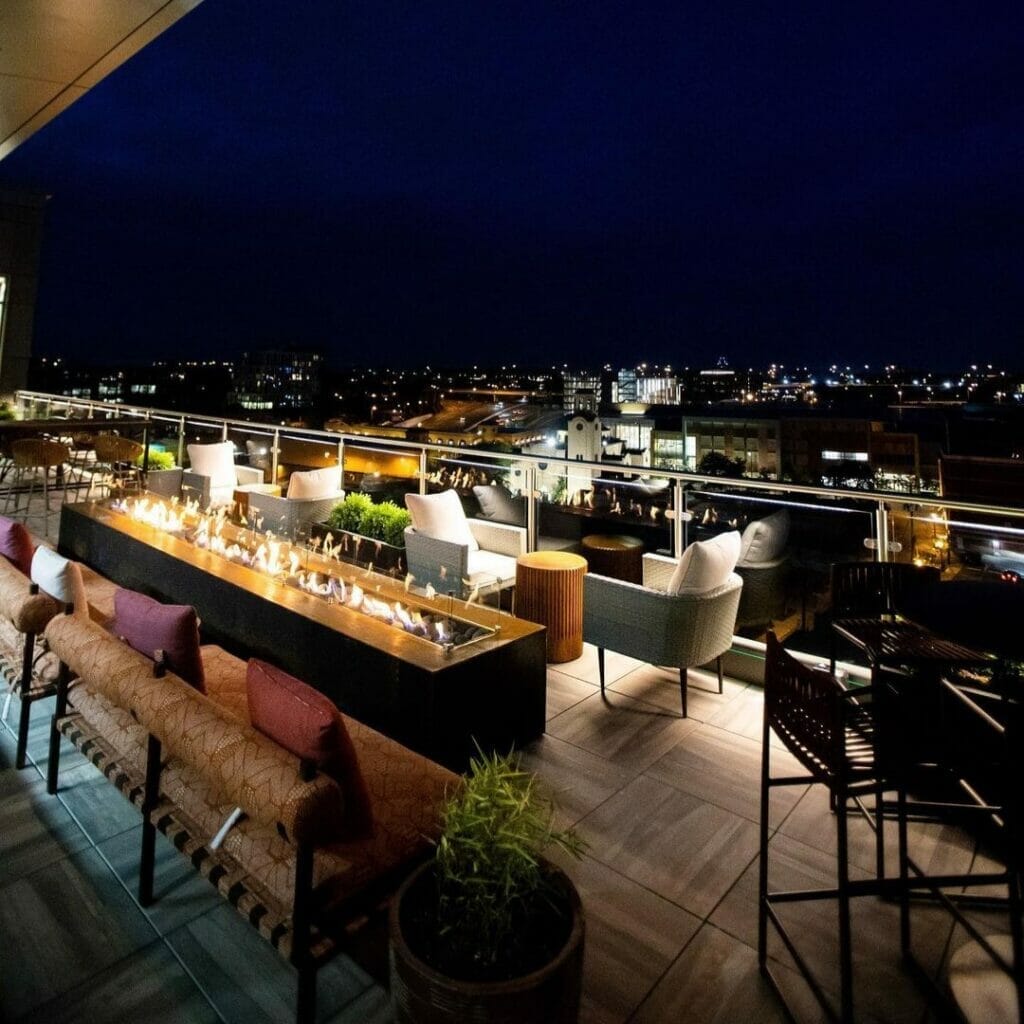 If the sun's out, and you're out, and you're looking for some fresh cocktails and poolside fun, get yourself along to the Terrace Bar in Short North.
While it doesn't have the menu to rival some of the other Columbus restaurants with a view , what it lacks in culinary flair it makes up for in pulsing summer atmosphere.
Hidden away from street level, it's an oasis in the city – the perfect place to head to for delicious drinks and that atmosphere that only sunshine and a pool can provide.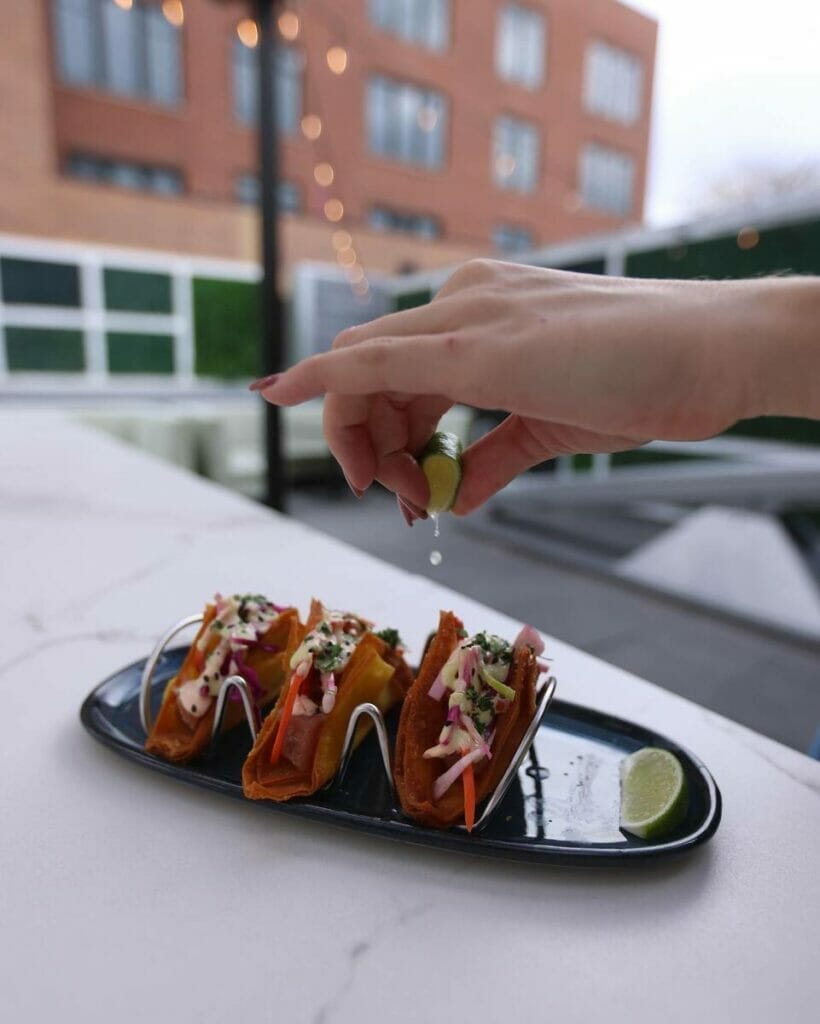 A unique little place, SeeSaw prides itself on being the place to come for a quirky take on nightlife and the destination for any big game day.
It's got range, so whether you're looking for a sleek modern space to watch the game with some friends, come along.
Or, if you want a wild, extremely Instagram-able night with bottle service and pulsing music, just come back a few hours later.
And head on up to the rooftop to find the seesaw itself.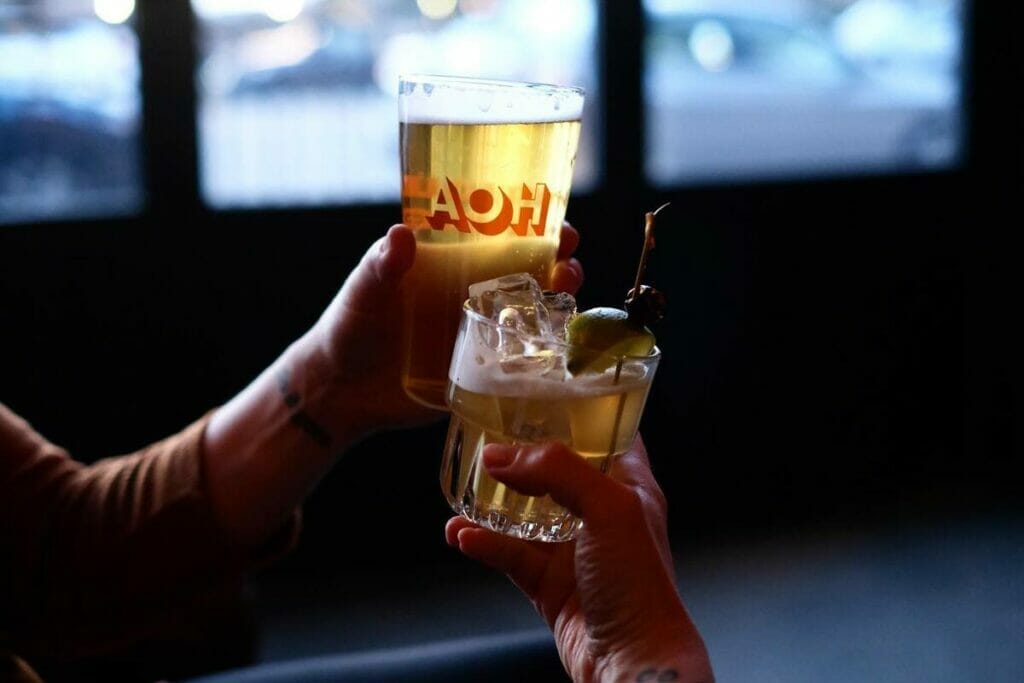 A charming little rooftop nestled deep down in the Columbus' brewery district, AOH is an atmospheric space with great staff and better beers.
They specialize in sour beers and it's the best place in town to try something g a little tart, a little different.
Grab a seat by the fireplace with a few close friends and work your way through the nooks and crannies o the menu, whether it's the unique ales they offer, the delicious craft cocktails, or some of the carefully selected wines.
It's a chilled place that's dedicated to showcasing some of the best drinks coming out of Columbus.
Hey! Want more excellent rooftop bar guides? Check these out!
Get the All-American Travel Secrets!
Don't miss out on America's hidden gems!