Louisville should be on your travel bucket list – and not just for the Kentucky Derby.
This city combines history, sports and culture to create the perfect storm for a perfect vacation.
While savoring this spectacular city you should visit some of the best bakeries in Louisville.
Many of these establishments are not only super cute but also serve up ample assortments of scrumptious goodies, breakfasts, lunches and more!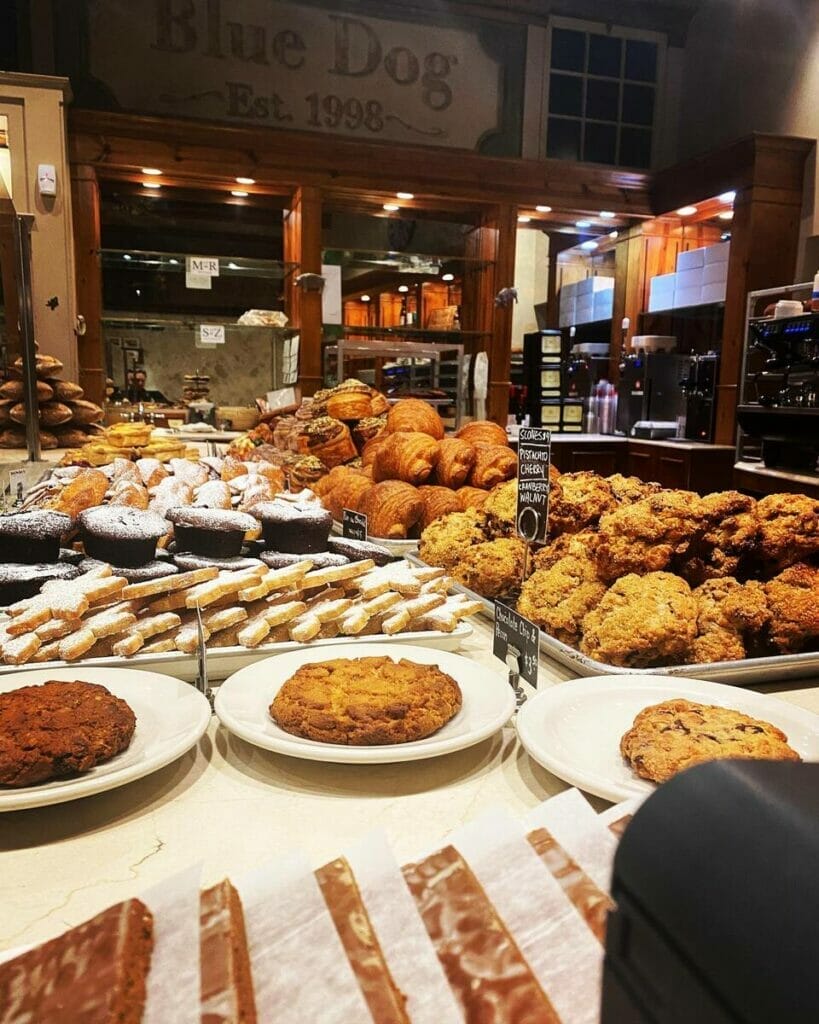 Starting life specializing in exquisite European-style loaves and pastries.
Blue Dog has gone from strength to strength, expanding their selection to include breakfast, brunch and lunch items.
The red brick exterior and wooden interior of Blue Dog is as cute and homey as their food.
Whether you choose to sit in or make use of their outside seating, you'll find the atmosphere matches the tone of the artisanal delights served.
Get stuck into sumptuously filled flatbreads, accompanied by cups of Illy coffee and finish up with any one of their dessert pastries.
After that, try and say this isn't one of the best bakeries in Louisville.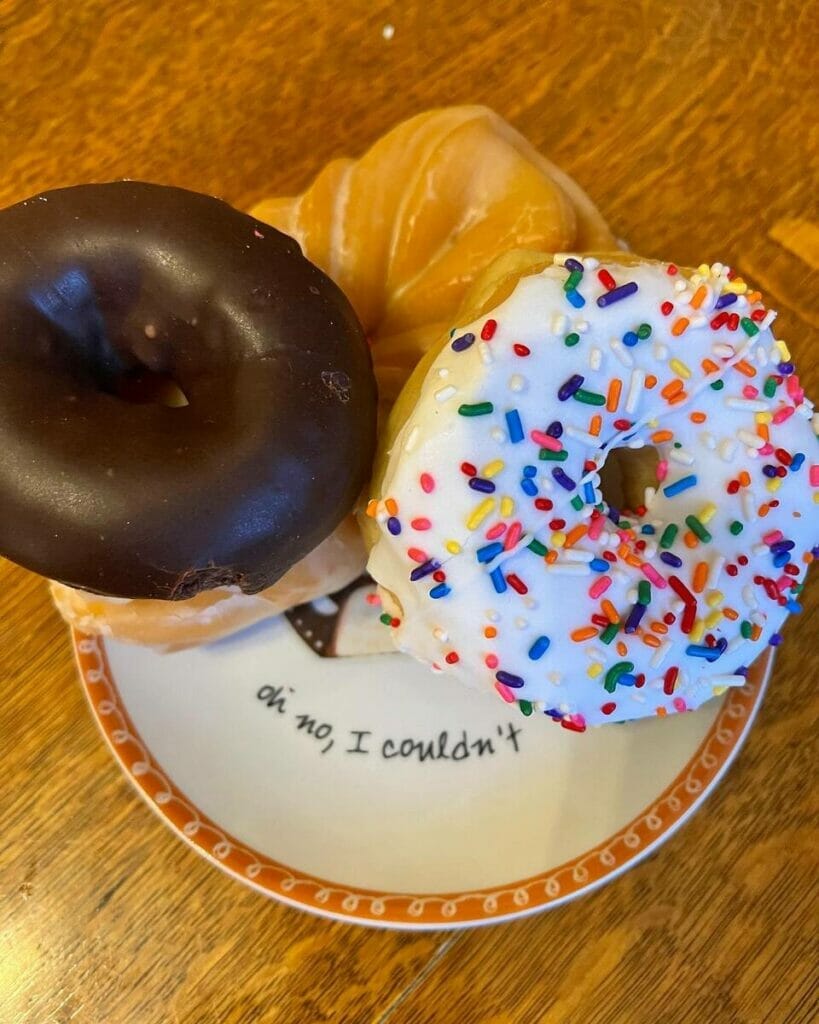 At Nord's, you'll frequently see the staff refilling empty racks with fresh product thanks to how quickly everything sells.
Another green flag pointing to Nord's quality is how often you'll see a line going out the door.
Nord's primarily focuses on treats from the sweeter end of the spectrum, like Danishes and some of the best cupcakes in Louisville.
Their doughnuts also come highly regarded with a substantial list of flavors.
Many of the doughnut flavors are classics but they have particular standouts too, like the exceedingly popular Maple Bacon.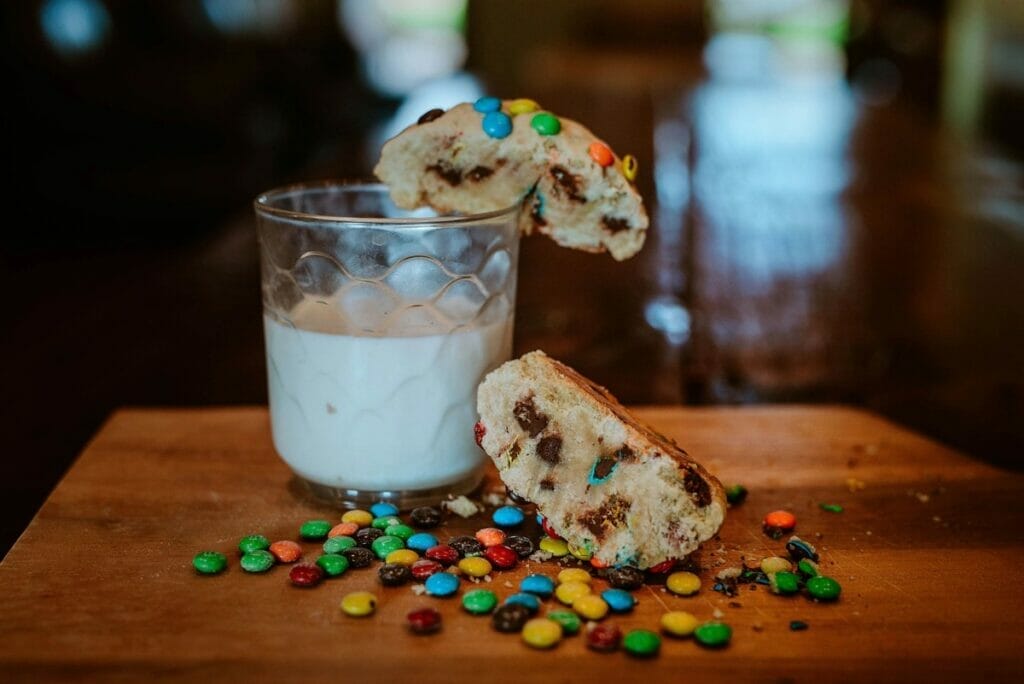 This is a brilliant find for all of you with a craving for cookies in Louisville.
Bae's offers a menu brimming with different cookie flavors and even cookie cakes – no one's judging if you buy an entire cookie cake for yourself!
Many of the cookie fillings draw inspiration from childhood favorites such as Reese's Pieces, Oreos and M&Ms.
The cookies here are huge, but that shouldn't deter you from buying a selection.
Or potentially picking out some of the other sensational products available.
Such as the scones, brownies and cream puffs, all of which come in a variety of flavors.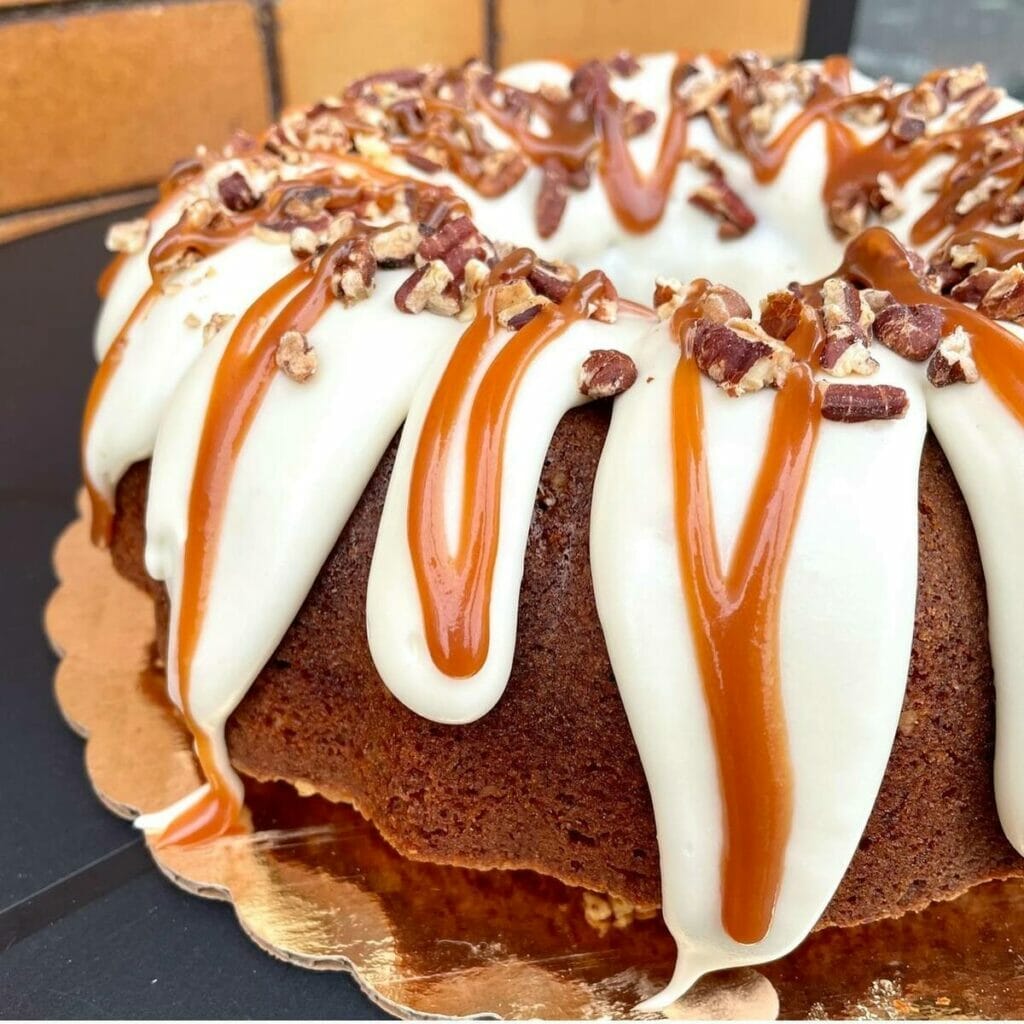 Wiltshire Pantry Bakery and Cafe has two locations.
Hopefully, this means you're close by at some point during your trip, as the entirety of the extensive menu packs a serious punch.
With a menu so abundant, it can be daunting when choosing what you want, especially as the menu goes beyond pastries and loaves of bread, including a multitude of sandwiches, salads and soups.
Rest assured it's all superb.
If you're after some of their tried and tested products, go for a homemade pop-tart or quiche – loved by both regular customers and one-time visitors.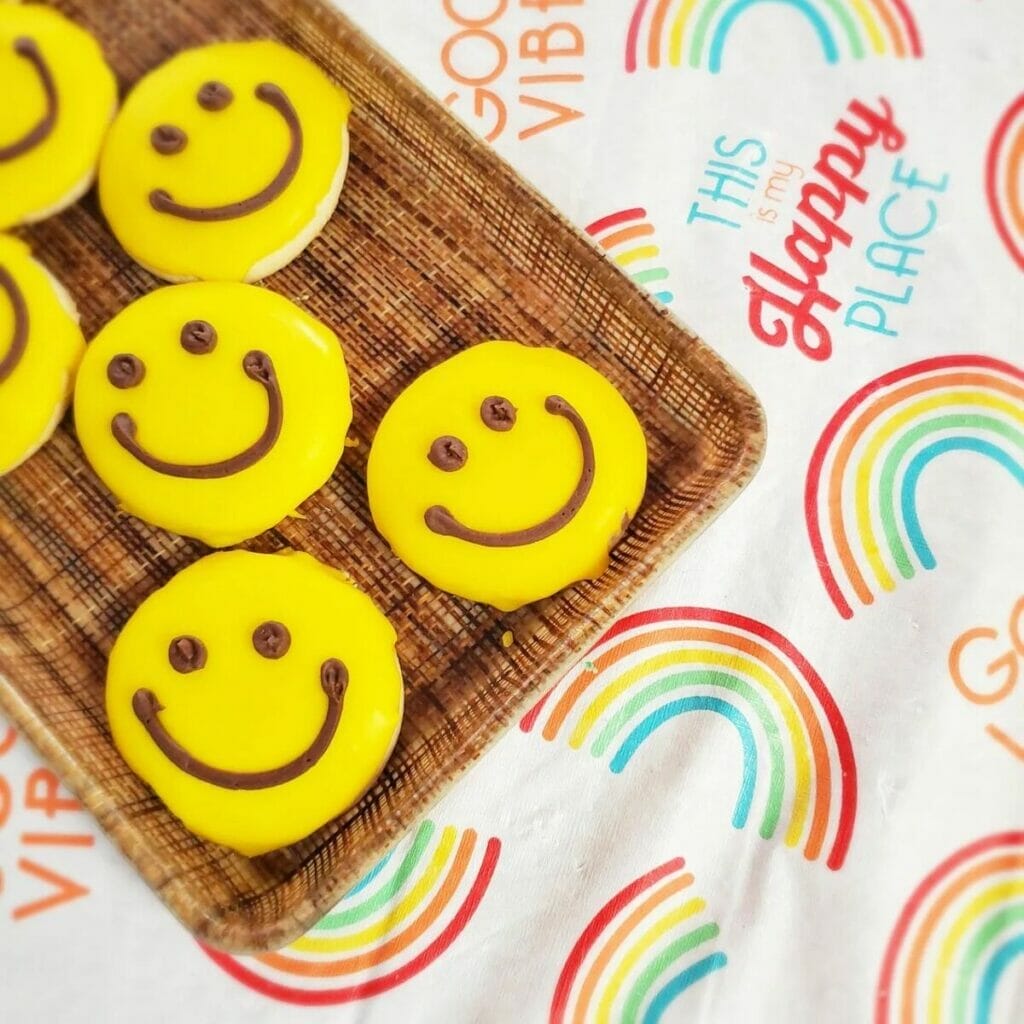 At almost 100 years old, Plehn's Bakery is one of the oldest cake shops in Louisville.
When visiting Plehn's it's easy to see why the business has thrived for so long.
Offering sandwiches and soups alongside a broad selection of pastries and cakes, you'll be spoiled for choice at Plehn's.
The cakes in particular are in high demand, many locals pick up their celebration cakes here.
Don't worry if you leave Louisville only having tried a couple of cakes though, I'm sure Plehn's will stick around and still be here on any return visit.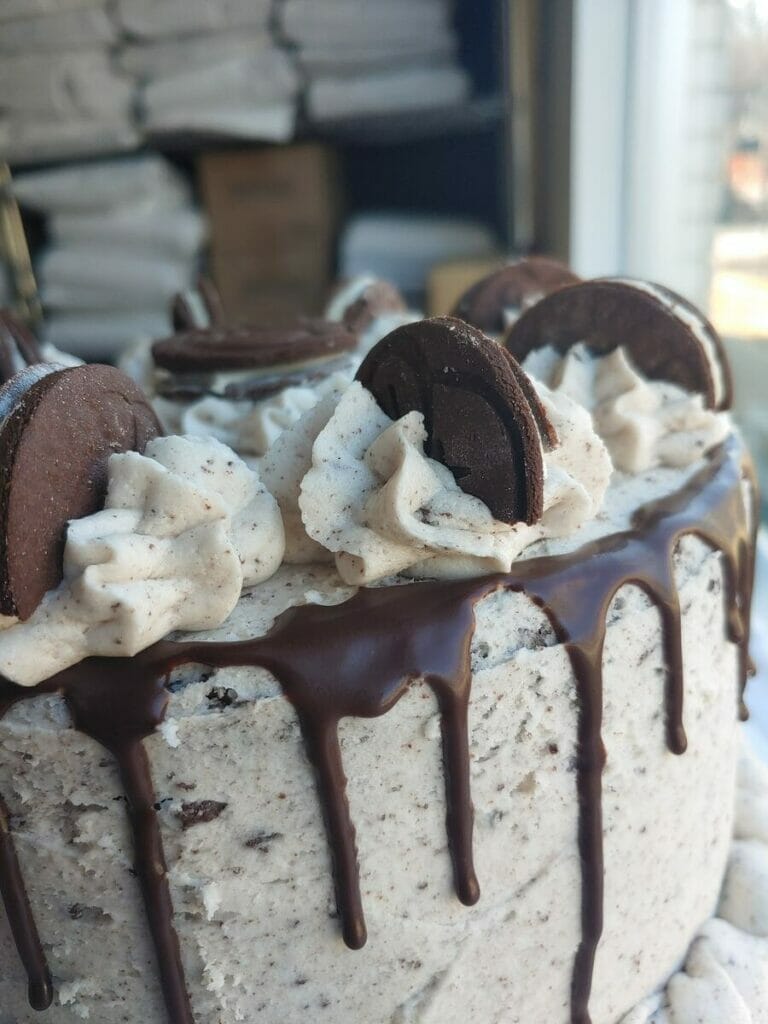 Of all the bakeries in Louisville, Annie May's Sweet Cafe is perfect for you if you suffer from allergies.
Whether you're gluten-free, dairy-free, egg-free or have one of several other common allergies, the chances are Annie May's has a goodie for you.
Pop down and grab yourself one of their baked treats, be it a cake, cupcake or pie – the textures and flavors are all exceptional.
For those of you without allergies, you probably won't even notice any difference.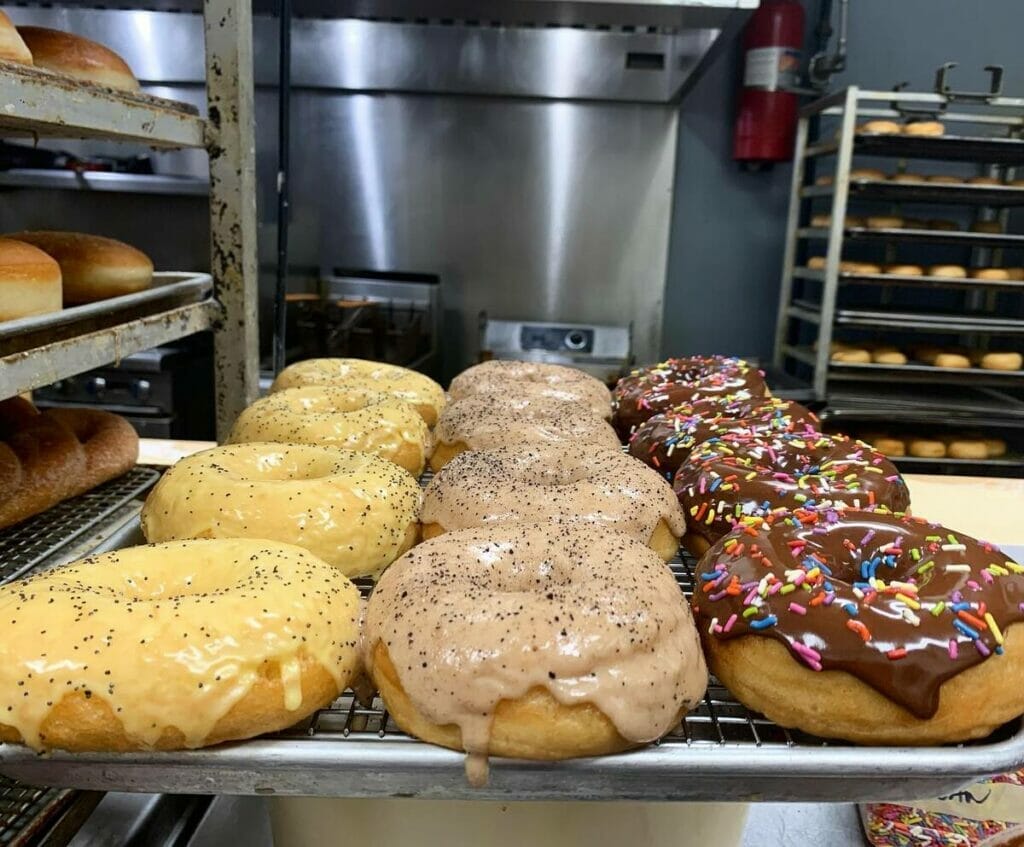 Hi-Five Doughnuts started out life as a food truck.
However, the doughnuts were so tasty the truck quickly became a shop.
There's a whole load of doughnuts available in Louisville, but these are among the best.
A couple of points to note when visiting Hi-Five: First, the doughnuts are enormous. Second, some of the speciality flavours are pretty wild – the Kentucky Fried Buttermilk Chicken is especially conspicuous.
Finally, you also have the option to build your own doughnut, choose glazes, toppings, fillings etc.
Try to come up with something as jaw-dropping as the ladies at Hi-Five.
A vibrant shop that's bursting with personality Kizito Cookie Factory is a must-stop for anyone on Louisville's bakery trail.
Kizito's owner has been selling cookies in Louisville for over 30 years now.
While cookies are the headline act at Kizito Cookie Factory, you can also pick up a selection of other baked goods here: brownies, biscotti, granola and muffins.
In addition to selling some of Louisville's most mouthwatering treats, Kizito's also sells authentic African folk art that is shipped out by her family from Uganda – perhaps the perfect souvenir to remember one of the best bakeries in Louisville by?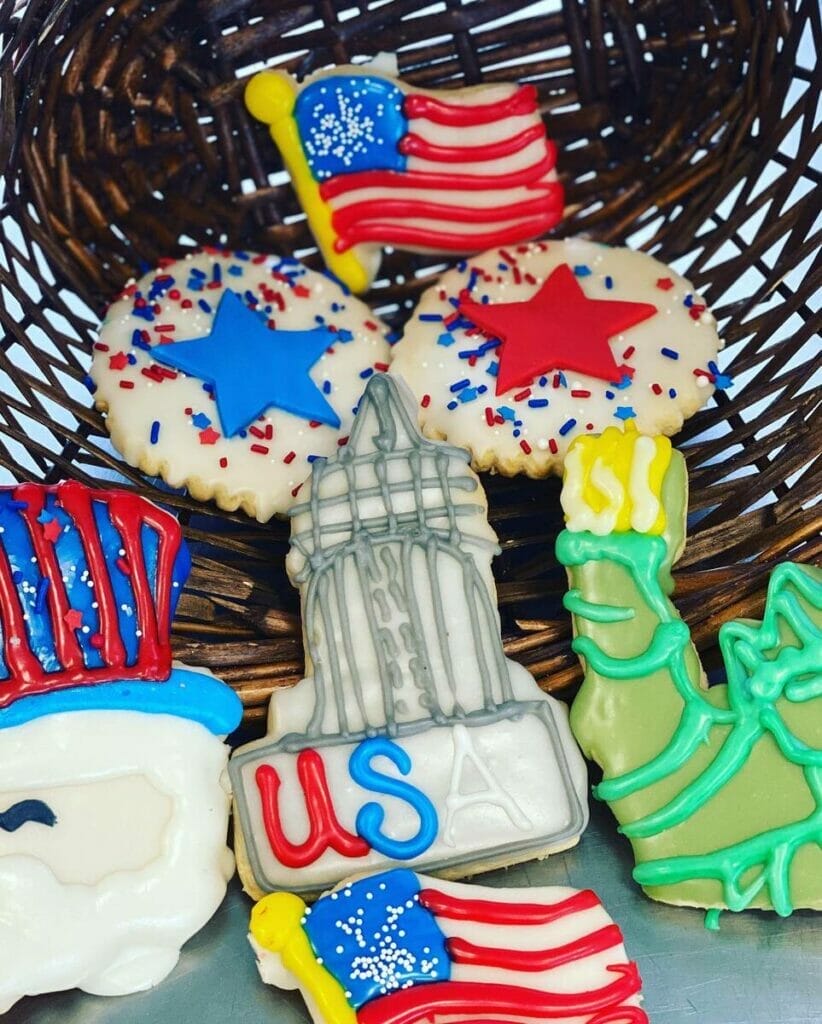 Heitzman's knows what it takes when it comes to baking some of the best cakes in Louisville, having been around for over 130 years.
This is another bakery where it can be hard to choose what you want thanks to the ample yet magnificent array available.
Fear not though, pick out a slice of loaf cake, a glazed doughnut or a kuchen, the generous portions won't break the bank and the attentive service won't leave you disappointed.
Serving breakfast and lunch classics in tandem with its sensational cakes and pastries, you'll probably leave Heitzman's with no inclination to eat for the next 24 hours!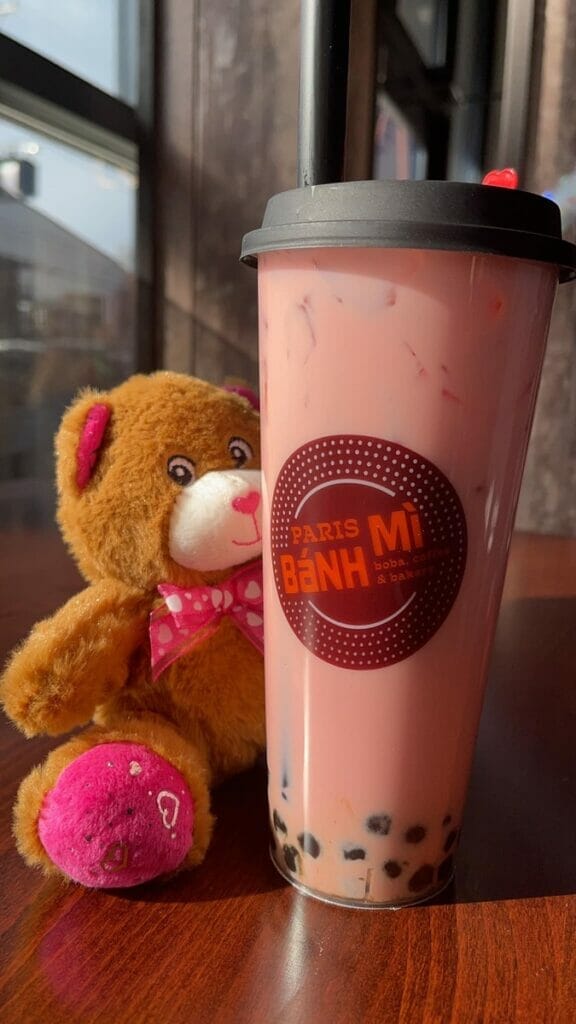 Paris Banh Mi & Bakery is a hidden gem when it comes to bakeries in Louisville, so check it out before that changes!
Providing traditional Vietnamese cuisine such as pho and banh mi (Vietnamese sandwiches), a vast variety of flavored teas, and French-style pastries you'll feel like you've stepped into one of Hanoi's boutique bakery cafes.
Thanks to its modern, hygienic atmosphere and superb customer service you'll feel entirely at ease here.
Relax and munch on an authentic grilled pork banh mi and chase it down with an apple-leaf pastry.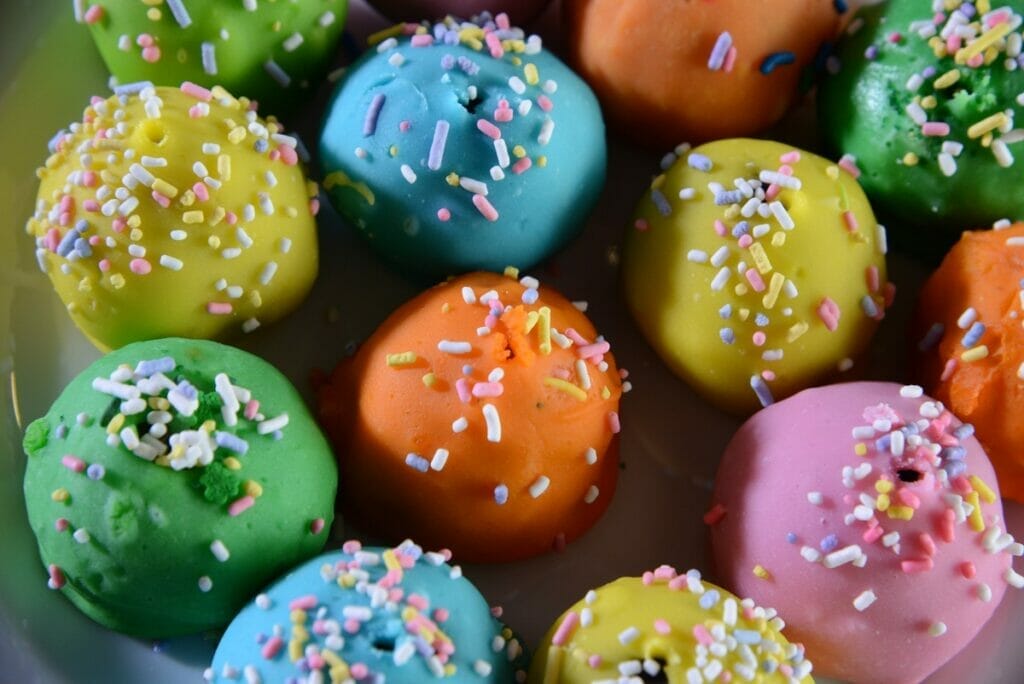 Although it now has locations throughout Kentucky and Indiana, Homemade Ice Cream and Pie Kitchen began life in Louisville.
The number of locations is a testament to the quality of their products.
Of all the pies in Louisville, the pies here are perhaps the ones that are in the most urgent need of sampling by you.
If you visit during Derby weekend, try their take on Derby Pie (not called Derby Pie for legal reasons though).
It's widely regarded as one of the best in Louisville.
Outside the smorgasbord of pies and ice creams, there's a flavorsome selection of other baked treats to peruse.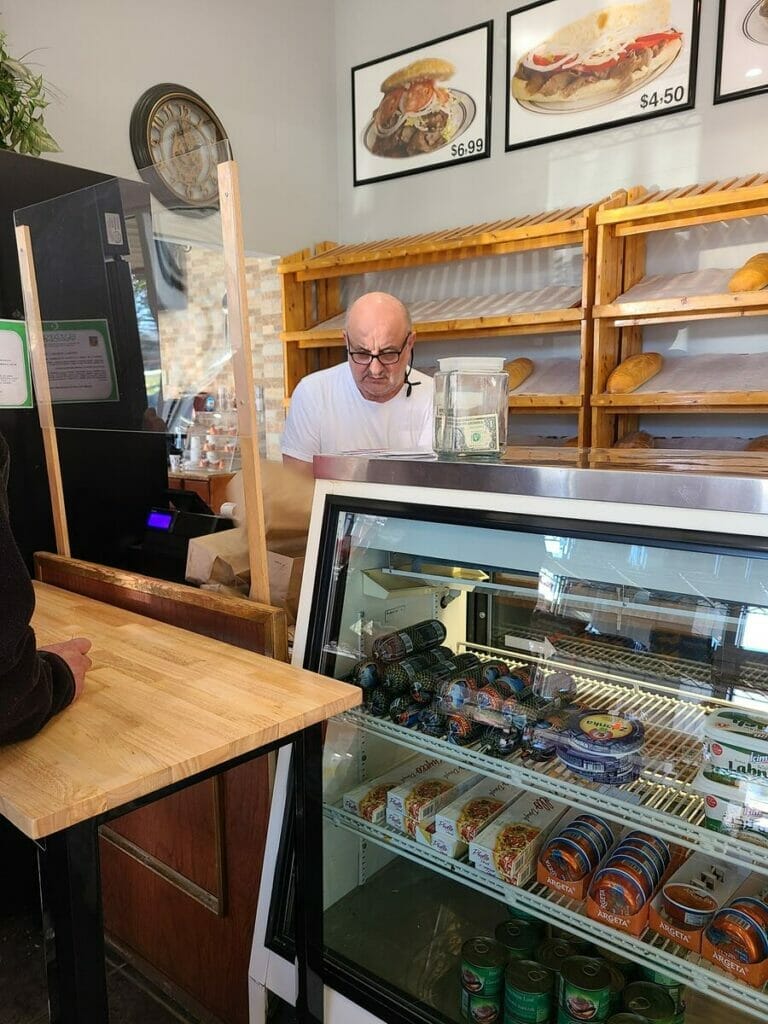 Specializing in Balkan cuisine, Jasmin Bakery is an ideal spot to grab lunch while simultaneously trying some delectable Balkan pastries.
Although, if you're looking to buy something baked, arriving earlier in the day is advised as they can sell out.
Don't miss Jasmin Bakery, even if you're unfamiliar with Balkan food.
For lunch have gyros or a kebab and for dessert try some of their dense, syrupy baklavas.
Don't let the simple menu fool you, the food here is divine.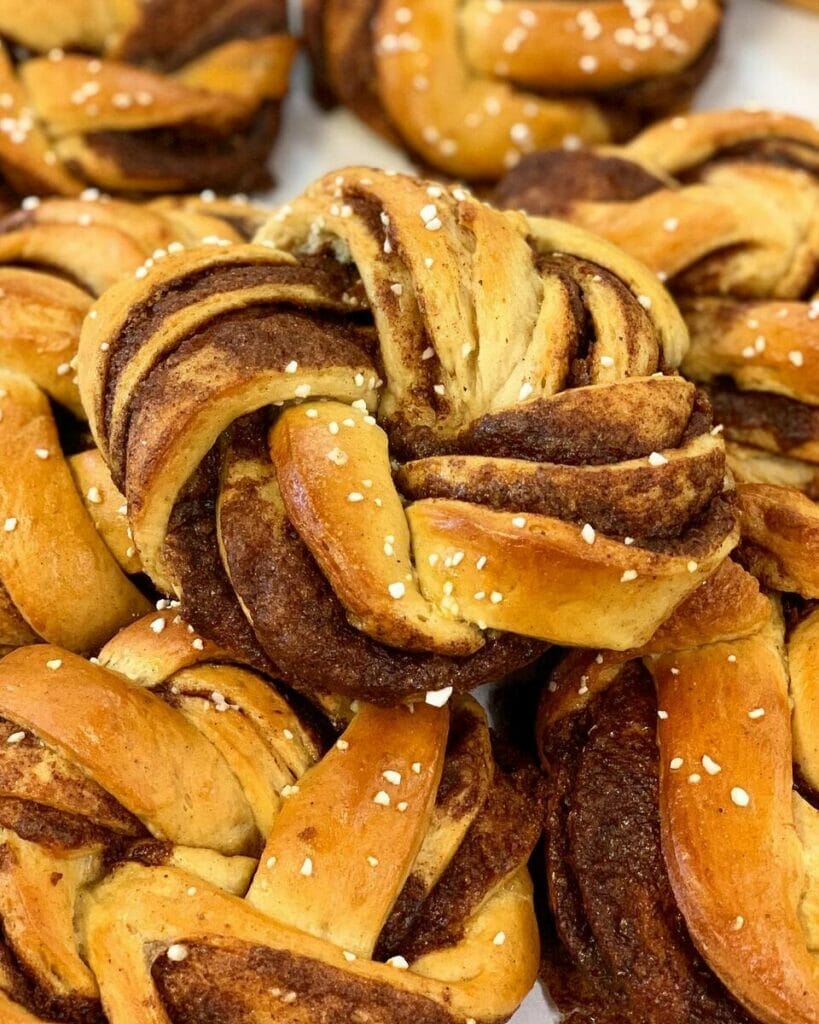 Touted as the only 100% Scandinavian bakery in Louisville, Smor Nordic Bakeri is worth a visit if you're a fan of all things charming and quaint.
American classics like the Snickerdoodle can be found here.
However, Smor really shines when you take a look at the knots.
The knots have flavors somewhat different to what you might see in a typical American bakery – including lingonberry, cardamom, and brown sugar.
While browsing makes sure to check out the non-food products – Scandinavian knick-knacks galore that will make you want to book a flight straight to Stockholm.
Hey! Want to see more of the USA's best bakeries on your travels? Check out our other city bakery guides!
Get the All-American Travel Secrets!
Don't miss out on America's hidden gems!