Hot Springs, Arkansas is an absolute haven for those who love nothing more than a relaxing spa break to getaway for a few days.
Not only does it have an abundance of natural springs, but there are a whole host of activities to dive into during your break to this beautiful part of the Ouachita Mountains in Arkansas.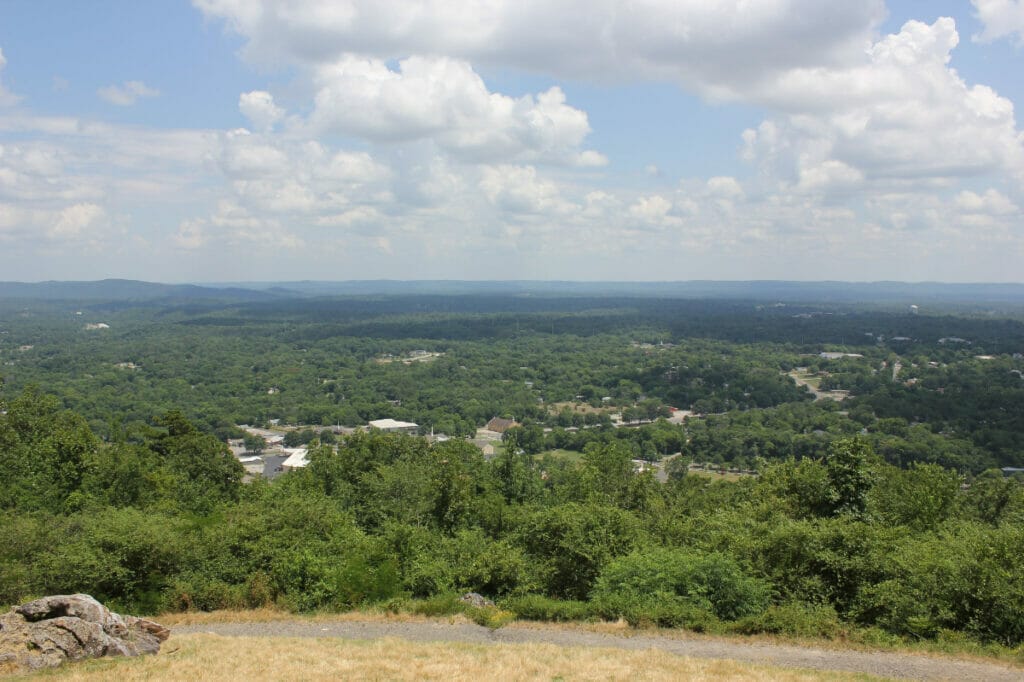 From visiting the local reptiles that call this city home, to wax museums featuring the who's who of celebrities to a wacky festival which involves a giant bathtub and a roaring street party, here are the top things you can do to make the most of your stay in the breathtaking surrounds of Hot Springs, Arkansas.
At a Glance: Tours of Hot Springs if You Want "Easy!"
Want to see Hot Springs, but have someone else do the planning work? Don't blame you! We've got you covered.
Getting around Hot Springs
Don't forget that it's much easier to see Hot Springs by car so you can get around on your own.
Rental cars are perfect if you're flying into the state.
We recommend using Discover Cars price comparison to find the cheapest deals.
Hey! Want more locally-approved Arkansas guides? Check these out!
1. Explore Hot Springs National Park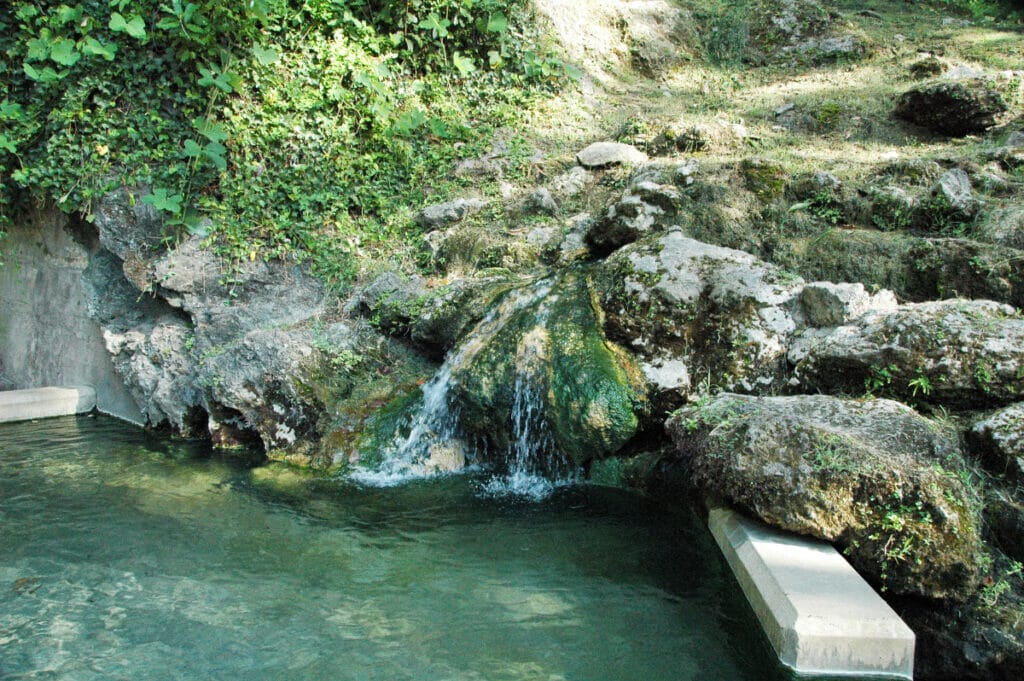 When the United States designates this piece of land to be the first for 'reservation' status, you know there's got to be something special about it.
The Hot Springs National Park is in the Ouachita Mountains and is also where you will find the Hot Springs Mountain.
The park's thermal springs are believed to have healing properties, whilst the adjacent hiking trails and friendly wildlife make this a popular family-friendly attraction for visitors from all over.
Start your trip to Hot Springs, Arkansas here and you'll see what makes this such a special place to visit.
2. Visit the Thermal Baths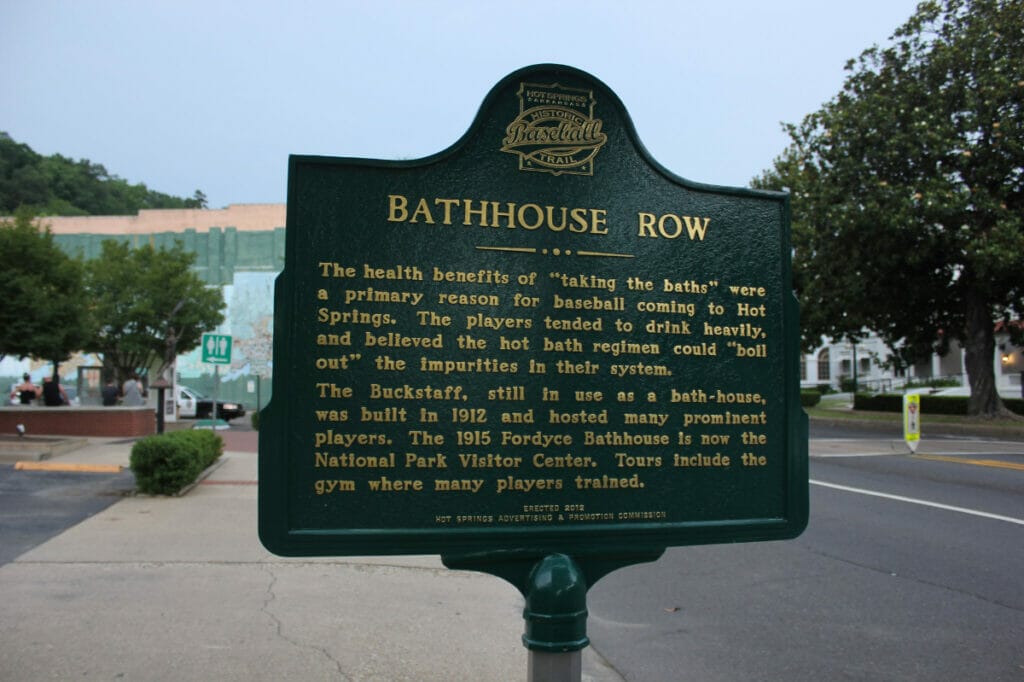 Arguably the most famous attraction and one of the best things to do in Hot Springs, Arkansas is to take a dip in the thermal waters that give the area its name.
There are a number of options you can choose from, whether you prefer a more natural setting or a luxurious experience.
If you can work it into your budget, we'd recommend a stay at one of the beautiful hotels that offer a spa or bathhouse on site.
Some of the most popular hotels with thermal spas include The Arlington Hotel and The Buckstaff Bathhouse.
3. Visit the Alligator Farm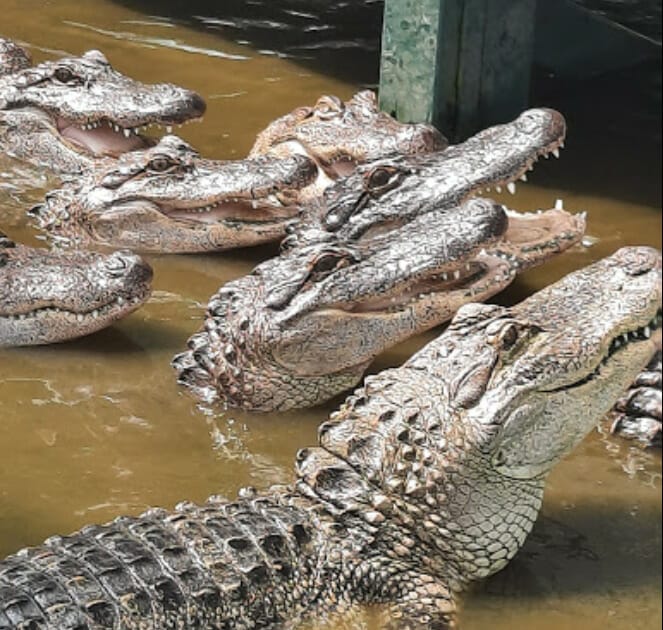 If you're looking for a thrill and one of the best things to do in Hot Springs with kids, a visit to one of Hot Springs, Arkansas' oldest attractions will be just the thing for you.
The Alligator Farm has a raft of activities, for both the young and young at heart.
You can hang back and watch the alligators from a safe distance (we recommend timing your visit to be there at feeding time), or you can get up close and feed a baby alligator with your own hands.
There is also a petting zoo with sheep, goats and emu on site, so be sure to take your time and explore the farm leisurely.
4. Visit Tiny Town
Wander through downtown Hot Springs, Arkansas and you'll stumble upon a unique sight of a miniature model town, known (somewhat unsurprisingly) as Tiny Town.
You can easily spend a couple of hours wandering through the miniature villages, admiring the intricate detail given to the townsfolk and the buildings that were spread throughout the town.
A particular highlight is the interactive railroad, with the adjoining attractions of a miniature working water wheel, flying airplanes and roaming deer.
5. Join in the World Championship Running of the Tubs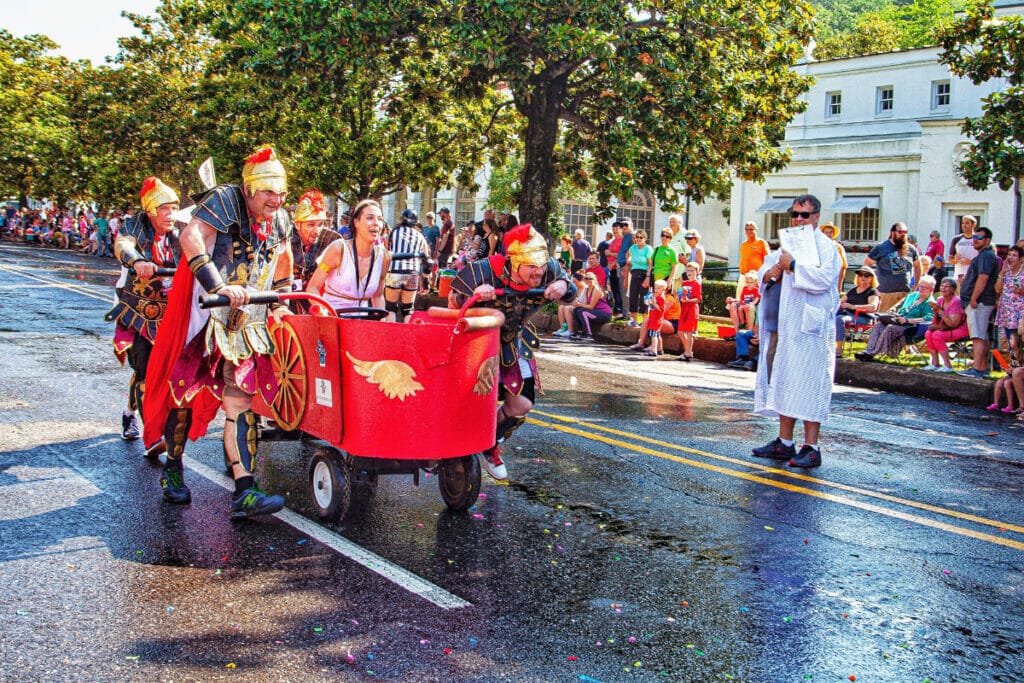 Perhaps one of the most unique attractions in Hot Springs, Arkansas is the World Championship Running of the Tubs.
As the name suggests, this annual race involves bathtubs being pushed down the historic Bathhouse Row by teams, while spectators pelt water balloons and aim water guns in their direction.
It's a novel springtime event and guarantees a soaking, so be sure to pack some comfortable shoes and fully expect to get wet.
For those who like to stretch their legs while on vacation, the Hot Springs Northwoods Trail provides ample opportunity to get moving in the refreshing mountain air.
The Northwoods Trail encompasses over twenty-six miles of hiking and biking paths.
Located in the northern corner of Hot Springs, the trails can be found only a few minutes out of the city, so they make an easy attraction to visit whether you're on foot, bike or in your car.
For baseball fans, you'll be treated to a spectacular self-guided historical sporting tour during your visit to Hot Springs, Arkansas.
Known as the birthplace of 'spring training', many sporting teams and players have made their way down south to train in the area or rejuvenate in the hot springs.
Did you know Babe Ruth's record breaking home run hit was also made right here in Hot Springs, Arkansas?
Follow the trail across town and you'll come across many pieces of historical sporting trivia that you'll take away to share with friends and fans back home.
8. Visit the Gangster Museum of America
The mineral waters of Hot Springs, Arkansas have not only drawn sportspersons and tourists in droves, this city has also hosted a number of big name gangsters that called this city home (albeit some only did so temporarily).
Some of the biggest names in bootlegging, gambling and other less than savory affairs came to Hot Springs in the 1920s, 30s and 40s.
A visit to the Gangster Museum of America will be both an informative and entertaining way to learn the stories of some of these colorful characters and makes for one of the most interesting things to do in Hot Springs, Arkansas.
9. Splash around at the Magic Springs Water and Theme Park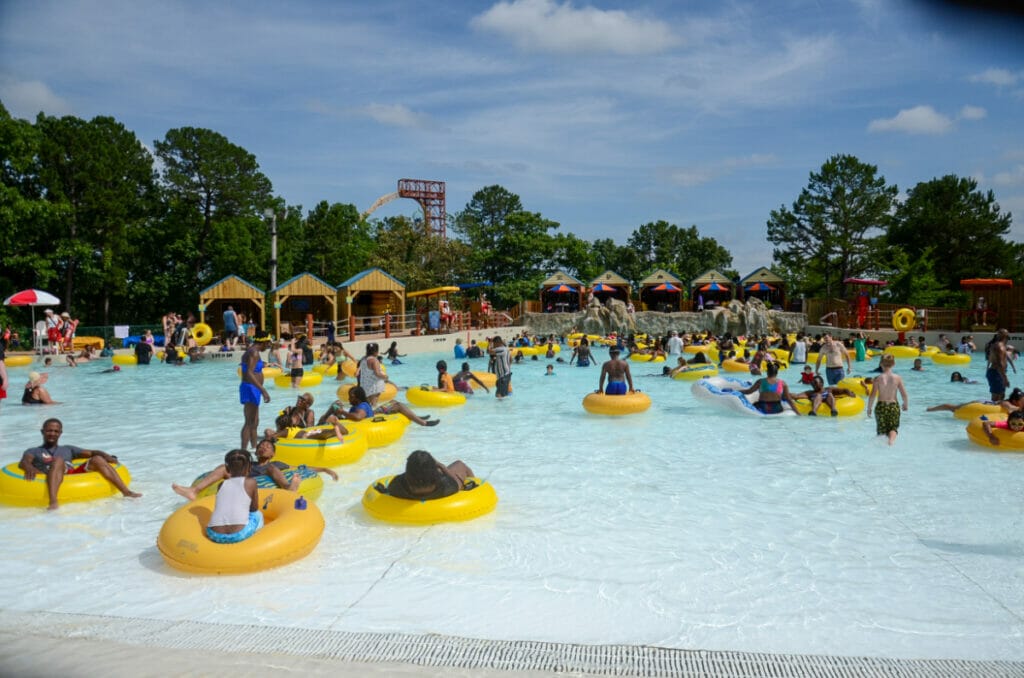 One of the most fun family-friendly activities in Hot Springs, Arkansas is the Magic Springs Water and Theme Park.
This is a modern adventure playground and has been purpose-built to provide a comfortable day out for families and children.
If you only have time (or appetite) for a few of the key attractions, we recommend making a beeline for Splash Island.
With a four story water slide and giant buckets of water pouring down on the grinning guests every few seconds, there's a whole lot of fun to be had in one afternoon at the Magic Springs Water and Theme Park.
10. Visit the Fordyce Bathhouse
The Fordyce Bathhouse is one of the most picturesque things to see in Hot Springs, Arkansas.
This grand bathhouse is famed for its beautiful stained glass and marble interiors, which makes it a beautiful sight even before you get into the history.
The luxurious Bathhouse has been around since the 20th century, so you can be sure its marble walls have seen a lot of glamor and glitz from its well-heeled guests.
Take a wander around and watch the exhibits and films that'll let you in on the secrets of the bathhouse.
The Bathhouse is also the welcome center for the national park, so it's a perfect stop on your way in.
11. Visit the Anthony Chapel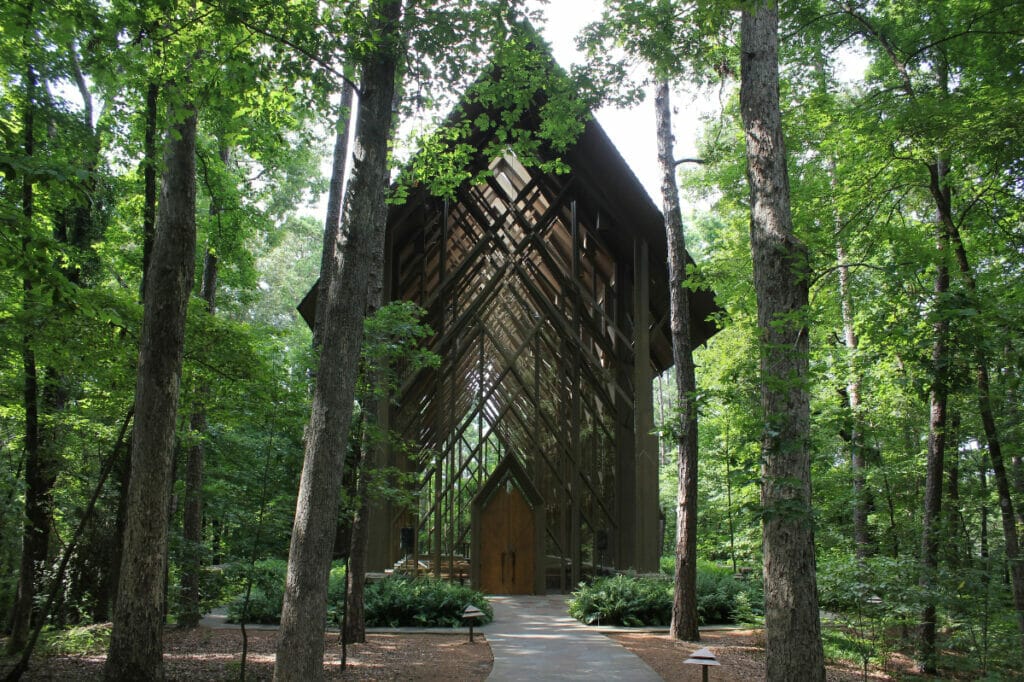 You may have seen a photo of this beautiful glass chapel, but if you're spending a few days in the city, this is one of the top things to see in Hot Springs, Arkansas.
The Anthony Chapel can be found in the grounds of the Garvan Woodland Gardens, and the airy indoor-outdoor structure will make you feel like you're in a fairytale woodland setting.
With exposed wooden arches towering six stories high, it's a true sight to be seen.
The Chapel does host weddings, so call ahead if you're planning to visit to make sure they're open for visitors.
12. Explore Pirate's Cove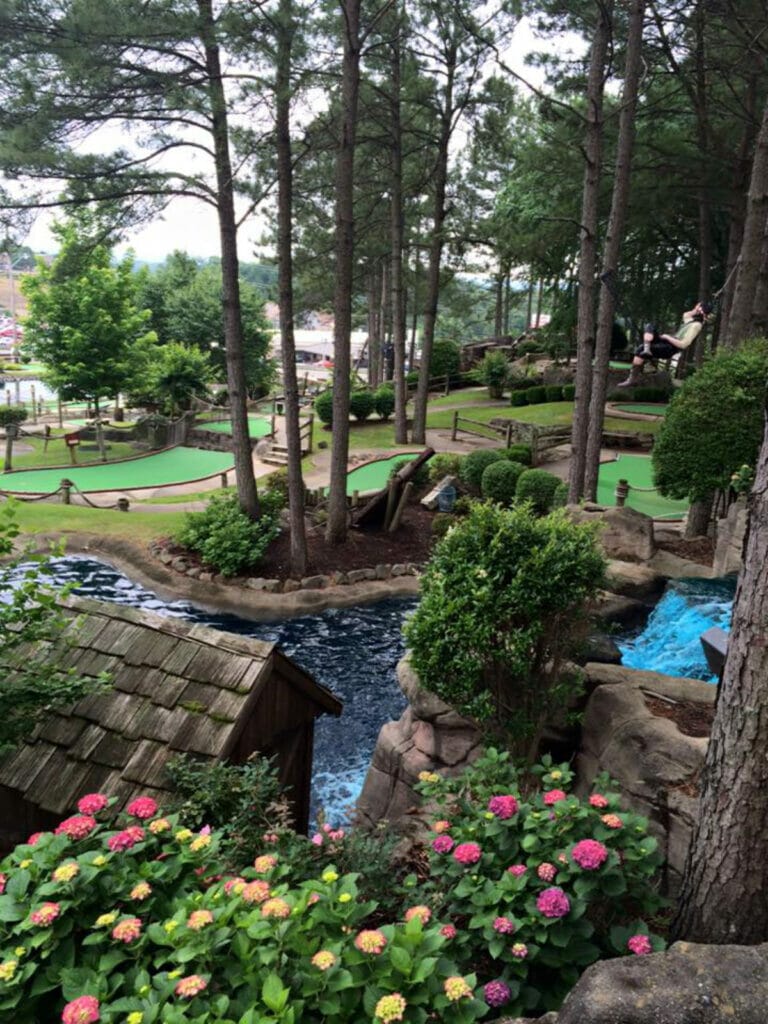 If you're traveling with some younger family members, an afternoon at Pirate's Cove may be an ideal way to explore a local family favorite activity in Hot Springs, Arkansas.
While you can find Pirate's Cove adventure grounds in various US states, the Hot Springs, Arkansas venue is a fun facility with an added mini-golf and obstacle course.
Dodge the waterfalls, marvel at the windmills and cross the bridges for a fabulous family day out at Pirate's Cove.
13. Sunset Trail
One of the highest rated hikes in Hot Springs, Arkansas is the aptly named Sunset Trail.
The ten mile trail will take you through scenic woodland and can be combined with the Hot Springs trail to add a few extra miles, should you desire.
The trail is well signposted, to keep you from straying onto private property, so grab a drink bottle, lace up your hiking boots and follow the path for some spectacular views over the West Mountains.
Be warned though, the trail is rated as difficult, so if you're a beginner, you may want to consider some of the other walks covered in this list instead.
14. Visit Josephine Tussaud Wax Museum
You may have heard of the famous Tussaud Wax Museum. Well, Hot Springs, Arkansas has its very own Josephine Tussaud Wax Museum on Central Avenue.
This quirky and fun exhibition is one of the most fun things to do in Hot Springs, and ideal for rainy days.
Replicas of royal family members and political families have been spotted amongst the line up.
The museum is open seven days a week and is a low cost activity to spend a few hours with the family, or just with you and your new wax figure friends.
15. Grab a drink or food at the Ohio Club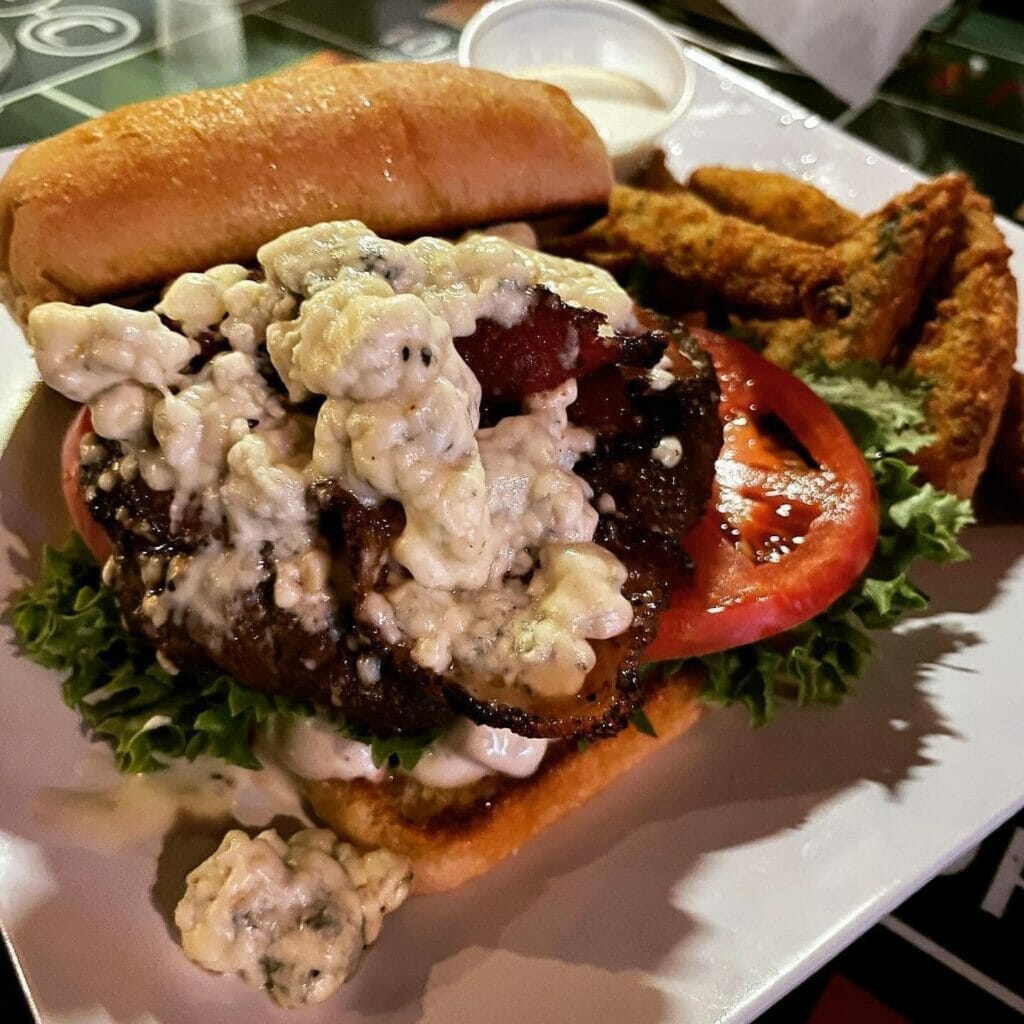 If you love live jazz, swing past the Ohio Club for an evening of surprises.
This century old bar has been a historical landmark of Hot Springs, Arkansas, hosting a revolving door of blues and jazz legends.
Fans of Al Jolson and Mae West will thoroughly enjoy this nightly music venue, with both performers having headlined there once upon a time.
You can find performances every night of the week, so drop in for a drink and experience this slice of Hot Springs history during your visit.
16. Explore Ouachita National Forest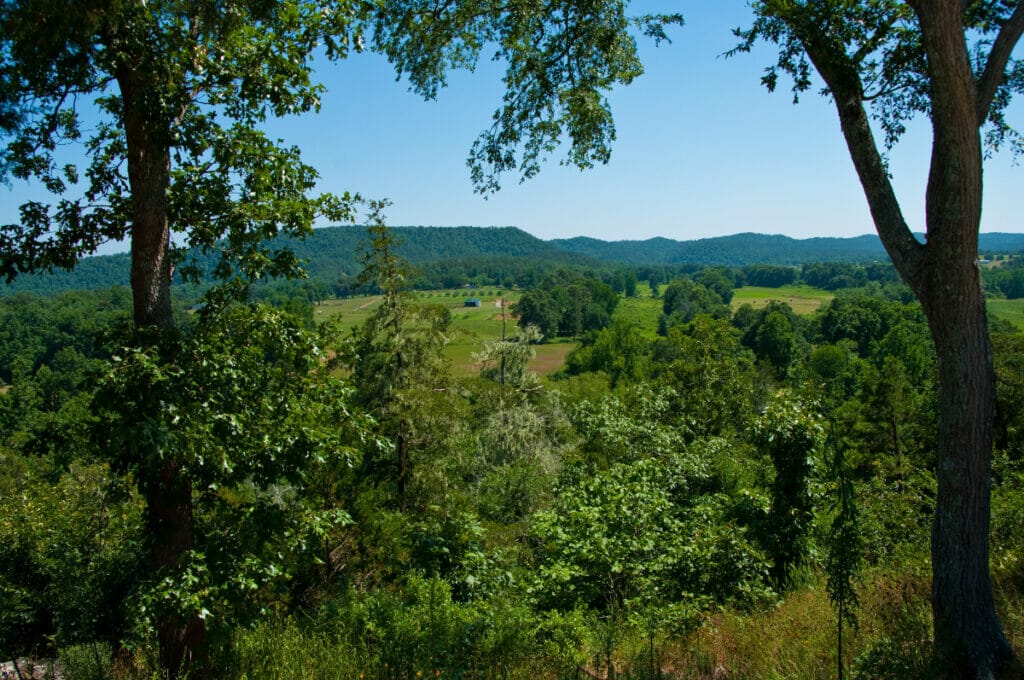 One of the best attractions in Hot Springs, Arkansas is undoubtedly Ouachita National Forest.
Sprawling across the western half of the state, the National Forest is an adventure-seeker's paradise.
You can choose from hiking, biking, kayaking and horseback riding to explore the gorgeous mountain ranges.
If Sunset Trail may be too challenging, Ouachita National Forest provides plenty of other options for you to take off on a more comfortable hike.
For serious adventure-seekers, there are also a number of campsites to spend the night in.
You may need to book a spot though as the mountains can be busy.
17. Swim in Lake Ouachita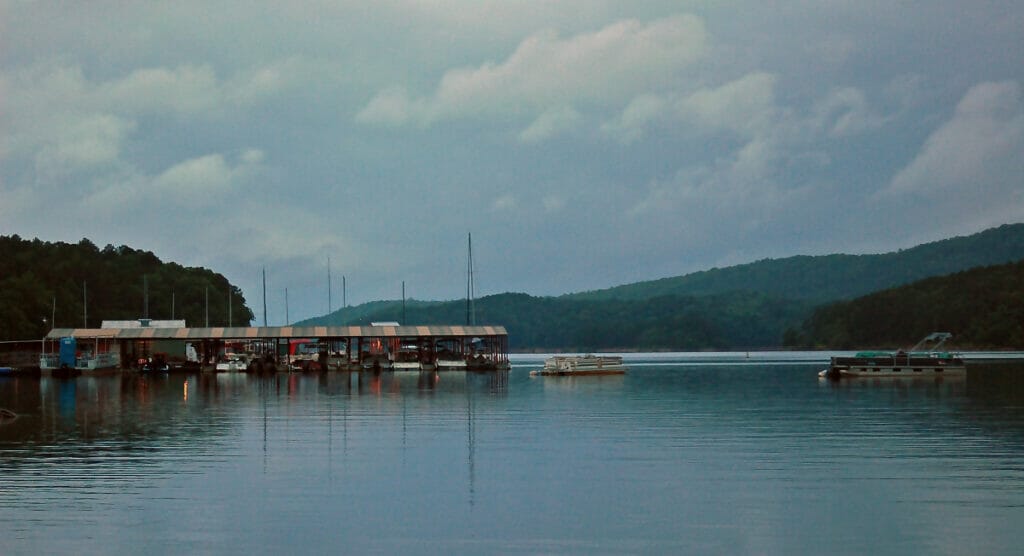 Lake Ouachita is a large expanse of water, created by the damming of the Ouachita river in the 1950s.
The bountiful lake offers plenty of adventures to be had.
Some particular highlights include swimming, kayaking and sailing in the vast sparkling waters.
The abundance of activities makes this one of the most fun places to explore in Hot Springs, Arkansas.
If you'd like to spend more time by the lake, there are also campgrounds available to book. As above, be sure to book early to reserve your spot.
18. Stroll along Bathhouse Row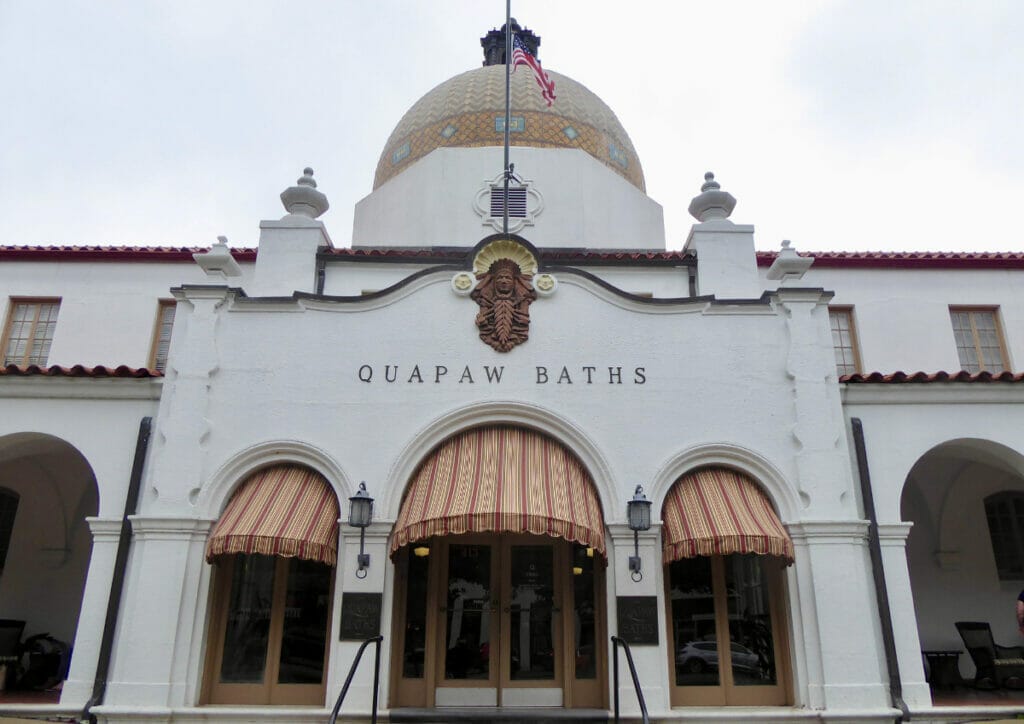 One of the most visited areas of Hot Springs, Arkansas is the charming Bathhouse Row.
Along this famed boulevard, you can see historical establishments and impressive architecture as well as the hot springs that give this town its name.
Keep an eye out for the eight historic bathhouses on Central Avenue, with a striking view of the grand Arkansas mountains in the background.
If your limbs need a rest, head into the Buckstaff to soak in the soothing and indulgent hot springs.
19. Visit Hot Springs Mountain Tower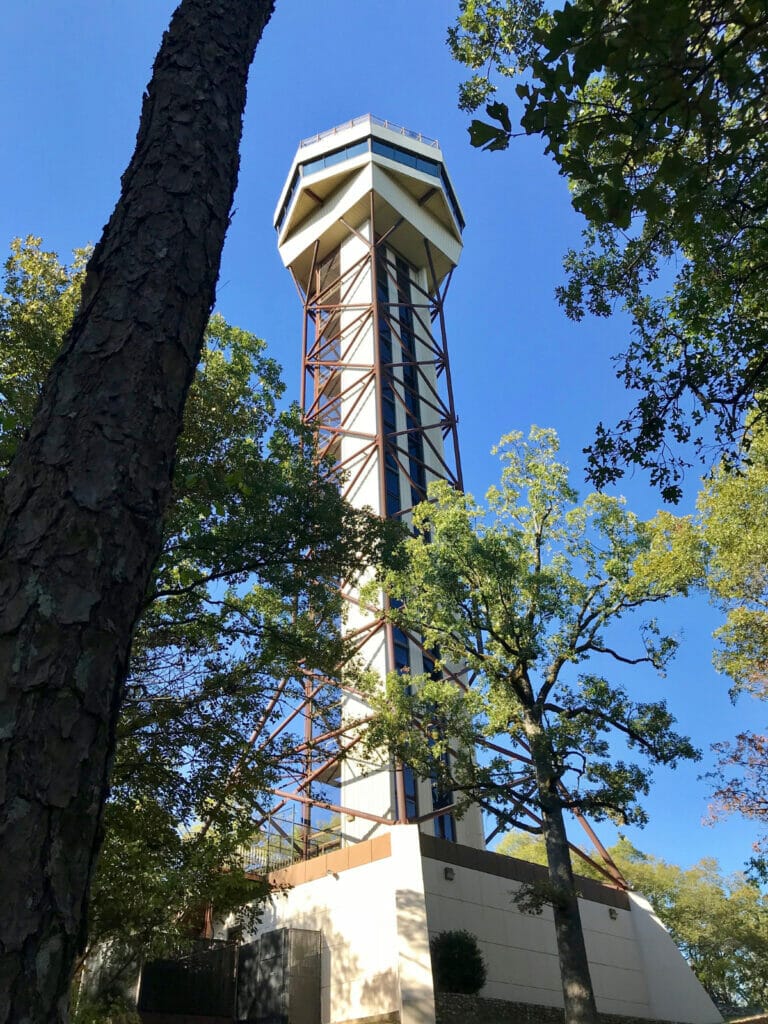 Once you've explored the city at eye level, head up to see the sights from a bird's eye perspective.
The Hot Springs Mountain Tower offers spectacular panoramic views of the city, making it one of the best things to do in Hot Springs, Arkansas.
Step on to the observation deck and get a glimpse of the Ouachita Mountains and the Diamond Lakes in the distance.
Be sure to keep your camera at the ready, this is one view you'll definitely want to show family and friends when you get back home.
Pin for later!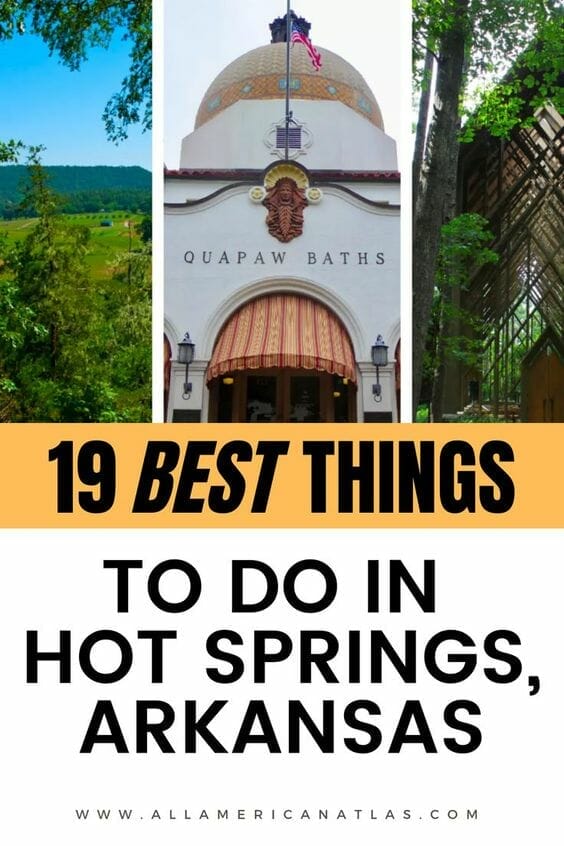 Get the All-American Travel Secrets!
Don't miss out on America's hidden gems!