Rhode Island undoubtedly has a lot to offer during the bright, sunny days of summer, with its beautiful beaches and lively harbors.
But the winter season also sees Little Rhody full of New England charm!
Whether you're looking for Christmas festivities, non-holiday winter festivals, or simply some fun in the snow, the Ocean State is well worth a winter trip!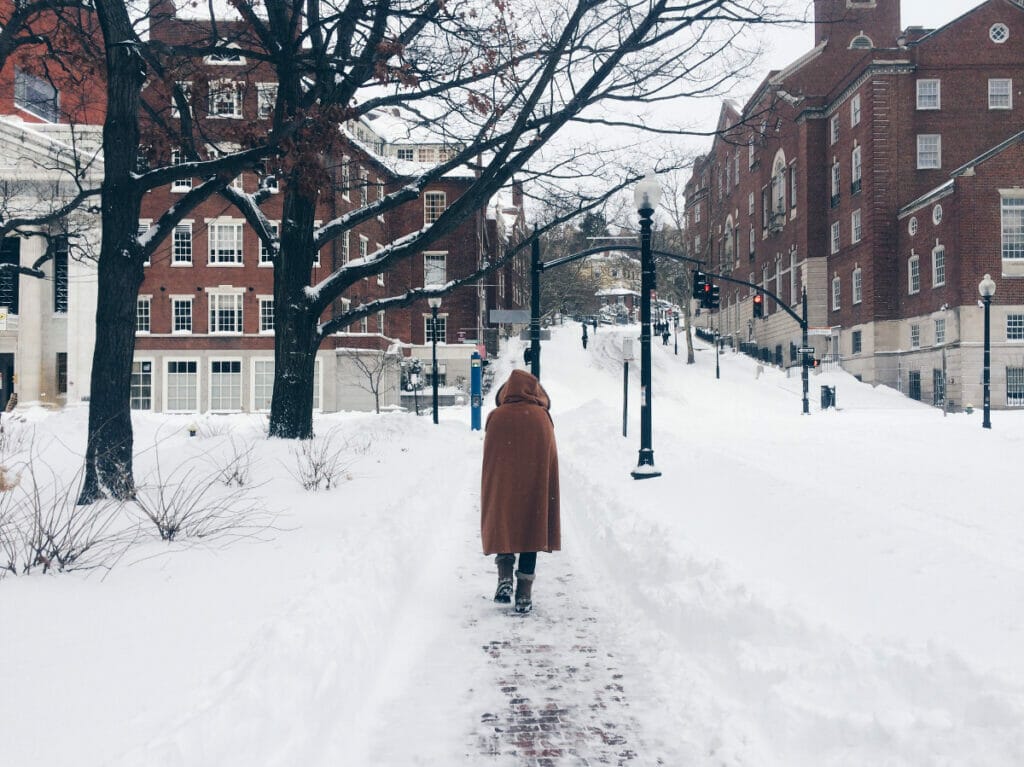 There's no shortage of things to do in Rhode Island in winter.
So, without any further ado, let's dive right into all the things that make Rhode Island the perfect winter vacation destination.
Don't forget that it's easier to get around Rhode Island by rental car!
We recommend Discover Cars for the absolute best deals.
What to Pack for Rhode Island in Winter
Sturdy pair of winter boots – your feet are one of the most important places to keep dry and warm in a Rhode Island winter, and they're going to be exposed to a lot between the salt, the slush, and the bitter cold. Make sure to invest in a quality pair of winter boots like these for women and these for men.
Warm beanie – beanies are all the rage in Rhode Island when the cold comes, and you can get them in so many different colors. Get a fun pattern like this one, or go plain with ones like these.
Warm socks – did you know that you also need to think about your socks? Yeah, leave your short summer ones at home. Invest in a pair of warm socks like these to give you an extra layer of protection.
Wool or fleece leggings – for the girls who are wanting to keep extra warm underneath your jeans or are going bare-legged in your dress for a night out on the town, invest in fleece leggings like these to keep your legs extra warm.
Gloves with touchscreen technology – there's nothing worse than having to constantly take your gloves off to text or dial phone numbers or look up directions, so invest in a warm pair of gloves with touchscreen technology like these.
Warm coat – you want a super warm, down coat or sturdy coat through a brand like North Face to get you through the Rhode Island winters. Your thin hoodie isn't going to cut it!
Turtleneck – turtlenecks are totally in fashion in a Rhode Island winter, especially layered underneath all of your other clothes. The key is to bundle up from bottom to top, so don't leave your neck out and try a fashionable turtleneck like this.
Thick scarf – no matter who you are or what kind of fashion you're into, you're sure to find a thick scarf that makes sense for your wardrobe, and this is a fantastic way to add another layer of warmth and act as a shield against the biting winds.
1. Enjoy a variety of events at the Newport Winter Festival
If you're looking for winter activities in Rhode Island, you'll find no shortage of them at the Newport Winter Festival!
This 10-day annual celebration has dozens of exciting events for people of all ages and takes place in mid-February each year.
The usual festivities include food and drink competitions, live music, crafts, games, local tours, and more!
The festival's annual chili cookoff is a huge draw for foodies of all ages, and the samplings at the drink competitions are a great lot of fun for festival-goers over the age of 21.
Be sure to snag a commemorative festival bracelet.
It's not just a cute souvenir–it can save you hundreds of dollars with free or discounted admission into all the year's events, as well as discounts at local shops and eateries!
2. Take a train ride to the North Pole on the Blackstone Valley Polar Express
Looking for family-friendly winter activities in Rhode Island?
Kids will love a festive train ride on the Blackstone Valley Polar Express!
Get your golden tickets and watch the magic light up in your young ones' eyes as they take a 90-minute train ride to the North Pole and back.
You won't get out at the North Pole, but you'll get to wave at the elves and be mesmerized by the colorful Christmas tree as you look out your window.
The holiday ride is complete with a reading of "The Polar Express", delicious hot chocolate and cookies, plus a visit from Santa himself!
Don't forget to get your free photo with Santa at the end of the trip!
3. Spark your creativity at the annual Providence Children's Film Festival
Every year in February, the Providence Children's Film Festival aims to inspire with its showings of independent and international children's films.
The festival takes place over the course of a week or more, with plenty of time to show an average of 12 full-length movies, and over 200 short films!
The Youth Filmmaker Showcase is especially interesting, featuring films made by children aged 5-17 and an inside look at how the kids found the filmmaking process.
With free screenings at a variety of both indoor and outdoor venues, children and adults are sure to find inspiration and value in the organization's annual selections.
4. Go for a stroll down Woonsocket's Main Street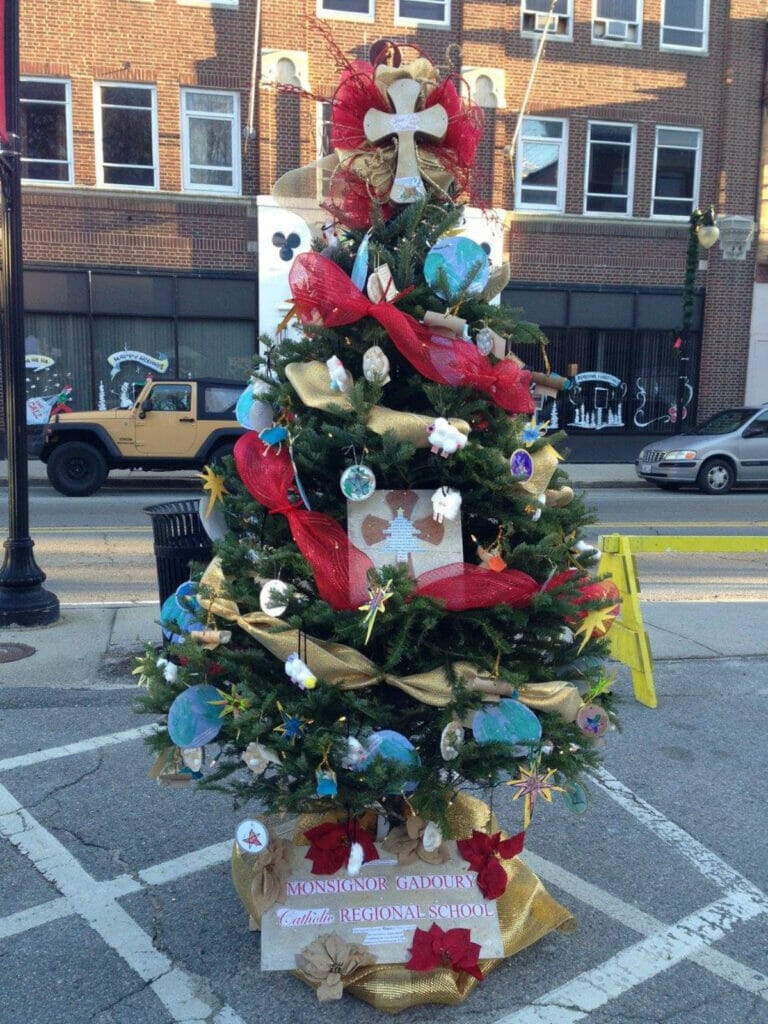 The charming town of Woonsocket, one of the best places to visit in Rhode Island, hosts an annual Main Street Holiday Stroll.
Taking place downtown on the first Saturday in December, you'll marvel at the beautiful ice sculptures, enjoy a bit of shopping from local artisans, and even get a chance to see Santa himself!
Carolers will set the mood for the winter holiday season, and there's plenty of tasty treats to be found in food trucks parked along the festive street.
Feeling creative?
The event has been known to host many different contests over the years, from ornament and tree decorating, to coloring and crafts, and an ugly sweater contest.
The annual scavenger hunt will be a festive source of fun for all ages.
Be sure to follow the event's Facebook page for updates on this year's offerings!
5. Visit the best gift store in Rhode Island for some holiday shopping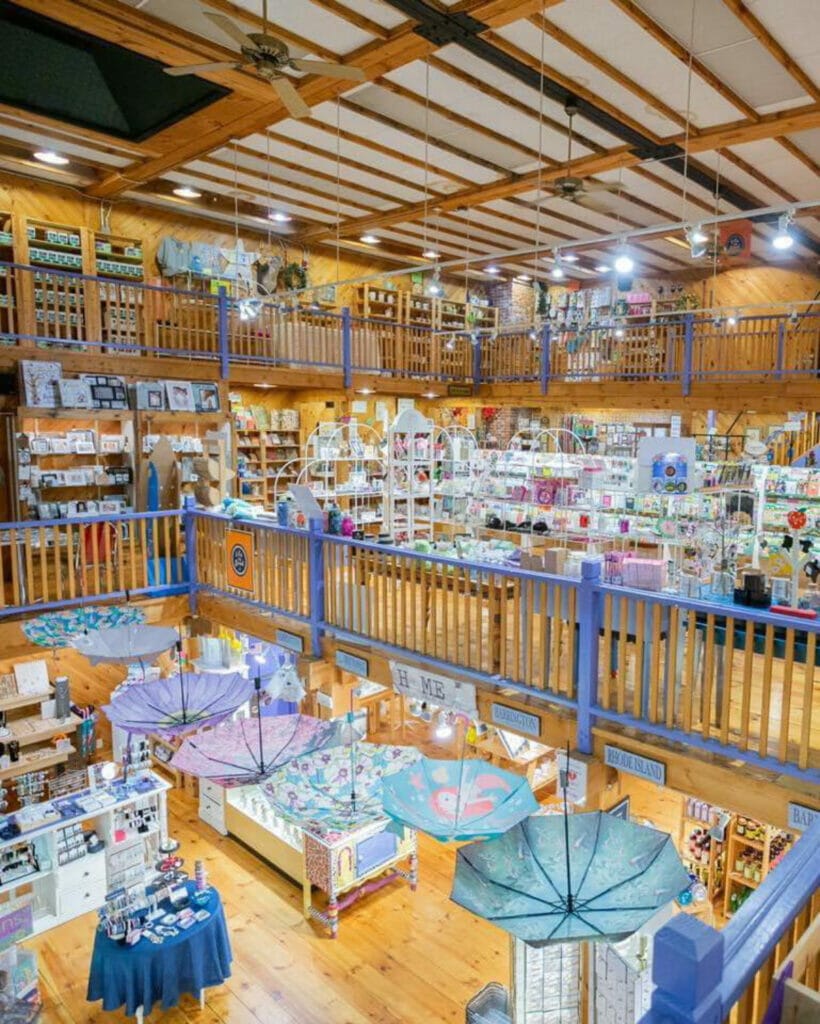 Imagine Gifts in Warren, RI has the honor of being rated as one of the best places to find gifts in Rhode Island at any time of year.
Not only that, but it's also the biggest gift shop in all of New England, located in the city's historic Lyric Theatre building.
With their three stories of toys, apparel, jewelry, and more, there's no doubt that you'll find something for everyone during the holidays.
Be sure to stop by their 1950's-themed ice cream parlor for a treat before you leave, or take some candy home from their old fashioned Candy Shoppe – there are over 500 different candies to choose from!
6. Revel in the small town charm of the Wickford Village Festival of Lights
Every December, North Kingstown, RI boasts of exciting winter festivities at the seaside Historic Wickford Village.
The Wickford Village Festival of Lights kicks off with their annual tree lighting, but the fun doesn't stop there!
You're in for an iconic Ocean State treat when Santa arrives by boat, stepping ashore after traveling all the way from the North Pole.
Sing carols on a festive horse-drawn hayride, and try seasonal dishes from the local eateries.
There's plenty of shopping to be done, too, so be sure to stop by the family-owned shops of this charming little village.
7. Hit the slopes at the Yawgoo Valley Ski Area
The only official ski area in Rhode Island, Yawgoo Valley Ski Area is most ideal for kids and beginners.
While there are a few fun slopes for advanced skiers and snowboarders, the big appeal of Yawgoo Valley is its accessibility for learners and intermediate visitors.
Don't have your own gear?
Rent ski and snowboard equipment for the duration of your visit, and check out the Pro Shop for hats, gloves, scarves, and more!
If you're really new to skiing or snowboarding, you'll enjoy a private lesson – available for newbies as young as 3 and as old as 99+!
Skiing and snowboarding not your thing?
See how many times you can race a snow tube down any of their 7 lanes – tickets give you 90 minutes of unlimited runs!
8. Go ice skating at The Providence Rink
The Providence Rink is located right in the middle of the state capital, and provides tons of fun all year long.
It's at its most magical in the winter, when the roller rink becomes a popular place to go ice skating.
The evening will make for a romantic moment as you watch the Christmas tree light up in front of the city center.
Not confident on skates?
Take a 30-minute lesson and learn to glide through the ice with grace.
Or, try out their Ice Bumper Cars and let out your mischievous side as you zoom around the rink – undoubtedly one of the most fun things to do in Rhode Island in winter!
9. Visit the Newport Mansions during the holidays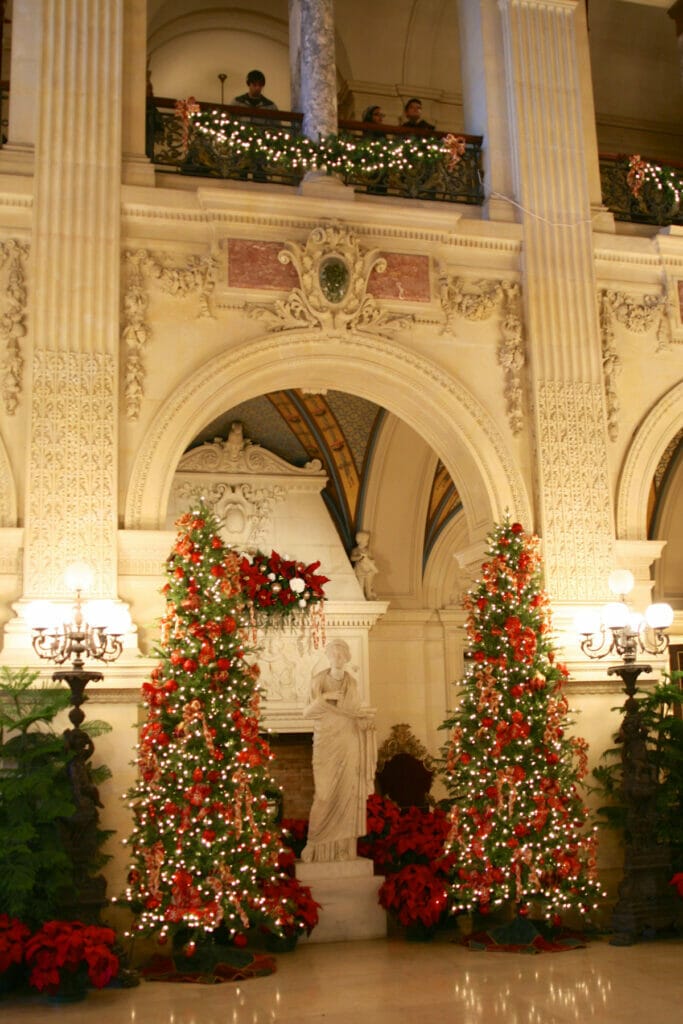 Famed Newport attractions and some of the best things to do in Rhode Island, The Breakers, Marble House, and The Elms, transform into an exceptional display of beauty and wonder during the winter holidays.
The ornate decor of these historic mansions leave many breathless year-round, but in December?
It's on a whole other level!
Marvel at the poinsettia tree at The Breakers' Great Hall, standing 15 feet tall and made entirely of 150 poinsettia plants!
Over two dozen Christmas trees are spread throughout the three mansions, each decorated to their own unique beauty.
Sip on apple cider or hot chocolate in The Café at the Welcome Center, and remember to dress warmly as you walk through the crisp winter air between the neighboring mansions.
10. Enjoy the Christmas festivities at Blithewold Mansion
If the mansions of Newport aren't enough, head over to Bristol for another warm and inviting holiday experience.
This historically significant arboretum is known for its magnificent lights and overall charming atmosphere during the winter holidays.
Blithewold Mansion has been known to host holiday tea-times and other fun and family-friendly festivities in December.
Check the Blithewold Mansion Facebook page before your visit to see what special winter events are on the menu this year!
11. Head to West Warwick for the Rhode Island Christmas Festival
West Warwick attracts thousands of people each year with its annual Rhode Island Christmas Festival.
Kicking off the holiday season in late November, there's plenty of fun to be had for people of all ages at this multi-day event.
Kids will get into the holiday spirit as they compete in the Little Miss Christmas and Little Mr. Christmas pageants, and follow Santa in the annual Family Parade.
Looking to get some holiday shopping done?
There are dozens of local vendors to choose from as you peruse their diverse offerings at the West Warwick Civic Center.
And the best part is: Admission is free!
12. Join Ebenezer Scrooge for A Christmas Carol in Providence
Every year, the historic Trinity Rep theater company puts on an unforgettable show as they bring to life the timeless holiday classic, A Christmas Carol.
An annual event that has been well-loved for over 45 years, this is undoubtedly one of the best things to do in Rhode Island in winter.
Each annual production has its own unique reimagining of the Christmas classic, with many attendees praising Trinity Rep for its ongoing creativity and originality.
What version of A Christmas Carol will you get to see this year?
Get your tickets and find out!
13. Delight in the New England charm at the Bristol Christmas Festival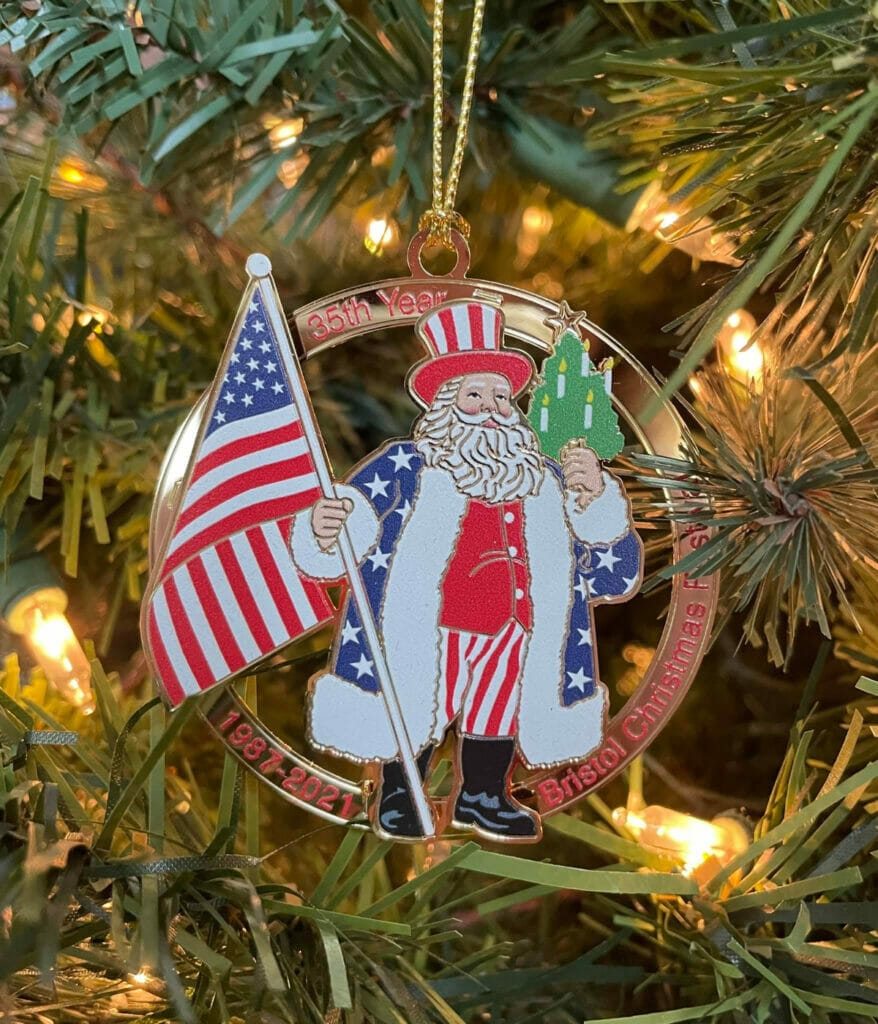 Dazzling lights. Christmas stories. Pictures with Santa.
This is just a snapshot of all the fun to be had in Bristol, RI during their annual Christmas Festival.
Located in what is revered as America's most patriotic town, the Bristol Christmas Festival brings together kind townsfolk and curious travelers in their joyful holiday celebration each year.
Go for a stroll through the heart of town and you'll find cheerful vendors, unique food trucks, plenty of family-friendly activities, and maybe even some ice sculptures!
Bring home a souvenir in the form of the festival's annual commemorative ornament – but be sure to snag one before the limited numbers run out!
14. Enjoy seasonal wine tasting at the Newport Vineyards WINEterfest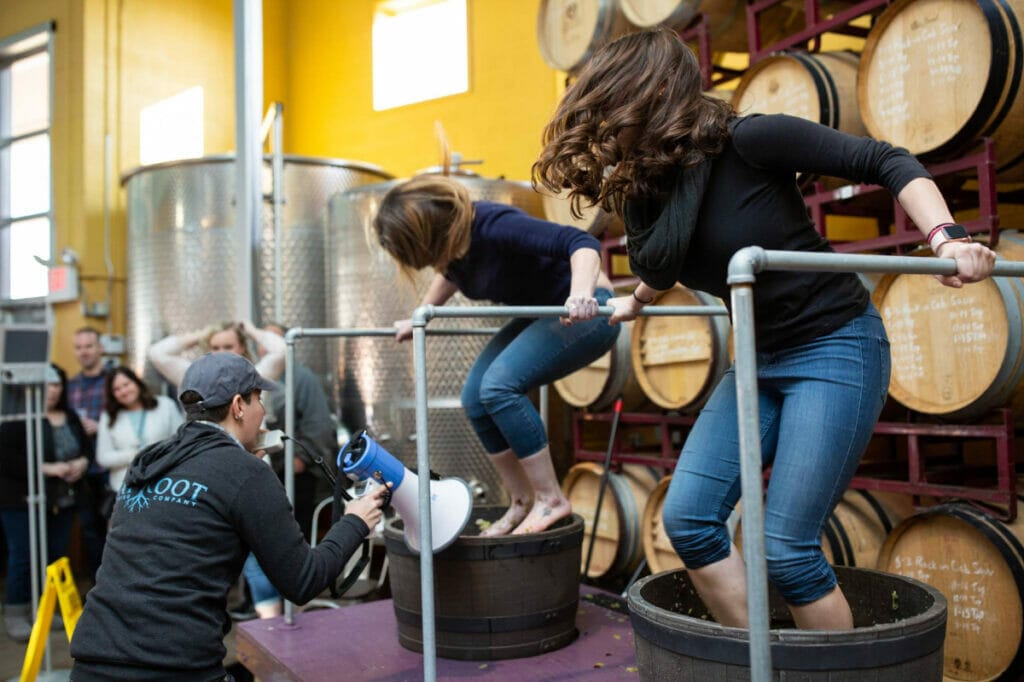 One of the most highly rated vineyards in Rhode Island has got you covered for the winter season!
Newport Vineyards' annual WINEterfest takes place in late February each year, and is the perfect event for a Rhode Island winter vacation for couples or single adults.
You'll enjoy both wine and beer tastings, along with live music, fresh food, and more!
Traveling with kids?
They're welcome, too! And for kids 15 and under, admission is free!
Feeling a little Great Gatsby?
Kick off the weekend festival by attending the special 1920's-themed "Speakeasy Soiree", where era-appropriate dress is encouraged!
Rhode Island, the Ocean State, may be best known for its dazzling waters and numerous beaches, but the fun doesn't stop there!
Head further inland to the Pulaski State Park and Recreational Area, and you'll find a winter wonderland in the Northwest Rhode Island village of Chepachet.
Though it's quite large, locals note that this park has a distinct quaintness to it – perfect for some introspective time in nature!
Particularly athletic travelers will enjoy the opportunity for some cross-country skiing, and the idyllic wooded hiking trails make for an excellent getaway, especially for those traveling with dogs.
If you're looking for outdoorsy things to do in Rhode Island in winter, the Pulaski State Park and Recreational Area is the place for you (also, don't forget to check out Rhode Island's national parks!)
Pin for later!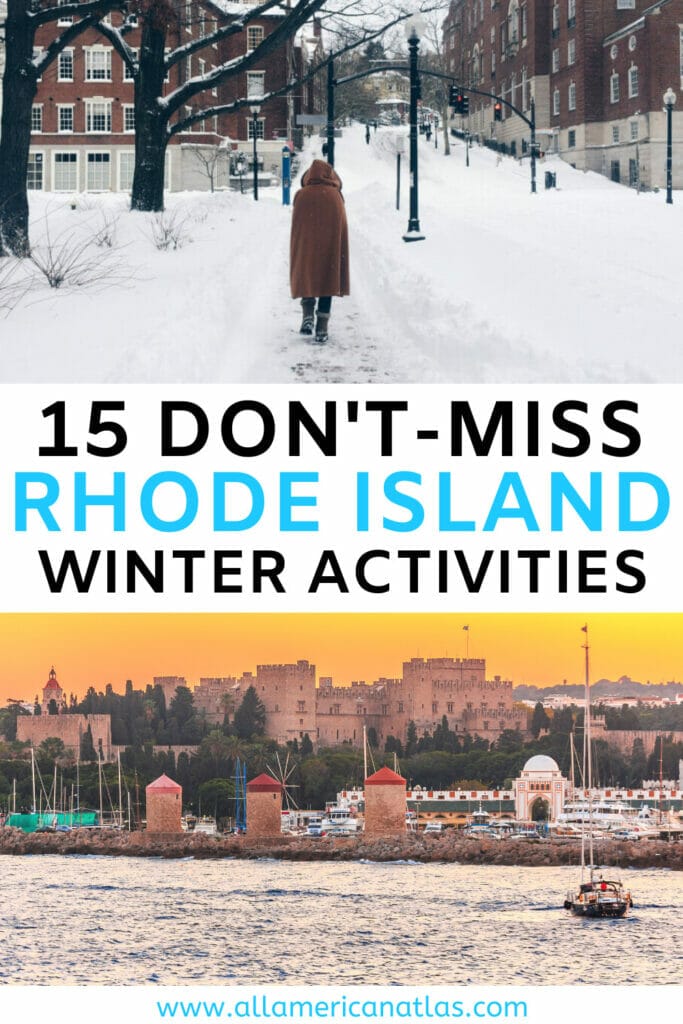 Get the All-American Travel Secrets!
Don't miss out on America's hidden gems!