Having opened in 1955, Disneyland has expanded and continued to create magic for young and old over it's 60+ years as the Happiest Place on Earth.
The Disneyland Resort, as a whole (Disneyland, Disney California Adventure, Downtown Disney, The Disneyland Hotel, The Grand Californian Hotel and the Paradise Pier Hotel – soon to be the Pixar Pier Hotel) contains a variety of unique experiences guests can only find at this California wonderland.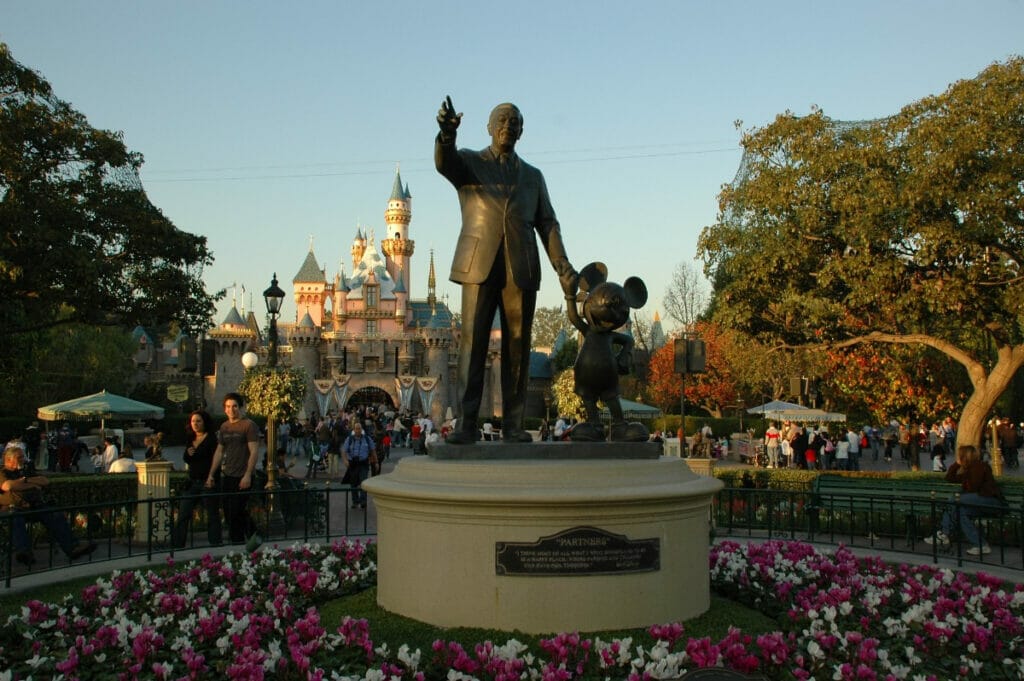 Here are some of the best things to do when you visit the resorts, unique to Disneyland.
Hey! Want more Disneyland resort guides? Check these out!
1. Handmade Candy Canes
At Christmas, these highly coveted confections are proudly purchased by guests in the know.
Limited in number each day, guests line up during the month of December to purchase this special peppermint treat, only offered at Disneyland parks.
The candy canes are hand-pulled and formed into giant hooks, sold alternately at The Candy Palace on Main Street at Disneyland and at Trolley Treats at Disney California Adventure.
Information on when and where these holiday treats will be available are usually made in early to mid-November.
Only one candy cane may be purchased, per guest, each day. Plan ahead and taste the magic of these special holiday treats!
2. Trader Sam's Enchanted Tiki Bar and Tangaroa Terrace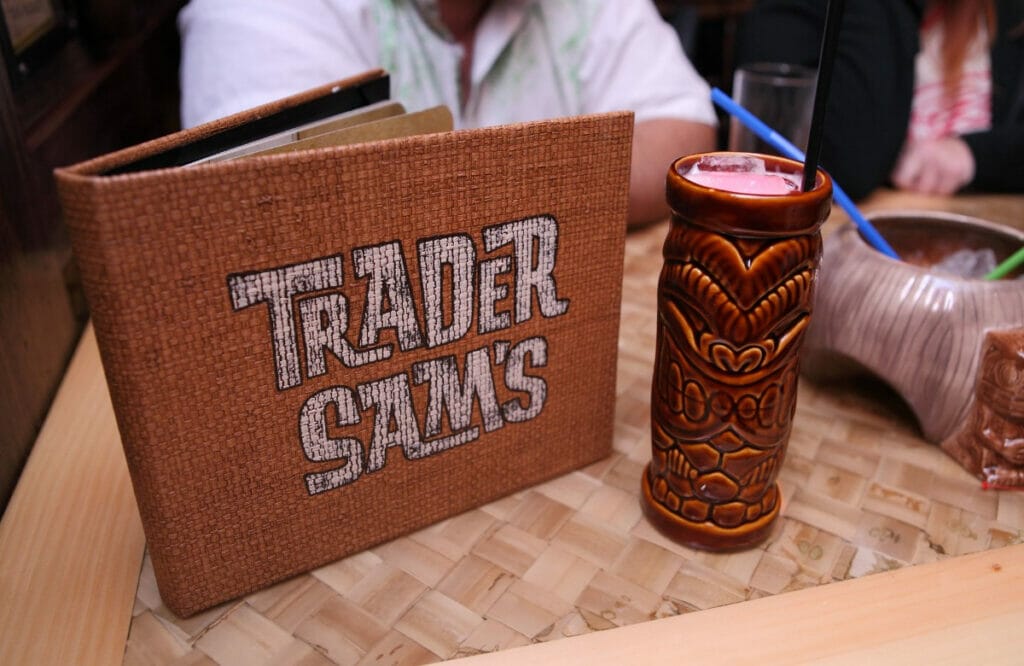 Based on a character from the original Jungle Cruise in Disneyland, enjoying a drink and a "Poo Poo Platter" at Trader Sam's is a true Disneyland experience.
The inside bar area is a treat for the senses.
Tiki kitsch covers the walls as guests find hints to various stories from Adventureland and the Jungle Cruise.
Order a Uh-Oa sharable cocktail and the bar turns into a furry of entertaining cheers, cracks of thunder, flashes of "lightening", and a spritz of water from behind the bar.
The bartenders serve up various concoctions in special tiki mugs and glasses which guests get to take home (although less expensive options for the drink alone can be purchased).
You may also ask for a non-alcoholic drink, if you prefer, and still buy the souvenir Tiki mug (at full price).
Young explorers (anyone under 21) may experience the inside of the bar until 8 pm, at which point the bar becomes a hot spot for adults 21 and over.
However!
Everyone is welcome on the outdoor terrace where live music is played almost every evening.
Reservations are highly recommended for this exciting dining location, however, a standby list is available at the entrance and online.
If you don't get into Trader Sam's, never fear!
Walk around the side of the building to the entrance of Tangaroa Terrace and seat yourselves.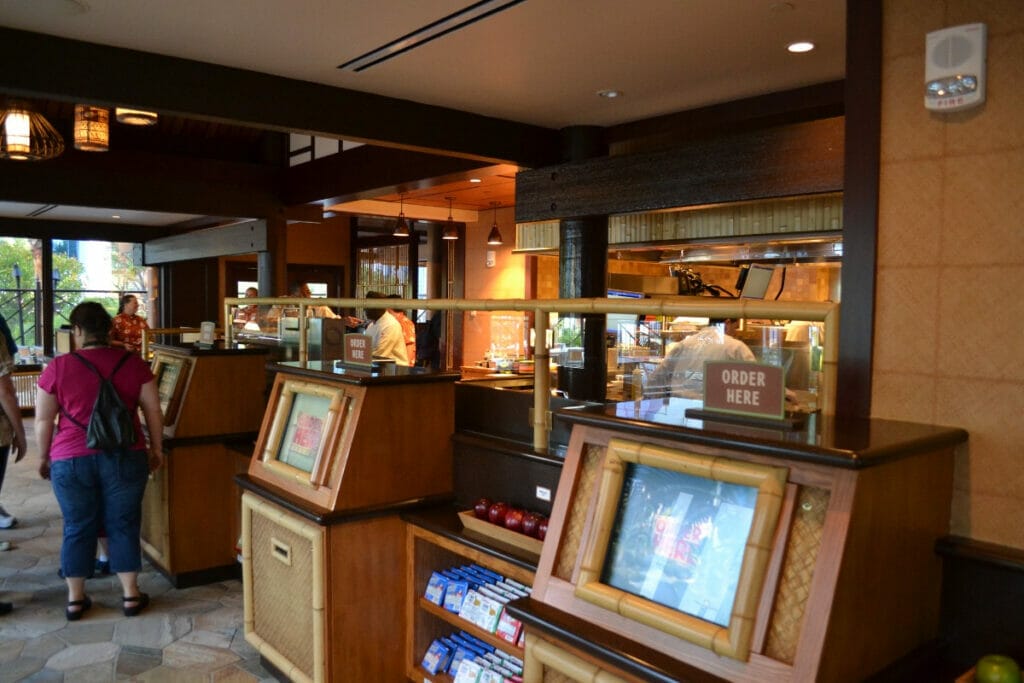 You can purchase the same Tiki drinks and food at the walk-up bar and they will give you a number for your table.
BONUS!
Tangaroa Terrace is open for breakfast, as well!
Several Polynesian inspired dishes are available such as the Loco Moco breakfast burrito and the incredibly delicious Tangaroa Toast – a thick slice of cinnamon toast, stuffed with custard and topped with guava puree and coconut whipped cream (with a side of bacon!)
You're welcome, in advance!
3. Snacks from the Cozy Cones at DCA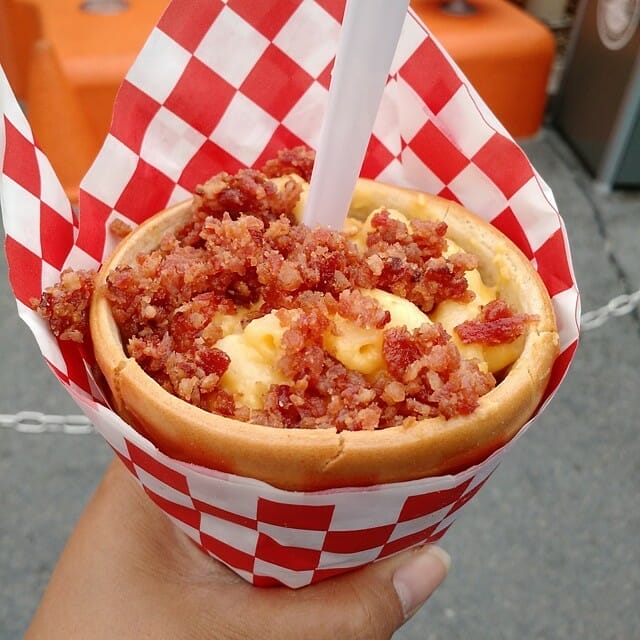 Carsland is one of the highlights of Disney California Adventure and the Cozy Cones are must-eat experience!
Sally's motel from the movie, "Cars" has been turned into several choices for snacks at various Cozy Cones.
Most of the snacks come in cone-form and Cast Members (Disney employees) encourage you to enjoy the "Cone-diments" located to the side of these giant orange road-warnings.
A few of the snacks include Chili Cone Queso, Bacon Mac-n-cheese (both served in a spiral bread cone), chimichangas and a wide selection of frozen treats and drinks such as a Route Beer Float.
Grab a treat and watch as the lone stop light really is slower on every third blink!
Also, can you find the hidden Mickey on the power line near Stanley's fountain?
4. Neon at Carsland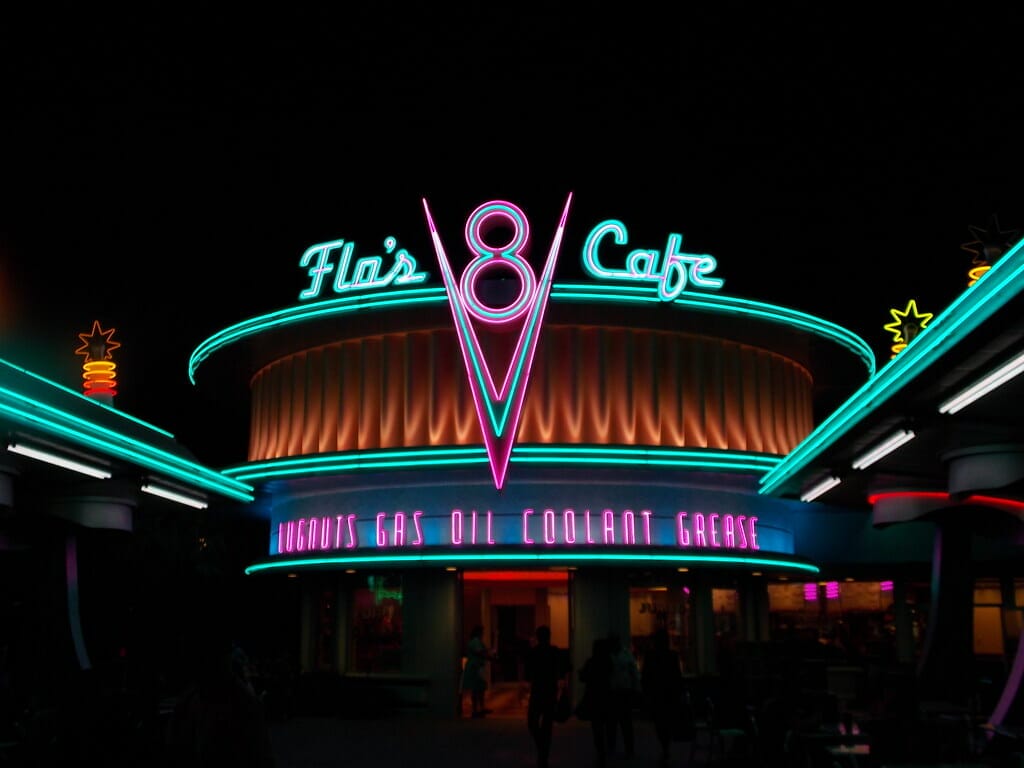 Another fun experience at Carsland is to arrive at dusk, just as the town lights up in neon.
Catch a Cast Member in the area, earlier in the day, to ask what time you should return for that evening's lighting.
Just as in the movie, "Cars", the Neon is turned on, one location at a time, as the song "Life Would be a Dream" is piped in over the speakers and guests saunter down the main drag, just as Lightening McQueen discovered the wonders of this little stop on the old Route 66.
The neon lights make for wonderful photo opportunities and Photopass Photographers are always available to make sure your family can save this visual memory of your vacation for years to come.
5. Table-side Guacamole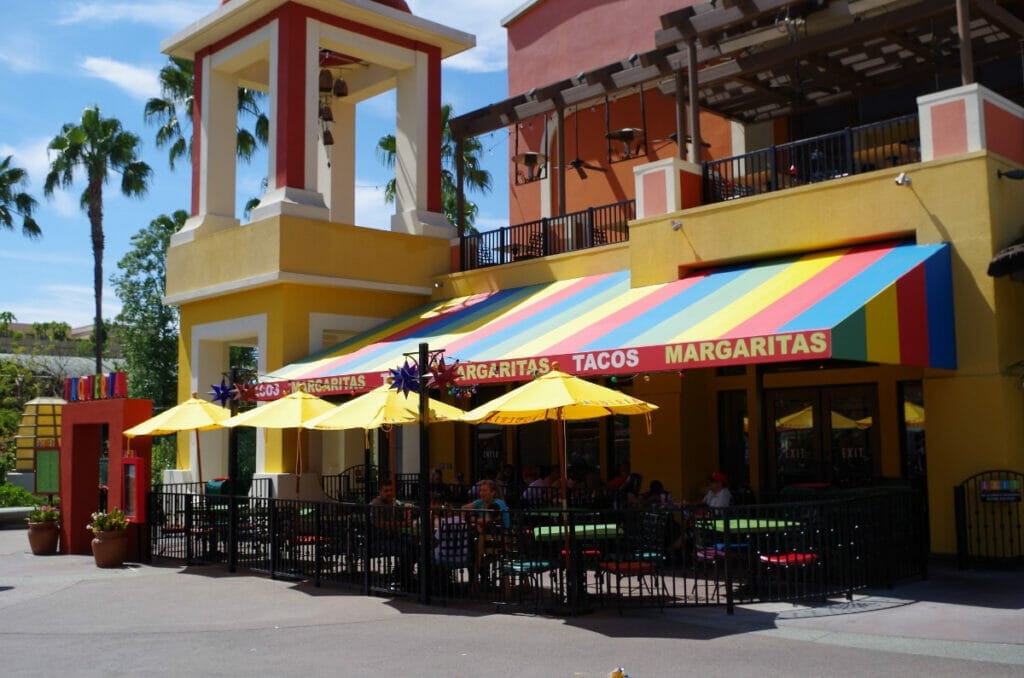 While in California, you might as well try one of the best produce the state has to offer – the avocado!
And what better way to taste this creamy, rich, delicacy, than in GUACAMOLE!
Tortilla Jo's Mexican restaurant in the Downtown Disney District, makes this special version of guacamole right at your table, adjusting the recipe to your specifications.
More tomatoes?
Maybe none at all!
Want it spicey or mild?
Onions? More or less cilantro?
You have a say in how your green masterpiece is created.
Then dip a warm chip into your creamy guacamole and ENJOY!
6. The Disneyland Hotel Lobbies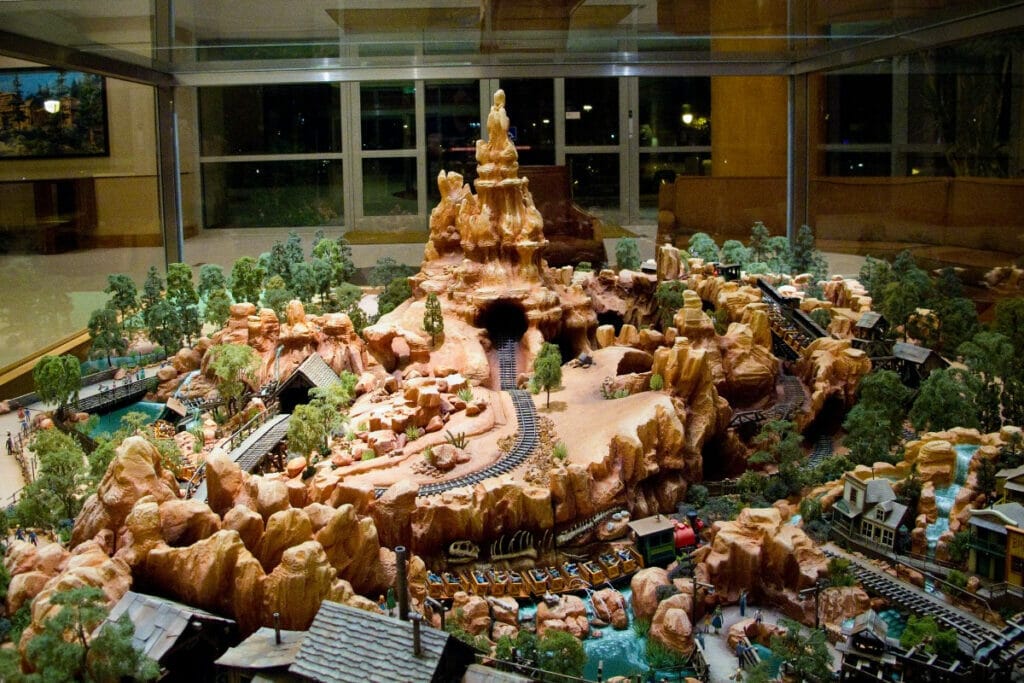 Hotel lobbies can be grand and beautiful, but very few contain actual museums of Disneyland history!
The lobbies of the Disneyland Hotel and its Convention Center, hold many treasures that Disney fans will find fascinating.
Start in the main lobby of the Fantasy Tower.
Of course, you can sit in a tea-cup chair and play on the video table games while waiting for your room information, but there is so much more.
All around the lobby are pieces of art by famous Disney artists such as Mary Blair and Herb Ryman.
There's also a giant, light-up map of the original version of Disneyland.
Near the entrance to the Convention Center is a wall of Disneyland souvenirs throughout the history of the park and a photo history of the Disneyland Hotel.
Next, enter the main entrance to the Convention Center near Goofy's Kitchen.
You'll find a replica of the original Autopia Cars that you can sit in for a photo.
Climb the stairs to view more art from the talented artists of the Disney Studios.
In the Frontier Tower, you'll find a model of Big Thunder Mountain Railroad, complete with a tiny dynamite-toting goat!
7. Corn Dogs from the Little Red Wagon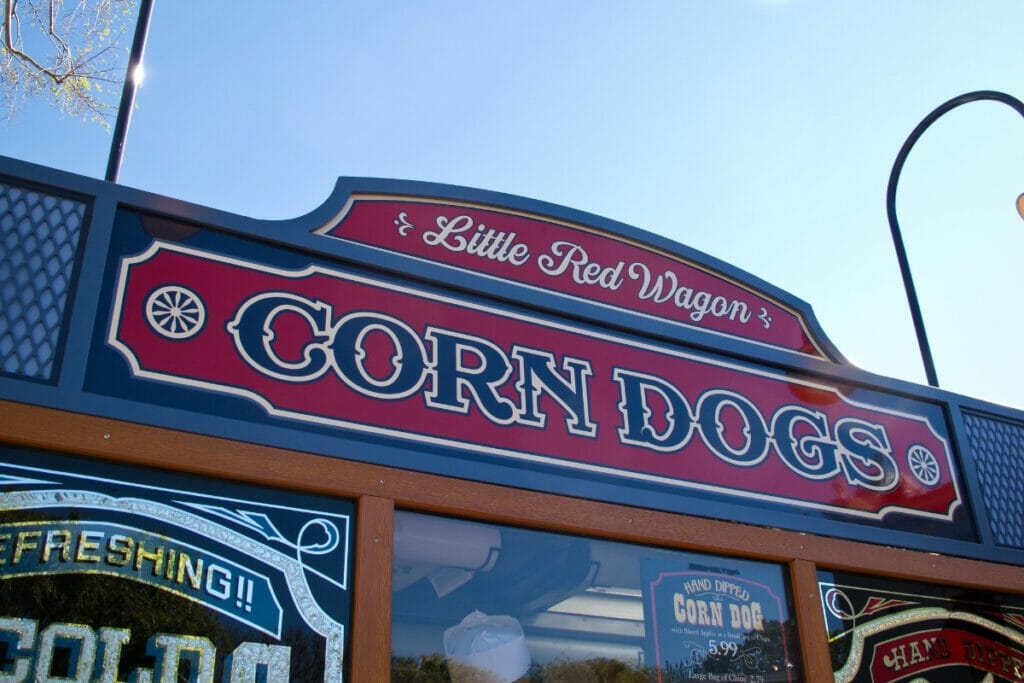 It's not your average corn dog.
Really.
This is the BEST corn dog you'll ever eat.
Even guests who don't enjoy corn dogs will devour one of these "puppies" in a heartbeat.
There's just something different about these specific corn dogs from the Little Red Wagon, located at the end of Main Street in Disneyland that keep people coming back for more.
The corn dogs located at other locations throughout the parks are good, but there really is something different about this location.
The meal gets you a corn dog, a bag of chips and a soda for what is considered one of Disneyland's best deals for a meal.
The tasty, quality, hotdog is dipped in a delicious coating of cornbread batter and deep friend to crispy perfection.
Dipped in ketchup or mustard, this delightful food-on-a-stick is sure to please even the most skeptical of foodies.
8. The Blue Bayou and other New Orleans Square delights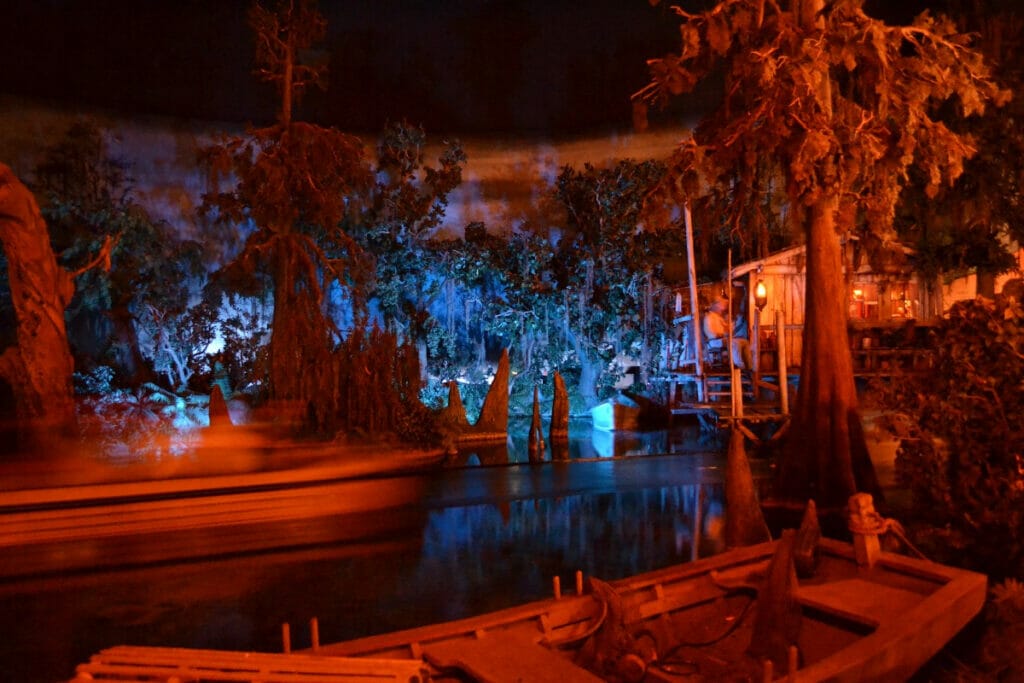 The Blue Bayou restaurant at the Pirates of the Caribbean ride is a Disneyland classic!
Talk about ambiance!
This dining location has it in spades!
The Blue Bayou is designed to immerse guests into a fantasy New Orleans dining scene, ripe with Southern charm.
Wrought-iron fences divide the diners from the river that sweeps ride-goers into the Pirates of the Caribbean.
Lightening bugs blink, frogs croak and crickets chirp as the wait staff wind their way around the tables, serving up gumbo, jambalaya, steaks, fish and the famous Monte Cristo Sandwich – a battered and fried turkey, ham and Swiss cheese sandwich with a side of strawberry jam to dip.
Reservations for the Blue Bayou are HIGHLY recommended.
Try to dine at off-peak times for a better chance of getting into this popular location.
But never fear!
If you'd still like to try the famous Monte Cristo without dining in the Blue Bayou, you can also purchase the sandwich at Café Orleans with a side of pommes frites (French fries).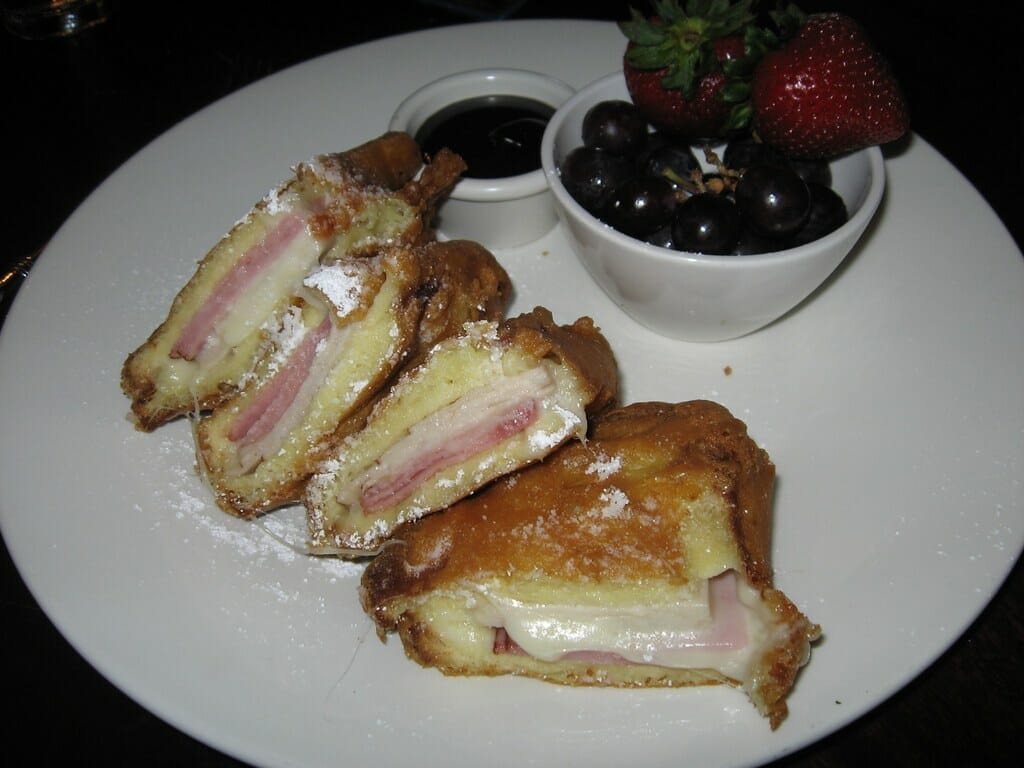 Another special treat are the Mickey-shaped beignets at the Mint Julep Bar, located near the New Orleans Square train station.
Buy a bag of these freshly made, warm, powdered sugar covered treats and enjoy a non-alcoholic Mint Julep on the side for a true New Orleans Square experience!
9. Lobster Nachos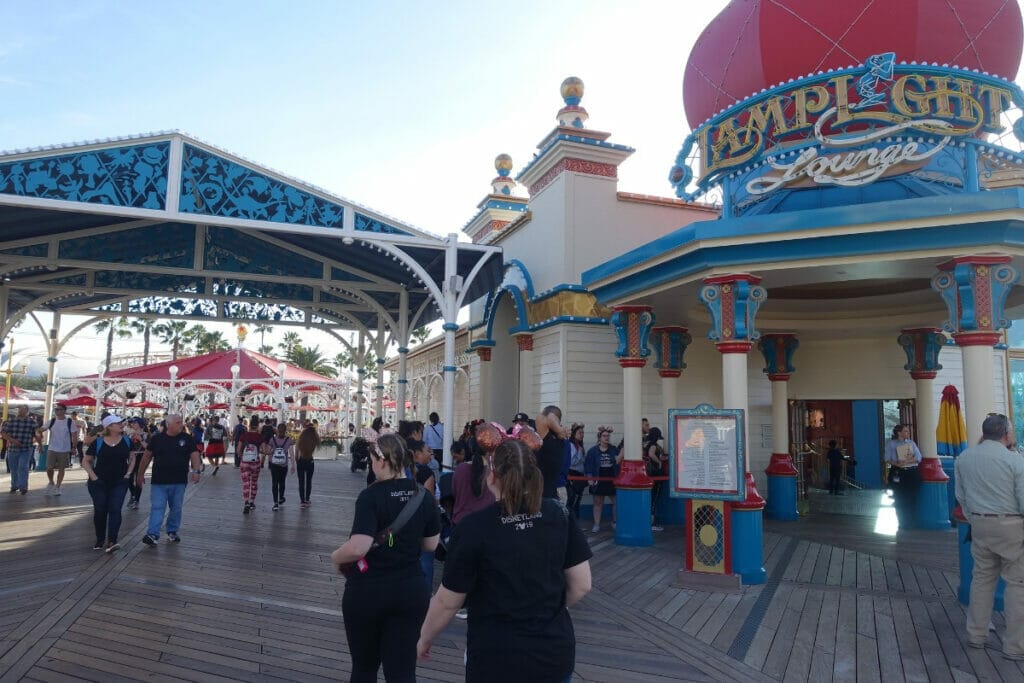 The Lamplight Lounge at Disney California Adventure offers many different culinary delights, but one of the most popular is the Lobster Nachos.
This snack-as-a-meal, first appeared at the Cove Bar, which was located above the restaurant when it was a character dining location.
These nachos are HUGE and definitely can be shared with several people.
A layered pile of tortilla chips and cheese are topped with chunks and flakes of tasty lobster, black beans, pico de gallo and a crema sauce.
The Pixar-themed Lamplight Lounge also serves an array of cocktails.
The restaurant is full of Pixar concept art and movie moments.
10. Walk in Walt's Footsteps Tour
Although Walt Disney imagined great things for his theme park in Florida, he never actually had the chance to walk in the completed park.
This is not the case at Disneyland!
Disneyland was Walt's original dream and he not only walked within the theme park, he often spent the night in his special apartment located over the Main Street Fire Station and would roam around amongst the guests, signing autographs and meeting the families for whom he created The Happiest Place on Earth.
Walt's magical touch can be seen throughout Disneyland and his spirit remains in the place he loved so dearly.
The Walk in Walt's Footsteps Tour highlights all the areas and attractions Walt loved the most within Disneyland.
Guests get to see behind the scenes and in areas, not open to the general public.
They also receive lunch or dinner at the Jolly Holiday Bakery and a commemorative pin to remember the experience.
Reservations are required.
The cost of the tour is in addition to park admission.
Even if you are unable to go on the tour, make sure to honor Mr. Disney by noticing the lantern that is kept lit in the widow of his apartment.
Thank you, Uncle Walt!
11. Notice the details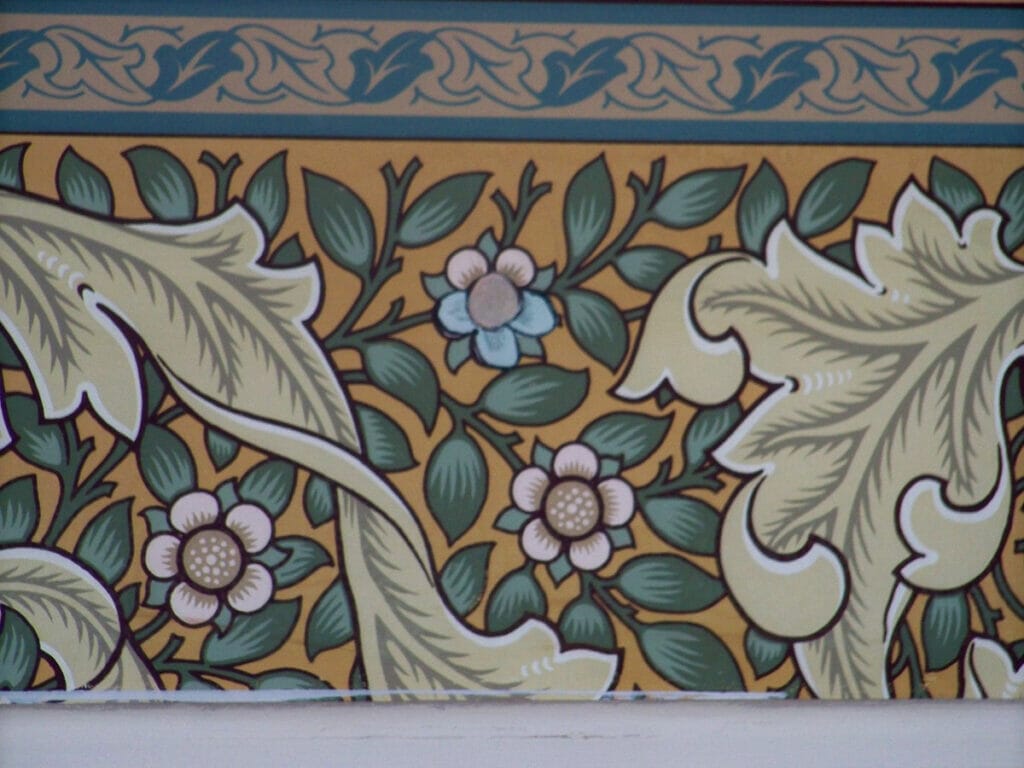 Disneyland is full of interesting history and more details than you can see in one visit.
Hidden Mickeys are, of course, a very popular detail in all Disney parks and hotels.
They can be found from various spots in the pavement, to a swirl on the side of a snack cart. Hidden Mickeys are EVERYWHERE!
Each Disney Parks Legend is given a commemorative window on Main Street.
Look up to find names of famous Imagineers, animators and park executives.
Unique to Disneyland is the window of Ron Dominguez, who's family once owned the property on which Disneyland was built!
At the New Orleans Square Railroad Station, you can hear Morse Code ticking away from the telegraph office.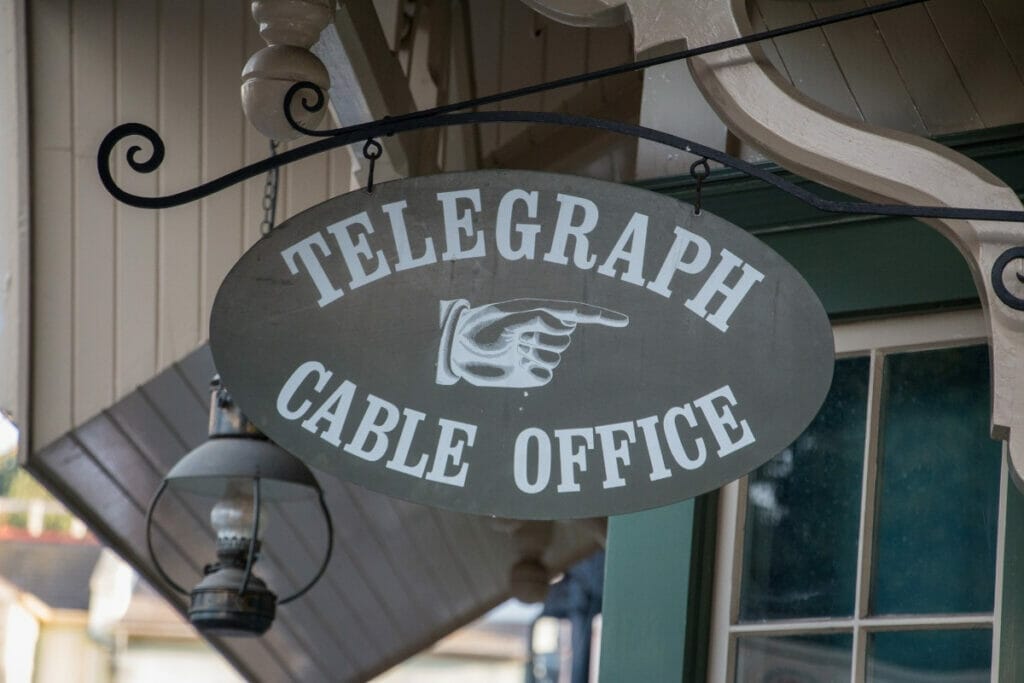 This is actually the speech Walt Disney gave at the opening of Disneyland in 1955!
12. The Lilly Belle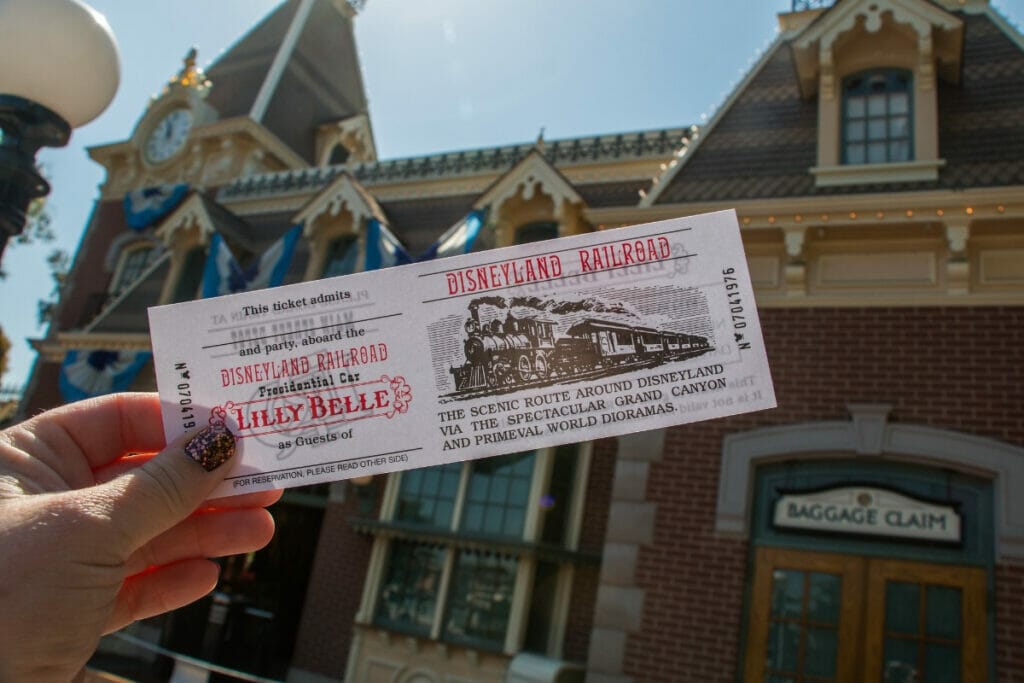 Another special tour at Disneyland involves Walt's love of trains!
Train enthusiasts can enjoy the Grand Circle Tour, which covers the history of Walt Disney's love of trains, models and his dream of building a train that would circle Disneyland.
Originally build in 1928, the Lilly Belle, a special train car named after Walt's wife, Lillian, was created to transport VIP's around the park and to the exclusive Club 33, located in New Orleans Square.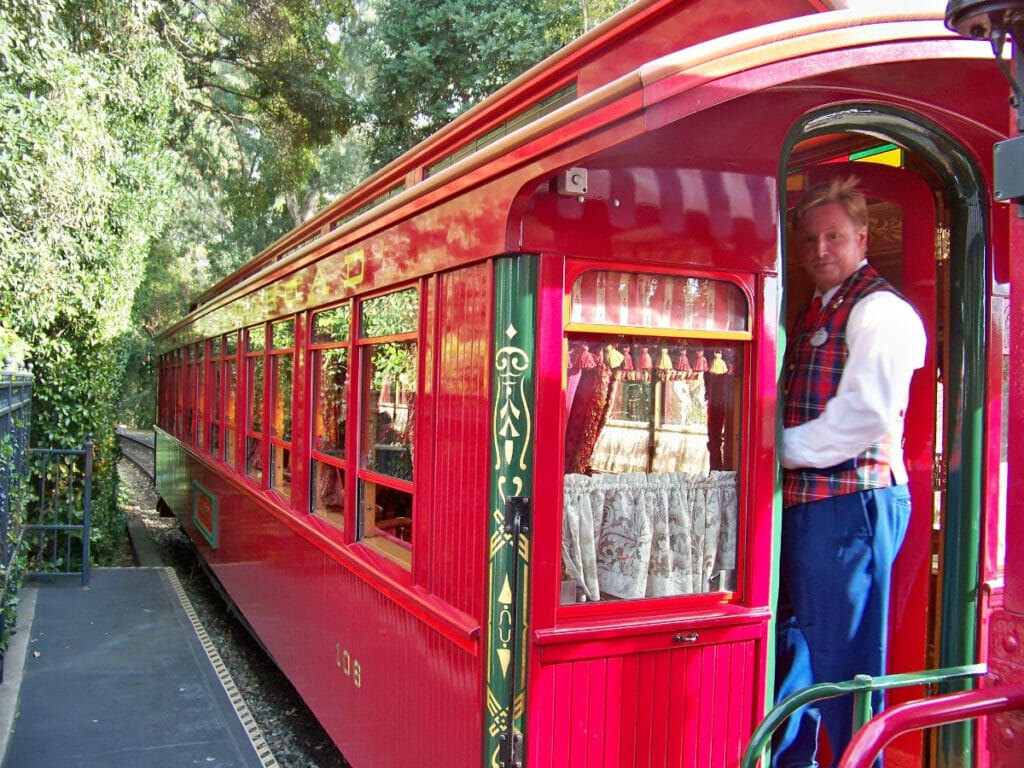 Now, guests of the Grand Circle Tour may board this special car as they make their way around Disneyland by rail.
The tour includes the opportunity to purchase souvenirs specific to the tour.
Reservations are required.
Separate admission to the park is not included, but is required to attend the tour.
13. Explore Sleeping Beauty's Castle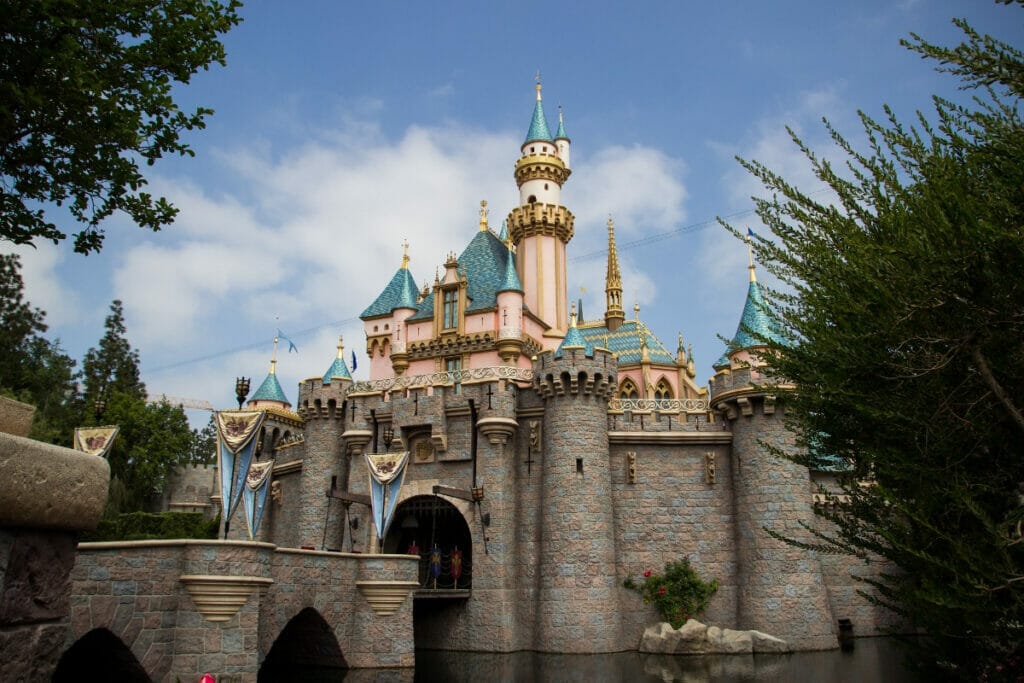 The original Disneyland Castle may not be as grand as its counterparts across the world, but it houses a fun walk-through experience.
Enter on the back side of the castle (actually, the FRONT! Did you know that?) and climb up the winding staircase to tour the story of Sleeping Beauty set in beautifully created dioramas.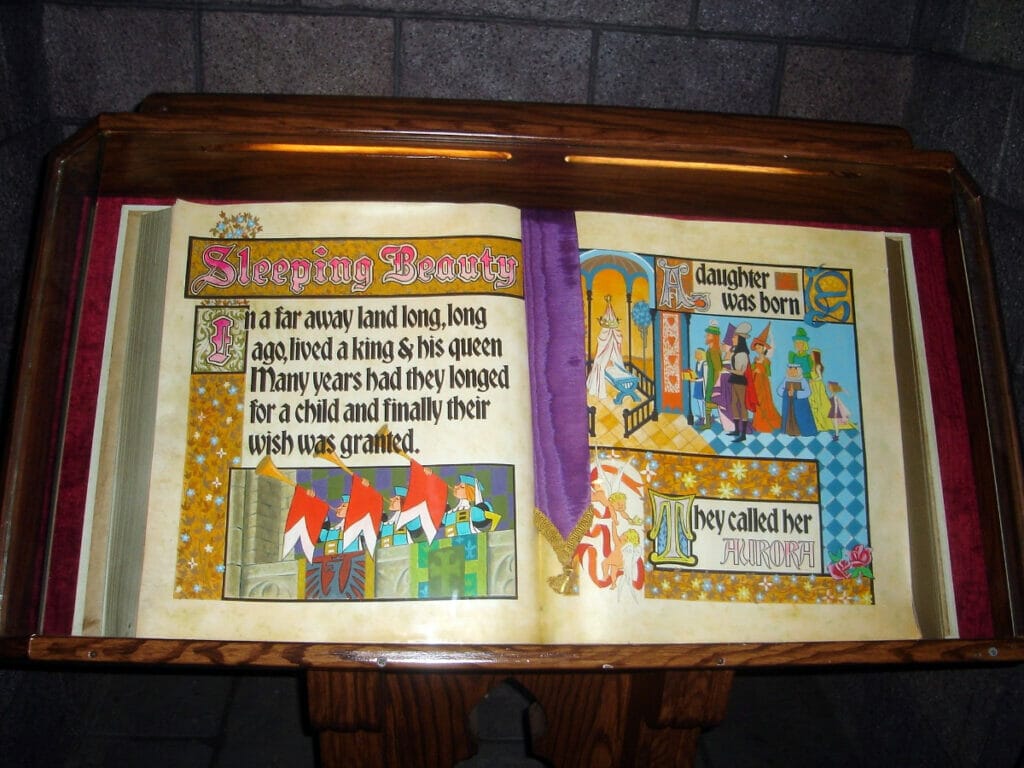 The exhibit takes you back down the other side of the main arch and exits back out, across from where you entered.
It's a quick attraction, with hardly ever any line.
A lovely way to cool off from the warm California sun.
14. Jingles!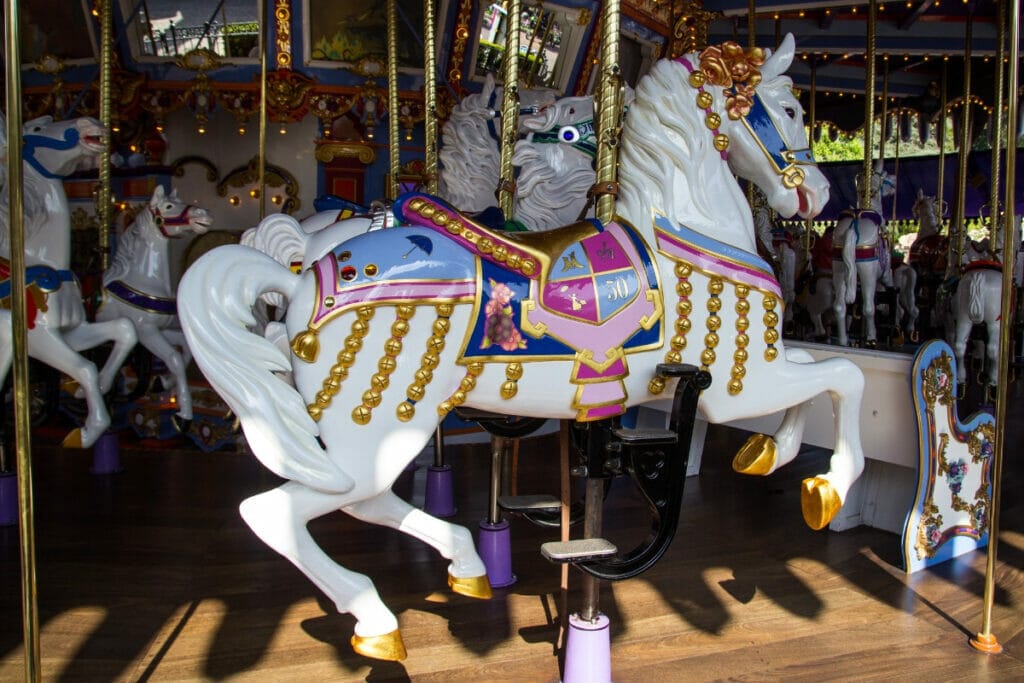 The King Arthur Carousel in Fantasyland is a fun ride for all ages – a theme park staple and part of Walt Disney's inspiration for a family amusement park.
But there is one special horse that many people don't notice when riding this classic attraction.
Each of the white horses on the carousel have a name (a list is available at City Hall on Main Street).
The lead horse, and Walt's favorite, is named Jingles.
In 2008, after a refurbishment of the ride, special details were added to Jingles, highlighting the movie "Mary Poppins" and the horse was dedicated to actress Julie Andrews in a special ceremony during Disneyland's 50th Anniversary.
Jingles is now a highly coveted horse on the carousel and guests feel special as they reenact Mary's Jolly Holiday while riding aboard this special, bell-clad, horse.
15. The Little Man of Disneyland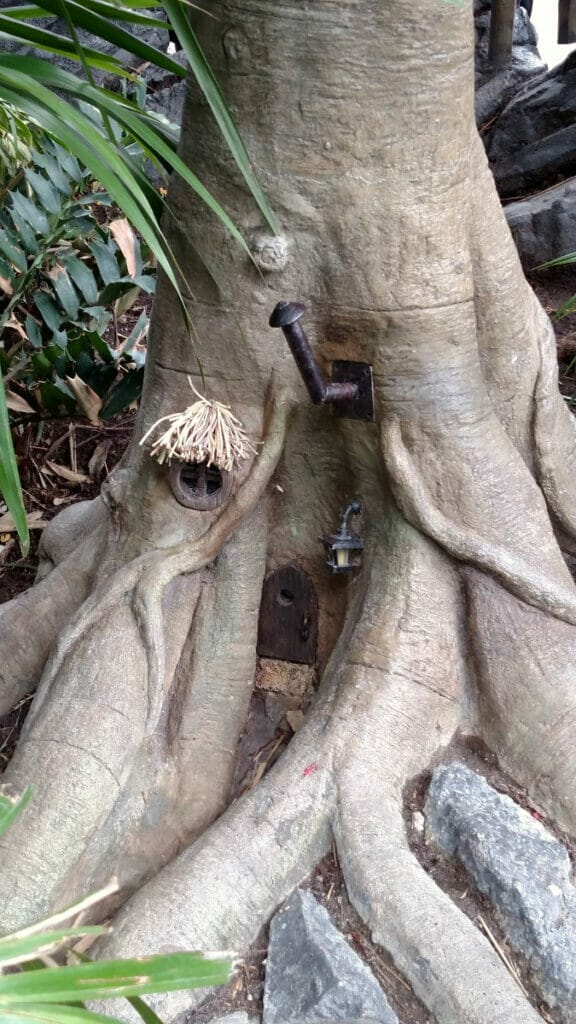 This special "secret" spot was one created after a story written and illustrated in 1955 for the Little Golden Books, so popular in American literature.
"The Little Man of Disneyland" is about a leprechaun named Patrick Begorra, who is uprooted from his home as Disneyland is being built.
In the story, Mickey and his friends eventually find a special home for Patrick in a tree located in Adventureland.
The park officials decided to incorporate Patrick's home into an actual tree and guests can search for his little door with a porch roof and stove pipe, near the entrance to Indiana Jones Adventure.
The book is still being published at can be purchased through several booksellers.
16. Jungle Cruise Maps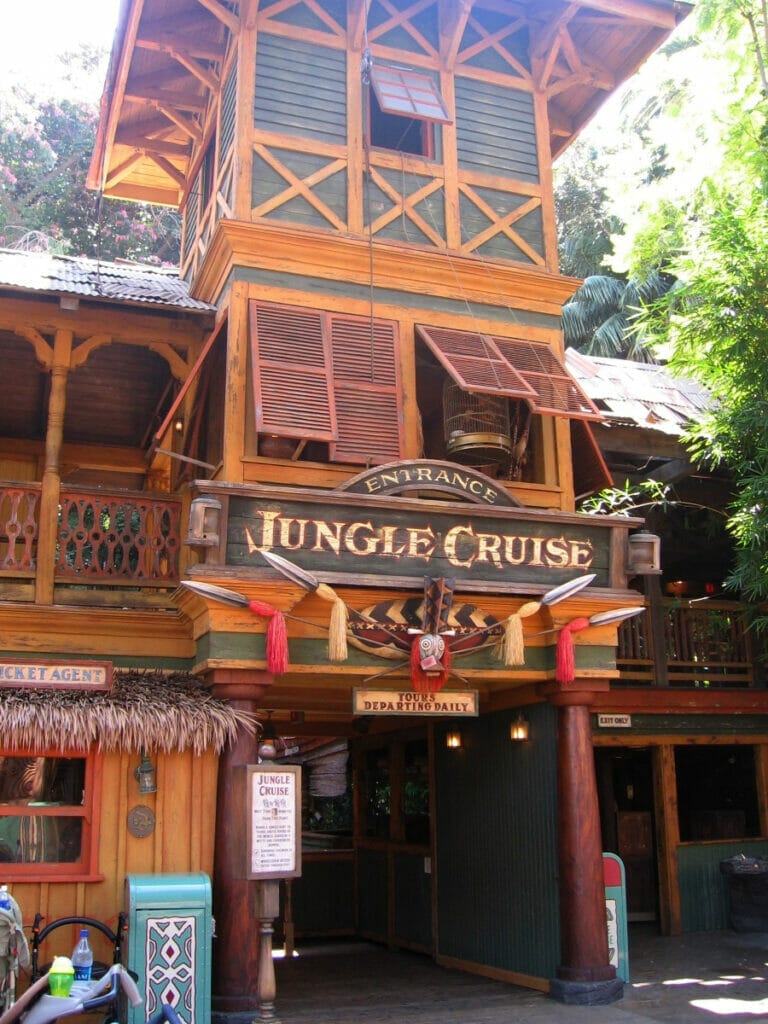 The Jungle Cruise, one of Disneyland's original attractions, has taken on many versions over the years, but the general route has remained the same.
And yet, do you know your way around the jungle?
When exiting the ride, ask a Cast Member at the nearby stand, for a map of the Jungle Cruise.
If you are lucky, a special sepia-toned, keepsake map will be presented to you, discreetly.
The free souvenir makes a lovely memory of your visit and looks great framed!
BONUS: Guest can also ask for a Death Certificate from a Cast Member when exiting the Haunted Mansion, but these aren't as readily available.
17. The Citizens of Buena Vista Street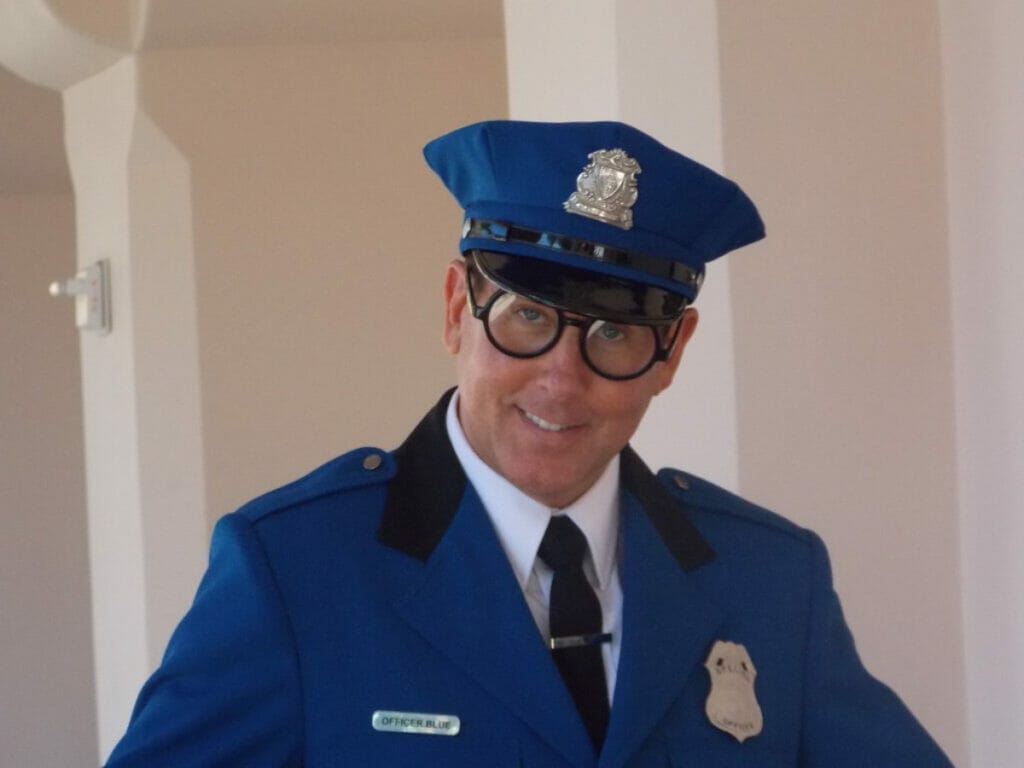 Buena Vista Street is located as you enter Disney California Adventure and acts as DCA's "Main Street USA".
Unique to this street are all the citizens that make Buena Vista Street a thriving community.
Phiphi the Photographer (aka Phiphi Farouk Francis) is a rather flamboyant world traveler, often found shadowing Photopass photographers and guest as they take pictures, and marveling at their modern equipment.
Donna the Dog Lady (aka Donna Linn De Larria) is the self-appointed, unofficial Mayor of Buena Vista Street.
She can be found wandering around with her dog, Lady, in her special blue dress and grand "chapeau" (hat).
She is full of quick-witted jokes and gossip about everything pertaining to that particular part of DCA.
You are welcome to pet Lady with permission.
Officers Clyde and Calvin Blue are brothers in charge of making sure peace is kept on Buena Vista Street.
They are known for writing out tickets to guests for "best smile" and "excessive laughter".
If you're lucky enough to be stopped by one of these officers, you may just receive a ticket!
The Officers Blue have their eyes set on the town bike messengers, Millie and Molly.
Make sure to ask them about their crushes.
If you run into Millie or Molly yourself, be sure to ask if they have any messages.
They just might have a telegram in their pocket for you!
Pin for Later!
Get the All-American Travel Secrets!
Don't miss out on America's hidden gems!