Want some fun facts about California?
As the Beach Boys famously sang about their home state, "You could travel the world, but nothing comes close to the golden coast…"
California, famous for its music, Hollywood scene, beaches, peaks, and valleys, is the country's most populous state where people flock to enjoy its seemingly never-ending sunshine and good vibes.
The state is home to many record-setting destinations including the world's biggest tree, the world's deadliest surf, and even the country's most expensive zip code!
There are so many fun facts about California, this article is just the beginning!
Whether you're an adventure seeker in search of the country's tallest peaks or more of a TV buff who'd rather be on the couch with a bowl of guacamole and a glass of wine, this article has a taste of California for just for you!
Read on to find out more about this Golden State's claims to fame from its golden poppies to its salty coastline.
Hey! Want other locally-approved California guides? Check these out!
1. California is home to the world's largest tree.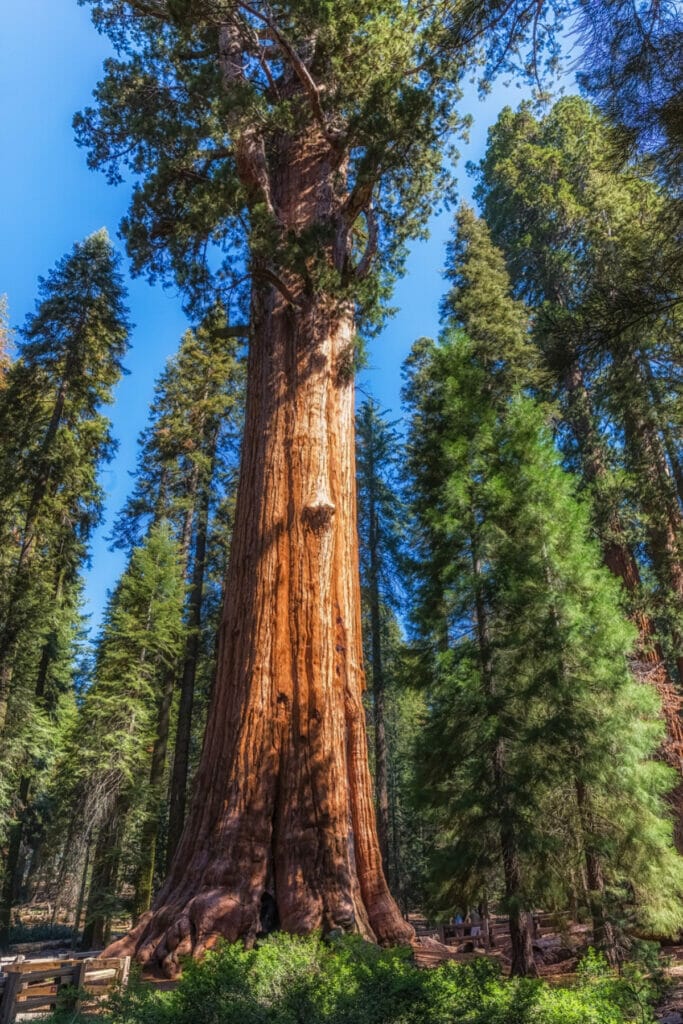 Standing at 275 feet (83 m) tall and over 36 feet (11 m) in diameter at the base, the General Sherman (great tree name, huh?) is officially the world's largest tree.
The General Sherman lives in the Sequoia National Park in Northern California which makes perfect sense as it is, indeed, a sequoia tree.
The most recent estimate of the tree's age is 2,200 years old which seems really old but it's not the oldest!
Now here's some real California trivia for you – the world's oldest trees are actually Great Basin bristlecone pine found in Eastern California clocking in at 4,853 years old!
2. California is known as the Golden State.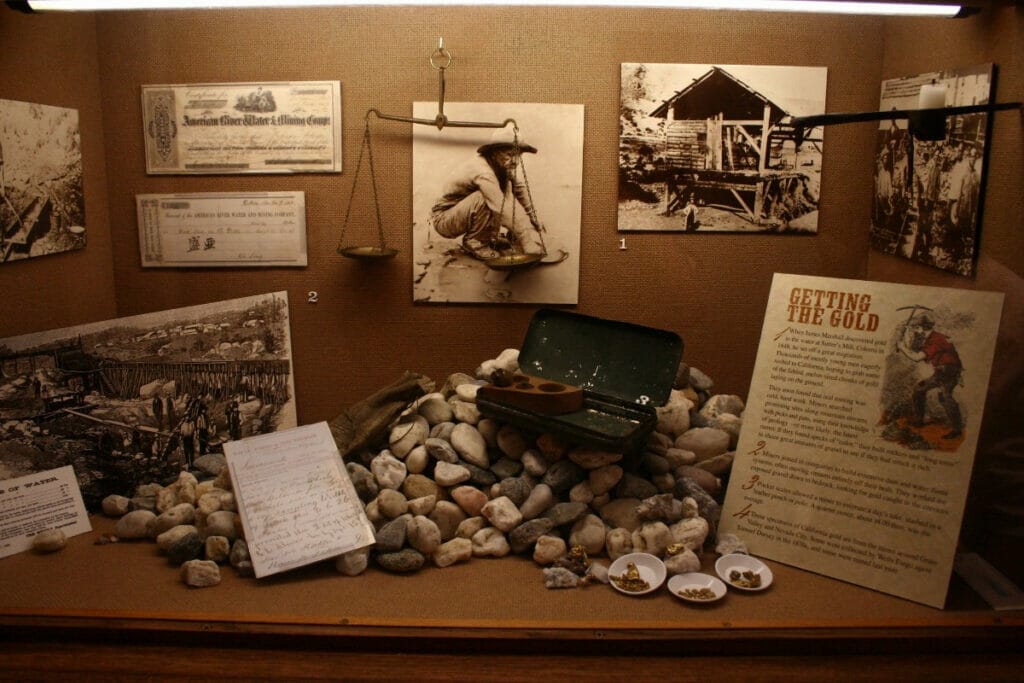 Now, you might think this is named after its fields of golden poppies you see featured on Instagram but actually, California has been known for gold for much longer than the existence of social media.
The real origin of this name dates back to the Gold Rush of 1848 when the gold rush lured people to the state in search of riches causing the largest mass migration in the United States.
Let's not discount the poppies though as they may have had a factor in the nickname when it was made official in 1965.
3. California is home to nine national parks.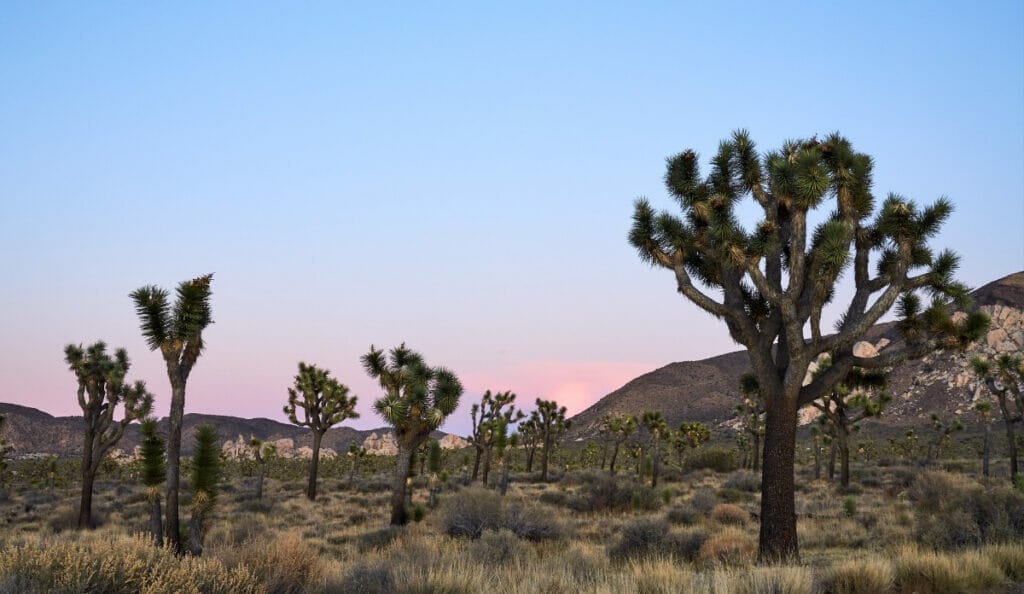 For a state as large as California, it may not come as a surprise that there are nine national parks but here's a California fun fact, it's actually the most national parks of any state!
The parks include Redwood National and State Parks, Pinnacles National Park, Lassen Volcanic National Park, Channel Island National Park, Yosemite National Park, Sequoia and Kings Canyon National Parks, Death Valley National Park, and Joshua Tree National Park.
Each park has its own unique appeal and attracts millions of visitors a year!
4. California is the avocado capital of the world!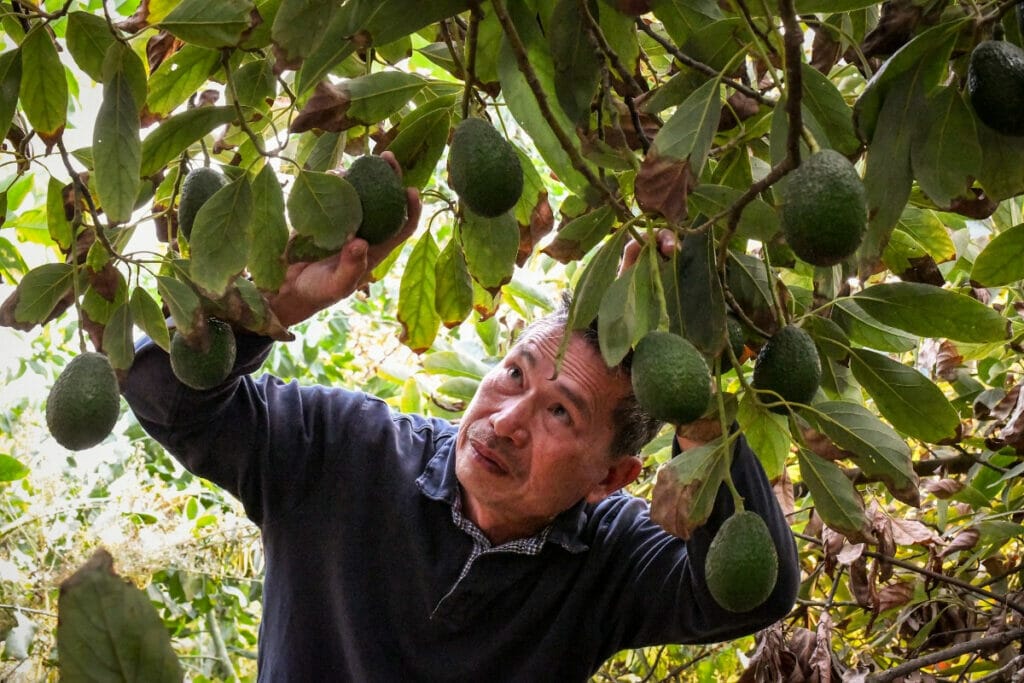 If you're a fan of guacamole or avocado toast, California is the state for you!
Particularly Fallbrook, California which hosts an Avocado Festival in its downtown strip annually and frequently draws large crowds.
Since the early 1960s, this annual gathering has been one of the biggest events of the year in San Diego's North County Inland.
In 2021, around 135.5 thousand tons of avocados were grown and harvested in the Golden State, how's that for a California fun fact?!
5. California poppy is the state's official flower.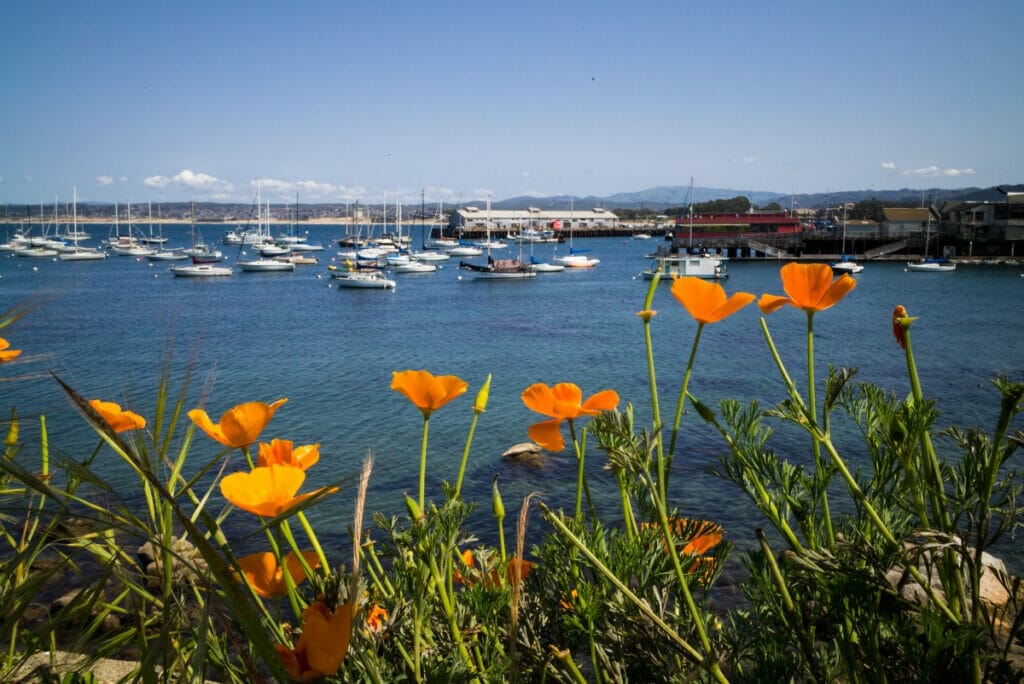 No surprise on this California trivia as the bright orange California poppy is associated with the state far and wide.
The state designated the flower via popular vote in March of 1903.
The flower is native to California's grassy and open areas from sea level to 2,000 meters (6,500 feet) altitude in the western United States throughout California, extending to Oregon, southern Washington, Nevada, Arizona, New Mexico, and in Mexico in Sonora
and northwest Baja California.
6. California has both the highest and lowest points in the continental United States.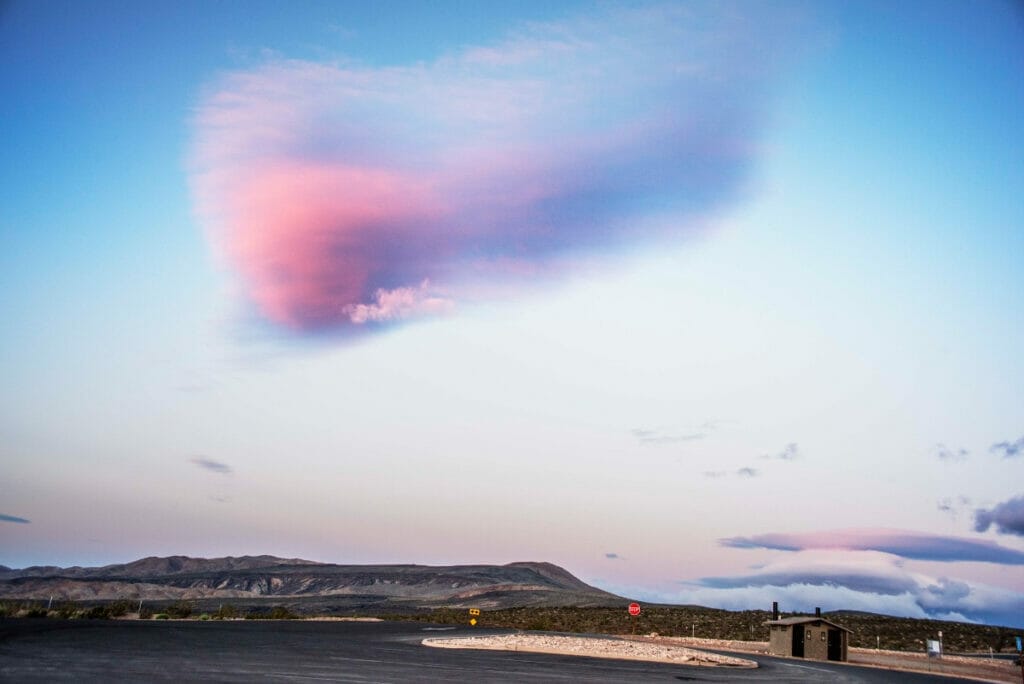 Now here's a cool fact about California! Do you think you can name them?
Here's a hint, they are even in the same county!
The lowest point in elevation is the Badwater Basin in Death Valley California and the highest is Mount Whitney.
Now the cool part, they are only 84.6 miles apart!
7. California has a super diverse geography!
California has a landscape fit for anyone! If you're not happy with your horizon, all you have to do is hop on the highway.
Within the state boundaries are cliffs, beaches, volcanic lava beds, fertile river valleys, waterfalls, mountains and deserts.
According to California's state tourism site, it's the most diverse state of the union!
8. California is divided into five major regions.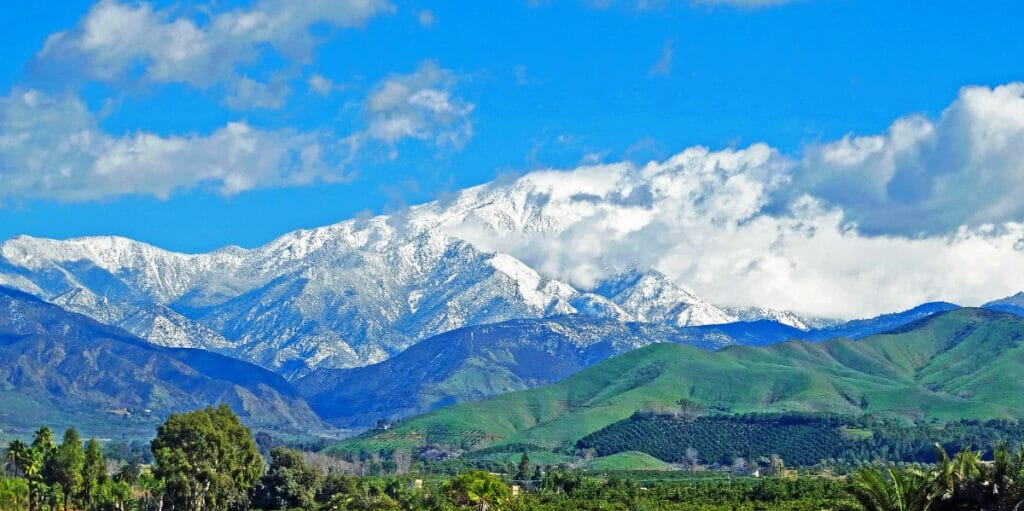 Can you name all five? The regions include north, south, coastal, central, eastern!
Because the state is so large, it's easier to refer to each area by its region but most people just refer to the state as Northern or Southern California.
Generally speaking, the boundary between Northern California and Southern California is the northern border of San Luis Obispo, Kern, and San Bernardino counties.
These counties form a nearly perfect straight line through the middle of the state.
Of course, this is just one way of dividing the State of California as you can also map out dessert, valleys, mountains, and beaches, too!
9. Los Angeles is the largest city in California.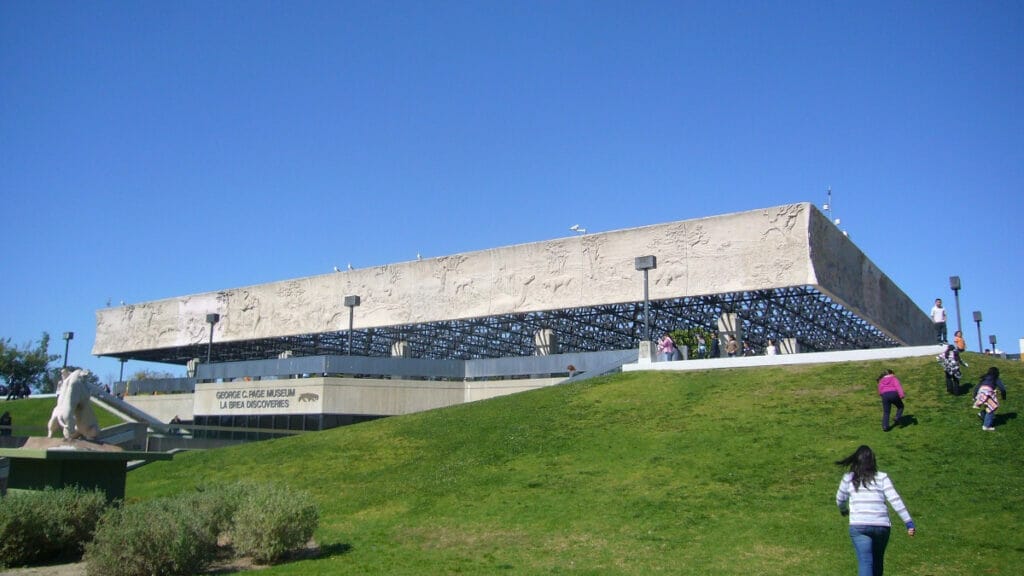 It's more than just the film industry, as 3,973,278 people call L.A. home making it the most populous city in the state and the second most populous in the country (New York City is ahead).
As you probably know, L.A. is most famous for its Hollywood, the popular Venice Beach, and Sunset Boulevard but did you know it has an active paleontological research site that you can visit?
La Brea Tar Pits is right in the middle of the city that also includes a museum where you can learn more about the complete record of the different plants and animals that have lived in the L.A. Basin between 50,000 years ago and today!
Such a cool fact about California!
10. The four major American television broadcast networks (ABC, CBS, Fox and NBC) all have production facilities and offices in California!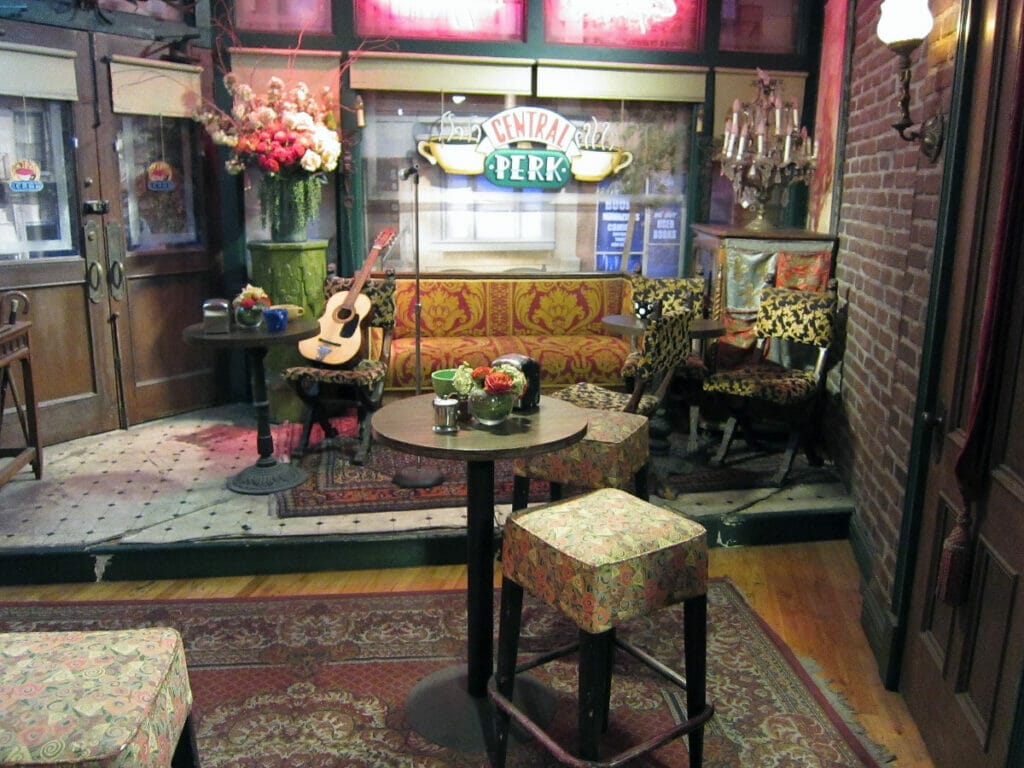 What do the shows Seinfeld, Friends, Full House, and Parks & Recreation have in common?
Right, other than being cult classic tv shows…
They were all filmed in California! Yes, even Seinfeld and Friends, both famous for their quintessential NYC vibes.
If you're a super fan, you can even visit Jerry's apartment in West LA or the 'Central Perk' set at the Warner Bros. Studio!
11. California is famous for its surfing!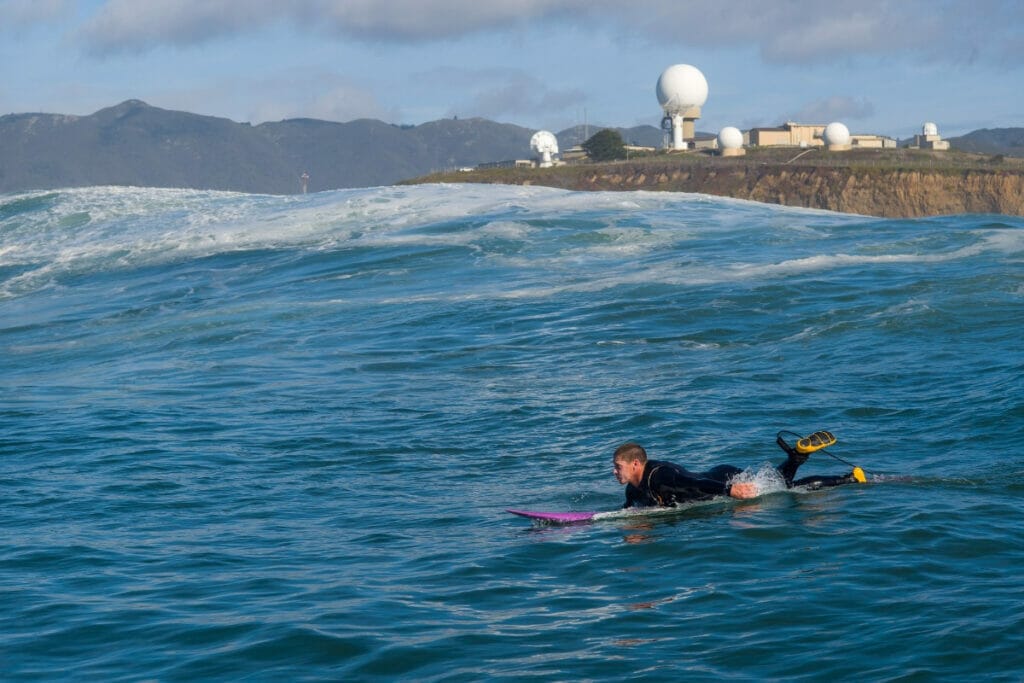 You probably already knew that California trivia but did you know that the site known as Mavericks is one of the most feared surf breaks on the planet.
Mavericks is a dangerous wave that breaks off Pillar Point, in Half Moon Bay, at Princeton-by-the-Sea, in Northern California, just 20 miles south of San Francisco.
The shark-infested, cold and foggy waters will put even an advanced surfer's skills to the test and has a reputation for being the deadliest surf breaks in the world!
With all that said, it doesn't stop surfers from paddling out there to give the big wave a try!
If you're visiting NorCal, check it out to see how the top surfers do it!
12. Silicon Valley is the world's preeminent hub for technology.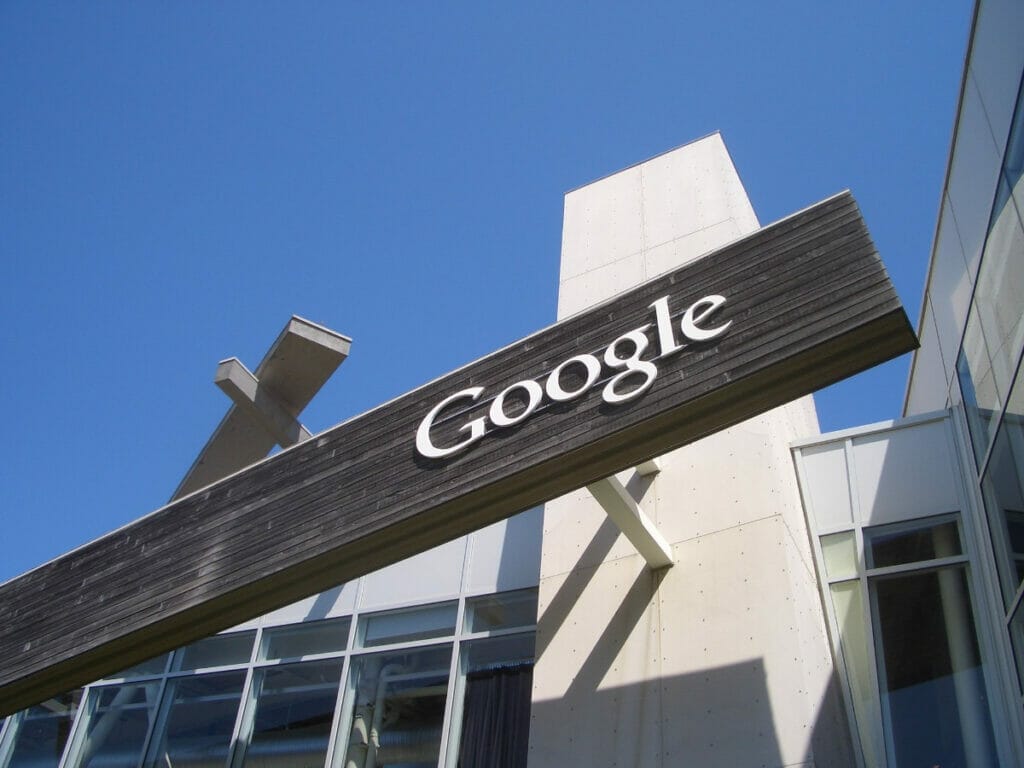 Silicon Valley is an area outside of the San Francisco Bay area that has been known for its association with technology since the 1990's.
Where Silicon Valley officially starts and ends is to be debated but technically, the area is made up of 30 cities and 5 different universities!
Another interesting fact about California, Silicon Valley is home to the largest number of millionaires!
The town of Atherton, CA includes the most expensive zip code in the United States (it's 94027 if you're looking for a new set of lottery numbers).
13. California produces 90 percent of the wine made in the United States.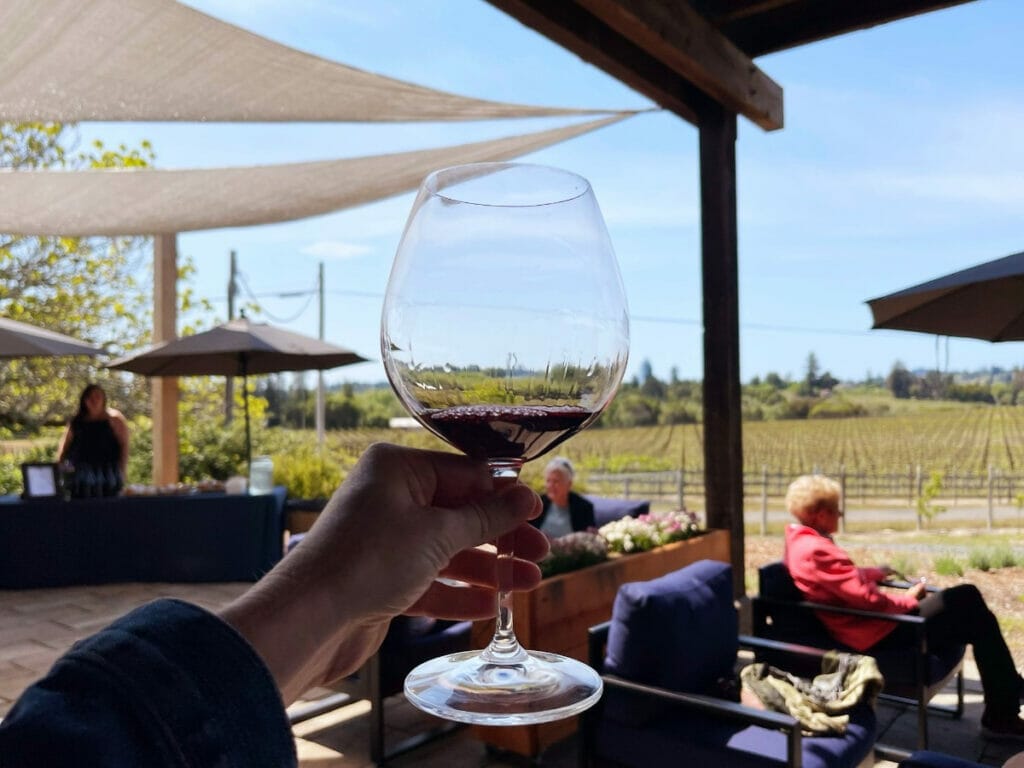 With more than 17 million gallons of wine made in California each year, you're bound to find something you like!
The majority of wine in California is made with red grapes but white ones can be found there, too.
If you're looking for a place to wind down, try visiting one of California's many wineries, you have 3,674 to choose from!
Not sure where to start, Napa and Sonoma County is the most popular region so that'll narrow it down to at least 800.
14. California is known for its popular music festivals.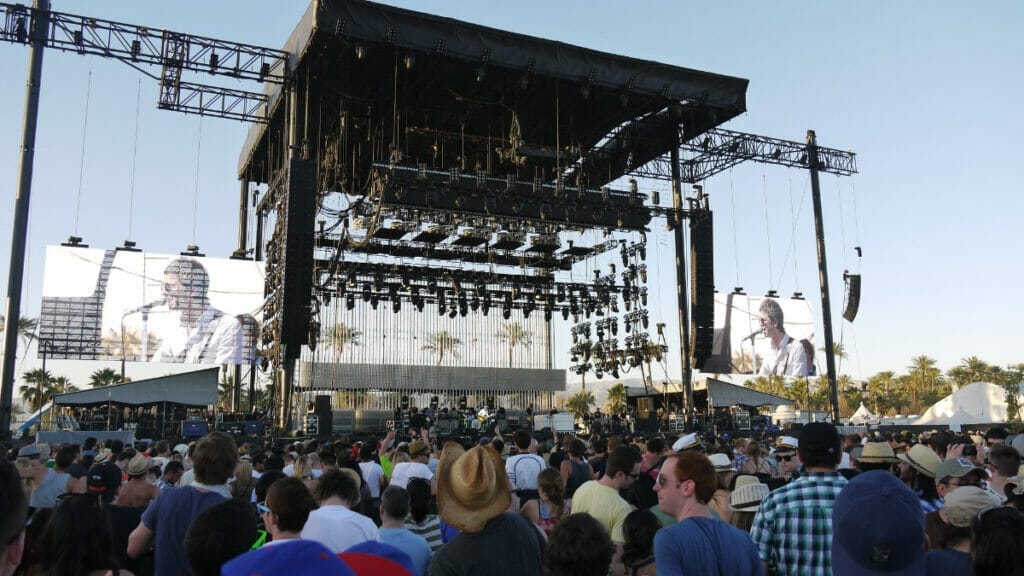 Looking for a place to let your hair down and feel the music?
Try one of California's famous music festivals like Coachella Valley Music and Arts Festival, Outside Lands Music and Arts Festival, Desert Daze, or BottleRock Napa Valley.
With great weather year round and varied landscapes, California is the ideal location for music festivals.
Coachella, probably the most well-known festival, takes place in the Colorado Desert (more specifically the Coachella Valley) and attracts over 250,000 people during its annual 3-day run.
15. Southern California experiences about 10,000 earthquakes a year.
That may seem like a lot of earthquakes but most of them are so small that you wouldn't even notice them.
Only a few hundred of those even register as above a magnitude 3.0 with only 15-20 above a 4.0.
The last major earthquake in California clocked in at a magnitude of 7.0 in 2019 and was the largest magnitude seen in the state since 1940!
16. The full Californian 1,100-mile long coastline is a national monument!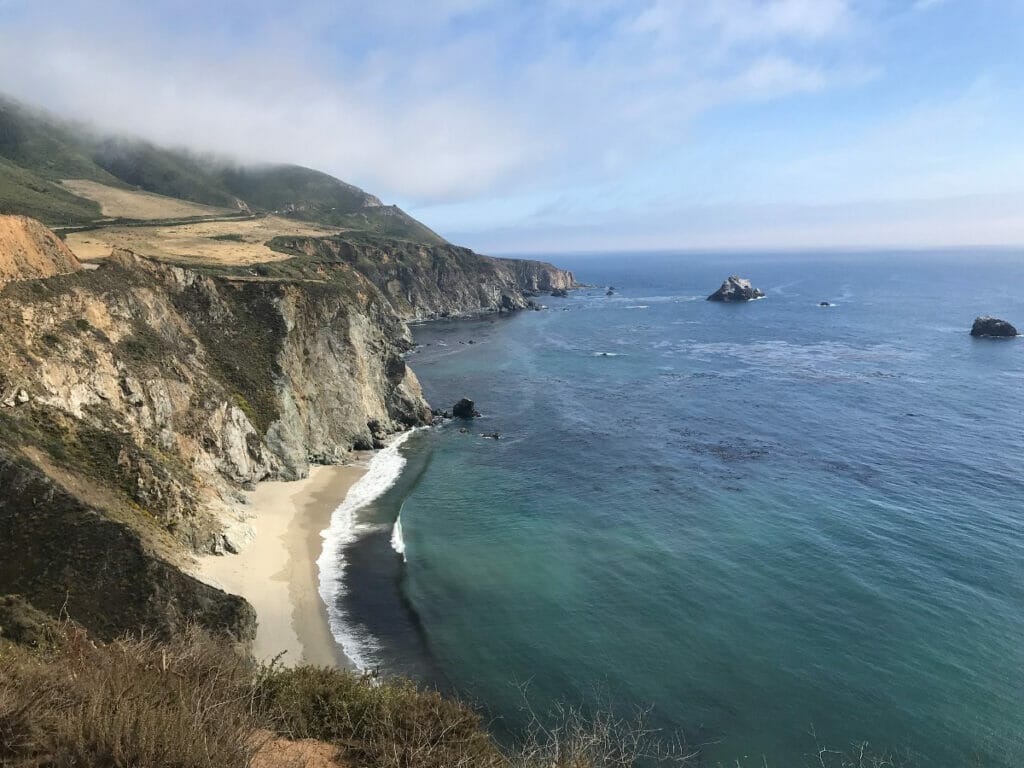 Located off the 1,100 miles of California coastline, the California Coastal National Monument comprises more than 20,000 small islands, rocks, exposed reefs, and pinnacles between Mexico and Oregon.
The monument was established in 2000 to ensure constant conservation and guarantees there will not be new oil drilling within 12 nautical miles of the mainland.
The monument was created by president Bill Clinton and although it is likely the most-viewed national monument in California, people are usually unaware that it even exists!
Luckily, you are one of the few that now know this cool fact about California!
17. The Gold Rush to California was the largest mass migration in United States history.
In March 1848, there were roughly 157,000 people in the California territory.
This included 150,000 Native Americans, 6,500 of Spanish or Mexican descent known as Californios and fewer than 800 non-native Americans but just 20 months later, the nonnative population increased by 100,000 and that was just the beginning.
By the mid 1850s there were more than 300,000 new arrivals in California in search of gold.
Another interesting fact, 92% of this rising population were male.
18. California is the most populous state in the country.
In 2022 California's population is at 39,766,650 people but numbers in the state have been gradually declining in recent years due high costs, housing problems, and labor shortages (among other things).
But, for now it remains the state with the highest population because who wouldn't want to live in a state with beautiful beaches, mountains, and deserts to explore!
19. The highest temperature ever recorded in the US was recorded in Death Valley, California.
On July 10, 1913, Death Valley, California experienced the highest temperature ever recorded at 134°F (57°C)!
Death Valley holds the record for the hottest place on earth and during the record setting heat wave, consecutively hit temps of 129° F (54°C) or above 5 days in a row.
Not quite hot enough to bake a pizza, but still probably not where you want to take a summer vacation.
In contrast, the winters in this area are quite pleasant so if you're looking to make a visit to this national park, wait until December, and check the forecast before you go!
Pin for Later!
Hey! Want more fun facts about the states? Check these out!
Get the All-American Travel Secrets!
Don't miss out on America's hidden gems!