Utah is centrally located in the Intermountain West, often called the "Crossroads of the West", with three major land areas within its geography: the Rocky Mountains, the Basin and Ridge Region, and the Colorado Plateau.
Industries key to Utah's economy include agriculture, mining, petroleum production, finance, information technology, tourism and manufacturing.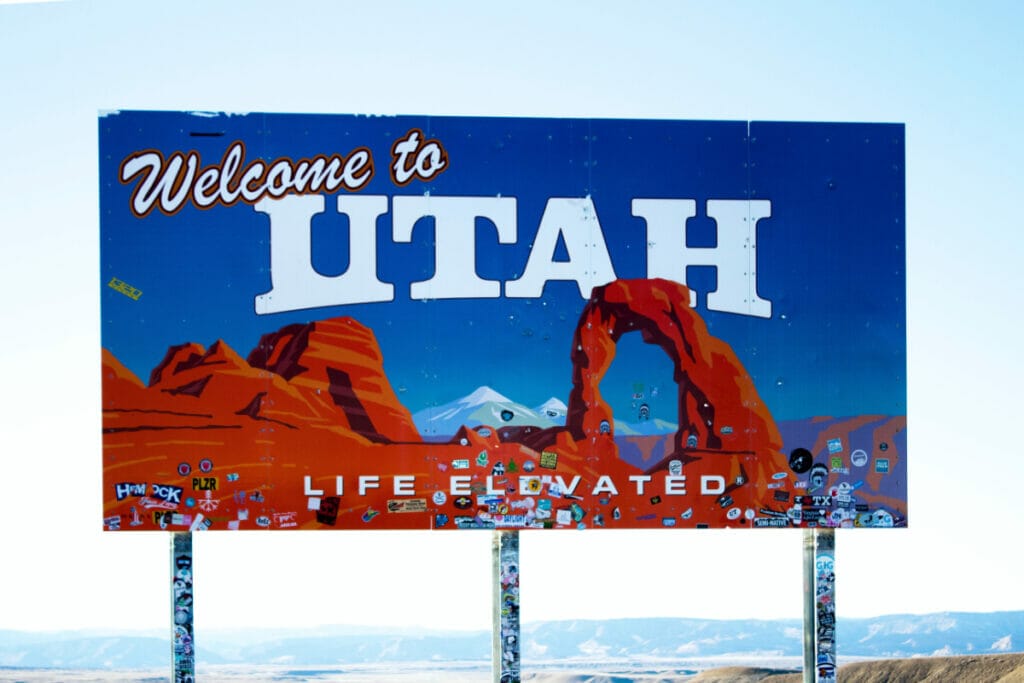 Utah's name has two theories of origin: first, that it originated from the Native American "Ute" tribe, which means "people of the Mountains", or second, that it comes from the Apache word "yuttahih", meaning "one/those that is/are higher up".
Called the "Mormon State" due to the first Mormon settlers who arrived and then claimed the Salt Lake Valley in 1847, it did not become an official state until 1896, yet both dates appear on the state flag.
Presently, Mormons still make up about 68.55% of Utah's overall population, and the state is the most "homogenous" in religion of any state in the nation.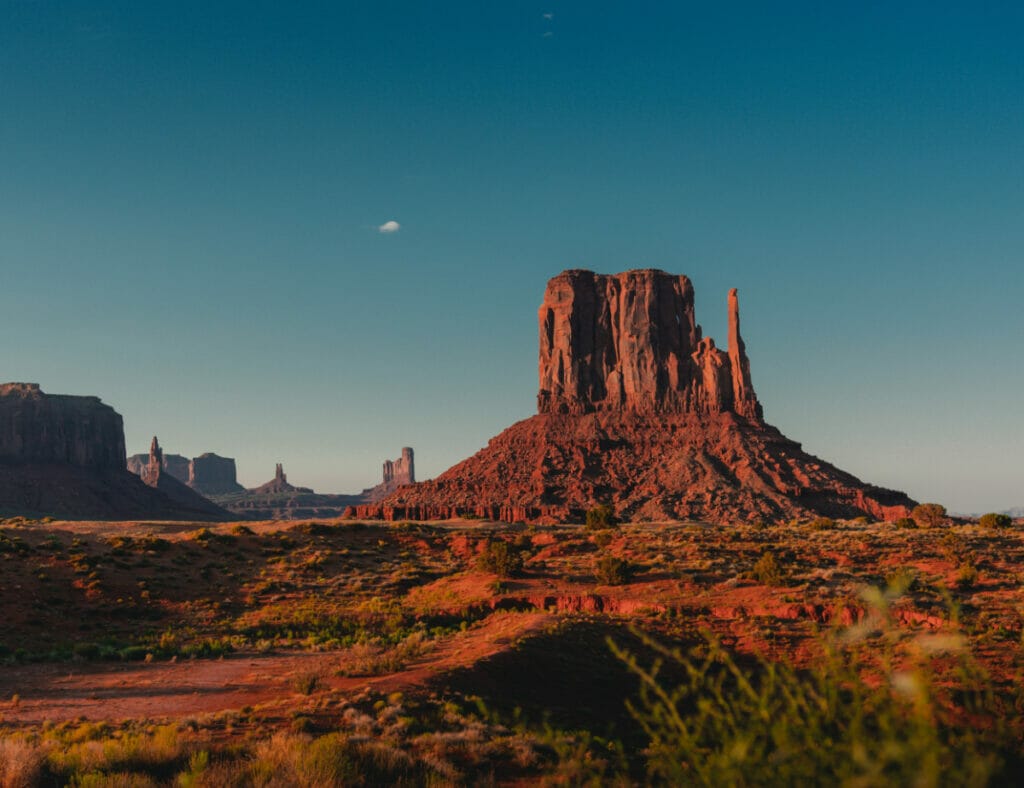 Nicknames for Utah include the "Salt Lake State" and the "Beehive State" (used early on by Mormons to represent cooperative work and envisioned themselves as a "hive of industry"), with the honey bee named as the state insect.
Fun fact – interestingly, the state bird in this landlocked state is the Ring-billed Gull… otherwise known as the California Sea Gull!
Utah's uplifting State Slogan is currently "LIFE ELEVATED".
Here are 23 interesting facts about Utah:
Before we jump into it, check out this super cute Utah shirt!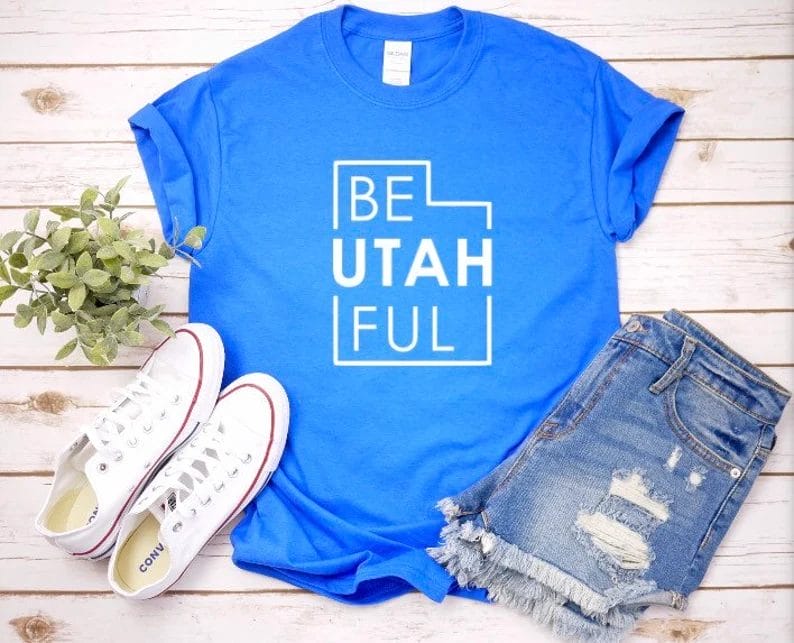 1. Utah's Great Salt Lake is the largest of its kind in the Western Hemisphere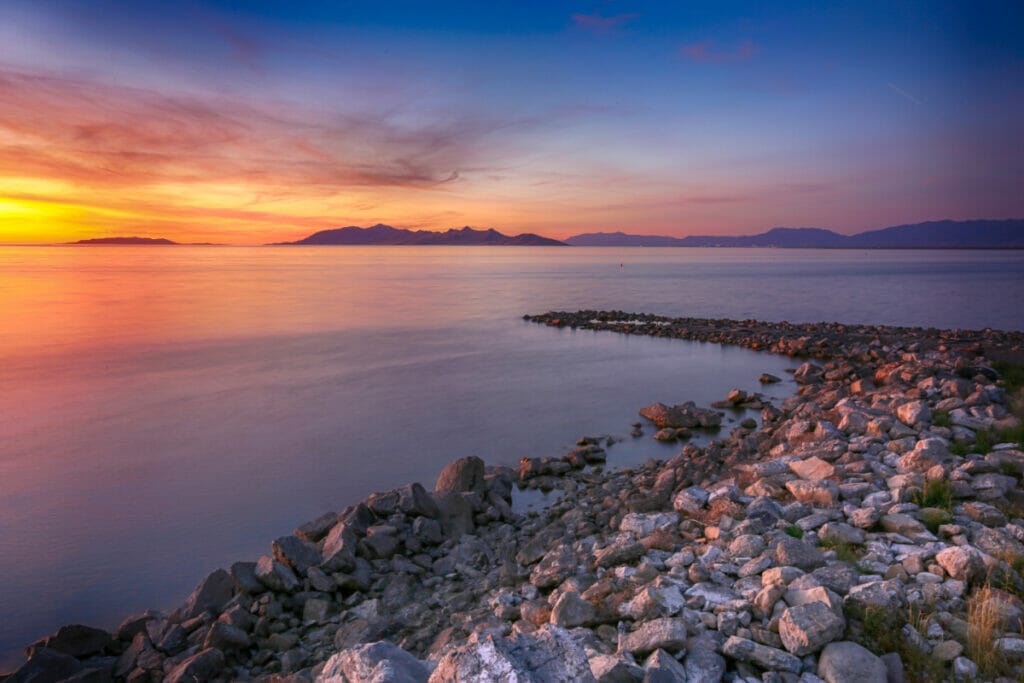 With the three main rivers draining into it depositing around 1.1 million tons of minerals into the lake each year, it is actually 9 times saltier than all the world's oceans since it does not have an outlet, at almost 2,100 fluctuating square miles, 34 feet deep, and with around 4.9 billion tons of salt!
The density causes swimming in the lake to feel similar to floating, giving it a nickname of "America's Dead Sea".
Each year, almost half of the water (roughly 41%) evaporates, yet it still has a substantial impact on the local climate, particularly through lake-effect snow.
2. Monsters in the Great Salt Lake!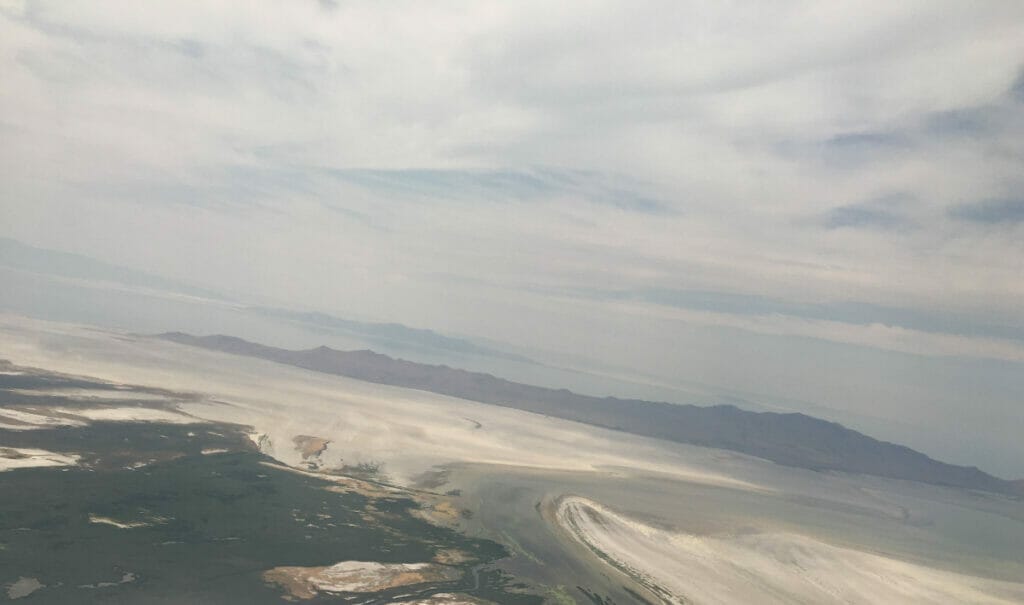 Dubbed the "North Shore Monster", the Great Salt Lake in Salt Lake City also supposedly has one or two monsters that were seen in 1877, described to have a head like a horse with a crocodile body!
Rumors persist that a businessman may be responsible for the "Monsters" when he brought and released two whales into the lake in 1875, where they disappeared without a trace.
3. Utah has the youngest population in the nation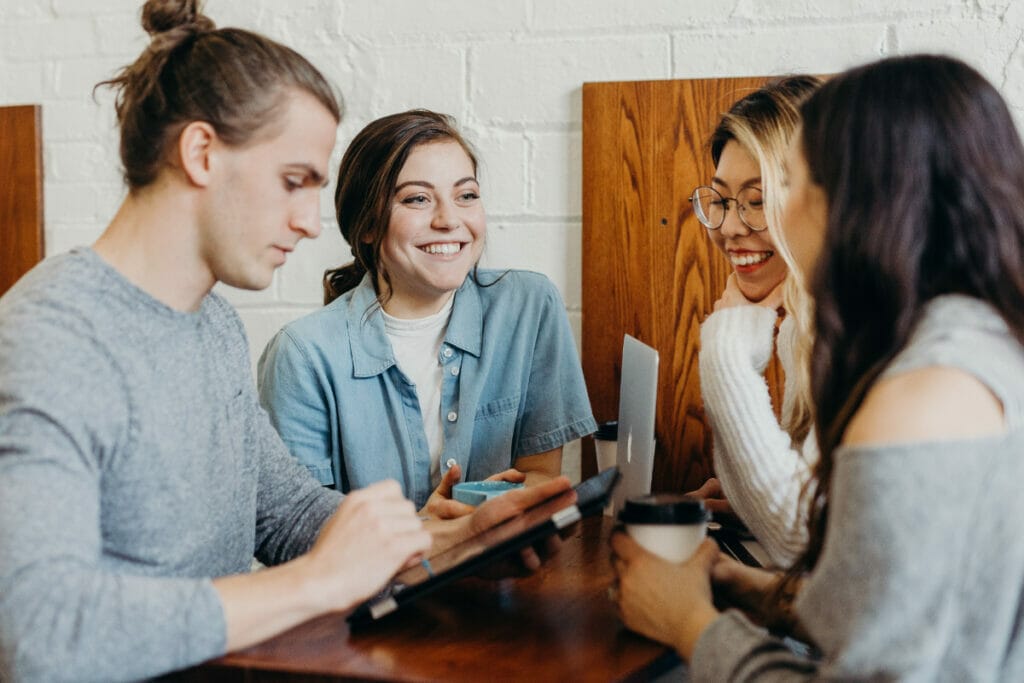 The highest percentage of its total population is under the age of 5, 32% of residents under the age of 18, and the mean age is 30.2 years old.
Life expectancy exceeds 81 years, among the 15 states in the U.S. with a life expectancy higher than 80 years.
Utah also has the highest percentage of married residents in the nation at 56.1%.
4. Utah is famous for its skiing, and Park City Ski Resort is the largest ski resort in the U.S.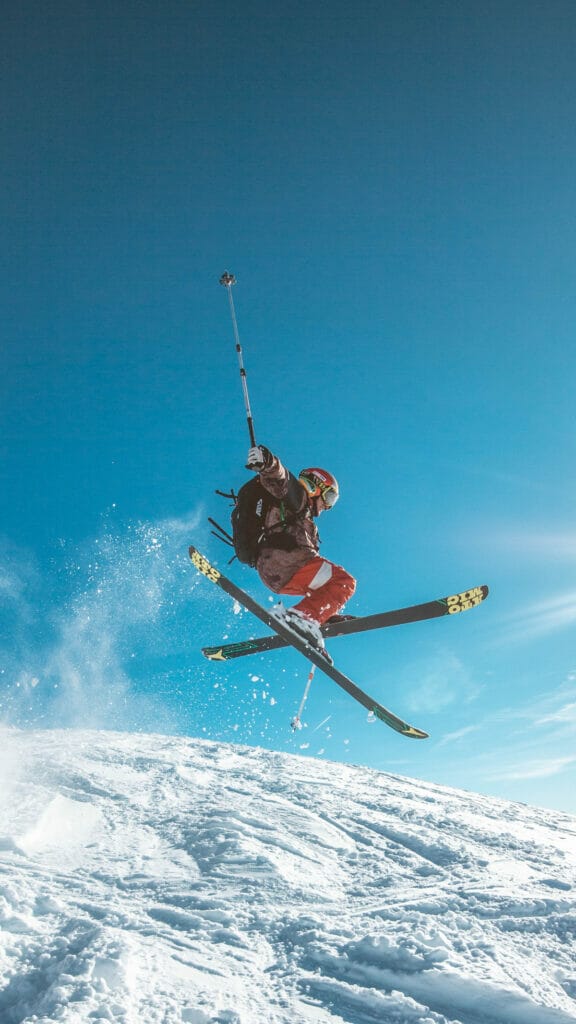 Though Utah is the second-driest state in the U.S. after Nevada, and on average, has about 300 sunny days per year, still every year an average of nearly 500 inches of snowfall occurs in the mountains.
A unique feature of its desert-like climate and high elevation is that its snow density is 8.5% in Utah's famous Cottonwood Canyons, which is considered the perfect dry and powdery consistency, giving the state a claim to fame as "The Greatest Snow on Earth!"
According to historical data, January 13th is the golden winter day, the most perfect for skiing in Utah, with the highest likelihood of receiving fresh snowfall.
5. Salt Lake City hosted the Winter Olympic Games in 2002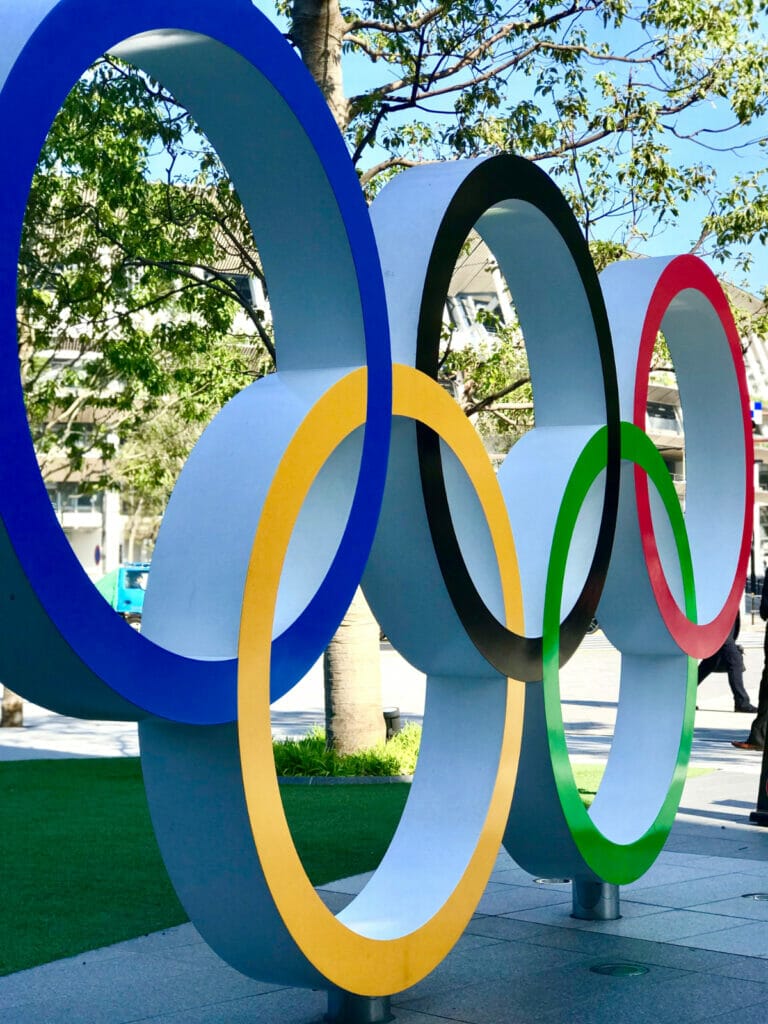 One of the best things Utah is known for is hosting the Olympics!
It was the 8th and most recent time the U.S. has hosted the games until Los Angeles, California hosts again in 2028.
6. Fascinating Salt Flats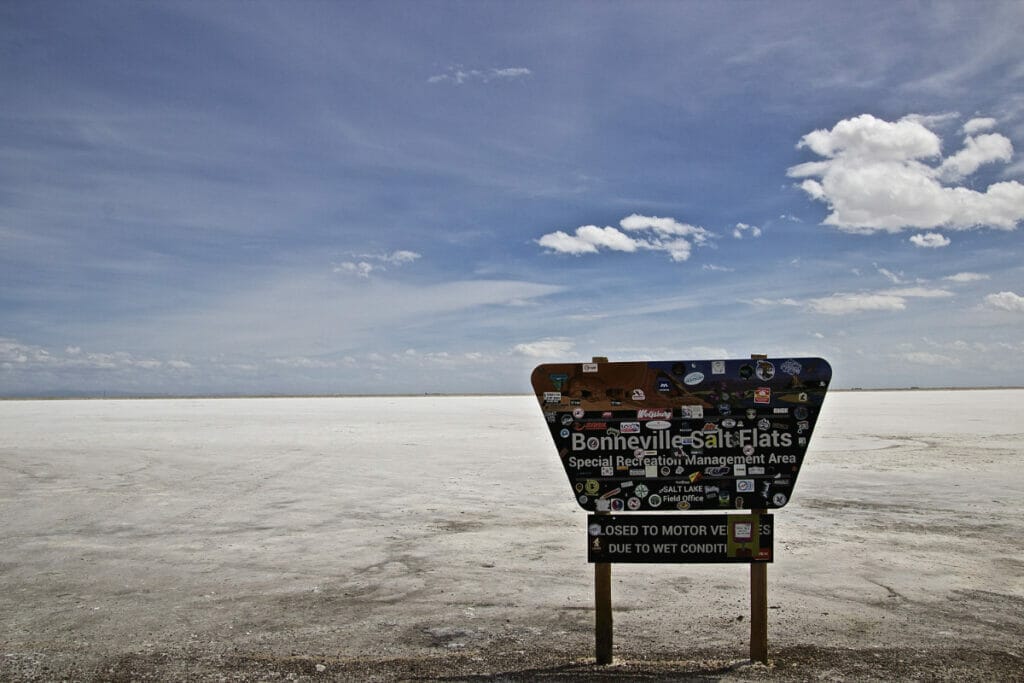 The Bonneville Salt Flats are uniquely interesting to see, with a smooth and densely packed salt terrain stretching over 30,000 acres that brought great interest to speed racers, filmmakers and tourists and has made it famous throughout the world.
In 1964, a speed racer named Norman Craig Breedlove lost control of his vehicle, which resulted in a cool fact that skid marks were left behind stretching across 6 miles!
Many land speed records have been set here, including Gary Gabelich's rocket-powered vehicle "Blue Flame" that peaked at 630.47801mph or 1,014.656kph in 1970 – he was the first to exceed 1,000kph.
7. Jell-O Fiends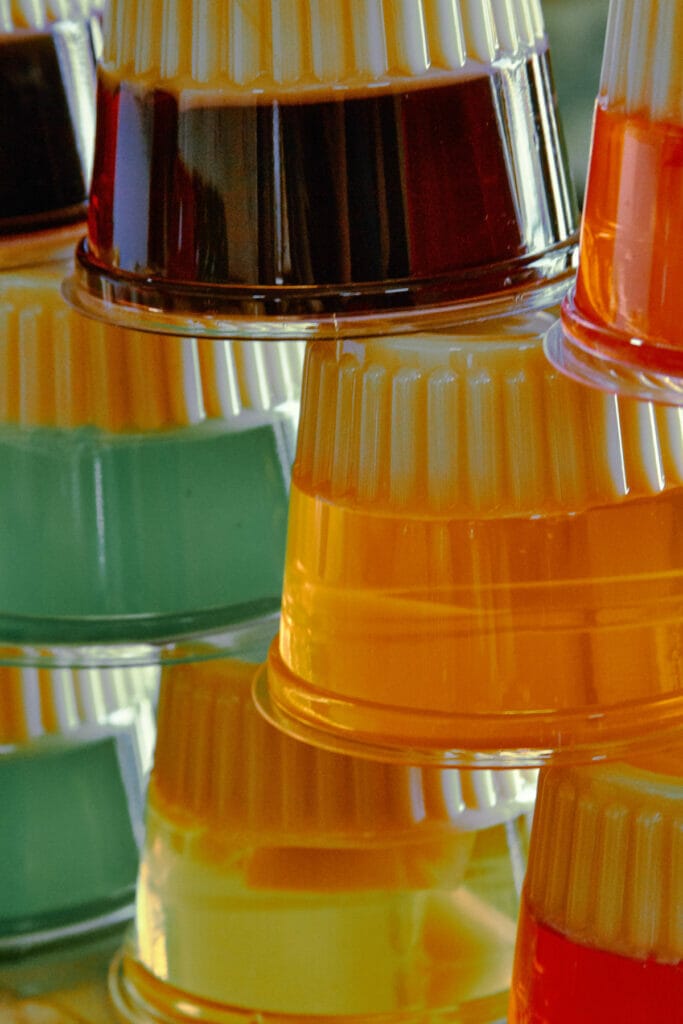 Kraft Foods, makers of Jell-O, has noted that residents of Utah eat more Jell-O than any other state in the nation, actually twice as much, and that lime is the favorite, often with shredded carrots.
8. Utahraptor is a thing
The largest raptor unearthed in the world was found in Utah, a 23-foot-long predatory dinosaur named Utahraptor, with curved claws nearly 9 ½ inches long!
9. The History of Department Stores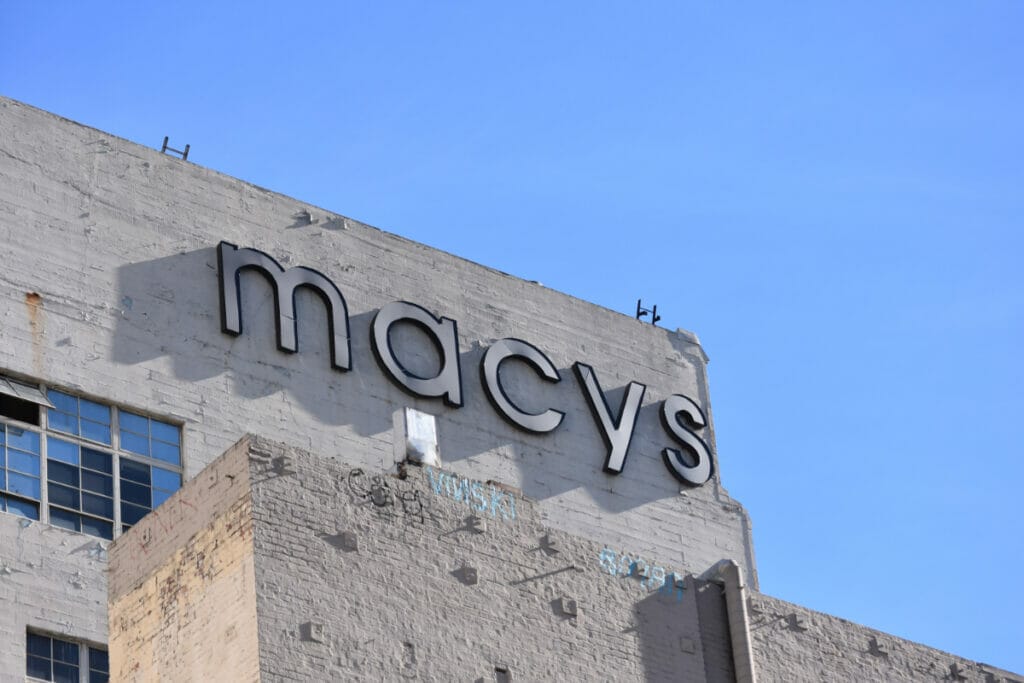 The very first department store in the U.S. was established in Utah in 1868, the "Zion Cooperative Mercantile Store", and thrived until 1999 when it was purchased by Macy's.
10. Names in Lights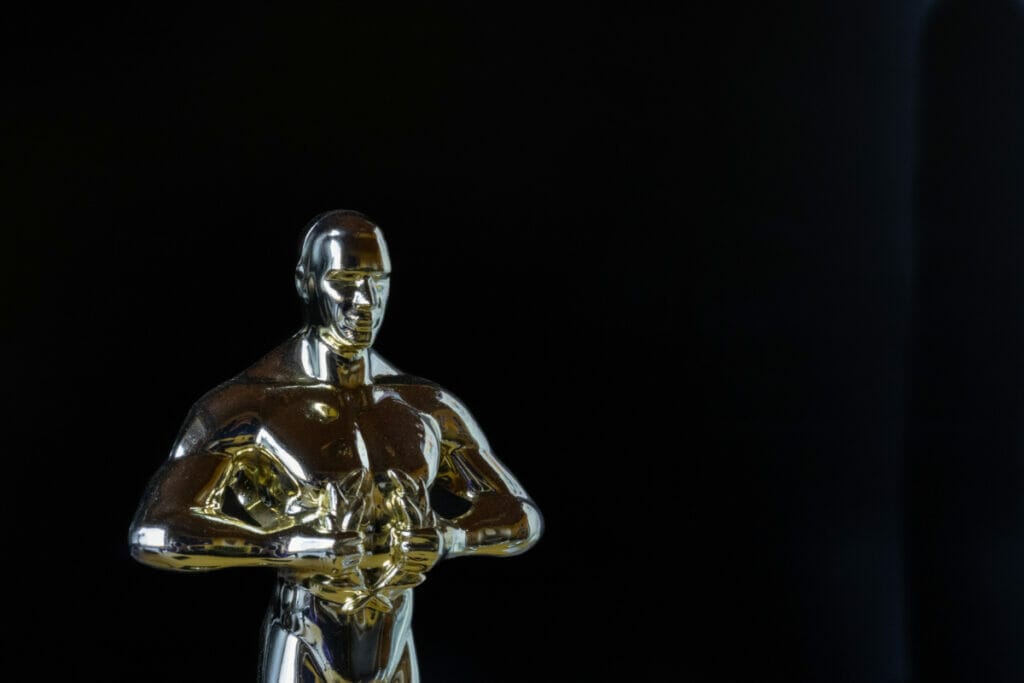 Famous people born in Utah include multiple Academy Nominee and Emmy and Golden Globe Winner Actor James Woods, Astronaut Don Lind, footballer Steve Young, John Warnock, co-founder of Adobe Systems, singer-songwriter Jewel, Dancer-Actor Julianne Hough and Dancer Derek Hough, Actor-Singers Donny and Marie Osmond and Singers "The Osmond Brothers", Actor Wilford Brimley, Actress Loretta Young, Brady Bunch Actor Mike Lookinland, Educator/Author Stephen Covey of "The 7 Habits of Highly Effective People", Comedian/Actress Roseanne Barr, Butch Cassidy, the infamous Train and Bank Robber and Leader of the "Wild Bunch" gang of criminal outlaws, and many more.
11. A Movie Set Discovered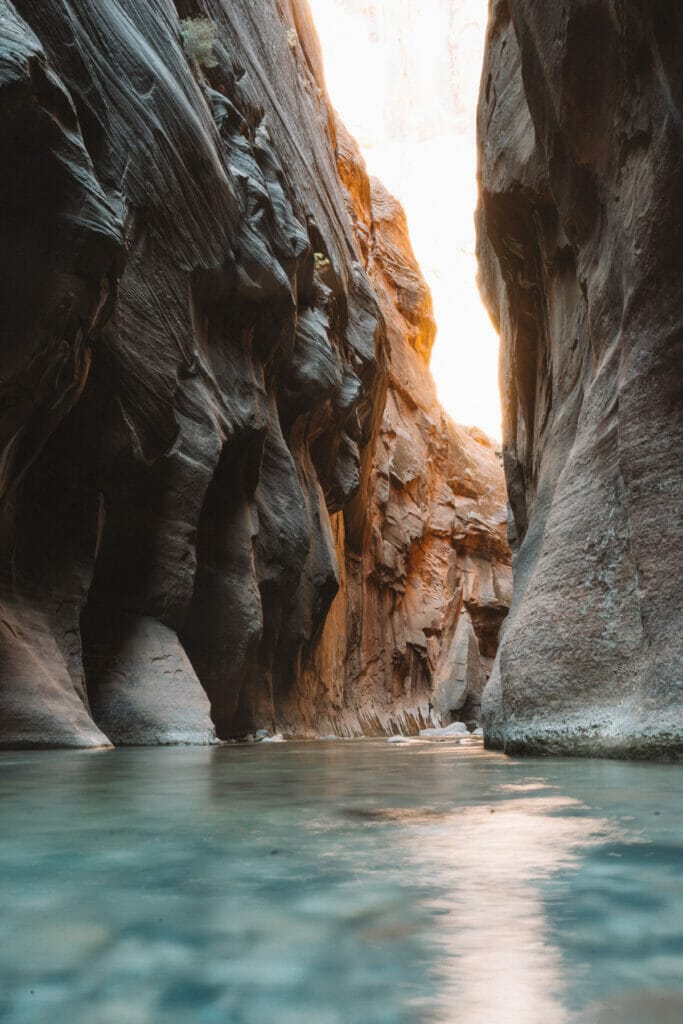 Utah's unique geography has made it rather popular to film makers, and it has been used to film the classic Westerns, "Thelma & Louise", Robert Redford's "Butch Cassidy and the Sundance Kid" scenes, Disney's "High School Musical", "Forrest Gump", "Pirates of the Caribbean: At World's End", "Mission Impossible II, "Superman III", "Back to the Future III", and so many more, gaining it a new nickname: Utah – America's Film Set.
12. Take the steam engine!
Huber Valley Railroad's amazing steam engine and passenger railroad cars have been featured in more than 31 movies as well as television shows.
13. Electric traffic lights started here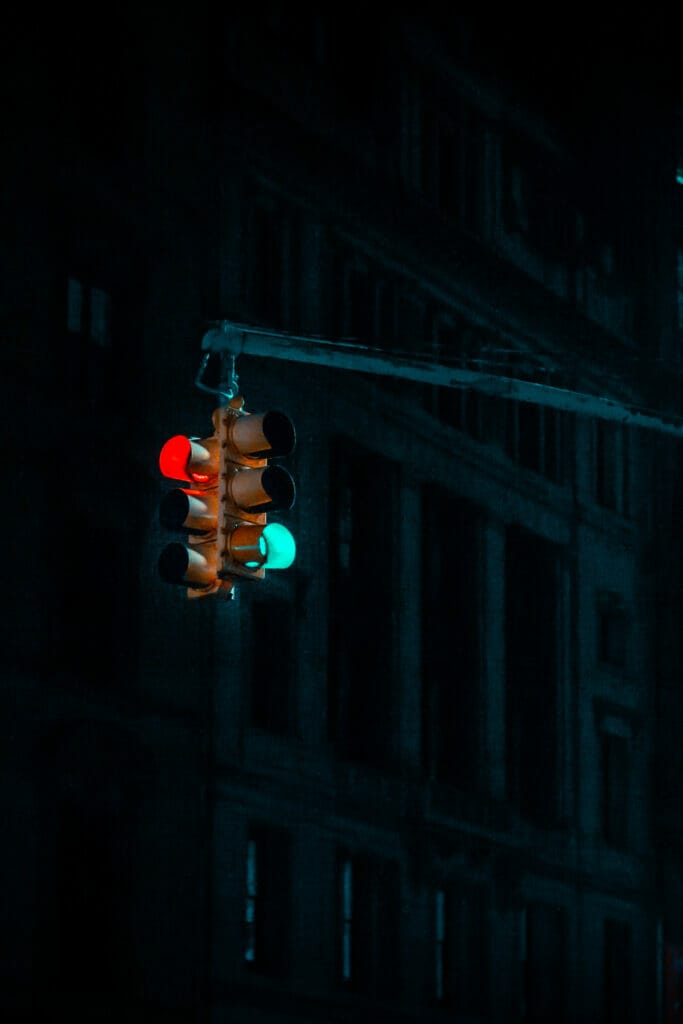 The first electric traffic light was developed in 1912 by policeman Lester F. Wire in Salt Lake City and was first installed at the intersection of 200 South and Main Street.
14. There are lots of funny laws!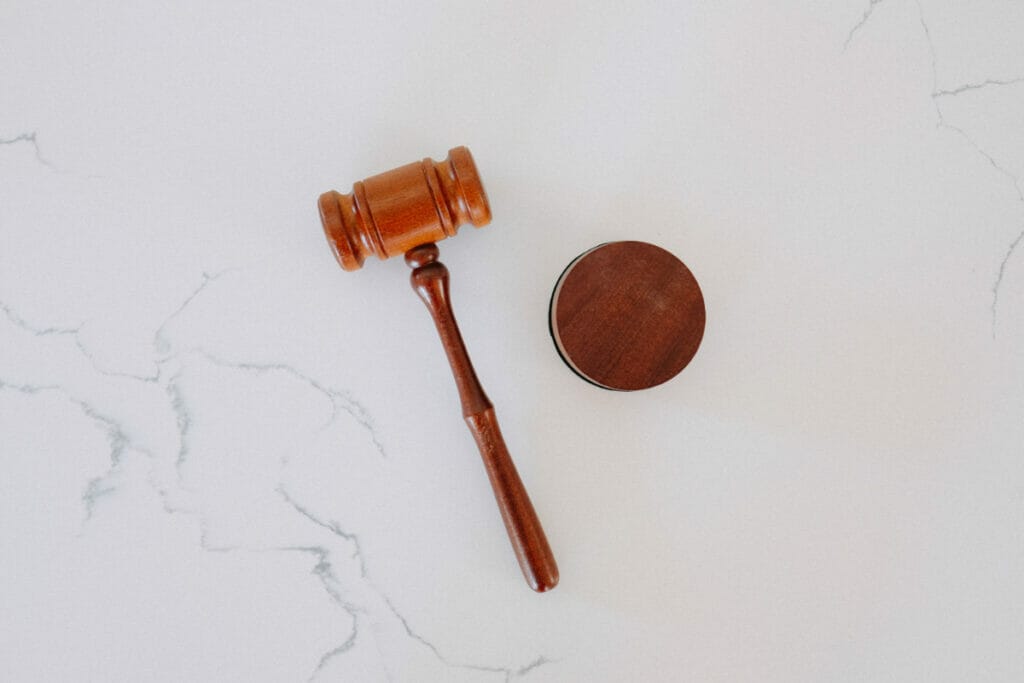 Strictly NO elephant hunting allowed! Strange, considering there aren't any wild elephants in Utah.
Similarly, whale hunting is also prohibited, again with no known whales in Utah if you don't count the rumors of the whale "monsters" possibly brought in and released into the Great Salt Lake in 1877.
You must bait your hook properly – while fishing you may not use or possess corn or hominy – and while you're at it, it's also against the law to fish from horseback… get down and give that horse a break!)
It's illegal to drive on the sidewalk – while this seems like the obvious, perhaps in this day and age it's still wise to keep it on the books!
Riding a bike without at least one hand firmly on the handlebars is strictly forbidden – Apparently something went wrong just one too many times with the "Look Ma, No Hands!" scenario.
No sheepherding on street corners, and driving a herd of animals is only permissible with consent from the mayor – with traffic problems and complaints from motorists, this law includes livestock, llamas, emus and all other hoofed animals, so Little Bo Peep must be made aware!
Ensure your horse is under control – horses are not allowed to run free in Utah or the state will capture and sell them!
You're also not allowed to keep more than one cow – must be a city law or the ranchers would be in trouble!
Speaking of cows, at least of the dairy variety, it is illegal to NOT drink milk – vegans must rethink living in Utah or turn vegetarian instead!
In Salt Lake City, auctions may not be advertised by hiring trombone players to play in the street– this goes as well for any other instruments, horns, bells, whistles, bellman or crier, drum or fife or any other "noisy acclamations" to attract the attention of passersby – Flags Only!
No one may walk down the street carrying a paper bag containing a violin – love to know the history behind that law as it's unclear, but some suggest it may have been set during the gangster era with connections to hidden machine guns!
Whether in or out of a library, your local librarian holds more power than you may be aware of in Utah, with the legal right to detain you if they suspect you of stealing a book – gives a whole new meaning to the "stern, shushing Madame Librarian" now, doesn't it?
Swearing is illegal in the city of Logan, Utah – so when naughty little Johnny lets out a mouthful of bad words, instead of just sitting him in the corner with a bar of soap in his mouth, you can threaten to have him arrested!
"Daylight" must be visible between partners on a dance floor – okay, so no dancing at night?
It is illegal to "cause a catastrophe" – you'd think that would be a given!
In boxing matches, biting is not allowed – safe to say, the match between Mike Tyson and Evander Holyfield did NOT take place in Utah!
It is a felony to persistently tread on the cracks between paving stones on the sidewalk of a state highway – is this in reference to the childhood game "Step on a crack, break your mother's back"?
Birds have the right of way on all highways – this one's for you mean drivers who aim for birds when driving down the roads!
It is legal for restaurants to serve wine with meals, but only if the customer asks for the wine list – in other words, you must pretend to be a wine connoisseur!
Now about marriage, in Utah when a person reaches the age of 50 or older, it's no longer illegal to marry a cousin – hmmm, okay… withholding comments on this one.
Finally, a husband is responsible for every criminal act committed by his wife while she is in his presence – a throwback to Adam and Eve, I presume – if he'd only said something and stood strong when he watched her eat the apple and then hand it to him to do the same, it would be a different world today!
15. Utah was home to the first woman senator
In 1896, Martha Hughes Cannon was elected the first woman senator – interestingly, one of her opponents was her husband!
16. Kentucky Fried Chicken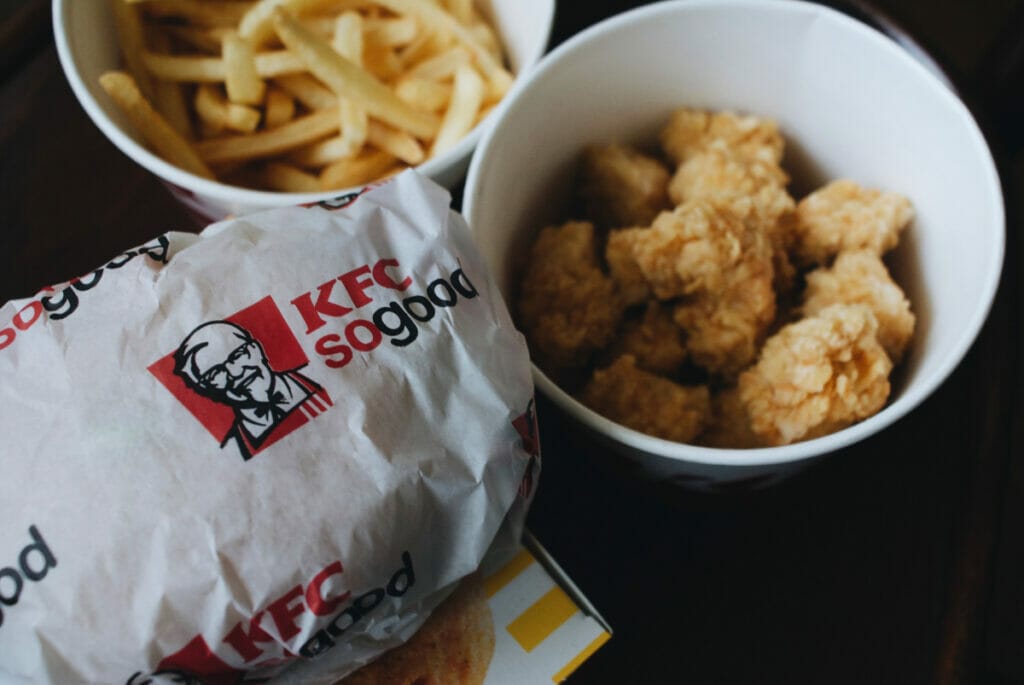 The first Kentucky Fried Chicken was introduced not in Kentucky, but in a café belonging to Colonel Sanders' friend in Salt Lake City!
17. A Cultural Mecca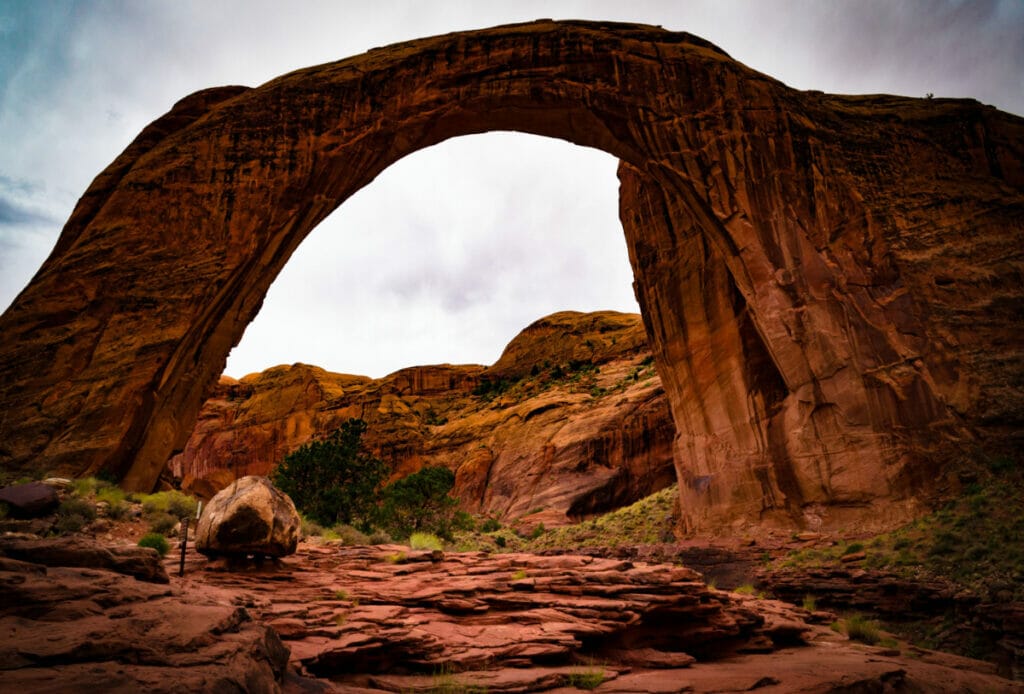 Utah's main cultural attractions include Salt Lake City's Temple Square, Shakespearean Festival in Cedar City, and the Sundance Film Festival in Park City, while Lake Powell, Bonneville Salt Flats, Monument Valley, and the Great Salt Lake are among the rest of Utah's main attraction sites.
The Sundance Film Festival takes place every January, is one of the world's top independent film festivals, and the largest one in the U.S.
Newspaper Rock is a unique State Historical Monument featuring a 200 square foot area of extremely dense Native American petroglyphs on a desert varnished cliff wall; created by ancient cultures over 1,500 years ago, the drawings consist of animals, human figures and many inexplicable symbols, and has been deemed a historical "newspaper".
Rainbow Bridge, considered sacred to the American Indian tribes around it, is the world's most significant and largest natural bridge, at around 234 feet long and 290 feet from the ground of Bridge Canyon, saved as a national monument – one description suggested it's as if a rainbow suddenly turned to stone!
18. The first transcontinental railroad!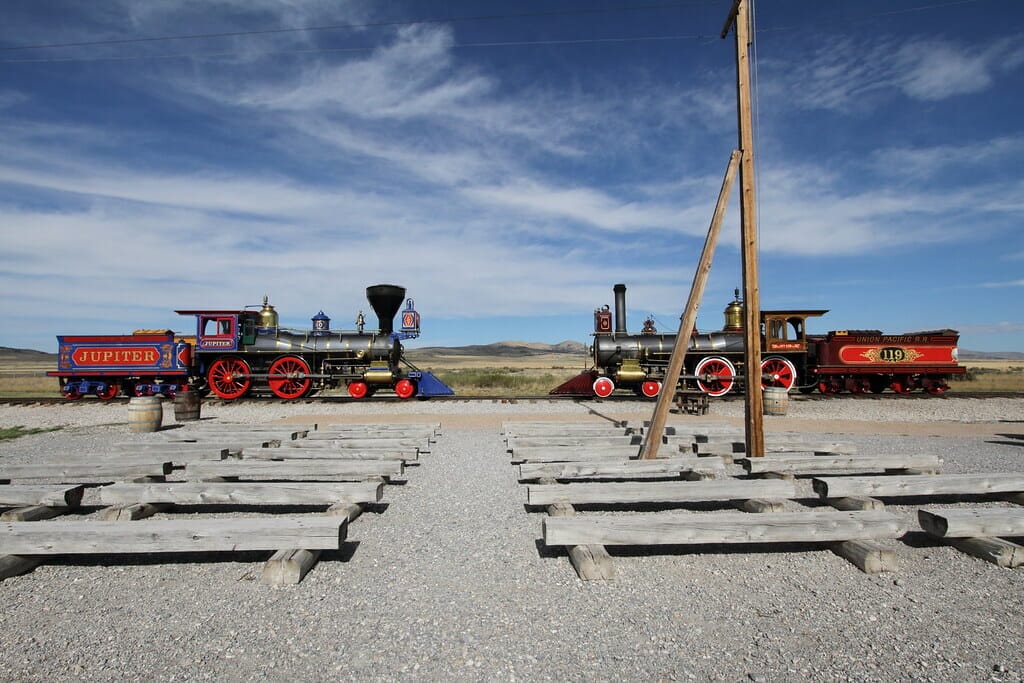 The first transcontinental railroad line was completed on May 10, 1869, when the Central Pacific Railroads and Union joined rails at Promontory Summit in the Utah Territory.
The project took 7 years to complete, stretched from Sacramento to Omaha, and was known as the Overland Route.
The ceremony was called "The Wedding of the Rails", and today the site is referred to as the "Golden Spike", preserved at Golden Spike National Historic Park.
19. Largest man-made excavation
The Bingham Canyon Mine, in production since 1906, is considered to be the largest man-made excavation and deepest open-pit mine in the world, where miners have been working for over a century bringing out more copper ore than any other mine in history.
The pit gets continually bigger as the mining activity continues to remove about 250,000 tons of rock daily, is currently over 0.75 miles deep, and the enormous crater is actually visible from space!
20. The last section of the "First Transcontinental Telegraph"
The last section link of the "First Transcontinental Telegraph" was completed in Salt Lake City in October 1861, and Brigham Young, Abraham Lincoln and other officials were among the first to send Telegrams.
21. Pink sand dunes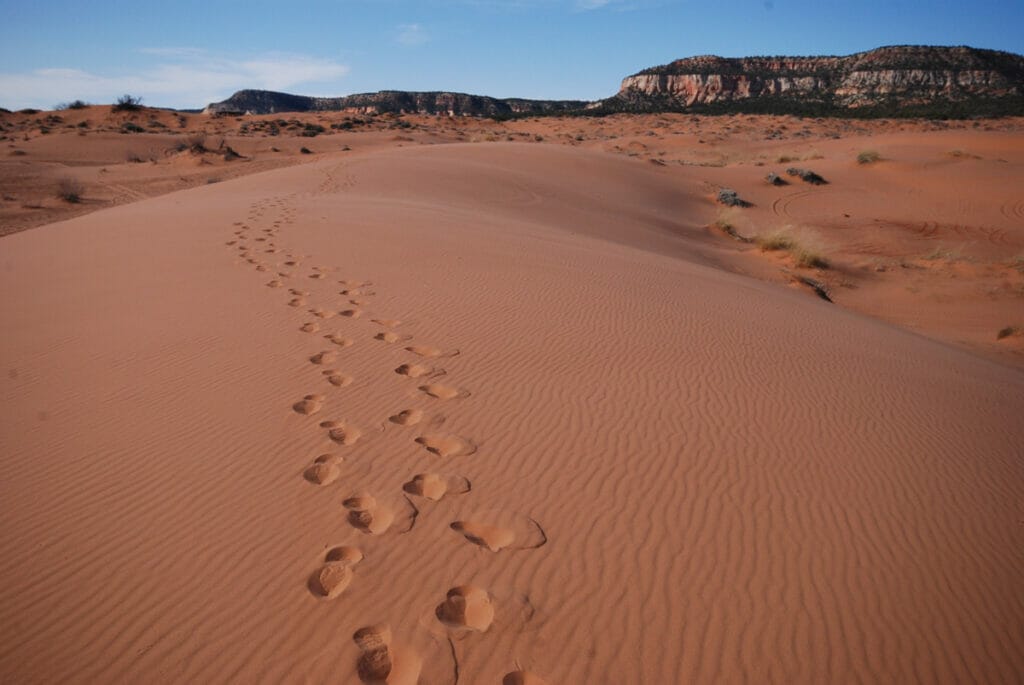 Located in Southwestern Utah, Coral Pink Sand Dunes State Park is known for its uniquely pink-hued sand dunes and red sandstone cliffs.
22. Largest live nativity
In 2014, 1,039 people dressed the parts of the nativity and broke the Guinness World Record for the largest live nativity scene; not included in that number were some animals: a camel, a donkey and some sheep!
23. Toys, toys, toys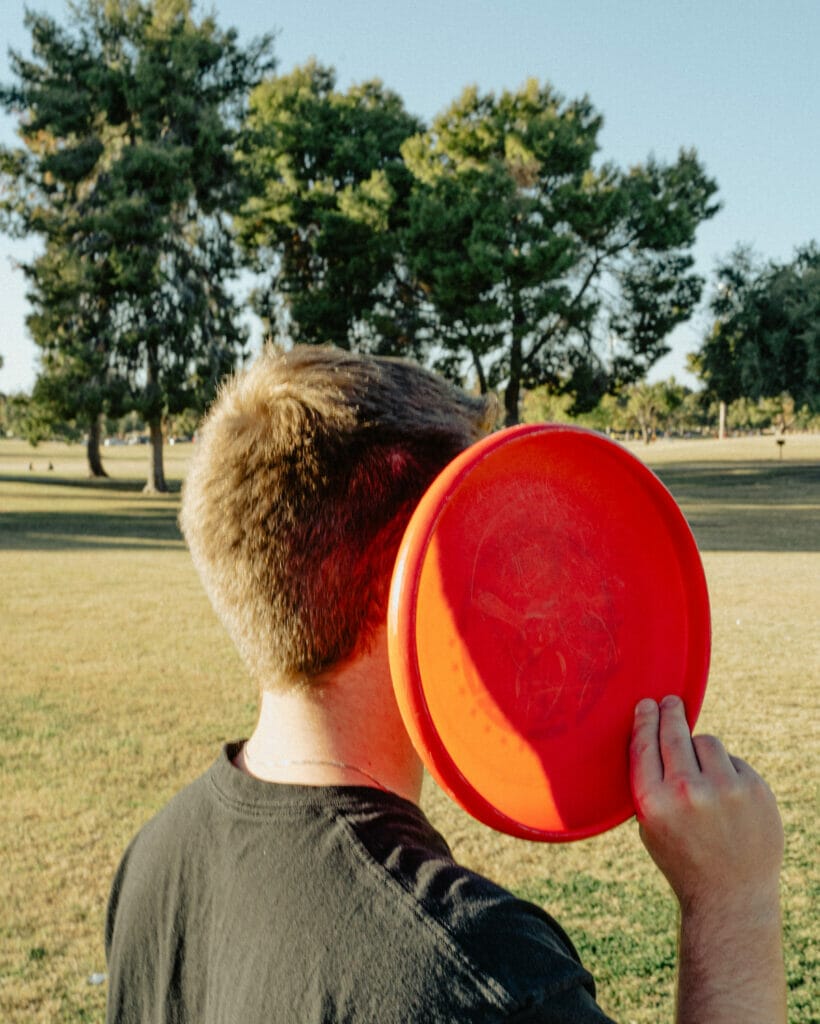 Walter "Fred" Morrison of Richfield, Utah was the creator of the "Frisbee", originally called the "Pluto Platters", stating he got the original idea for a flying disc toy in 1937 while throwing around a popcorn can lid with his girlfriend, and later discovered that cake pan lids worked much better!
After tweaking and creating his designs, they were first sold as Pluto Platters in the 1950's, then the Wham-O toy company bought the rights, and in 1957, changed the name to Frisbee after they learned some college students in the northeast had been using that name for them.
Pin for later!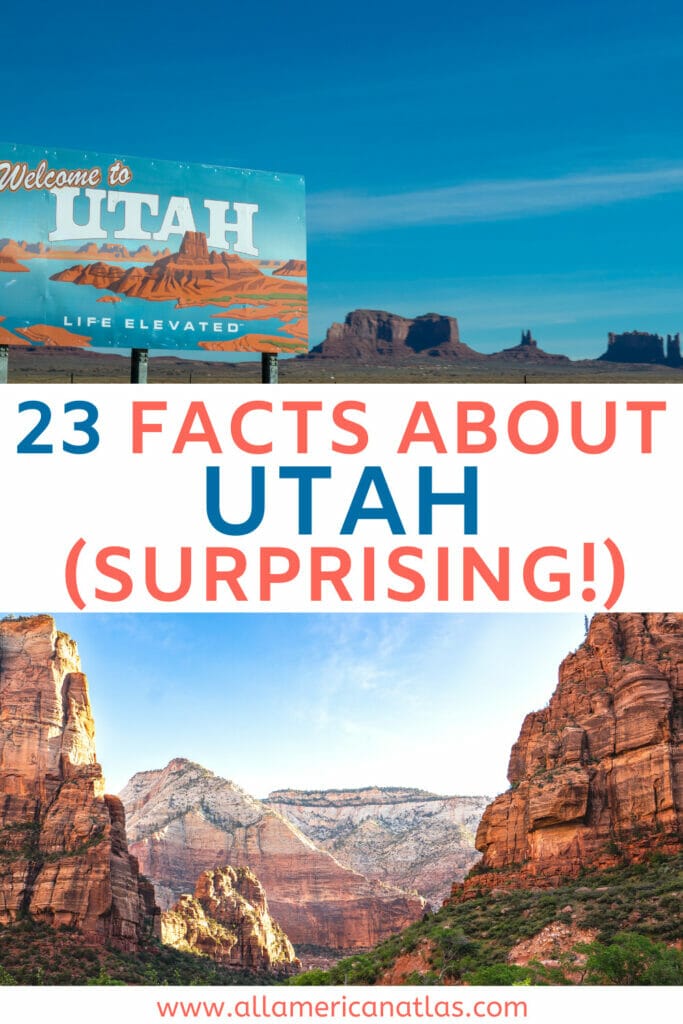 Hey! Want more fun facts about the states? Check these out!
Get the All-American Travel Secrets!
Don't miss out on America's hidden gems!