Want some fun facts about Washington state that most people don't know?
Let's start with some basics before moving on to the interesting and unique Washington facts!
Officially the State of Washington, Washington is a state in the Pacific Northwest, bordered by the Canadian province of British Columbia on the north, Idaho to the east, Oregon to the south, and the Pacific Ocean on the west.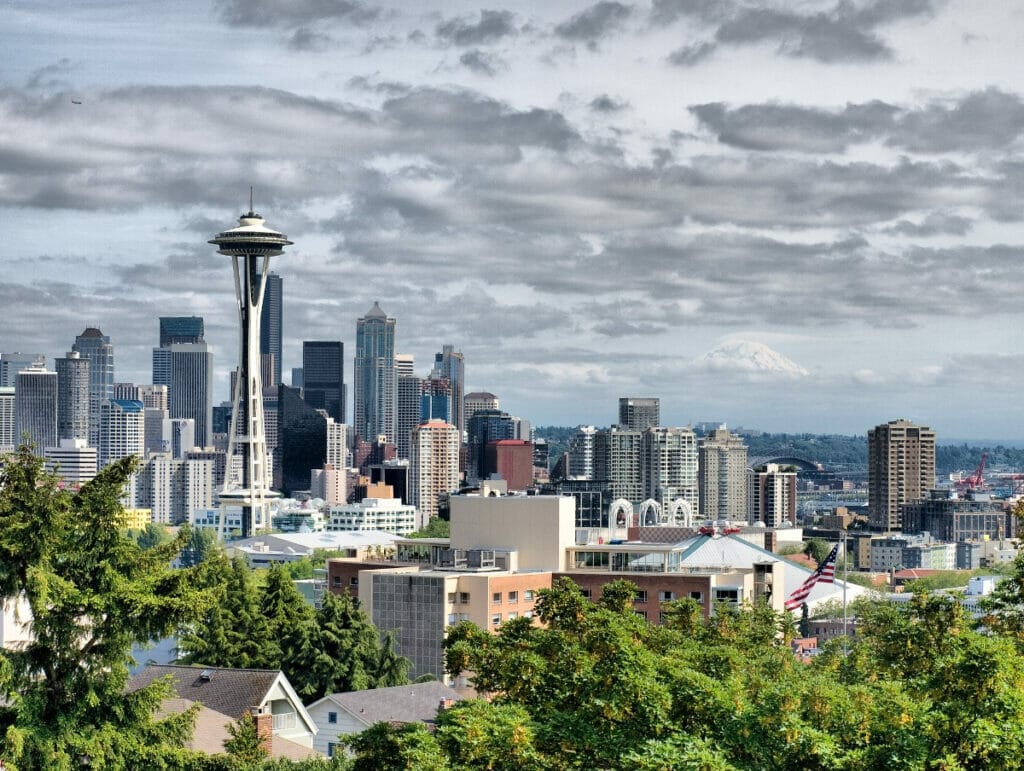 Named after the First U.S. President George Washington and the only state named after a president, it was admitted to the Union in 1889 as the 42nd state, and to distinguish it from Washington D.C., it is most often referred to as Washington State.
It is the 18th-largest state, but 13th-most populous with more than 7.7 million people as of the 2020 census, where most residents live in the state's largest city of Seattle area, which is the center of business, industry and transportation.
The state's highest elevation is Mount Rainier, located about 50 miles south of Seattle and an active stratovolcano, at 14,411 feet above sea level – a stratovolcano is generally very steep in profile with a crater at the summit, and the lava flows typically cool and harden before spreading far.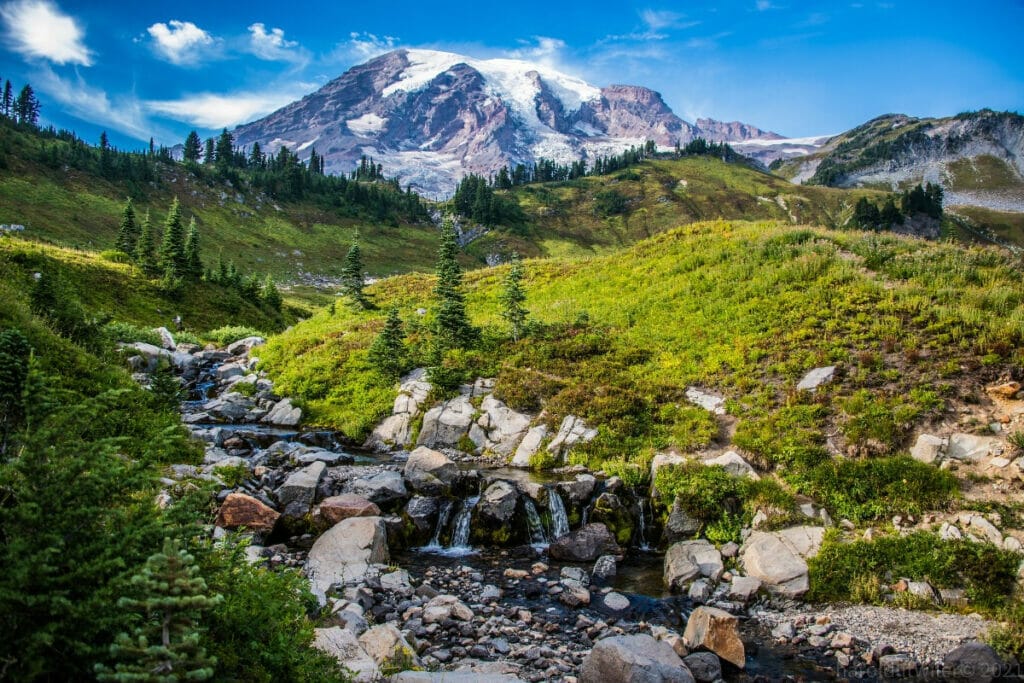 Mount Rainier is made up of alternating layers of lava and material such as ash, and is covered with more glacial ice than any other mountain in the U.S.
Washington's lowest point is the Pacific Ocean at 0 feet.
Here are 21 more interesting facts about Washington State.
1. Agriculture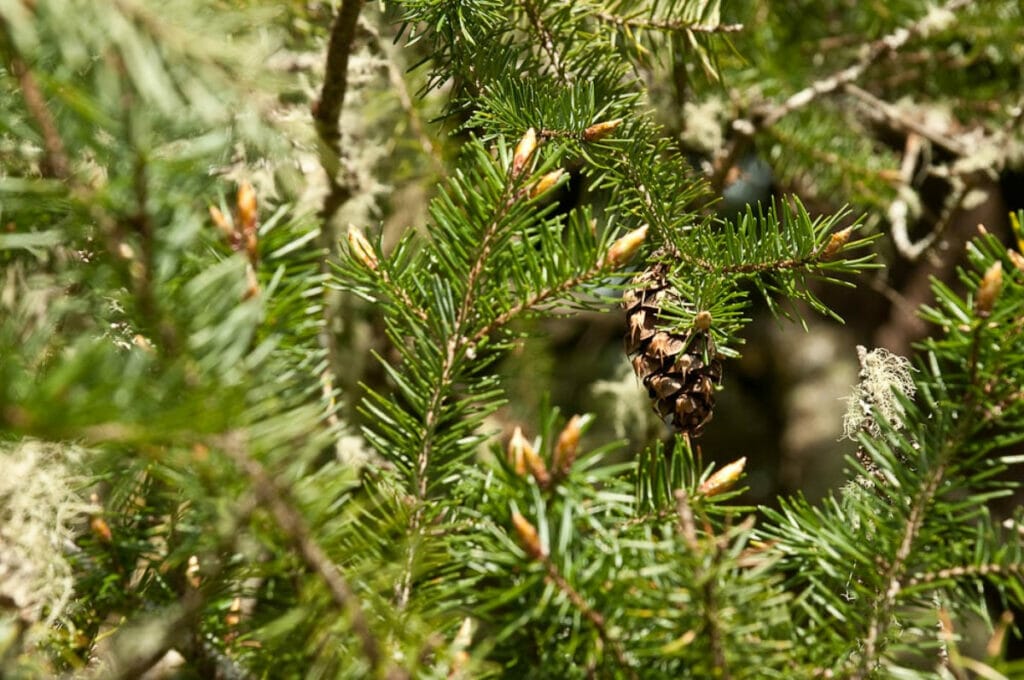 The state is the largest producer of apples, red raspberries, pears, sweet cherries, hops, blueberries, and spearmint oil in the U.S., and also is high in asparagus, Concord grapes, apricots, carrots, sweet corn, nectarines, onions, dry peas, lentils, potatoes, and peppermint oil.
It is a leading lumber producer, with Douglas Fir, Hemlock, White Pine, Ponderosa Pine, Larch, Cedar and Spruce trees.
Also significant to the state's economy are livestock, livestock products, and commercial fishing, halibut, salmon and bottom fish.
One of the more surprising Washington Facts is that the state is second in wine production (while California is first), and today there are over 1,050 wineries throughout the state, most in the eastern half's more desert-like areas.
2. Manufacturing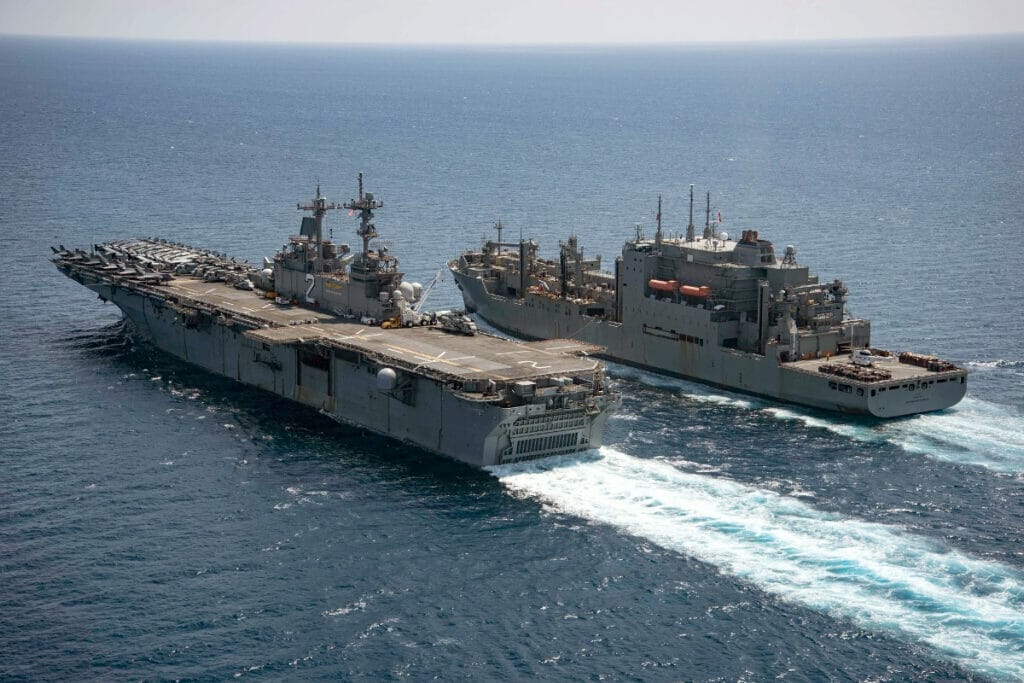 Industries include missiles, shipbuilding, aircraft and other transportation equipment, metals and metal products, food processing, chemicals and machinery.
It also has more than a thousand dams that were built for purposes such as irrigation, electricity generation, flood control and water storage.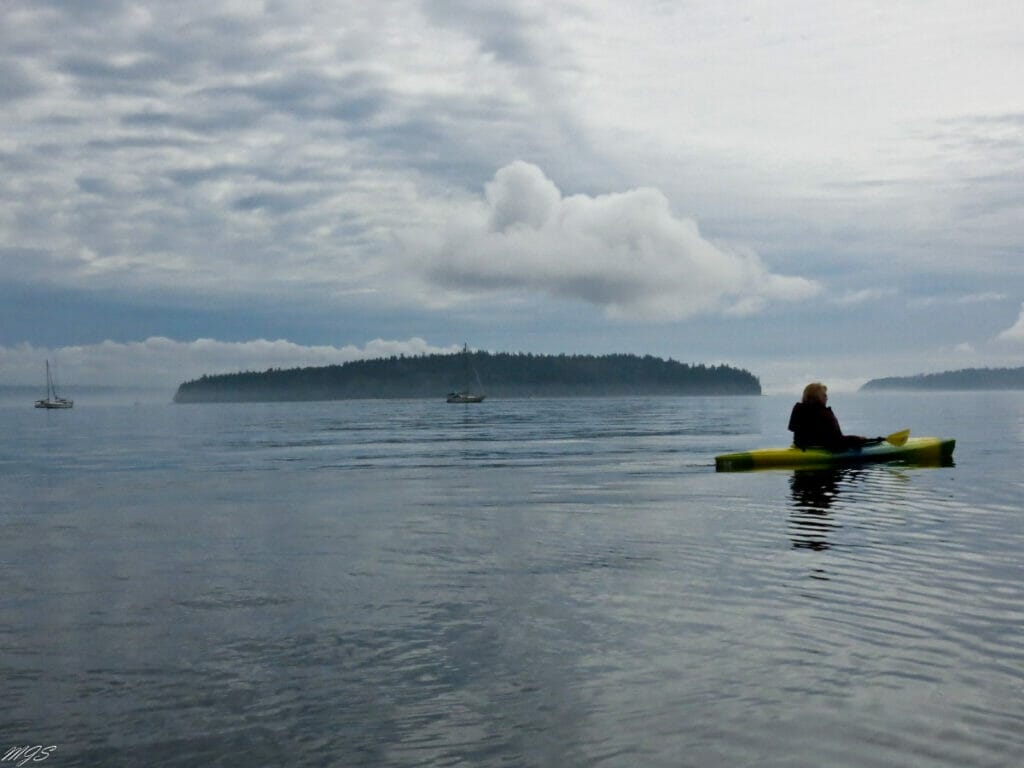 An inlet of the Pacific Ocean, has deep fjords, a large number of islands, and bays that were carved by glaciers.
The rest of the state has mountain ranges, deep rainforests in the west, and an intensive agriculture due to a semi-arid basin region.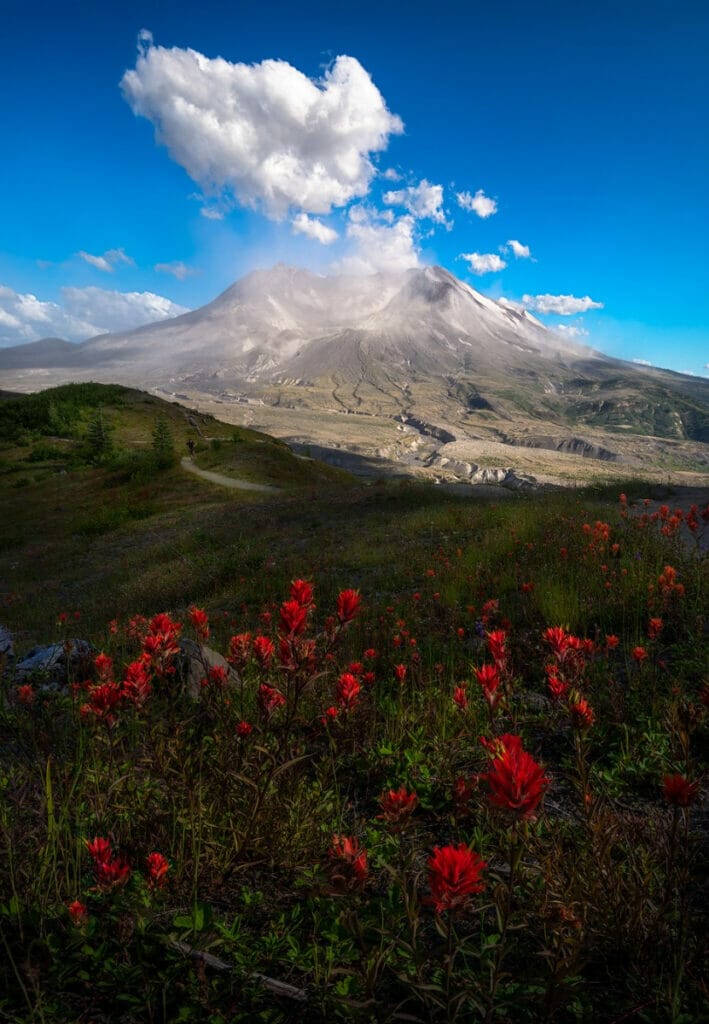 In 1980, the most economically destructive volcanic event in U.S. history occurred when the north face slid off in the largest landslide in recorded history after a period of heavy tremors and small eruptions, and destroyed a large part of the top of the volcano while flattening about 12 ½ miles of forest.
The Columbia River and surroundings were flooded with ash and mud, and ash darkened the skies while it covered large parts of Washington and surrounding states, and the ash drifted across the U.S. over 3 days, and around the earth in 15!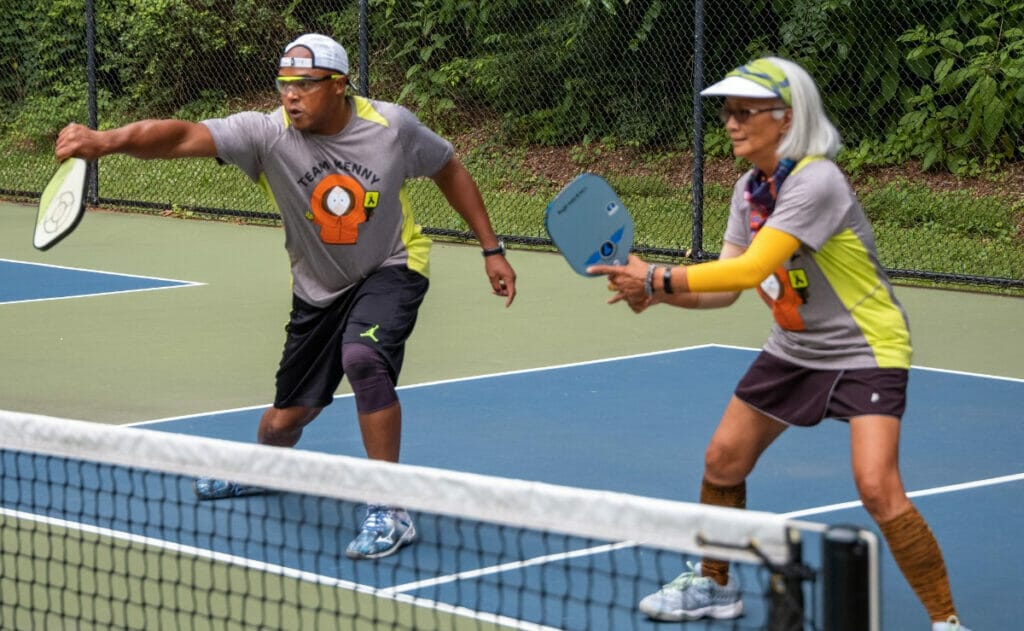 A racquet sport similar to tennis, but with a shorter court and a lightweight ball with holes in it and a short, more squared racquet, was invented on Bainbridge Island, Washington in 1964, but starting in 2021 and 2022, one of the cool facts about Washington is that the sport has become the fastest growing sport in the U.S., and is also the state sport.
6. U.S. Navy Ships
While previous ships have held the name of USS Washington in honor of First President George Washington, four ships, including two battleships have been named USS Washington since that time in honor of the state.
7. Heavy Industry
Developed in the region around eastern Puget Sound during World Wars I and II, when the Boeing company became an established icon in the area.
8. A Fake Neighborhood during WWII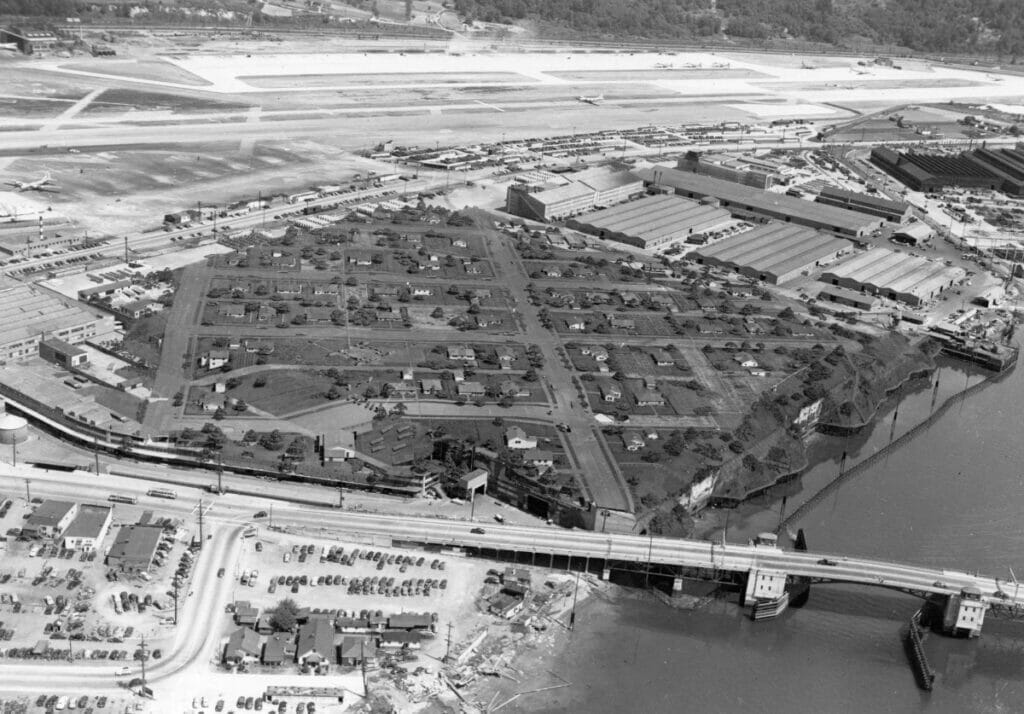 Between 1944 and 1946, Boeing built what appeared to be a tranquil neighborhood of "homes" on top of Boeing Plant 2, a whole WWII Airplane factory, as a disguise and camouflage, due to fears of potential aerial assaults after the attack on Pearl Harbor.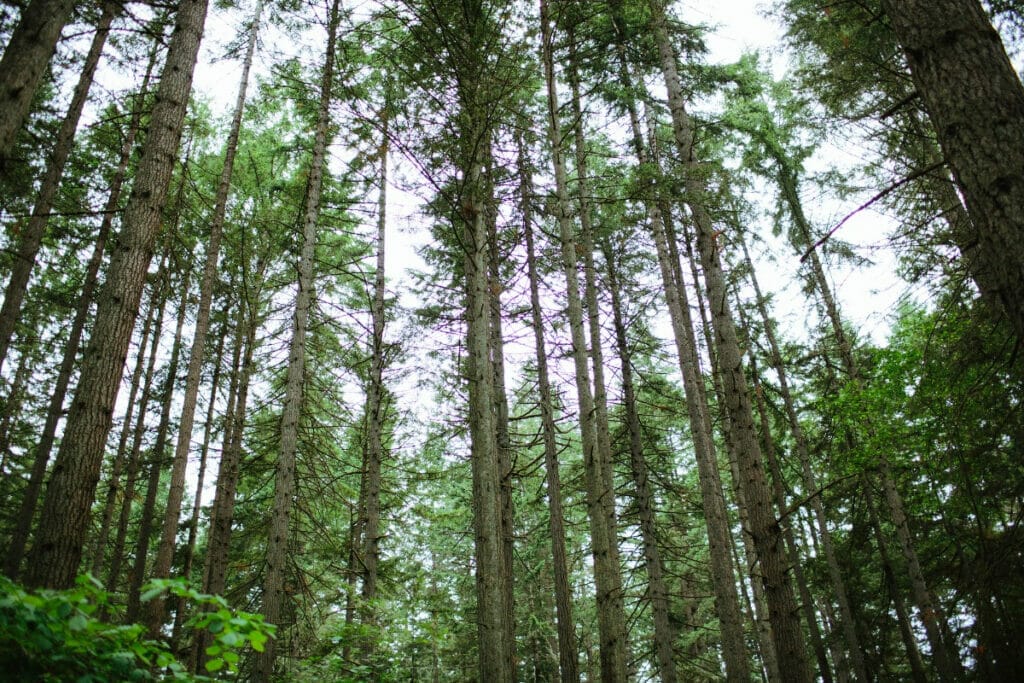 "The Evergreen state", a popular choice due to the evergreen trees the forests are full of as well as the high rain levels that keep the plants, bushes and grass green year-round.
It's never been officially adopted, but has a college named this, and is also found on auto license plates.
10. State Motto
The official state motto "Al-Ki" comes from Chinook Jargon, which translates to "Bye and bye" or "Hope for the future".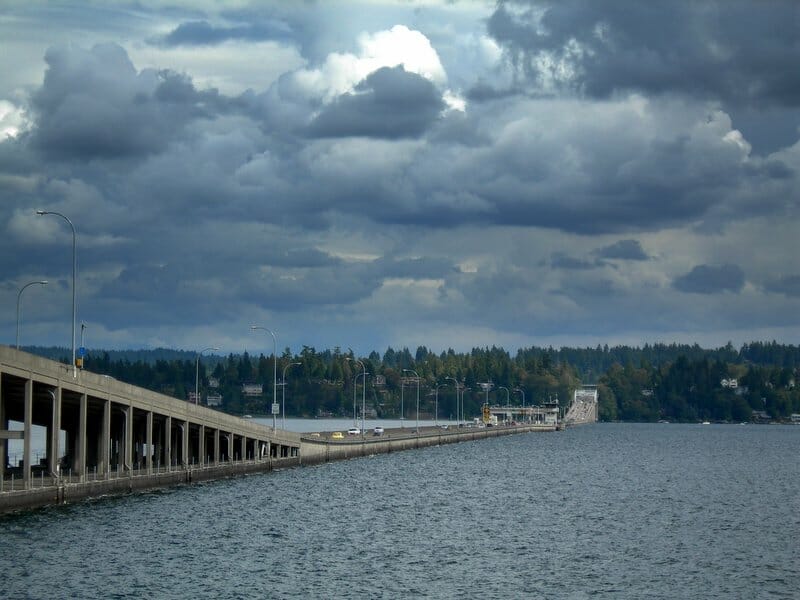 7,580 feet long, located at Evergreen Point and connecting Seattle and Medina across Lake Washington, is the longest FLOATING bridge in the world!
12. Volcanoes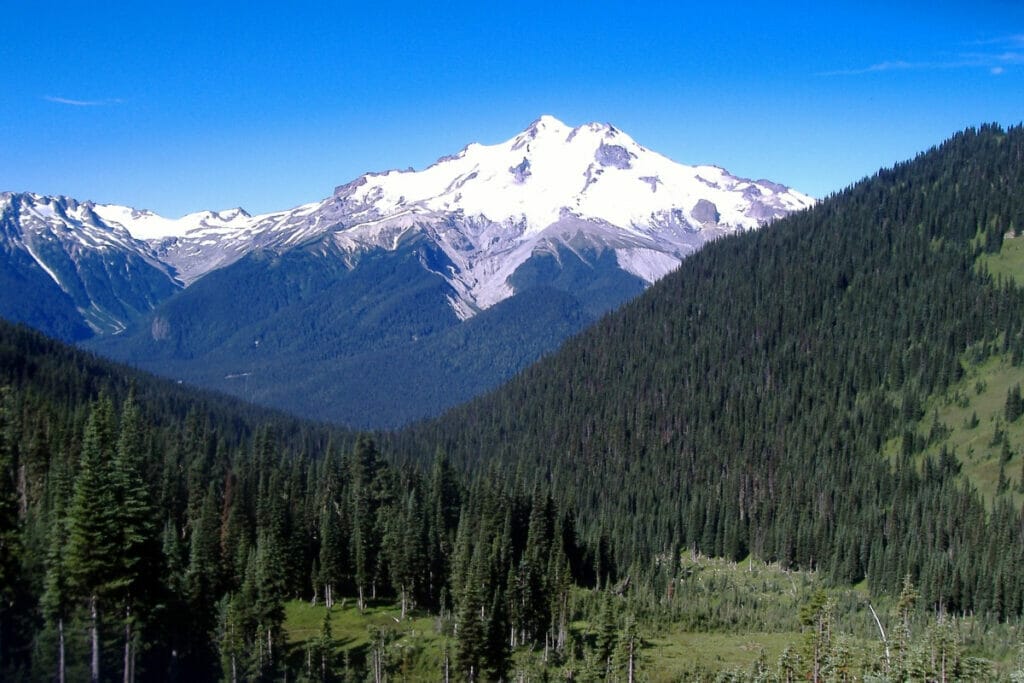 Washington is considered one of the safer states when discussing natural disaster risk, but the state is home to 12 volcanoes, 5 that are currently active!
Those 5 active volcanoes right now are: Glacier Peak, Mount Adams, Mount Baker, Mount Rainier, and Mount St. Helens.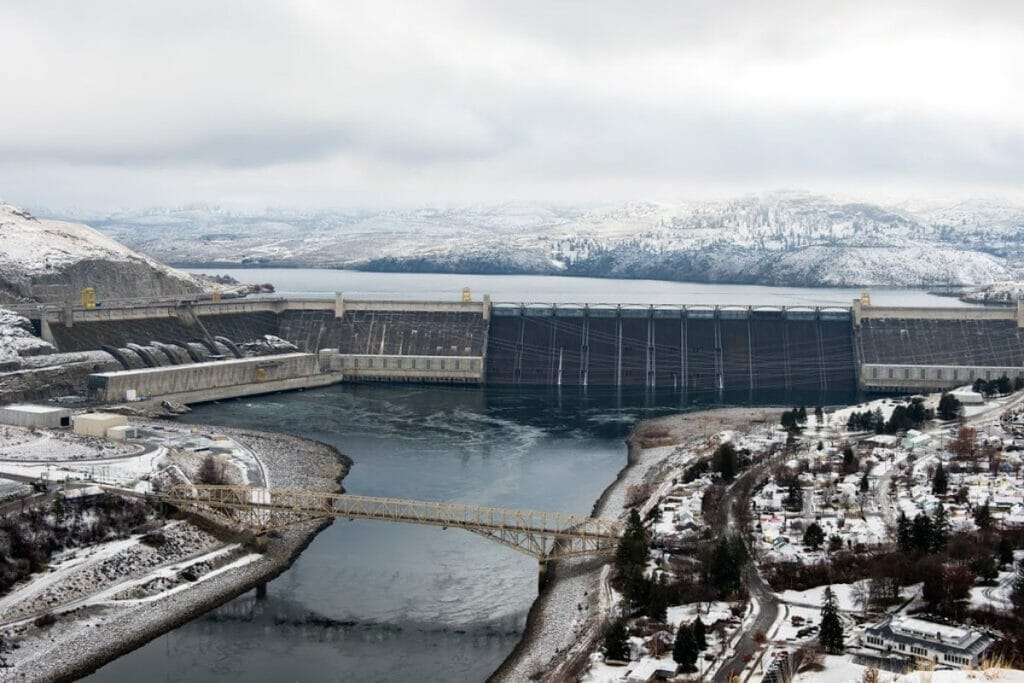 Located on the Columbia River west of Spokane, a gravity dam, among a series of others completed in 1941 to produce hydroelectric power and provide irrigation water, is one of the largest structures ever built, a concrete mass 550 feet high and 5,223 feet long.
Just short of a mile; it is made up of 12 million cubic yards of concrete, enough to build a highway from Seattle to the south of Florida!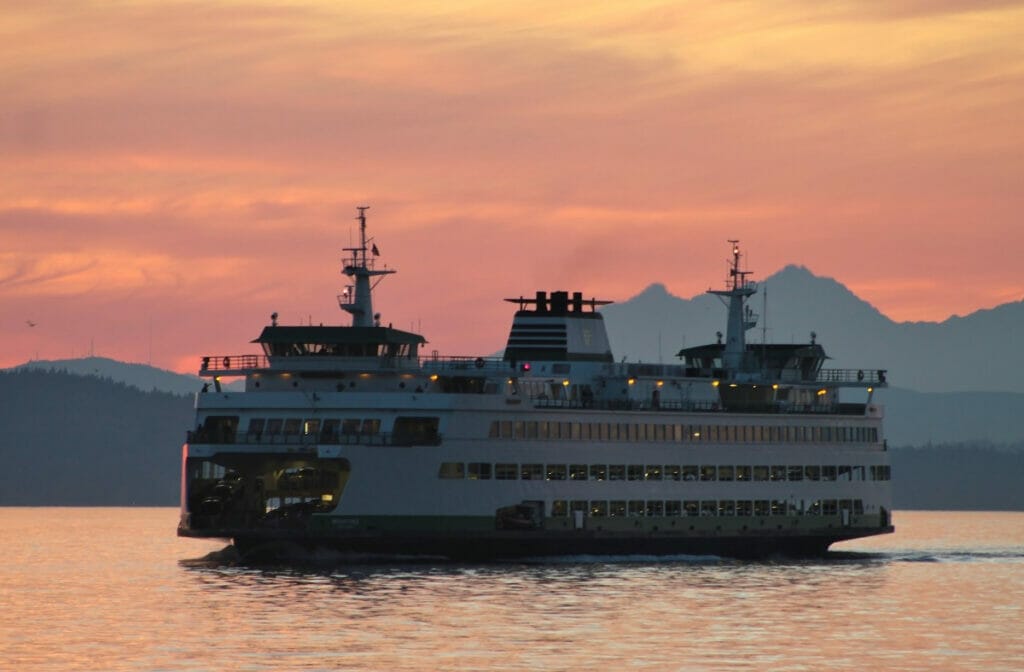 Washington state operates a full ferry fleet in the U.S., with over 20 ferries that go to 20 different ports in 8 counties as well as British Columbia, Canada, carrying 22 million passengers and 10 million cars every year.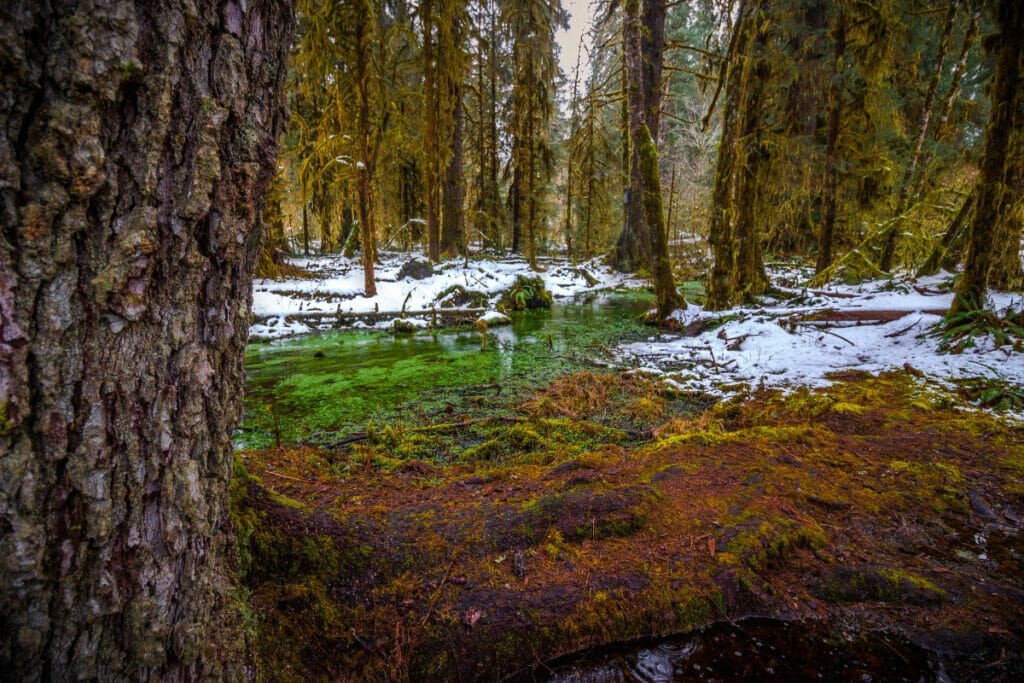 Is the only temperate rainforest found in the continental U.S., located on the Olympic Peninsula, and is among the rainiest places in the world.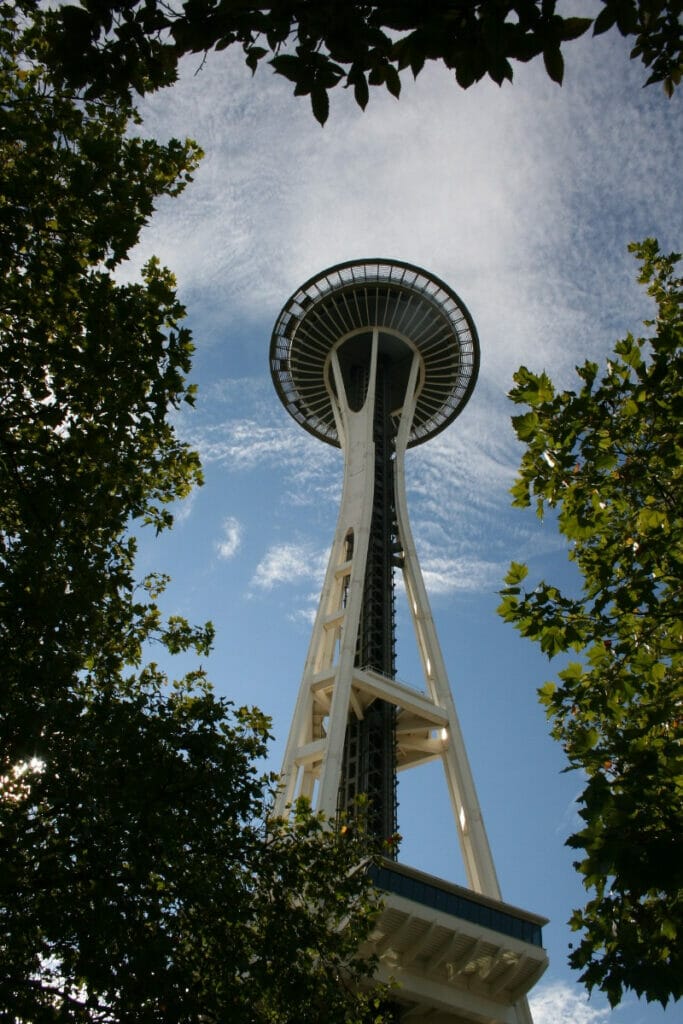 One of the most recognizable landmarks in the world, built for the World's Fair in 1962 with a theme of "The Age of Space".
It's located in Seattle Center, stands 605 feet tall, and is one of the most photographed structures in the world.
The tower has a 520 foot saucer-shaped "top house", offering 360-degree indoor and outdoor panoramic views, with incredible multi-level, floor-to-ceiling glass views, and added a glass floor called "The Loupe", the world's first and only rotating glass floor for a downward view of the structure and surrounding area.
The Loupe Lounge is a cocktail experience with a menu of pairings, that orbits with a revolving glass floor, 500 feet above the city, open fall, winter and spring.
The Atmos Café and Atmos Wine Bar are located on the upper observation level, with Seattle's best views and open to guests during their visits to the top.
17. A few Inventions from Washington State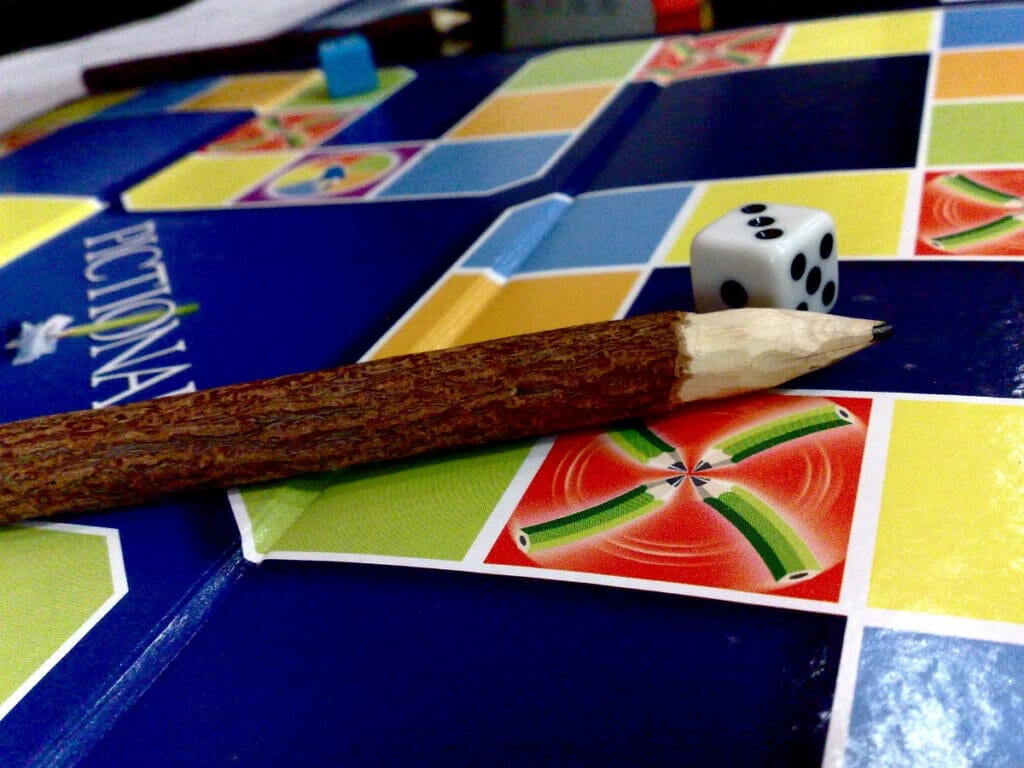 Bread clips – 1952 in Yakima, those little colored clips on all breads today, by Floyd Paxton
Pictionary game – 1985 in Seattle by Robert Angel and partners Gary Everson & Terry Langston
Cranium game – 1998 in Seattle by Whit Alexander and Richard Tait
Bass Guitar – 1930's in Seattle by musician Paul Tutmarc
Fully automated Car Wash – 1951 in Seattle by Archie, Dean and Eldon Anderson
Baby Jogger Stroller – 1984 by Phil Baechler
Sonicare Toothbrush – 1987 in Seattle by David Giuliani, Dr. David Engel and Dr. Roy Martin
18. Washington founded/originated Companies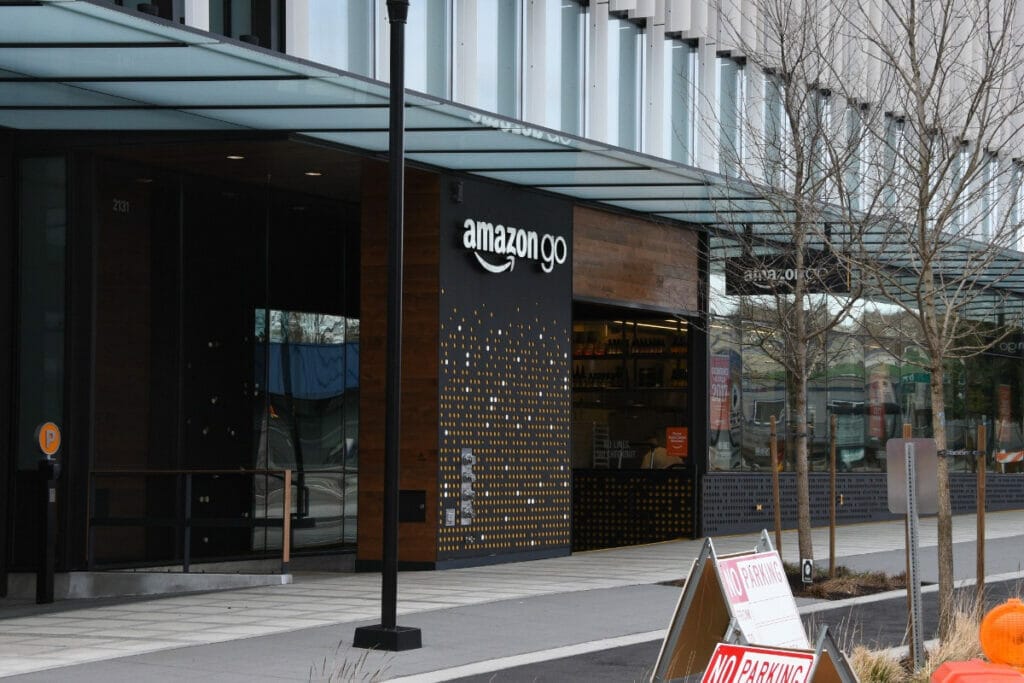 Just a few companies that started in Washington State:
Amazon
Starbucks
Costco
Nordstrom
Microsoft
T-Mobile
Boeing
Cinnabon
Eddie Bauer
Expedia
Microsoft Studios
Red Lion Hotels
Red Robin Restaurant
Zillow
19. Famous Faces born in Washington State: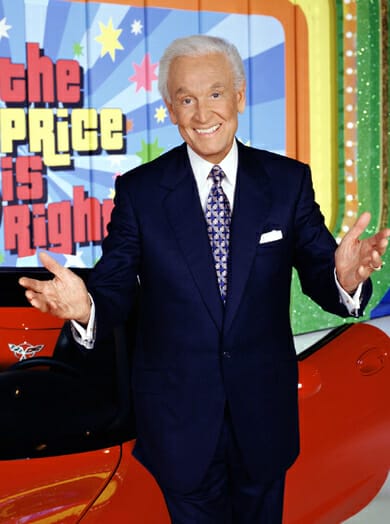 Jonathan Banks, Bob Barker, Daniel Bryan, Billy Burke, Dyan Cannon, Jim Caviezel, Carol Channing, Erika Christensen, Kurt Cobain, Judy Collins, Chris Cornell, Bing Crosby, Gail Devers, John Elway, Frances Farmer, Kenny G, Bill Gates, Natalie Grant, Jimi Hendrix, Frank Herbert, Ken Jennings, Richard Karn, Gary Larson, Kenny Loggins, Joe Lombardi, Kyle MacLachlan, Jim Mattis, Jeffrey Dean Morgan, Craig T. Nelson, Jean Smart, Hope Solo, Layne Staley, Rick Steves, Ryan Stiles, John Stockton, Blair Underwood, Jennifer Warnes, Adam West, Rainn Wilson
20. TV/Movies filmed in Washington State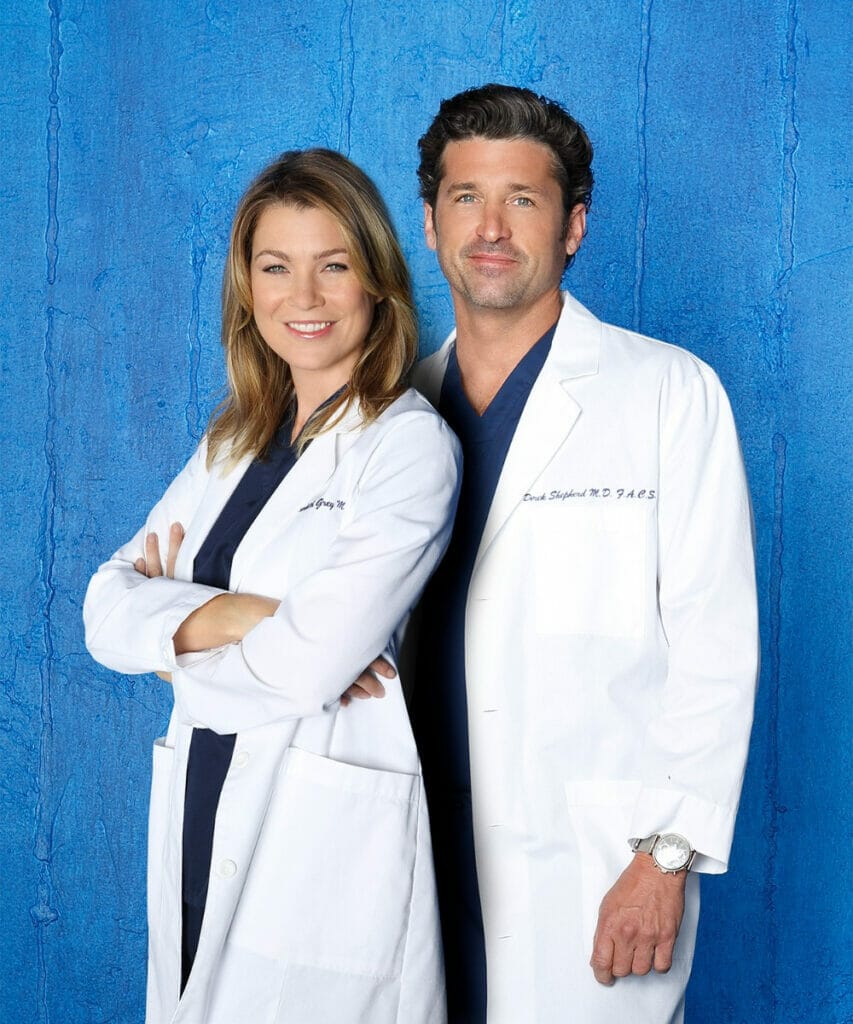 (TV) – Grey's Anatomy, Highlander, Life as we Know it, Six Feet Under, Station 19, Twin Peaks, Z Nation, Northern Exposure, Road Rules: Semester at Sea, Top Chef: Seattle, The Bachelor seasons 10, 13, 15, 17, Bachelorette season 4, Man in the High Castle
(Movies) – War of the Roses, This Boy's Life, The River Murders, The Hunt for Red October, Sleepless in Seattle, 10 Things I Hate about You, The Ring, Benny & Joon, The Hanging Tree, Twilight Movies, Practical Magic, The Postman, Say Anything, An Officer and a Gentleman, Harry and the Hendersons, The Butterfly Effect, Austin Powers, Assassins, Dante's Peak
21. Funny Old Washington State Laws
It's illegal to take an X-ray to see if your shoes fit – and rather pricey I'd think!
You must have the owner's permission to sleep in an outhouse – And who in their right minds would even want to?!
On a similar note, any restroom with pay toilets must also have an equal number of free toilets – This took several tries to be passed in the House of Representatives, finally passing after the Speaker of the House had to scrounge for change to use one, wondering what would have happened had he not been able to come up with it? The joke that was credited to the Senators was "calls of nature should not be collect."
You may not pretend your parents are rich, or that you're the child of someone and entitled to their estate – I'm in no doubt this has been tried.
You can't buy a mattress, or meat (state law) or a TV (in Spokane) on Sundays – But anything else is fine, no problem.
Skipping, crawling, rolling, gliding and marathon dancing aren't allowed – Some cranky soul did not like kids or anyone young!
You may not catch fish by rock throwing – Okay, no dynamite either, I'd say?
All motor vehicles must be preceded by a man carrying a red flag (in daytime) or a red lantern (at night), fifty feet in front of the vehicle – How fast was this ignored… what would be the point of driving at all?
In Wilbur, riding on an ugly horse is illegal – Poor horse… but who judges?
Lollipops are banned! – Just cruel.
You may not go out in public if you have a cold! – Common sense to stay home if you're sick!
It's illegal to spit on a bus. – So one would hope!
It's a felony to harass Bigfoot, Sasquatch or any yet undiscovered subspecies in Washington! – How strange that they've created a law in advance to protect a creature just in case it does exist; If anyone should ever get close enough, let alone see one, no harassing!
You may not destroy someone else's beer barrel, keg, cask, or bottle without their written consent! – As if they'd ever give it.
"When two trains come to a crossing, neither shall go until the other has passed." – I see two conductor skeletons in the engine cars… who writes these laws?!
Repealed law – In Spokane once upon a time, you could not interrupt a religious meeting with a horse race. – Really… and it's fine now?
Another Repealed law – There used to be a fine of up to $500 if you removed or messed with a pillow label! – Well thank goodness!
Candidates for office cannot buy alcohol for others while the polls are open! – Wonder who tried this?
It is illegal in Seattle to carry a fishbowl or aquarium onto a bus… because the water sloshing sounds may disturb other passengers. – I'm thinking whoever wrote this law has never ridden a bus to hear how much noise they make, and that passengers might be far more concerned about spillage than noise.
In Seattle, No one may set fire to another person's property… without prior permission. – I wonder who would ever give it, and more importantly, what happened to this law?
In Lynden, dancing and drinking cannot occur at the same establishment.
If you have criminal intentions, it is required for a motorist to stop at the city limits and call the chief of police to let him know! (A law intended to reduce crime.) – I have no words for this one.
Want more fun facts about your favorite states? Check these out!
Pin for Later!
Get the All-American Travel Secrets!
Don't miss out on America's hidden gems!