Want some fun facts about New York?
Known officially as the State of New York, or New York State to differentiate it from New York City, New York is the 27th largest U.S. state, with 20.2 million residents, and is the 4th most populous state in the U.S. as of 2021, with about 44% of those living in New York City; Albany is the state Capital.
New York City is the most populous city in the U.S. with about 2/3 of the state's population living in the city, which is the world's largest urban landmass!
New York was one of the original 13 colonies, and became the 11th state of the U.S.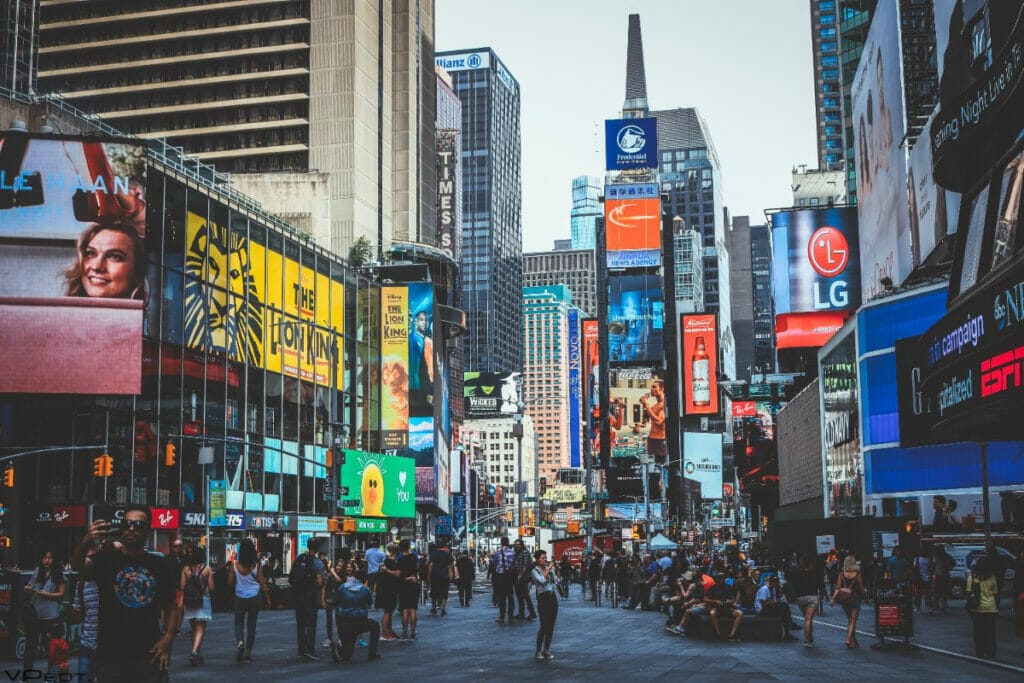 Since 1952, The United Nations headquarters is located in New York City, and the city is described as the financial, cultural and media capital of the world, with many well-known landmarks including 4 of the 10 most-visited tourist attractions: Times Square, Central Park, Niagara Falls and the Grand Central Terminal.
It is also home to the Statue of Liberty, a UNESCO World Heritage Site and a gift to the U.S. from France in 1886 in celebration of 100 years of U.S. independence as well as the continued allegiance between the two countries.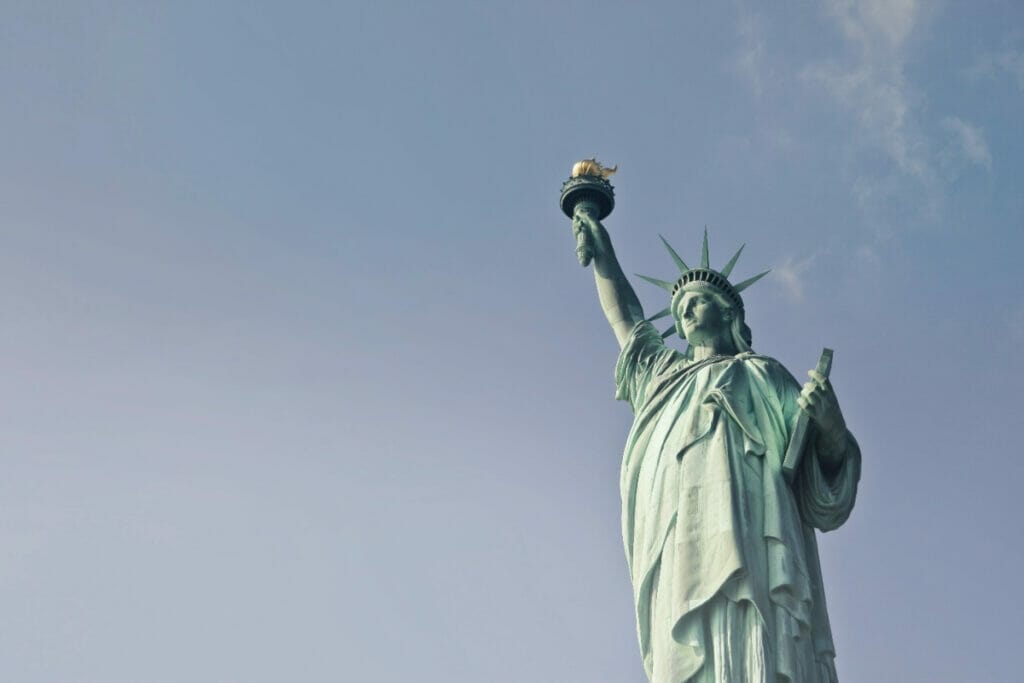 It was shipped in 350 pieces, taking 4 months to assemble; the 7 spikes on the crown represent both the 7 seas and the 7 continents of the world.
New York's highest elevation is Mount Marcy in the Adirondacks in Northern New York, at 5,344 feet above sea level, while the state's lowest point is at sea level on the Atlantic Ocean in Downstate New York, and about 13.6% of New York State's total area consists of water!
New York State is divided into 3 sections: Upstate New York, New York City, and Downstate New York, but other than New York City, no one can agree on the exact parameters of the other two areas.
Nearly all of the state north of NYC is referred to as "upstate" by the local residents.
Here are some interesting facts about New York State: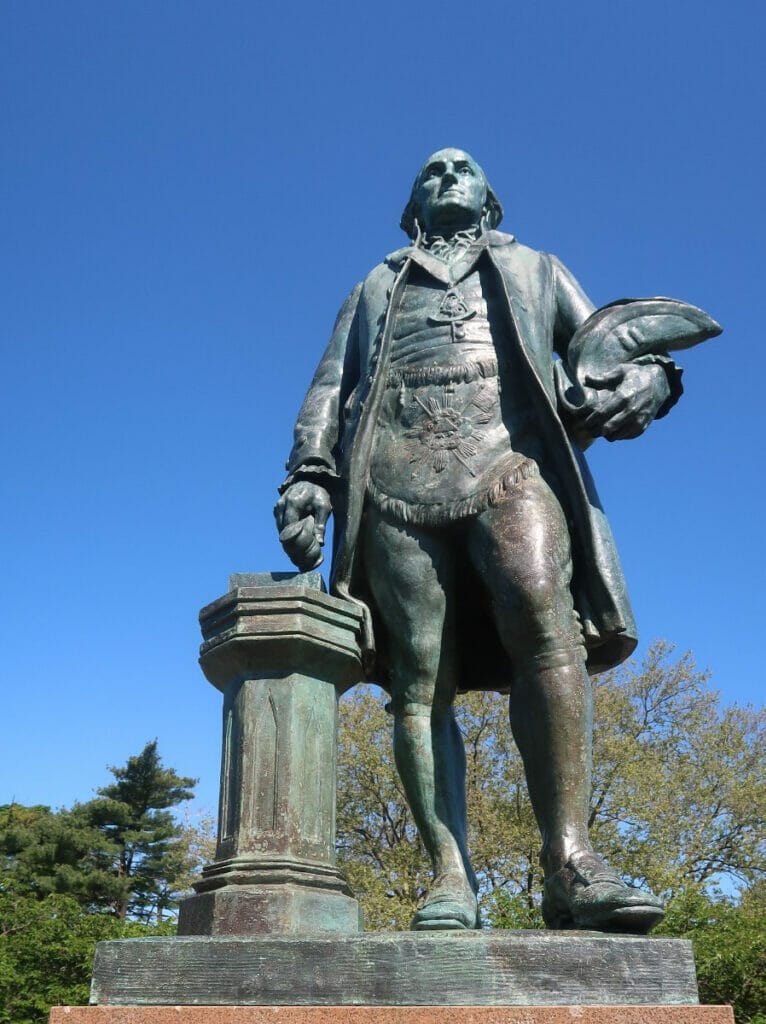 On April 30th, 1789, George Washington was sworn in as the First President of the United States at Feder Hall in New York City.
2. Agriculture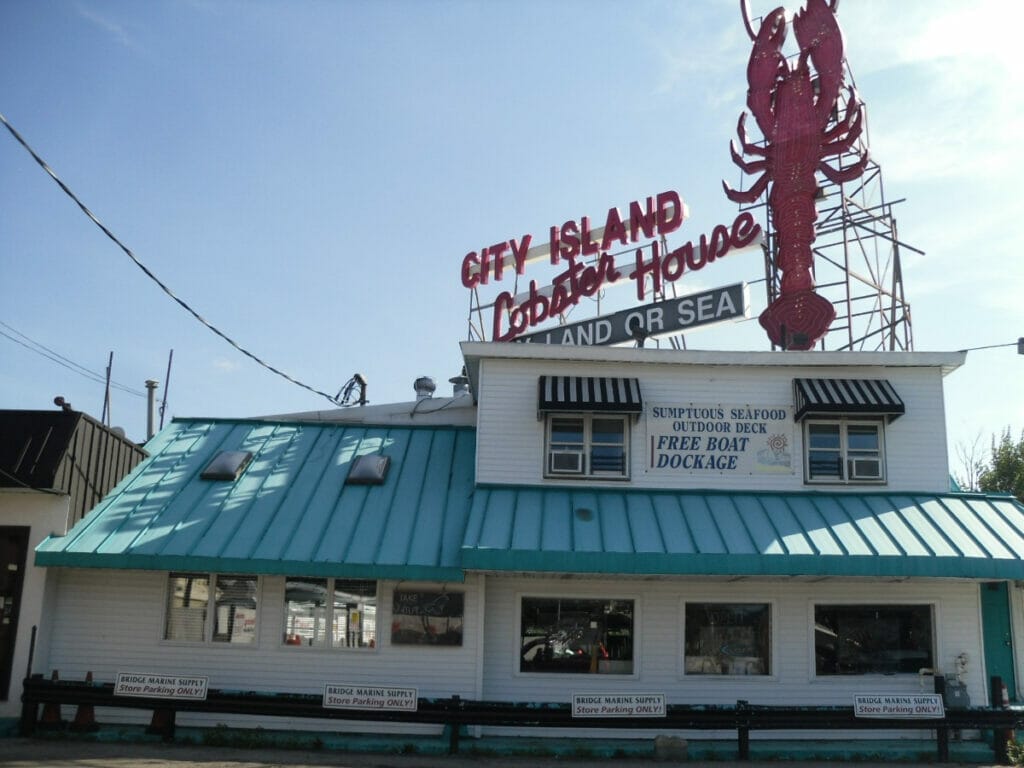 New York agriculture industry is a major producer overall, ranking among the top 5 states for agriculture products including maple syrup (the state is second only to Vermont in production), apples (second only to Washington State), cherries, plums, pears and peaches, cabbage (largest in the U.S.), dairy, onions, and potatoes, with about 25% of its land in farms; commercial fishery located along the Atlantic side of Long Island has principal catches of clams, lobsters, squid and flounder.
3. Colleges and Universities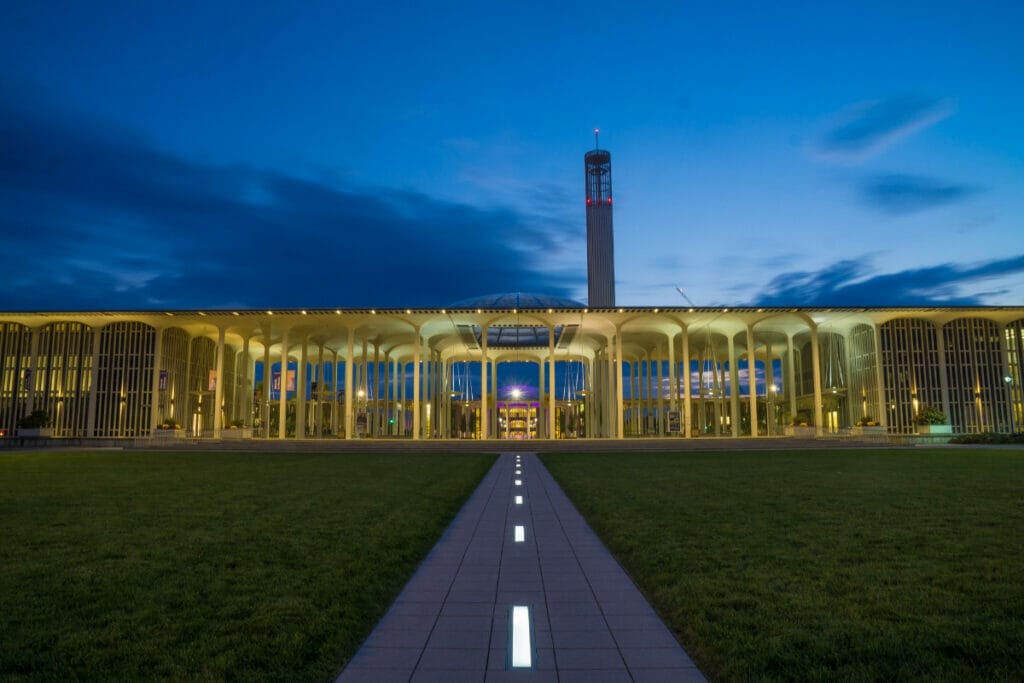 New York has approximately 200 colleges and universities, including the State University of New York system, the largest in the nation.
4. State Critters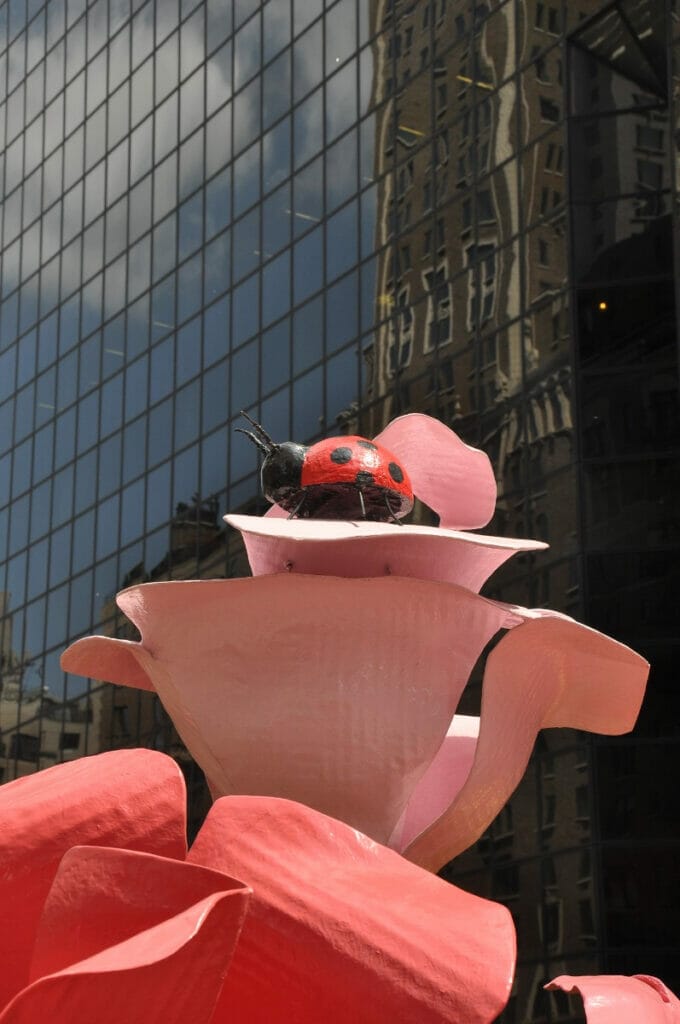 The State insect in the Nine-spotted Ladybug – not 2 or 8, but only those with exactly 9 spots; and the State Reptile is the common Snapping Turtle – watch those fingers!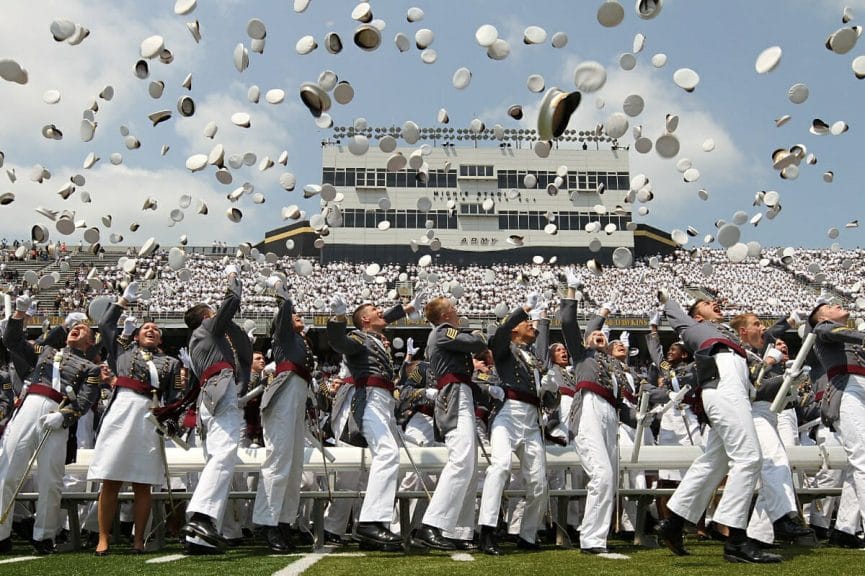 The famous service academy of the U.S. Army is located south of Newburgh on the west bank of the Hudson River.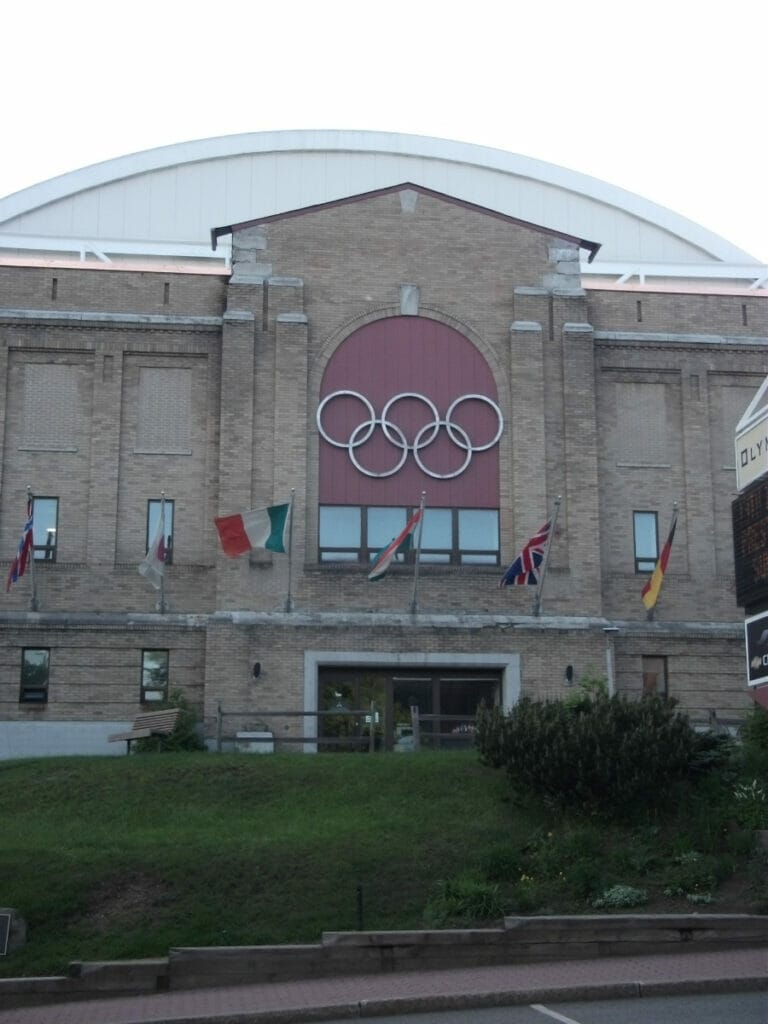 New York has hosted both the 1932 and the 1980 Winter Olympics in Lake Placid.
Built in 1825, it is the oldest documented covered bridge in the U.S. and is one of 21 historic covered bridges in the state, located near East Springfield, crosses over Shadow Brook and is now included in Glimmerglass State Park.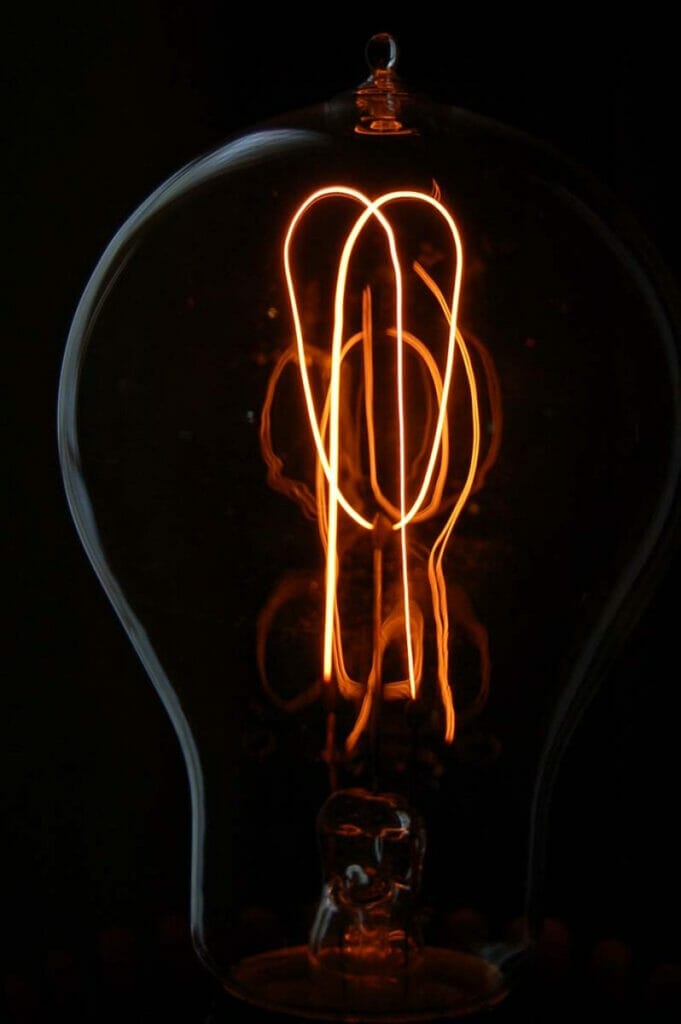 Thomas Edison started a machine works company in 1886 in Schenectady that grew into the General Electric Company in 1892.
9. Making it Big with Inventions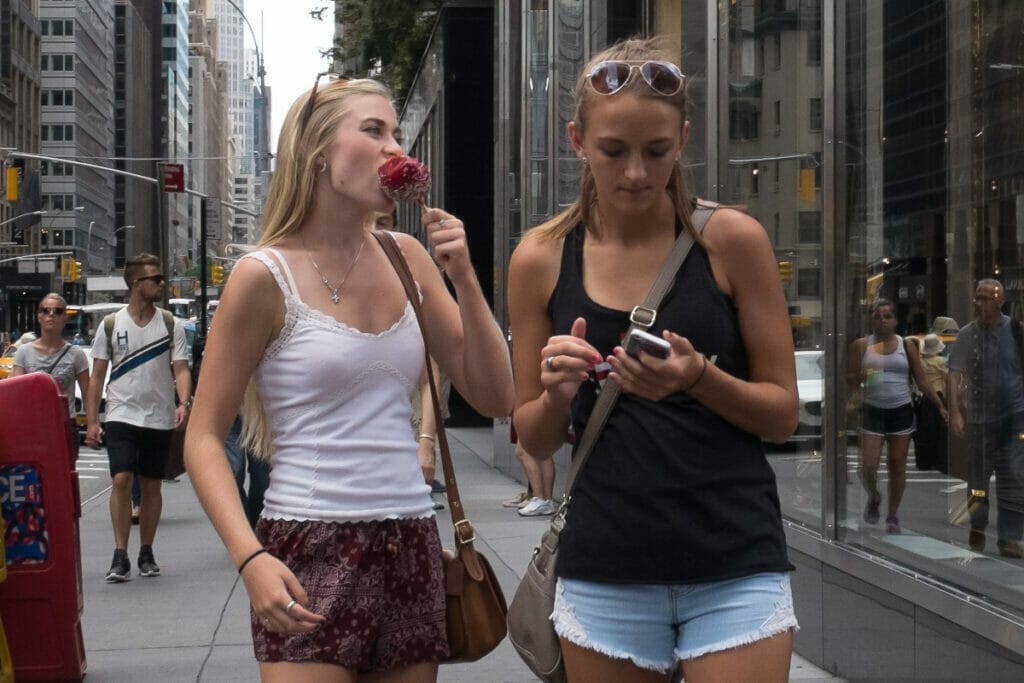 In the 1988 movie "Cocktail", do you remember Tom Cruise's character, Brian Flanagan's obsession with inventing something that would make him rich?
Well, since 1938 in the town of Cattaraugus, a company called Setterstix has been producing Billions of paper sticks… yes, sticks!
They're used for Q-tips, candy apples, lollipops, etc…all over the world!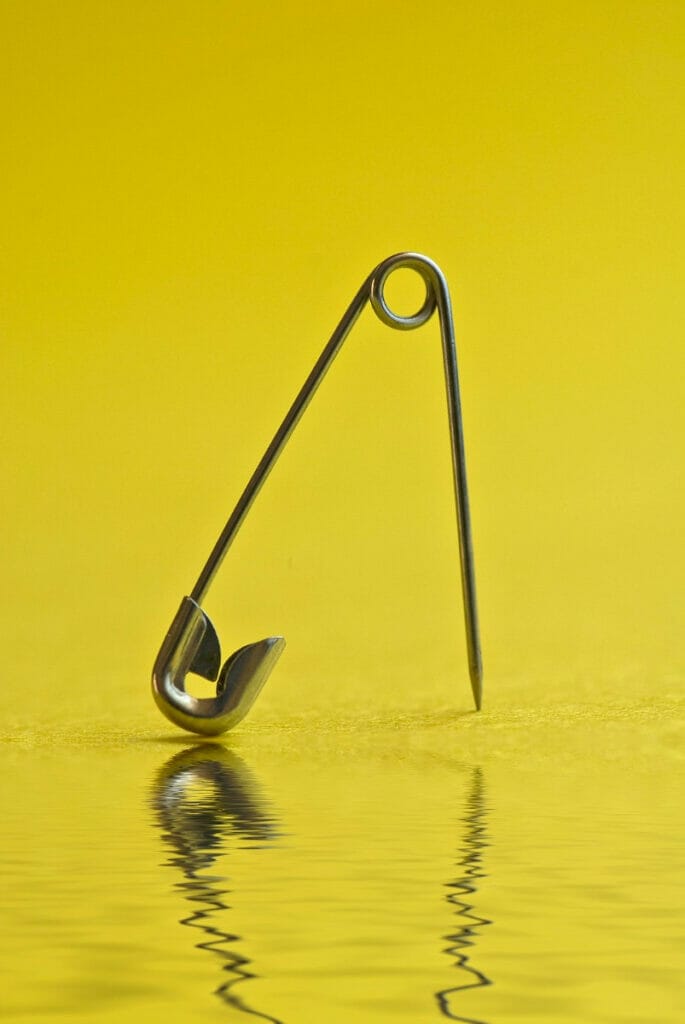 On the other side of the coin from paper sticks, another useful invention was the safety pin, invented in 1849 by Walter C. Hunt in Martinsburg.
Sadly for him, he undervalued the pins so much that he sold his invention for $400.
11. Toilet Paper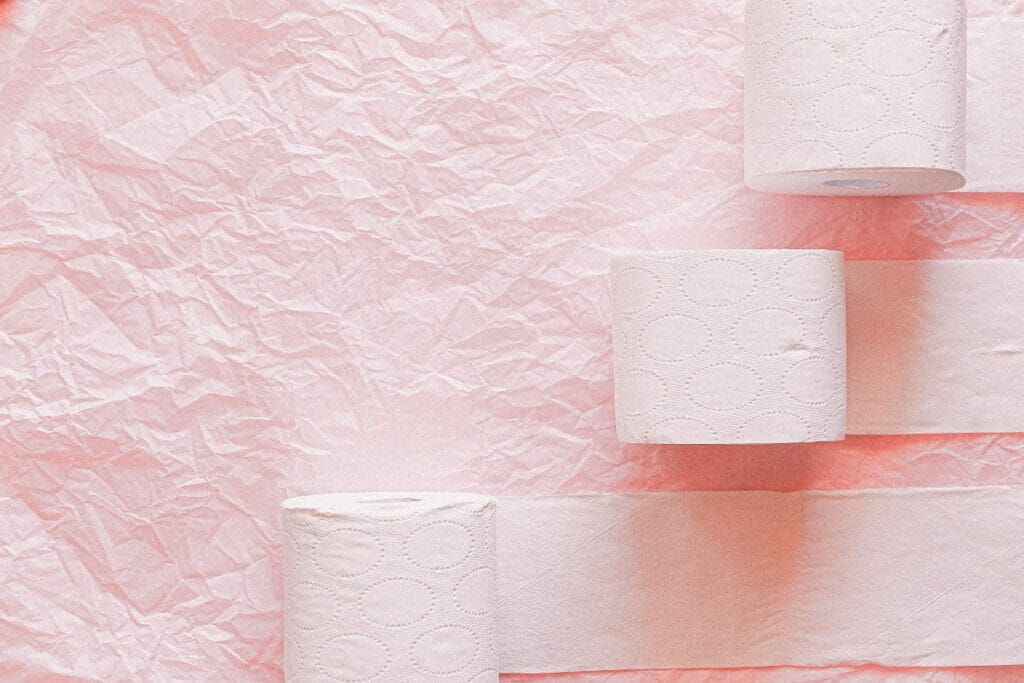 It was invented by Joseph Gayetty in New York City in 1857, originally for hemorrhoid sufferers, called "Gayetty medicated paper."
It sold in sheets where it was not a hit.
Later in 1859, Walter Alcock invented the roll of sheets with perforated points.
Due to the "personal nature" of the product, it could not be advertised back then and took two decades before it caught on, sold in plain wrappers and referred to as "for the smallest room in the house."
12. More Inventions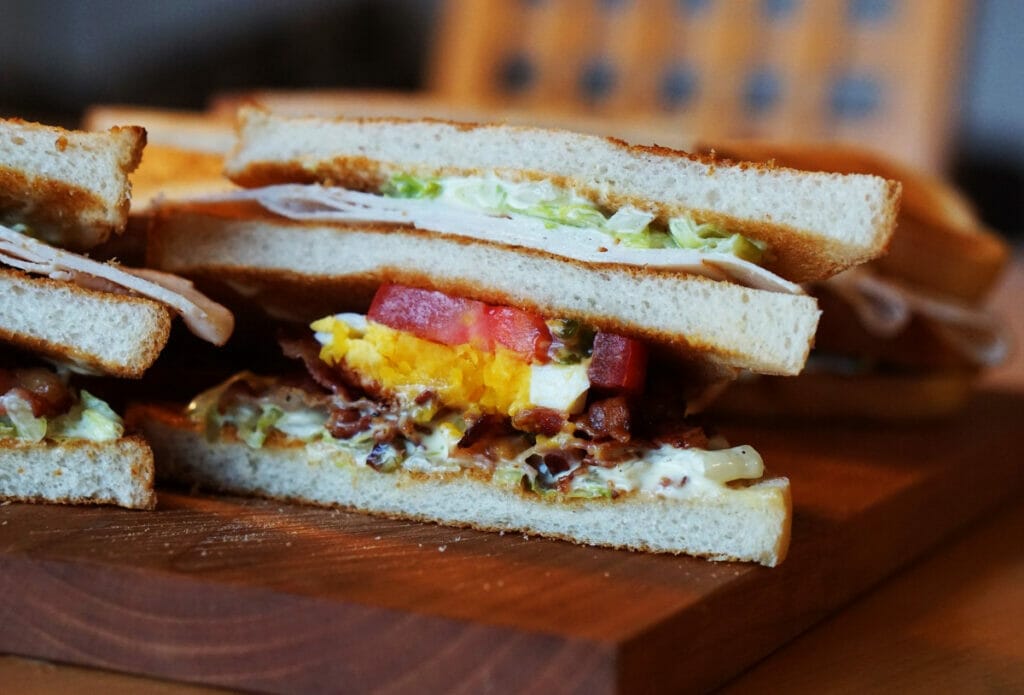 While some are disputed with different legends of where they come from, these items are claimed by people and places in New York State:
Club Sandwich – 1890's Saratoga Springs
Potato Chips – 1853 Saratoga Springs – an irritated chef named George Crum had had enough of a complaining guest over his French fries "not being crisp enough", so cut a new batch paper thin and "fried them to a crisp", only to be surprised when the guest loved them, and that guest was shipping/railroad baron Cornelius Vanderbilt – thus, potato chips were born!
Velveeta Cheese – 1918 Monroe
Life Saver Wrappers – 1912 Gouverneur
Pepto Bismol – 1912 for babies, then expanded to adults in 1919, from Cenango County
Pie a La Mode – 1895 Cambridge
Powdered Gelatin (Jell-O) – 1845 powdered plain gelatin, then Jell-o – 1897 in LeRoy
French's Mustard – in 1904, it was first introduced at the St. Louis World's Fair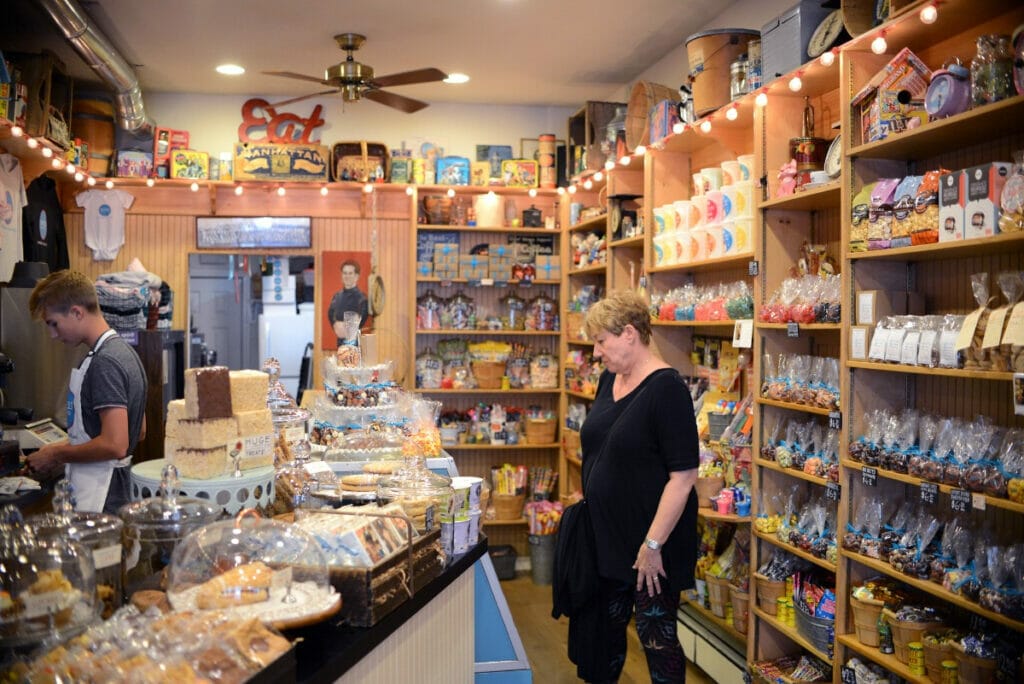 Among the cool facts about New York, Actors Paul Rudd, producer/screenwriter wife Julie Yaeger, and actor Jeffrey Dean Morgan and actress/author wife Hilarie Burton-Morgan, along with a third couple co-own a Candy Store in Rhinebeck, Upstate New York (Samuel's Sweet Shop), that they purchased together in 2014 to keep it going after friend and longtime owner died from a heart attack.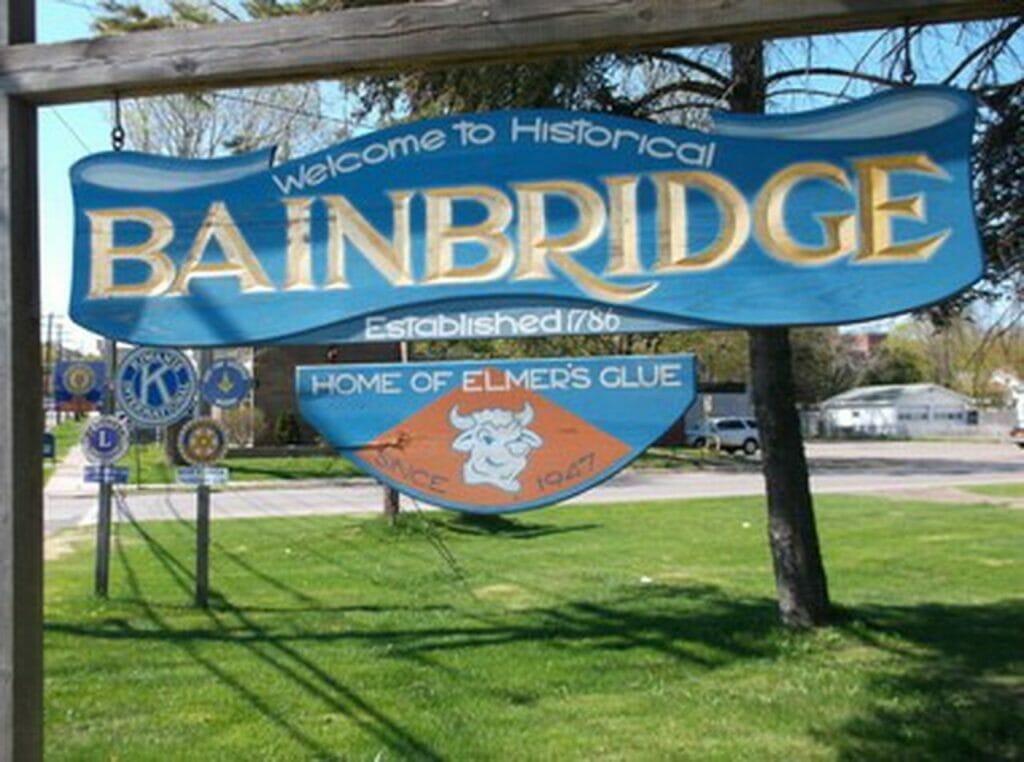 A favorite of U.S. school kids everywhere for generations, the original home where "Elmer's Glue" was first created in 1947 was Bainbridge, New York, where the village motto on signs as you entered said "Welcome to Bainbridge – Stick with us!"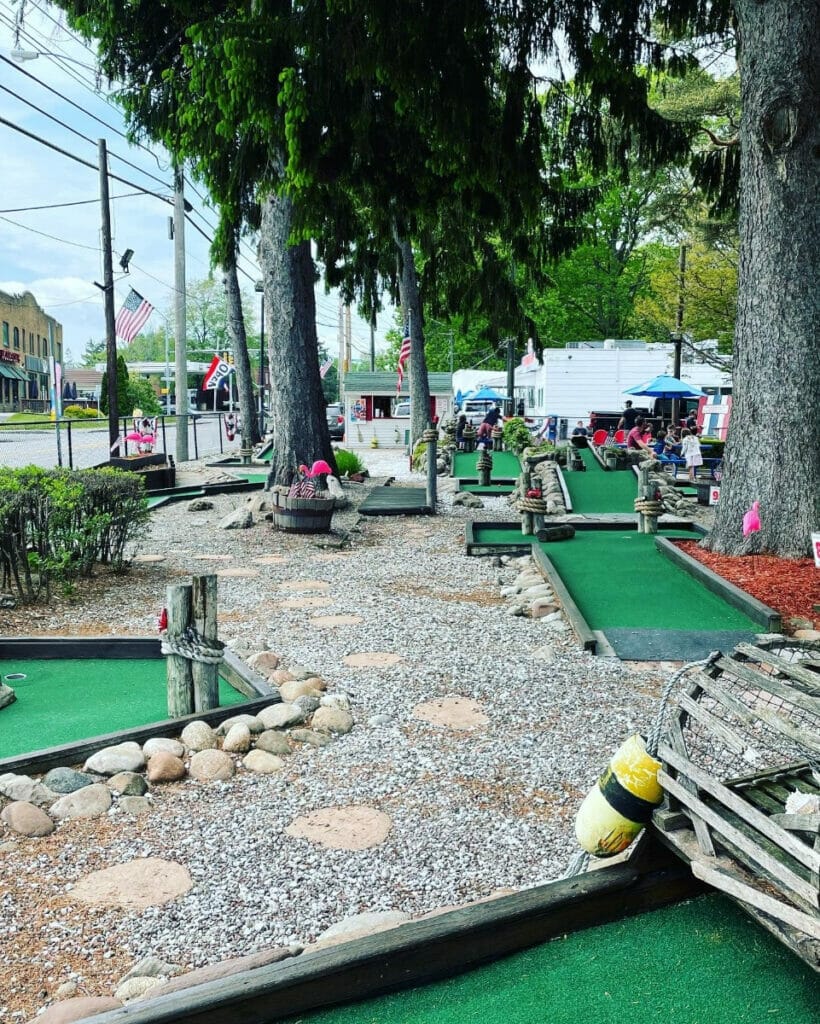 Parkside Whispering Pines course, located in Irondequoit north of Rochester New York, first opened in 1930 and is listed on the National Register of Historic Places.
16. Five U.S. Presidents were born in New York State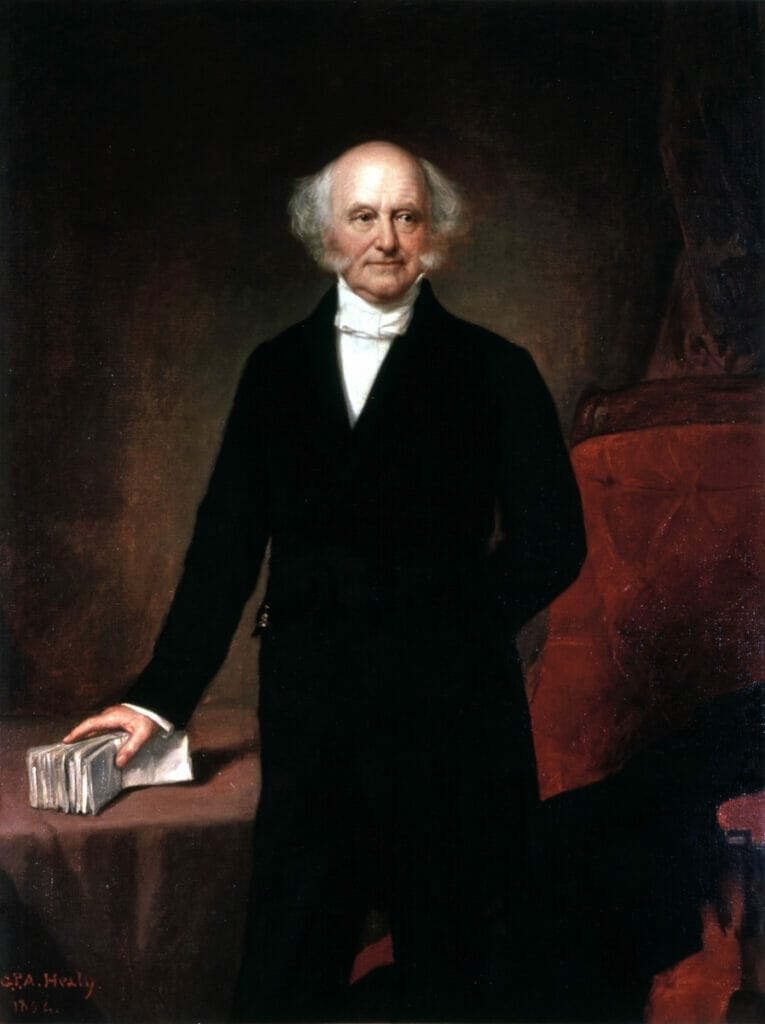 Martin Van Buren, 8th president from 1837-1841, born in Kinderhook; Millard Fillmore, 13th president from 1850-1853, born in the Fingerlakes region; Theodore Roosevelt, 26th president from 1901-1909, born in New York City; Franklin Roosevelt, 32nd president from 1933-1945, born in the Hudson Valley; Donald Trump, 45th president 2017-2021, born in New York City.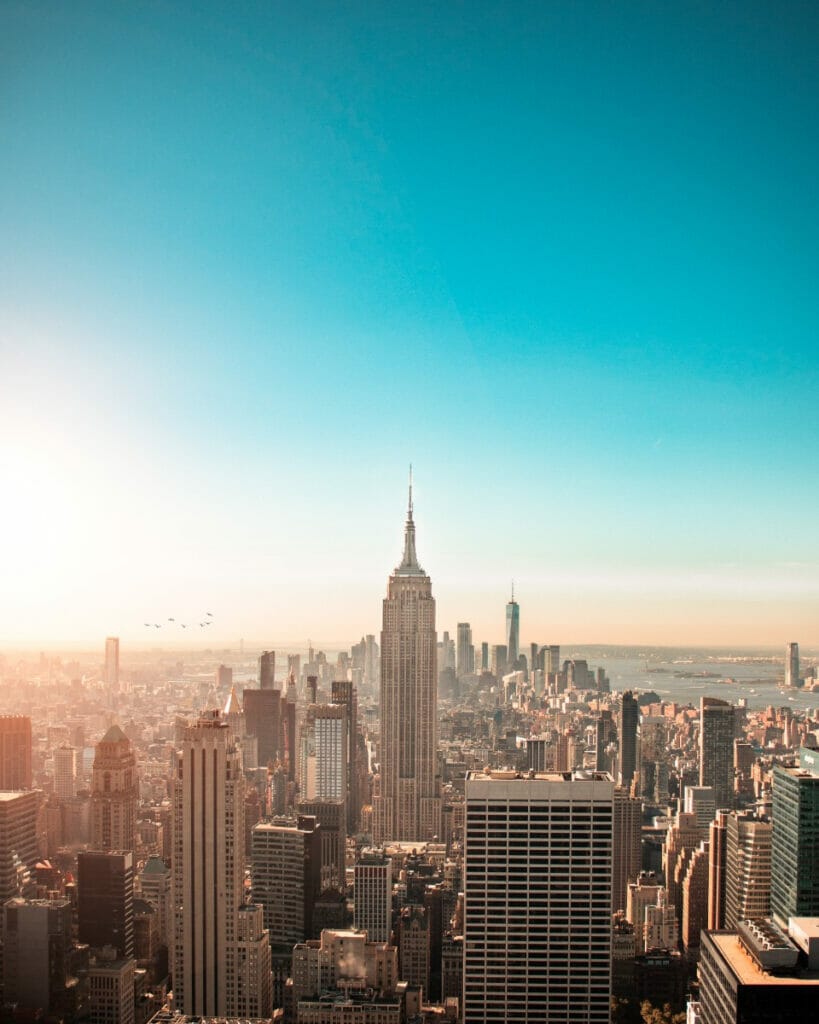 Has 102 floors, measures 1,454 feet from base to top of the antenna yet took only 1 year and 45 days to complete.
The final rivet to be placed in the building was made of solid gold to celebrate.
New York City houses the world's largest railway station, Grand Central Terminal, which was completed in 1913 with 44 platforms on two underground levels and covers 48 acres of land.
Among the unique of New York facts.
During the 1930's a secret train station known as Track 61 was built below the Waldorf Astoria hotel, specifically for the secret entrance of then U.S. president Franklin Roosevelt.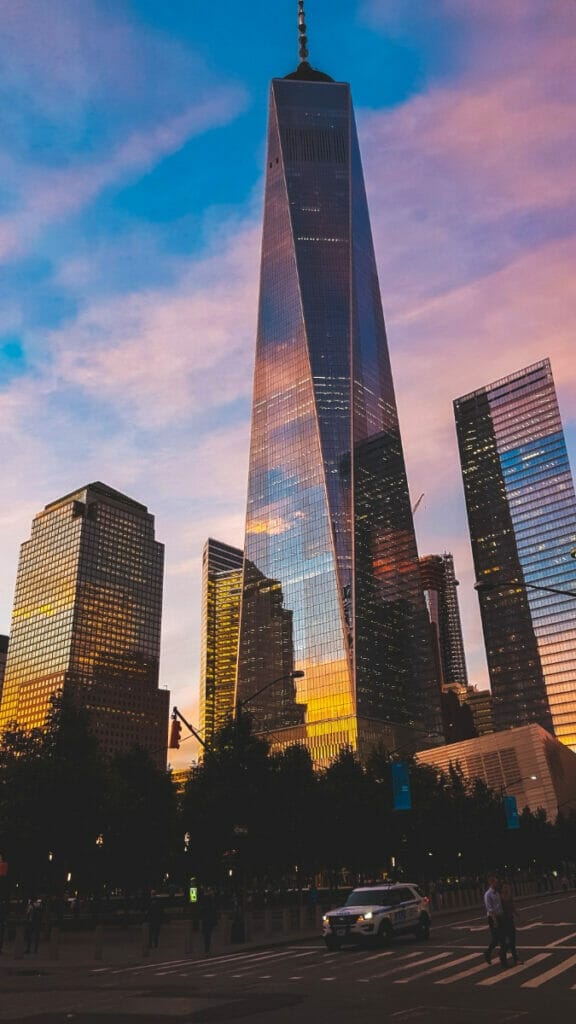 The new building is the tallest in the western hemisphere, with 104 floors and 1,776 feet tall in honor of the year of U.S. Independence Day and is also referred to as Freedom Tower.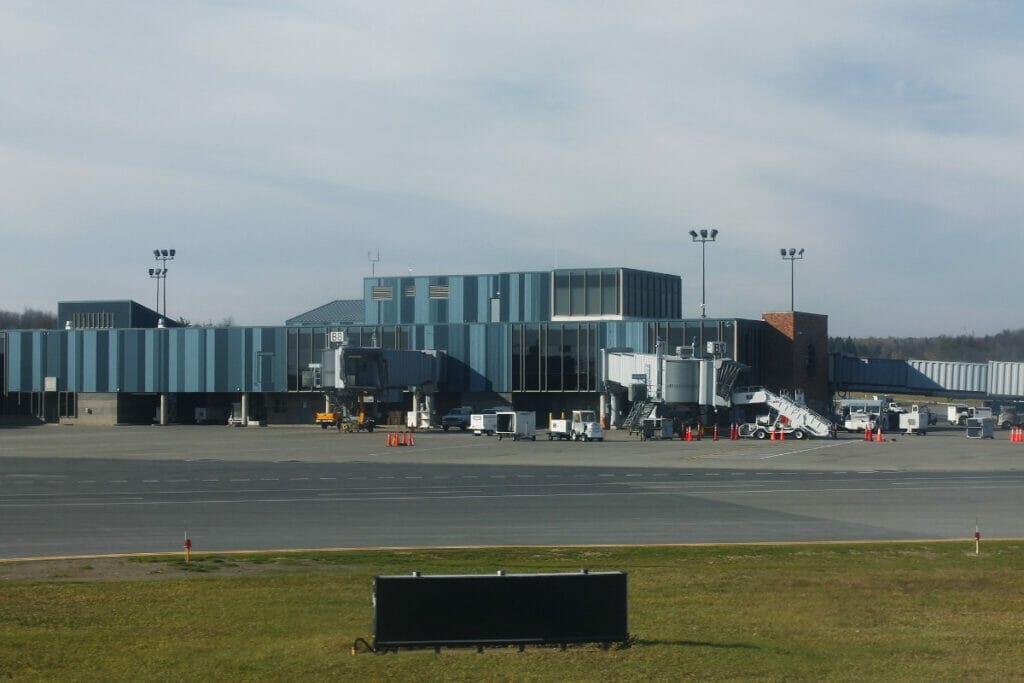 Is the oldest municipal airport in the U.S., established in 1928.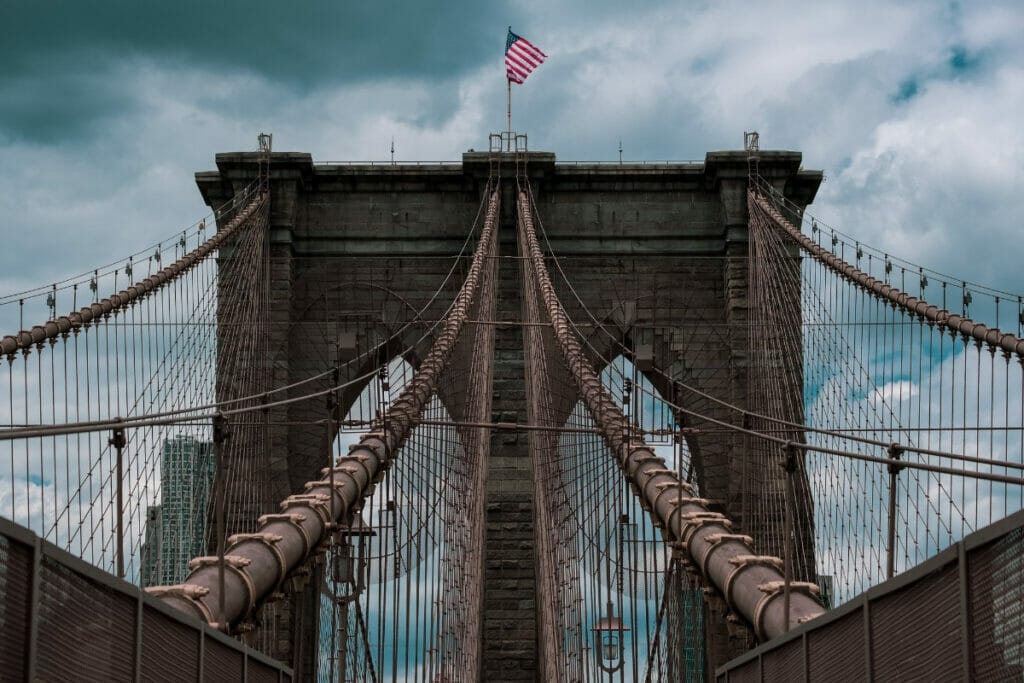 The Brooklyn Bridge was completed and opened in May 1883, but due to public skepticism of its safety, a demonstration of its readiness for use meant the first official crossing was taken by 21 elephants, 7 camels and 10 dromedaries.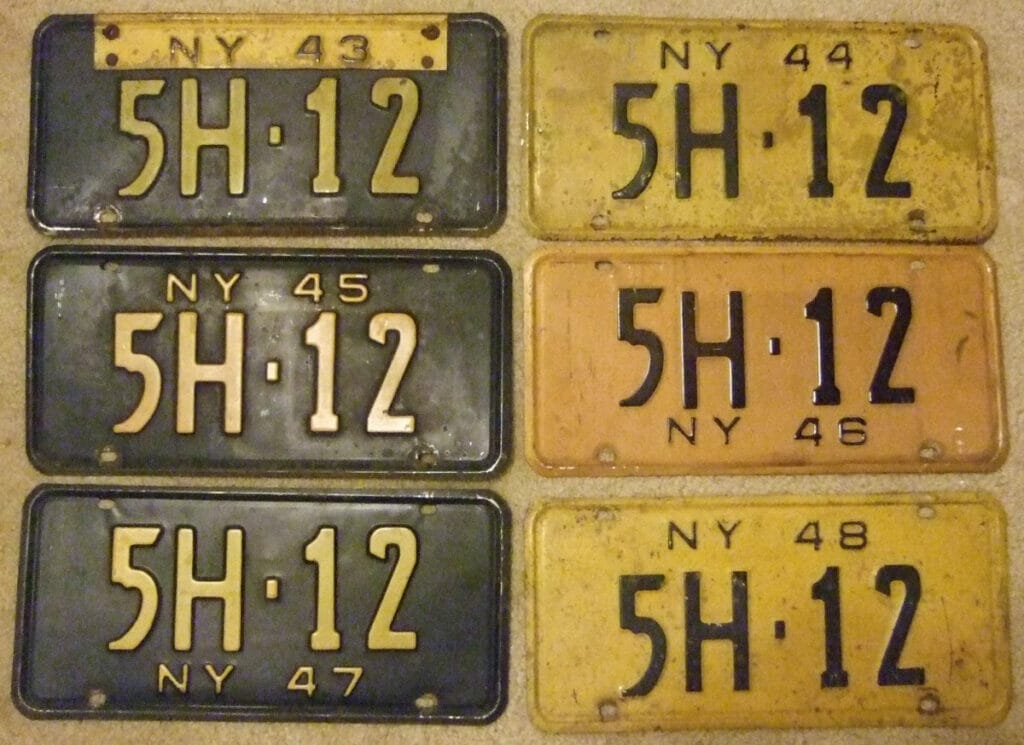 New York was the first state to require license plates on its automobiles as of 1901, made by individual owners themselves with their initials, but in 1903, Massachusetts took over the task in their state with state-issued plates.
24. Taxes
New York has the highest per capita tax burden of all 50 states – ouch!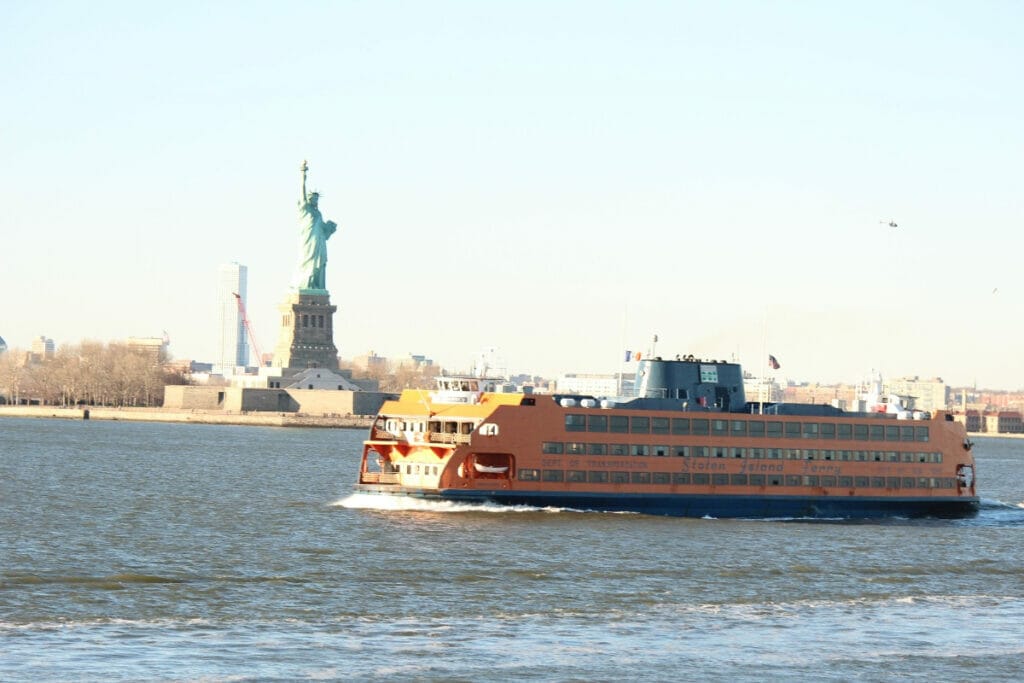 The Staten Island Ferry was started long before bridges were built to meet the need for a source of transportation.
It's still free of charge and provides 22 million people a year with ferry service between St. George on Staten Island and Whitehall Street in lower Manhattan.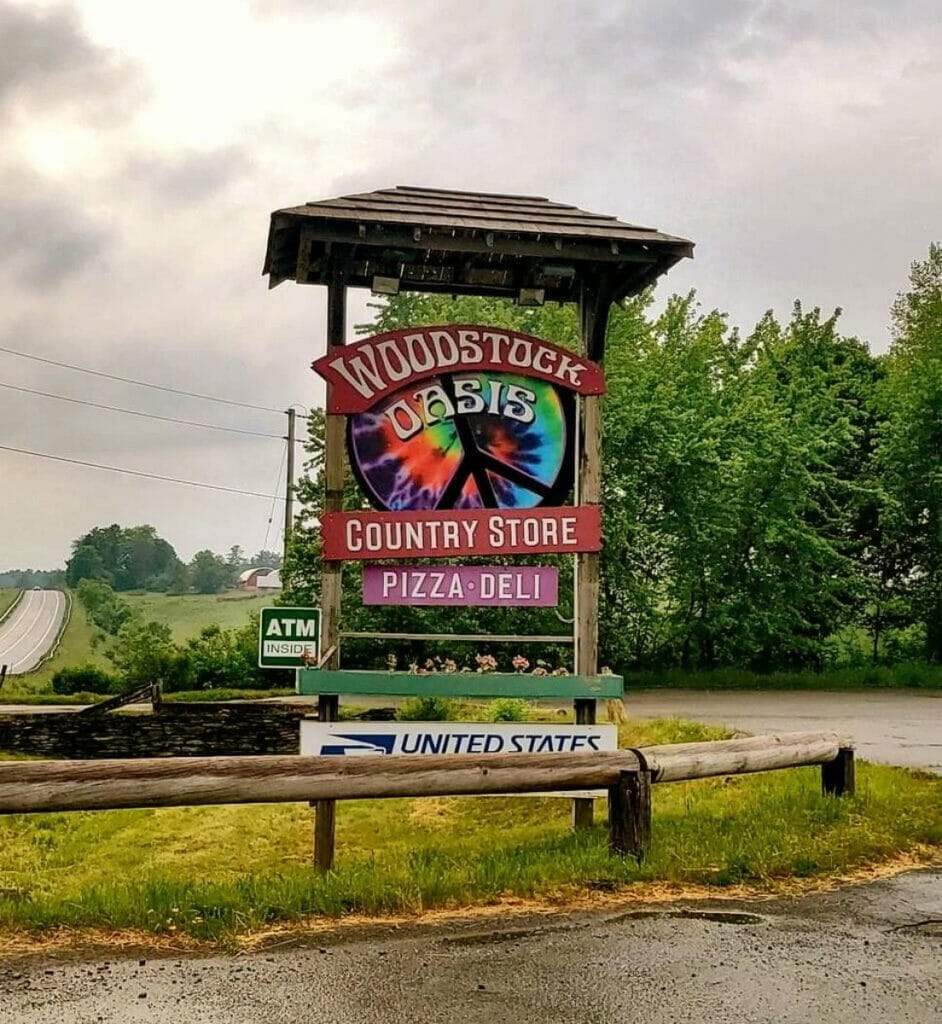 It was actually held on a dairy farm in Bethel, NY after the towns of Woodstock and Wallkill refused to host it.
Over 400,000 people attended the 3-day festival in August, 1969.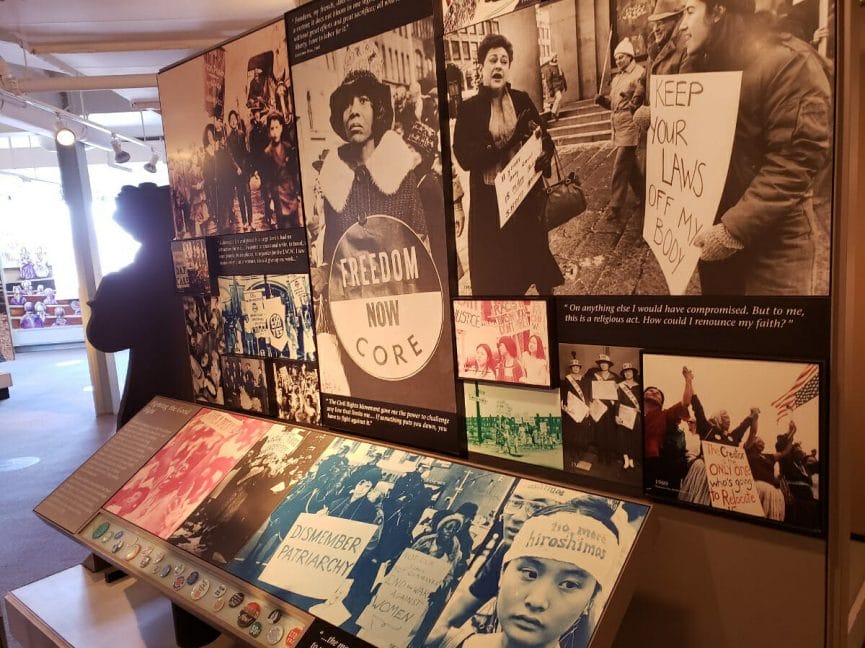 It was held in Seneca Falls, NY, officially starting off the fight for women's rights.
Women won the right to vote in New York in 1917.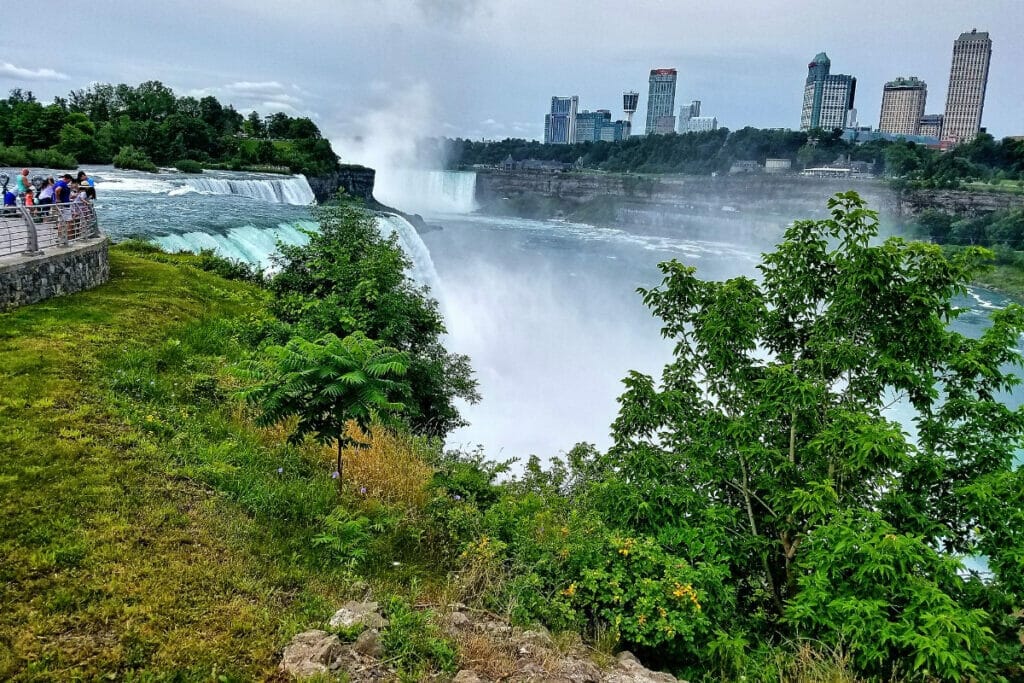 It was the first state park in the United States, designated in 1885.
The three falls cascade 150,000 gallons of water over 176 feet and attract 12 million visitors each year.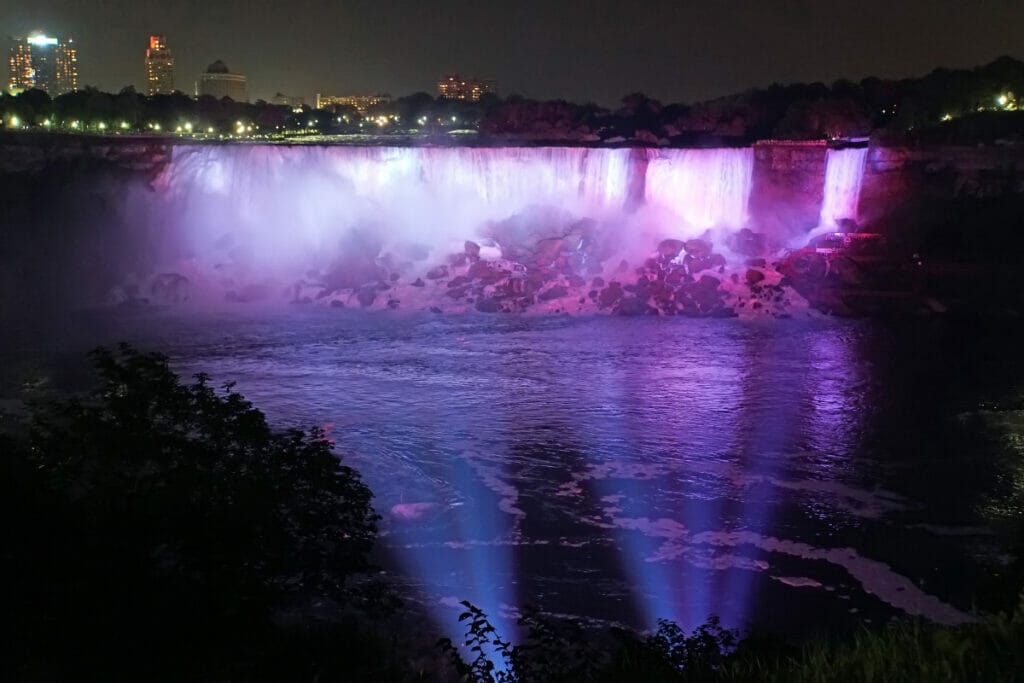 With enough to power the state of New York and the province of Ontario, Canada, two hydroelectric plants there are capable of producing 2.5 million kilowatts of energy.
Is found in Oneida, NY. The Cross Island Chapel is 51″ x 81″, making it large enough to seat just two people.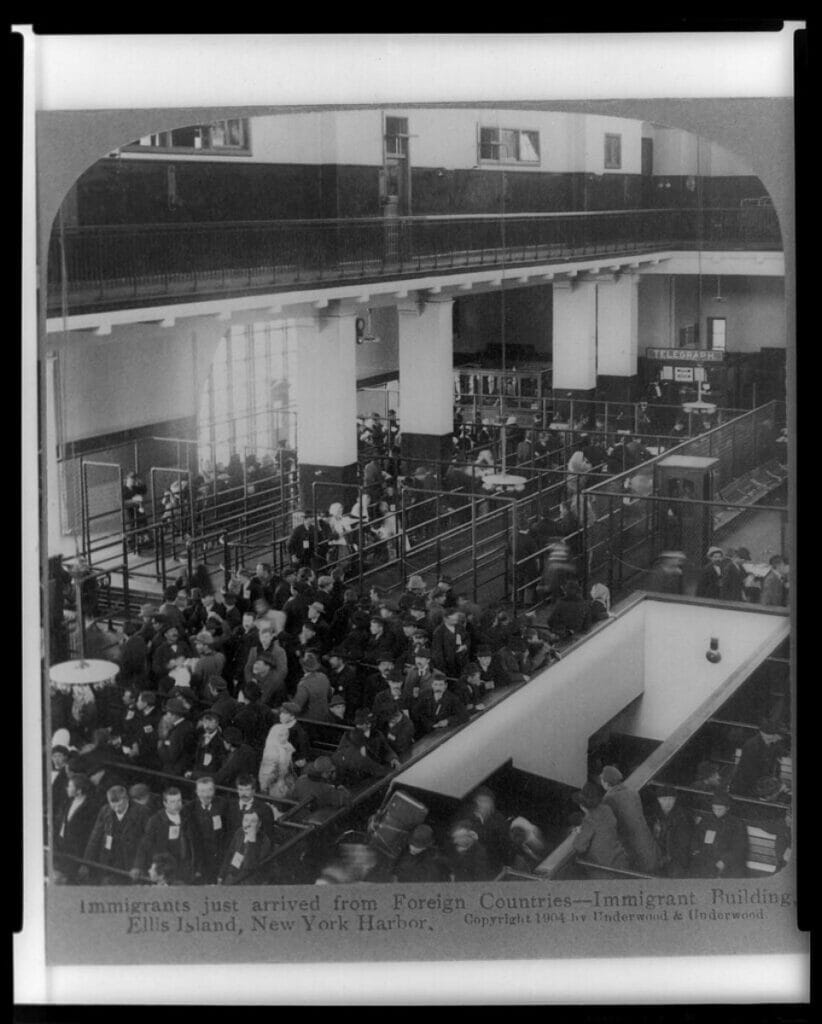 From 1886 to 1924, over 14 million immigrants entered through New York harbor into the United States.
About 40% of Americans can trace at least one ancestor to Ellis Island.
32. Governors from New York State
116 state governors were born in New York, making the state a producer of more governors than any other state in the U.S., with Virginia a distant second with only 78.
33. Oysters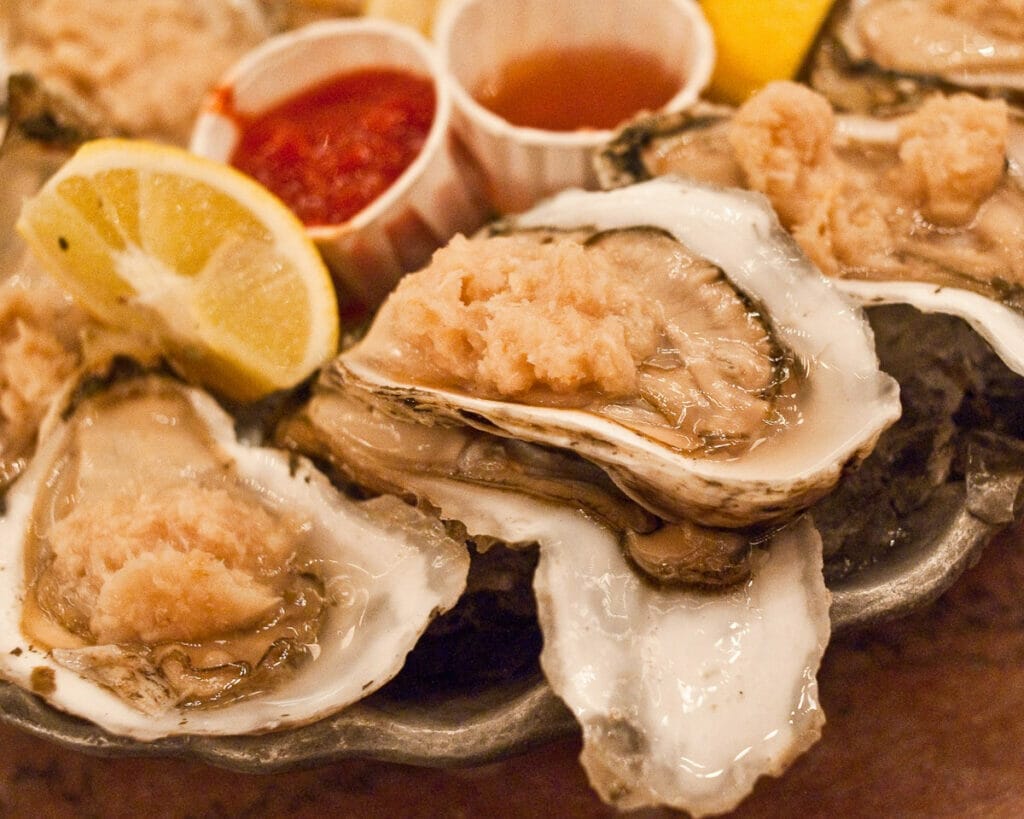 Oysters were such a popular food item in New York in the 19th century that the shells were actually used to pave Pearl Street in New York City, and for lime for the masonry of the Trinity Church there.
34. Follow the Yellow Brick Road
Chittenango, NY, is the home of The Wizard of Oz author L. Frank Baum.
The town has yellow brick sidewalks that lead up to The Wizard of Oz themed businesses, such as Auntie Em's, as well as an annual Munchkins parade.
It has over 50 million books and other items and is the second largest library system in the nation after the Library of Congress.
It's also the 3rd largest library in the world.
In the United States ran 11 miles in New York, from Albany to Schenectady.
37. Famous Faces born in New York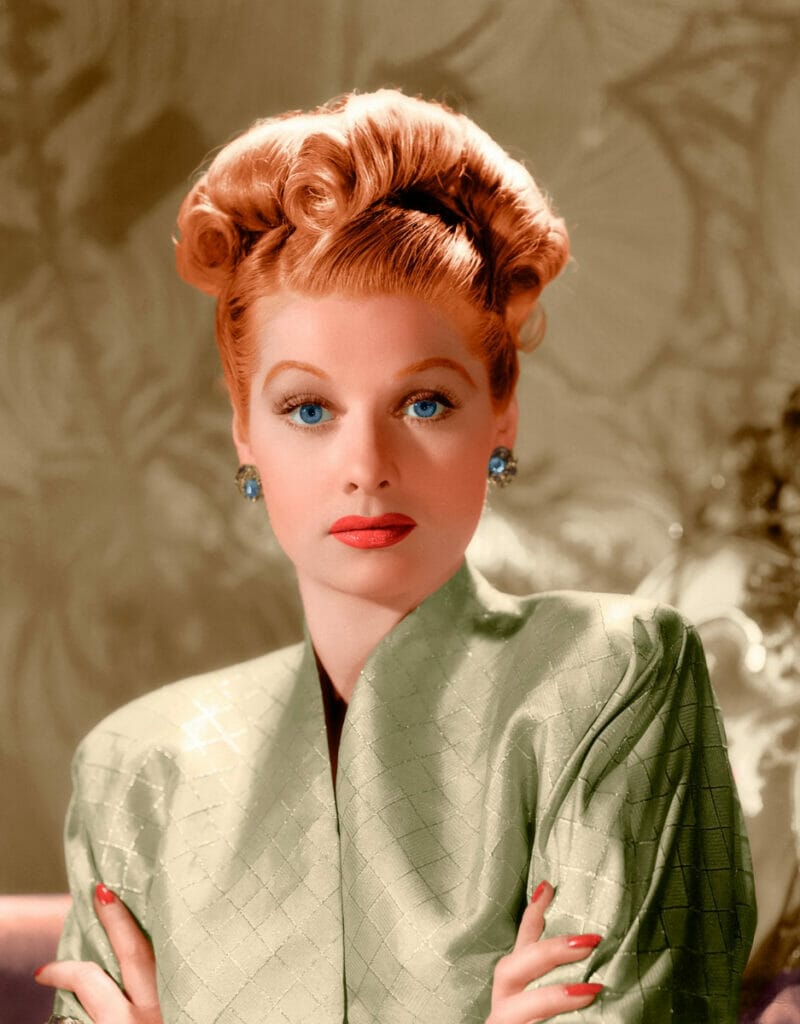 Perhaps because New York City is the home of theater, television, movies filmed on location and so much else in the city that translates to fame, the list of known faces is endless… here are just a few!
Kareem Abdul-Jabbar, Christina Aguilera, Lucille Ball, Mariah Carey, Jennifer Connelly, LL Cool J, Tom Cruise, Macaulay Culkin, Robert De Niro, Neil Diamond, Kirk Douglas, Robert Downey Jr., 50 Cent, Jane Fonda, Lady Gaga, Mel Gibson, Anne Hathaway, Billy Joel, Michael Jordan, Scarlett Johansson, Jackie and Caroline Kennedy, Alicia Keys, Carole King, Jay Leno, Jennifer Lopez, Julia Louis-Dreyfus, Lin-Manuel Miranda, Al Pacino, Adam Sandler, Susan Sarandon, Jerry Seinfeld, Sylvester Stallone, Barbara Streisand, Mary Tyler Moore, Mike Tyson, Denzel Washington, John Williams
38. Funny Old New York Laws:
It is illegal to sell dog or cat hair. – and we'd want to because?
No wearing slippers in public after 10pm in New York City – sounds good to me.
You may not have a puppet show in your window, and if you do, you can be sentenced to jail for 30 days! Surely only a child would do this today, and why not?
It's illegal to release more than 25 helium-filled balloons at once. – 24 is fine, but not more!
It's a crime to shake a dust mop out a window. – Okay, perhaps not so silly if you're on a floor above others!
No shining shoes after 1pm on Sundays. – If you need shiny shoes, you'd have needed them in the morning for church, so too late!
It's illegal to walk around on Sundays with an ice cream cone in your pocket – Hmmm, why would this ever be a good thing the other 6 days of the week? (Interestingly, New York isn't the only state with this silly law…it's said this came about to prevent horse thieves from attempting to get horses to follow them.)
It is illegal to speak to people on an elevator, and one must face the door and fold his/her hands while riding – Silence, please!
You may not take a selfie with a Tiger! – Someone expected we'd come across one that is roaming the streets?
You need a license to hang clothes on a clothesline to dry. – Considered eyesores that lower property values by some, but environmentalists argue it saves money and electricity, so it's rather a contentious argument still going on today.
Men must wear matching pants and jackets in public. – I'll admit, it does look sharp, but whatever.
Wearing masks or disguises in public is illegal for any gathering of two or more people – But it's fine for just one lone person?
You may only water your lawn if the hose is held in your hand – I don't dare ask about this one.
You need a permit to transport carbonated beverages – What was the considered danger of such drinks back then? Did they carbonate them with dynamite?
New Yorkers cannot divorce for irreconcilable difference unless they both agree to it – This one means they must have a reconcilable difference at least once!
You may teach your pet parrot to speak, but no teaching them to squawk – As if they need any help to do that!
Hamburgers may not have more than 30% fat – Sounds good to me!
A $25 fine will be enforced for anyone flirting! – They carry around that many citations in New York?! The police must carry backpacks!
New Yorker's may not own a grizzly bear or mountain lion – I should hope not!
No spitting or disposing of dead animals on the streets – Yuck.
No parachuting unless ordered to do so or if in danger! – Has this ever occurred, where someone was ordered to or did it due to danger?
Hey! Looking for more fun facts? Head here!
Pin for Later!
Get the All-American Travel Secrets!
Don't miss out on America's hidden gems!