Iconic TV and movie sets. Working Hollywood actors roaming past your tour group. New York, San Francisco, and small town America all in one place.
In this Warner Brothers studio tour review, we're sharing exactly what it's like stepping foot into Warner Brothers Studio in Hollywood and embarking on one of their incredible studio and backlot experiences.
Unlike other tours around the world, this is a current working film and TV studios.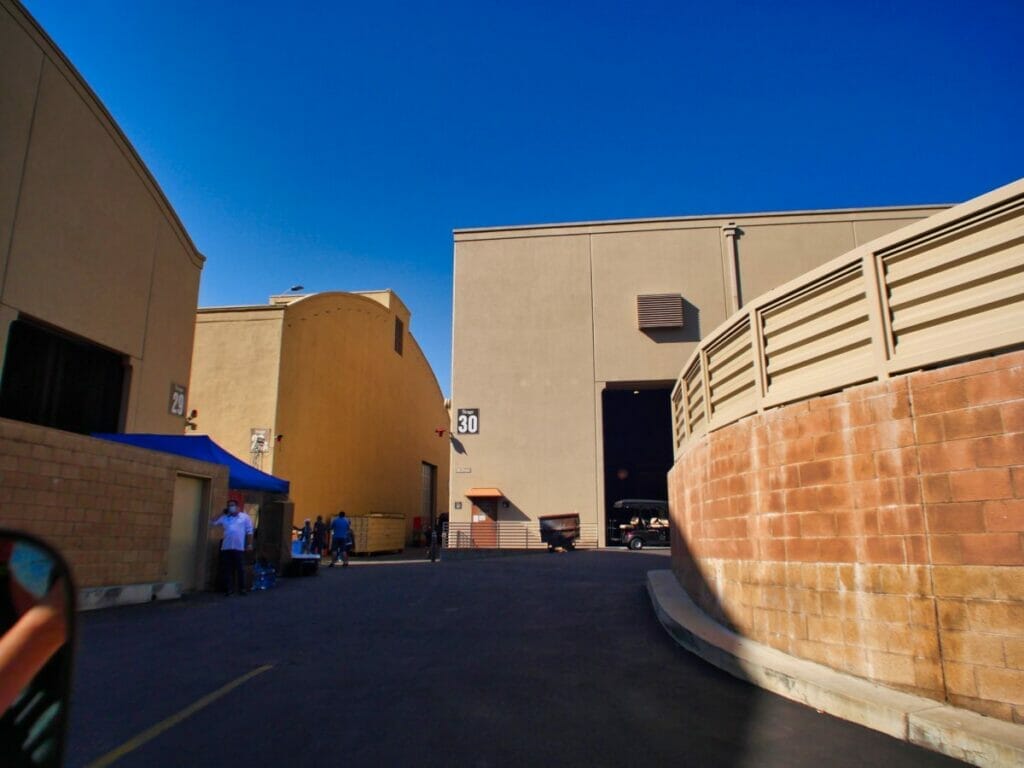 The people you pass aren't actors (well, they are actors, but they aren't acting as if they're real movie and TV crew when they're not – you know what I mean!)
And while you will see sets that have been frozen in time on the WB Studio Tour (Friends set, we're looking at you!), you'll also experience the constantly changing backlot.
It's a dream come true for movie and TV fans to get to explore one of the oldest studios in the entire world, and after reading this Warner Bros tour review, you'll know exactly what to expect and how to make the most of your time here.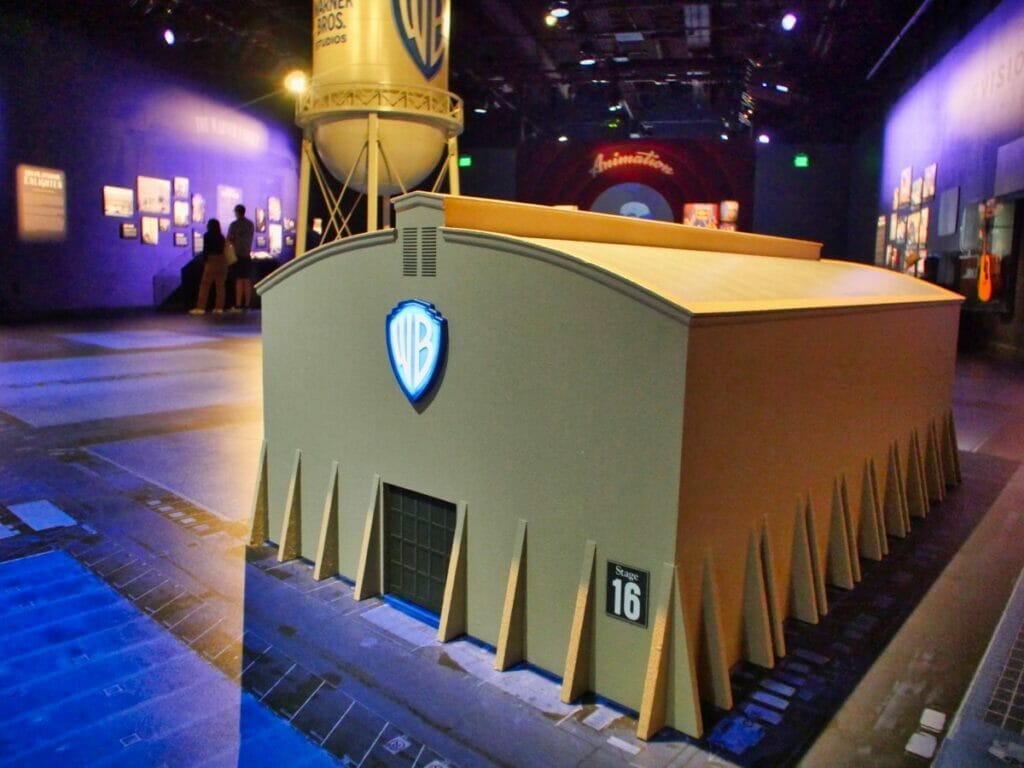 Please note this is about the Warner Brothers Hollywood Studio Tour in Los Angeles, not the Warner Brothers Studio Tour in London, England.
What to Expect at the Warner Brothers Studio Tour in Los Angeles
From the iconic Friends fountain and orange couch to facades of the exterior of houses that you'll recognize from everything from Growing Pains (1980s) to Fuller House (2020s), there's something memorable literally around every corner on the Warner Bros tour.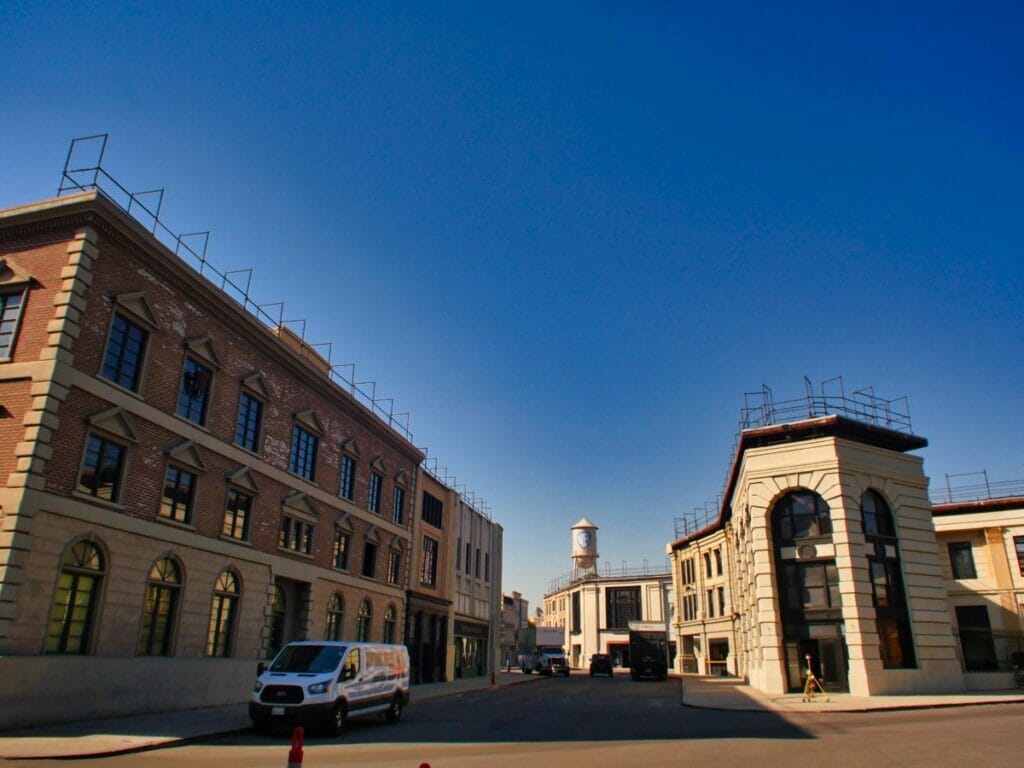 We couldn't possibly cover everything you'll see, and we wouldn't want to because part of the fun is the element of surprise.
Instead, we'll touch on some highlights to get you excited and give you some of the best tips for making the most of your day.
Practical Tips for Visiting the Warner Bros Tour
Buying Tickets to the WB Studio Tour
Buying tickets to the studio tour needs to be done before your visit, but it's very easy to buy them online here.
Prices are $69 per adult and $59 per child, and you'll just keep your confirmation e-mail with you as you go through the experience and arrival process.
Discounts and Cheap Tickets for Warner Bros Studio Tour
Sometimes, you can find discounted tickets for the tour using a couple of different methods.
Firstly, if you're a SoCal resident, you get discounted tickets anyway as long as you have proof of residency.
If you're not from the area, sign up for the mailing list through the official website for the chance to keep an eye on any promo codes (they aren't frequent, but there is a space on the booking site for promo codes so it is possible).
Alternatively, check out the Warner Brother Studios Tour on Undercover Tourist here, as they often have discounted tickets available for about $5-10 off the regular price.
Opening Days and Times
Currently, the Warner Bros Studio Tour is open five days a week, excluding Tuesdays and Wednesdays.
On days they are open, the first tour usually begins at 9am and the last tour begins at 3:30pm (again, you have unguided time to walk through afterwards).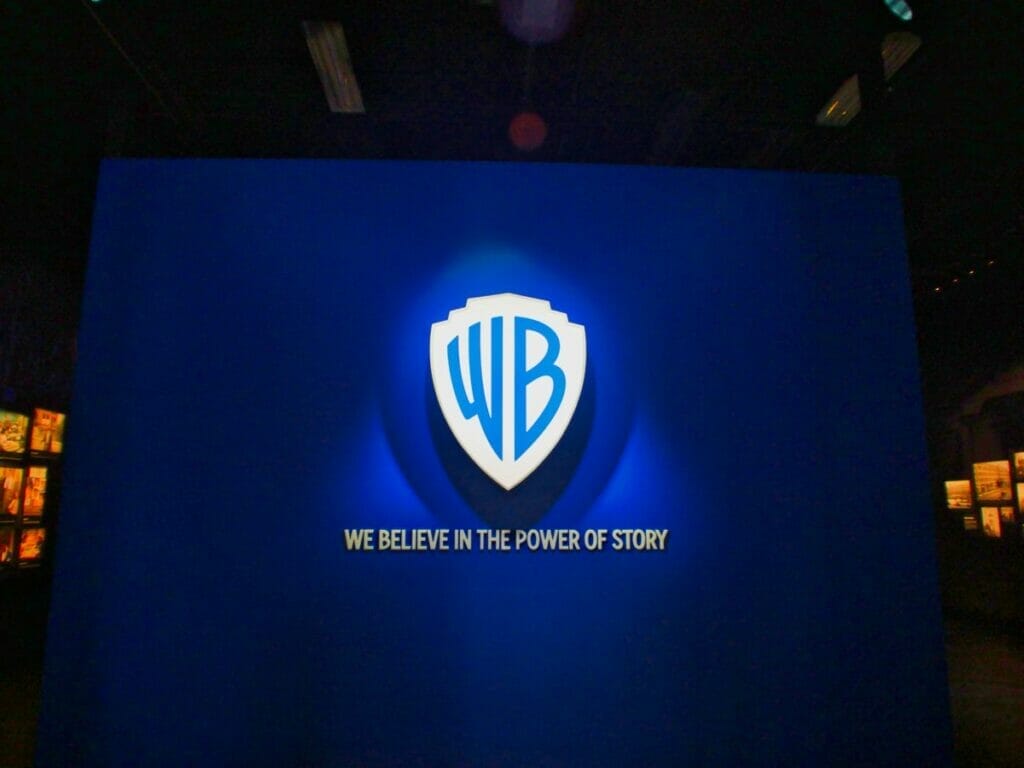 How Long is the Warner Bros Studio Tour?
The guided portion of the tour is about 1 hour, and you should leave about 2 to 3 hours total as the rest will be unguided at your own pace.
Parking at Warner Bros Studio LA
Los Angeles is a driving city, which means your main options to get to the tour are either driving yourself or taking an Uber or Lyft.
If driving yourself, parking is $15 and is located in a dedicated, security-guarded parking lot adjacent to the Warner Bros main visitor building (3400 Warner Blvd., Burbank, CA 91505).
If you get an Uber, they are allowed to drop you off and pick you up right outside the visitor building in a dedicated rideshare landing zone.
The Warner Bros Tour website also makes mentions of buses and trains that can "get you" to the tour, but these are convoluted and long processes and they're only going to drop you off a quarter mile away from the tour.
Stick to the Uber or driving yourself.
Arrival and Movie
When you first get to the visitor center, you'll show your tour confirmation and go through an airport-style security section.
Then, before you know it, you're in!
You can check out the café and shop, or you can save that until afterwards and head straight to the first part of the tour, the Storytelling Showcase.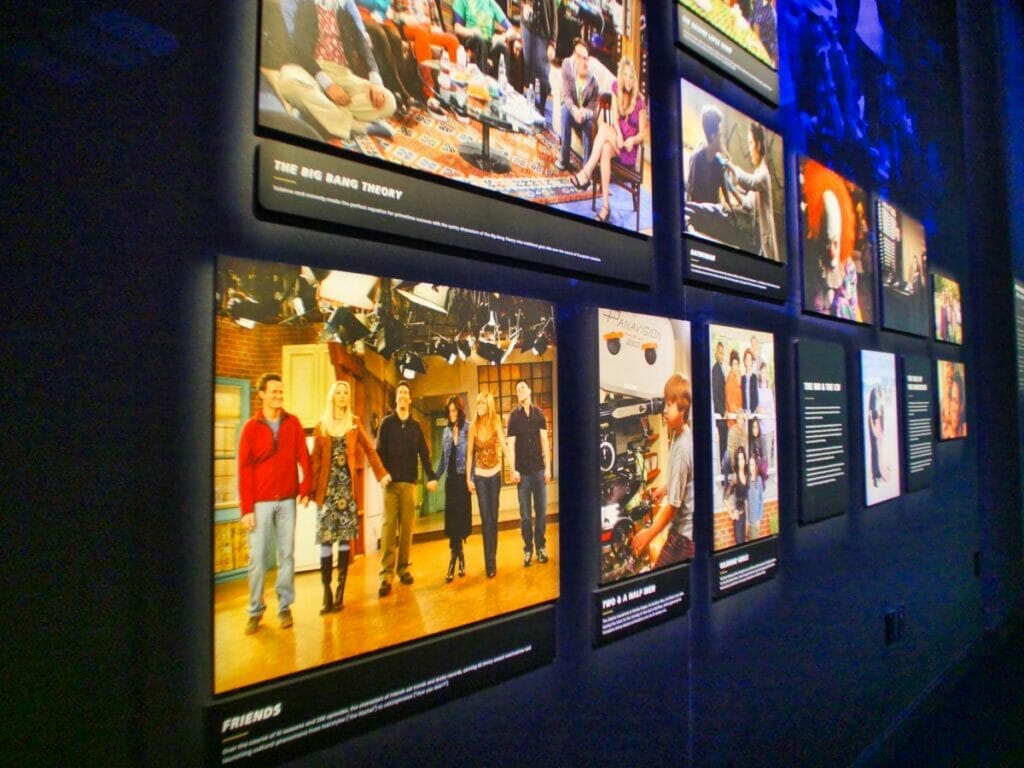 This is a look-in-your-own-time room with plenty of artifacts from movie studio history, including letters to and from famous studio execs, address books that include Walt Disney's information, and a year-by-year rundown of how the Warner Brothers started the studio in the first place.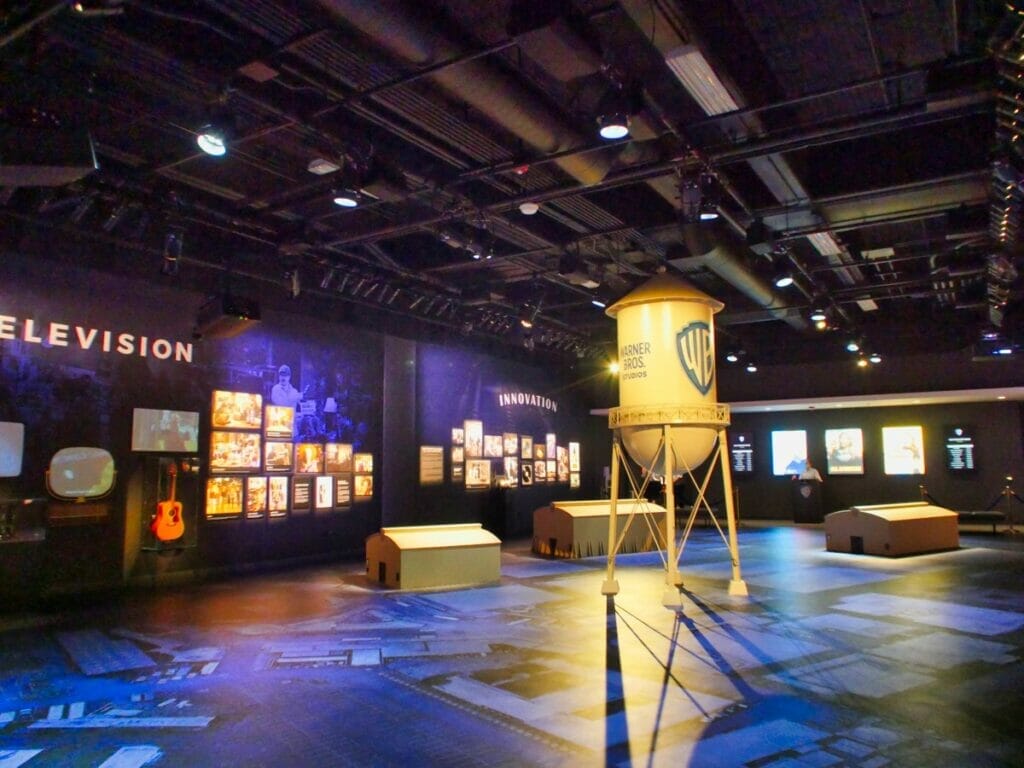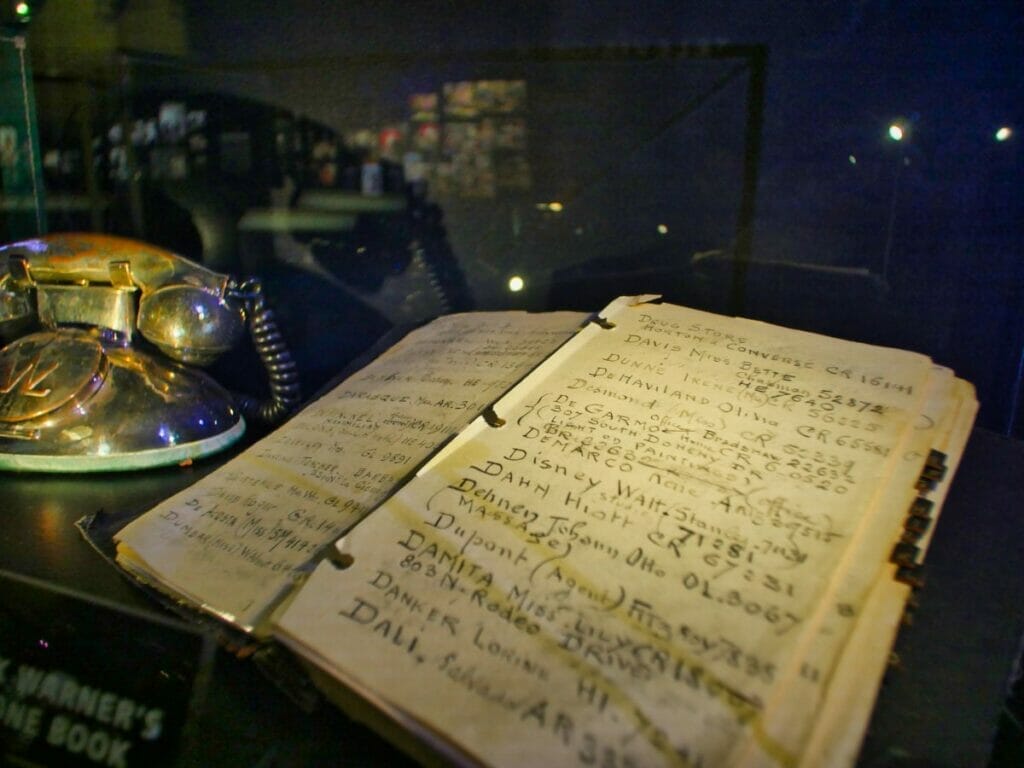 When you're ready, you make your way to the start of the official guided tour, the backlot tour, where you'll get in a line similar to a theme park ride line and wait until it's time for the next tour to depart.
Note: Despite the tour entry time on your confirmation page, tours do run continually and they will get you on the next one. Aim to arrive at the Studios so that you are entering the main visitor center 10-15 minutes before the time on your confirmation if you want to make sure you're on that tour, or arrive at the visitor center at the time it says on your confirmation and then just know you'll get on the next tour when you've made your way back to the starting area – they really do run frequently.
Warner Brother Studios Backlot Tour
The Backlot tour, for many people, is the best part of the Warner Brother Studios tour.
This is the main, guided, section, where you hop on the iconic little trams with your tour guide and driver and wind your way around the real, working Warner Brothers backlot.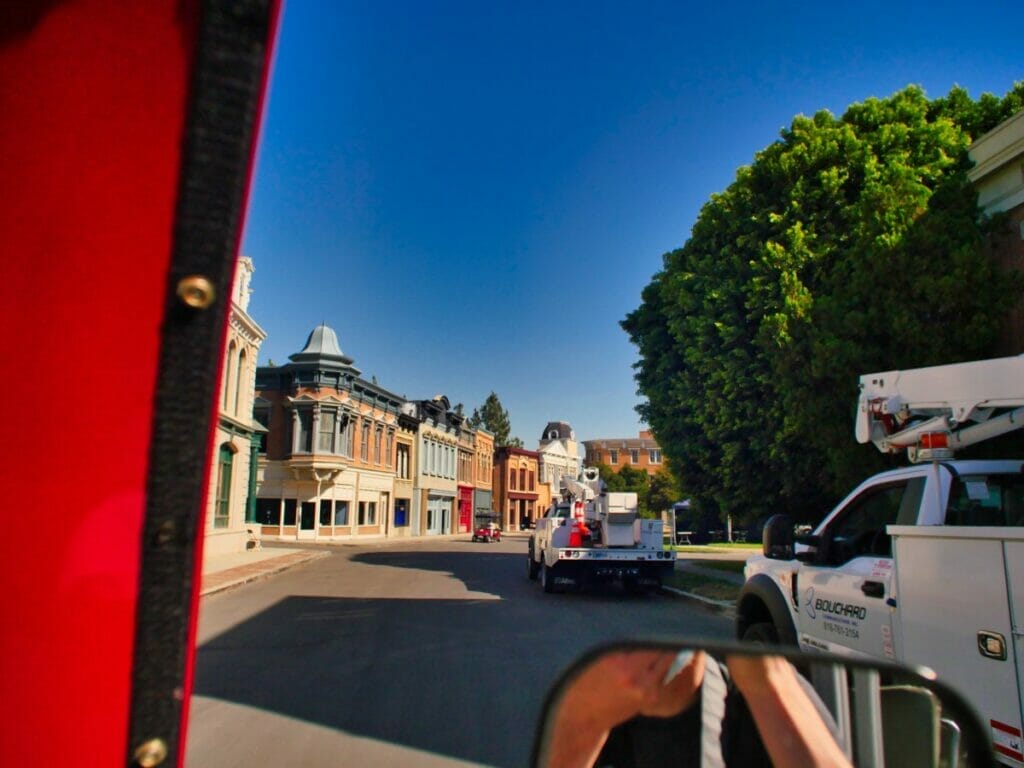 Not only will you pass by the buildings that house the interior sets, but you'll get to see many of the exterior sets that have been used for so many of your favorite movies and TV shows (and you may be surprised how easily they are to recycle and use again and again!)
One of the most fascinating sets is Warner Village, which is actually a collection of offices within houses that replicates a typical American street.
These are exterior sets only, in case you need a front yard or standard American street to film in.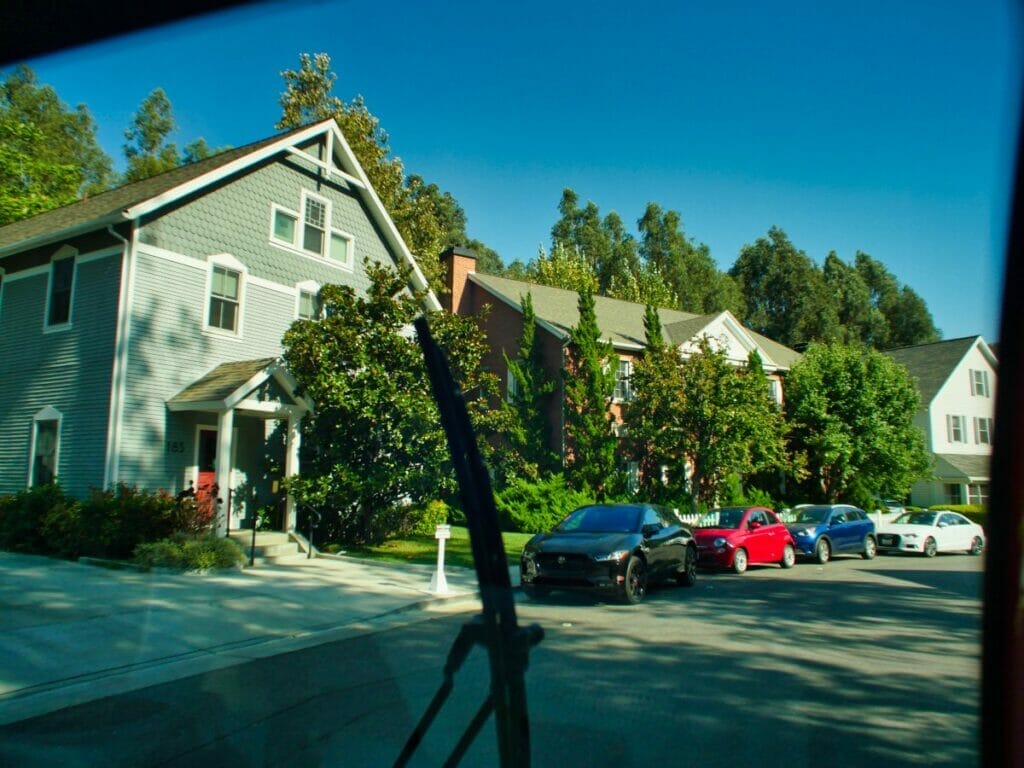 Then you've got the Midwest Residential Street, which is where you'll find the famous Gilmore Girls sets like the chapel, "Luke's Diner" and that gazebo in the middle of the park.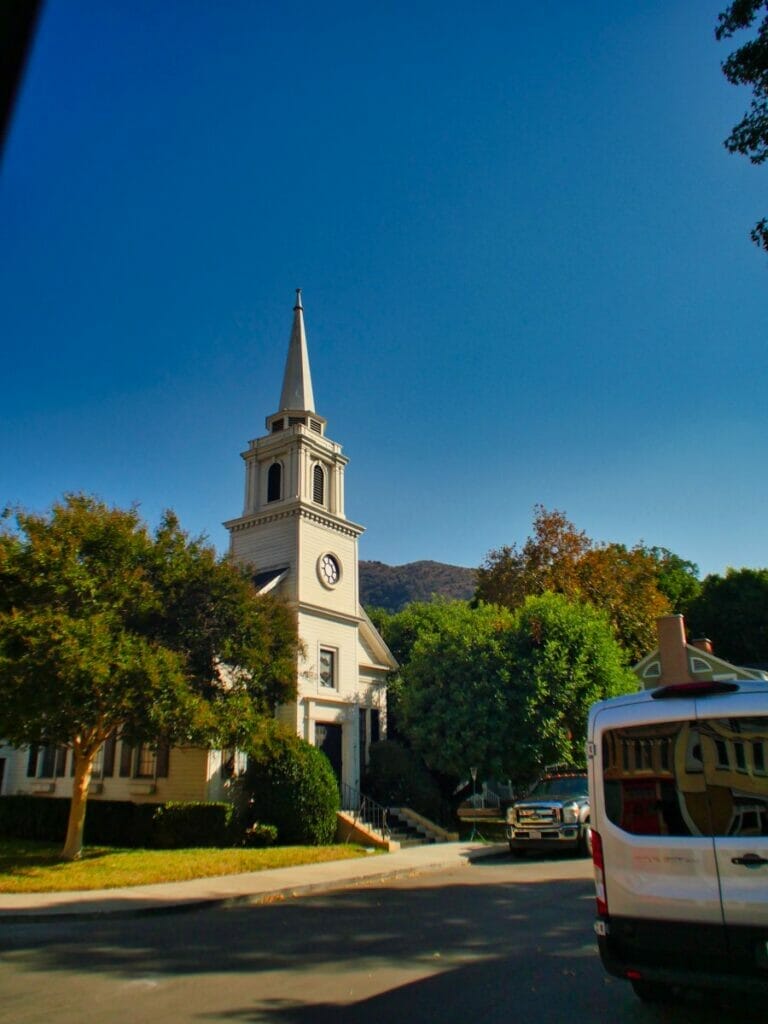 You'll also see the brownstones, a classic New York style area, as well as the exterior of a school, a bank, and more industrial areas.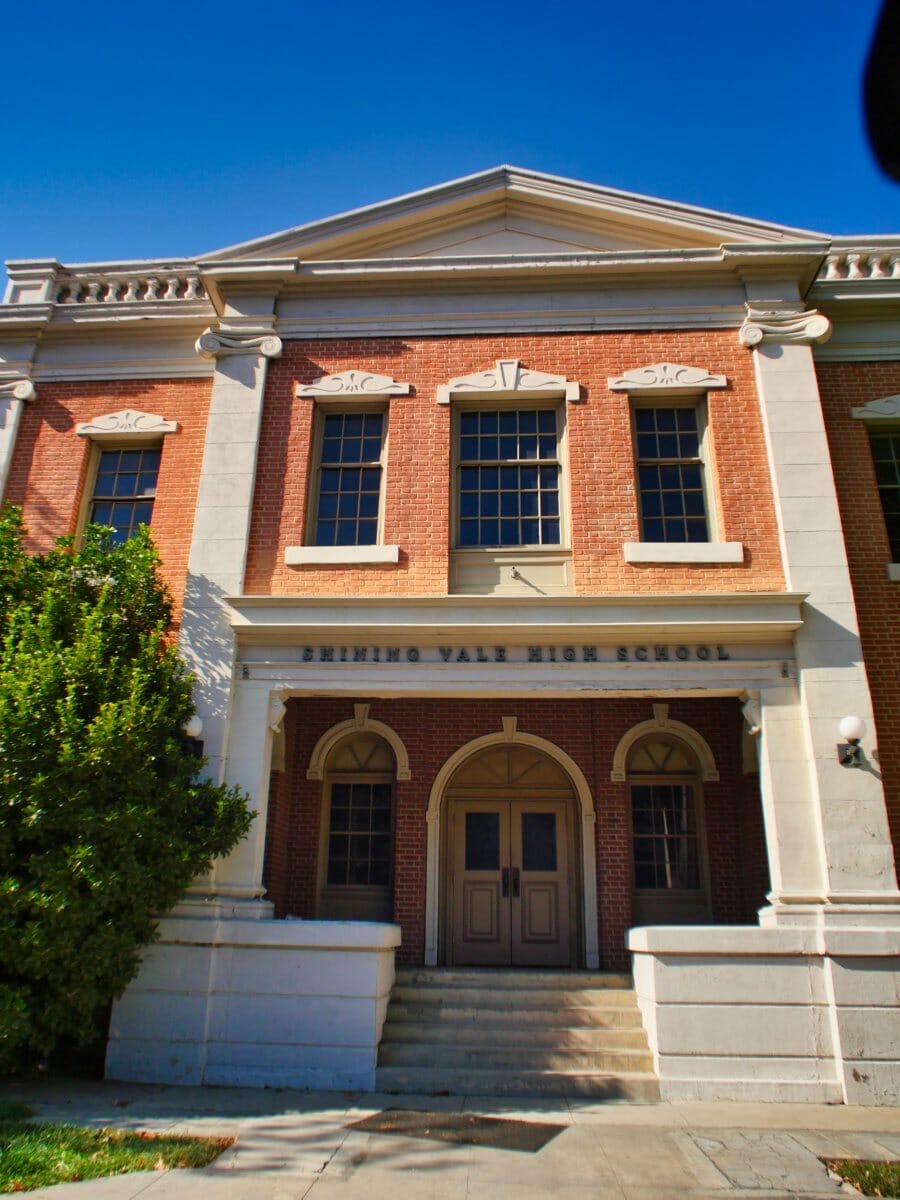 Along the way, your guide will point out many of the most important productions that have been filmed using these locations and, better yet, they'll ask you ahead of time what your favorite Warner Brothers productions are so they can be sure to point out filming locations that you might be interested in.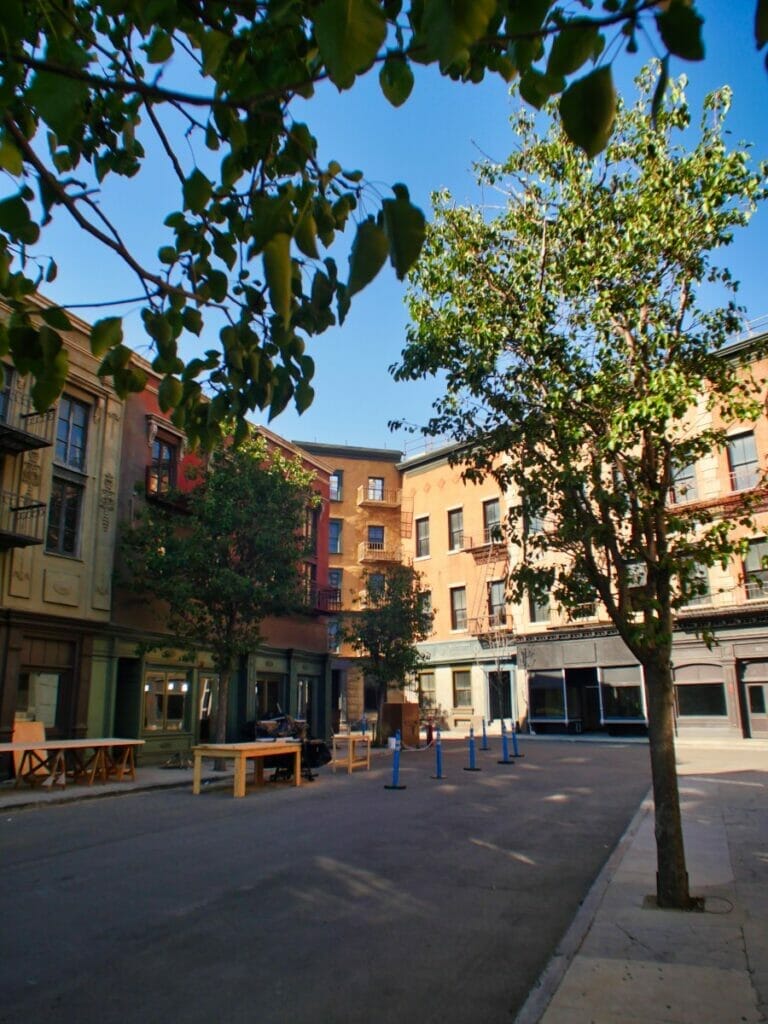 You'll pass by actor's trailers, often see real productions taking place (and in that case, you may be rerouted as they need all to be quiet on set!), and you will get down a couple of times from the vehicle and get to explore with your guide on foot.
We saw production designers working on a set for a new scene for an upcoming Warner Brothers movie, as well as plenty of movie and TV crew who were milling around, eating their lunches and going from set to set.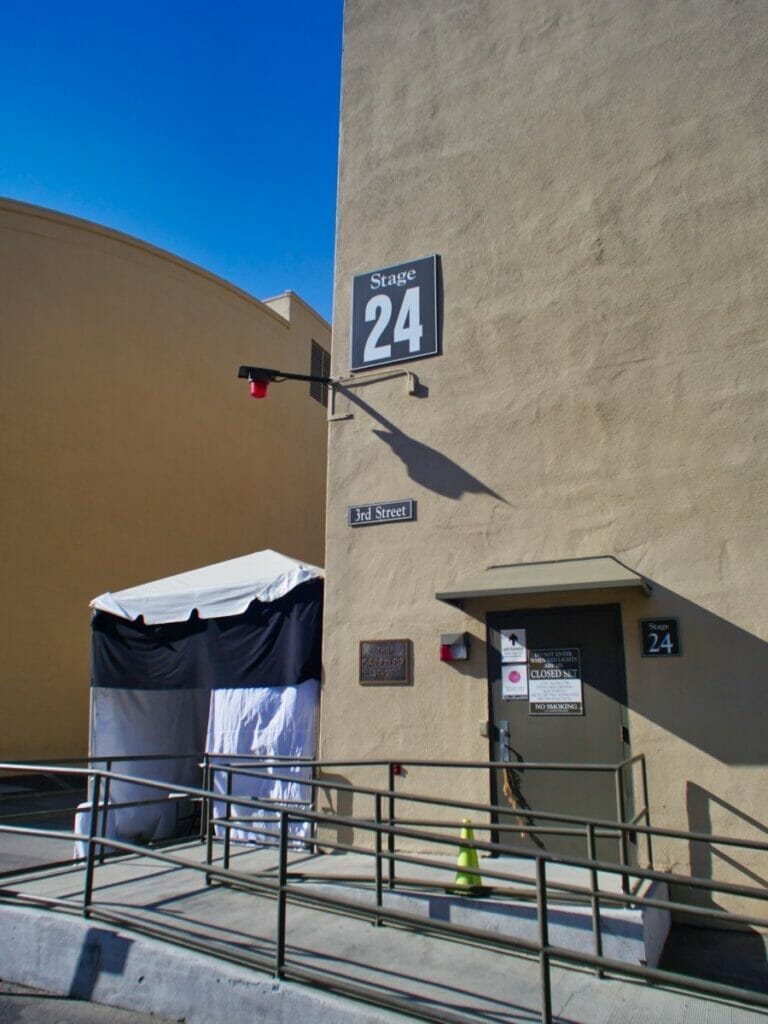 The energy here is electric.
Even when there isn't filming taking place, you can feel that this is truly a place where magic is created and history is made.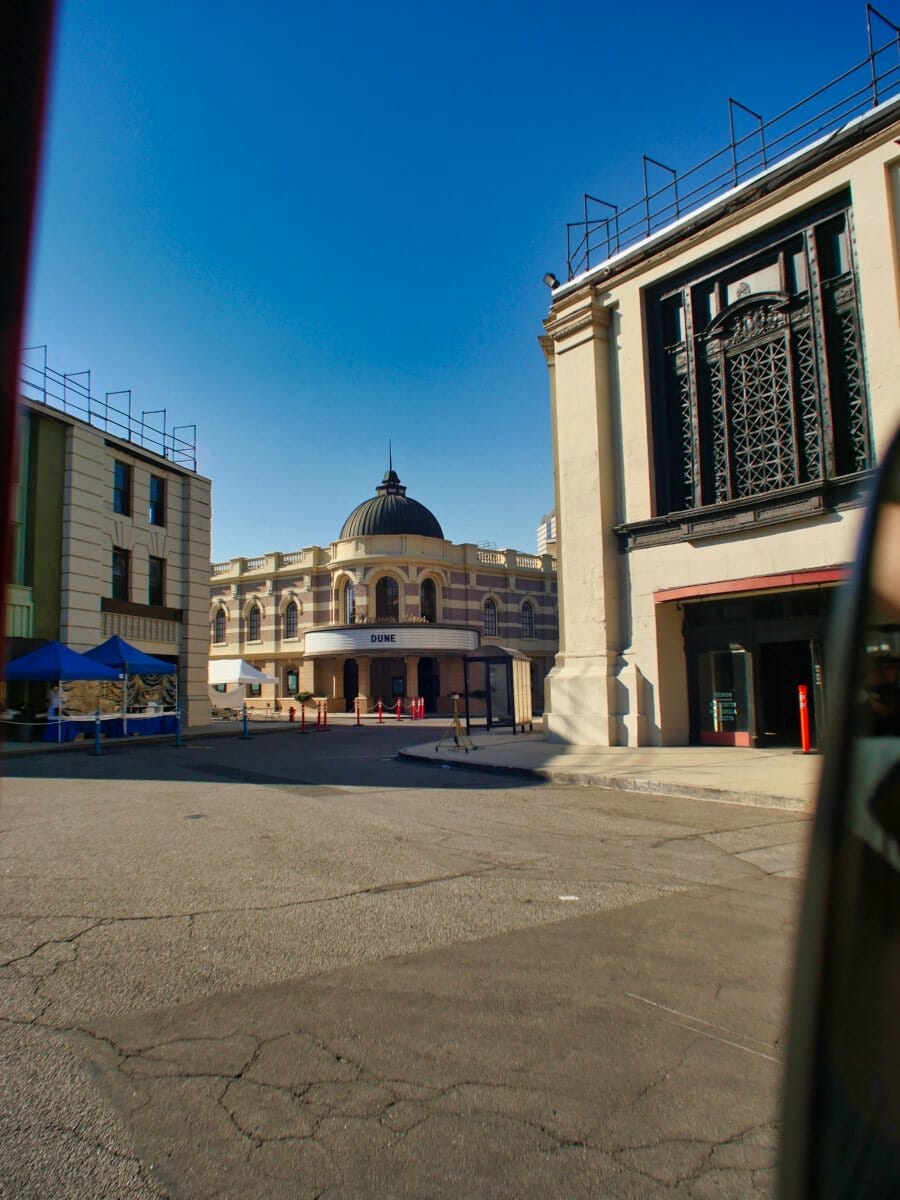 One of the most famous outdoor sets includes the fountain from the Friends intro.
This is the real fountain – it was filmed here, on the studio, not on location in New York.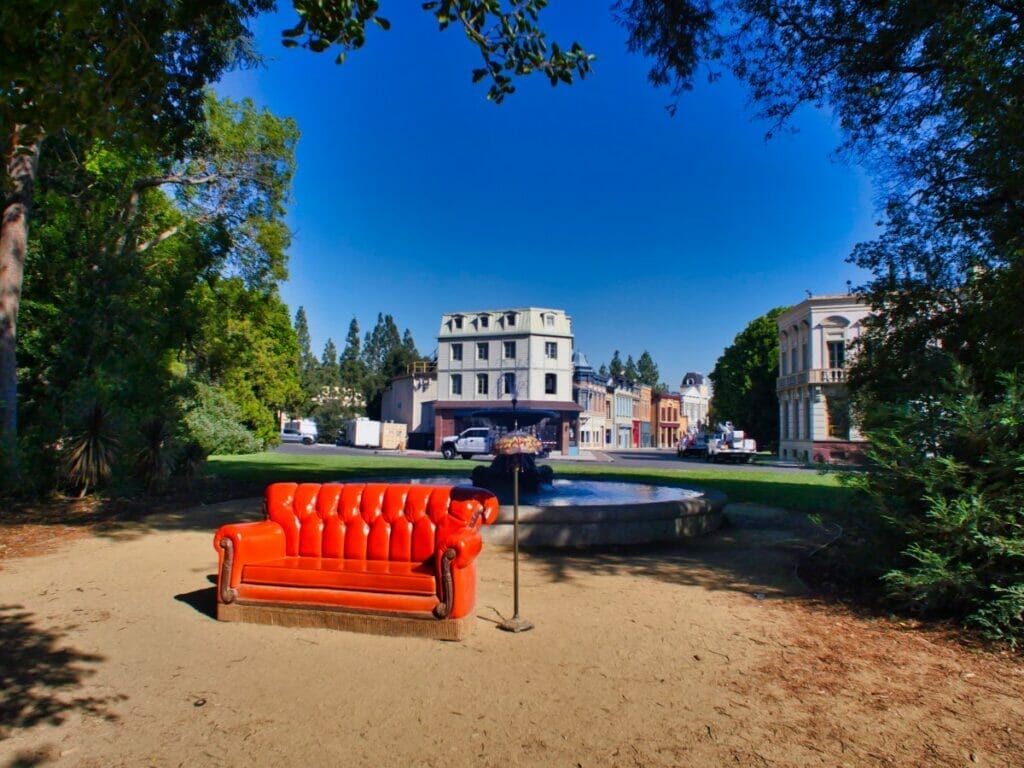 When you pass by the soundstages, where interior sets are built, you can take pictures unless the doors are up.
If the doors are up, there may be sets inside that you can see on the tour, but cannot be shared via photo with anyone else as it may be a spoiler for an upcoming episode or movie.
Oh, and did I mention celebrities?
Yes, those working actors show up to the Warner Brother Studios for work, and they have to walk around like the rest of the crew!
If you see someone you recognize, the etiquette is simply to keep your mouth shut and enjoy a spotting.
Don't yell at them, run towards them, or do anything besides a kind wave if they happen to make eye contact.
It's not because the actors themselves are stuck up or don't want to meet fans, but with tours running continuously, it's easy to make them feel like they're an animal in a zoo and at the end of the day, they're a professional who is at work, not roaming the streets of Beverly Hills, so let them get on with their day.
Self-Guided Warner Brothers Studio Tour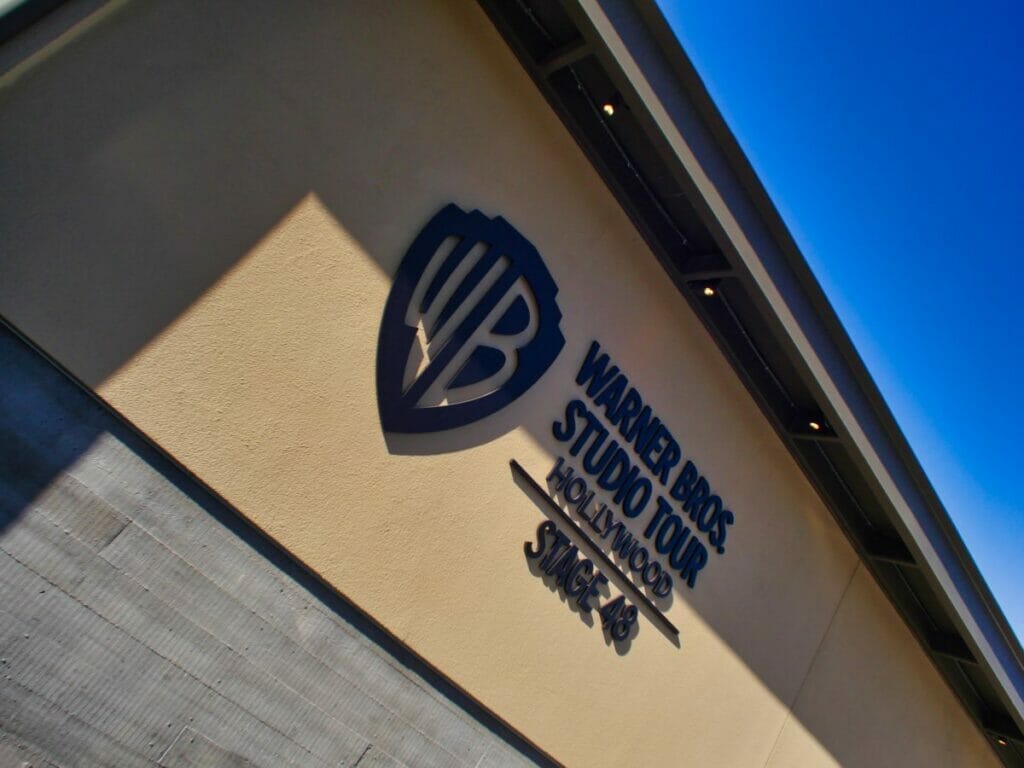 After your backlot tour is over, you'll be taken by your driver to the self-guided portion of the tour, which takes you through more movie and TV history as well as some of the world's most famous soundstages.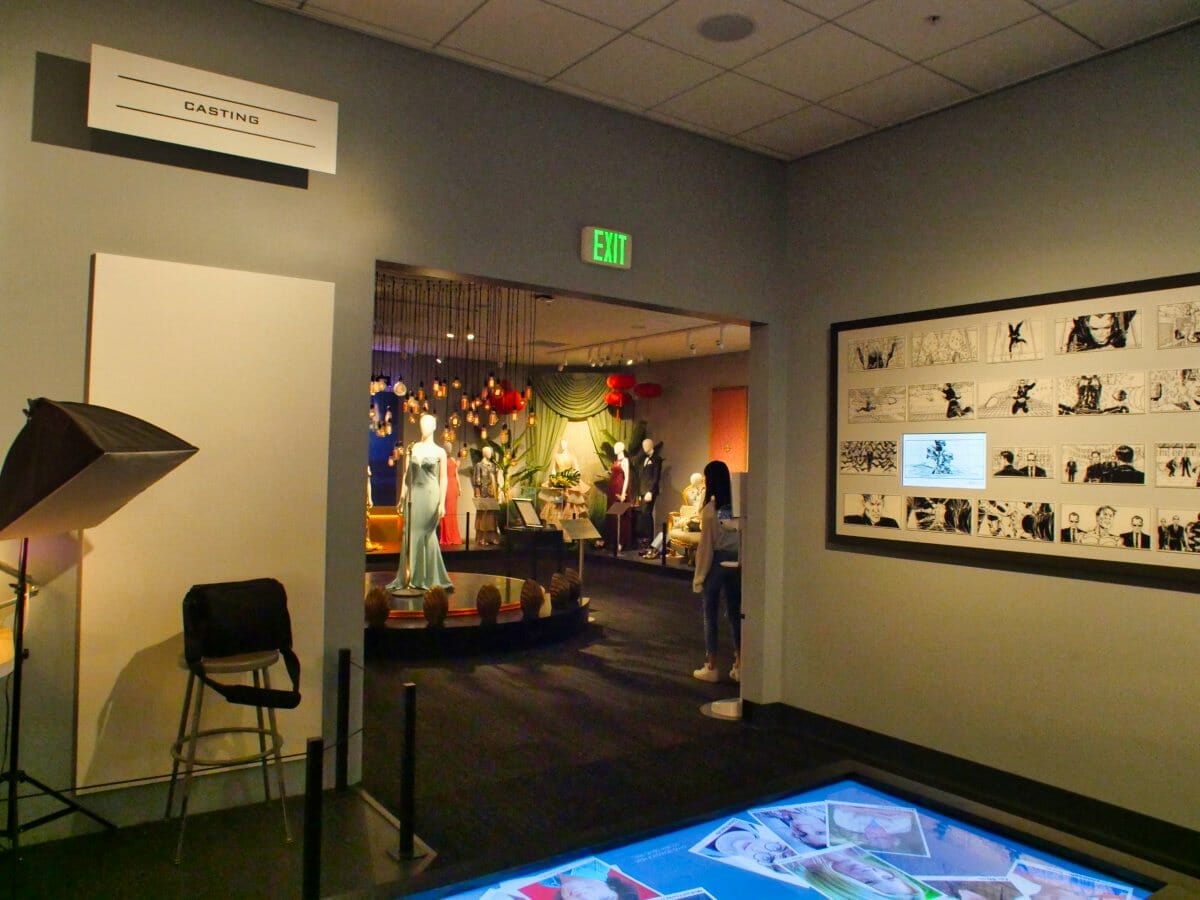 Some of the first exhibits you pass by include information on the actual movie-making process, from the writing to the casting to the costume design.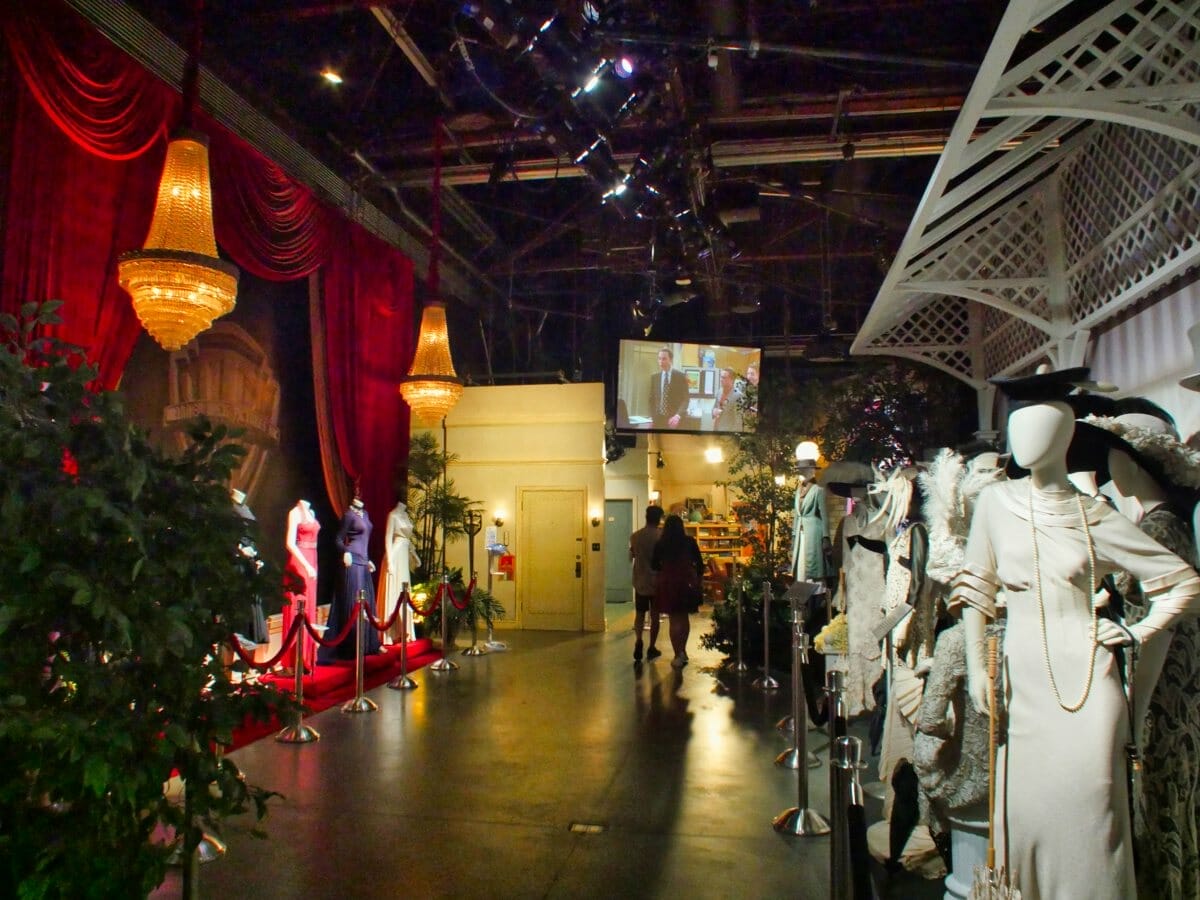 Friends Set and Café at Warner Brother Studios
Friends fans, listen up.
This is it.
The moment you've been waiting for.
Friends is one of the most-watched shows in the world, particularly in syndication and has been beloved by fans since it was on air from 1994 to 2004.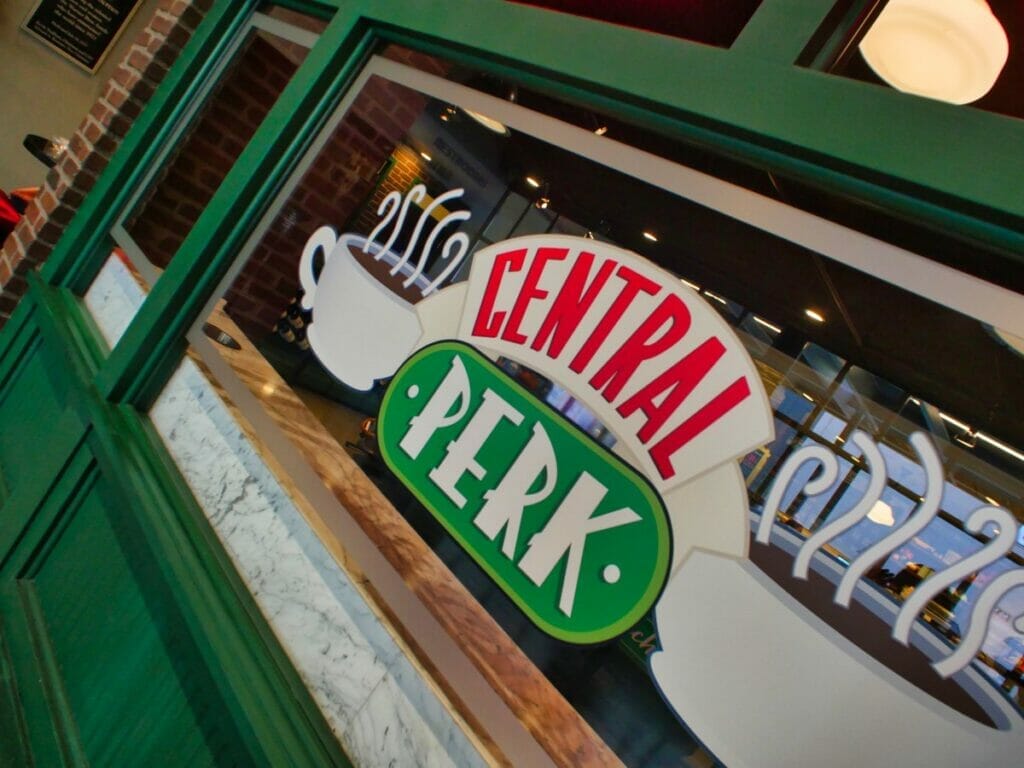 While it was set in New York City, it was mostly filmed in Los Angeles at the studios, and the interior Central Perk set is now available for fans to see in-person.
Yes, the original Friends cafe set, almost as it was during filming, is there in Studio 48 in all of its glory, waiting for you to discover it.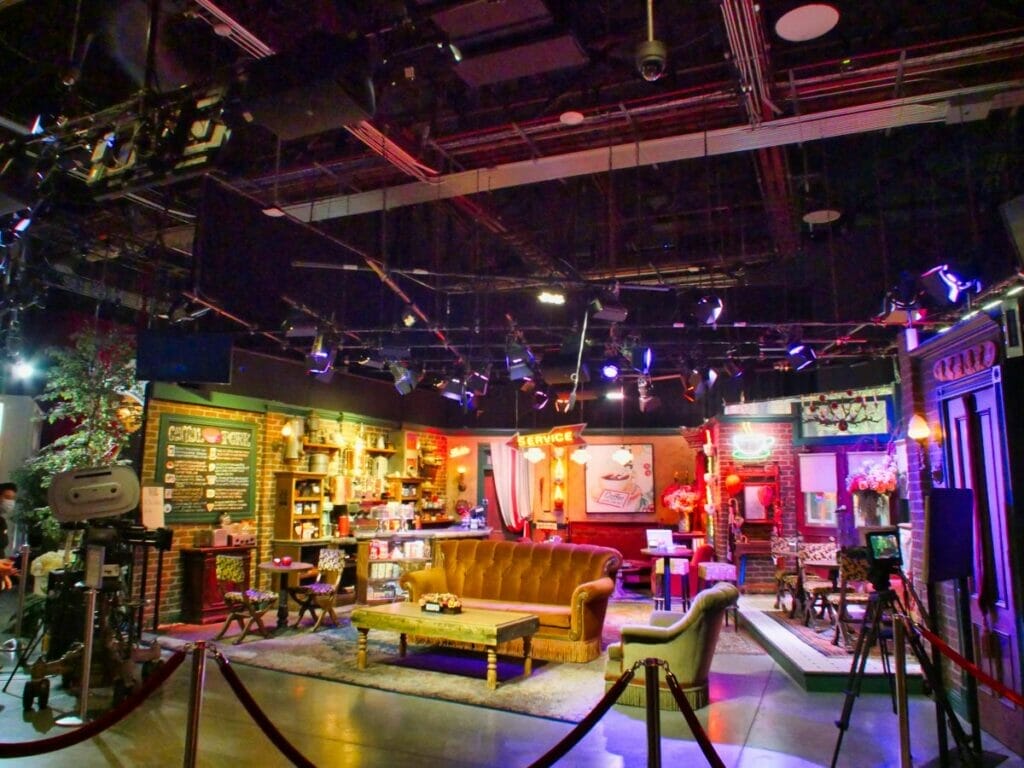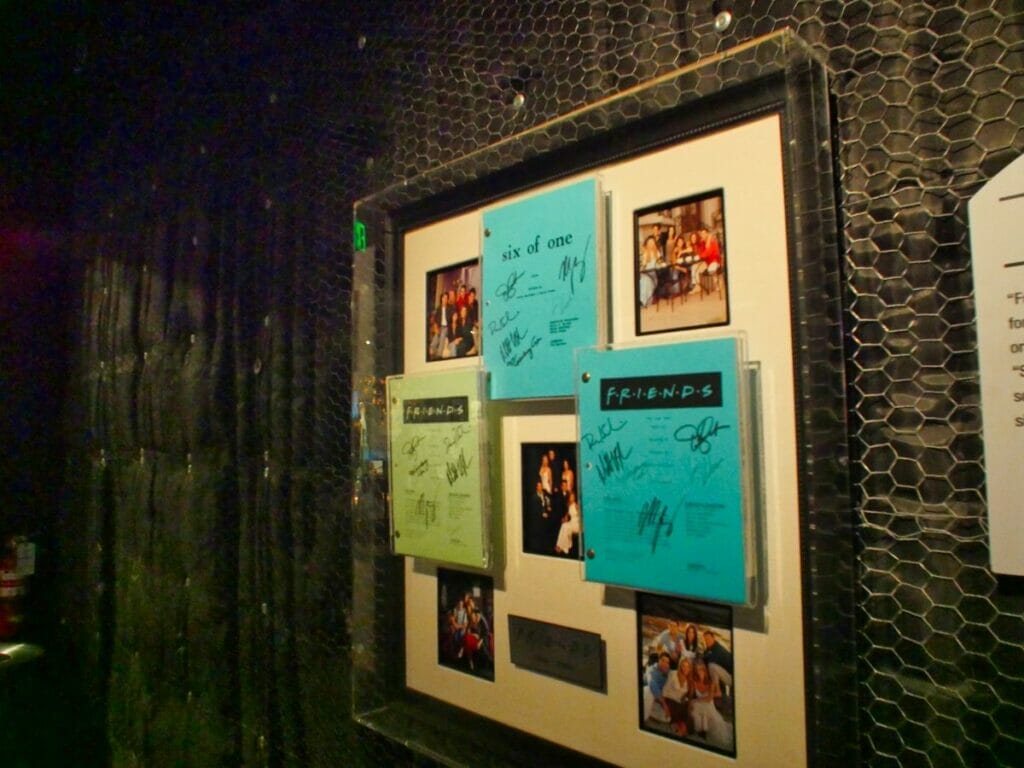 You won't be allowed to roam around the real set too much because they don't want it to be damaged, but you can get your picture taken on the famous couch!
If you want to spend more time in the Friends world, the Friends café at the end of the self-guided part of the tour is the perfect place to do that.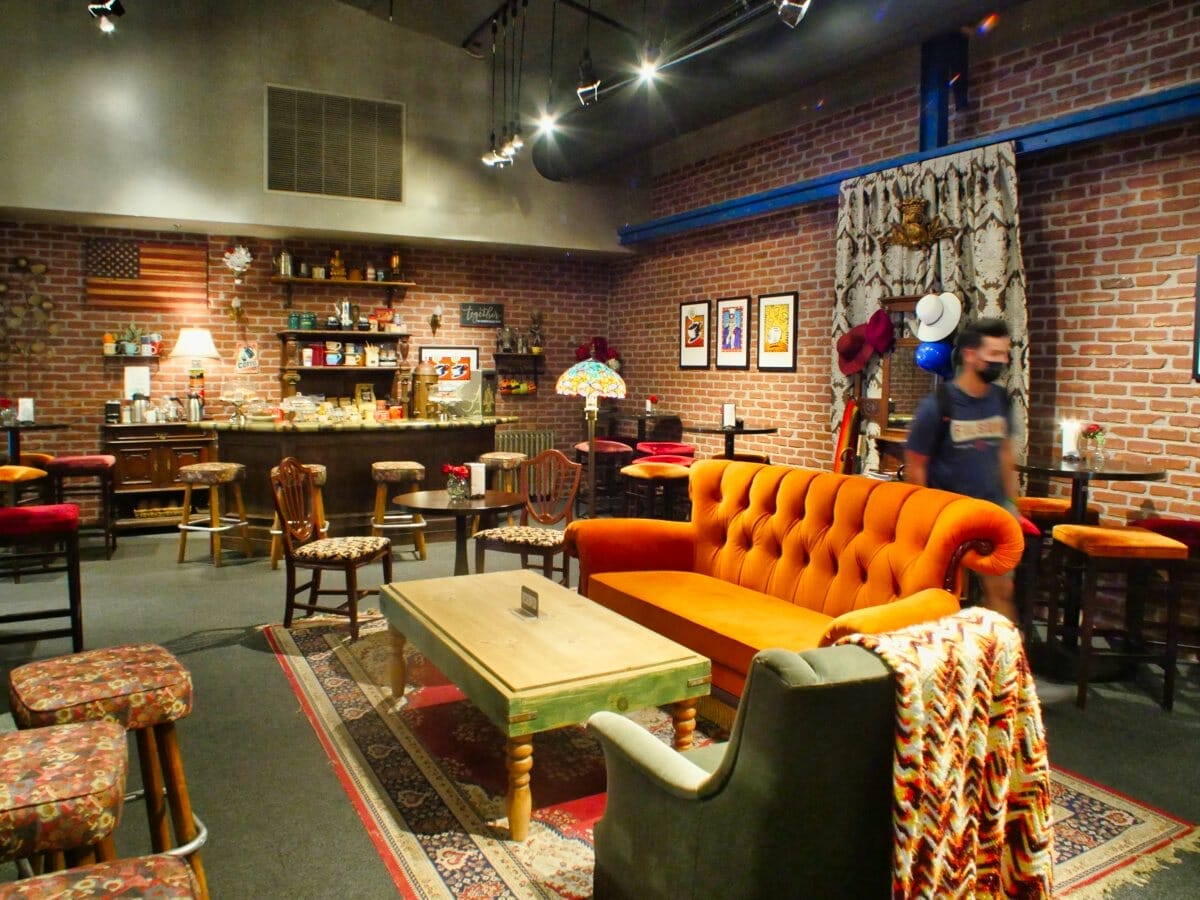 Grab a coffee, sit on the replica orange couch, and enjoy the replica sets including Monica's apartment, Monica's kitchen, and Chandler and Joey's place!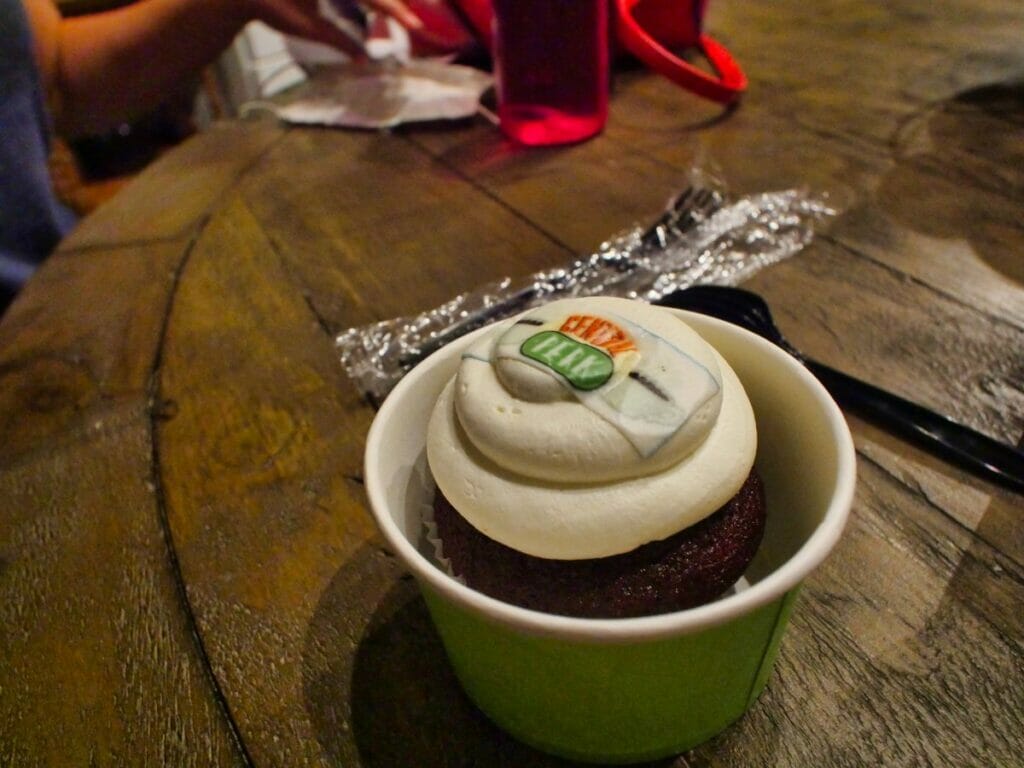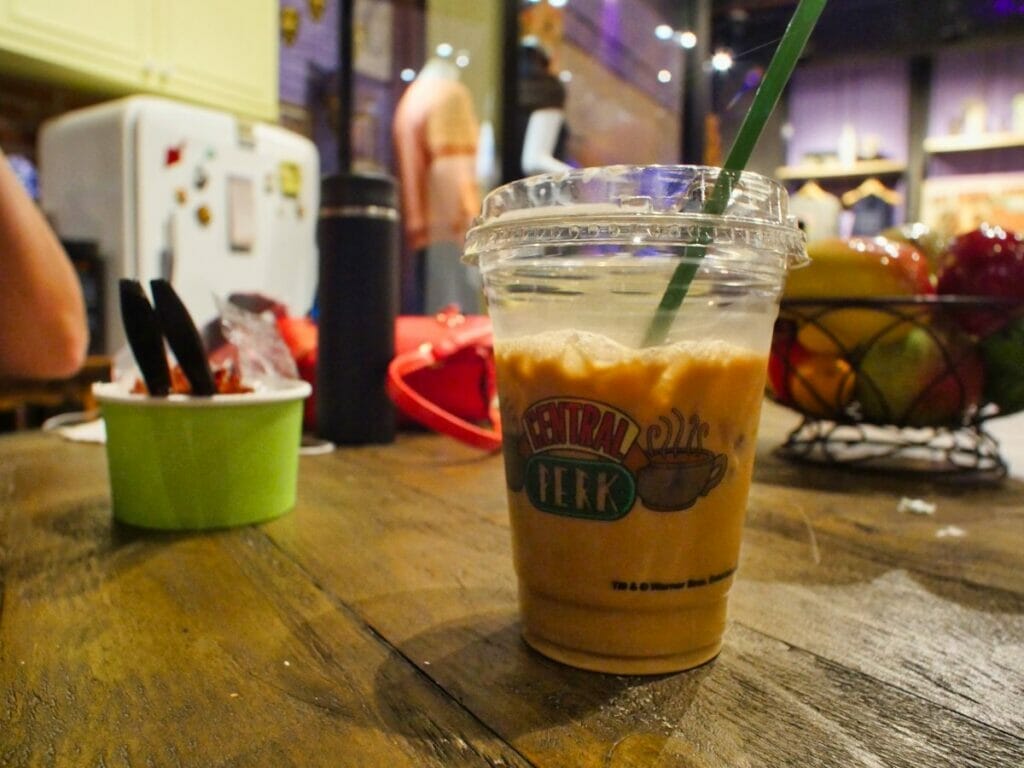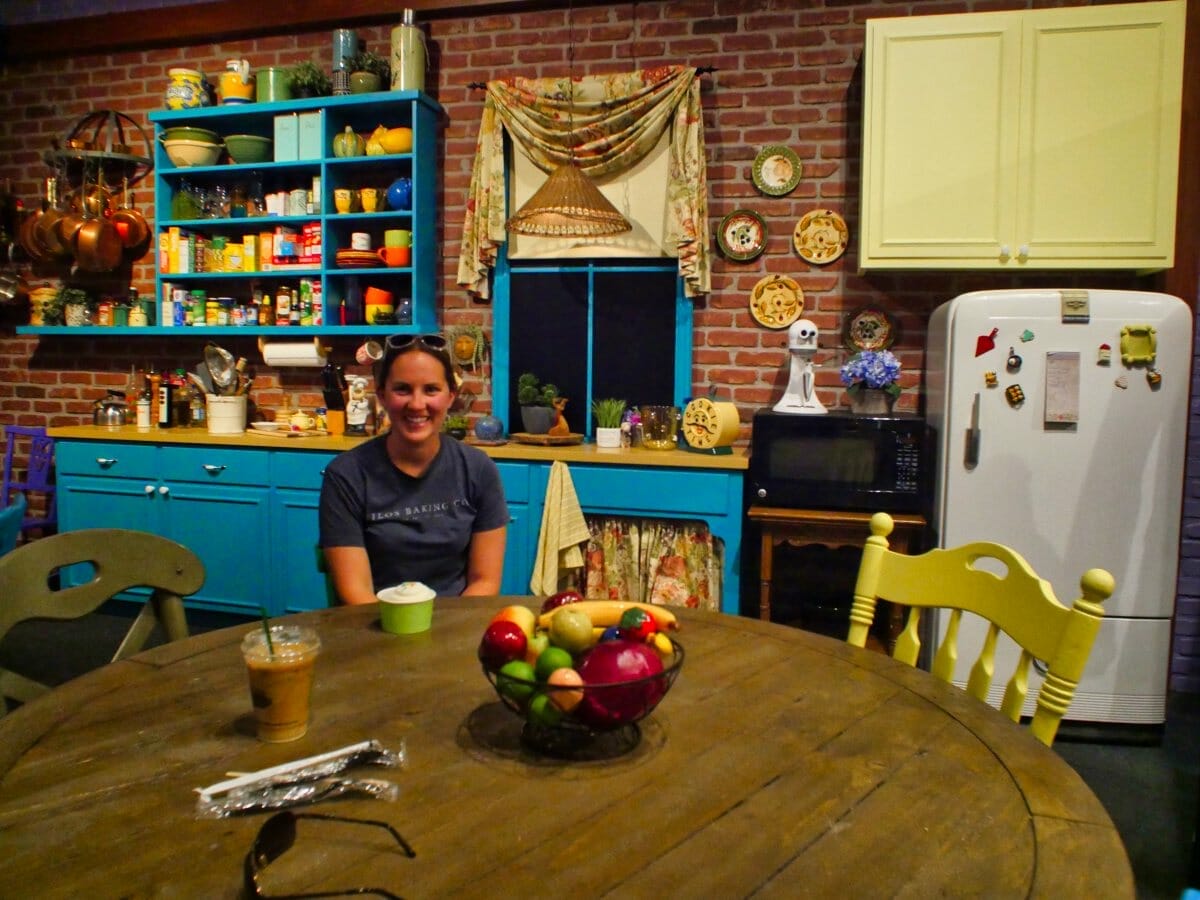 Big Bang Theory
Big Bang Theory is another popular show that has retained its sets for fans to view, and if you want, you can also get some of your pictures taken here pretending that you live in the same world as these characters.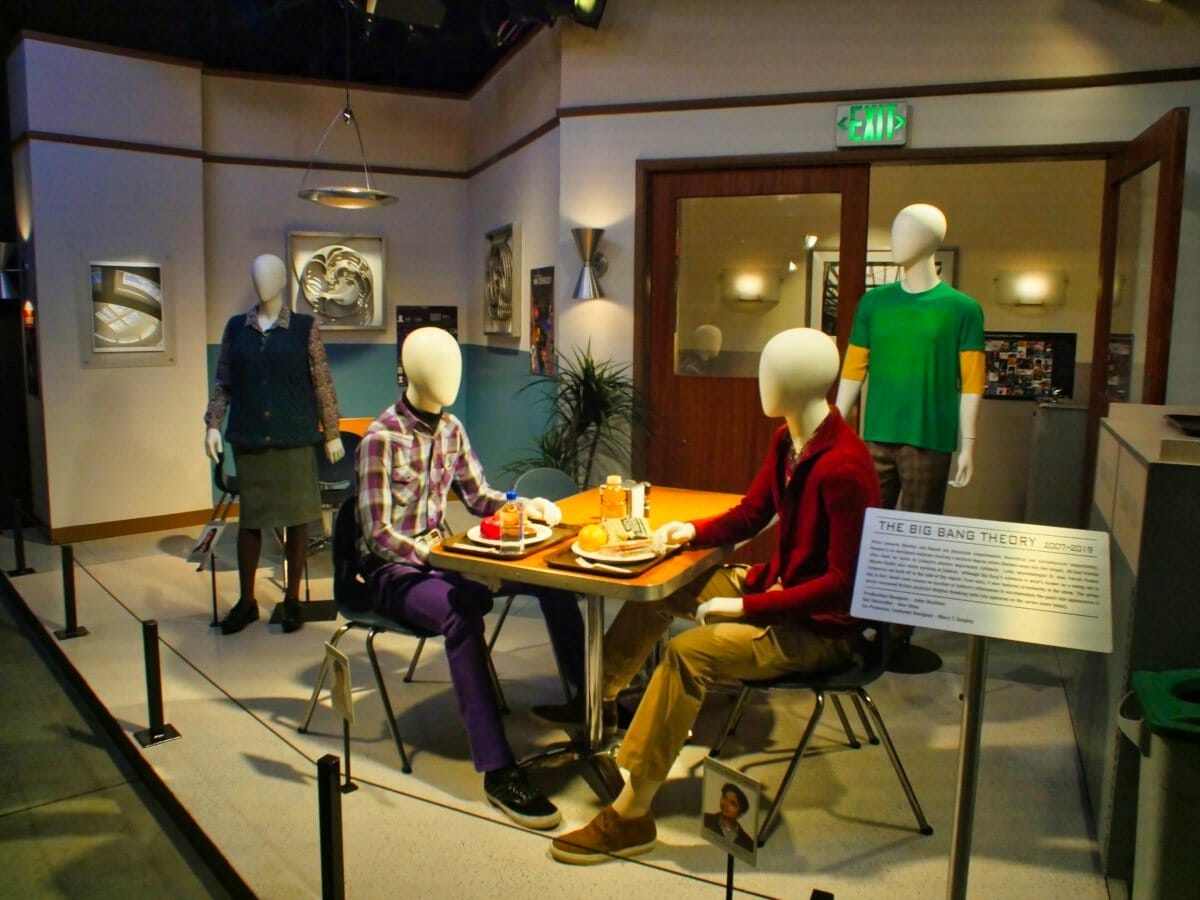 Other Exhibits at the Warner Brothers Studio Tour
From the real Batmobile to a Harry Potter exhibit featuring some props to iconic superhero costumes, there really is something for everyone on this tour no matter your movie tastes.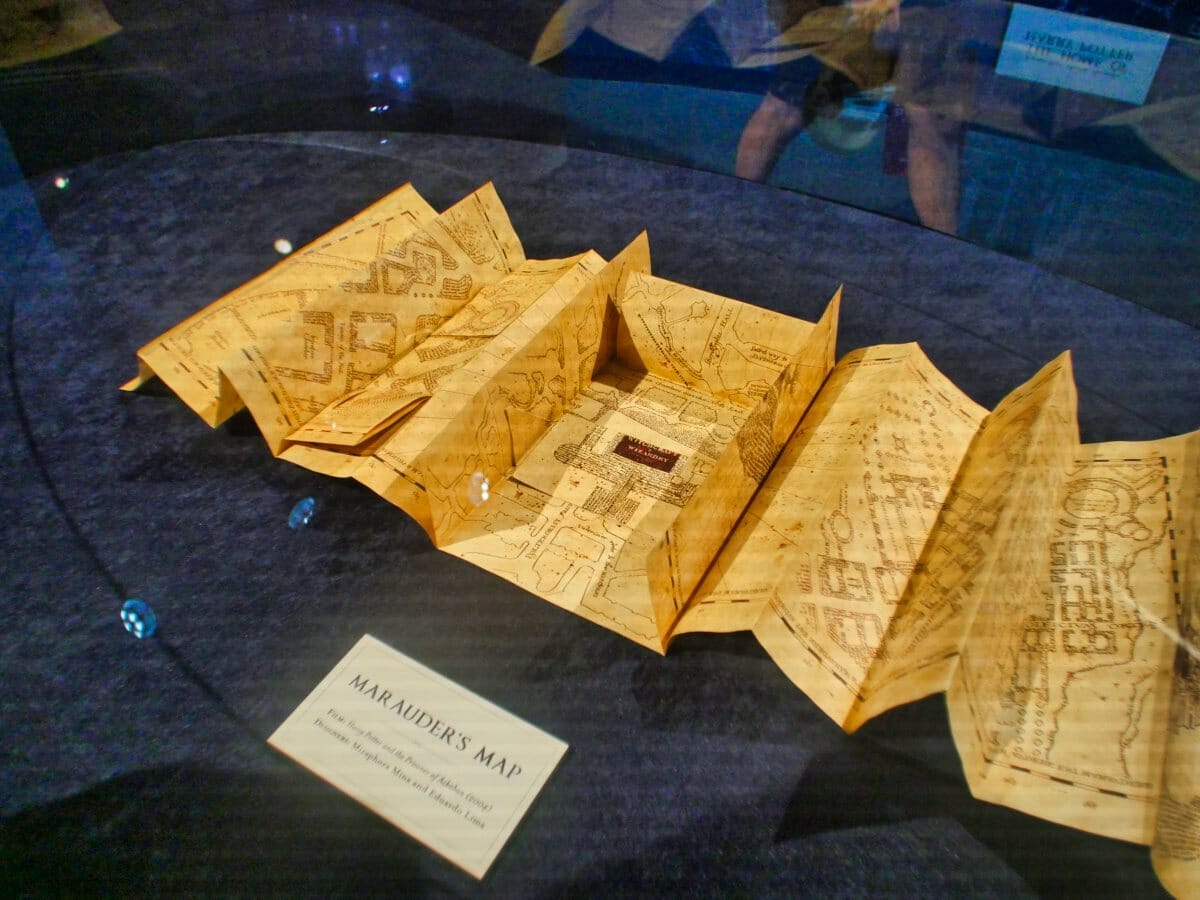 Again, so much has been filmed here, from superhero movies to La La Land to Pretty Little Liars to Gilmore Girls to Fuller House to Growing Pains to some older movies that used the original exterior soundstages.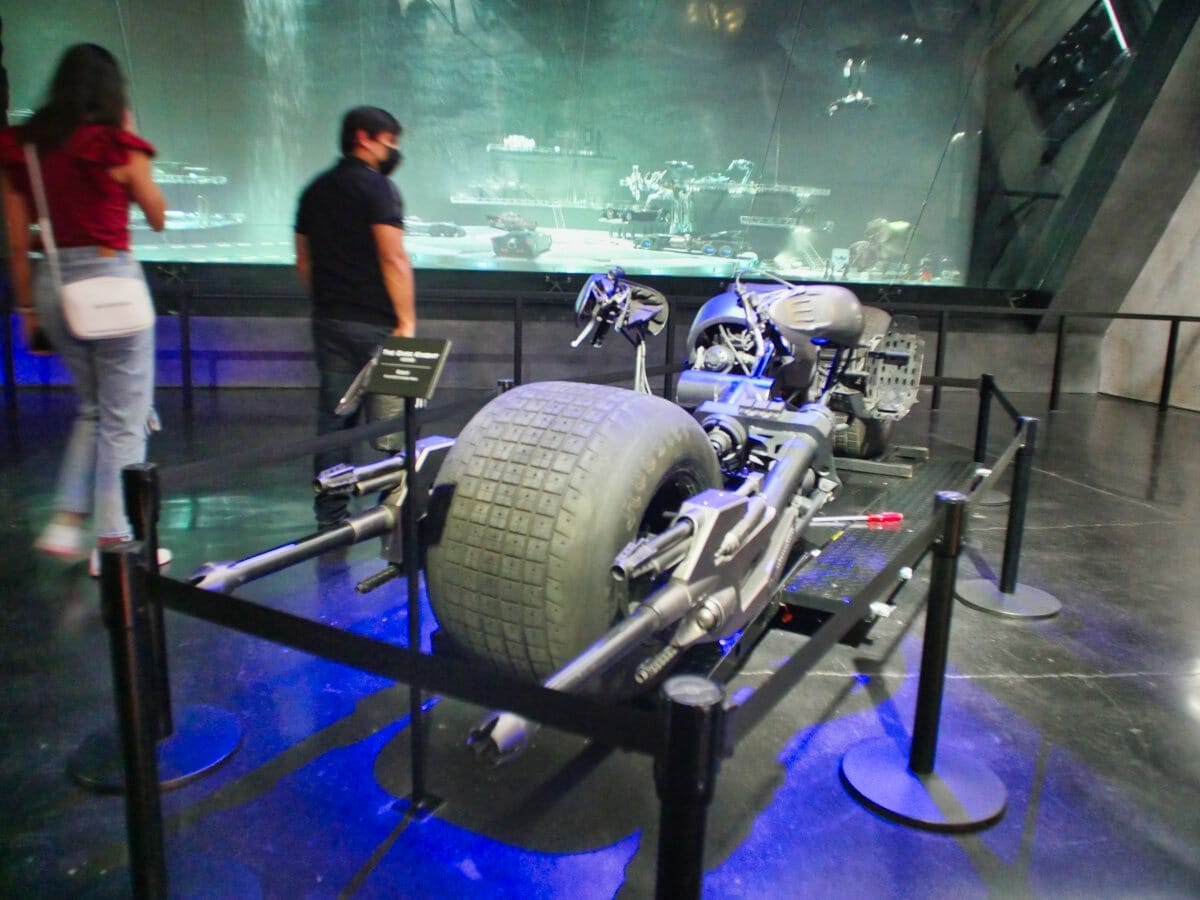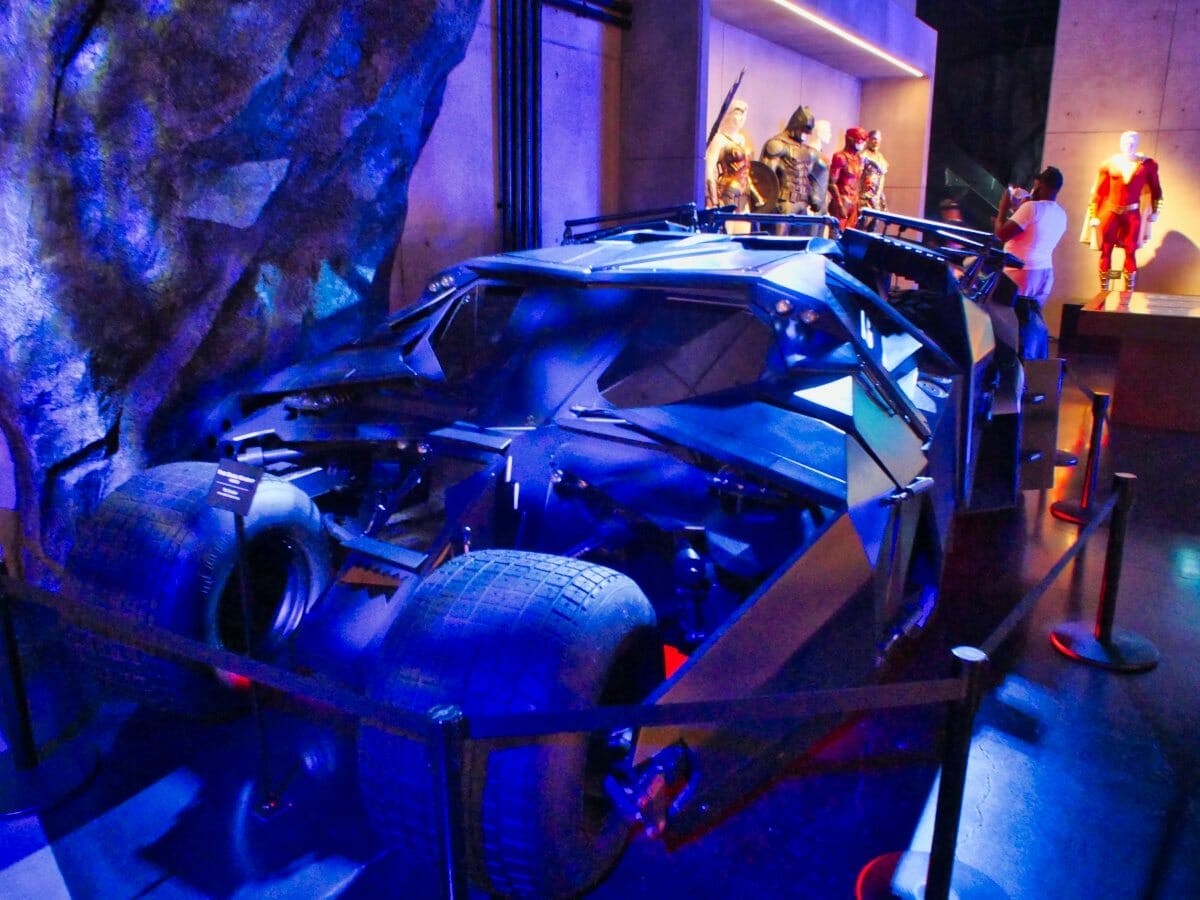 Warner Brothers Studio Tour Gift Shop and Exit
When you exit into the main visitor area, you'll get to experience the incredible gift shop, which is one of the best gift shops I've ever been in.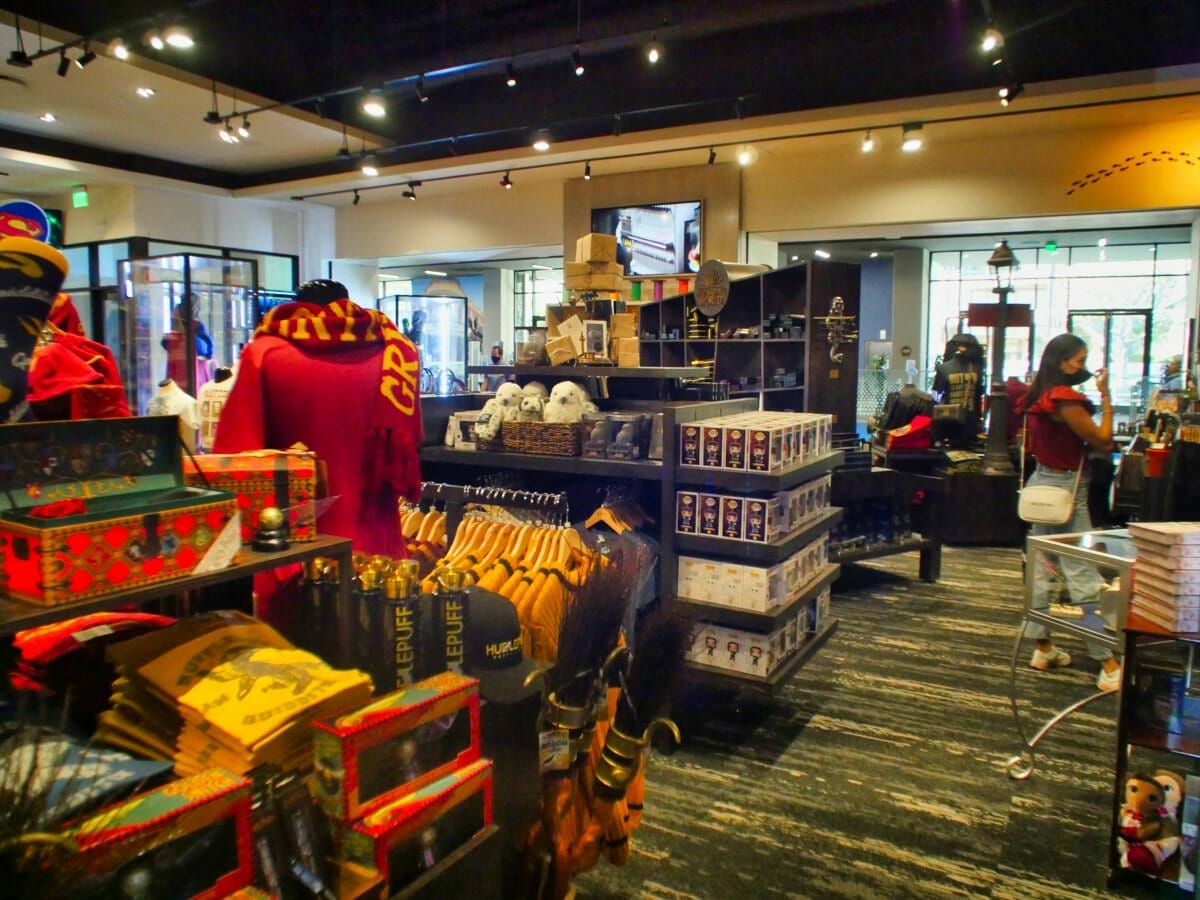 There's a big emphasis on merch that you can only buy here (there is also Friends store connected to the Friends café for exclusive items).
I purchased some Gilmore Girls memorabilia, as well as some Warner Brothers studio merch including a T-shirt and coaster.
It's hard to get out of there without buying something, so budget some money to make sure you can get a souvenir from one of your favorite movies or shows.
Is the Warner Brothers Studio Tour Hollywood Worth it?
The Warner Brothers Studio tour isn't a cheap investment.
It can run a family of four into the hundreds of dollars, and the experience is about 2-3 hours long (though you can spend as much as you want after you exit the backlot tour and go to the self-guided interior section).
There are a lot of options of things to do with that money in LA, but this is the one studio tour that is an absolute must-do.
It's the most iconic one, even better than Universal or Paramount, and the fact that it's a working studio and you're constantly looking for actors or being rerouted so you don't get in the way of active filming brings an energy and excitement to the experience that makes it well worth the money involved.
Where to Eat Near Warner Bros Studio Tour: Dine with the Stars
If you're finished at the tour and looking for somewhere to eat, head across the road to the Smoke House Restaurant.
With plush red booths and an old-timey Americana feel, this restaurant has been a favorite with celebrities over the years, including George Clooney who named his production company "Smokehouse Pictures" after the restaurant!
Prices are decent for LA and the pulled pork sandwich is one for the ages.
Pin for later!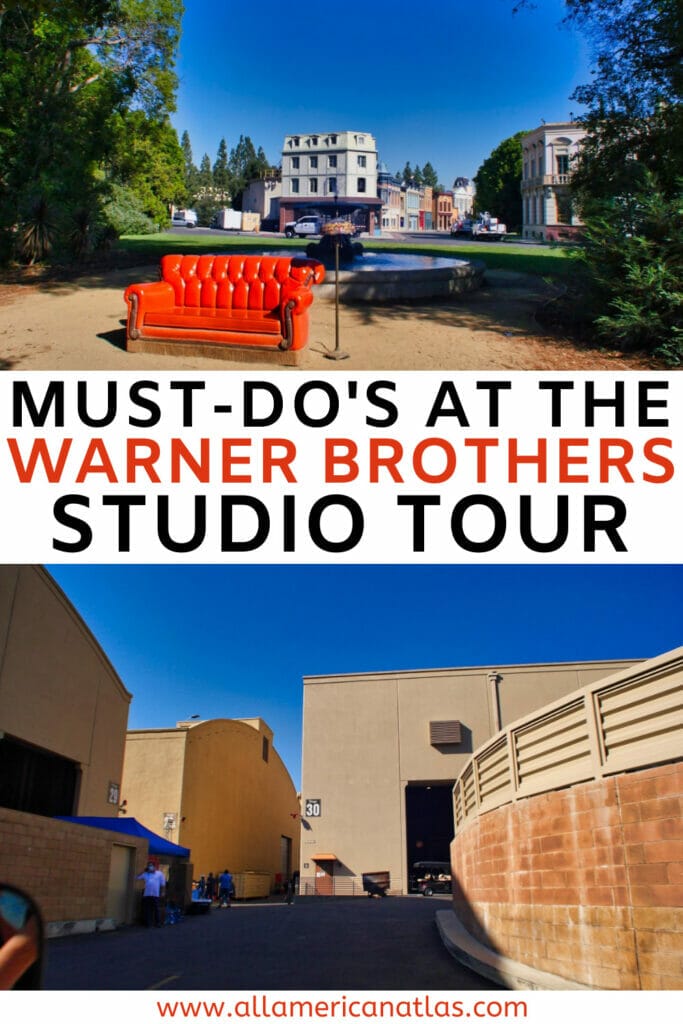 Get the All-American Travel Secrets!
Don't miss out on America's hidden gems!