The Horse Capital of the World. An Eclectic Downtown. Tranquil wilderness retreats
Ocala, located in Marion County Florida, is a city tucked into Central Florida between the two coasts and just north of Orlando and south of Gainesville.
Ocala has a rich and storied history in thoroughbred horse breeding and holds the official title of the "Horse Capital of the World", a designation bestowed on only 5 cities in the entire world.
But horses aren't the only wildlife you will find here as there are wilderness areas, waterways and forests galore.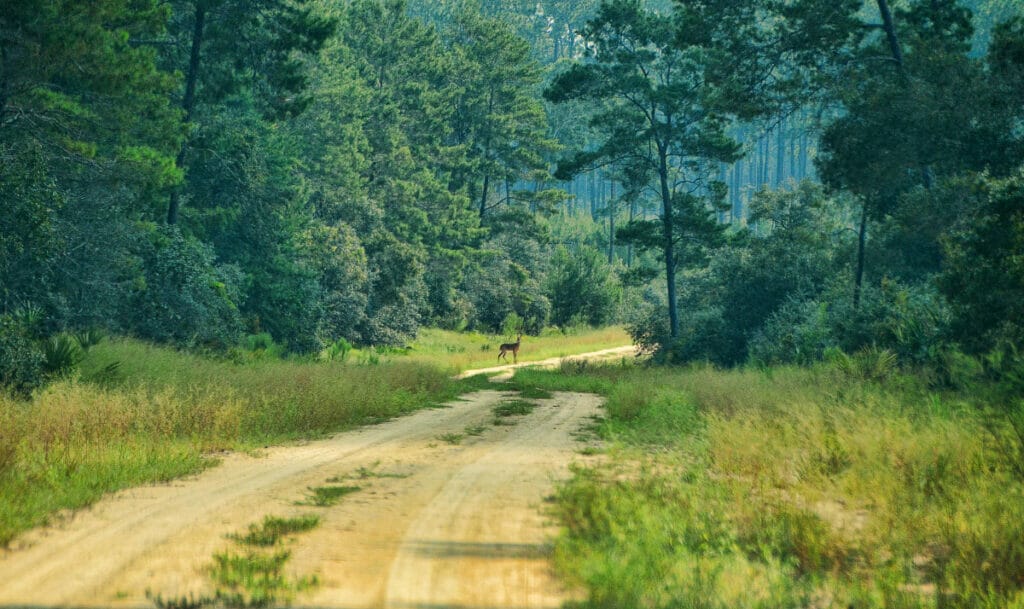 Don't worry if you're not the outdoorsy type, below we will help you find the top things to do in Ocala to ensure everyone has a good time and experiences one of the best places in Florida.
What to Bring to Ocala
If you're not used to the Ocala heat, here are just a few suggestions on what to make sure you have with you, almost year-round.
Getting around Ocala
Don't forget that it's much easier to see Ocala by car so you can get around on your own.
Rental cars are perfect if you're flying into the state.
We recommend using Discover Cars price comparison to find the cheapest deals.
Hey! Want more Florida tips and tricks? Check out our other expert guides here!
1. Ocala's Downtown Square
Head downtown, park your car (it is metered parking so make sure to bring your change or bank card) and within a seven-block radius you will find restaurants, boutiques, theaters, and art installations.
The downtown square is an eclectic mix of Ocala's history and its modern identity with its historic buildings, like the iconic movie theater and the Coca Cola Bottling Plant and the more modern, like its art and cultural exhibits.
There is a lot packed into this small geographical area so take your time exploring the downtown square and all it has to offer.
2. Farm Tours of Ocala
They don't call it the Horse Capital of the World for nothing!
Marion County is home to more than 600 thoroughbred farms and is the official training site of the US Equestrian team and you can be a part of it.
One of the top things to do in Ocala is to go behind the scenes for an insider's look at these top-tier horse farms with the Farm Tours of Ocala.
Put on your sneakers and bring your camera for a small group walking tour at 3 different farms while you learn more about the history of breeding in Ocala, get up and personal with several different breeds of horses and foals, and meet the folks that make these programs and farms such a success.
You don't have to be a horse enthusiast to love this tour!
3. Ocala National Forest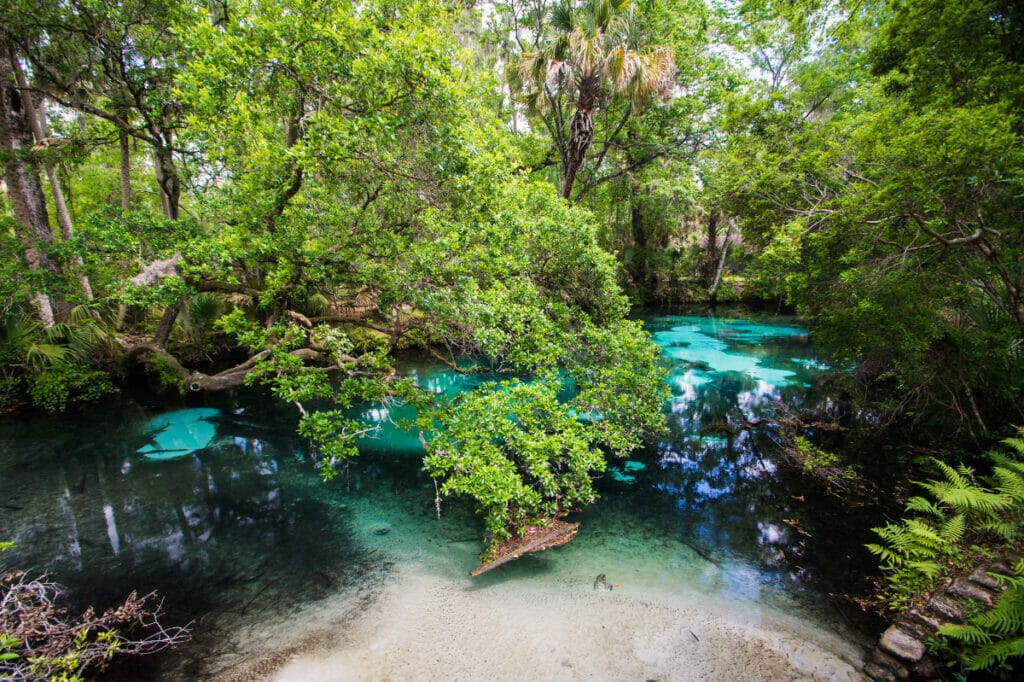 While not as well known for its attractions as Orlando to its south (or as crowded), Ocala is home to its own world-renowned attraction, the Ocala National Forest.
This southernmost national forest in the US, the Ocala National Forest is a destination in its own right providing the perfect opportunity to spend the day (or more) getting back to nature by taking in this unspoiled, authentic Florida landscapes year-round.
With over 600 lakes, natural springs, hiking trails, equestrian activities, camping areas, and a scenic drive you can explore this Ocala attraction on your own terms.
Remember you are in nature (not a theme park) so keep your eyes peeled for the wildlife making its home in this forest including Florida Black Bears, alligators, migratory birds, and manatees but remember to always keep a responsible distance from them.
4. Canyons Zip Line and Canopy Tours
If you are an adrenaline junky and prefer to spend your time in nature participating in endorphin releasing adventures then look no further than one of the most fun things to do in Ocala, the Ocala Canyons Zip Line and Canopy Tours.
With 4 zip line/canopy tours through the Florida wilderness to choose from, including a nighttime full moon option, the adrenaline junkies are sure to get their fix, but rest assured there are adventures for the more faint at heart including horseback riding, mining for gems, and kayaking.
This is a must stop on the Ocala attractions tour!
Tour the nation's largest natural spring on a glass bottom boat!
These world famous, historic glass bottom boats allow you to see deep into the underwater ecosystem while remaining dry and shaded from the sun.
Take the 30-minute tour offered daily 365 days a year or if you are in town on the weekend consider the more in-depth 90-minute tour providing you with increased opportunity to see turtles, alligators, manatees, fish and even Native American relics naturally preserved along the riverbed.
After your glass boat tour, don't forget to take time to wander around the rest of the 4000-acre park that includes the 5-mile Silver River, surrounding forest, gardens, multiple natural springs, and the informative Silver River Museum and Environmental Center.
6. Appleton Museum of Art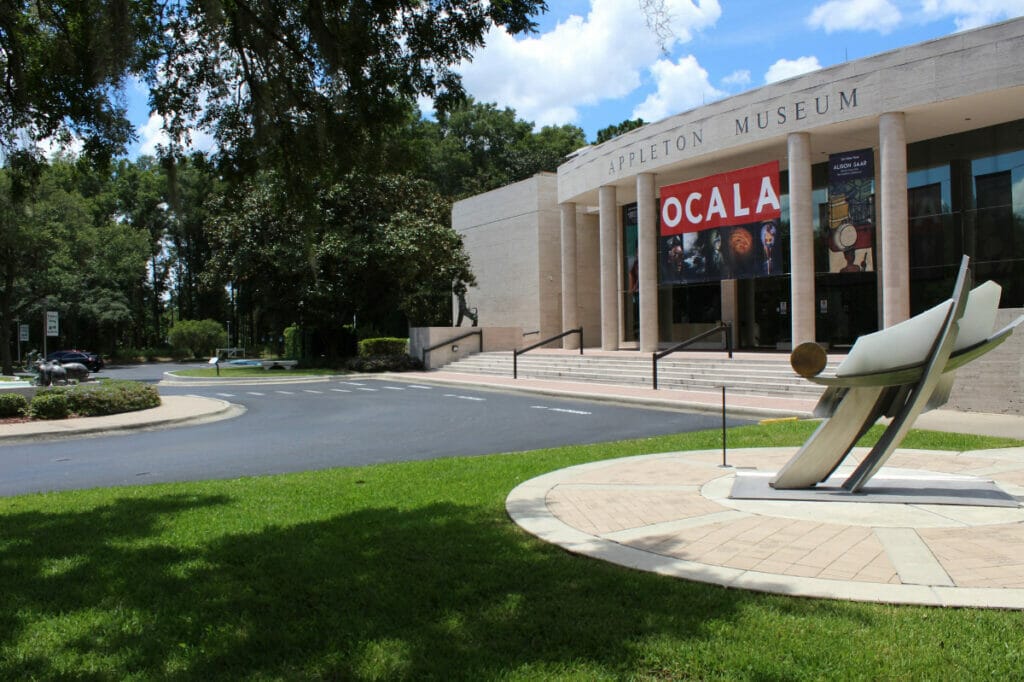 Need a break from the Florida heat and humidity?
We recommend spending the day touring Ocala's Appleton Museum of Art, which offers free admission for everyone the first Saturday of each month.
The museum is home to a permanent collection of over 24,000 objects from around the world including Europe, Asia, Africa, pre-Columbian as well as rotating exhibits that change throughout the year.
If you are looking for art with a more local connection, don't miss the museum's Florida artist collection as well as Appleton's Equine art collection from around the world that includes objects that relate to local equine history.
Insider tip: There is not a restaurant on site and food and drinks are limited to designated areas so plan to eat at one of Ocala's many restaurants before or after your visit.
7. Sholom Park
Pack your binoculars and get ready for some world class bird watching at Sholom Park.
As you make your way through the 2 miles of paved trails in this 44-acre botanical garden (don't worry there are benches if you need to take a break), be sure to keep your eyes peeled for the numerous bird species that make this park a bird watcher's paradise.
Keep track of the different bird species and other critters you spot while at the park with the park's "I Spy at Sholom Park" game that you can view on your phone or print out for the family before you arrive.
8. Bubba Raceway Park
Put the pedal to the metal and get yourself to the Bubba Raceway Park, also known as Ocala Raceway, the oldest continuously operating racetrack in the state of Florida.
This ⅜ mile clay short track is host to numerous race series and race classes as well as special events and is always a good time!
Bring the family, as well as ear protection for the young kids and seat pads for the bleacher seats, and make a night of it as there is a concession stand on site with your typical stadium food options (read: it won't be healthy or organic).
9. Stone Creek Golf Course
The panoramic views of the Ocala countryside provide the perfect backdrop for a round of golf at Stone Creek Golf Course.
Central Florida is a golf destination and the Stone Creek Golf Course is a great option to challenge players of any skill level.
If 18 holes in the Florida sun is too much, you can opt to check out the putting greens or hit the golf shop and onsite restaurant instead.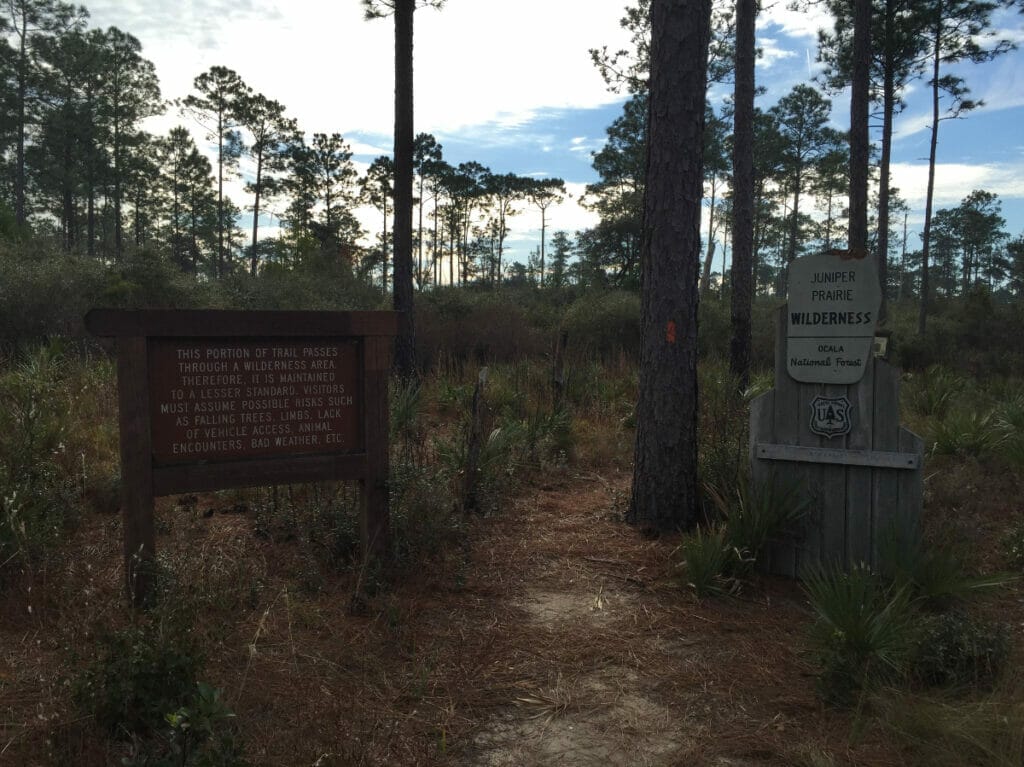 Pack your gear for a backpacking adventure in the Juniper Prairie Wilderness and experience natural, untouched Florida.
This wilderness area is the largest wilderness area in the Ocala National Forest and is not reachable by car, but does encompass an 8 mile stretch of the north-south Florida National Scenic Trail for hiking.
Fill your day pack for an out and back hike (don't forget your water) or load up your backpack with your camping gear for backcountry camping.
Hidden Pond is our favorite remote camping spot despite its lack of any amenities, (hint: bring your own toilet paper and shovel) but we think it is worth roughing it to be able to pitch your tent anywhere under the stars.
Remember to leave no trace behind to preserve this spectacular wilderness for others.
10. Katya Vineyards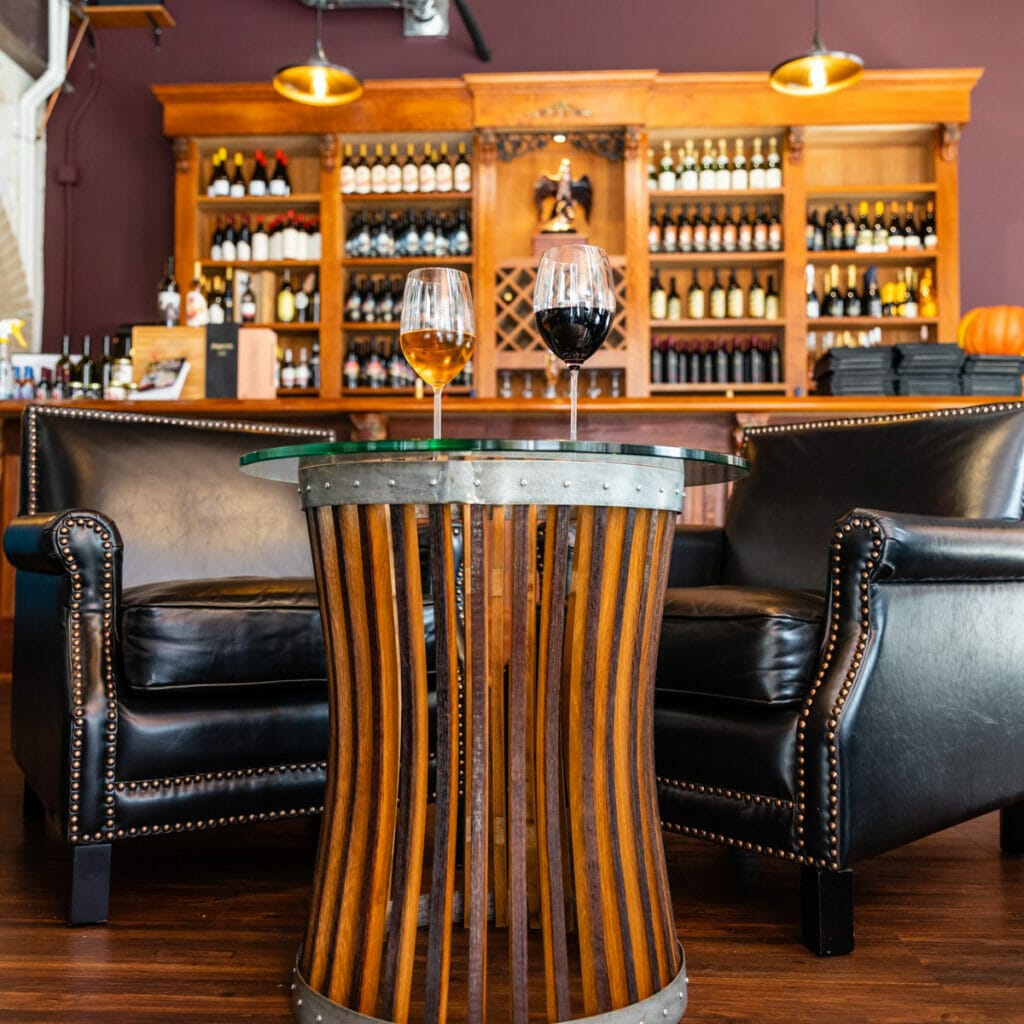 This family-owned winery and restaurant is known for its gourmet food and wine and a food pairing menu that is sure to impress any foodie.
We recommend the 4-course food and wine pairing menu that is constantly updated to incorporate the freshest local ingredients.
Katya Vineyards is located in downtown Ocala and outfitted with rustic decor that lends itself to a relaxing and friendly atmosphere that can be enjoyed Tuesday through Saturday.
Reservations are highly recommended.
11. Don Garlits Museum of Drag Racing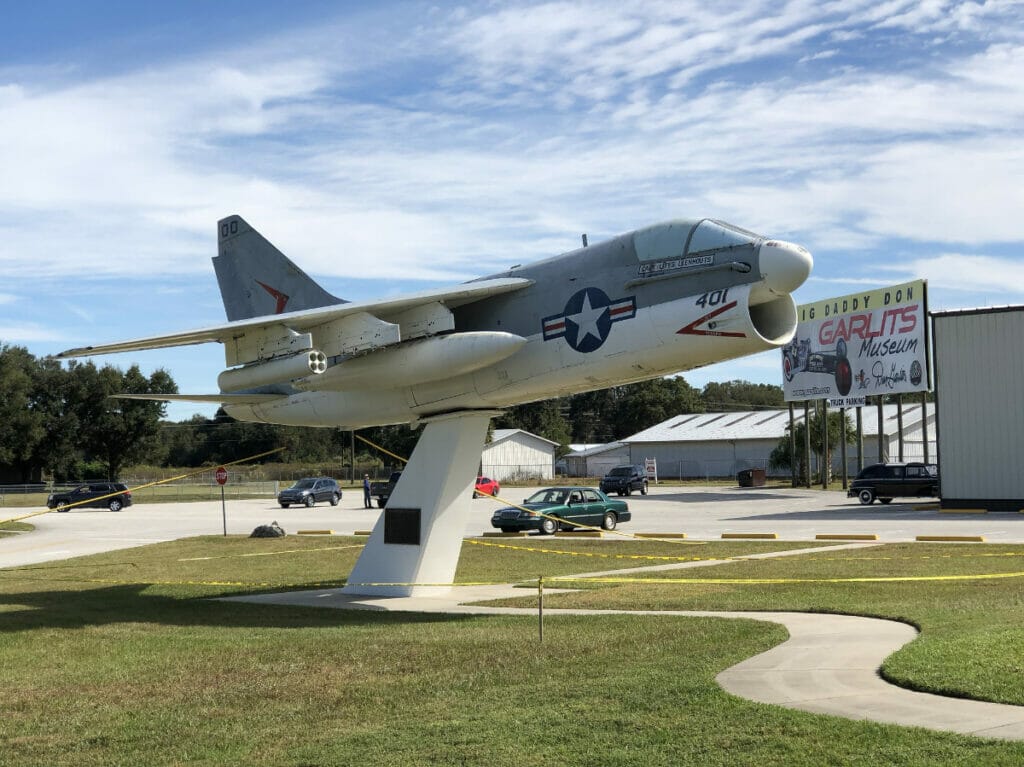 Car lovers, grab your driving gloves and head to the Don Garlits Museum of Drag Racing that documents the history of sport racing and drag racing and is home to the Drag Racing Hall of Fame.
Take a self-guided tour through the museum and the racing and antique car buildings that showcase roughly 300 race cars and antique cars between them.
Don and his wife live in a house on the property so you may be lucky enough to run into him at the museum mingling with the patrons or catch a glimpse of him tinkering with equipment in his yard.
Better yet, schedule a private tour with Don in advance that includes access to private garage areas and a tour with the legend himself.
12. Reilly Arts Center
The Reilly Arts Center is Ocala's home for arts and entertainment and the home of the Ocala Symphony.
Located in downtown Ocala, the Reilly Arts Center is an intimate venue hosting a wide range of events including musicals, concerts, movies, dances, and a variety of musical tributes and performances throughout the year.
With an event calendar packed with options you will find options for everyone in the family to enjoy.
13. Cactus Jack's Trail Rides
If you come to "Horse Country" you can't leave without going horseback riding!
We recommend saddling up with Cactus Jack's Trail Rides for guided horseback trail rides.
You can choose between a 1 hour, 1 ½ hour or 2-hour relaxing tour through the Ocala Cross Florida Greenway State Park on the mostly shaded trails.
The Greenway is the first wildlife corridor in Florida to have a land bridge across a major interstate that can be used by trail users and wildlife.
Kids must be at least 6 years of age and all riders 17 years old or younger are required to wear helmets, riding experience is not necessary but general good health is.
14. Fish Hawk Spirits
Take a tour of Fish Hawk Spirits Distillery, Florida's only medal winning, farm to bottle ultra-premium spirits distillery that is like no distillery you have ever visited before!
Fish Hawk Spirits is not located in a warehouse or a typical building, instead you will find them distilling on a farm using their handmade stills and equipment in a humble shed.
The farmland around the shed is used to grow all the natural ingredients in their spirits including the corn used in their whiskey as well as the fresh fruits, herbs and botanicals used to infuse their spirits.
They even pump in water from the Rainbow River Watershed which is used directly in their distilling process.
After the tour, stick around for a tasting of these delicious spirits and take home a bottle (or more) of your favorites.
15. Ocala Civic Theatre
Spend the night entertained at the Ocala Civic Theatre, one of the largest community theaters in Florida and one of the top 20 community theaters in the US.
The theater hosts performances by community and professional touring production groups of well-known musicals and dramas that bring in theater lovers from all over the area.
Tickets are available at affordable prices and the intimate setting means there is not a bad seat in the house!
16. World Equestrian Center – Ocala
The World Equestrian Center (WEC) of Ocala, the largest equestrian complex in the US, is a travel destination in itself.
The multi-indoor and outdoor arena facility is not only the host of numerous equine industry events and shows, but the expo center offers state of the art event space for all industries to host sporting events, trade shows and conventions.
Find an interesting event or competition to attend at the WEC and plan an overnight getaway.
Stay at the luxury accommodations at the Equestrian Hotel, get pampered at the resort salon and spa, dine at one of the numerous onsite restaurants, and shop at the retail boutiques.
This one stop attraction has everything you need for a fun getaway.
17. Ocala Drive-In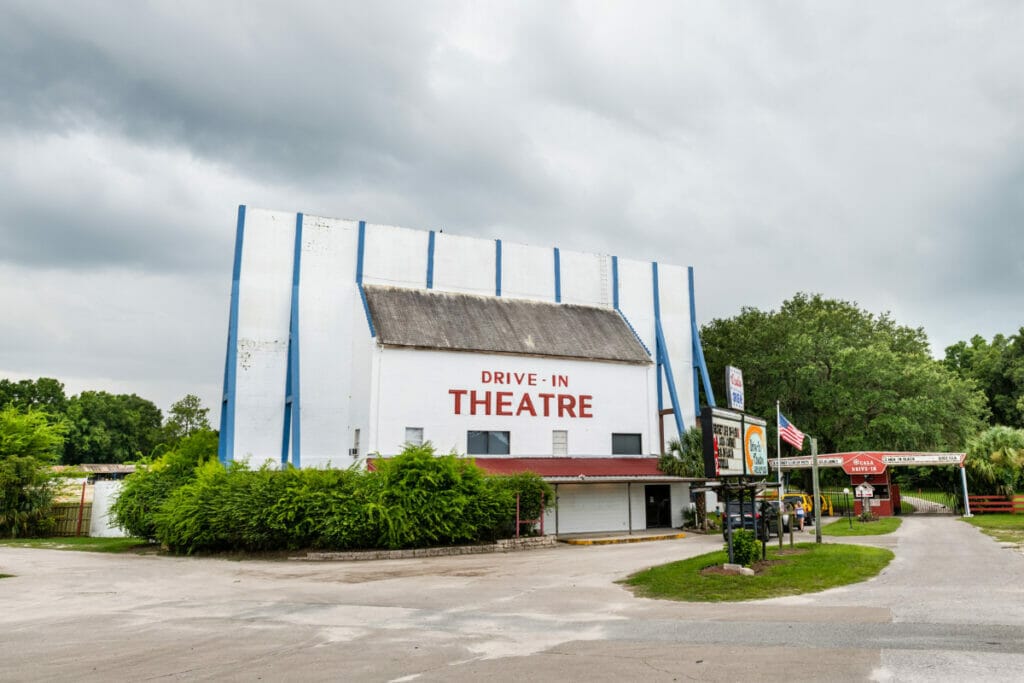 Go back in time at the Ocala Drive-in while watching today's big screen blockbusters at this retro Ocala attraction.
Open 7 days a week, rain or shine, the Ocala Drive-In shows two shows per night per screen allowing you to decide if you would like to come for one movie or stay for both.
Outside food and beverages are not permitted but don't worry they have a full concession stand and you can even order online.
Enjoy a night at the movies that is guaranteed to take you back in time!
Pin for later!
Get the All-American Travel Secrets!
Don't miss out on America's hidden gems!