Top ranked, white sandy beaches. Breathtaking sunsets. Quaint downtown village.
The beautiful, white quartz sand beaches, bright turquoise waters, and beachside amenities of Siesta Key make them some of the top ranked beaches in the country and the world!
In addition to the amazing beaches that make Florida famous, this 8-mile-long barrier island in the Gulf of Mexico, offers an array of water adventures, nature and wildlife preserves, shopping and dining options, an eclectic arts scene, and most recently, social media worthy backdrops straight from the MTV Reality TV Series "Siesta Key".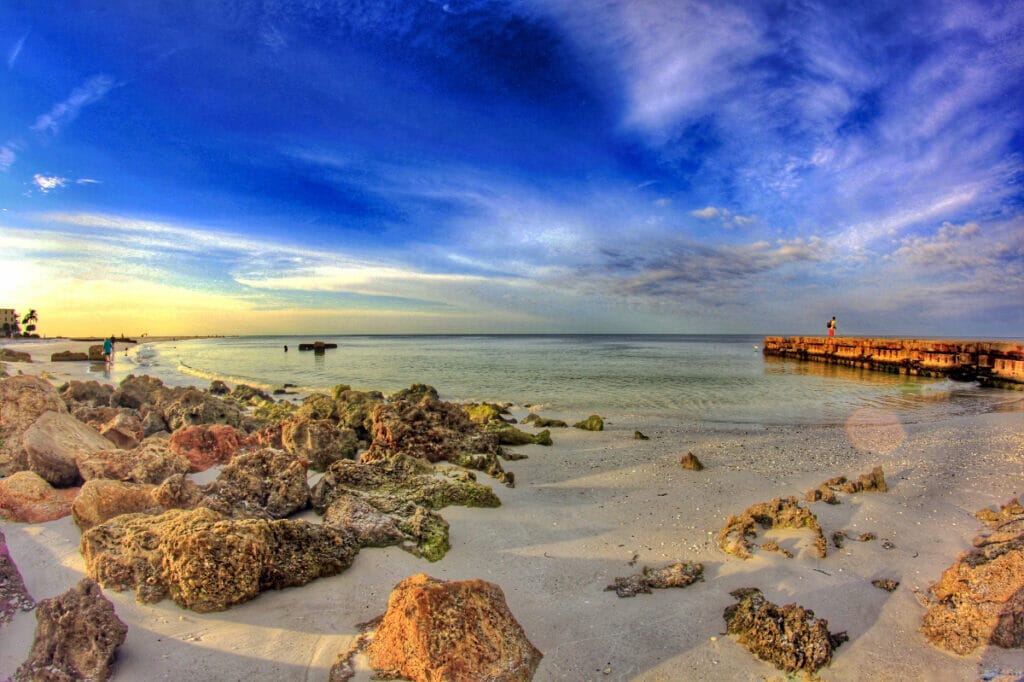 In this guide we will highlight the best things to do is Siesta Key, from the obvious (you can't miss the world-renowned beaches) to the local hot spots in one of the best places to visit in Florida and its hidden gems.
What to Bring to Siesta Key
If you're not used to the Florida heat, here are just a few suggestions on what to make sure you have with you, almost year-round.
Getting around Siesta Key
Don't forget that it's much easier to see Siesta Key by car so you can get around on your own.
Rental cars are perfect if you're flying into the state.
We recommend using Discover Cars price comparison to find the cheapest deals.
Hey! Want more local-approved Florida guides? Check out some of our other options!
1. Siesta Key Beach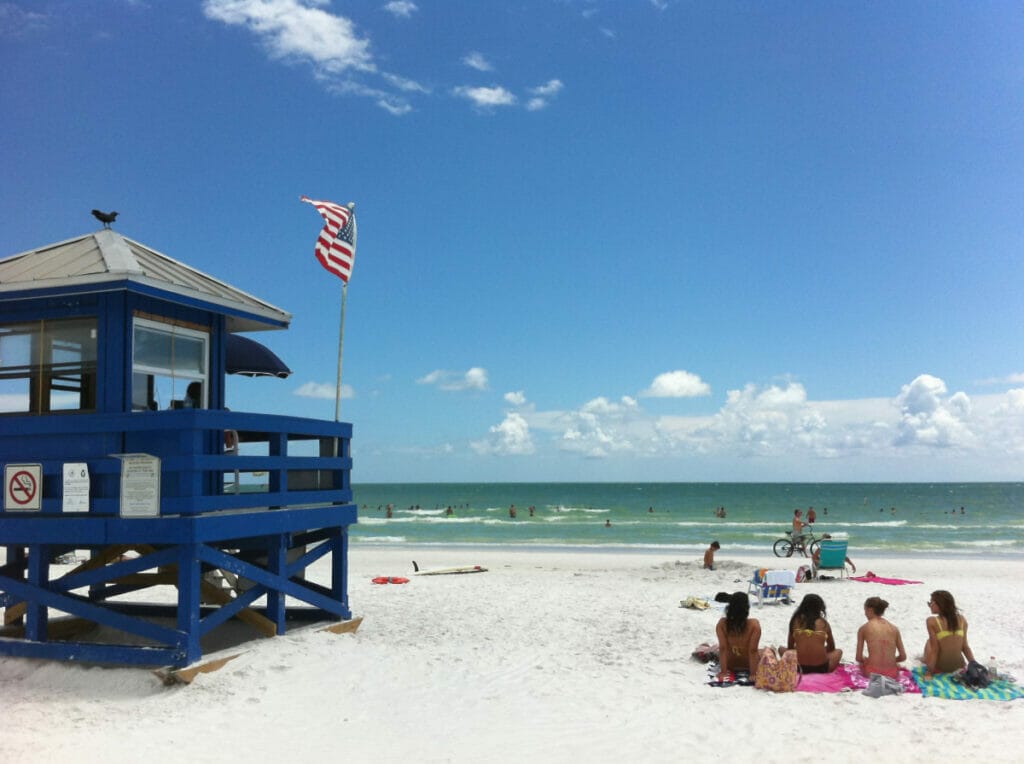 You must spend at least a day at the town's namesake beach, Siesta Key Beach, one of the most fun things to do in Siesta Key.
Siesta Key Beach has been chosen as the #1 beach in the US by TripAdvisor's Travelers Choice Awards numerous times (yes, even beating out beaches in Hawaii) as well as rating it the top 11th beach in the entire world!
This incredible stretch of beach boasts fine white sand, warm turquoise water and calm surf making this the perfect beach for all beach lovers of any age.
The beach amenities such as a large parking area (rarely ever filling up), umbrella/chair/cabana rentals, concessions, bathrooms, playground, volleyball courts, and picnic areas add to the appeal of this beach to locals and visitors alike.
2. Sunset Point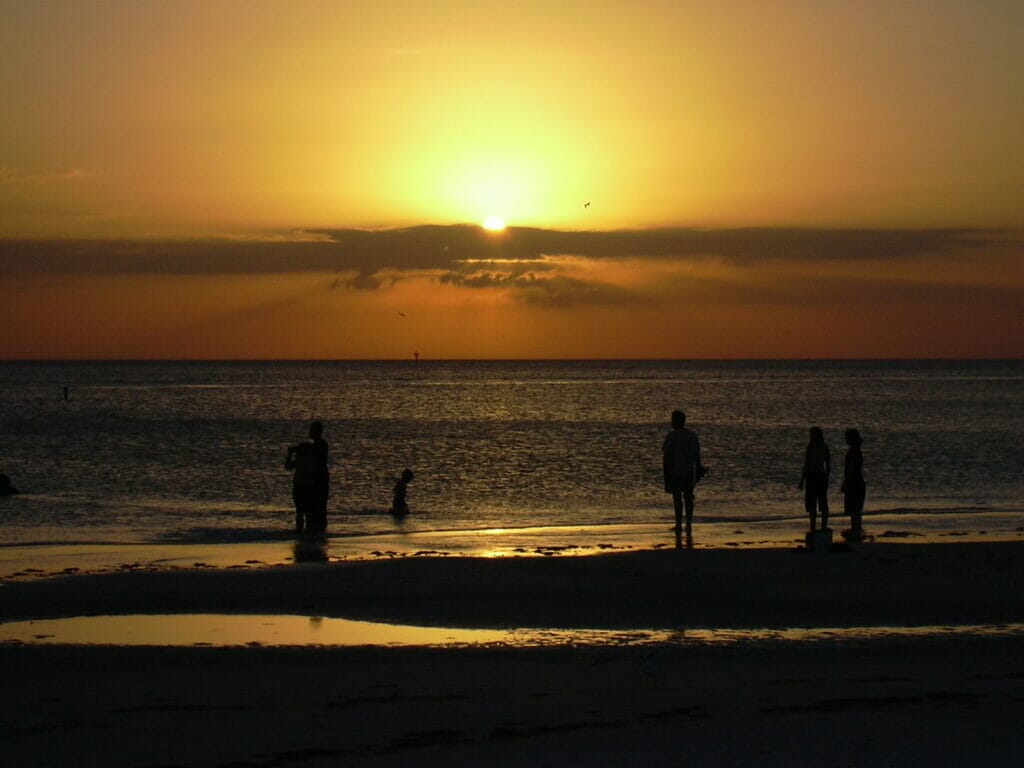 As the name suggests, Sunset Point is the premiere location for you to sit in awe of the vibrant colors and beauty of the sunset and hands down one of the best things to do in Siesta Key.
Located at the north end of Siesta Key Beach, Sunset Point is a large area of land that ventures out into water offering the best views around and making you feel even closer to the magnificent sunset views.
A lesser-known tip is that this secluded area of beach can be visited at any time of day and will often be less crowded and offer a more private beach experience during the day.
Siesta Key public beach access 2 will give you the most direct access to this northern stretch of beach.
3. Siesta Key Village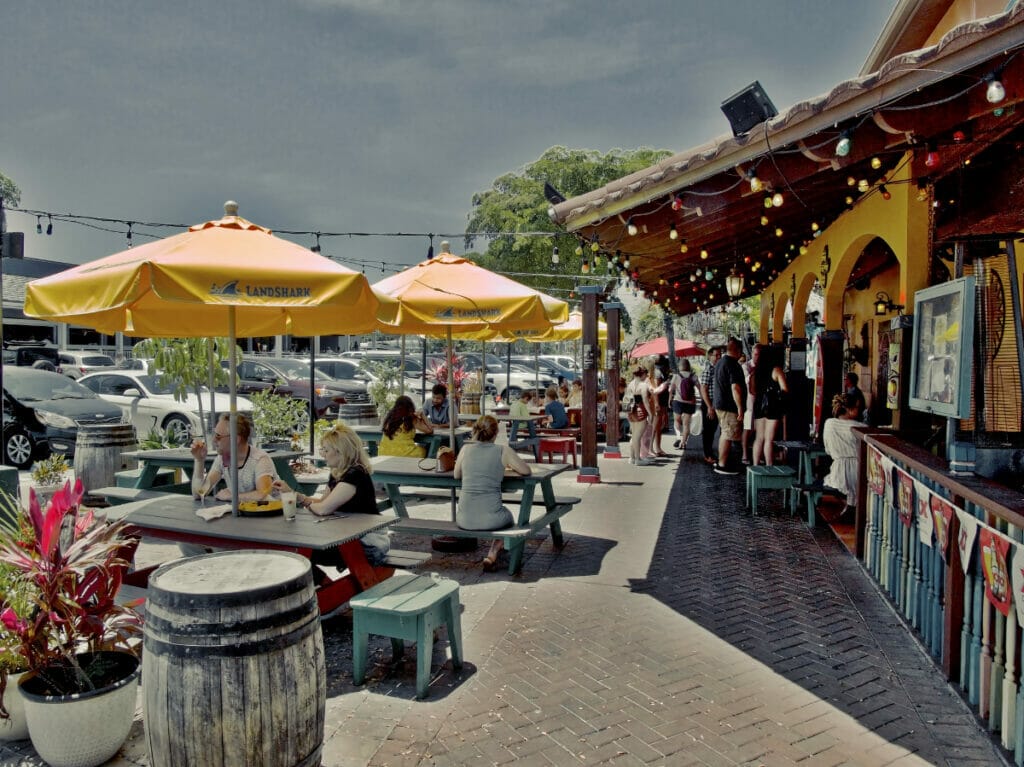 If you are looking for something fun to do in Siesta Key instead of the beach (read: you forgot to reapply your sunscreen which resulted in a little too much sun) then spend the day strolling through the Siesta Key Village.
This little village is packed full of small boutiques, shops, spas, cafes, casual restaurants and tropical bars all within a ½ mile radius making it easily walkable.
Make sure you check the Siesta Village calendar as it is often the host of live entertainment, events and festivals throughout the year (including in winter, one of the best times to visit Florida)
Our pro tip, parking can be at a premium in terms of availability and cost, so we recommend you take advantage of the free trolley service offered in Siesta Key to access this popular destination area.
4. Crescent Beach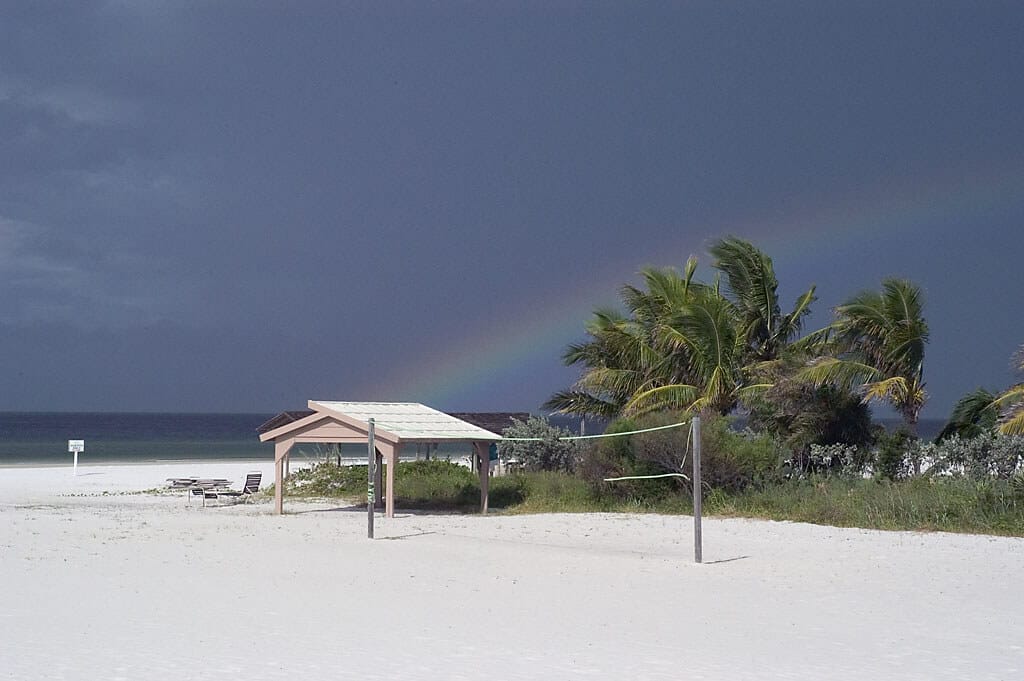 For a more low-key beach vibe be sure to save time for Crescent Beach, located toward the center of the island, just south of it's more famous (and also more crowded) sister beach, Siesta Key.
Named after its crescent shape, Crescent Beach boasts white powdery soft sand and clear, shallow, turquoise water making it ideal for sunbathing, swimming, snorkeling and shell hunting for family members of all ages.
Crescent beach is enjoyable during the day, but don't forget to stay to enjoy the breathtaking sunset views with slightly less crowds than other viewing locations on the island (which make for some great Florida Instagram caption spots).
There are no public facilities or life guards and parking is limited at Crescent Beach (which may explain why it's less crowded) so plan ahead by traveling by foot or bike, getting there early or taking the free Siesta Key Trolley.
5. Point of Rocks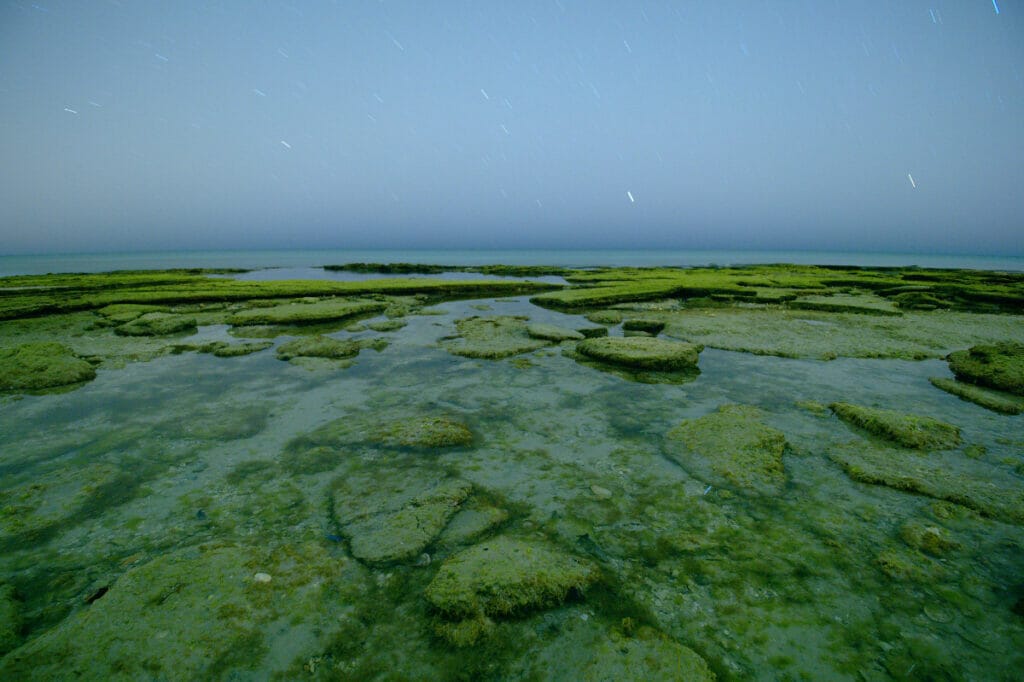 Point of Rocks is a rare geological feature of limestone rock formations located at the far southern end of Crescent Beach where snorkeling, for all levels, is one of the most exciting Siesta Key activities.
The rock formation and calm, shallow waters offer exciting visuals of 6 feet or more depending on the conditions of the day allowing you to see schools of fish, colorful coral, shells of all kinds, plants, crabs and crustaceans.
Plan your adventure around low tide for ideal conditions and bring your own snorkel equipment and wear water shoes to make the hike south from Crescent Beach because access to this area is tricky.
6. The Jim Neville Marine Preserve
Spend the day exploring 35 acres of preserved land at the Jim Neville Marine Preserve located at the southernmost tip of Siesta Key and only reachable by water.
Take a kayak tour to reach remote beaches not accessible by land and paddle through the maze of waterways made up of mangrove and tidal flats for optimal bird watching.
Whether you decide to set out on foot, boat, or kayak, to explore the reserve keep your eyes peeled for coastal birds, native plants, fish and even manatees!
7. Siesta Key Drum Circle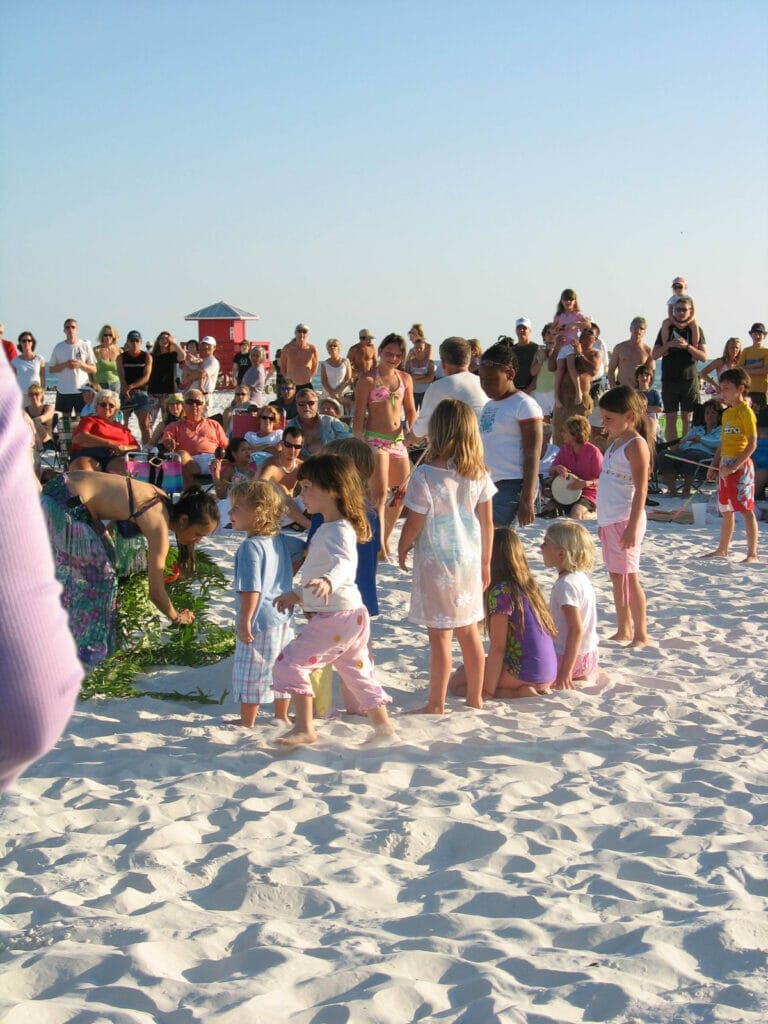 One of the most popular things to do in Siesta Key is to join in the fun at the Siesta Key Drum Circle taking place every Sunday evening about one hour prior to sunset on Siesta Key Beach just to the left of the concession stand.
The Drum Circle is the largest in the area as the drummers have been gathering on Siesta Key Beach entertaining the community and providing music and fun for all ages for over 20 years.
You will be entertained whether you decide to participate, dance, listen or just relax while taking in another amazing Siesta Key sunset.
8. Turtle Beach
Located at the Southern tip of Siesta Key Turtle beach was named after the nesting sea turtles that come ashore each year from May to October.
While the sand is a bit darker and a bit coarser than that of some of the other beaches on Siesta Key, Turtle Beach is a playground for those who love wildlife as you can often watch the nesting turtles (at a respectable distance of course), spot dolphins, manatees and sea birds as you enjoy the quiet relaxation of the water lapping up on the beach.
Rent a kayak or paddle board while you are here to explore the area before you set up camp for the night as Turtle Beach is the only beach on Siesta Key where you can legally set up camp to watch the sunset and then stay to sleep under the stars.
9. Farmers Market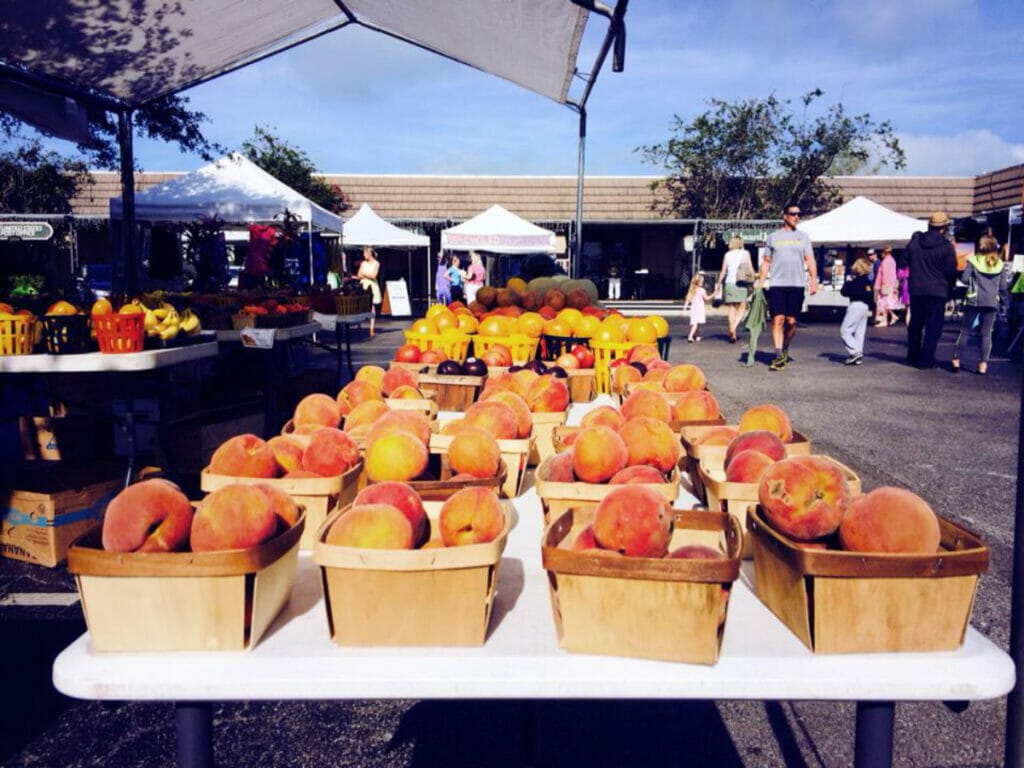 Before heading to the beach for the day, grab your reusable bags, hop on the free trolley and head to the Siesta Key Farmers Market that takes place in the Siesta Key Village every Sunday morning from 8am to noon.
This Siesta Key best kept secret boasts over 40 vendors ranging from art, local produce, jewelry, clothing, artisan crafts, baked goods, local plants, olive oils, organic teas and coffee.
Stroll through the market while being entertained by local musicians and don't forget to grab a breakfast sandwich and coffee from the onsite vendors before setting out for a day of Siesta Key sightseeing.
10. Rent a Boat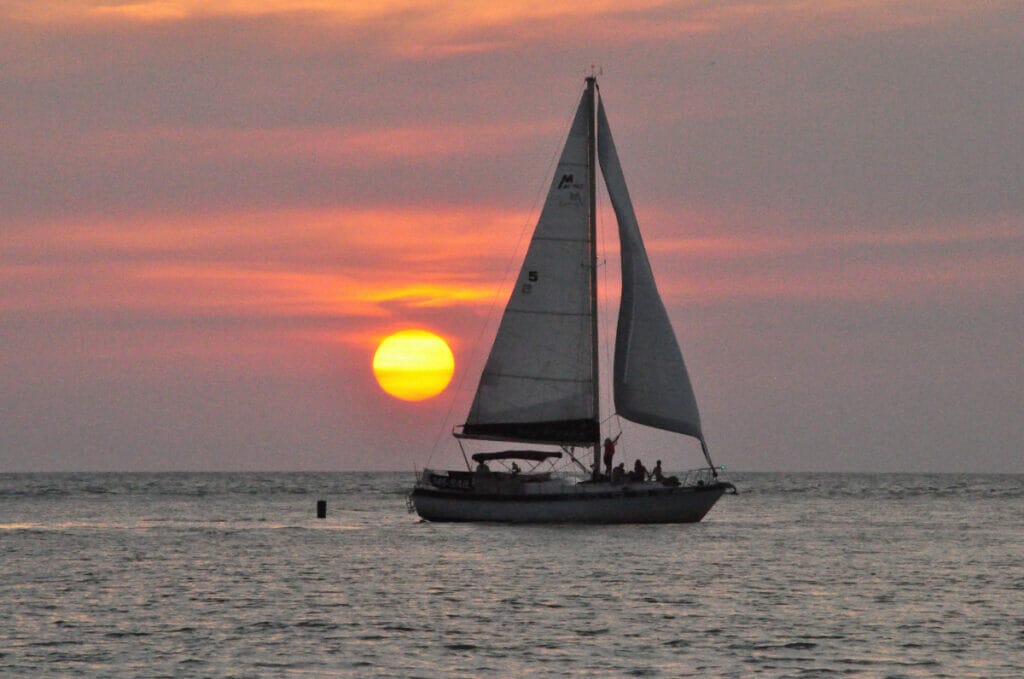 Explore the beautiful waters of Siesta Key by getting out on the water!
Boat rentals provide you with the opportunity to see the area from a different perspective and explore remote areas you cannot reach on foot.
There is nothing like a carefree day on the water so our recommendation is to rent a boat that comes with a local captain allowing you to plan your perfect day and then sit back and relax (perhaps have an adult beverage) while you are chauffeured to the best fishing spots, swimming holes, sandbars, and remote islands that Siesta Key has to offer.
11. Westcoast Black Theatre Troupe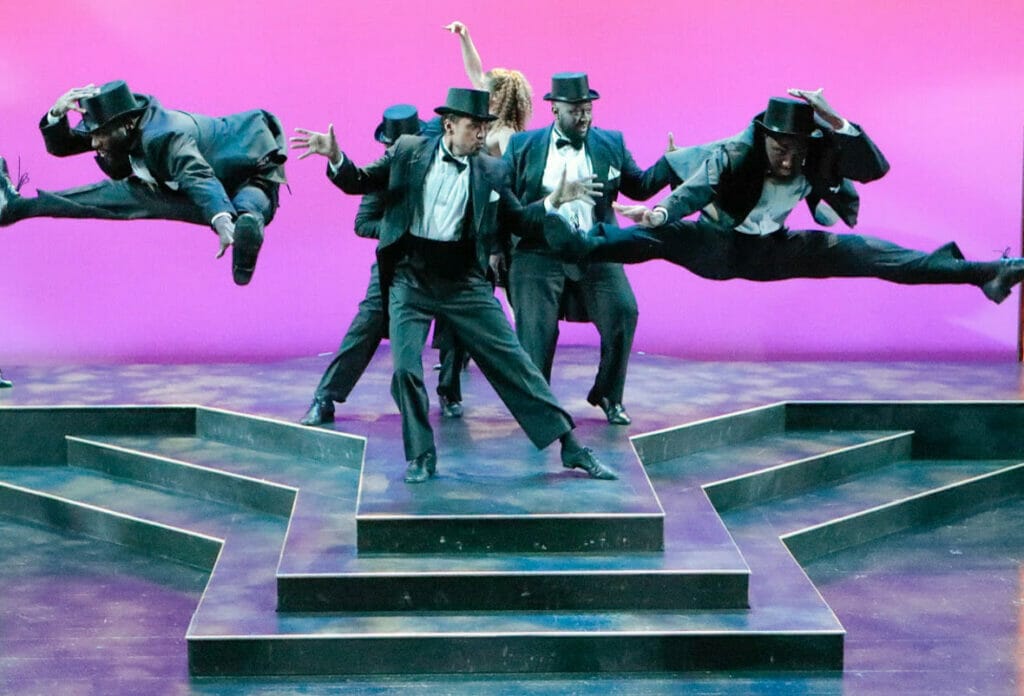 Spend the evening with the Westcoast Black Theatre Troupe just a short drive away in Sarasota taking in a performance of one of their original musicals, Black Broadway classics, live concerts or captivating dramas.
The 200+ seat theater was renovated in 2020 and is now equipped with state-of-the-art lighting and sound systems sure to impress the broad-based audiences that flock to the shows.
Their education and outreach building located adjacent to the theater also hosts classes, additional performances, summer musical intense programs as well as rehearsals and gatherings on the rooftop terrace.
12. Palmer Point Park
Palmer Point Park is located on the southeastern shore of Siesta Key and is not accessible by car, but you can make the trip by boat, kayak or just a short walk heading south from Turtle Beach.
As a reward for your trek, you will be greeted by secluded beaches, a fishing pier, and hiking trails that allow for great birdwatching and exploration of a well-preserved Florida ecosystem.
Palmer Point Park is overflowing with wildlife and natural vegetation but is most well-known for its population of gopher tortoises that can be found snacking on their favorite grasses and small plants that are abundant in the park.
The gopher tortoise is listed as threatened by the Federal Endangered Species Act so be sure to not disturb them or their nests while visiting the park.
13. "Siesta Key" Reality TV Show Bar Crawl
MTV's hit reality tv series "Siesta Key" follows the lives of young locals from the Island showcasing the hot spots they visit along the way.
Pretend to be part of the cast as you hit these local hang outs during a night out on the town!
Start on the north end of Ocean Boulevard at The Beach Club, known for their constant rotation of live music and DJs keeping patrons dancing late into the night.
Your next stop is a few blocks south on Ocean Boulevard called The Siesta Key Oyster Bar where you can grab half off oysters on Happy Hour and comb through the dollar bills decorating the walls left by previous patrons to see if you can locate one from the reality star themselves.
A few doors down you will find the Daiquiri Deck, a Siesta Key staple known for, you guessed it, their famous frozen daiquiris.
End your night across the street at Gilligan's Island Bar and Grill where you will find the largest tiki bar in the area beckoning you inside to lap up one of their delicious tropical drinks.
Take one last selfie on the Siesta Key Trolley which provides safe, free transportation until midnight on the weekends.
14.Spa Experience Siesta Key Sarasota
One of the best things to do in Siesta Key is to indulge in some pampering at the Spa Experience Siesta Key.
For some proper self-care, book yourself the spa package of your choice and let your stress melt away or if you are visiting with your significant other, consider booking a couples massage so you can share the experience with someone you love.
Either way, this 5-star spa will not disappoint!
15. Marie Selby Botanical Gardens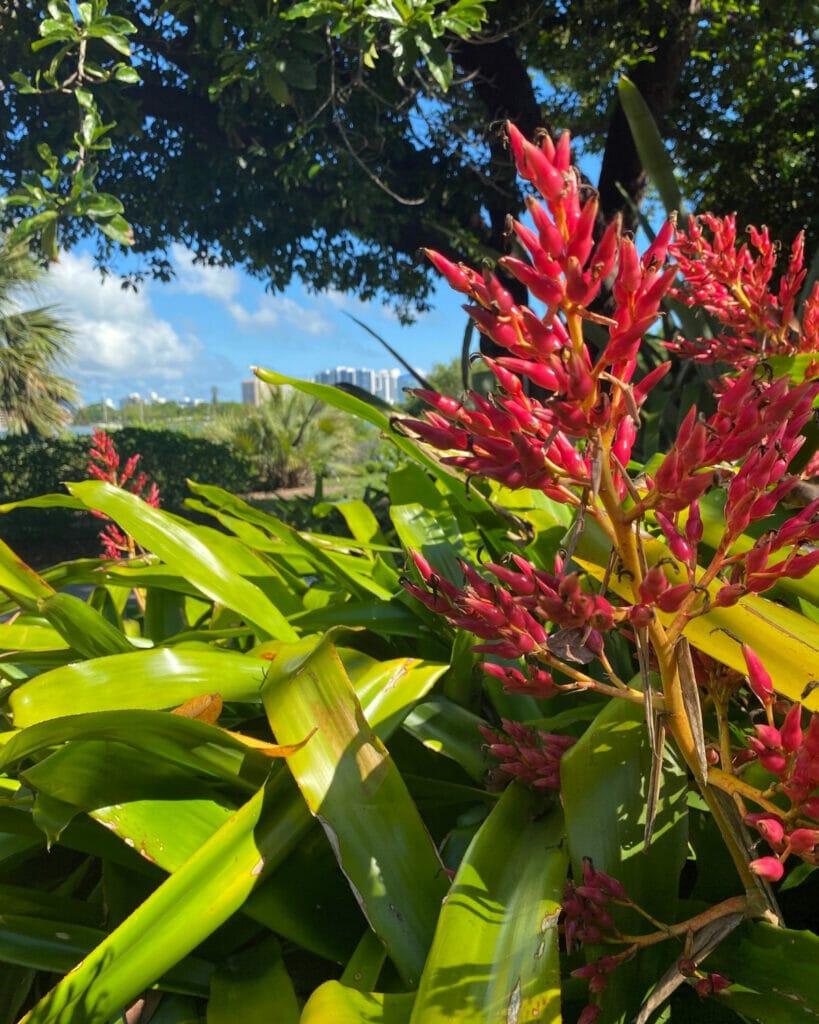 Marie Selby Botanical Gardens is home to 45 acres of bayfront sanctuaries spanning over two locations, making it one of the largest botanical preserves of its kind, designed to showcase and celebrate regional history through native Floridian plants and flowers.
Take a guided tour, meander about the gardens with your own audio tour, join a yoga class, attend one of their special exhibits or workshops or new for 2022, tour the Selby Gardens by boat, taking their new Campus-to-Campus Boat Tour Experience.
Whatever you do just don't miss this Siesta Key attraction!
Parasail over the beautiful turquoise waters of the Gulf and the white sand beaches of Siesta Key.
Experience breathtaking views as you fly 500 feet in the air for a 15-minute ride by yourself or tandem with one or two of your closest friends.
As you float above the crystal-clear waters it is easy to spot sea life like dolphins, manatees, schools of fish and other Florida wildlife.
To end your flight, you can choose to land dry on the boat platform or to make a splash as you return back to the boat.
Either way, this popular Siesta Key attraction will be an experience you never forget!
17. Sunset Boat Tour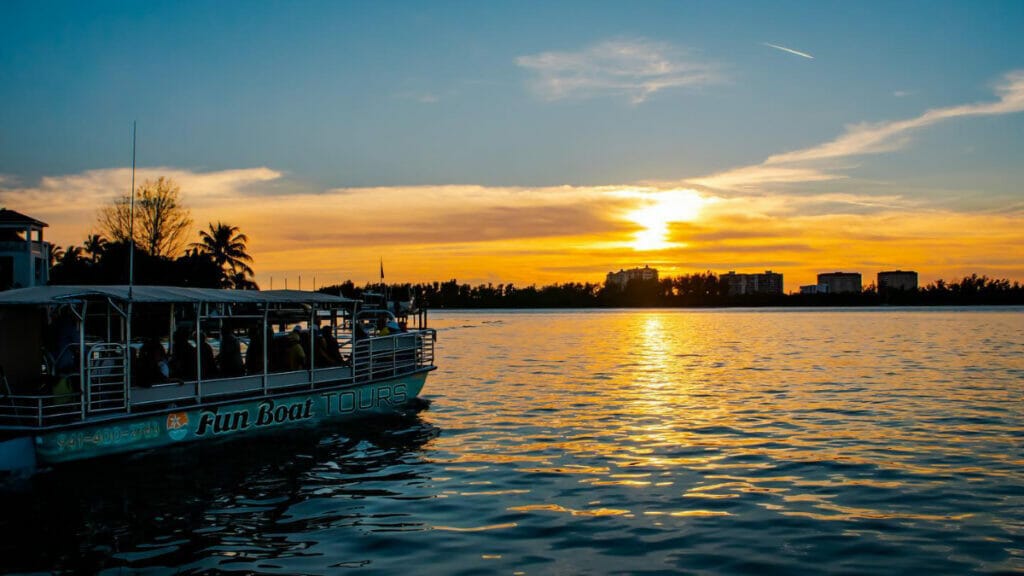 Bring a date or a friend and toast the setting sun over the Gulf of Mexico onboard a Sunset Boat Tour hosted by Fun Boat Tours
This 2-hour boat tour departs one hour before sunset and provides complimentary soda and water. Also, this tour is currently BYOB, so you can feel free to bring your own drinks of choice (don't worry there is a bathroom on the boat).
If you are lucky, you may also spot a few dolphins while you are on the water, making this cruise the perfect way to end your day in Siesta Key.
Pin for later!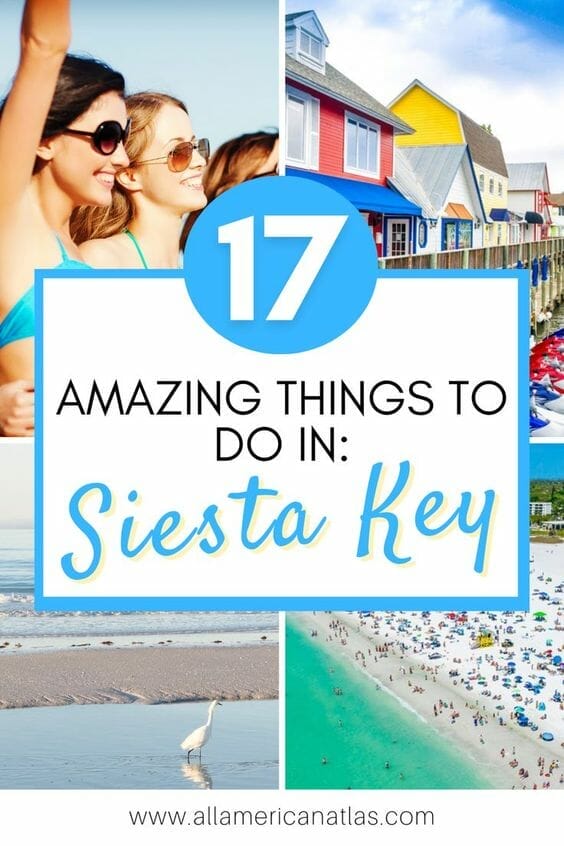 Get the All-American Travel Secrets!
Don't miss out on America's hidden gems!