What is there to do in Kingman, Arizona, you ask?
(And maybe more importantly, where is it?!)
For a historic desert town that's just far enough off the beaten path, yet not too hard to get to, read on to find out about some of the best things to do in Kingman!
Located in Mohave County, AZ, about 100 miles southeast of Las Vegas, this desert town has plenty to keep you occupied and will surprise you with its color and classic Americana things to do.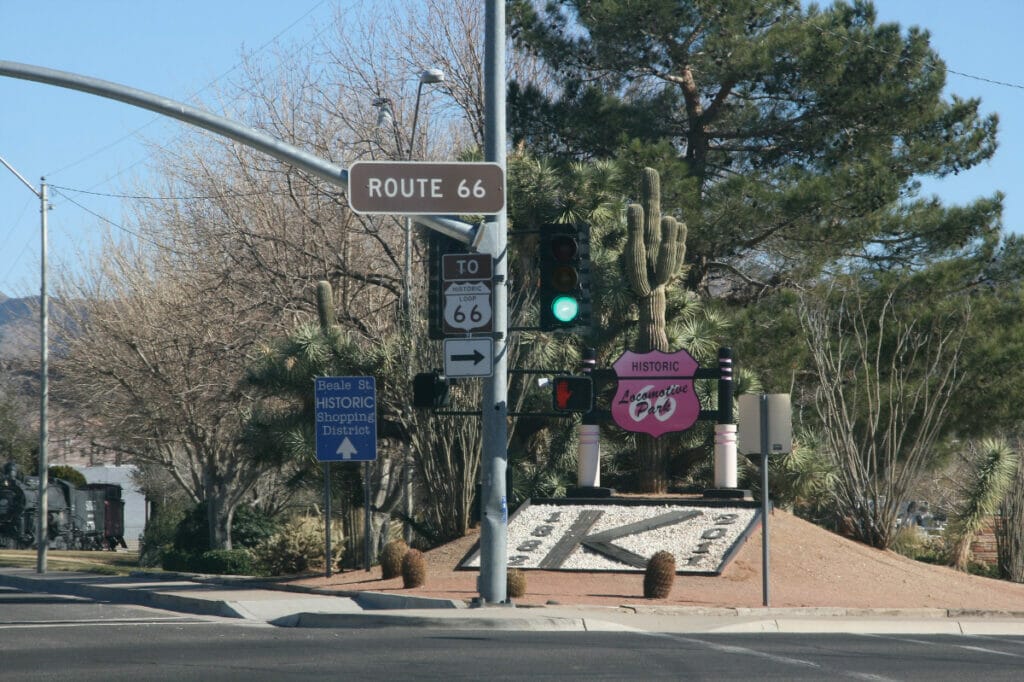 With historic places aplenty and quick access to the outdoors, discover some of the top things to do in Kingman in the list below.
What to Bring to Kingman
If you're not used to the Arizona heat, here are just a few suggestions on what to make sure you have with you, almost year-round.
Getting around Kingman
Don't forget that it's much easier to see Kingman by car so you can get around on your own.
Rental cars are perfect if you're flying into the state.
We recommend using Discover Cars price comparison to find the cheapest deals.
Hey! Want more Arizona content? Check out our other guides!
1. Historic Route 66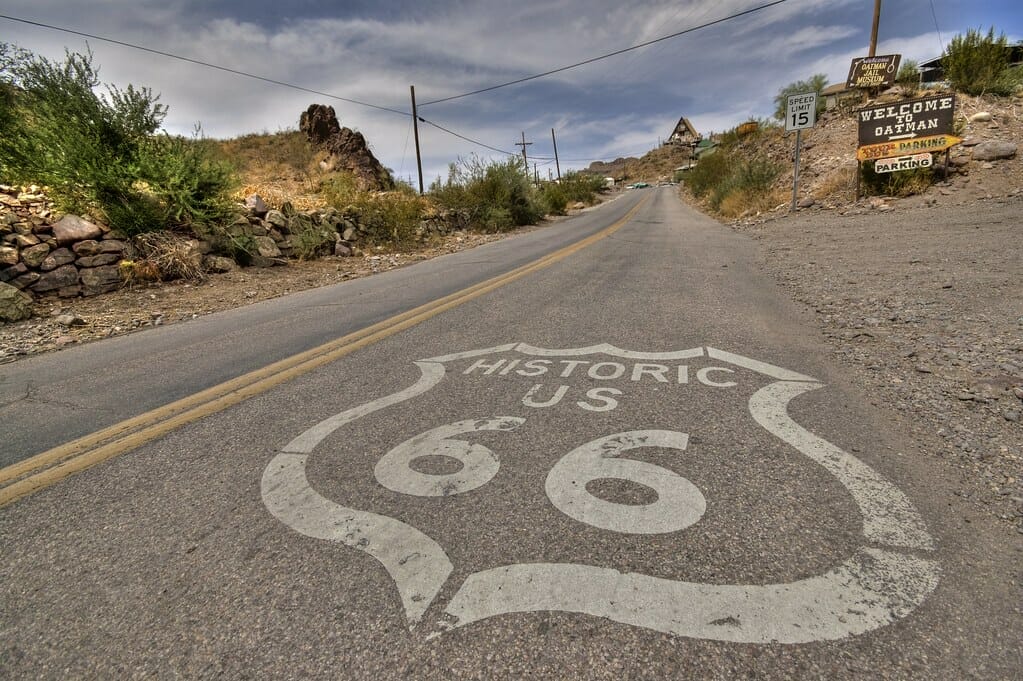 One of its main draws for visitors, Kingman is located directly on historic Route 66 (I'm sure you know the song… you're maybe even singing or humming it now. Admit it, there's no shame, it's a classic!).
While most of the storied route was decommissioned and subsequently retired, State Route 66 (SR 66) running through Kingman is one of the largest in-use portions of the highway today.
Running right through the center of town and accessible from Interstate 40/US Route 93, you can't miss this historic road on your visit to Kingman.
Be sure to get a photo (or several!) with one of the iconic Route 66 signs – a US road trip bucket-list item for sure!
2. Arizona Route 66 Museum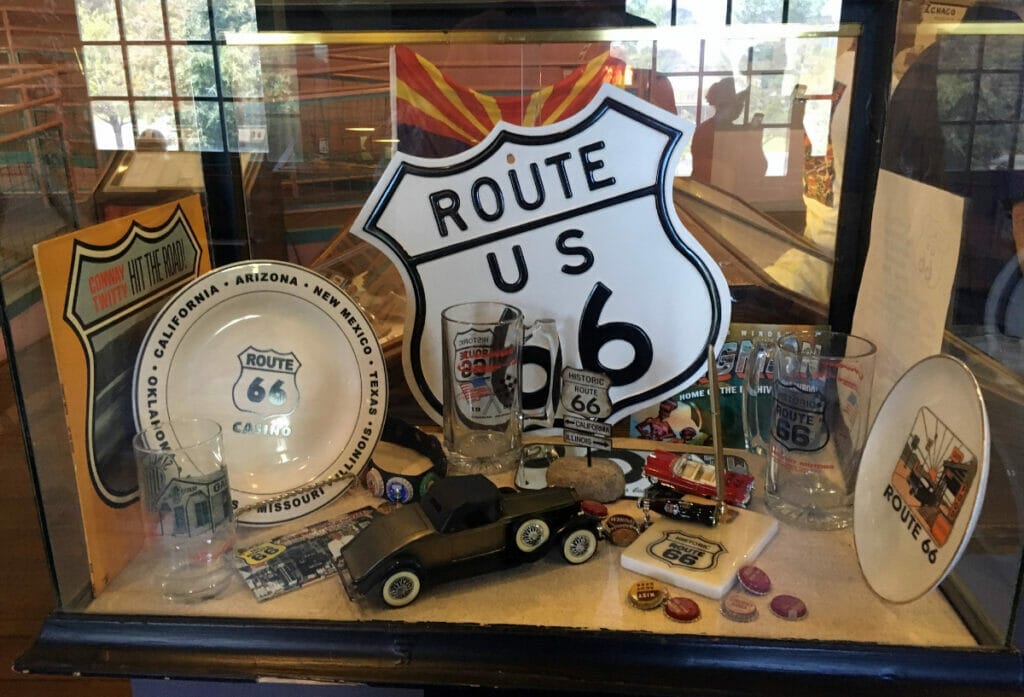 In addition to driving down one part of the original Route 66, why not check out the Arizona Route 66 Museum as one of your Kingman activities?
Housed in the old powerhouse, the Arizona location of the Route 66 Museum boasts a history of how travel evolved in the area and how Route 66 became the iconic road it is known as today.
Step back into the past to before the road was built to discover how it came to be, taking time to reminisce about days past during a much simpler time (though I'm sure folks back then found it anything but!).
3. Route 66 Electric Vehicle Museum
The first museum in the whole of the world dedicated to electric vehicles, the Route 66 Electric Vehicle Museum is one of the top Kingman attractions.
Currently located in the same space as the Arizona Route 66 Museum mentioned above (and included in the same admission ticket), this extraordinary assortment of electric vehicles will be moving to a new space in the coming year to better house the ever-growing collection.
Come see the world-record holder for the fastest electric vehicle, cars owned by celebrities such as music legend Willie Nelson, and much more.
A must-do for any auto or history buffs, this museum is not to be missed.
4. Mohave Museum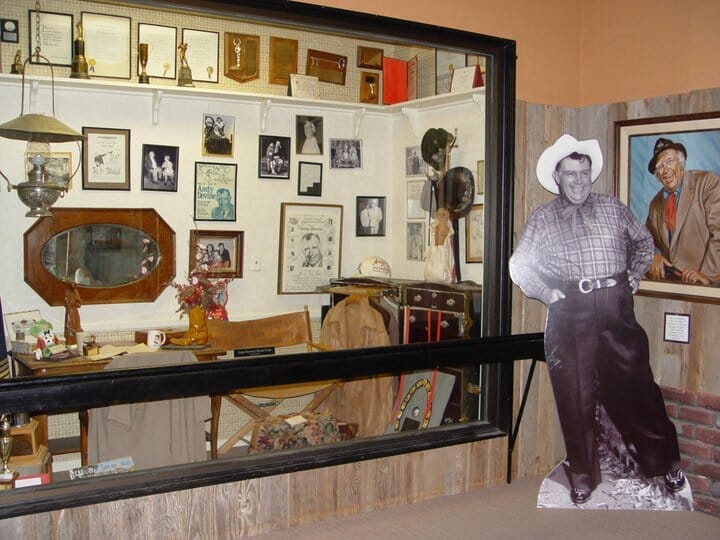 Located on Beale Street, the Mohave Museum of History and Arts is another must-see on the list of Kingman things to do.
The museum allows visitors a glimpse into the vast heritage of Northwestern Arizona through both indoor and outdoor exhibits.
Native American history in the region is showcased with artifacts from the Hualapai tribe local to the area, including various crafts and a full-size replica shelter similar to a wigwam.
Other exhibits include tributes to ranching and turquoise mining industries in Mohave County through the years, as well as quite a few murals and portraits of presidents and first ladies in the Hall of Presidents, keeping with the museum's theme combining both history and art.
5. Bonelli House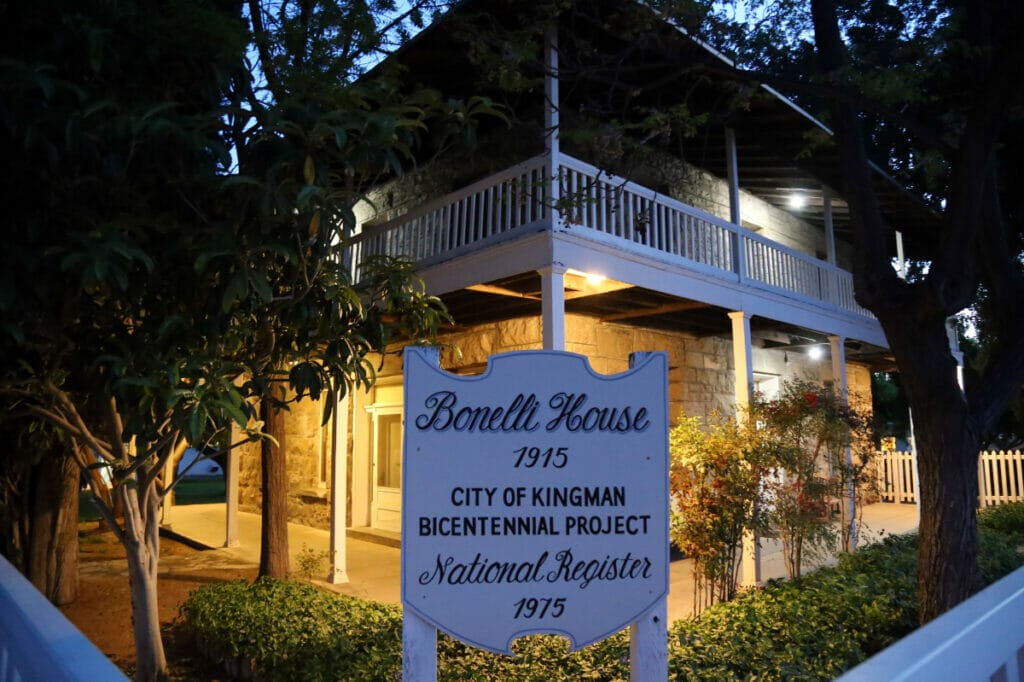 The original Bonelli House was built in 1894, on property that cost George A. Bonelli only $40 – a true bargain even if you adjust for inflation!
Quite the innovator in his time, George installed electric wiring; however, in 1915, there was short that destroyed the second floor of the house and most of the family's belongings…
Not to worry though, a new house was built, with a focus on fire safety this time – the new model has exits onto the veranda from all rooms and both floors, and a five-point passive air conditioning system.
The Bi-centennial Project then turned the house into a museum and put it onto the National Register of Historic Places in 1975, so you can now tour the house as part of combined admission with the Mohave Museum and the Route 66 Museum.
Why not take a stroll through to see how the influential Bonelli family lived and worked back in the olden days of Kingman?
6. Locomotive Park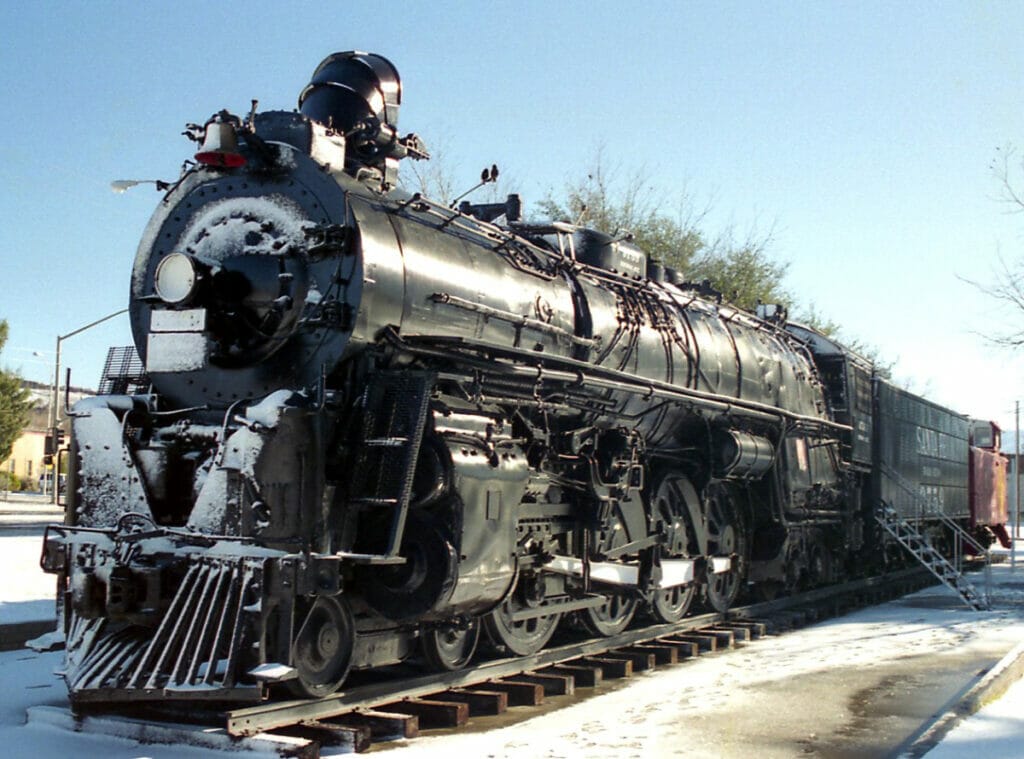 If you're interested in transportation-related activities, then check out Locomotive Park.
Located between Beale Street and historic Route 66, the park features a steam engine and a caboose, both retired models and not replicas!
The famous engine #3759 originally was coal-burning, but was converted to run on oil fuel, and was gifted to Kingman by the Santa Fe Railway Company.
Visit the park and climb up into the steam engine's cab, envisioning what it was like back in the golden age of railroads in America.
7. Hualapai Mountain Park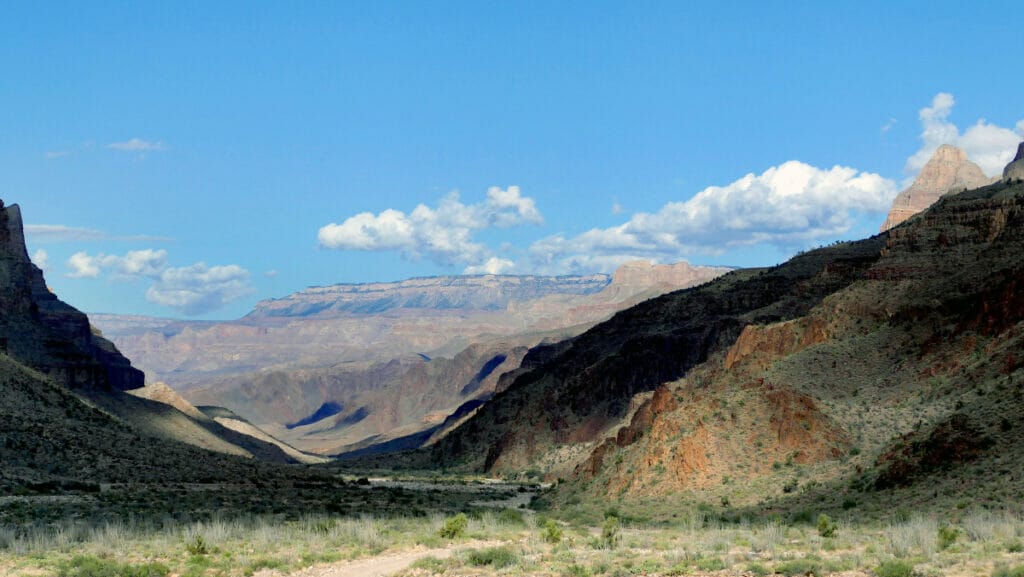 If outdoor fun things to do in Kingman is more your thing, then head east from Kingman to the Hualapai Mountain Park.
While Kingman itself is most definitely a desert town, the Hualapai Mountain Park has elevations spanning 4984 to 8417 feet, making it significantly cooler that the city in the warmer months, and even a little snowy in the winter!
Feeling adventurous?
There are 14 hiking trails to choose from, covering a variety of elevations, skill levels, and developed or undeveloped terrain.
Wanting to just take it all in?
You'll see plenty of wildlife including all sorts of birds, mule deer, or the more elusive fox or elk (though hopefully not any mountain lions!).
There are various spots for picnics all over the park, and if you're looking to stay longer, you can rent a cabin, book a camping spot, or park your RV on a scenic mountaintop for the night.
8. Beale Street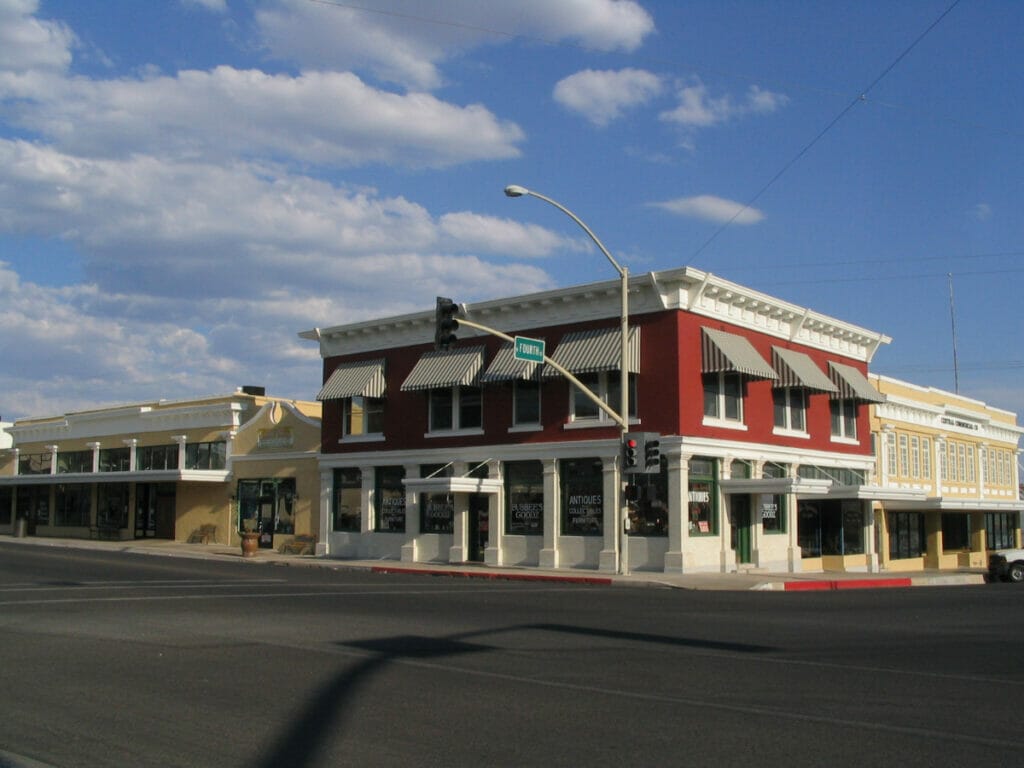 Not the one in Memphis, but still worth a visit while doing your Kingman sightseeing, Beale Street hosts a monthly car show in Kingman, attracting locals and out-of-towners alike.
Check the city website for confirmed dates, typically the third Saturday of the month, so if it happens to fall while you're visiting Kingman, you don't miss it!
Whether you're a fan of classic autos, custom builds, motorcycles, eco-friendly cars, or something in between, stroll down Beale to check them out.
And even if you're not the biggest car nut, you can still come along and stay for the music, food, and generally fun atmosphere of this monthly event.
9. Historic Downtown Kingman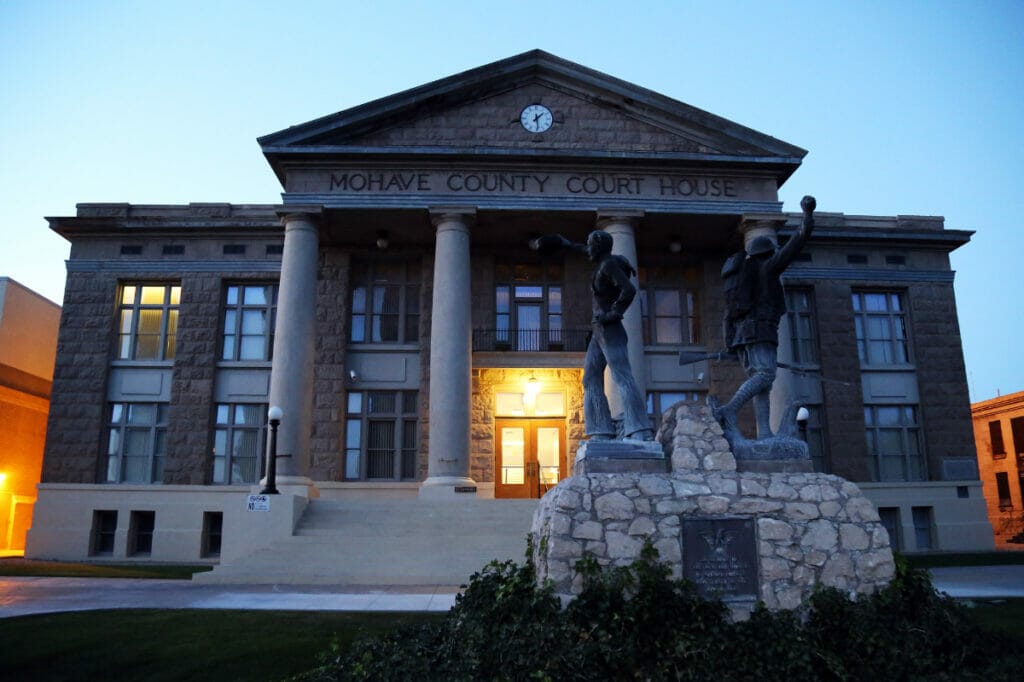 Historic Downtown Kingman includes many of the top things to do in Kingman that are found on this list but is worth its own entry due to the sheer number of places that are on the National Registry of Historic Places.
You can pick up a free guide map at the Visitor Center and plan your own walking tour through this central district so you can go at your pace and in whatever order you'd like.
Museums, historic houses, the Little Red School House, and Hotel Beale are just some of the buildings you can see on your walkabout.
There's also Camp Beale's Spring, which once served as an army camp, and the Historic Mesquite Tree, which is over 200 years old!
10. Giganticus Headicus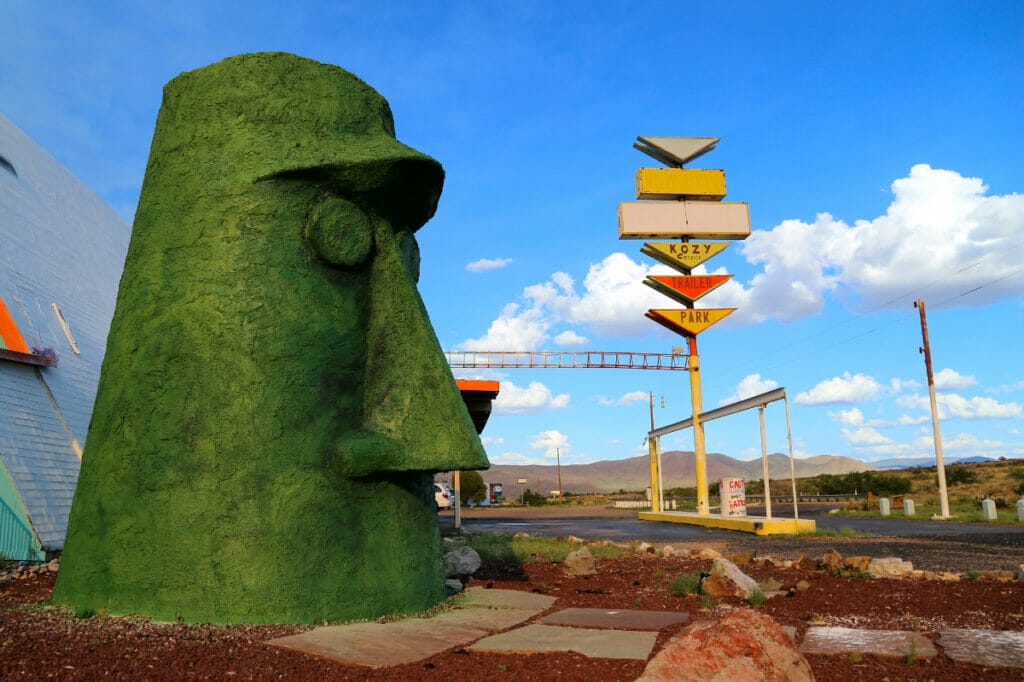 While its name is completely made up and not at all proper Latin, you might have guessed that Giganticus Headicus is in fact a giant head – a huge, green, tiki head that is!
Created by local artist Gregg Arnold, it stands 14 feet tall and looks reminiscent of the statues found on Easter Island (except for the bright green part!).
Swing by Antares Point as you drive down Historic Route 66 and there is no possible way you could miss it, so you best stop and get a photo or two to commemorate seeing this odd artwork.
11. White Cliffs Wagon Trail
Another one on the adventurous end of stuff to do in Kingman, the White Cliffs Wagon Trail is a unique road for sure.
Used as a mining route back in the late 1800s, there are deep tracks from wagon wheels permanently dug into the ground, with grooves still very visible along either side of the road that were used for ropes and posts to help the wagons navigate the steep terrain of the area.
The road began to decline in use around the turn of the century and was then completely unusable after a flood in 1925, but you can still make out an old ad on the rock side for the Old Trails Saloon, believed to be from around 1900.
12. Kingman's Route 66 Swap Meet
One of the popular things to do in Kingman is visit the Route 66 Swap Meet, a flea market open on Fridays and Saturdays.
Vendors change weekly, but you can expect to a variety find arts and crafts, antiques, jewelry, tools, and car parts for sale, as well as numerous Route 66 souvenirs, given the namesake.
A snack bar is available for both breakfast and lunch fare, with local treats and home-cooked favorites available to quell your appetite while you shop.
An art contest and art creation corner is available for kids, with a change to earn prizes, and the swap meet is recognized as a geocaching location as well.
13. Cerbat Cliffs Golf Course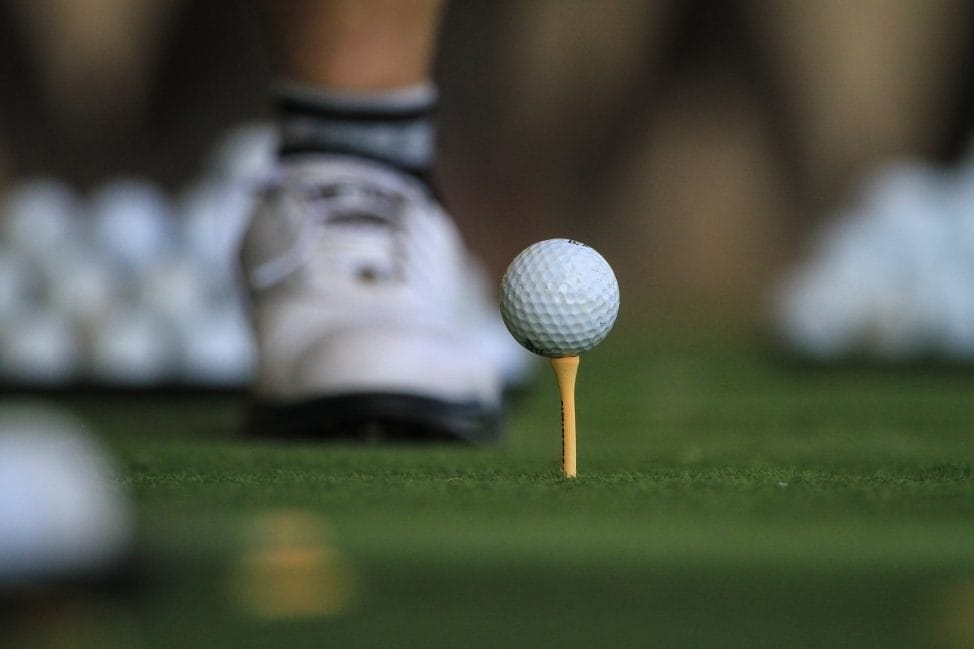 Looking to do a bit of golf while visiting Kingman?
Well, you're in luck, as Kingman has its own 18-hole championship course in the Cerbat Cliffs Golf Course.
The course is open all year round and open to the public and has a driving range and a chipping and putting green.
Nestled against natural rock bluffs, it features tight fairways which are great for well-seasoned players, but still enjoyable for those who are more at a beginner level.
A pro shop provides golf cart rentals, as well as any equipment you might need, and there's also a bar and grill onsite for all your food and drink needs.
14. Monolith Garden Trail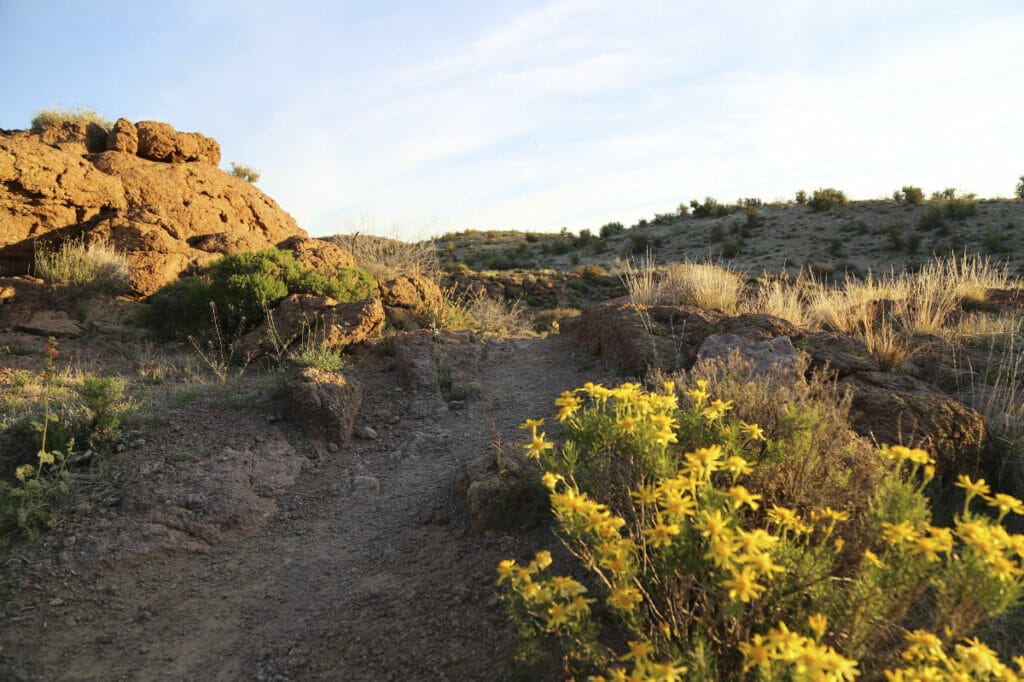 Calling all adventurers to the Monolith Garden Trail!
If you're a hiker, biker, runner, or horseback rider, and are looking for a scenic trail meandering through the Mohave Desert, then you've found it here with one of the top things to do in Kingman.
Whether you're on foot, horse, or bike, explore this looped trail covering approximately 7 miles of desert landscape.
Be warned though that there is very little shade, and you'll need to bring your own water, so keep that in mind during peak summer months.
But the volcanic rock formations make this trail well worth it for all visitors to the area, so why not give it a try?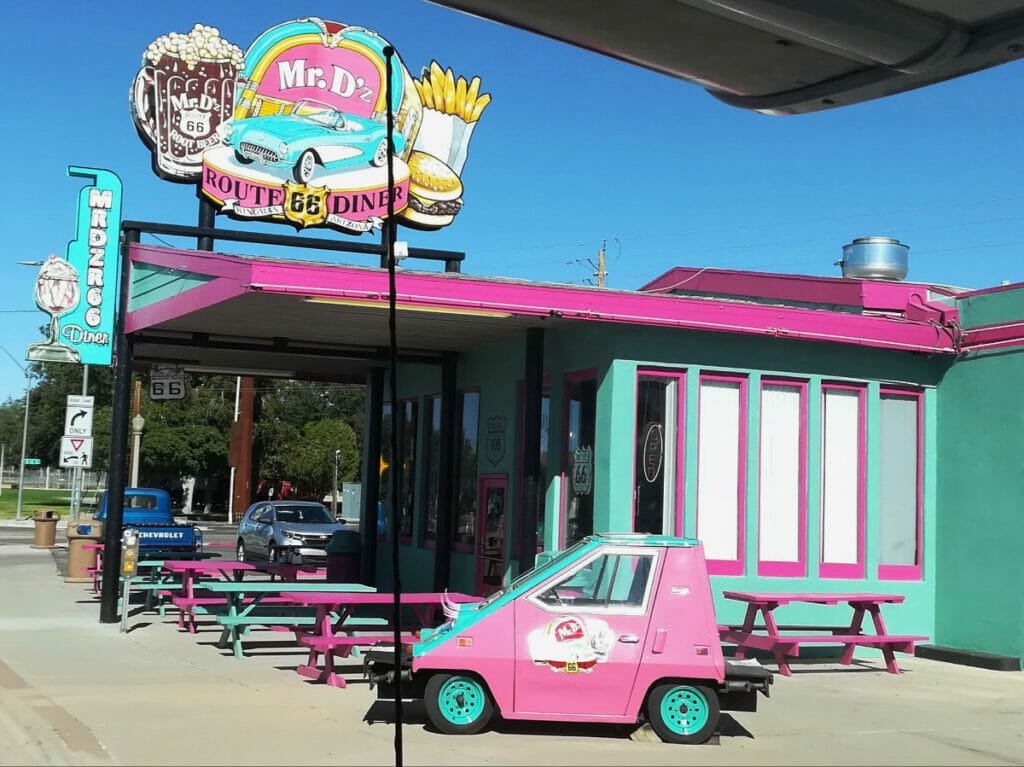 What trip to historic Route 66 is complete without eating at an old-fashioned diner?!
The answer of course is no trip ever, which is why Mr. D'z is one of the top things to see in Kingman.
You're firstly here for the food, which covers all the traditional diner classics you know and love, and they also make their own homemade root beer.
But you stay for the memorabilia, all Route 66-themed, obviously, and there are often some old-school cars parked alongside the diner for the additional nostalgia factor.
No trip to Kingman is complete without at least one meal at this diner, so be sure to stop in for breakfast, lunch, or dinner, or all three – no shame!
16. Desert Diamond Distillery Tours Tastings & Cocktails
With a short drive from downtown Kingman, you can visit the oldest craft distillery in Arizona and one of the only ones that is available to tour by the public!
The Desert Diamond Distillery is located at the Kingman Airport and offers tours "behind the curtain" of the family-owned working distillery.
It makes a variety of "Gold Miner" branded spirits: four different types of rum: white, dark, agave, and barrel reserve, two types of whiskey: 7-year wheat and corn, as well as a vodka.
There's also a delicious restaurant located in historic Train Car #40 – reservations are strongly encouraged for daily lunches, and necessary for their twice monthly chef's dinners featuring local-sourced ingredients.
17. Cerbat Lanes Bowling Alley
If you're looking for some classic fun for the whole family or those who are young at heart, then look no further than Cerbat Lanes.
This bowling alley features 24 lanes that can have bumper rails if needed, plus an arcade full of video games to keep the kids entertained.
For the adults, there is an off-track betting booth available inside the bar, as well as pool tables and darts.
On Fridays and Saturday nights, there's Cosmic Bowling, which is always fun no matter how old you are, and they also offer combo packs of bowling and shoe rentals, plus food and drink options for when you work up an appetite.
Pin for later!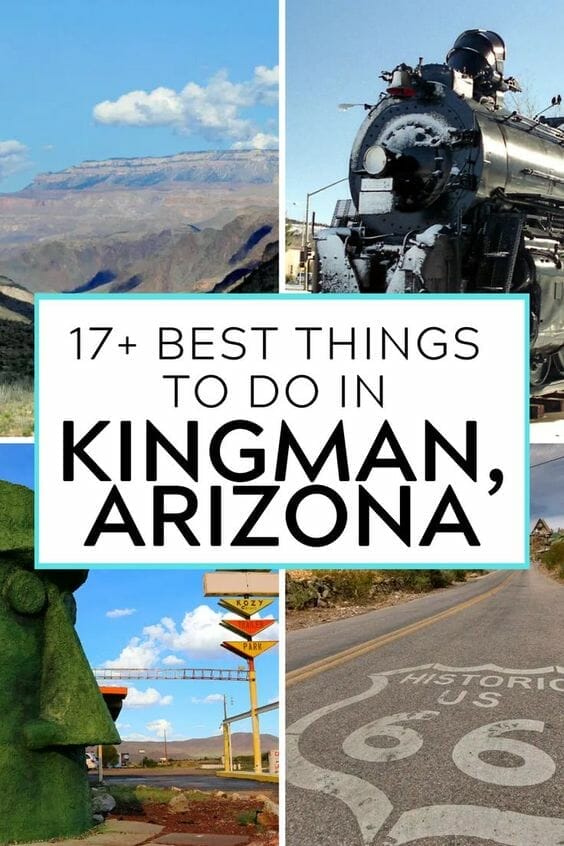 Get the All-American Travel Secrets!
Don't miss out on America's hidden gems!