Located among the eastern suburbs of Phoenix, Tempe, Arizona is located right past the Phoenix Sky Harbor International Airport, making it an ideal home base for anyone coming to the Phoenix area for work or leisure.
So what fun things are there to do in Tempe you might ask?
There are tons!
From amazing arts, both live and in museums, plenty of outdoor activities of all types, numerous parks, and lots of history, there's absolutely something for everyone to enjoy.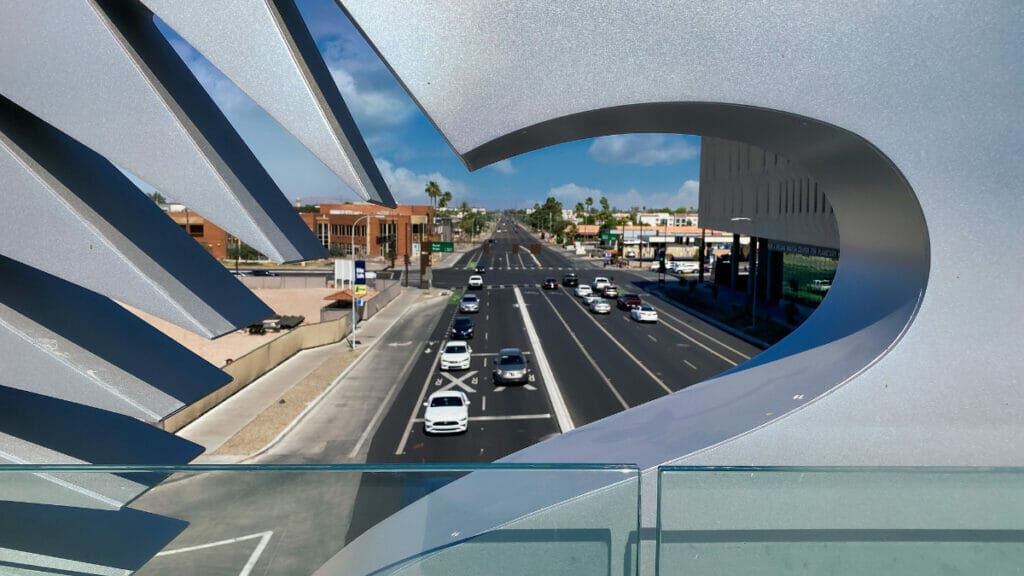 What to Bring to Tempe
If you're not used to the Arizona heat, here are just a few suggestions on what to make sure you have with you, almost year-round.
Getting around Tempe
Don't forget that it's much easier to see Tempe by car so you can get around on your own.
Rental cars are perfect if you're flying into the state.
We recommend using Discover Cars price comparison to find the cheapest deals.
So if you're planning to do a full-on trip of the American Southwest and need some city life between national parks or if you're just visiting for a weekend, read on for some of the best things to do in Tempe!
Hey! Want more locally-approved Arizona guides? Check these out!
1. Arizona State University
One of the most well-known things about Tempe is that it is the home of Arizona State University.
Arizona State, or ASU, is one of the country's largest public universities, and while it used to have a bit of a party reputation, it has produced a vast number of scholars ranging from Pulitzer Prize winners to Nobel laureates.
The school's Sun Devils play in the PAC-12 conference in a variety of sports from football to basketball and everything in between, so why not catch a game while visiting the Tempe area?
Even if all you have time for is a wander through campus, ASU is a great place to explore in Tempe.
2. Tempe Center for the Arts
Affectionately known to locals as TCA, the Tempe Center for the Arts sits right on the Tempe Town Lake.
Its architecture has been described as striking (we'd agree), and it was beautifully designed by a local architecture firm, Architekton.
TCA plays host to a variety of resident artists across music, dance, and theater, including the Arizona Wind Symphony and Desert Dance, as well as special and seasonal events throughout the year.
There is also a gallery space that is free to tour, and features exhibits that rotate throughout the year and showcase artists from near and far.
If you're looking for some culture, TCA is definitely one of the popular things to do in Tempe.
3. Tempe Town Lake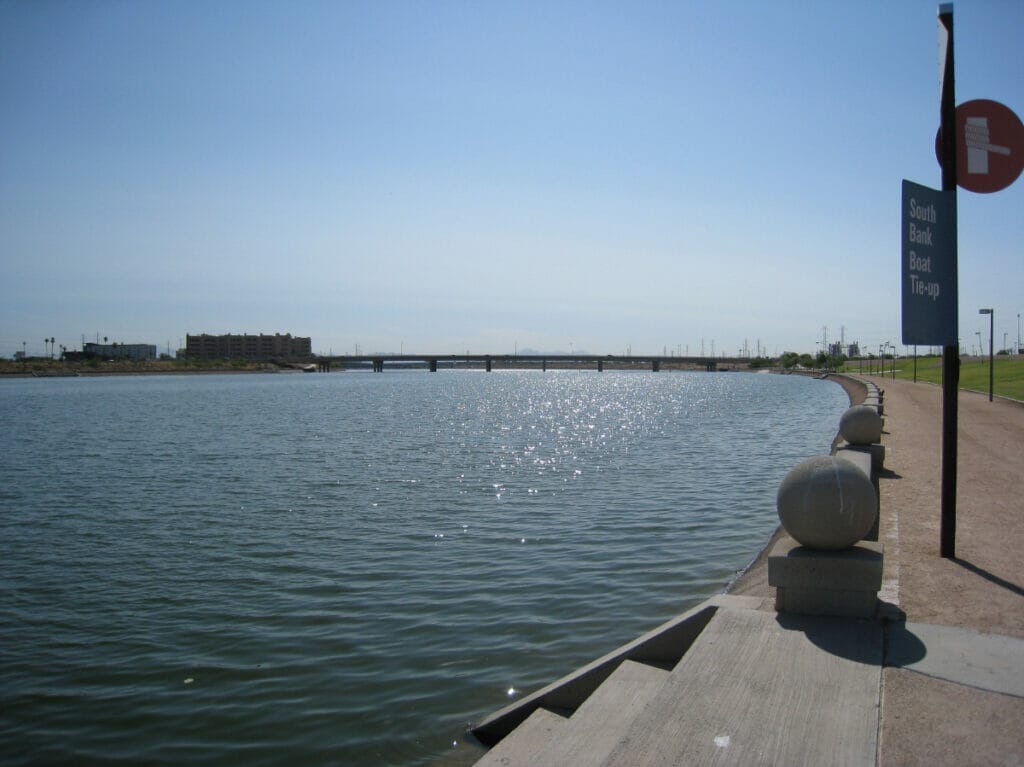 Located right next to the Tempe Center for the Arts is Tempe Town Lake.
It is a reservoir created by damming the Salt River within the Tempe city limits, providing a cool oasis to Phoenix-area residents.
Walkable from downtown Tempe, the lake looks beautiful at night reflecting the lights from the TCA building, and sparkles during the day in the desert sun.
Visit the lake for a variety of water-centric activities, including fishing, rowing, kayaking, and stand-up paddleboarding (also know as SUP).
The perfect place to beat the heat of the desert, Temple Town Lake is not to be missed!
4. Tempe Beach Park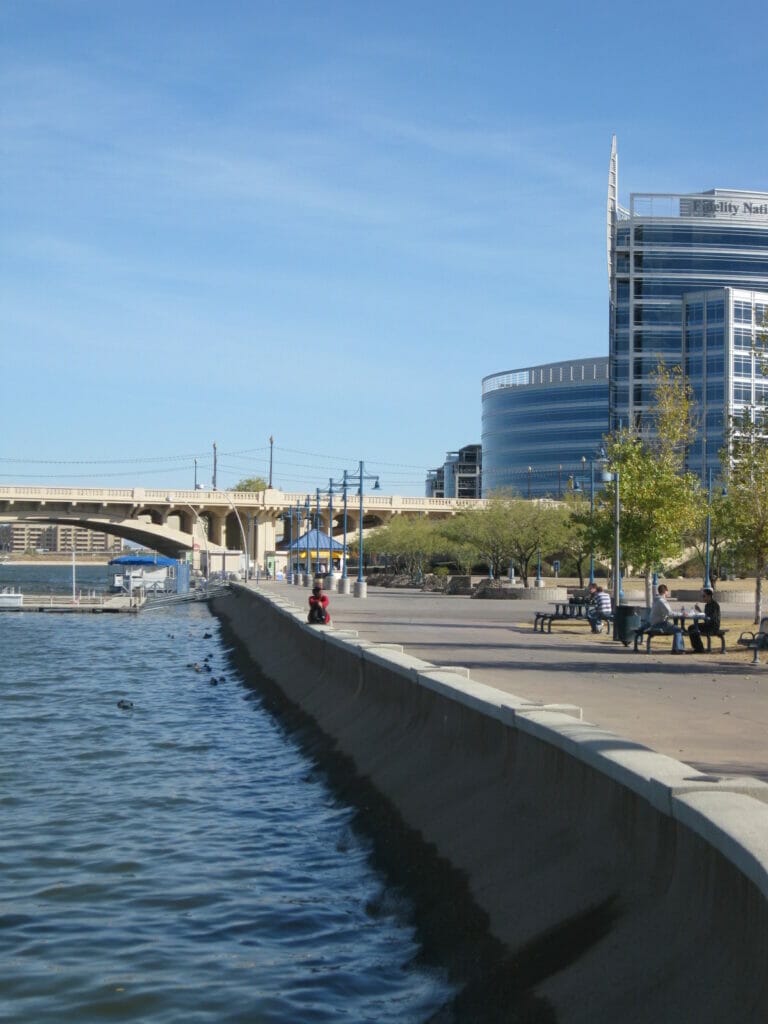 If you're looking to admire the water, but not necessarily wanting to get your feet wet, why not visit Tempe Beach Park right on the edge of Tempe Town Lake?
Take a stroll down over 5 miles of trails and paths within the 25-acre urban park, stop to have a picnic lunch or snack in the shade, or just relax and stare out at the water flowing by you.
Tempe Beach Park also hosts a variety of events such as concerts and festivals, as well as an annual boat parade, so be sure to check their event calendar to see what's on during your visit to Tempe.
5. Hayden Butte Preserve
Centrally located within Tempe, Hayden Butte Preserve is home to what is know as "A" Mountain.
This historic butte has ties to the Sun Devil community and alumni at ASU, who created the "A" at the top of the mountain, and the Salt River Pima-Maricopa Indian Community for whom it is a sacred place tying them to their ancestors.
Within the preserve, there are about 500 well-conserved petroglyphs dating back to the prehistoric Hohokam people.
If you do fancy a climb up Hayden Butte, you'll be rewarded with awesome views of the city, but be sure to stay on the path and not damage the natural surroundings that the city of Tempe has worked hard to maintain against the popularity of the mountain.
6. Skyspace: "Air Apparent"
Designed by James Turrell, a premiere artist working in the Light and Space movement, Skyspace: "Air Apparent" is an art installation located on ASU's campus near its science buildings.
One of many Skyspaces installed throughout the world, the one in Tempe was completed in 2012 and is situated at the setting of true magnetic north.
Skyspace is unique within Tempe sightseeing in that it is meant to provide a space to reflect and meditate on the world while being immersed in almost otherworldly light and shadow depending on the time of day, with sunrise and sunset being peak times to experience it.
7. SEA LIFE Arizona Aquarium
A great way to beat the heat if you're visiting in the summer, SEA LIFE Arizona Aquarium is one of the top things to do in Tempe.
It features a fully 360-degree ocean tunnel, allowing visitors to experience the incredible creatures from all angles.
Come see seahorses, stingrays, turtles, sharks, and many more types of marine wildlife through a variety of exhibits that are perfect for kids, but enjoyable for any age.
There are touch pools where you can get up close and personal with friendly sea animals and brand-new sea turtle rescue exhibit that focuses on how SEA LIFE works to rehab endangered sea turtles.
8. ASU Art Museum
Featuring free admission, the ASU Art Museum is also located on the ASU campus in Tempe.
The exhibits rotate every season and aims to spotlights Latin American art, including the United States' largest Cuban art collection.
The main art museum focuses on both historic and contemporary artists from around the country and the world, while the nearby Ceramics Research Center showcases nearly 4,000 ceramic objects.
As it is associated with the university, it also features an artist residency program bringing in some of ASU's students, faculty, and alumni into the spotlight.
Tours are available of both locations on request and there is a museum store open during gallery hours.
9. Tempe History Museum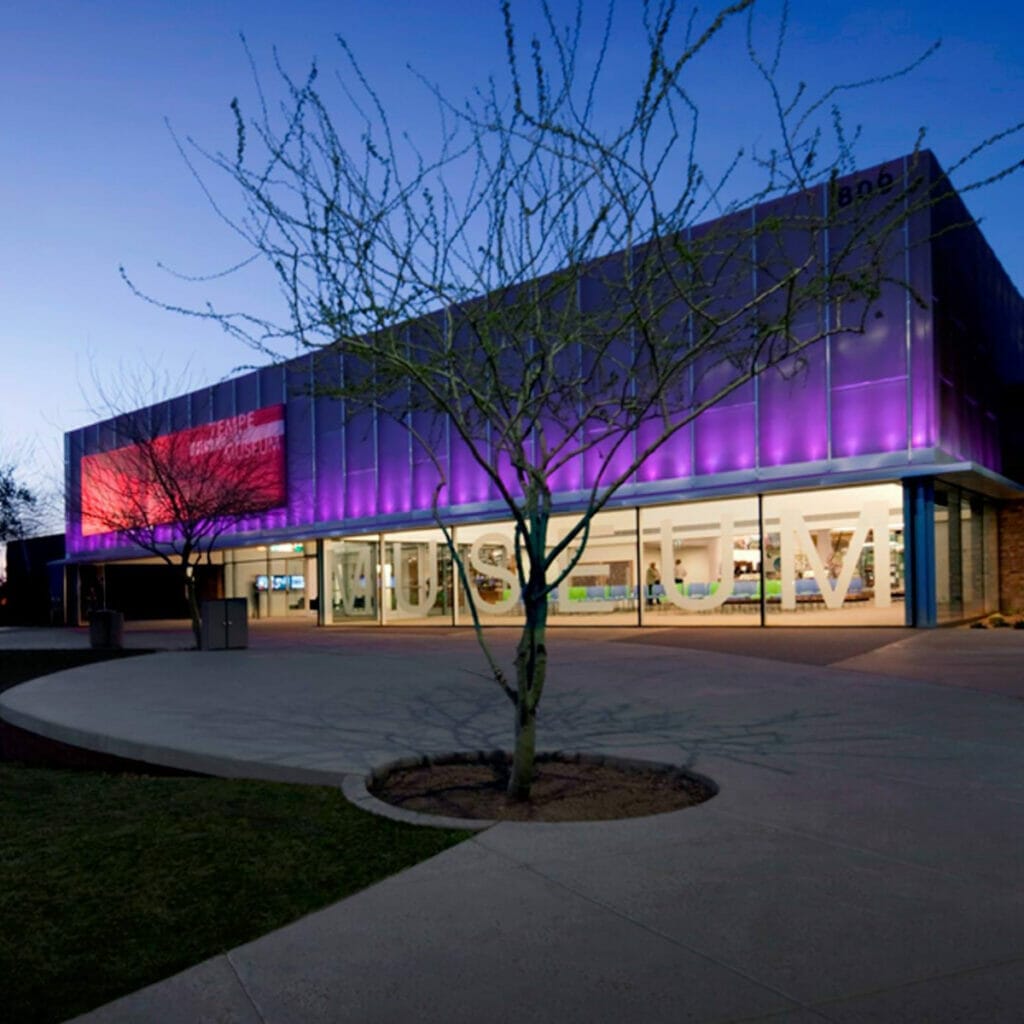 Another free thing to see in Tempe, the Tempe History Museum is open Tuesday-Saturday and focuses on the history of the Tempe area.
It offers exploration of Tempe through four themes: College Town (referring to ASU, obviously!), Building Our Community, Living Together, and Surviving the Desert.
There is a main gallery and a community room gallery, both with rotating exhibition features, and a dedicated children's area geared toward younger visitors.
The museum also hosts events, such as lecture series, musical performances, and holiday celebrations, so be sure to check out their website if you are planning a visit to Tempe.
10. Papago Park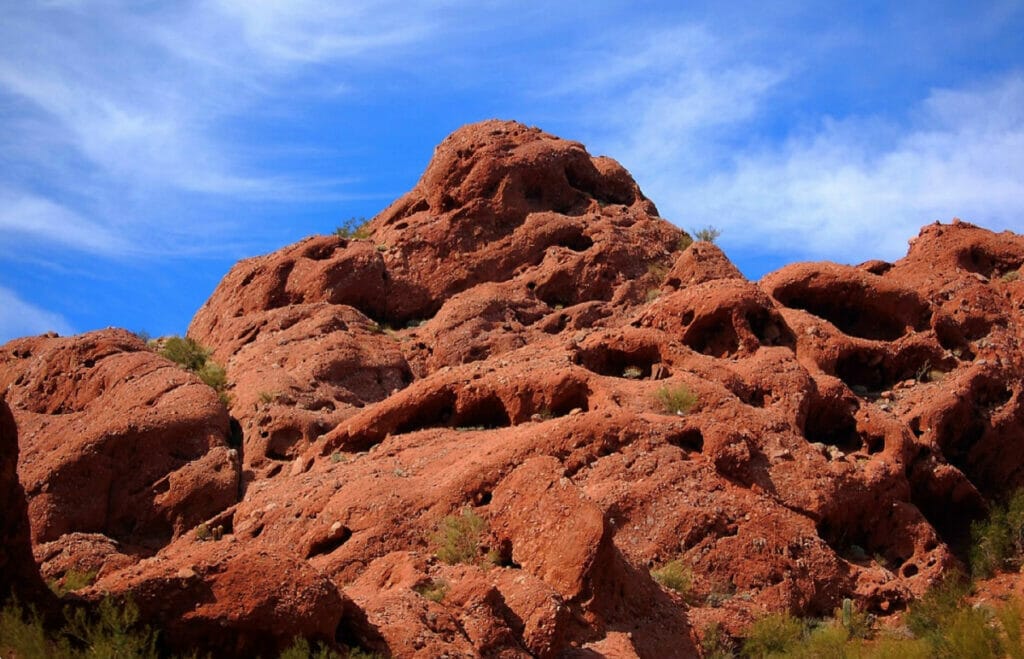 Located north of Tempe Town Lake, Papago Park spans 1,500 scenic acres.
If you're unsure of exactly what stuff to do in Tempe, this is good place to go for its variety of both attractions and excursions.
You can visit the Desert Botanic Garden, Phoenix Zoo, or the AZ Heritage Center while in the park.
Or you can take one of the many hiking or biking trails; the "Hole in the Rock" hike is a popular one (bet you can guess how it got its name!).
With space for picnics, lagoons scattered throughout, and even a dog park, Papago Park really has something for everyone.
11. Rolling Hills Golf Course
If you are looking to play some great golf while visiting Tempe, look no further than Rolling Hills Golf Course.
18-holes can be found within the previously mentioned Papago Park, giving it scenic desert views while still being in the city.
Rolling Hills features a driving range if that's more your speed and has instructors available if you want to improve your game or are looking to learn for the first time.
It also has an onsite bar and grill if you happen to get hungry or thirsty, as well as a well-stocked pro shop for all your golf-related needs.
12. ASU Gammage
Designed by famed architect Frank Lloyd Wright, ASU Gammage is the university's performing arts center and is definitely worth a visit on your next trip to Tempe.
It hosts a year-round Broadway series featuring touring casts of classic musicals such as The Lion King, as well as well-known plays like Harper Lee's To Kill a Mockingbird.
As a student arts center, new works are produced frequently to showcase up and coming talent from the ASU student body.
ASU Gammage also supports the local Tempe community through outreach programs catering to children and high school students, veterans, and other underserved groups.
13. Hayden Flour Mill
Located on the edge of Hayden Butte Preserve, the Hayden Flour Mill is a historic and iconic Tempe landmark.
The current mill building and its surrounding silos dates back to 1918, but the site has always held a mill building since 1874.
Though it hasn't been in use since 1998 and tours are not offered, the Hayden Flour Mill is worth a stop on your way up Hayden Butte as a quintessential Tempe attraction.
14. Stray Cat Theatre
Though performing its shows at the hard to miss Tempe Center for the Arts, Stray Cat Theatre (SCT) is an indie theater group described as "decidedly off the beaten path".
While ASU Gammage is your venue for those Broadway classics you know and love, Stray Cat Theatre at TCA focuses on contemporary works that are likely not as well known, but are sure to make a statement, nonetheless.
If you're feeling up for a bit of an indoor adventure rather than an outdoor one, SCT is the place to do just that.
See their website for a list of past works to get a sense of what they offer – most recently they performed the Tony-winning musical Assassins.
15. Public Art Works
Not necessarily the first place you would think of for public art, Tempe will surprise you!
The city is host to a variety of permanent and temporary public art installations, ranging from sculptures, murals, and even things in between.
Some of the art is even functional, such as bus stops or park benches – you may not even realize you're standing or sitting near a work of public art!
Visit tempe.gov for a downloadable or interactive map of the various installations around Tempe and take a tour at your own pace or make sure you see the works nearest the other Tempe activities you partake in during your visit.
16. North Linear Park
Located on the north side of Tempe Town Lake is North Linear Park, another one of the best Tempe things to do, especially if you want to be outside, but beat the heat.
It features a sandy beach frequented by kids and adults alike, and there are sand volleyball courts nearby if you want to play a game (and it's not too hot!).
The park has direct water access for rowers and kayakers, and you can often spot some small fish in the water.
A multi-use path runs through the park, making it a popular place to start or end a bike ride or daily walk.
17. Snakes & Lattes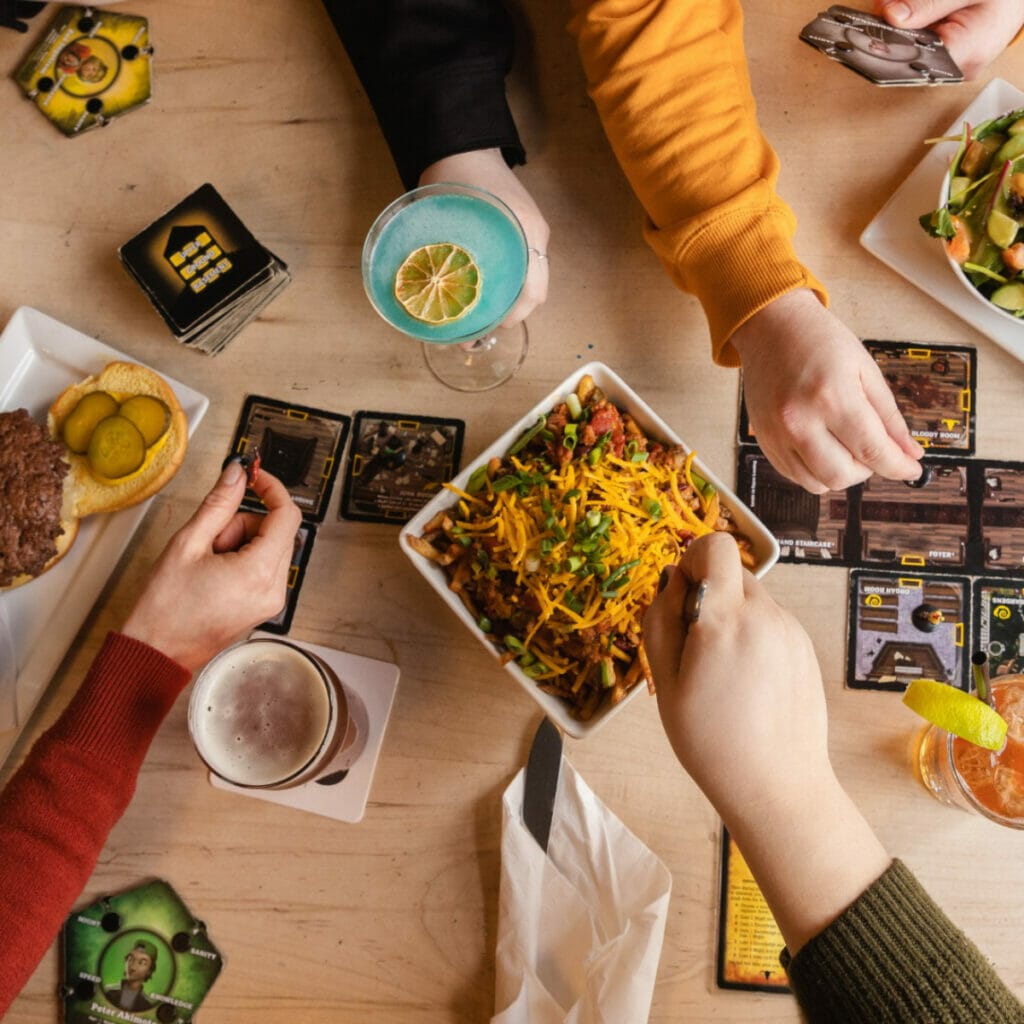 While there's no shortage of food or drinks in Tempe, Snakes & Lattes is worth a visit not just for its kitchen, but also for its activities.
With its name being a clever play on the classic game of snakes and ladders, this gaming café has over a 1000 board and card games available to rent while you enjoy an expansive menu to quell your appetite or quench your thirst.
You'll find all the classic games available here, from Monopoly to Uno, and their website includes a game library so you can make sure they have your favorite one.
But feel free to ask any of the staff for a recommendation and you might just get into a new game before it becomes the next trend!
Pin for later!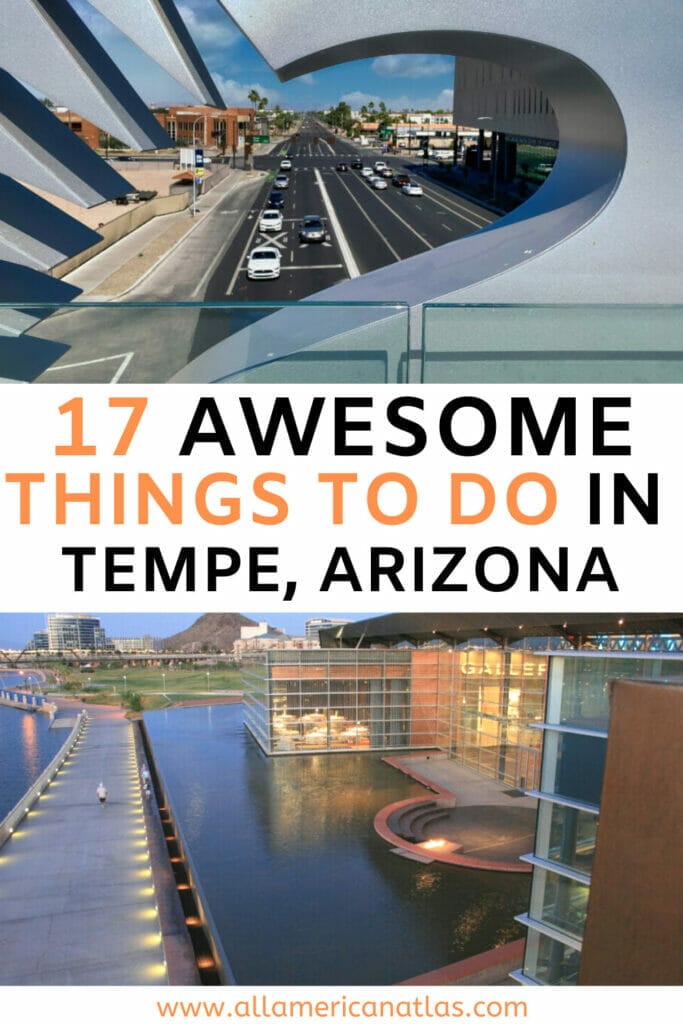 Get the All-American Travel Secrets!
Don't miss out on America's hidden gems!