What turns a "ghost town" into a "haunted" ghost town?
Find out in Jerome, Arizona, where a thriving copper (and gold and then silver!) mining town, perched toward the top of Cleopatra Hill in North-Central Arizona, gradually dwindled after the mines closed down.
This mountain mining community earned the nickname "The Wickedest Town in the West" during its heyday, when rich copper ore deposits attracted miners, merchants, madams and more to Yavapai County.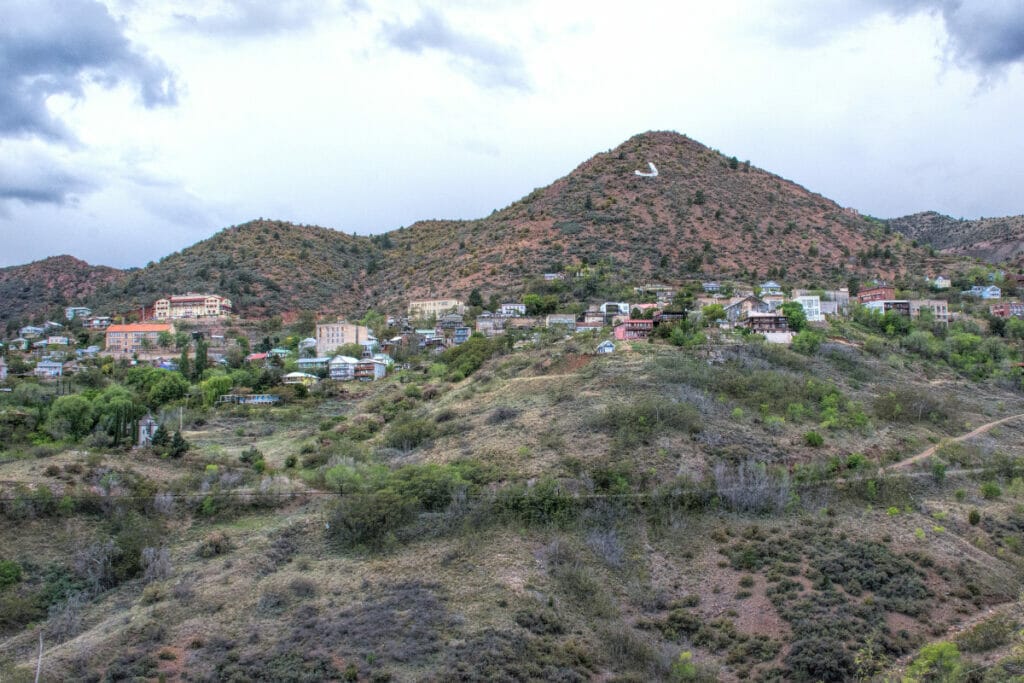 More than 100 years later, its spirit has not been fully tamed, and today, thanks to the hard work and determined efforts of local artists, winemakers and culinary masters, this hillside destination of Jerome and its neighbor Cottonwood are a known and growing tourist hub.
With a Mine Museum to explore their history, their State Historic Park's attractions, and their arts and culture scene with art galleries and small wineries around their downtown, all with speculation of spirits and ghosts, you'll find plenty of things to see in Jerome…even a "Bordello" remains on Main Street, but note that it's only for hamburgers now!
Here are 21 of the top things to do in Jerome!
What to Bring to Jerome
If you're not used to the Arizona heat, here are just a few suggestions on what to make sure you have with you, almost year-round.
Getting around Jerome
Don't forget that it's much easier to see Jerome by car so you can get around on your own.
Rental cars are perfect if you're flying into the state.
We recommend using Discover Cars price comparison to find the cheapest deals.
Hey! Want to read more locally-approved Arizona travel guides?
Opened in the early 1950's, the museum has displays showing the timeline from past to present, such as old miners' equipment and the remains of gambling in saloons.
Other displays focus on the melting pot of ethnicities that include the Chinese, Italians, Slavs, Mexicans, Irish, Russians and others, with pistols, drills, lamps and ore carts, a laundry machine, panoramic photos, household goods, newspapers and more.
A gift shop helps support the Society's fundraising efforts, and every purchase made goes toward enabling them to continue preserving the historic buildings of the town.
Dedicated and opened in October of 1965, the celebration coincided with Jerome's Annual "Spook Night".
The main Jerome attraction in the park is the Douglas Mansion, built in 1916 by mining mogul James "Rawhide Jimmy" Douglas and renamed the Douglas Memorial Mining Museum, it sits rather precariously on the side of a hill overlooking his "Little Daisy Mine", and is devoted to the history of the Douglas family and the area.
Experience the mining energy with a variety of hands-on displays, demonstrations and self-guided tours, and chat with a Ranger in the visitor center for in-depth info about this rough and wild time in history.
More displays outside along with a picnic area offer an excellent view of the Verde Valley below, with panoramic views of Oak Creek Canyon in the distance and a full view of the abandoned mining operations.
Nearby, you'll find the Audrey Headframe Park, and if you're courageous enough, step out on the glass viewing platform over a 1,900-foot mine shaft, 650 feet taller than the highest point of the Empire State Building…then dare to look down!
Completed in 1918, it's the largest wooden headframe still standing in Arizona.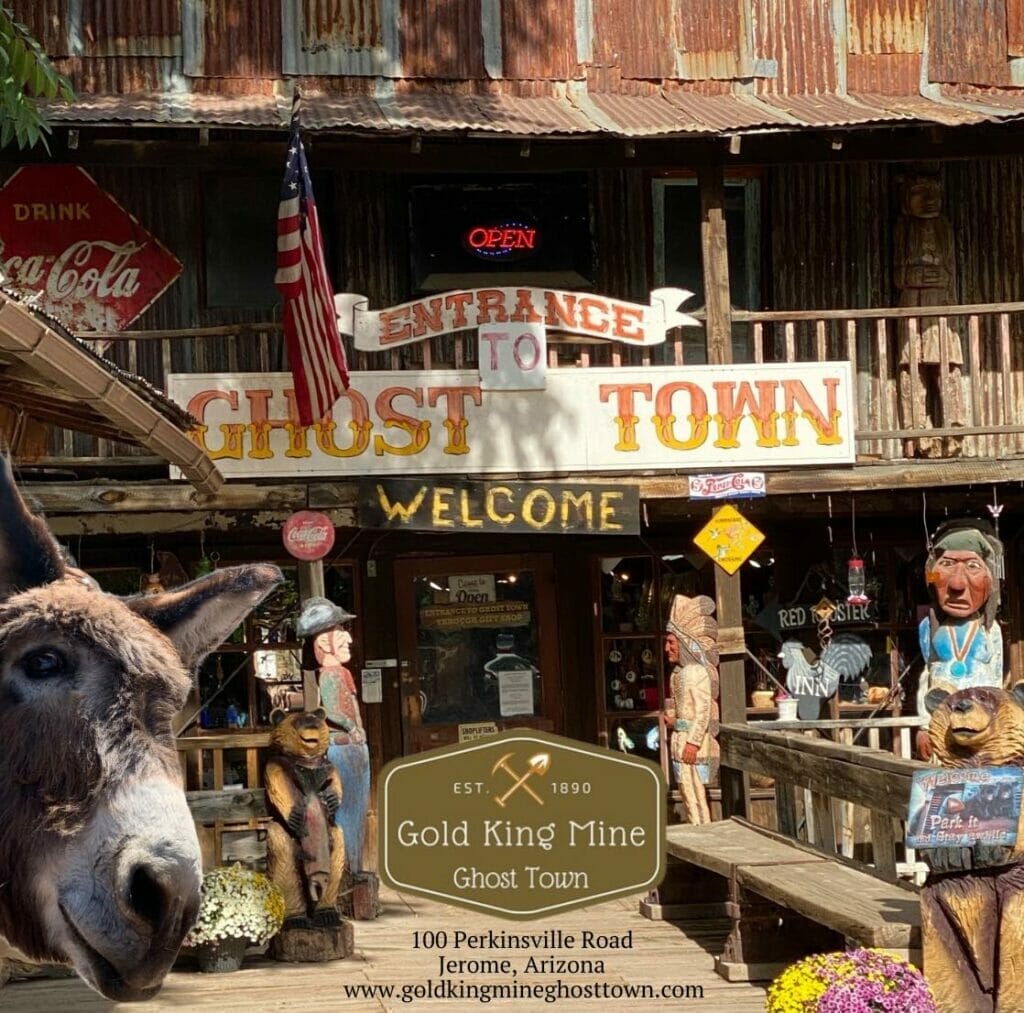 Great for the entire family with fun things to do – step back in time, visit the 1270-foot mine shaft, where they were looking for copper and struck GOLD!
Mining equipment, historic buildings and a Stamp Mill, used for crushing the ore, a working sawmill, one-room schoolhouse, and Blacksmith shop are main attractions.
Vintage transportation fans will love their displays of cars, trucks, and motorcycles, including Studebaker's and Harley's.
Try your luck at gold panning, as well as a petting zoo for the kids with a gift shop.
Advance reservations required for gold panning, so be sure to call ahead!
Their mission is to create a space for Jerome tourists to easily read Scripture that corresponds with locally made Biblical narrative art.
It is intended to be a body of work portraying gospel scenes that bring faith, hope and love to travelers from around the globe.
Each piece is formed with clay, left to dry, then kiln-fired to 2,000 degrees and finished with vibrant paints.
6. Art Galleries
As you stroll along the main streets, you'll find among the shops a host of art galleries of all kinds.
Along with other galleries that have taken over former houses, storefronts and even the local high school that houses the Jerome Art Center, you'll find furniture, photography, fine art, jewelry and more.
Art Park – the original site of the St. Charles Hotel that burned down in the fire of 1898, today it's an area where local artists can display and sell their art.
Visitors have the unique opportunity to talk to the artists directly, and purchase their handmade pottery, jewelry, textiles, and other works.
Don't miss the Nellie Bly Kaleidoscopes – the world's largest, with more than 90 artists from around the world, where every scope is unique with innumerable beautiful patterns that will change with the turn of your fingers, and like everyone else, you won't be able to keep your hands off them!
Roam in Jerome Artwalk – 1st Saturday of every month, roam the town to visit the artist studios, galleries, vintage clothing, and jewelry shops.
More than an artwalk, stop in at their old-fashioned saloons, wine tasting rooms, Restaurants, and a candy store, and enjoy live musical entertainment.
For an absolutely unique version in the vision of a desert garden, with cacti of every conceivable variety, succulents and low-water plants, locals say this is one of the unknown and overlooked jewels of the area.
Jerome has a "ghost town" reputation due to catastrophic fires and deaths, where accounts abound of ghosts and apparitions that roam the town.
Evening ghost tours and spirit walks go to hotels, houses, hospital, and high school that former residents supposedly haunt.
Available in shuttle or walking tours in both Jerome and the nearby Cottonwood.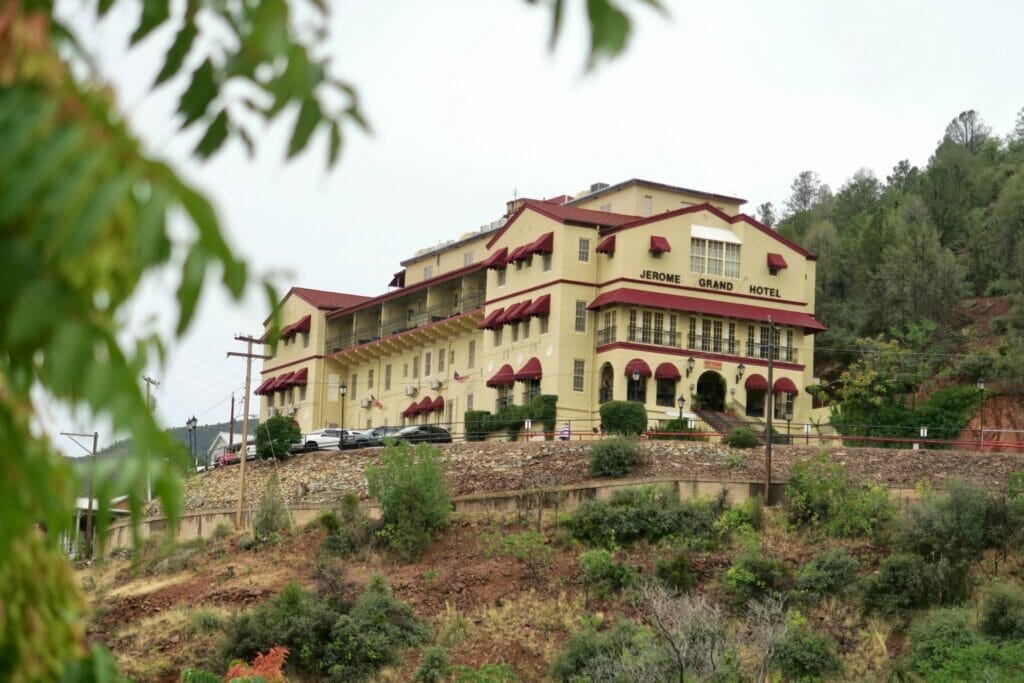 After a ghost tour, consider staying at Jerome Grand Hotel to see what you might experience yourself!
The former hospital, built in 1927 in a strange but beautiful location is nestled among the shadows of Cleopatra Hill, chosen due to the known stability of the ground in this mining town.
Converted into Jerome Grand Hotel in 1994, it is now a full-service hotel with luxurious amenities and guest facilities.
As any good historic building should have some mystery to offer, there are plenty of stories to tell about all kinds of hauntings, especially at night, and some say especially in room 32!
That said, the owner said any occupants must surely be happier in a hotel than the hospital it used to be, as guests today are here by choice rather than necessity!
Stop by for a quick tour of this jail that once slid 225 feet downhill during a "land slippage" event caused by the many mining shafts in the area.
One would think this event would have set at least some criminals on the straight and narrow…not to speak of the crime prevention should it happen again!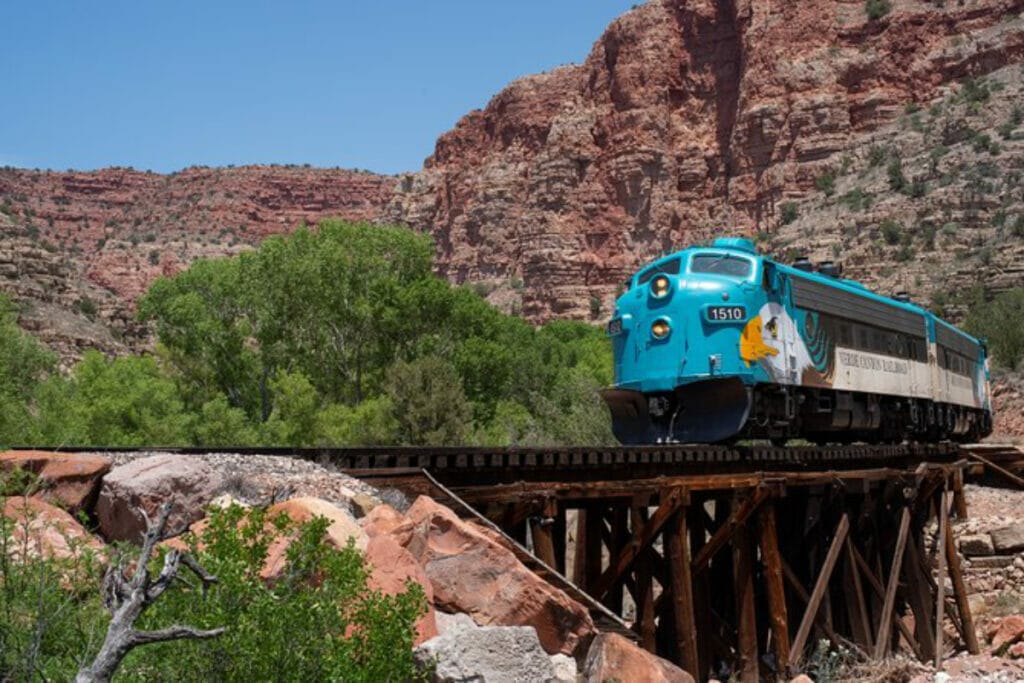 The relaxing grace of train travel never truly goes out of style.
Step aboard the renovated vintage train powered by FP7 locomotives, two of only ten remaining in North America, and you'll find yourself in a time of luxurious and leisurely train travel.
This 4-hour excursion takes you on a 20-mile journey through 110 years of history.
With a tunnel, red rock, wildlife, high-desert foliage and rugged terrain, the trip is breathtaking.
You'll find a variety of seating options, from open air to private luxury, every car has panoramic views, all with insightful narration throughout the trip.
Amenities include a Champagne toast upon boarding, full-service cash-bars, purchasable snacks or premium liquors, all provided through service at your seat as well as a variety of complimentary appetizers.
There are delightful trip options throughout the year in this Jerome area attraction, including Starlight/Moonlight rides, Fall Fright Nights, and Magical Christmas Journeys.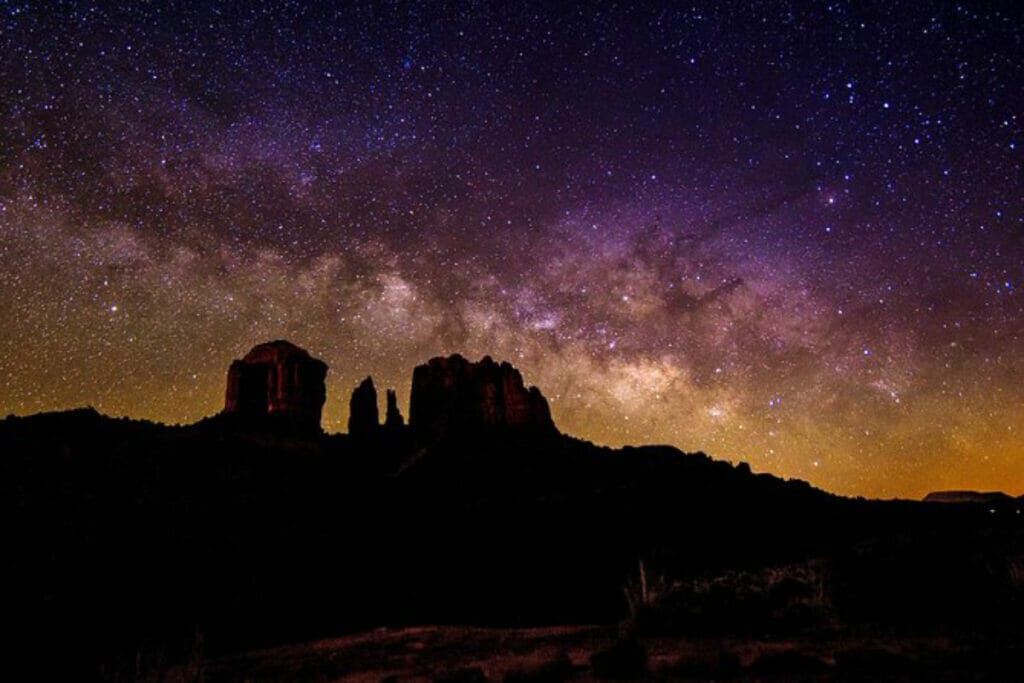 You just won't find night skies like these in the cities.
Get an incredible view of the Arizona night sky during this nighttime stargazing outing.
Led by professional astronomers, the tour includes an introduction to the solar system using a high-powered laser pointer, with specialized telescopes to see close-up views of planets, galaxies, star clusters, and nebula.
Just 32 miles southwest of Jerome, about 50 minutes away and worth the drive!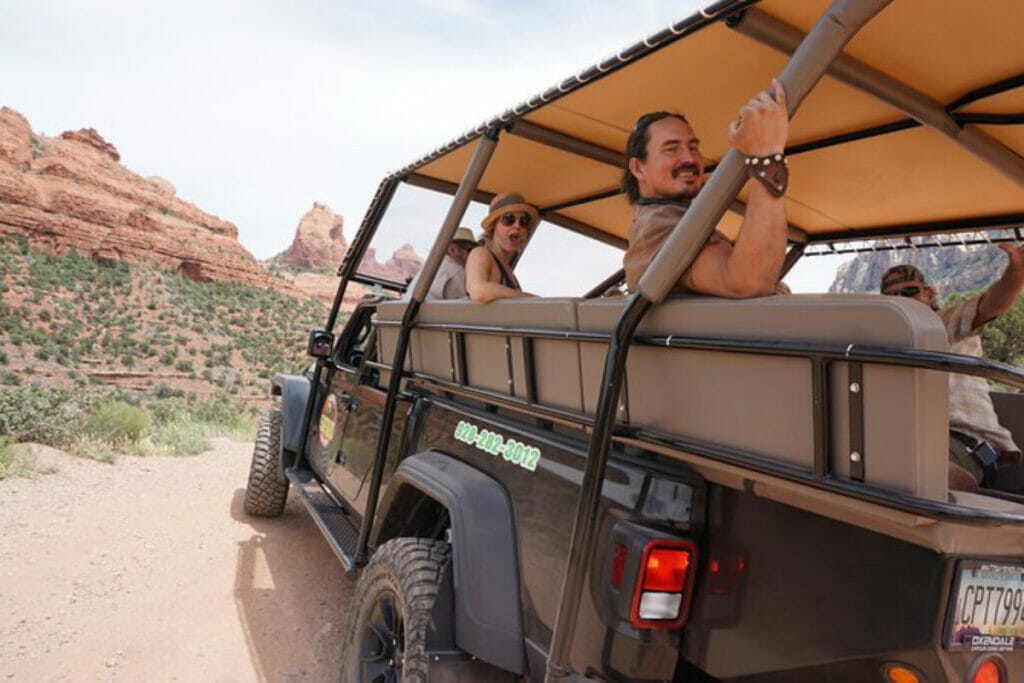 See the desert canyons of Sedona aboard a 10-passenger Jeep, ideal for anyone who wants to explore by off-roading.
Your driver/guide will give info about the region while you ride along the base of Sedona's red rocks.
It's a great way to experience this magnificent landscape.
About 40 minutes, 28 miles south-west from Jerome.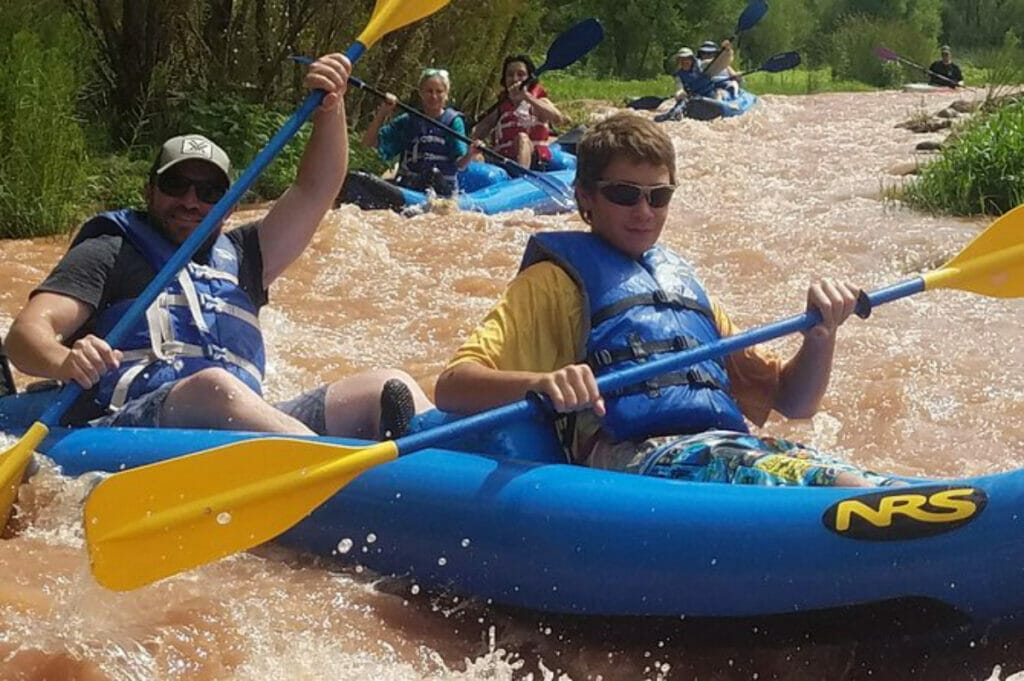 Cool off on a 2½ hour tour on the Verde River, enjoying Arizona's beautiful scenery and enjoy exploring on this family-friendly kayaking tour along the Verde River.
Setting off in a shuttle to the river with just a small group for company, this beginner-friendly tour includes a relaxing paddle down a 3 mile stretch of this river, and the chance to take on gentle mini rapids.
An annual event that occurs at the end of June and culminating around the July 4th Independence Day, the rodeo experience at Prescott Frontier Days, Inc. is as exciting as it is unique!
First time at the rodeo?
Prepare for an unforgettable experience, as rodeos have been thrilling crowds since the 1800s.
Across the country, people have enjoyed watching everyday ranch skills transformed into high-level competition, where contestants tackle daring feats and prove their grit to tame the wild west by displaying courage and grit.
There are more than 17,000 sq. ft. of space dedicated to art exhibitions, workshops, special events, and art and heritage programming.
It is home to the Solon H. Borglum Collection, a display featuring bronze sculptures, paintings, furniture, and other extraordinary objects from the great artist's life.
Visitors can explore all the fascinating artifacts and memorabilia, also featuring a working chuck wagon and the Arizona Rancher & Cowboy Hall of Fame.
In addition to these outstanding permanent displays, the museum also offers continuous rotating exhibits and numerous art and heritage programs throughout the year, located less than 45 minutes southwest of Jerome in Prescott Valley.
A thousand years ago, where water flows under and through this area, the Sinagua people began to build a 110-room hilltop pueblo.
A self-guided, 1/3 – 1 mile loop trail leads you around and through it, with outstanding views of the Verde River and beyond to an overlook of the Tavasci Marsh.
Explore the Tuzigoot museum for highlights of ceramics, textiles and tools found during the excavation, helped by descendants of the people who lived there.
Situated in Prescott about 45 minutes West of Jerome on 10 acres overlooking Willow Lake, there are many opportunities including a covered picnic pavilion, a children's playground, interactive animal experiences, and large, naturally landscaped enclosures for the animals with paths that give visitors an up-close and personal view.
One of the most interesting exhibits is the Tarantula Grotto, with a definite cave-like feel that houses different spiders from all over the world and is one of the largest public displays of spiders in the country.
Don't forget the Reptile House, which is home to countless species including a 13 ft. Burmese Python, Gila monster, geckos, skinks, iguanas and monitor lizards.
Large animals rescued and now residents include the Mexican gray wolf, a black bear, and a mountain lion.
19. Wineries
All within a short distance from each other, one of the top things to do in Jerome is to take a walking tour through town and taste away!
Just some of the offerings are:
And just a short drive away, the Chateau Tumbleweed Winery & Tasting Room.
Two husband/wife teams run this Contemporary winery with a funky vibe and a relaxed setting offering a large selection of bottles & a tasting room.
It's near Clarksdale, about 5 miles, less than 10 minutes from Jerome and visitors and locals give praise for both the place and the people who run it.
21. Blazin' M Ranch Chuck Wagon Supper & Western Stage Show
Enjoy a traditional chuckwagon meal, old-time games, and Western-style entertainment in an unforgettable family-friendly country music show featuring the Blazin' M Ramblers.
The authentic western-style barbeque dinner comes with large portions and second helpings, ensuring even the hungriest guests leave satisfied.
Purchase your tickets in advance to dine at the Blazin' M Ranch, a Traveler's Choice award winner as well as recipient of the Viator's Badge of Excellence!
Just 20 minutes and less than 10 miles east of Jerome in Cottonwood, this ranch offers a conveniently located escape into the Wild West.
22. Restaurants and Café's
The FlatIron on Main Street – espresso breakfast and lunch
Hilltop Deli – from here you can look out over a seemingly endless view of the valley below, with Jerome, Cottonwood and the red rocks of Sedona in the far distance.
The Clinkscale Hotel Bar & Grill – upscale atmosphere with raves for their amazing brunch, lunch and dinner as well
Mine Café – in the heart of Jerome, espresso, coffee, tea, pastries, breakfast & lunch
Vaqueros Grill & Cantinos – Mexican, Southwestern & Latin
Bobby D's BBQ – classic barbecue in a warm atmosphere
Coppertown Coffee & Gelato – can't get better than this combo
Cornish Pastry Co. – down-to-earth traditional & vegan Cornish pasties, plus other English favorites.
Bordello of Jerome – small but tasty, biggest raves for their unique burgers and sweet potato fries
Haunted Hamburger – the lore is that the spirits here loved to steal hammers from those attempting to renovate the formerly abandoned building, returning them to the most unlikely places, and later to be followed by cans flying off shelves, water turning on by itself, scents lingering in the air, and even photographs having the image of a woman not known to be there!
Enjoy your Haunted Burger indoors with a bookshelf in the ceiling, on their patio, or back porch with a view, where it's all fun and always terrific food and drink.
The Asylum Restaurant – located in the Jerome Grand Hotel, a "Traveler's Choice" restaurant with an upscale menu and full bar, where there are incredible views over Jerome and Mingus Mountain, and both indoor and patio dining.

No reservations needed for lunch but recommended for dinner.
Grapes – another highly rated "Traveler's Choice" restaurant in Jerome, with Italian American cuisine and wine bar.

While they may be temporarily closed for renovations, be on the lookout for their re-opening!
Wicked City Tap & Cork – craft beer bar (and wine) with quite the history behind their Wild west saloon location
Hit up the Spirit Room, an old school bar located in the historic Connor Hotel, for a taste of the local live music scene and maybe an actual spirit or two, as the hotel is rumored to be haunted.
Pin for later!
Get the All-American Travel Secrets!
Don't miss out on America's hidden gems!