From the towering Green Monster to features that are original to the construction of the park in 1912, Fenway Park tours take you behind-the-scenes to the home of the Boston Red Sox.
These Boston Red Sox tours also cover a little bit about the other uses of Fenway, but the prime focus is on Boston's beloved team, its past players, and the history of baseball and how Fenway came to be.
Visit Fenway Park to learn more about Babe Ruth and his rise to baseball stardom and sit in one of the classic green seats that purposefully haven't changed with the times in order to preserve the legacy of the stadium.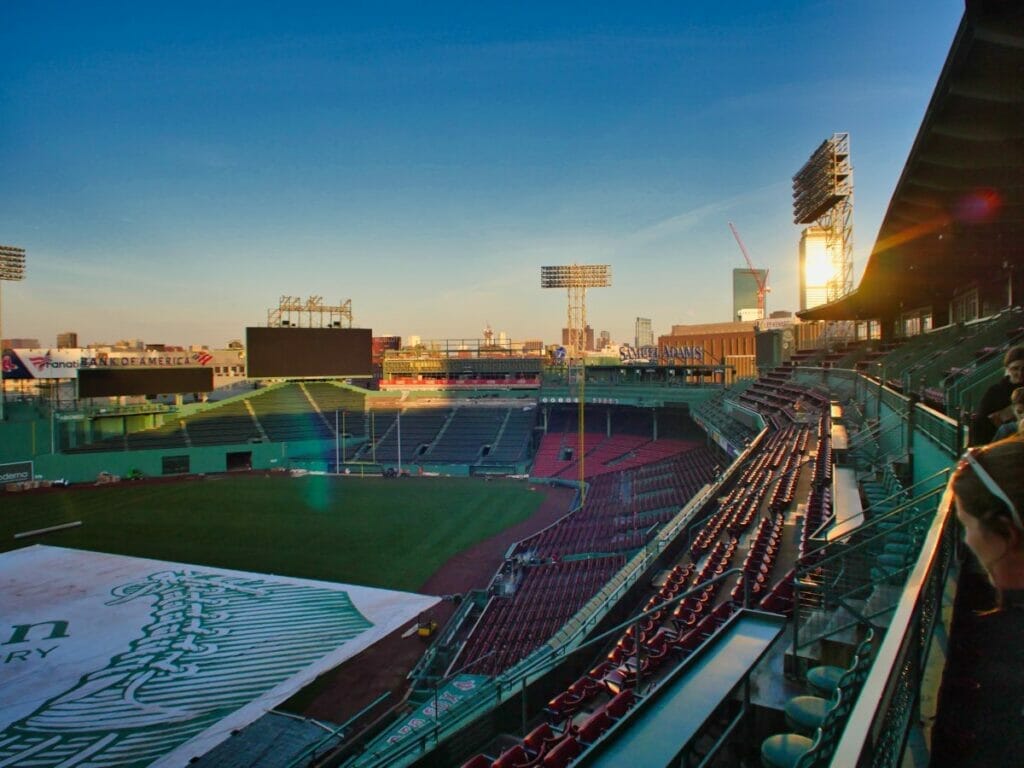 You'll learn more about Fenway's inclusion in popular TV shows and movies, as well as get tips on the best seats to book and hear thrilling stories of some of the most pivotal moments of the home games that have taken place within the iconic green walls.
💰 Top tip: our favorite site for the cheapest Fenway Park tour tickets is this one.
Practical Tips for Visiting Fenway Park
Before booking and showing up to a tour of Fenway Park, it's important to know some of the basics (so you don't act like us and show up with a backpack when it's not allowed).
Fenway Park Tour Tickets – How to Book
Booking tickets to a Fenway tour is incredibly easy, as it all happens online.
Simply click here to book to visit Fenway Park, choosing from daily options running from about 9am to 5pm.
Fenway Park Tour Price
Through our preferred Fenway Park tour booking agent, the price is $25 per adult tour and $17 per child on tour (ages 3-12).
Fenway Park Tour Discounts
There are a couple of options for discounts to the Fenway Park tour.
Military will get a military discount at Fenway Park of about $4 off per ticket price.
You can also get the Boston Go Card, which is a worthwhile attractions and sightseeing pass that includes Fenway Park tour as well as other must-dos like a trolley tour, sightseeing cruise, Paul Revere house, and multiple museums.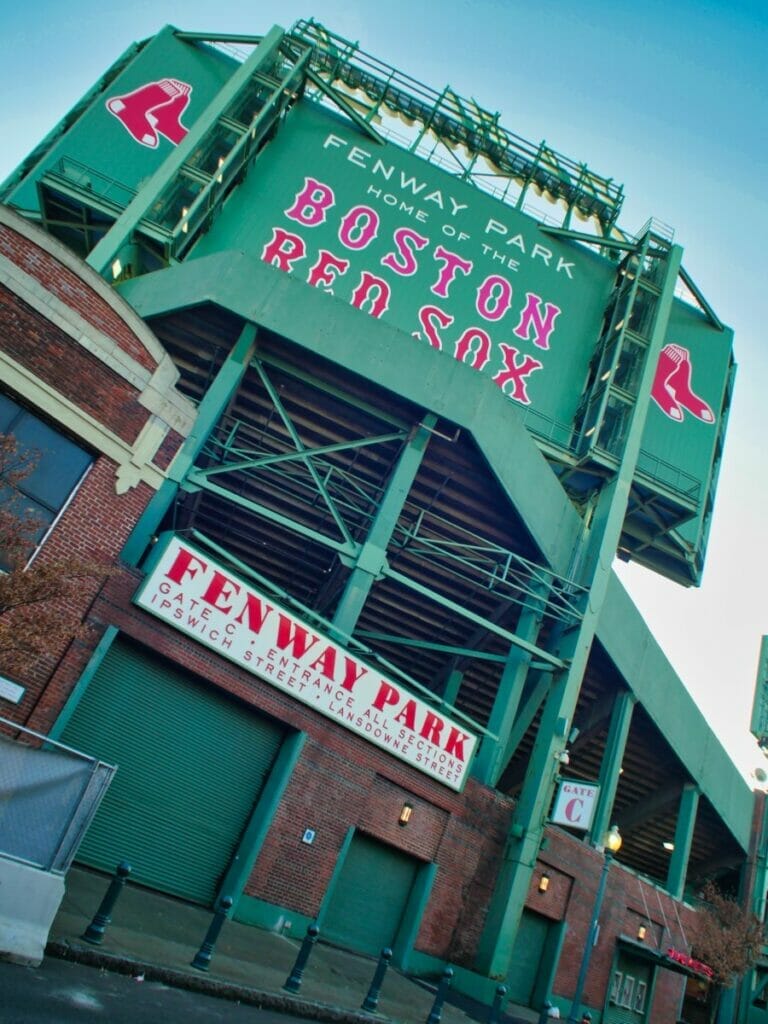 Fenway Park Tour Entrance
Our tour departed from Gate D (after we walked around the whole stadium practically because we arrived on the wrong side!)
You'll see it across from the Team Souvenir store.
Fenway Park Tour – Need to Knows
Lots of the tour involved stair climbing, but they can make it accessible if there are mobility issues in your party with the use of elevators (just make sure to let them know)
No bags or backpacks are allowed in the tour. No exceptions. Purses are okay, but luggage or anything that goes on your back are not, and you'll be asked to leave it with one of their partner luggage storage places about a 5 minute walk away. We had to pay $5 to drop the bag off, and it was returned to us completely in tact but it's important to know so you can make arrangements if you have luggage with you.
The tour lasts for about 1 hour, and is a great introduction for anyone who doesn't know too much about the Red Sox, but the guide will also make sure that any diehard fans with a lot of knowledge already will get even more of an inside scoop and can talk "shop" with you.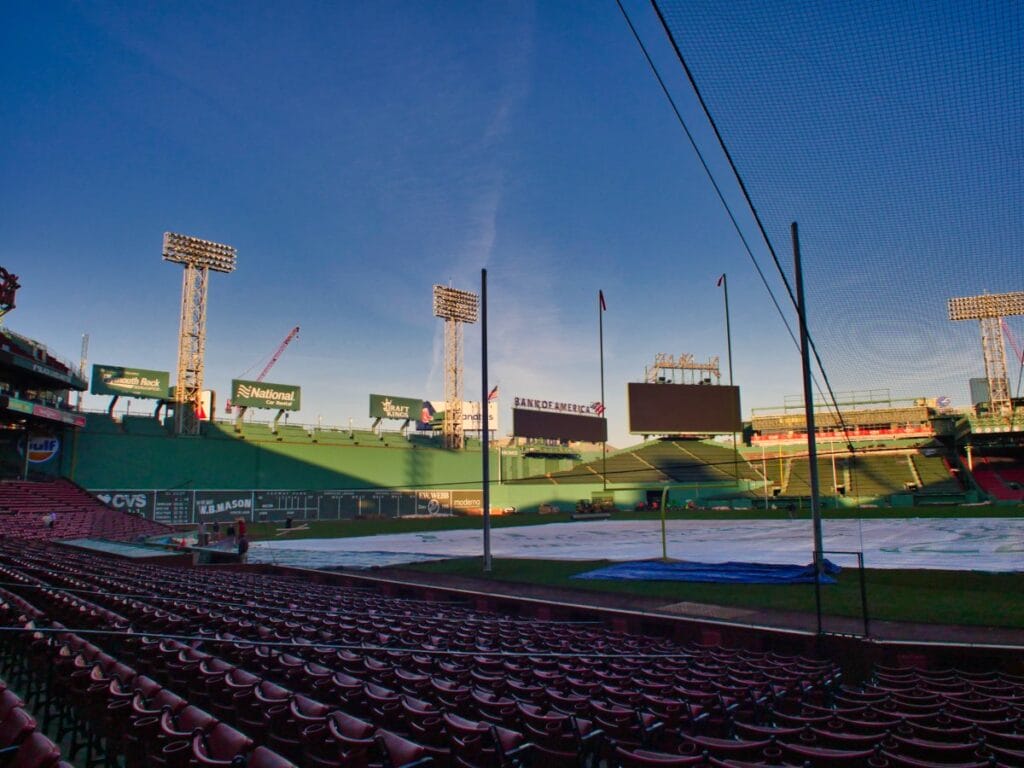 Fenway Park Tour Review
Ready to tour Fenway Park?
We were too, as we aren't big baseball fans but love a bit of history and professional sports stadiums.
There's something about Bostonians that make you want to love everything that they love because they're so passionate about it, and the Red Sox are no different (apologies to any other rival teams out there, we'll visit your stadiums too!).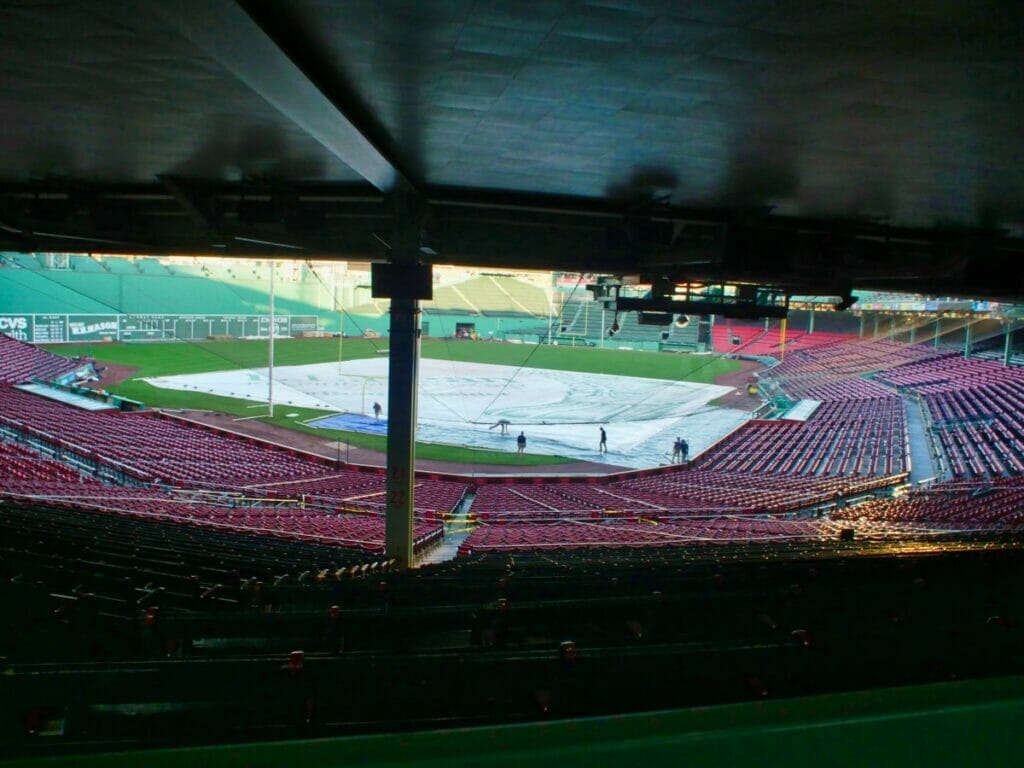 The tour started with airport style security to make sure that we were all set, and then we gathered around inside the stadium to learn a little bit more about some of the movies and TV shows that we might have seen the stadium in.
We had about 20 to 25 people on our tour, and this was one of the only complaints we had.
The tour guide did use a microphone, and it makes sense given the popularity of the tours, but you did need to make sure that you were "in front" or closely listening at all times as otherwise the size of the group could make it a little difficult to follow along.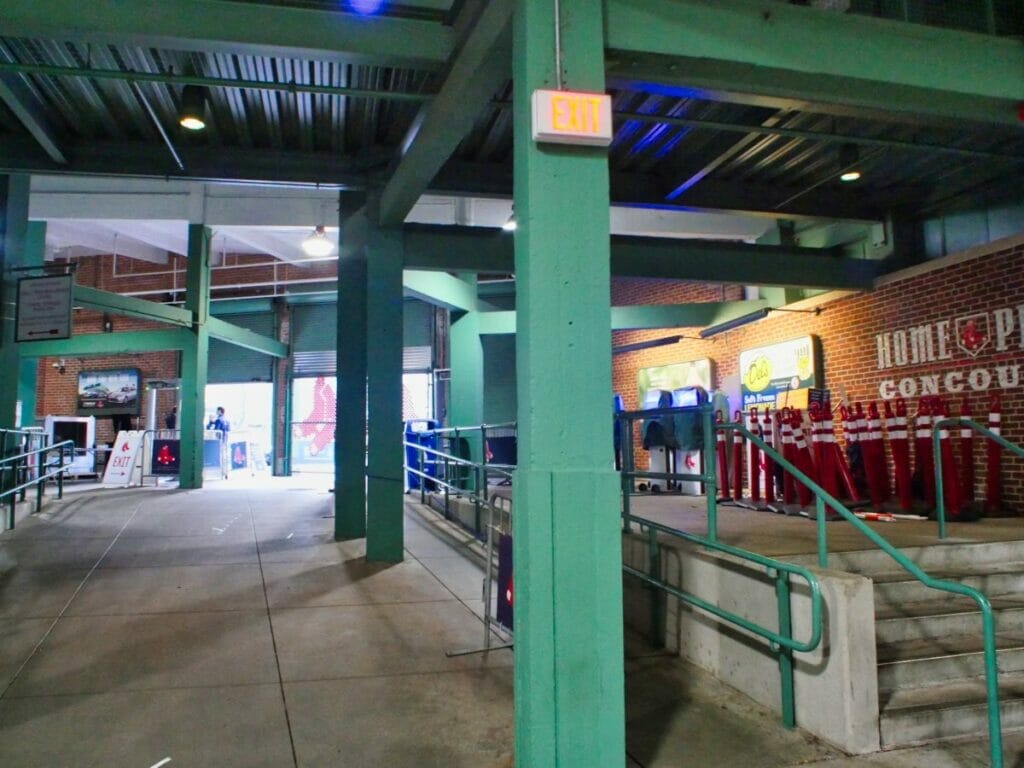 As we worked our way around the stadium, we learned about its history as the oldest active MLB park in America, and it's clear how much pride the Red Sox take in this history.
In fact, you can sit in some of the original seats to the park that are still in use today, and while they're not the most comfortable around, many fans love them for their rich history.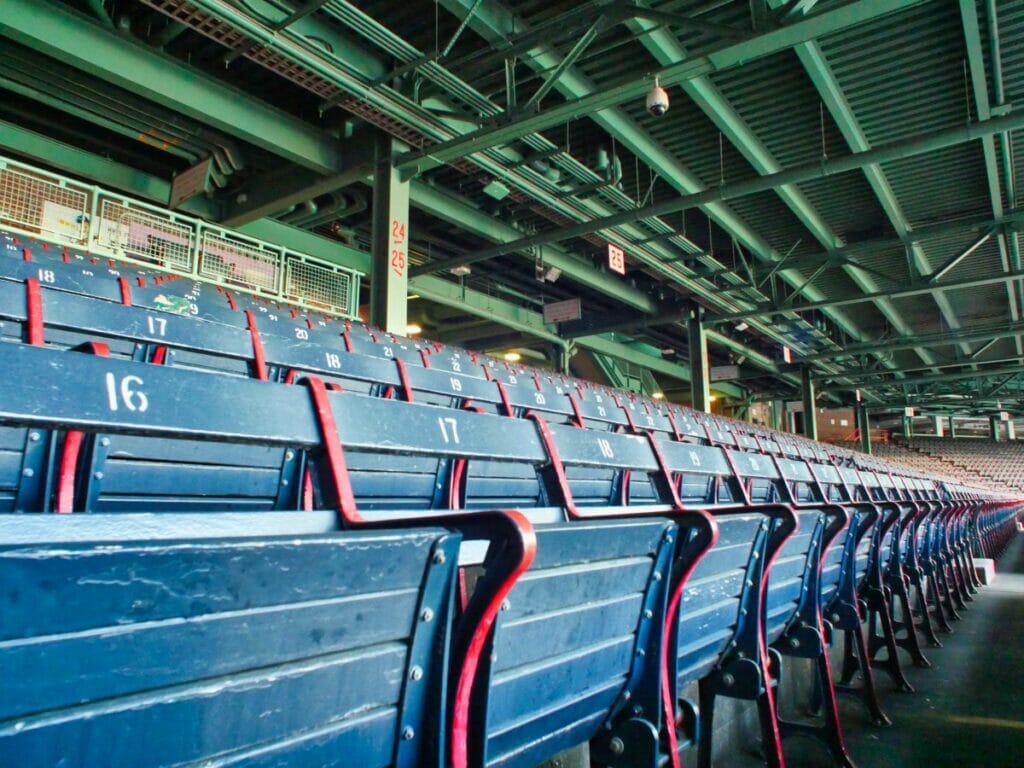 While we were there, Fenway was actually getting ready to be used as a football field (yes, seriously) and along the way the guide told us about the other uses of Fenway, including as an ice skating rink at one time and also a soccer field!
The entire structure is iconic, from the CITGO sign to that classic green color, and the history and stories of the Red Sox really comes to life as you go around.
You're allowed to take pictures almost everywhere, and if you do get some great photos, pair them up with these Boston quotes and captions to really make your friends and family envious!
You'll get to sit in the press area to see where the reporters can view the games from, as well as get clued in on some of the behind-the-scenes operational things like the garden where a lot of the food for the concessions stands is grown.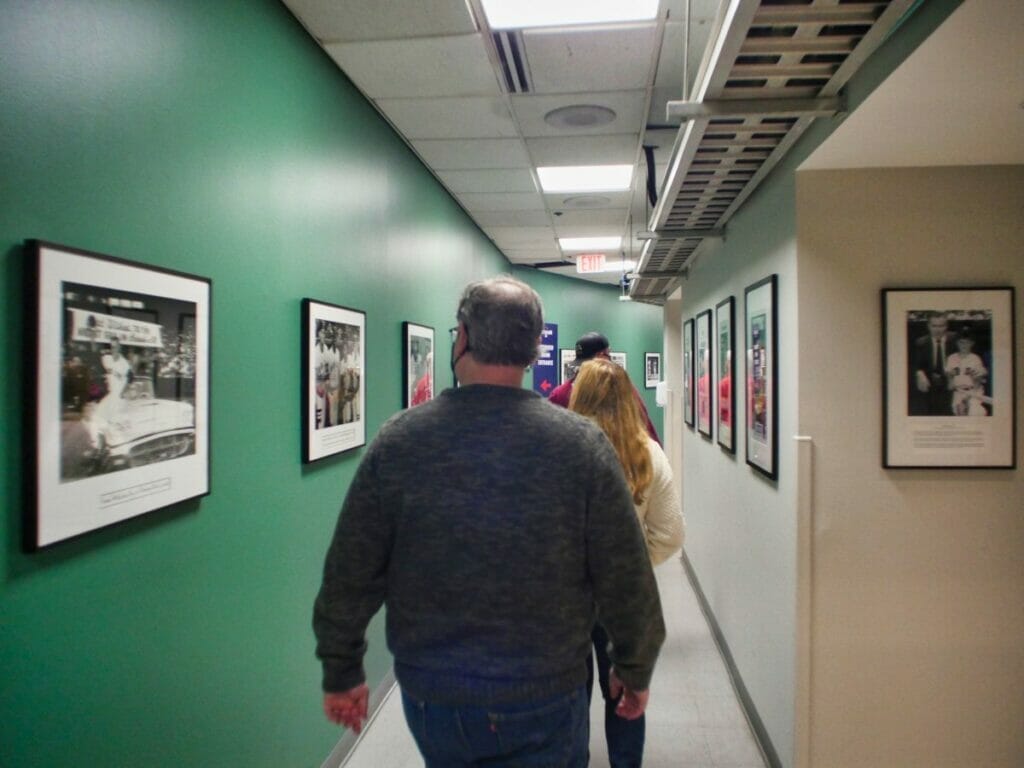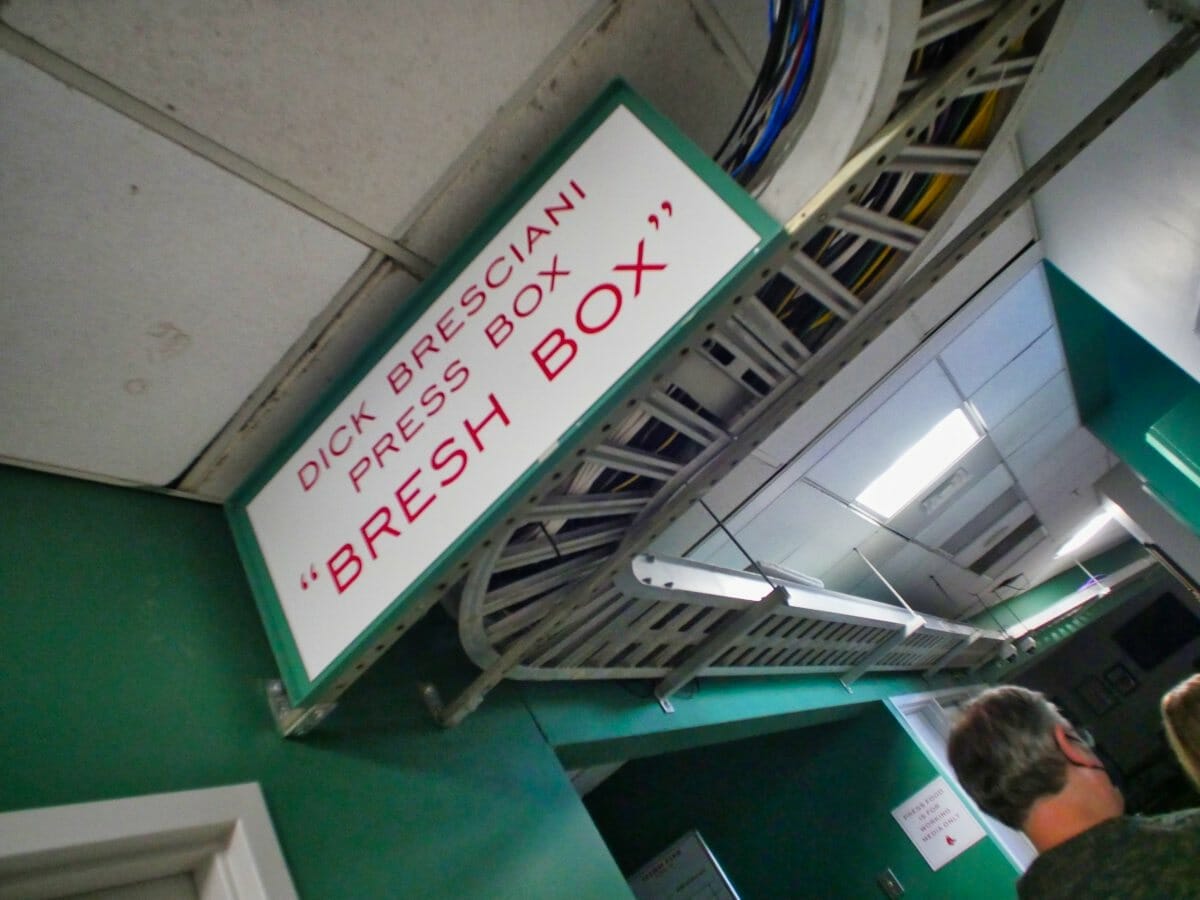 We learned a lot about the famous Green Monster on the Red Sox stadium tour, which is a giant green wall that is so tall that it's known for preventing home runs – home runs that would have definitely made it all the way out of the park in other stadiums.
We also got to sit in the "Green Monster" seats which are beloved by many fans and provide an awesome and unique view of the park, as well as learn about the manual efforts needed to change the scoreboards.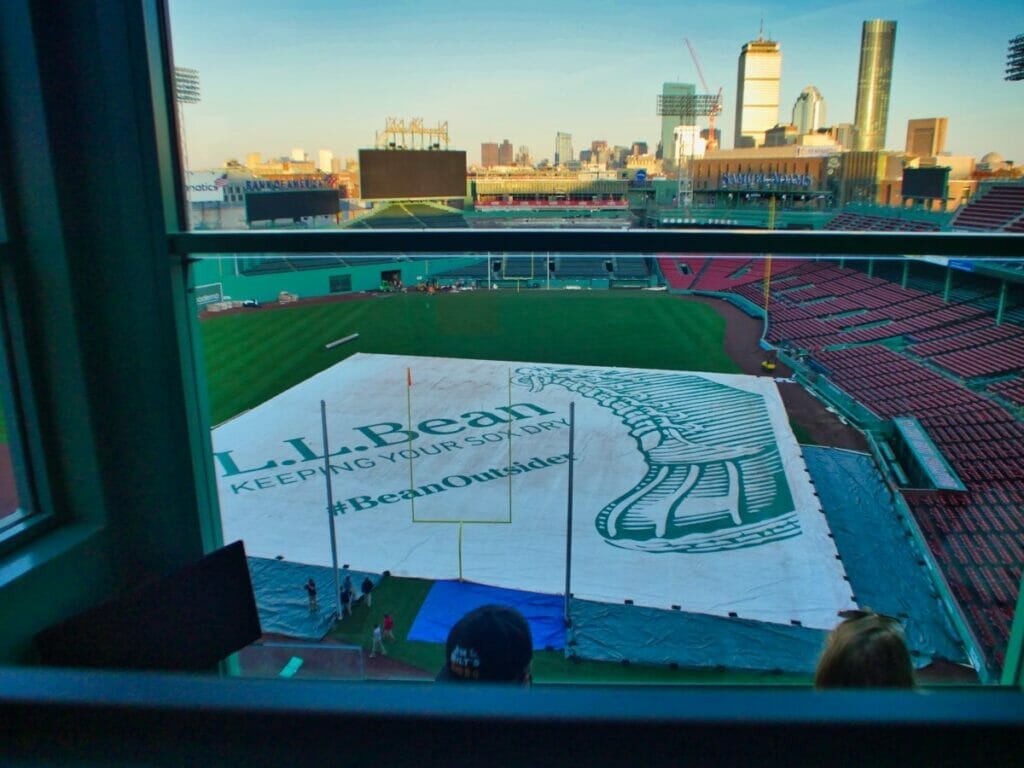 Many people have left legacies at the ball park, including Babe Ruth, and the guide will point out the "lone red seat," which marks the furthest home run ever hit at Fenway by a player named Ted Williams.
In addition to exploring the architecture and culture of the shrine that is Fenway Park (it's a Boston landmark, officially, so no one's making any major changes to it anytime soon!), you'll also learn about the team and stadium's efforts towards inclusion and the celebration of famous African-American figures in baseball who broke barriers for those who came after them at a time when African-Americans were not seen as equal in the sporting world.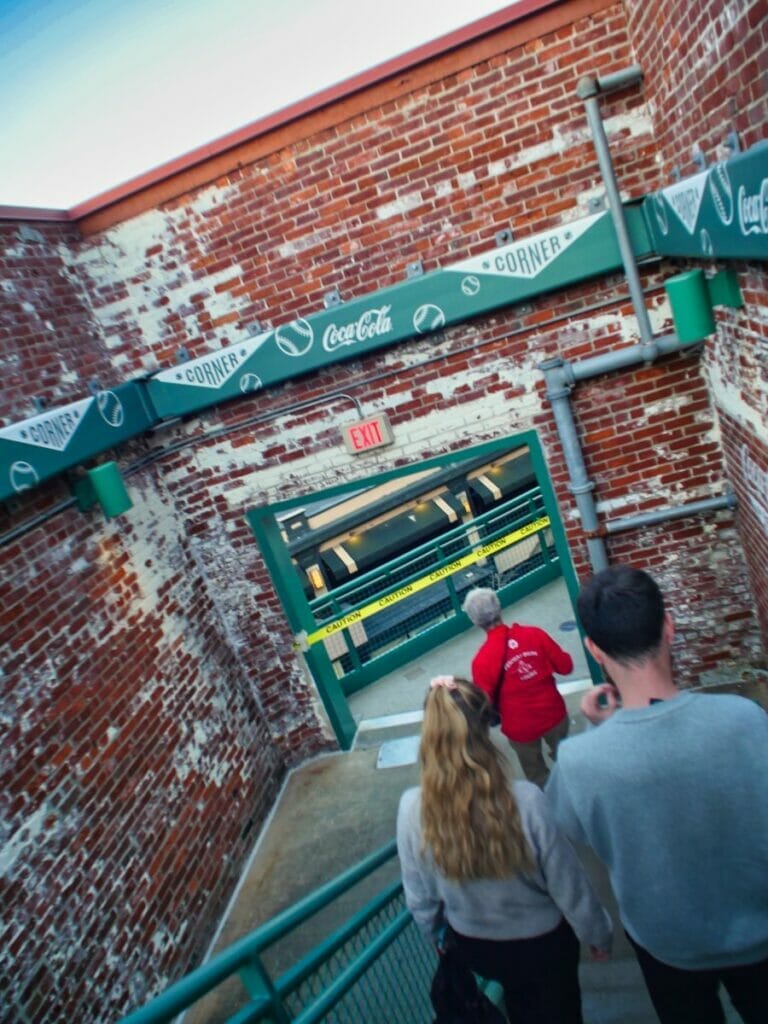 The tour ends with an opportunity to ask any questions, use the bathrooms before heading out, and purchase your photos that a professional photographer takes of you and your travel companions earlier in the hour.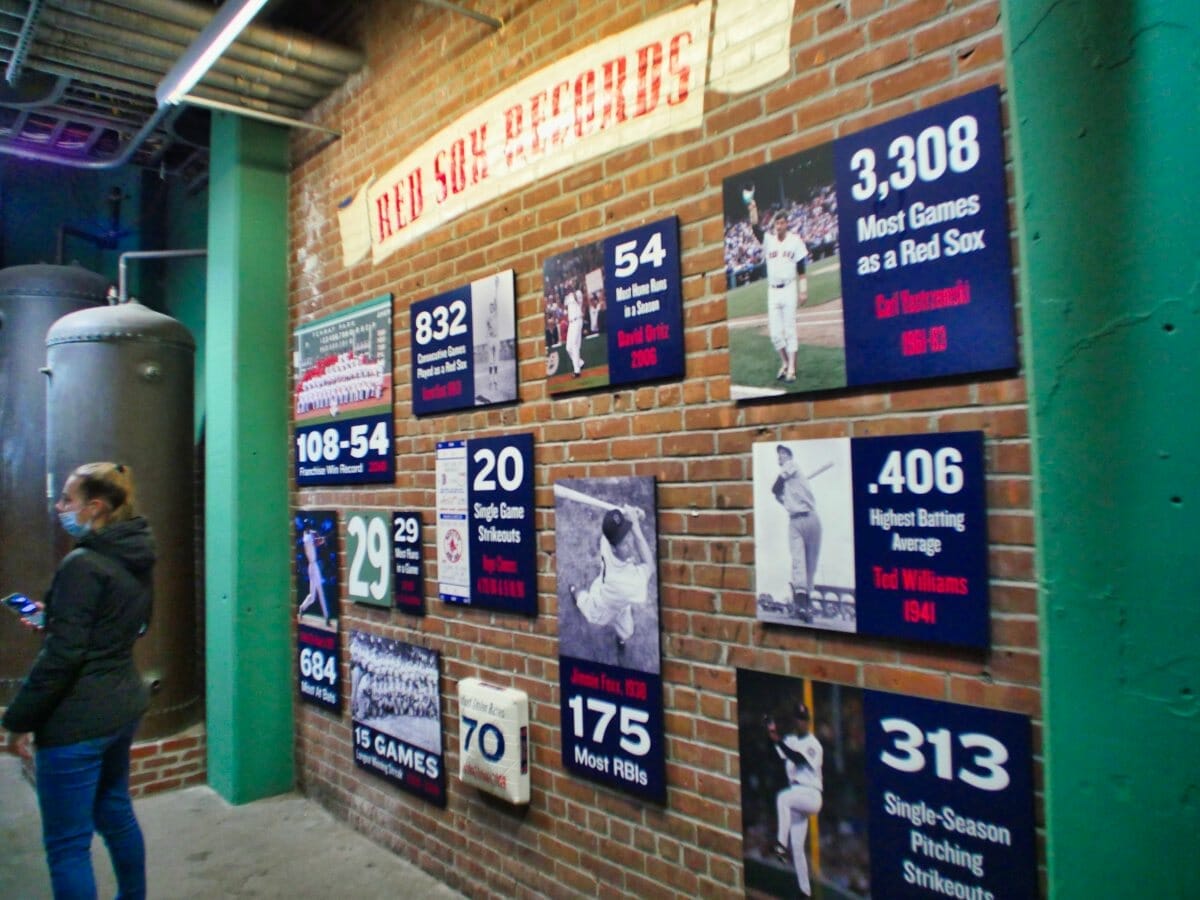 Is the Fenway Park Stadium Tour Worth It?
Touring Fenway Park isn't the cheapest thing to do in Boston, but is it worth it?
In our opinion, absolutely.
There's no better tour for understanding the culture of Boston (much of which revolves around sports and the love for their city) and the fascinating history of baseball than at Fenway Park.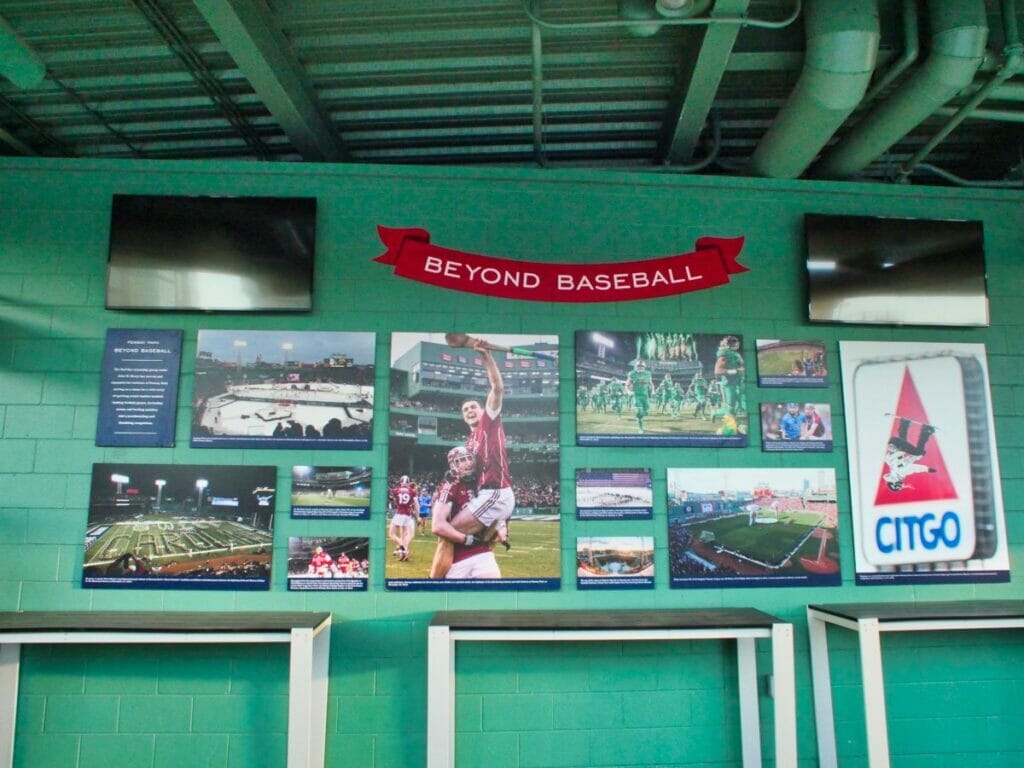 What it lacks in size, it makes up for in character and in the stories that could be told in the seats you can still sit in today.
The guides are passionate about the Red Sox and about the stadium, and this is a great supplement to a game or instead of one, even if you're not traditionally a sports fan.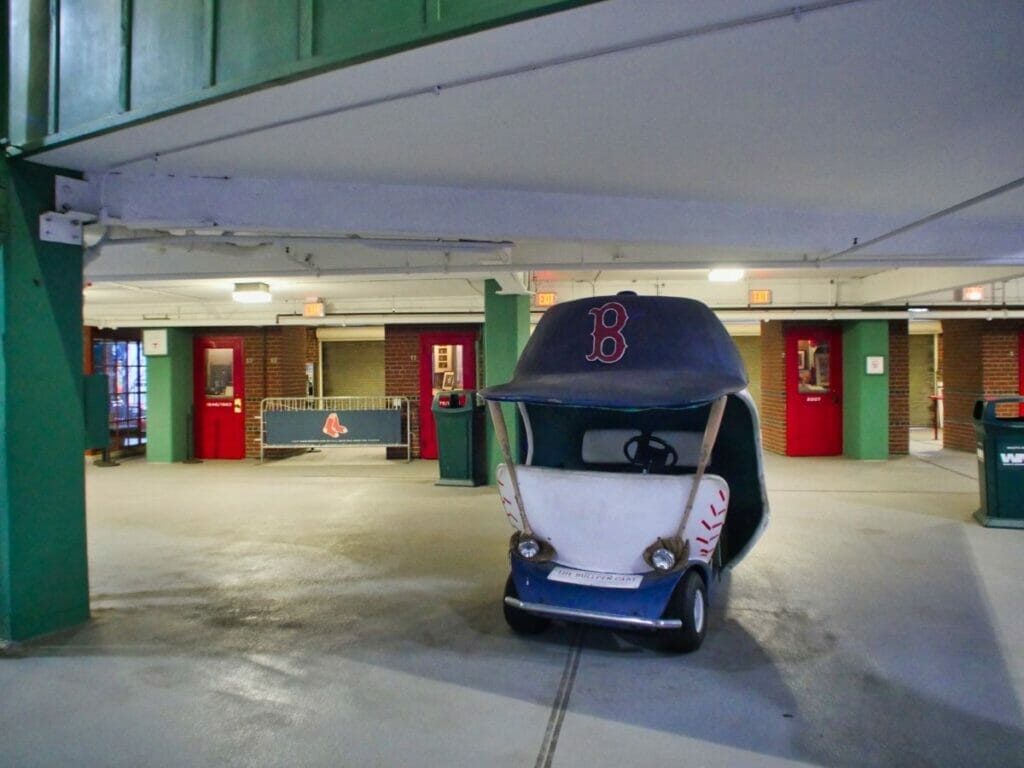 Can You See Fenway Park without a Tour?
You can't simply visit Fenway Park without a tour unless you have a ticket for a game, and even then, access to things like the Press Room and Green Monster seats are not open to you (unless you have the right credentials for either).
They make sure when you finish the tour that you exit, and you can't roam around on your own for security reasons, so taking a tour is really the best way to learn more about the park and explore areas that many fans may not even have been allowed to go before.
Pin for later!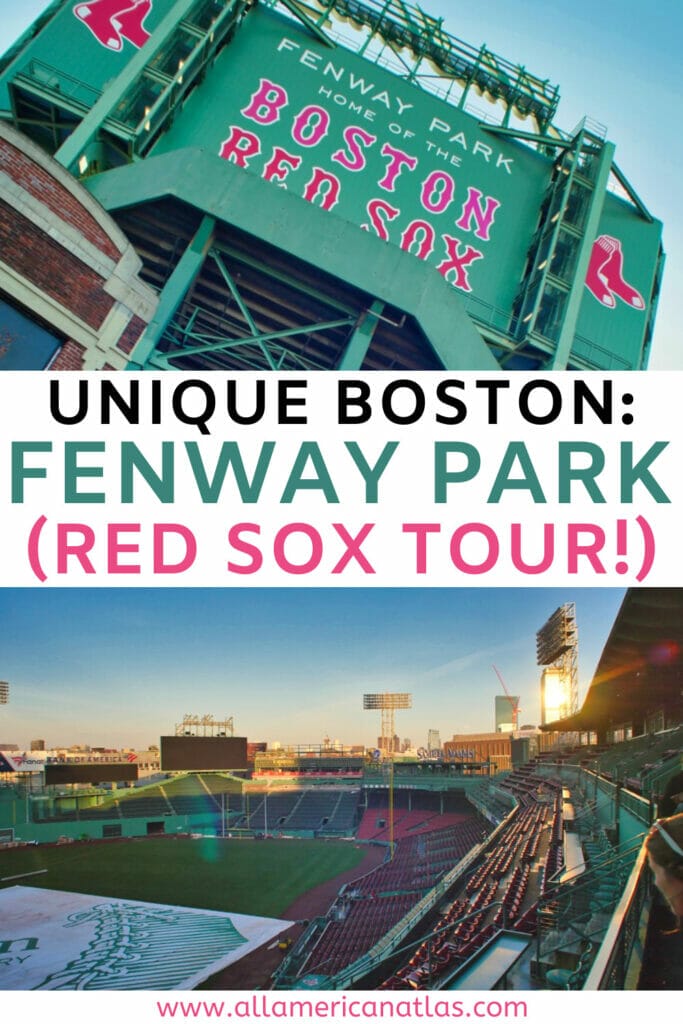 Get the All-American Travel Secrets!
Don't miss out on America's hidden gems!