Life in Michigan is a complicated thing, full of contradictions.
It's a place of sublime nature with a reputation for environmental damage, a state synonymous with cars with absolutely shocking roads.
It's a diverse melting pot of culture, nature, and industry that can take a while to get your head around, but once you grow to love it you won't want to leave.
From the re-energized downtown of Detroit to the sublime beauty of the Great Lakes and even the charming small towns sprinkled throughout the state, there's a little something for everybody here.
Here, we'll run through 23 pros and cons of living in Michigan to show you both sides of this amazing state.
1. Pro – The Lakes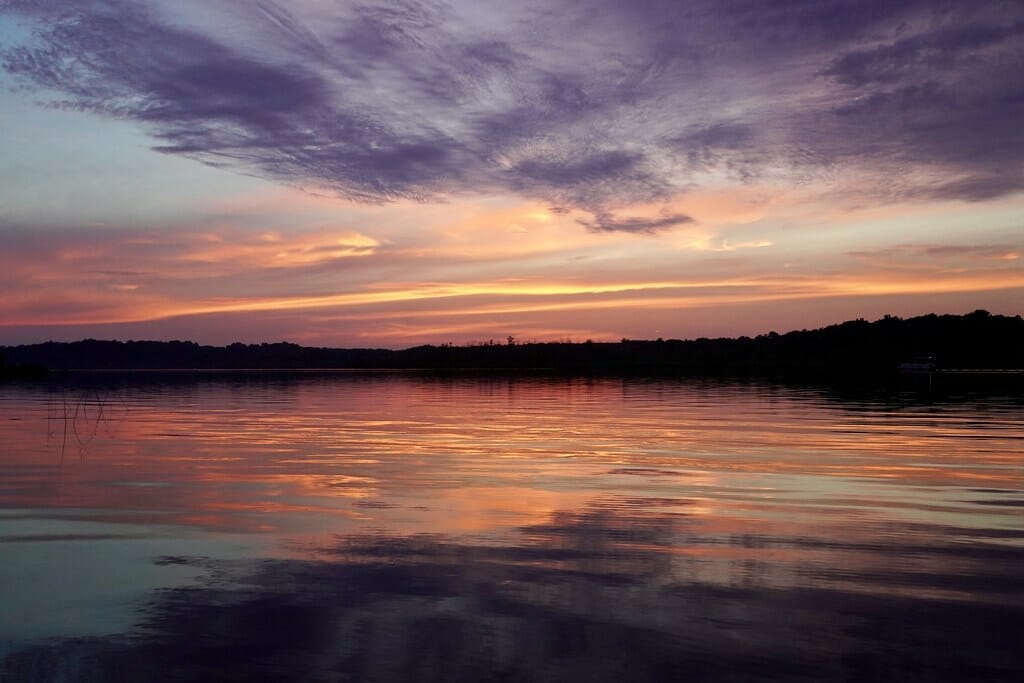 Michigan is a state of water.
It is pockmarked with lakes large and small, with over 11,000 of them over five acres in size scattered around.
Fed by rivers and feeding wetlands, they make a varied topography that is beautiful to see and explore: kayaking along long winding rivers, watching waterfalls hurl themselves crystal down the rock faces, experiencing the sea-like expanse of Lake Michigan with the sublime joys of fresh water.
Another perk of this, waterfront properties aren't as outrageously expensive as in other places around the country (there's just so much water).
If you want to live by the water, there are few better states for you.
2. Pro – And All the Other Beautiful Scenery
Of course, it's not just the water.
Michigan is a beautiful place.
From the charms of the lakeshore areas to the rolling hills blanketed in maple and oak trees, there's a depth of wilderness in the state that is so profoundly different from the Rustbelt stereotype of fading cities and weathered industry.
If you're looking for a state where you can really get away and into some wild space then Michigan is here for you.
3. Con – Seasonal Tourism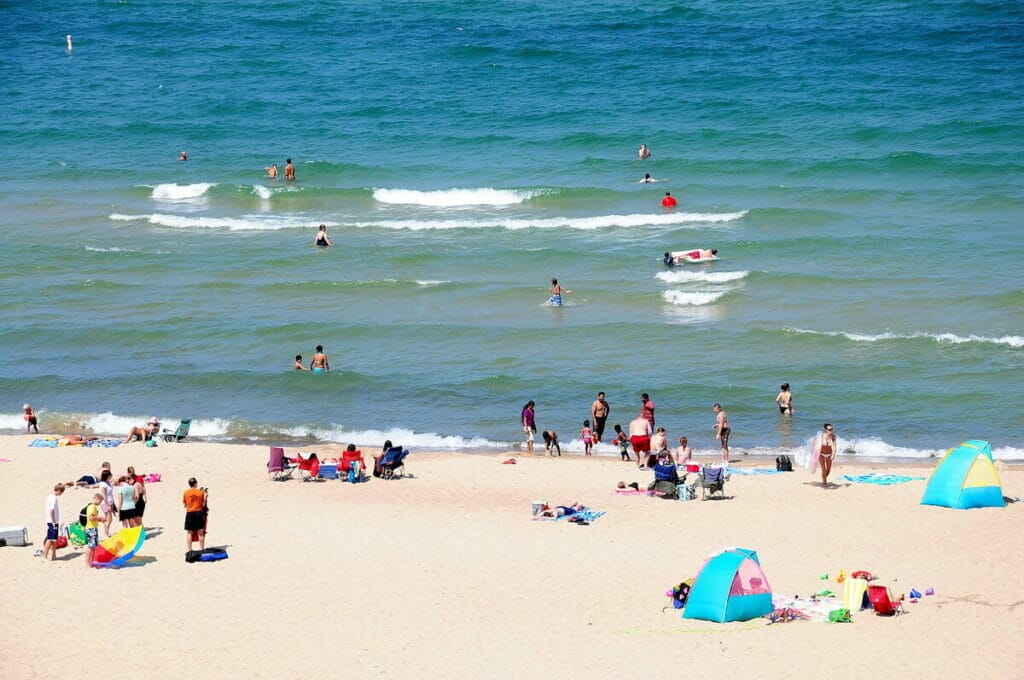 This natural beauty isn't entirely secret, and so during the high season over the summer months, you've got to be ready for waves of people coming to the lakeshores.
While this might not be a problem if you're nestled away in the woodlands somewhere, the many charming towns that are nestled by the major lakes will be hot and heavy with holidaymakers come the summer and can feel slightly ghost-town-like when the low season rolls around.
This all comes down to your personal taste, whether you want the hustle and bustle or whether you're crying out for some peace and quiet, but there's an undeniable boom-bust feel to the place.
4. Pro – Affordable Cost of Living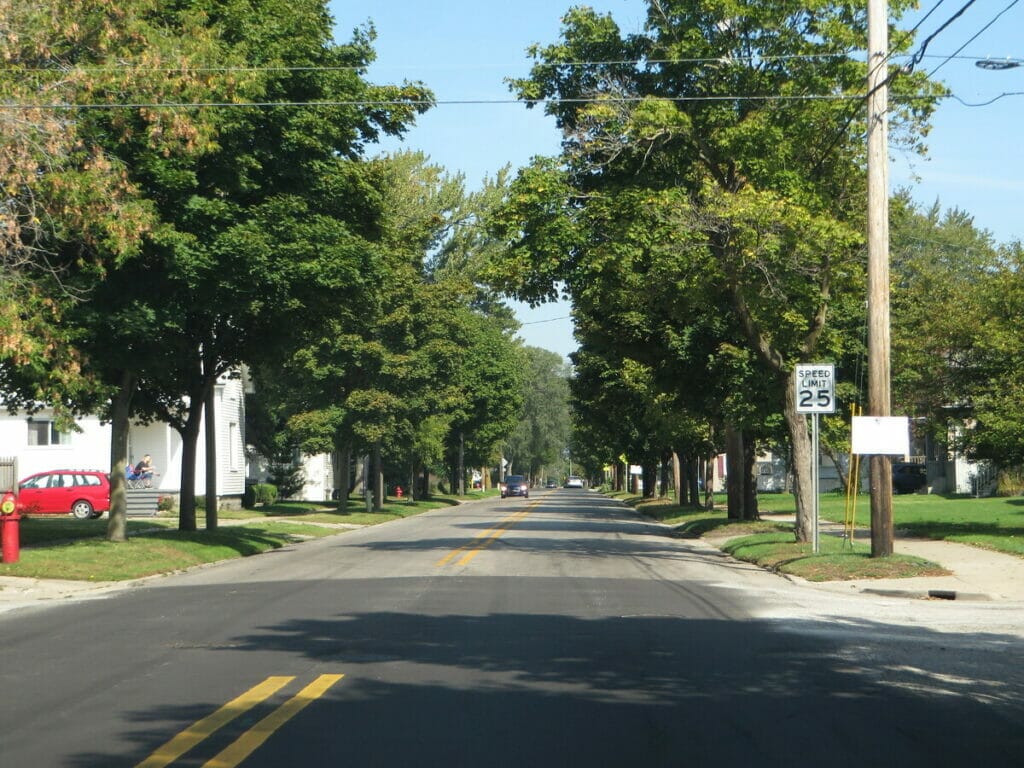 Beautiful lakes, sprawling forests, and popular tourist resorts might have you asking, is it expensive to live in Michigan?
Fortunately, the answer is a resounding no, and for a lot of people who up sticks and move here, this is one of the main draws.
Overall, the cost-of-living hovers at around 10% less than the national average with housing being really significantly lower, at about 23% less.
In urban areas, a lot of this has been fuelled by the economic damage that came with the damage to the automotive industry and the repercussions of 2008, but overall the state is a great place to get yourself on the property ladder and can is somewhere where your buck will go a long way.
5. Pro – A Rebounding Economy
Everybody knows about the damage Michigan suffered after 2008, compounded by the damage of a depleted manufacturing base and the decline of the automotive industry, but today the future looks bright.
Detroit, the poster child for this economic collapse, is now going from strength to strength with concerted efforts at regeneration.
The state's wide spread of sectors, from healthcare to technology to new automotive industries mean that there is a wide base of job opportunities for those looking to advance their careers.
6. Con – Urban Decay
Regardless of how much progress has been made, the undeniable truth is that years of damage have left their scars.
The feeling of neglect and decline can be seen around the state, with a lack of investment in essential services in many areas, population decline meaning that authorities have a smaller tax base and don't have the money to improve things, and the decline and loss of so many stable jobs causing damage to communities around the state.
7. Con – The Roads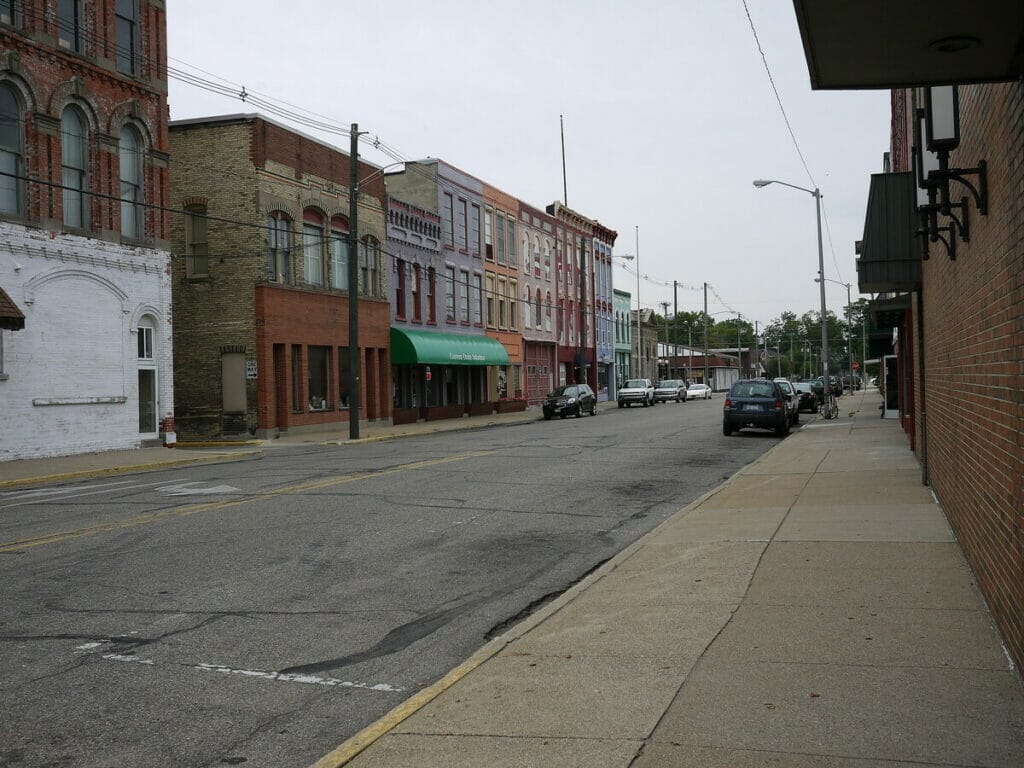 Nowhere is this generational lack of investment clearer than the state of the roads.
They're easily one of the worst things about living in Michigan, pothole-wrecked routes that are the worst in the country.
To add a little fun to this, you'll have to be using them.
The rural spread and concentration of jobs in a few areas mean that long commutes are a regular feature of life here which, combined with a shocking lack of public transport, means you'll be spending a fair amount of your time weaving around potholes.
8. Pro – Four Distinct Seasons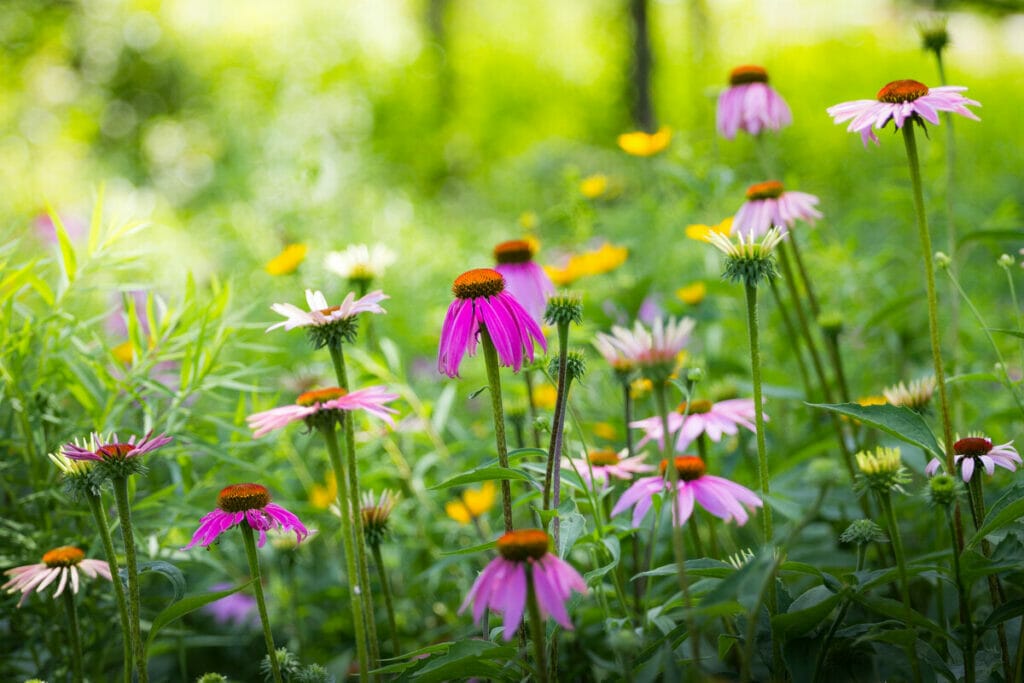 One of the joys of Michigan's weather is how starkly it is divided into seasons.
From the state-wide blossoming that comes each Spring to the experience of seeing wide woodlands turn to every shade of Fall, there's a little something for everybody here.
While winter can be tough (more on this later) the summers are reliably warm, built around long days spent by the lakeside.
9. Pro – All the Activities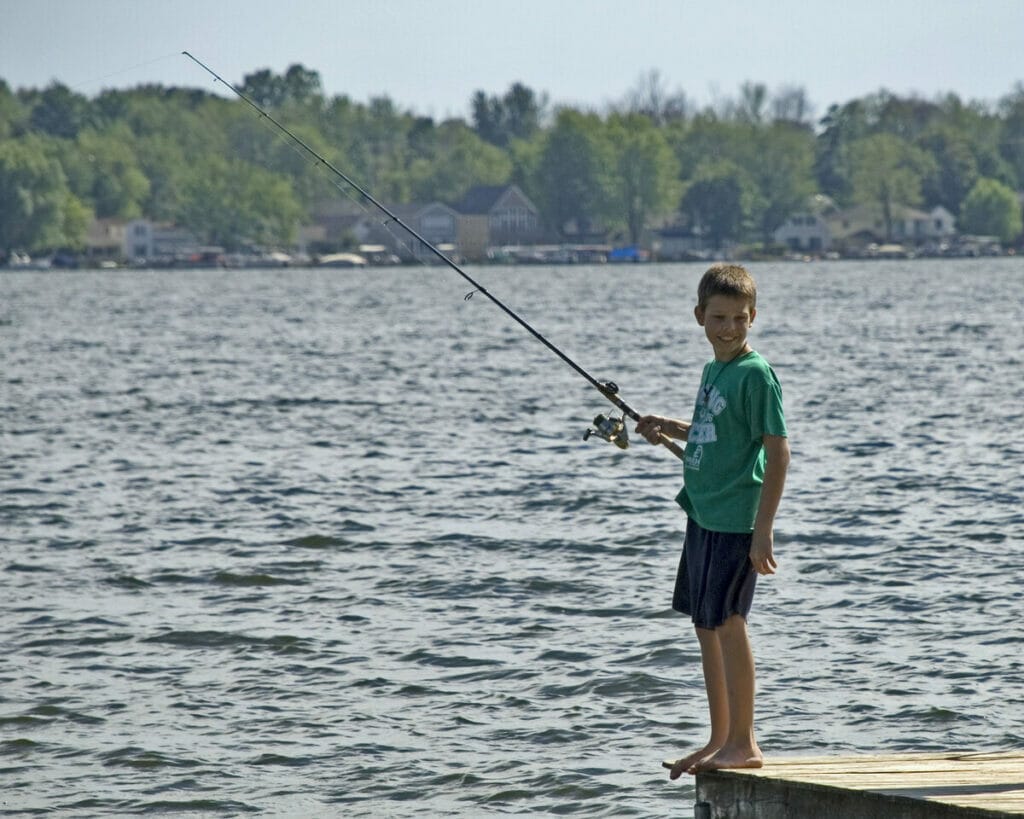 This mixture of wide wilderness and dependable seasons means that you have a feast of outdoor activities.
There is some of the country's best fishing and hunting, while the summer opens up the waterways to you, whether you're looking for boating or swimming or just long days spent hiking mile after mile of well-maintained trails through the state parks.
With the winter comes the skiing and the snowmobiling, as people take in the best the state has to offer all year round.
10. Con – Environmental Damage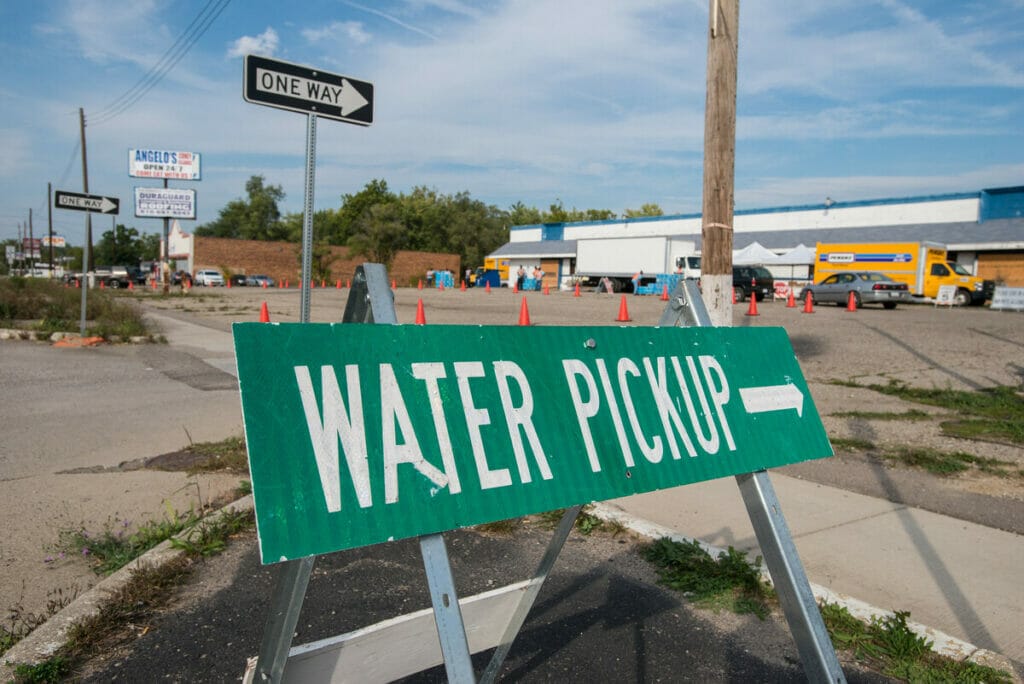 Unfortunately, the state is not all pristine wilderness and has more recently been known for a series of environmental challenges, spurred on by the lack of investment in essential services.
For a state famed for its lakes and rivers, shockingly the majority of these have been water-based.
The Flint Water Crisis is the best known of these but the Detroit Public Schools have also had severe issues with their waters supply, even having to cut it off at one point, and the degraded infrastructure and industrial practices across the state have led to a number of issues around water contamination and pollution that have directly impacted the lives of people here.
11. Pro – Friendly People
Like people across the Midwest, Michigan folk are known for their easy-going hospitality.
Small towns here are close-knit, community-led places where people are welcoming.
Of course, not everybody is an angel, but in general it's a state of easy hellos and happy small talk.
Happily for the introverts out there though, it's never too much.
You're allowed your own space here and there's a live-and-let-live attitude that helps keep everything relaxed.
12. Pro – An Increasingly Diverse Population
Over 70% of Michigan's population identifies as white, but the state has become increasingly diverse over the past decade, with more people identifying as more than one race and the distribution of different demographics spreading around the state.
More immigration into the state has helped cities recover after the Great Recession and a more varied demographic spread has brought a new richness and variety to everyday life across the state.
Plus, it's shaken up the culinary options around town and you can now get your hands on some truly delicious Arabic, Indian, and Mexican food.
13. Pro – A Diverse Cultural Scene
Michigan is home to a wide range of exhibits, film and culture festivals, and unique cultural celebrations that pop up around the state all around the year.
The rejuvenated Detroit is making its name as a hotbed of cultural output, while smaller cities such as Ann Arbor are becoming increasingly recognized for world-class arts scenes and a truly varied spread of original output.
14. Con – Political Polarization
But despite all of this, there are stark dividing lanes in Michigan.
While people are generally friendly folk, recent years have seen an increased interest in politics and an increased partisanship, with strident opinions on both sides of the argument.
There is a stark rural-urban divide.
This doesn't mean every day is ruined by arguments but be prepared for the occasional uncomfortable conversation to pop up.
15. Pro – A Lot of Sports Teams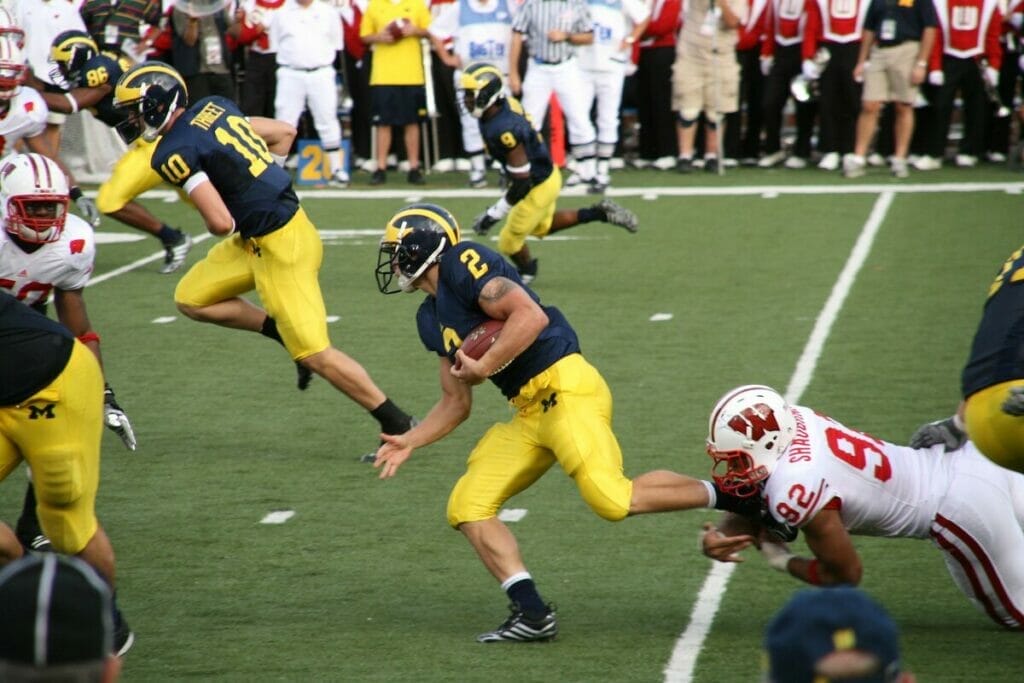 On to happier topics.
If you love sport, you'll be spoilt for choice here.
With the Detroit Lions, Tigers, Red Wings, and Pistons all on the roster, there's more than enough for everyone.
College sports are also really popular as well, with Michigan and Michigan State universities enjoying a well-known rivalry.
16. Con – Those Sports Teams Lose a Lot
The downside – these teams hardly ever win major championships, so buckle in for a bumpy ride.
17. Pro – Easy Access to Canada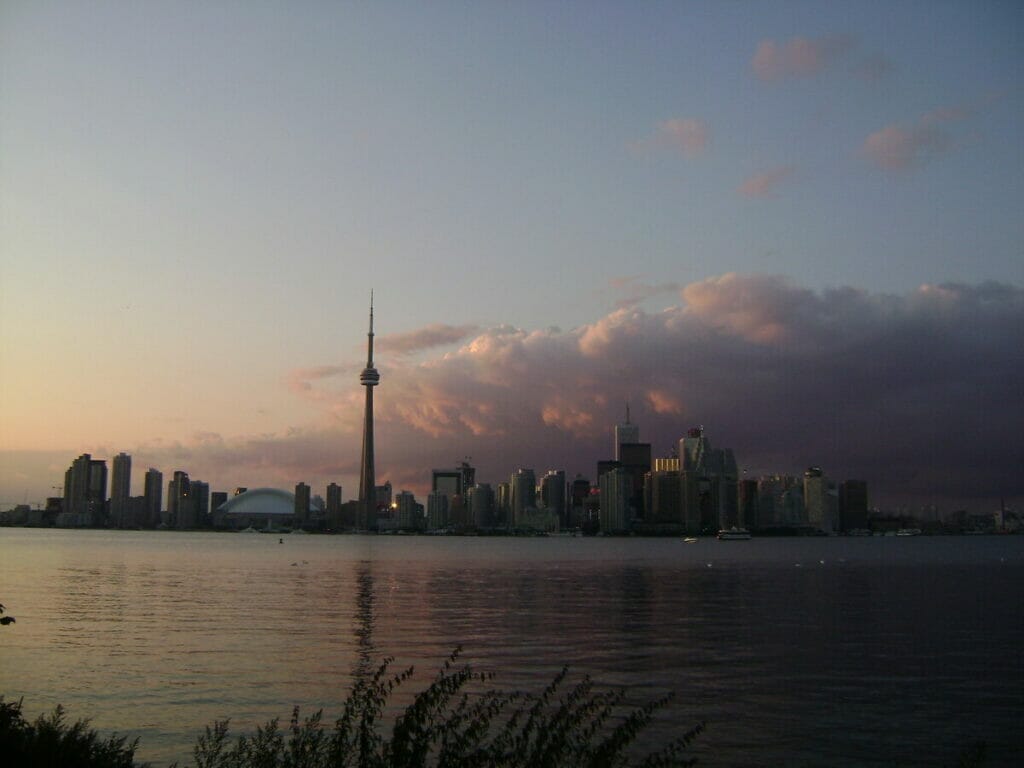 The shared border with Canada means that you can easily hop over for a quick getaway.
Whether you're going for work or pleasure, there are huge swathes of opportunity within easy reach.
From Detroit, you can be in downtown Toronto in just over 3 hours driving, whereas from the Upper Peninsula, you can be deep within the sprawl of pristine Canadian wilderness with one short drive.
18. Con – Brutal Winters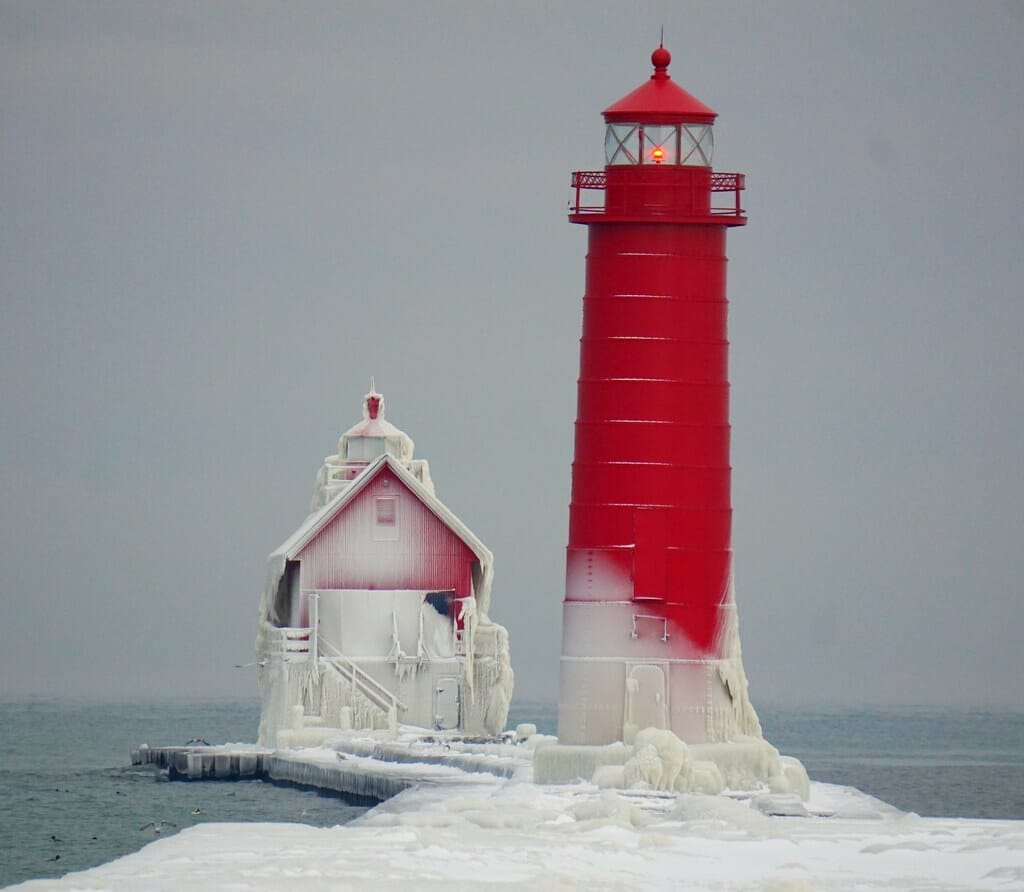 One of the major things to think about when you're weighing up the living in Michigan pros and cons is just how you feel about the cold.
Does winter make you think of cozy, candlelit evenings?
Do you love nothing more than getting the skis out and setting out into pure white landscapes?
If yes, then you're probably fine.
If not, this could be tough.
The winters are long and unrelentingly cold here, with heavy snow and ice making the roads even more useless than normal.
You've got to make your peace with four or five months of fairly constant, biting cold that will have your car feeling like an ice box, and all the associated house heating costs that come along with it.
Like with most of the pros and cons of living in Michigan, it comes down to what you personally like.
Winters here do have their charms, but really can be brutal.
19. Con – Unpredictable Weather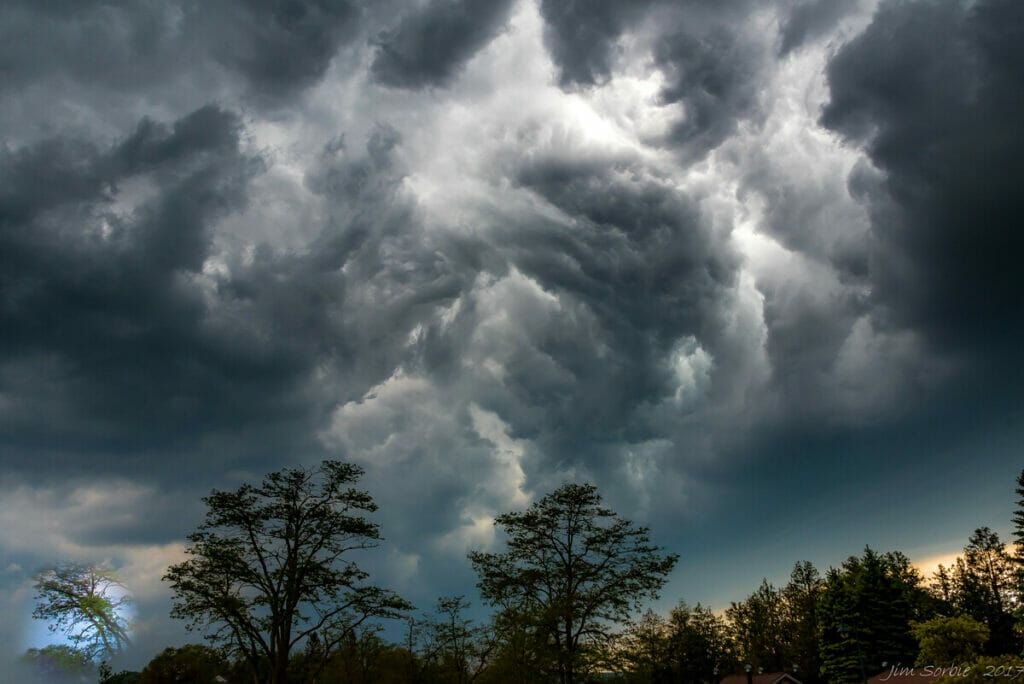 Although the seasons are as dependable as they come, day-to-day weather can be a tricky thing here.
Thunderstorms roll in more regularly than you'll like and the occasional tornado will turn up as well, but these are largely confined to the rural area.
Over the course of a week, a few days, sometimes even an afternoon, it can go from being a calm, sunny day that's hovering around the mid-50s to suddenly freezing, with snow on the horizon and you desperately wishing you had brought that extra layer with you.
20. Con – Crime
While it's not as bad as the post-apocalyptic reputation of Detroit might suggest, it is true that crime is a major issue in Michigan.
When it comes to violent crime the state ranks eighth in the country and there's also more property-based crime as well.
If you're out in the rural areas this won't be as much of an issue, and the same is true of more affluent cities such as Ann Arbor, but decades of insufficient investment and economic decline have left their mark on several areas, and your safety is always worth bearing in mind.
With some street smarts and general security measures you'll generally be fine, but if you're in one of the major cities they're not the kind of place to be leaving the door unlocked and letting the kids go running around by themselves.
21. Pro – Surprisingly Great Food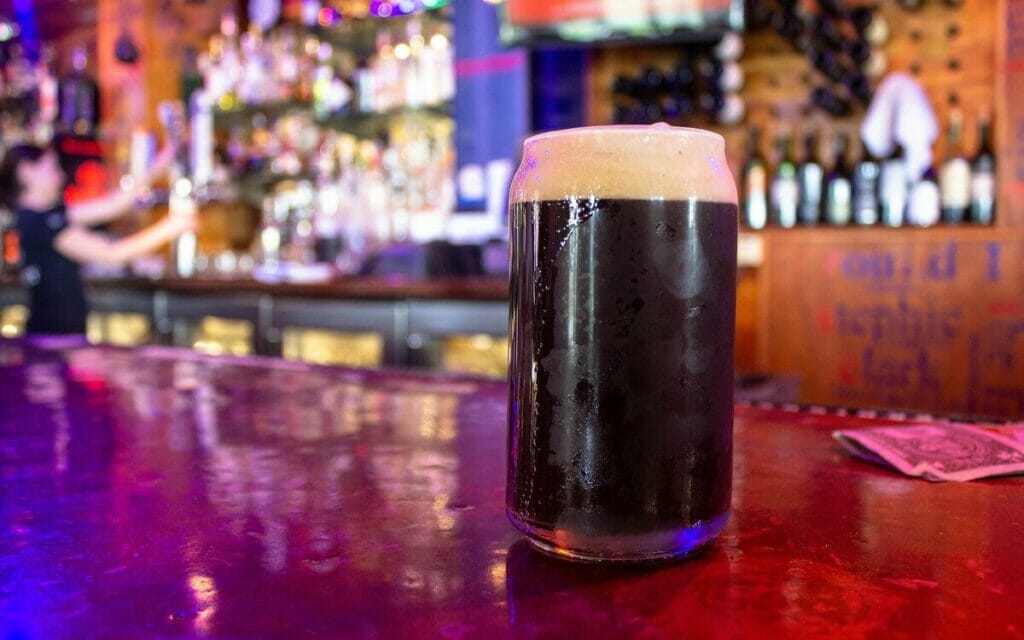 Something people are often surprised by when wondering is Michigan a good place to live is the quality of food here.
You've got the household local staples like great pasties, hearty classics, and treats like Coney dogs and Mackinac Island fudge, but recent years have also seen a spread of delicious ethnic cuisines around the state as well.
And you can wash it all down with some of the country's best craft beer.
The brewing scene here has exploded over the past decade or so, with microbreweries and beer festivals seemingly everywhere you look.
22. Pro – Quality Healthcare
Of all the moving to Michigan pros and cons, making sure that you're healthy is pretty key, and the healthcare here is fantastic.
In fact, it's consistently ranked as some of the best in the country, with multiple genuinely brilliant hospitals and medical centers scattered around the state.
Of course, these are mostly focused around the major cities, and if you're living a bit further out it can be tricky to get access to good healthcare.
23. Pro – And a Good Education System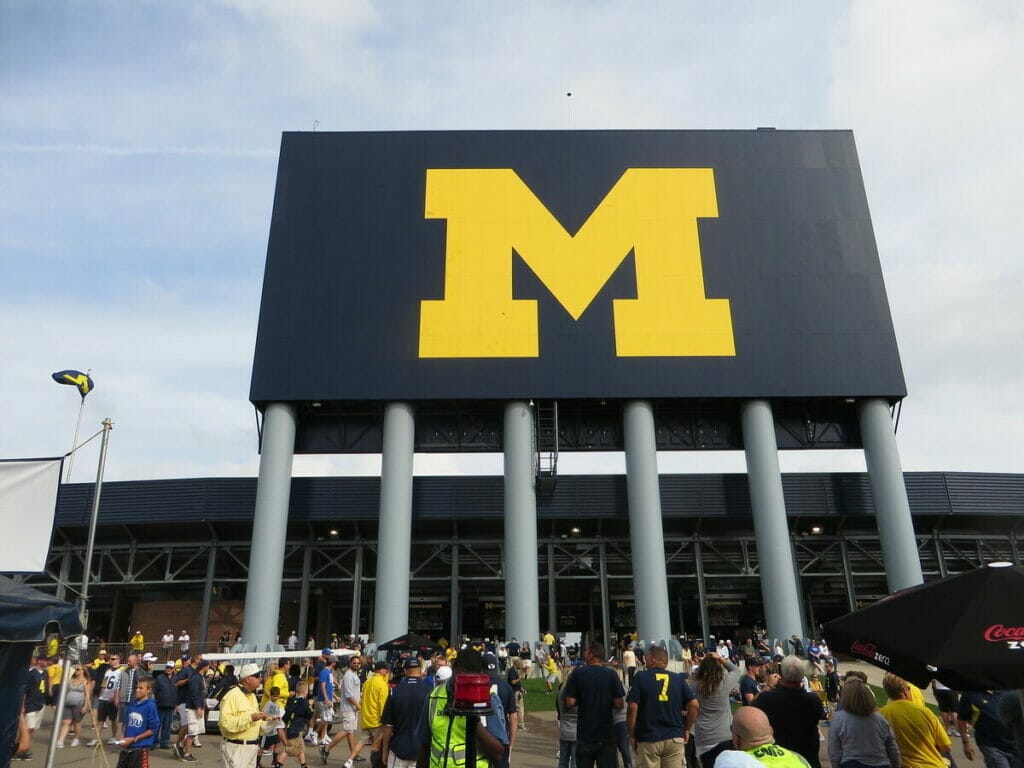 And it's not just the healthcare, there are multiple quality schools here, with the University of Michigan, Michigan State University, and Wayne State University all on offer.
For younger students, the quality differs majorly by where you're living, but in general Michigan enjoys a good coverage of quality education around the state.
Looking for more pro and con guides about the other US states? Head here!
Pin for Later!
Get the All-American Travel Secrets!
Don't miss out on America's hidden gems!