Whether it's your first time camping or you're a seasoned expert, this guide to what to pack for a camping trip will help make sure you don't leave anything out, because unlike packing for a beach vacation or packing for a skip trip, you're never guaranteed with camping that you'll be anywhere near a place to buy the things you forgot!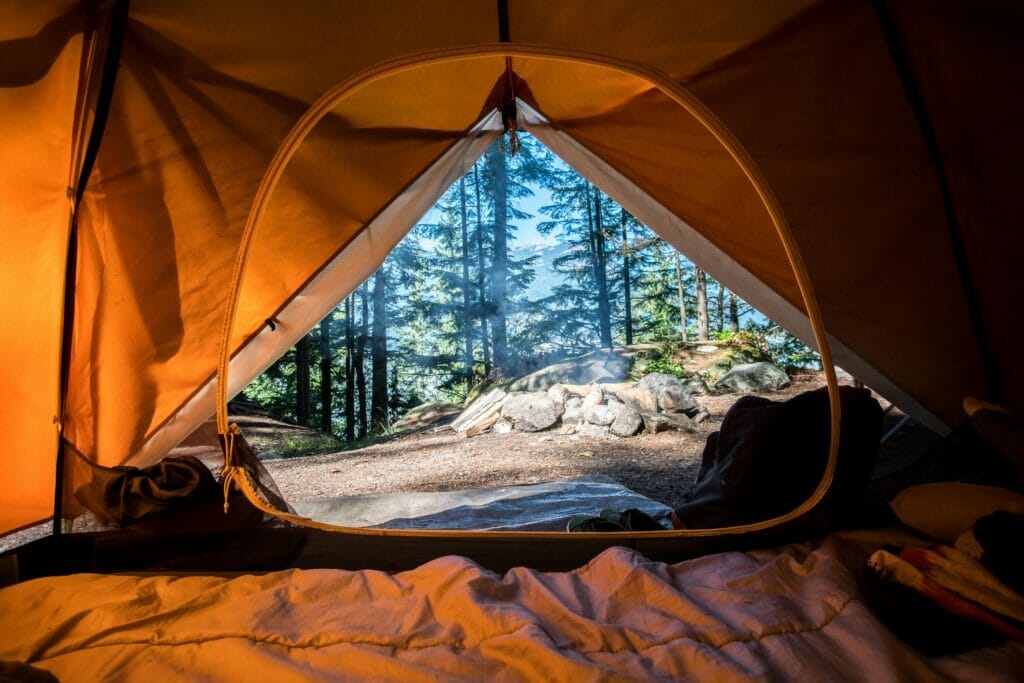 You could lose yourself in buying camping essentials, and each family will have a different idea of what "camping" means to them, as well as different campsites offering different facilities, but these things are well-used and loved by most campers, and can help spur thoughts on what else you should bring.
Enjoy your time in the wilderness, made all the better by this camping equipment!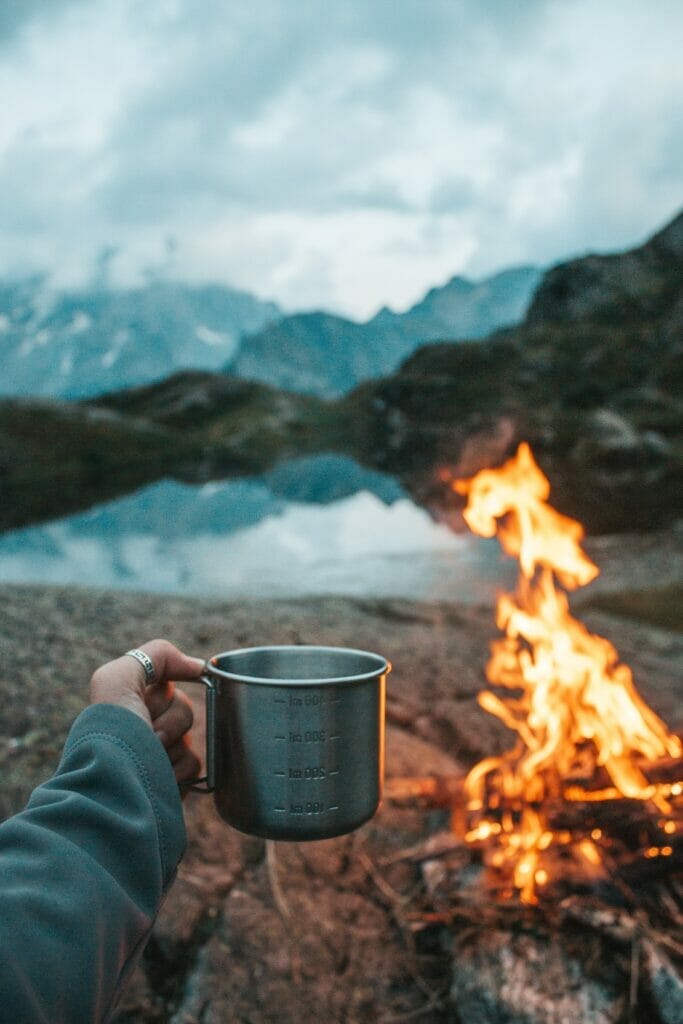 For other packing lists, don't forget to check out:
What Clothes to Pack for Camping
Wearing comfy clothes while camping is essential.
This isn't the time for your high heels and shirts that will never dry!
Below, you'll find the best list of clothes to take camping so you can spend more time worrying about where you're going to hike to instead of why you're so uncomfortable.
1. Hiking Pants
Hiking or outdoor pants are really popular to take camping because they're lightweight and waterproof.
You don't want to take long cotton pants camping, like leggings, because if they get wet, it will take forever to dry.
Similarly, jeans are fine if you're just doing some lightweight camping and nothing too serious, but if you're really out in the wilderness with the elements, jeans just don't give you that room to move and are very restrictive.
2. Thick Socks
Whether short or long songs, think about having some thicker socks when you go camping than the normal ones you might wear in city or suburban life.
This will ensure that your feet are cozier, kept warm at night, and have more protection between them and the ground.
3. Antibacterial Shirts
When you're packing shirts for camping, always try and go for fabrics that are antibacterial by nature like these shirts, or something moisture wicking like these.
Again, they'll dry faster, don't have to be washed as often so you can rewear them more and they won't absorb bad smells, and the fabrics are stretchy and moveable so you can wear them hiking, around the campfire, or when doing the camping dishes.
4. Hat
If you're camping during the warm months, make sure to bring a baseball hat or other type of hat to keep the sun off of your face and neck.
Especially if you're field camping with full exposure to the sun, this is super important for your camping packing list.
If you're camping in the winter months or there will be cold nights, make sure to also bring a warm hat like a beanie.
You'll sleep better with that warmth on your head and over your ears.
5. Pajamas
The one thing about camping that's great is you can rewear the same clothes and no one cares because, hey, wilderness, but at least try and bring some pajamas so you can still change into different clothes to sleep in the tent.
You don't want to be sleeping in the clothes you've been out around the campfire with or out in the wild, as you'll bring in dirt, smoke smells, and other stuff that doesn't lead to a peaceful night sleep.
Bring some cozy PJs for camping and you'll be all set.
6. Flip Flops
Even if you're camping in the winter, flip flops during camping are an essential.
Why?
Well, they're perfect for taking short walks from your tent to the shower facilities, or for wearing while taking a wilderness shower with your portable shower.
I wouldn't advise wearing them around the campsite in general, but having a pair with you for bathing and short walk purposes when you don't want to put on your entire shoe and sock combo is helpful.
7. Sturdy Tennis shoes or Hiking Boots
Mostly, around a campsite, you should try and wear a pair of hiking shoes or sturdy tennis shoes.
Lightweight and waterproof is a great way to go, which makes these my preferred camping shoes.
You don't know what you'll be exposed to in terms of weather, and the ground is probably uneven and filled with various critters that you don't want in between your toes (fire ants, I'm looking at you).
Essential Camping Equipment to Pack
This is the cream of the crop, the best of the best, the things that most people find they NEED when they go camping.
Even if you forget the other stuff, these are the staples to make sure you add to your list for camping.
8. Camping Tent
Whether you get a solo camping tent like this one or a giant 6 person camping tent like this one with a porch (hello, luxury!), unless you're planning on literally sleeping under the stars, the tent is the most important part of your camping experience.
If you're a frequent camper, invest in a quality one, and if you are just going for the first time, I'd lean towards getting a cheaper one like this one to really figure out what you like and how you like to camp to know which you should invest in.
Obviously, this also includes bringing all of the camping tent equipment like the stakes.
Don't forget them at home, and double check you have all of the parts and pieces before leaving!
9. Camping Chairs
Part of the fun of camping is sitting around a fire at night or just sitting around and talking during the day.
And that's way better when you're in comfy camping chairs like these ones instead of sitting on the ground.
They fold up so they don't take up as much room in the car as you'd think, and some like these ones also come with built-in cup holders which are super convenient.
10. Camping Lights
Get yourself some solar-powered camping lanterns like these ones that can either be hung up around your campsite or you can keep in your tent and take around with you if you need to go to the bathroom at night.
It's pretty obvious when you get there, but some first time campers get to the campsite and realize that they are so reliant on fake light in the evening in their normal life that the fact that, well, it's pitch black when the sun goes down comes as a shock!
You don't want to stop having fun, or being able to be alert to what's going on around you when the sun goes down, so make sure you have a good stock of both battery-operated lights like these and the solar-powered ones.
11. Inflatable Sleeping Pad
It used to be that everyone was obsessed with bringing blow-up mattresses camping, and that is still a thing when you have a source of electricity, but there is another option between that hassle and sleeping on the ground: these inflatable sleeping mats.
These are so lightweight that when they fold up, you will not even know they are there (they can fit in just a pocket in a backpack), and they have a self-inflating system that means you don't have to blow them up manually until you're out of breath.
It's such a cozy surface and you'll go right to sleep without worrying about aches and pains.
12. Sleeping bags
Don't forget to bring something to actually sleep in!
Blankets and sheets can stay at home for the most part, as they're bulky and not water or weather proof.
Instead, invest in a high quality sleeping bag.
The fact that they can be zipped up and cocooned around you is a big selling point for campers because it can help keep you warm at night, and the fabric is often moisture wicking so if they get a bit wet from the damp tent ground in the morning, you'll be perfectly fine.
It's not one-size fits all sleeping bags, though, because some are built for cold weather while others are more for summer camping, so make sure you pick one that fits the conditions you expect.
13. Camping Tarp
A camping tarp is a basic piece of camping equipment, but will come in handy when there's a huge rainstorm or you find yourself needing to make a campsite somewhere where the ground is really damp.
You can either string up a camping tarp over your tent to create a cover (which is what most people do), or you can also put them on the ground underneath your tent for that extra bit of separation from the ground while you're sleeping.
Camping Gear to Pack for Cooking
From cooking over the fire to roasting marshmallows, you have to find a way to cook while you go camping (unless you just bring sandwich meats and a cooler), and it's part of the fun for many people.
This list of camping cooking equipment will make sure you've got the basics.
14. Camping Cookware and Stove
You don't want to bring your normal cookware from home camping, mostly because it's probably breakable and will take up too much room.
Instead, invest in a pack of camping cookware like these ones that provide easy to clean, compact to pack, and essential to have cookware like pots and pans and silverware.
This way, you don't have to think about if you brought everything separately, but can instead just make sure you brought your designated cookware pack.
You should also think about investing in a camping stove.
These small stoves have one or two burners, usually, and allow you to use pots and pans on them to make whatever you would like – macaroni and cheese, bacon, other types of pasta, fried egg, the sky is the limit!
15. Insulated Camping Mugs
Whether you're a coffee lover or you have some soup you're trying to keep warm, I'm obsessed with these insulated camping mugs.
They're no-spill so you don't have to worry about crashing around with them a bit, and in the absence of heat or cooling sources, they can help you keep your liquids (drinks or otherwise) at the right temperature.
Even better, use one of these camp french press options for the best camping coffee ever!
16. Foldable Camping Table
If you know that you won't have a picnic table at your campsite (some do), make sure to invest in a foldable camping table like this one.
It lays flat, so takes up no extra space in the car, and it means you'll have a surface to eat on, cook, on, clean on, or even play a game of cards on.
They're not expensive and it's much better than sitting on the ground the whole time while you're trying to make a meal.
17. Foldable Camping Sink and Cutting Board
This dual camping sink and cutting board is seriously one of the most innovative camping items I've ever seen.
Not only can it fold down to be a great cutting board for chopping up your hot dogs, preparing hamburgers, or cutting up veggies, but you can fold it up and it becomes a camping sink with sturdy enough sides to hold the water as you're washing the dishes or soaking the pots and pans.
Camping Gear to Pack for Cleaning
You don't want to come home smelling of 8 days of camping and be eating off of dirty dishes.
You're not going to smell like you just left the Ritz, but these are some things to bring camping to help with cleaning and washing.
18. Camping Towels
Bringing your regular towels from home is a no-go for camping.
They'll take too long to dry and cause unnecessary bulk.
Instead, in this ultimate camping packing list, I'm recommending these lightweight camping towels.
Not only are they quick dry microfiber towels that just need to air dry for a little bit until they're good as new, but they are super compact and thin, making them easier to transport, especially if you have a hike to your campsite.
Get each person their own towel, and when you need to refresh, give them a wash in that foldable camping sink and let them dry.
19. Body and Face Shower Wipes
I'll talk about shower options below, but if you're really camping, without access to any bathrooms or showers, you don't want to feel constantly dirty because you've been unable to wash yourself.
When you don't feel like dragging out the portable shower, these body and face shower wipes are made to give you that clean feeling and wipe the dirt and grime off of you without drying out your skin too much.
They're also biodegradable, so they're not going to hurt the environment around you and just work really well in a pinch.
20. Portable Shower
This portable shower is the perfect thing to make sure you stay clean, as its solar powered heating allows the water to heat up during the day, and then you can hang it from a tree and stand underneath the shower hose to have a warm camping shower!
Some people also buy pop up tents like these to use so you're not baring it all to the world, but it's a really solid option for bathing out in the wild and is lightweight and compact.
21. Laundry Bag
I'm a huge fan of taking a laundry bag camping like these ones to keep your dirty clothes in, if you're not planning to wash or rewear them.
Keeping all of the funk in one place in your tent will help keep it smelling fresh and keep it clean, and honestly you can actually just keep the laundry bag in the car or outside your tent if you don't want it in with you.
Get the All-American Travel Secrets!
Don't miss out on America's hidden gems!