Heading out on the cruise of a lifetime?
Don't leave without checking out this guide to what to pack for a cruise, including all of the essentials you'll need to hit the open seas in comfort and style.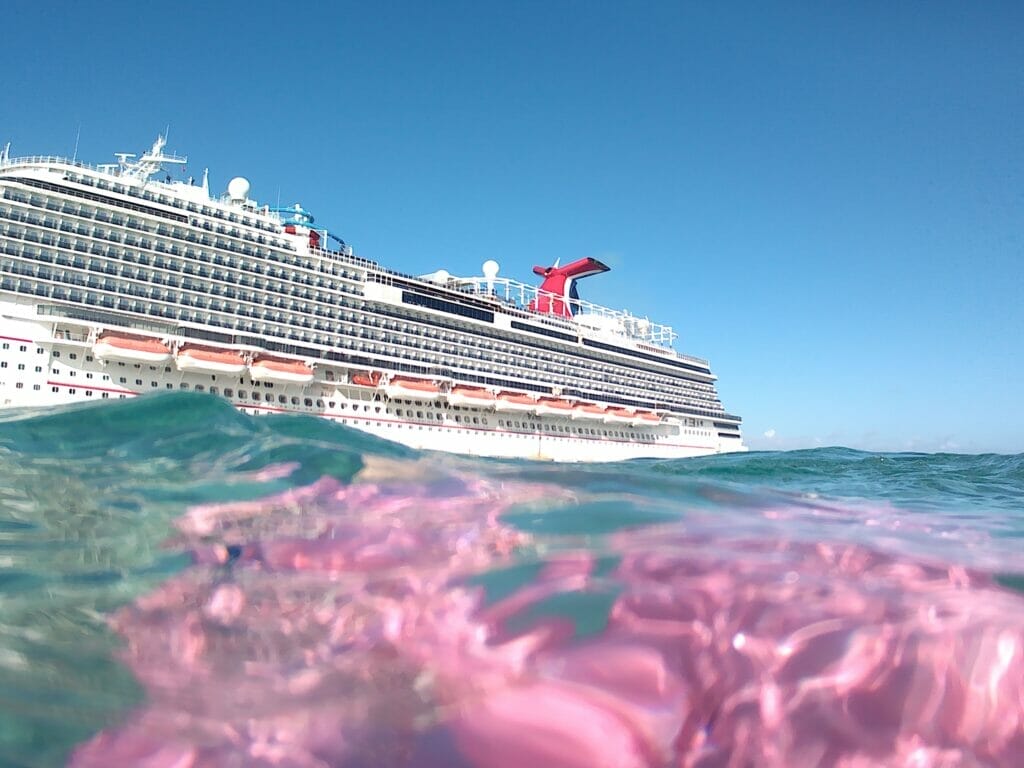 In this cruise packing list, we'll talk about some things that most cruisers know they should bring (hello, bathing suits), as well as some things that you would have no idea about if you have never been on a cruise before (magnetic walls, what?)
Whether you're embarking on a Disney cruise with the kids as a first time cruise or a Royal Caribbean cruise for your honeymoon, here is exactly what to put in your suitcases!
| | |
| --- | --- |
| Motion sickness bands | Bathing suits |
| Suction cup hooks | Magnets |
| Hats | Over the door shoe organizer |
| Pajamas | Clothespins |
| Portable Phone Charger | Flip flops |
| Tennis shoes | Sunscreen |
| Sunglasses | Dressy outfits |
| Cover ups | Backpacks |
| Lanyard | Passports |
| Laundry Bags | Toiletries |
| Headphones | |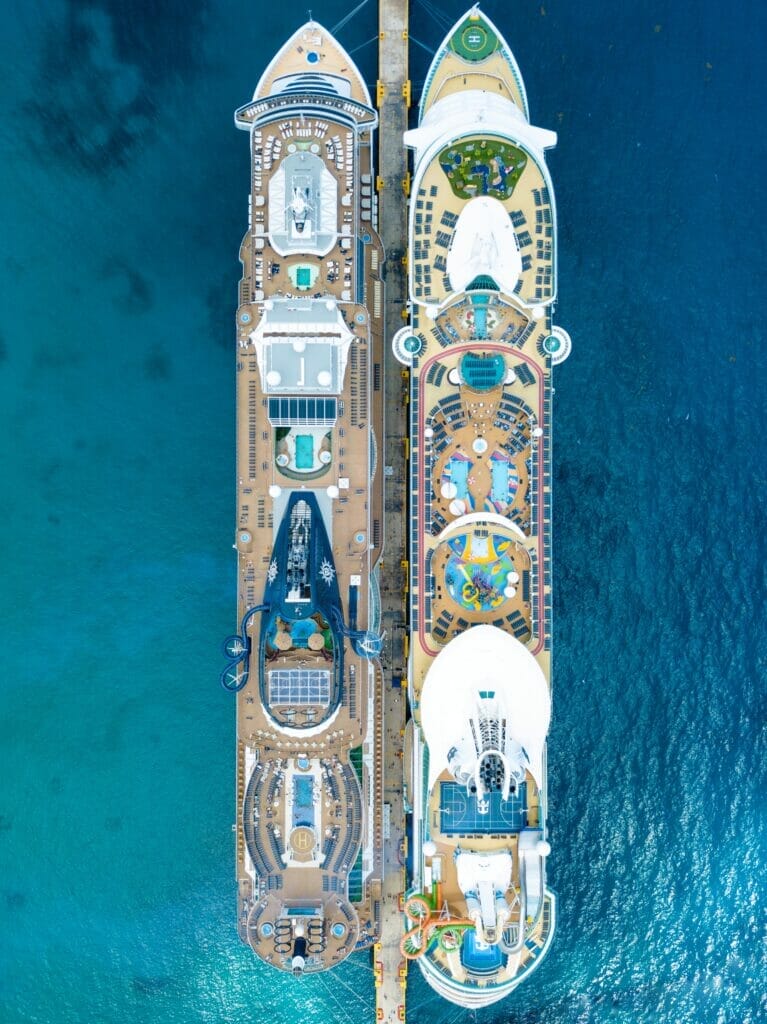 For other packing lists, don't forget to check out:
1. Motion Sickness Medication or Bands
If you want to know what to pack for a first time cruise, you should know that the number one thing many people advise is motion sickness medication like this or motion sickness bands like these.
The motion sickness bands are worn around your wrist and are said to press down on pressure points that can keep the motion sickness at bay.
There are also other options like motion sickness patches.
Yes, there will be some options in the infirmary on the ship, but why not come prepared yourself with a stash of motion sickness tools in case you or someone you're traveling with finds that the waters aren't as smooth sailing as you thought?
2. Bathing Suits
Part of the cruise fun for many people is sunbathing or going in the pools on the cruise ship, not to mention the time you might spend at beaches when the ship is in port.
Bringing bathing suits is an essential for cruise ship packing, and I would advise that you bring a couple per person, as you don't want to be putting on wet bathing suits because your only suit hasn't had enough time to dry.
3. Flip Flops
When walking around on deck and trying to relax, you don't want to be all stiff and wearing stuffy socks and tennis shoes.
Bring your favorite pair of flip flops and let your toes air out!
These cheap flip flops are great if you just want to get them for the cruise, but don't need them in everyday life, or you can check out the variety of nicer flip flops like these that you might wear both at home and on the cruise.
4. Tennis Shoes
When you are doing more active things on the cruise ship like playing sports, or you're in port and walking around a lot, bringing a comfortable pair of tennis shoes is key.
It doesn't matter what brand, but make sure you don't buy brand new ones right before you head out on your cruise.
You need time to break them in so they don't give you crazy blisters that you then spend the rest of the cruise dealing with.
I like these for women, this is my husband's favorite pair, and these are some cute kid options.
5. Multiple Dressy Outfits (Slacks, Dresses, Nice Shirts)
One of the most important part of the cruise day, to many people, is dinner at night.
It's very common to have a more formal sit-down dinner at night that everyone dresses up for, and sometimes your ship will have a dress code that you need to follow to make sure you're allowed in and not relegated to the more casual buffet options.
If this is a part of cruise life that you plan on participating in, make sure to pack dressy clothes for everyone, including a nice pair of shoes, nice shirt, slacks, or dresses.
6. Sunscreen
The whole point of a cruise is getting out in the sun, but you don't want to do it at the expense of your skin, your health, and the enjoyment of your cruise.
Make sure to use an SPF sunscreen of at least 50, and reapply regularly.
You'll want to wear it when you're out at sea as well as when you're in port, and I highly recommend this eco-friendly sunscreen that is going to go a long ways towards not harming the marine environment that you're swimming in as well as being good for your skin.
Seriously, even if you're not concerned about your health (and you should be), spending your cruise with a sunburn is a surefire way to not get the most out of it as you could be.
7. Sunglasses
Hopefully the sun is shining for your cruise, and that means you should invest in a sturdy pair of sunglasses to protect your eyes and let you see the world without squinting.
You might want to wear them just walking around the outdoor sections of the ship, or put them on while you're sunbathing at the beach in port.
The sun can get very intense out on the water with nothing between you and the sky, so while you don't need to bring your nicest pair, make sure you bring a pair of sunglasses with UV protection like these that will hold up in the surf, sand, and cruise life.
8. Backpacks
When you go into port, whether that's the Bahamas or Cozumel, you may want a backpack or day bag to take with you that has your sunscreen, your wallet, etc.
Get a waterproof one like this one that's lightweight and easy to carry so you're not bogged down all day, but make sure you've thought about this aspect of cruising.
Many times, the cruise ship is going to be far away from where you end up during your day in port if you go on an excursion or something, so you need to have a way of carrying things that you need if you're planning on spending any money or need a change of shoes or clothes for excursions that you're going on.
9. Lanyards
You'll see tons of people wearing lanyards like these while on a cruise ship. Why?
It allows you to put your room key in a place where you don't have to physically carry it, and it's sort of just part of the cruise ship vibe.
Get some colorful ones like these, or themed ones like these Disney lanyards if you want to really get in the Disney cruise spirit.
You can also get ones with waterproof sections like these to put some cash in or other essentials.
10. Suction Hooks
One thing many people notice about a cruise ship room when they first enter it is the lack of space to hang things.
You can hang everything from clothes to wet bathing suits to your luggage/backpacks to get them off the floor, because the amount of space in a cruise ship room is very limited.
Reusable suction hooks like these are the perfect way to do that.
11. Magnet Clips
Did you know that the walls and doors of your cruise ship room are magnetic?
People bring magnet clips like these to hang up fun signs on their door and decorate it for the cruise, as well as for other things like putting up the schedule of activities you want to do.
This is another part of "cruise ship culture" that you won't have experienced or heard about if you haven't been on a cruise, but don't miss out and pack some in your bags!
12. Passport
Most cruise ships require passports because you're going into international waters, so make sure to have these all packed and ready to go.
Get waterproof passport covers like these to house them in, and make sure to bring color copies of all of them as well.
13. Laundry Bag
Again, with the small cruise ship rooms, you're going to want some way to separate your dirty clothes from your clean clothes to prevent the funk from taking over.
These laundry bags are perfect for your cruise checklist because they don't take up any extra room in your luggage, but can be hung from one of those suction hooks or stashed away in a corner of the room accumulating dirty clothes so you don't have to keep looking at them strewn all over the room.
You can also get ones with antibacterial properties like these to try and keep everything smelling fresh.
14. Cover Up
Cover ups are hugely popular ways to wear your bathing suit around board while still having an option to put something over it when you need to go and do something else or don't feel like flaunting your bikini in the hallways.
I love dress cover ups like these, but they also make things like short sleeve swim shirts for men that you can put on before and after you're down at the pool to feel more fully dressed and not have to worry about your cotton T-shirt getting splashed.
A super important part of your cruise attire!
15. Headphones
Whether you want to listen to some music at night while your husband has the TV on or you need something to keep the kids occupied during the long drives out to an excursion on land, make sure everyone has a pair of headphones they can plug into iPads, phones, or handheld video game consoles so you don't annoy each other and people can zone out for a little when you need to.
16. Toiletries
Don't forget your must-have toiletries on board like shampoo, toothpaste, and any medications you usually take.
You don't want to have to pay expensive prices to buy these on board, and going on a cruise ship isn't like going on an airplane where you can only bring a certain amount of liquids.
Sunscreen, already mentioned, is just one example where you should really come on board fully prepared to have enough for the duration of your cruise.
17. Portable Phone Charger
Whether you're using your phone to take plenty of photos or are using ship WiFi, it's not always convenient to charge your phone in the room, and sometimes, like during a port day, you are going to be out and about with the ability to physically plug your phone in anywhere.
On these days, a portable phone charger like this is a lifesaver, as it can charge your phone without being plugged into anything else.
It's so small that it can easily fit in your backpack or even a pocket, and it means that you won't be stuck without phone battery while you're out and about exploring.
Make sure to charge the charger (a funny thought, I know) overnight in your room and then it will be good to go during the day.
18. Pajamas
Pajamas is one of those cruise-ship essentials that some people forget about in all of the excitement of packing bathing suits and sunglasses and tropical gear.
Make sure you've got enough pairs to get you through your cruise, though many people opt for just one pair if it's a shorter cruise as there's no point in taking up your luggage with tons of pajamas when you want to spend the least amount of time sleeping in your room as possible.
You can do that at home!
19. Hats
Whether it's a wide-brimmed hat to keep the sun off of your face at the pool or your tried-and-tested baseball hat, think about hats both as sun protection and how to keep you comfortable while on the ship.
It's one of the most important things to take on a cruise!
Kids should definitely always be wearing these bucket hats when exposed to the sun to try and shield them as much as possible and not overheat.
Plus, they're adorable and your cruise photos will come out looking super cute.
20. Clothespins
Another thing that some first time cruisers don't think about is clothespins.
Why?
Often there are places in the room, including a makeshift clothesline in the shower, that you can use clothespins to hang wet bathing suits from.
You're going to want to give your bathing suits the best chance to dry as possible,and people find that airing them out (including on the balcony if you have one) is the best way.
People also use them to attach their towels to chairs at the pool, as windy conditions might make them fly away and this way you'll have peace of mind knowing your towel is secure and saving your spot.
21. Over the Door Shoe Organizer
"How many pairs of shoes should I bring to need a shoe organizer?!" you might be thinking.
It's not for shoes, though!
People love bringing these over the door organizers on cruise ships because they help create additional storage for things like toiletries and the other things you've brought on board like lanyards and sunglasses and what have you.
Get the All-American Travel Secrets!
Don't miss out on America's hidden gems!