When it comes to figuring out what to pack for beach vacations, there's one rule to keep in mind: prepare for sand in all crevices.
No, seriously, as someone who is an expert in beach vacations and loves Florida in the winter, I know that you're going to want to be able to enjoy yourself while also being comfortable and not a walking monster of salt, sun, and sand.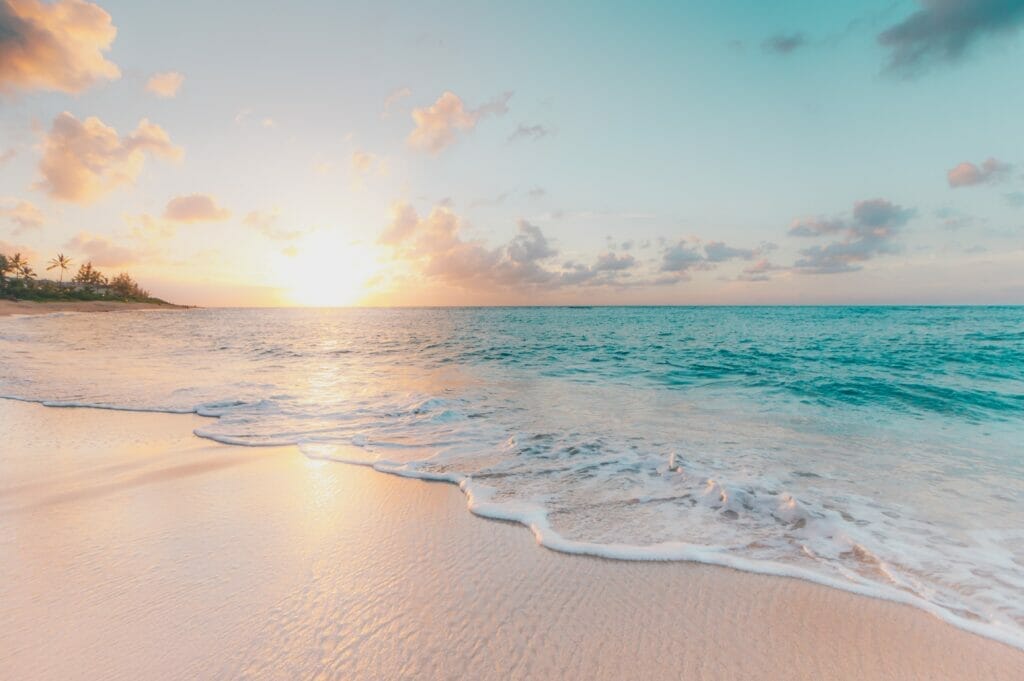 Here's exactly what to pack for a beach vacation, including basic vacation packing must-haves and those that are special to the beach.
For other packing lists, don't forget to check out:
1. Swimming Suits
Duh, you're going to the beach, you're going to want to bring as many swimsuits as possible.
From this basic one piece to adorable bikinis like this to swimming suits/trunks for men, everyone in the family is going to need bathing suits galore.
I like to bring, if possible, one for each day of the trip, up to about a week's worth.
Why?
Because putting on a wet swimsuit is no fun, and often you're going to the beach so much that the wet ones don't have time to dry before you're going in the water again.
By bringing multiple, you'll give yourself plenty of of options, and by the time you've cycled through them, the ones you used in the beginning of the week should be dry.
2. Flip Flops
Beach vacation are not the time for tennis shoes and socks.
This is the time to let your feet and toes go free, and flip flops are just what the doctor ordered.
Pack multiple pairs of flip flops, ranging from cheap ones like these ones to your nicer pairs like these for walking around piers or other indoor areas, and don't forget to wear them around before you head off on your vacation as sometimes they can rub in weird places and you want your feet used to them before you travel.
3. Wide Brimmed Hat
When deciding what to pack for a beach vacation, many people forget this very important element.
Wide brimmed hats are going to help you keep the sun off of your face and neck, which is going to go a long way to not only protect your skin, but to also make sure that you're not too drained by the sun.
Being out in the sun all day can be physically exhausting, even if you're just sitting on the beach.
Invest in some fun beach hats like this, or baseball hats if you prefer, and make sure the kids are decked out in some fun bucket hats to shade them as well.
4. Eco-Friendly Sunscreen
Of course you need sunscreen for the beach (SPF 50+ please), but did you know that you can get eco-friendly sunscreen that is so much better for the environment?
See, when you go swimming, some of your sunscreen washes off into the ocean, you can't help it.
But if you're using sunscreen with harmful chemicals to the marine environment, you can end up damaging their ecosystem and bleaching coral and other things we want to avoid.
Instead, try sunscreen like this that is going to protect both you and the critters swimming around you, as they deserve some love too!
5. Water Shoes
Especially for the kids, water shoes are a great way to make sure their feet are protected from cuts from various rocks or jagged beach debris, and it means that they won't get scorched from the hot sand.
If you're heading to a rocky beach area, everyone might want to try these as the rocks can be seriously painful on your feet if you're barefoot.
Try basic watershoes like these or more fun ones like these.
6. Cover Ups
One of the best parts of beach fashion is cover-ups!
From oversized T-shirts to dresses, a dedicated beach cover up is going to help keep the sun off your skin when you're not swimming, as well as be light and airy enough that it's not sticking to you in uncomfortable ways.
I love colorful cover-ups like these.
7. Sunglasses
Again, beach fashion and sun protection is totally in.
The point of heading to the beach is usually because you're looking for some sun, so you'll want to bring multiple pairs of sunglasses to wear while you're lounging around, building sandcastles, or going for walks on the beach.
Get a pair of sunglasses with UV protection to ensure they're actually doing something to help your eyes and not just providing a darkened filter.
UV damage can be really serious, so you want to have fun at the beach while still looking after them.
Bring a few different types, including super basic ones that you don't mind losing if you get caught in a wave as well as nicer ones for a walk on the beach or a meal out.
8. Beach Bag
You can't take a beach vacation without the number one thing you need to store your beach junk in: a beach bag!
There are so many options for beach bags, but a good one is made out of a material that's waterproof, sandproof (ie not a hundred little areas for sand to get stuck in) and large enough to carry your snacks, your toys, your extra flip flops, etc.
I love this one if you want a super sturdy one, or you can try and be a bit more fashionable with ones like these.
9. Beach Cooler
Most beaches will allow coolers, and this is a great way to carry all of your drinks and keep them cold even when sitting in the hot sun.
You can choose a soft sided one like this, or a hard-sided one that you can sit on instead of sitting in the sand.
10. Beach Umbrella
If you're heading somewhere that doesn't provide cabanas or beach umbrellas already set up, consider bringing your own (if you're driving).
Sticking a beach umbrella like this in the sand and using this as your home base to enjoy your beach food or take a rest from the surf and sand is a great way to enjoy your day.
11. Beach Chairs
There's nothing better than sitting in an actual beach chair while you're reading your book or eating your lunch.
Some people prefer to just put beach towels down, but fold-up beach chairs like these can be infinitely more comfortable.
12. Beach Towels
You're going to need a few beach towels for everyone in the family – don't just rely on being able to use the ones from the hotel or place you're staying!
Get big, sturdy beach towels like these.
You can go for basic colors, or fun designs and characters like these.
13. Snack Boxes
When you're packing up your sandwiches, chips, cookies, fruit, whatever you want to bring down to the beach with you, having hard-sided snack boxes is an excellent idea.
Many people think they can just put it all in Ziploc bags, but do you know what happens to Ziploc bas when you shove a bunch of stuff in them and mush it all together?
It all gets smushed.
Hard-sized plastic boxes like these are the way to go.
14. Portable Phone Charger
Especially if you're planning on being out at the beach all day, a portable phone charger is essential so your battery doesn't get drained – mine does even faster in the sun.
All you need to do is put this little device into your beach bag, make sure it's charged up beforehand, and then when your phone needs to be recharged, simply plug it in with your regular phone charging cord into this handheld device and you'll get a charge!
You might think that you don't even need your phone when out at the beach, and I agree that you should try and stay off of it as much as possible, but you still want it to be charged in case you need to call for help.
15. Phone Protector
If you are taking your phone to the beach, put it in a waterproof protetor like this to ensure that no matter what happens or who dumps water or sand all over it, it won't get ruined.
These things are so handy and most still allow you to press the touchscreen while it's in the protector.
16. Book or Kindle or Magazines
Don't forget your reading material!
When I'm packing for a vacation at the beach, I often forget this until I'm about to leave for the shore.
It's a popular pasttime to read through magazines or read "beach lit," which is basically easy-to-follow books that don't require too much attention and are entertaining.
You don't need to bring War and Peace, but something else to browse through can be fun!
17. Shorts
Whether you want to put them over your bathing suit bottoms or wear them around on the piers or boardwalk, make sure to bring plenty of shorts with you to the beach.
Jeans and long pants are usually too warm for a beach vacation and get sandy at the bottom and don't let you wade in the water.
18. Short Sleeve Shirts/Tanks Tops
Assuming you're headed to the beach in the warmer months, short sleeve shirts and tank tops should be the bulk of your wardrobe.
If you are traveling in the off-season, a long sleeve shirt or hoodie for colder days is a good idea, but usually people headed to the beach are doing so when short sleeve shirts are a much better option.
19. Reusable Water Bottle
Now, typically when I recommend a reusable water bottle, it's because you're going somewhere where you can easily fill it up.
You can't easily fill up a reusable water bottle when you're in the middle of nowhere at the beach, so you should still bring some other water bottles and drinks in your cooler, but I always like to start with the reusable water bottles to save as much plastic and disposable waste as I can.
20. Beach Toys
From boogie boards to sand pails and shovels, packing up to the brim in beach toys is a must-do if you have kids (or are prone to a bit of sand castle building yourself).
For kids, the beach isn't about sitting around under the umbrella reading a magazine and sipping on a Capri Sun, but getting out there and playing in the waves and the sand.
If you're flying and don't have a ton of room in your luggage, you can buy cheap beach toys when you get there, but if you're driving, it's best to purchase them at home and bring them with you so you know you're all set without going to the store.
Don't forget floaty devices for kids who will need some more assistance in the water, as well as active games like volleyball and beach tennis.
21. One Pair of Nice Clothes (if Fancy Dinner Planned)
We've gotten all the way through the best beach packing list without mentioning anything fancy, but I do want to remind you to bring one nice pair of clothes IF you are planning on having a nice dinner out that isn't at a typical beach restaurant (where shoes and shirts are barely requirements).
Whether you want a romantic night out in the beach town or are celebrating a birthday or graduation or family get-together, bring something that lets you ditch your swimsuit and flip flops for an evening and purge the sand from your ears and toes while you dress like a normal human (briefly).
Ultimate Beach Vacation Packing Checklist:
| | |
| --- | --- |
| Eco-friendly sunscreen | Beach toys |
| Shorts | Short-sleeve shirts |
| Flip-flops | Water Shoes |
| Phone Protector | Phone Charger |
| Beach Bag | Cooler |
| Sunglasses | Cover Ups |
| Swimming Suits | Nice clothes (1 pair) |
| Books | Reusable water bottle |
| Wide-brimmed hat | Beach umbrella |
| Beach chairs | Beach towels |
| Snack boxes | |
Get the All-American Travel Secrets!
Don't miss out on America's hidden gems!