Especially if you're a first time skiier, figuring out what to pack for a ski trip can be incredibly confounding.
Not only do you have to make sure that you're prepped for mountain weather, but you also need to make sure you have the right gear!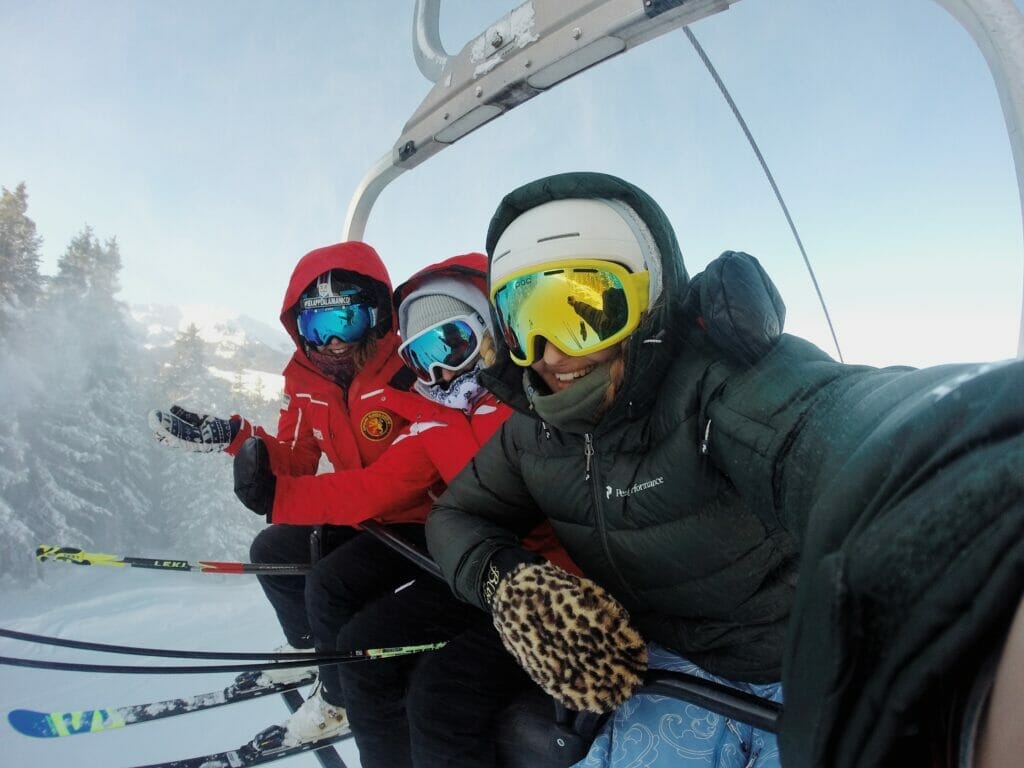 To help walk you through what to bring for a ski trip, we'll go through some of the most important things, and then at the end there is a checklist so you can make sure you have considered it all.
It doesn't really matter where you're skiing, this is the ultimate ski trip packing list!
For other packing lists, don't forget to check out:
| | |
| --- | --- |
| Skis | Poles |
| Ski Helmet | Ski Gloves |
| Sports Jacket | Waterproof Boots |
| Ski Boots | Ski Goggles |
| Sunscreen | Ski Backpack |
| Portable Phone Charger | Toiletries |
| Ski Pants | Ski Coat |
| Long-sleeve shirts | Warm hat |
| Jeans | Leggings |
| Lip balm | Sports Bras |
| Moisturizer | Loop scarf |
| Ski socks | |
1. Skis (if you have them)
If you've got your own skis, of course these are the first thing that need to be considered, either in your car or in your checked luggage on a plane in ski bags like this.
Some people even bring multiple pairs of skis for different types of snow conditions, but considering you're looking up a ski trip packing list, I'll assume that's not you!
If you don't have your own skis, you can rent them on the mountain!
2. Poles (if you have them)
Another must-have for skiing is your ski poles.
They aren't too expensive, so you can definitely buy your own on Amazon and pack them with you to make sure you get ones that are right for your height.
That being said, you're totally able to rent them as well if you don't have your own.
3. Ski Boots (if you have them)
Probably the number one thing that matters when it comes to how comfortable you are while skiing and how much control you have is your ski boots.
Ski boots can be expensive, so are worth investing in only when you know that you are going to continue skiing and not just go once in your life.
Once you know, though, get some fitted to your feet and don't forget to pack them for your ski vacation!
Again, you can rent these on the mountain.
4. Helmet
A helmet is a must-have when skiing.
Some mountains won't require them, but it is very important you wear one to protect you from head injury should you fall or get into a ski accident.
They continually save people's lives, and there is no way anyone should be going down a mountain at even baby speeds without wearing one.
Because you wear them on your head and they get all sweaty, I highly advocate for purchasing your own.
Choose one like this to make sure you're getting something sturdy and fashionable.
5. Waterproof Gloves
Gloves are another important part of a ski trip, but some people don't realize that you need actual waterproof gloves.
Often, people will bring cotton gloves that they would wear out and about in the winter, but guess what happens when you fall and your gloves go in the snow?
They get wet!
And stay wet!
And that is no bueno for your hands or your health!
Get a pair of sturdy, waterproof ski gloves like these so your hands are comfy and well-insulated.
6. Warm Hat
Most ski helmets are designed so that you shouldn't be wearing anything underneath the ski helmet, but there are going to be plenty of times when you're just out walking around or getting lunch when you're going to want to take your helmet off.
For those instances, pack a warm hat like a beanie like this so your ears aren't exposed to the cold when you're just enjoying mountain life.
7. Ski Goggles
There's nothing worse than skiing down a mountain with snow flying into your face, and that's exactly what will happen if you don't wear ski goggles.
Ski goggles are brilliant for a few reasons, obviously safety, but also they come with UV protection and work a bit like sunglasses so you're not blinded by the glaring brightness of the mountain (and with all that sun reflecting on all that snow, trust me, it's bright).
Get yourself a pair of ski goggles like these and you'll be all set.
8. Ski Pants
Most people wear ski pants, which are a sort of thick kind of bulky pants that are lined with fleece on the inside and super waterproof on the outside.
They don't feel like regular pants because of the material they're made out of so won't conform to your leg as well, but they help keep you dry and warm and often have some scrunched folds at the bottom that help keep snow and wetness out of the inside.
You really don't want to be skiing in leggings without anything over them (they will get wet the second you fall down once), or jeans (just, no).
9. Jeans
That being said, do bring your jeans!
There may be night's out in the mountain bars or days where you don't go skiing where you want to just walk around or do a bit of shopping, and wearing jeans if perfectly acceptable then.
10. Leggings/Long Underwear
As I mentioned above, don't wear leggings as your only layer while skiing, but leggings or long underwear for men are great to layer underneath your ski pants if you need extra warmth.
11. Ski Coat
On your top layer, you want to make sure you're also covered in waterproof material, which is where a ski coat comes in.
These coats are a bit bulky, have tons of pockets for storing your lift pass, chapstick and other items, and are designed to be worn while skiing because they are waterproof on the outside and warm on the inside.
Get one like this for a fashionable look, or keep it basic with something like this.
12. Moisture Wicking Long-Sleeve Shirt
For underneath your coat, as the bottom layer, some people wear long-sleeve shirts (and some, short sleeve depending on the time of year), but you'll want to make sure it's a moisture-wicking material like these ones.
If you wear cotton, and sweat, the sweat will make the cotton wet and it won't dry out.
You want something more sporty and built for rigorous exercise and to keep you warm, not give you hypothermia because it absorbed all of the sweat from your body!
13. Jackets to Layer
Over your shirt, and below your coat, some people like to bring extra jackets to layer.
Because they're not right on your skin, they can be of any material you want, though most people do like to stick with the more sporty options like this.
This is a great idea if you usually find that your temperature fluctuates throughout the day so you're able to put it on and take it off when it suits you.
14. Loop scarf/Neck warmer
Your face should be covered at the top by your ski helmet, at your eyes from your goggles, and at the bottom of your neck by your ski coat, but what about your neck, mouth, and nose?
Get yourself a neck warmer or loop scarf that can be pulled up and down your face as you need it (NOT a regular, long scarf).
This is my favorite one, but you can get all different colors and designs and when you're not using it, it just hangs around your neck casually rather than needing to be taken on and off.
15. Sunscreen
Did you know that you need sunscreen on the mountain?
"But this isn't a beach vacation," you say!
Yes, but it is a mountain vacation and guess where the mountains are?
Close to the sun!
Taking the sun seriously is a big part of having a safe and comfortable ski vacation.
You should wear sunscreen every day that you're skiing to protect yourself from the UV rays.
16. Ski backpack
Not all skiers like to wear them, but you can get a light ski backpack like this which is going to let you carry a water bottle, sandwich, extra pair of gloves, etc in case you're planning on being out on the mountain all day and can't go back to your car or hotel.
You can even get ones like these which have built in water systems, much like a hiker would use.
You'll want to make sure they're small and stay close to your back – backpacks with big loops or that aren't tight fitting against you pose a risk for getting you stuck on chairlifts which is a safety hazard (and you should always take off your backpack on a chairlift anyway).
17. Sports Underwear
What do you wear…underneath?
The ultimate barrier between you and the harsh conditions of the mountains is your underwear, so make sure to pack long underwear and sport underwear like sports bras that will allow you to move and not be constricted, as well as give you support.
18. Ski Socks
You can't just wear regular socks in your ski boots, your feet would be ripped to shreds or all blistered up.
Instead, you need ski socks!
There are varying ideas on whether you should have thin ski socks or thick ski socks, but we find that the thin ones like these are the best.
19. Regular Waterproof Boots
There will be plenty of times on a ski vacation when you aren't actually in your ski boots, but still want to go for a walk in the snow or down to the market or out to dinner.
For those times, a pair of waterproof boots with traction on the bottoms, like these, are a great all-purpose wear.
In ski restaurants and shops, you don't need to be worried about fashion or bringing your high heels or flats or anything else.
Just one pair of waterproof boots should do the trick everywhere, as everyone is in the same boat, embracing mountain life and making sure that you don't slip on the ice or get wet in the slush on the ground.
20. Moisturizer
Mountain air really dries out your skin, and we find that our skin needs a ton of moisturizer when we go skiing.
Make sure to pack a heavy duty moisturizer like this one in your bag so you'll be prepared to put it on your hands, your face, and anywhere else that has been exposed to the cold.
21. Lip Balm
Your lips are another area that can get really dry and chapped while skiing, even if you're wearing a neck scarf over them.
Bring lots of lip balm, particularly the kind that is UV rated so also protect your lips from the harshness of the sun instead of just moisturizing.
22. Regular Toiletries
From shampoo to toothpaste, you can bring all of your regular toiletries to the mountain, and in fact I would recommend it.
It can be much more expensive to purchase toiletries there because of a captive audience, so try and bring enough to get you through your ski vacation without needing to buy more.
23. Portable Phone Charger
Nowadays, so many mountains have their ski maps as an app on your phone, so people can find themselves using their phones a lot more while skiing than they used to.
You don't want to end up on a run you don't recognize without a map or any battery left, so pack a portable phone charger like this one which will give you peace of mind to know you won't get yourself into any sticky situations and can use your phone to take pictures or look at the map as often as you need.
Pin for later!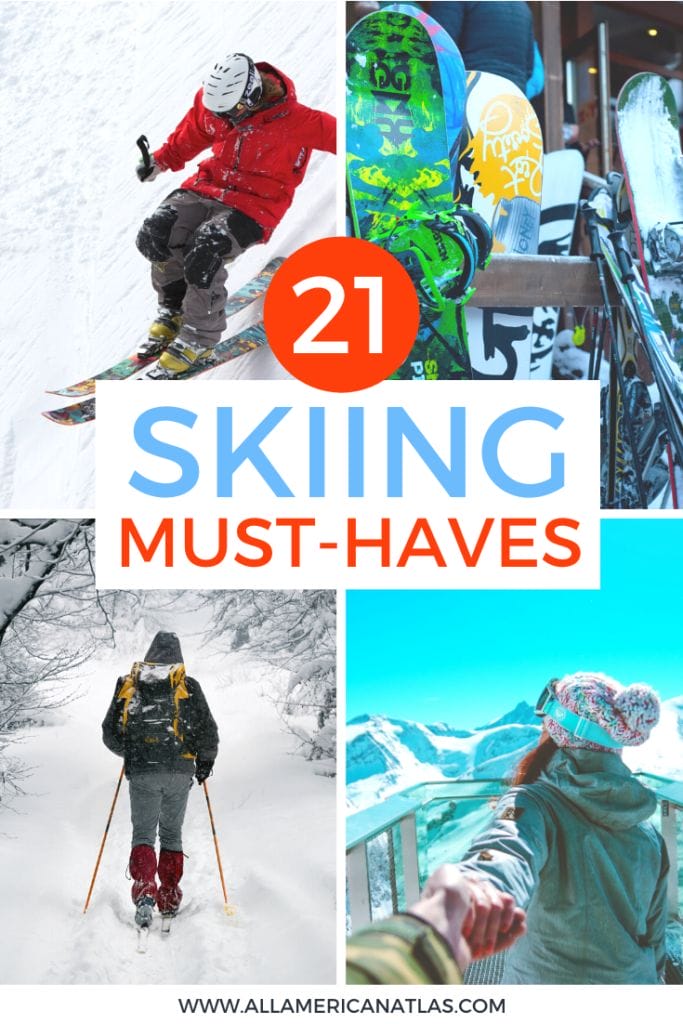 Get the All-American Travel Secrets!
Don't miss out on America's hidden gems!