Whether you're headed off on a hiking trip across the USA or just a weekend of hiking, this guide on what to pack for a hiking trip will make sure that you don't miss out on any of the most important hiking must-haves to ensure that you're safe and comfortable.
From my favorite first aid kit (oh yes, that's a thing) to solar powered cellphone chargers (genius), this hiking packing list gives you such a great start for ensuring that you haven't missed a thing.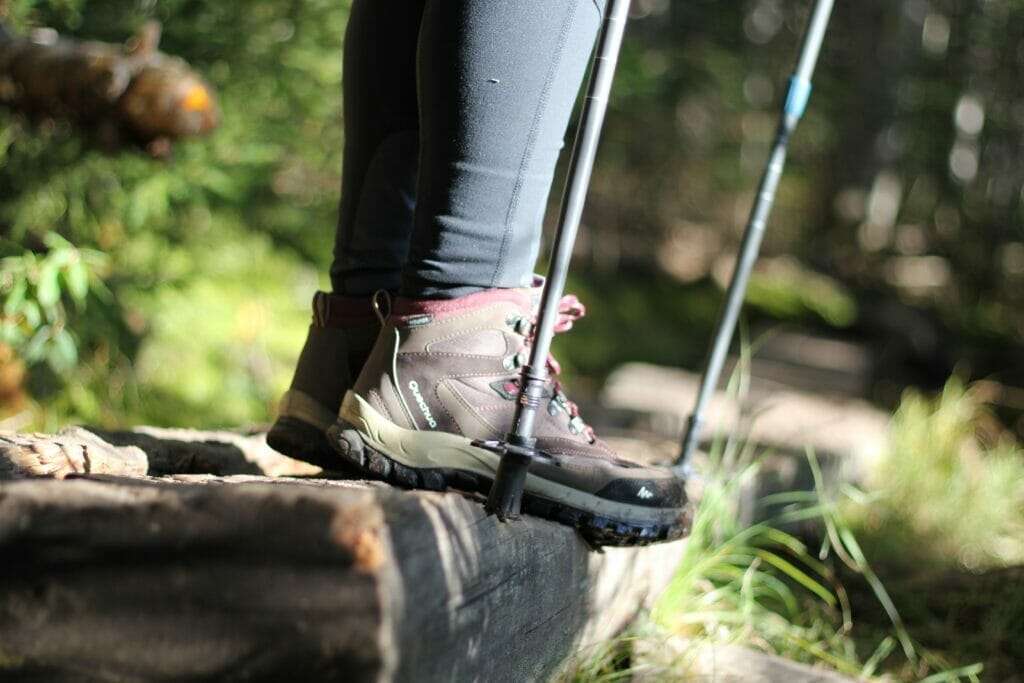 For other packing lists, don't forget to check out:
1. Hiking Pants
Hiking pants are specifically designed to be easy to move in, as well as waterproof and moisture wicking.
They're lightweight, care free, and the perfect way to make sure you're dressed appropriately for the outdoors.
I love this pair, but you can also check out this pair if you want a more colorful option.
Never, ever, hike in jeans, and I would also advise against hiking in regular cotton leggings, though some people do wear things like yoga pants.
What you want is something that will dry quickly (so cotton leggings are out), easy to move in (goodbye, jeans) and also have an elastic waist as your body will change and expand or shrink depending on how hot you are, how long you've walked, etc.
Click here to compare hiking pants on Amazon.
2. First Aid Kit
The most responsible thing to do is to bring a first aid kit with you hiking.
You may be miles from the nearest help, and a good hiking first aid kit like this one will make sure you have the essentials to help yourself in a regular bump and scrape or the initial wave of an emergency.
They make hiking first aid kits so compact, so you don't feel like you're carrying around an entire doctor's bag – it will fit into a small compartment in your backpack, and the hard shell exterior will make sure it doesn't get crushed or ruined in weather.
Click here to compare first aid kits on Amazon.
3. Hiking Boots
Hiking requires a specific kind of hiking shoe or boot that has way more traction than a regular tennis shoe.
You don't know what kind of terrain you'll encounter, but everything from rocks to mud can be slippery and it's important to prepare.
They also tend to be designed to be waterproof, so they don't end up soaking in inclement weather, and easy to lace up (or may have no laces at all).
Try out a hiking shoe like this one if you want something more lightweight, or a hiking boot like this one if you prefer something that's a bit heavier and more suited to hiking in cold weather.
Click here to compare shoes on Amazon.
4. Trekking Poles
Not everyone uses trekking poles while hiking, but if you do, it's important to bring them.
Sometimes, short term hikers won't bring poles because they prefer to go without the burden of carrying them, but if you're going on a longer hike, are more unsteady on your feet, or are going to encounter some unsteady terrain where the extra balance will help, consider getting your own pair.
Many pairs like these ones fold down and adjust so when you're not using them, you can make them super compact and put them in your backpack.
Also look for ones that are rust-resistant, as they'll get exposed to the weather frequently.
Click here to compare trekking poles on Amazon.
5. Hiker's Bracelet
Don't know what to pack for your hiking trip?
This amazing hiker's bracelet is a must-have.
It's not a fashion accessory, but instead a paracord bracelet that includes a fire starter, a loud whistle, and an emergency knife all rolled up in one easy-to-wear bracelet.
This is a great option for people who aren't planning on bringing a lot with them, but want something for safety.
You can't lose it, as it just stays on your wrist, and it's a really smart way of building in hiking gear into a piece of clothing that you don't have to think about.
The whistle can help in terms of scaring off wild animals who approach you or signaling for help, the emergency knife is also great for so many things out in the wild, and the fire starter can keep you warm and dry if you find yourself stranded somewhere overnight.
Click here to check it out on Amazon.
6. Hiking Socks
You don't want to just wear your regular socks while hiking.
Hiking socks are a must-have because of their thickness, their resistance to rubbing (cause hiking is basically walking taking to an extreme) and the design that prioritizes comfort, usually with extra padding around areas like your toes and heel.
You can get both long and short hiking socks, and pairs like these are moisture-wicking, colorful and fun, and long-lasting so you won't have to keep buying new pairs.
Click here to check out hiking socks on Amazon.
7. Pocket Blanket
We've talked about a lot of hiking packing list items that will help keep you safe, but what about ones that will also help your comfort along your hike?
This pocket blanket is fantastic for spreading out and taking a break, whether you're enjoying a picnic or just sitting down for awhile.
It's compact, folds up really easily, and sand and waterproof so it doesn't matter where you put it down, it will be completely fine.
Check out pocket blankets on Amazon.
8. Hydration Backpack
When choosing your backpack for hiking, it's important to consider your options.
Sometimes, people want a backpack that is super lightweight and doesn't have any bells and whistles attached (in this case, they'll bring their own water bottle to put in the backpack).
However, I highly recommend a hydration backpack like this one.
Not only is it lightweight, but you can store all of your belongings in it like your pocket blanket and first aid kit and (and!) it has a built in water system so basically you fill up the "bladder" of the backpack with water and then drink out of a valve that comes out of the backpack right to your mouth while your backpack is still on.
This means you can hydrate without stopping, and it makes it easier to access instead of needing to root around in your backpack each time.
This backpack is also waterproof and rugged, ready for you to put it to the test.
Check out hydration backpacks on Amazon.
9. Moisture Wicking Tees
What should you wear with your hiking pants?
Either short sleeve or long sleeve shirts are fine, depending on the weather where you're hiking (for instance, if you're hiking in Duluth over winter, you're going to need to bring the long sleeve ones, hello).
That being said, you should go for things like these moisture wicking tops.
Their special fabric blend means that they dry faster than normal clothes (so your sweat won't drag you down) and the odor protection technology means you can rewear it multiple times without getting that hiking funk.
Hiking requires a lot of bodily effort, and if you wear something like cotton that gets wet with sweat and won't dry, you're in for an uncomfortable and bad time.
Check out moisture-wicking shirts on Amazon.
10. Lightweight Jacket
For cooler nights or if you're hiking in the colder months, a lightweight jacket is something you should definitely pack.
My favorite kind is a lightweight water-resistant packable down jacket like this one.
It's perfect for mild winter days and fall and spring, and rolls up really tight if you want to keep it in your backpack because you're getting too hot.
With over 6 different colors, including red, green, yellow, and pink, everyone in the family can find ones to fit them.
Click here to check out lightweight jackets on Amazon.
11. Bathroom Helper
Okay, let's get real here.
Men find it super easy to go to the bathroom while hiking.
Just walk off into the woods somewhere, and boom, done.
If you're a woman with a bit of shame surrounding squatting in the woods, there are "bathroom helpers" that make the whole process a lot easier and mess free.
This is one of the best ones, and I'm just going to go ahead and let you explore all of its capabilities yourself.
Check out hiking bathroom helpers on Amazon here.
12. Bandana Neck Scarf
Whether you're hiking in the rain and want to keep it off of your face or the cold and you want to cover up, a bandana neck scarf is a must-have on your hiking packing list.
When you're not using it, it can just rest around your neck like a loop scarf, but when you're ready to pull it up over your mouth, nose and face, it's right there for you.
This one is built to be waterproof so you don't have to worry about it getting soaking wet, and it can also be used in the blazing sun to help protect your skin as well.
Check out bandana neck scarfs on Amazon here.
13. Headlamp or Chest Lamp
Whether you're planning on hiking in the evening hours or not, you should always bring a headlamp or chest lamp with you.
These will come in handy during dusk, if the hike takes you longer than you think, or if you get in an emergency situation.
The head lamps are worn around your head and light your way that way, while the chest lamps are strapped to your chest, but either way, you don't have to hold the light, which is the main thing.
Some people bring flashlights, which is also a great option for many people, but I prefer the headlamps like these or chestlamps like these because then you don't need to have any extra hands to hold the light.
Check out chestlamps on Amazon here.
14. Sunglasses
Hiking in the sun?
A good pair of sunglasses is essential to make sure that you're comfortable and that you protect your eyes from the UV rays.
You don't want to spend your whole hike squinting because you forgot your sunglasses.
Check out this awesome pair of sunglasses here that are sturdy enough for your hike while being lightweight enough to not feel like they're dragging down your face.
You'll also want a strap around your sunglasses to hang around your neck when you take them off, as it's annoying to have to keep putting them in and out of the backpack or up on your head.
Check out hiking sunglasses on Amazon here.
15. Sunscreen
Unless you're hiking on a really cloudy day, you're going to want to pack or at least wear some sunscreen during your hike.
Protecting your health and your skin should be one of your priorities on your hike, as there's no point in enjoying yourself and having a leisurely day out while you're frying your skin and causing problems for yourself later down the line.
Choose an SPF 50 sunscreen like this one, as well as a sunscreen stick to put on your face like this one.
Compare sunscreens on Amazon here.
16. Insect Repellent
Whether you run into mosquitos or other insects, insect repellent is a must-have when hiking.
You are literally heading out into the insect's natural habitat, and depending on how hungry they are, they may very well try to feast on you.
Eco-friendly insect repellent like this is a great way to protect yourself, while also not putting harmful chemicals on yourself or in the environment, and it will make it so that you get to your final destination without a bunch of bites and welts.
Compare insect repellents on Amazon here.
17. Solar Powered Phone Charger
We live in a time and age where hiking almost always involves a cellphone.
Even if you don't have much service along the trails, you might use it to take pictures, or in an emergency, or to look up maps or use GPS.
But how do you charge your phone when you're out in the woods?
With this solar powered phone charger!
Using the rays of the sun to power it up, you won't need any electricity to use it to charge your phone, and that's the kind of hiking technology we can all cheer about.
Check out solar powered chargers on Amazon here.
Get the All-American Travel Secrets!
Don't miss out on America's hidden gems!