Whether you're going on a beach vacation, hiking vacation, or just a vacation to your parent's house, figuring out what to pack can be difficult.
Do you take everything but the kitchen sink?
Do you keep it light?
Do you need your own toiletries?
Are we going to go to a nice dinner or keep it casual the whole time?
Below, you'll find the best vacation packing list, developed after years of vacationing around the US and the world.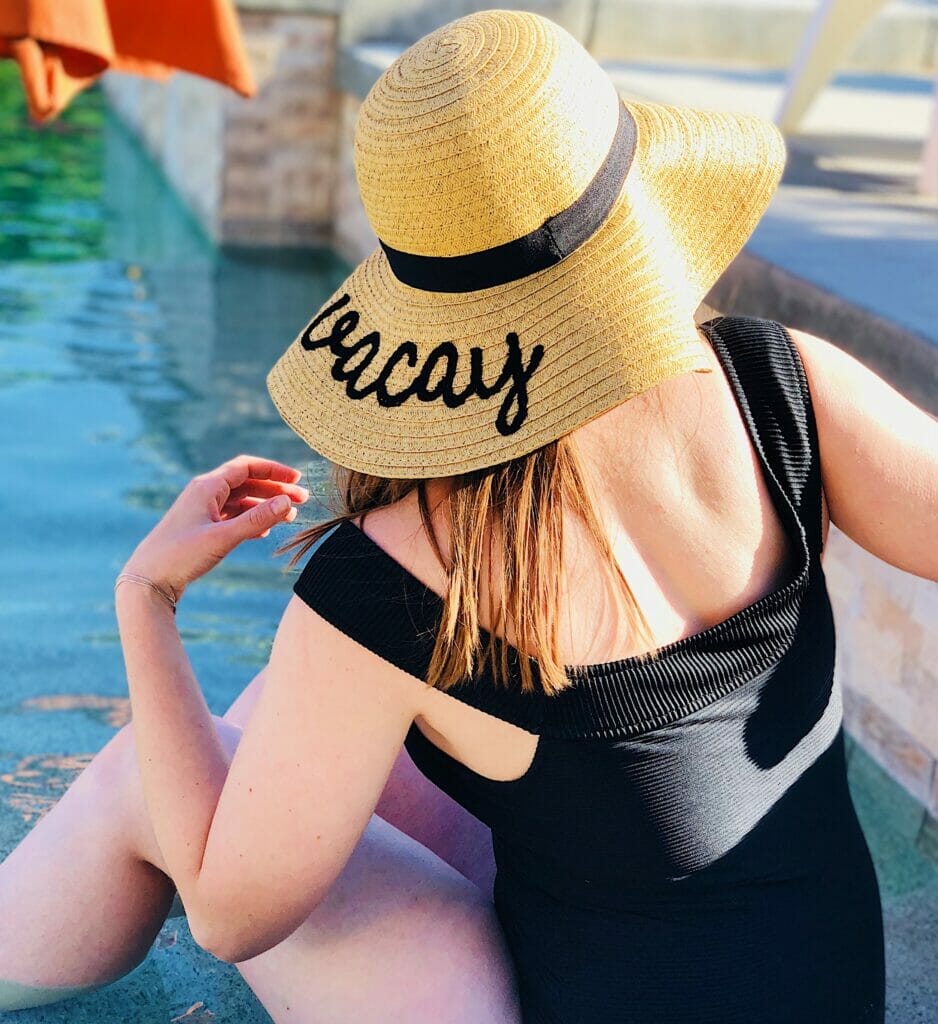 These are the things you'll never want to leave at home, no matter where you're going.
And of course, if you're doing something specific like skiing or camping, don't forget to pack your gear for those activities as well!
For other packing lists, don't forget to check out:
1. Day Bag (Beach, Backpack)
Whether you're going to Disney World or Cape Cod, having some sort of day bag with you while out and about on vacation is seriously necessary.
Not only will it hold all of your junk that you somehow accumulate (hello maps and tourist flyers), but it's a great place to store your reusable water bottle, portable phone charger, and extra layers when you're not using them.
A lot of people think that just an average sized purse will do, but you really want to make sure you've got enough space, so it should be a large purse, a backpack, or something like a beach bag if the coast is calling your name.
2. Sunglasses or Winter Goggles
Think about your eyes on vacation – what do you need to cover them?
Maybe you're going somewhere cloudy with mild temperatures where you'll just need your regular glasses and reading glasses, but if you're going anywhere with the potential to be sunny, get those sunglasses packed straight away!
If you're going on a mountainous trip or skiing, take your ski goggles to protect your eyes and keep the snow and sleet out of your face.
Check out sunglasses on Amazon here.
3. Hat
Next, think about your head.
In your destination, what is most likely to be on it?
If you're going to the beach, a wide brimmed hat is going to be essential to keeping the sun off your neck, but if you're going somewhere cold, you'll want to pack beanies and other warm winter hats with fleece linings.
Maybe you just want your normal baseball hat to walk around New York City in.
Whether you wear hats in regular life or not, think about what might be required on your trip to help you have the best time possible.
Check out hats on Amazon here.
4. Bathing Suits
Bathing suits are typical on vacation packing lists because so many people vacation where there is either a beach OR a pool at the hotel.
If either of these apply to you, bathing suits all the way!
Check out bathing suits on Amazon here.
5. Walking Shoes or Flip Flops
Think about what kind of activities you'll be doing on vacation.
Usually, you'll want either flip flops or casual shoes, maybe ones specific for walking if you'll be doing a lot of it (hello Disney, calling your name).
Even if you are going out to some nicer dinners where you'll need more than tennis shoes (more on that below), you'll probably need some comfy shoes at least some of the time, so pack at least 1 pair.
Check out flip flops on Amazon here.
6. Medication
This is super important, because people often find themselves in their vacation destination having forgot the medication that keeps their bodies moving!
If you take meds for anything, from serious things like insulin to less serious like allergy medicine because the grass makes you a little itchy, make sure to pack exactly what you take and take it with you.
Don't rely on being able to find it where you're going, because you'll just create more work for yourself.
7. One Nice Outfit
Unless you're going, say, camping, you may want to plan on bringing at least one nice outfit.
Often, people will enjoy a night out on vacation whether it's an an upscale beach restaurant, a mountain restaurant down by the slopes, or another kind of celebration that calls for more than just board shorts and flip flops.
Pack one pair of nicer, dark wash jeans, a nice pair of shoes, and a nice shirt and call it a day.
Check out great dresses for cruises here.
8. Shorts/Jeans (Weather depending)
Think about the weather where you're going, and pack your shorts or jeans/long pants accordingly.
If you're headed to Orlando in the middle of July, no jeans needed!
Similarly, if you're headed to the mountains in the middle of December, leave those shorts at home.
For places where the weather may be mixed, I always advocate for wearing your longer pants on the plane to take up less room in your luggage and bring shorts – just make sure to have both options with you.
Check out shorts on Amazon here.
9. Short Sleeve T-Shirts/Long Sleeve T-Shirts
Again, when picking out your shirts, it's really weather dependent, with most people erring on the side of warmer vacations so short sleeve shirts and tank tops are often the best thing to bring on vacation.
It doesn't hurt to have both if you're really not sure, but the next option may help you feel at ease if you're only bringing short sleeve shirts somewhere where you may have a few cold nights.
Oh, and make sure to bring as many shirts as there are days that you'll be there, unless you're vacationing for 10+ days.
No one likes doing laundry on vacation.
Check out short sleeve T-shirts for vacation here.
10. Jackets or Cardigans for Layering
Let's say you're heading somewhere with cooler nights, but warm days.
Bring either a jacket or cardigan to make sure that you're well-prepared for whatever the weather might do.
Not only can you keep the jacket or cardigan in your day bag when you're out and about, but it's so easy to take on and off depending on the temperature that it's a must-have for many people on vacation.
Check out cardigans on Amazon here.
11. Flight or Road Trip Games
Don't forget about what to pack for the travel to and from your vacation!
From road trip games to earphones for the movies on your phone for the flight, pack plenty of entertainment for yourself and your travel companions if you want to really save the day 7+ hours in to the drive.
Check out more road trip games on Amazon here.
12. Portable Phone Charger
A portable phone charger is a must-bring on any vacation.
These little devices hold enough charge to usually charge your phone all the way at least once, if not twice, and they are so discreet and small that you can throw it in a small pocket in your bag and forget about it until you need it.
Never rely on being able to charge your phone when out and about on vacation, because you have no idea where there will be an opportunity to charge it, and you won't know how much time you'll spend on your phone looking up maps, taking pictures, etc.
13. Reusable Water Bottle
Instead of buying disposable plastic water bottles everywhere you go, a reusable water bottle with a filter like this one is a great option for people who want to save the planet and save themselves the money.
You can take it through security at an airport as long as it's empty, and there are plenty of refilling stations all around the US in cities and suburbs.
If you're running out of places to fill up, go to a fast food place and use the water spout on their soda fountain.
14. Toiletries
Sometimes, I advocate for buying toiletries when you get to your destination instead of taking up room in your luggage, as long as you're sure you really are staying right by a Target or Walmart or somewhere easy to stock up.
That being said, things like toothbrushes, your hairbrush, and other things you won't want to rebuy are essential, and you should always bring some travel-sized toiletries in your carry-on bag if you're flying in case your flight gets diverted somewhere or extremely delayed or your main luggage gets lost and the stores aren't open when you get to your destination.
Get the All-American Travel Secrets!
Don't miss out on America's hidden gems!