What's not to love about the small bayside community of Cape Charles?
It combines stunning scenery and historical architecture, with culture and a real sense of heart.
There are plenty of things to do in Cape Charles, Virginia, so whether you're there for a short or a long trip read this list and get exploring!
1. Peach Street Books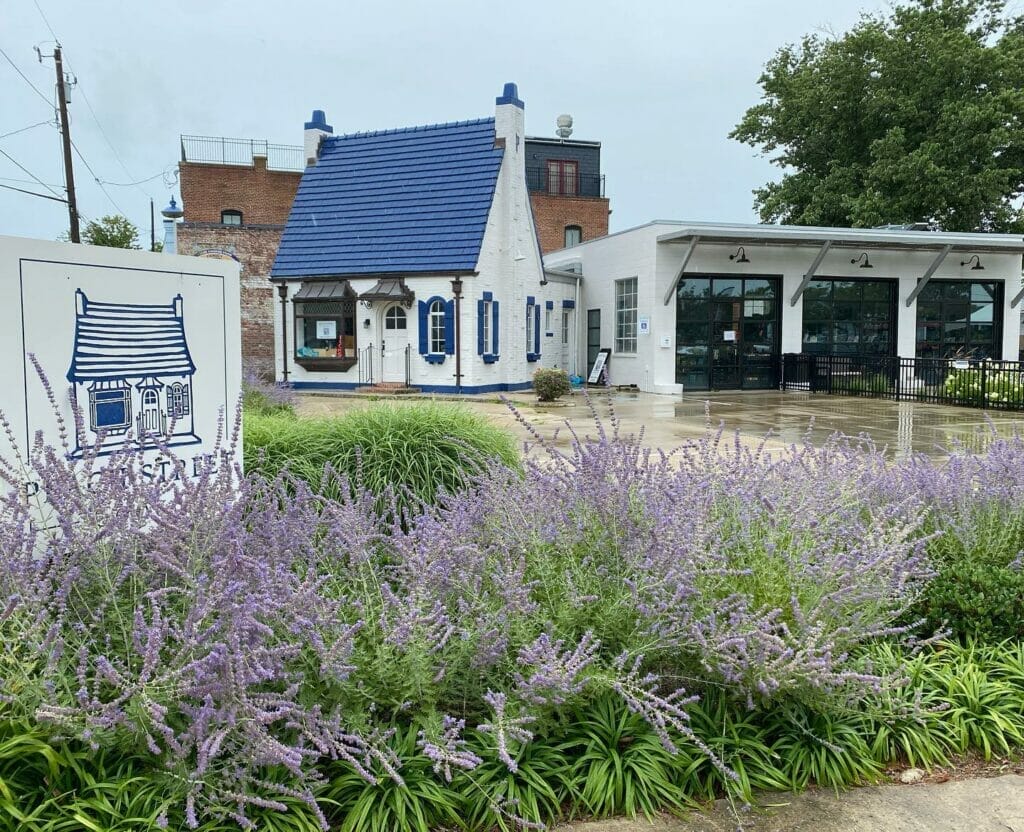 Bookworms assemble!
Peach Street Books has it all – new and second-hand books, a kitchen serving coffee and baked goods, and an extremely Instagram-friendly historic renovated cottage!
Whatever your taste in books, Peach Street will provide.
They have a self-confessed "eclectic" collection of books, from bestsellers to historical non-fiction and everything in between.
As well as new books, you can bag a bargain with high-quality second-hand books.
The local book club also recommends new books, which the store sells at a discount.
Community spirit in action!
This is one of the great Cape Charles attractions, perfect for whiling away a rainy day!
2. Chesapeake Bay Bridge-Tunnel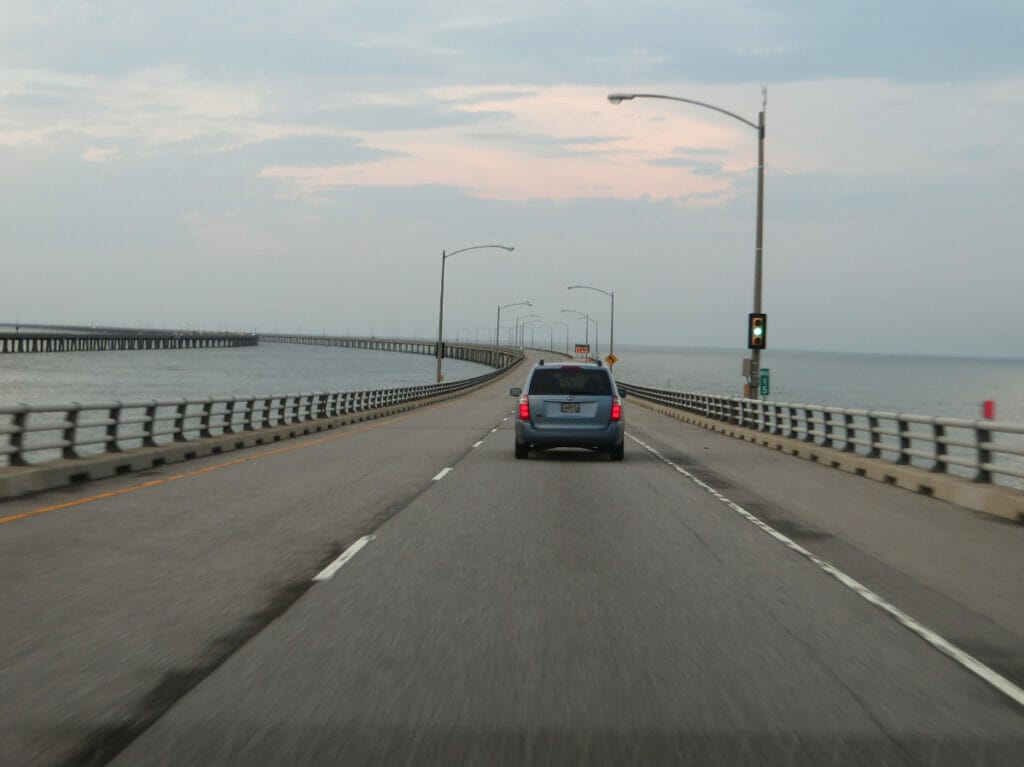 Is it strange to have a method of getting from a to b as one of the best things to do in Cape Charles?
Not in our opinion!
And we aren't alone; the Chesapeake Bay Bridge-Tunnel is one of the most popular things to do in Cape Charles!
Hit the open road and travel the 18-mile-long complex that connects the Eastern Shore with mainland Virginia.
The views from the bridge are gorgeous, particularly from the Scenic Overlook, so make time on your journey for the Bridge-Tunnel – an 'Engineering Wonder of the Modern World'!
3. Kiptopeke State Park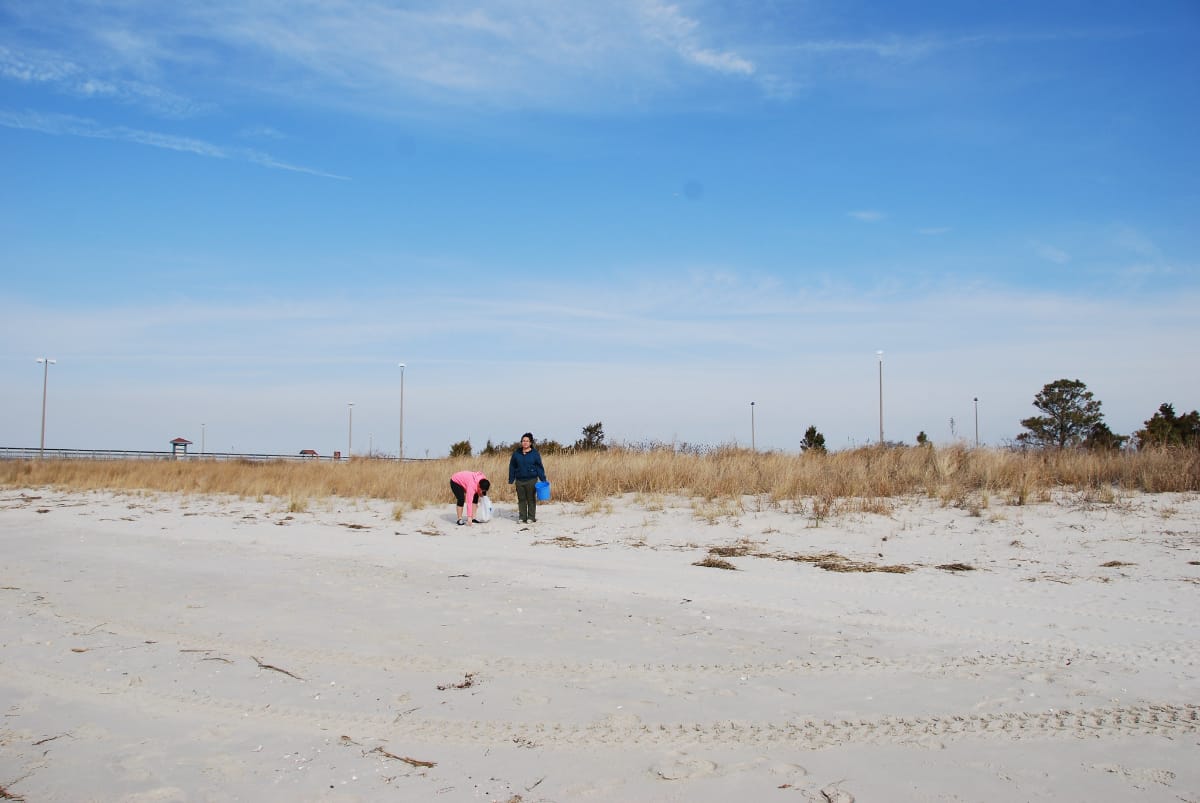 A great place to visit for the day or even for a weekend away, add Kiptopeke State Park to your list of Cape Charles attractions.
It's a must-visit for budding ornithologists, as it's a prime bird-watching spot.
Visit in the colder months for an amazing array of migrating birds!
You can also head out on a launch with your fishing gear – it's a popular fishing site and you can usually find a quiet spot away from it all.
If you want to stay for longer, you can hire yurts and cabins, or bring your own tent or RV and pitch up for the weekend!
4. Cape Charles Historic District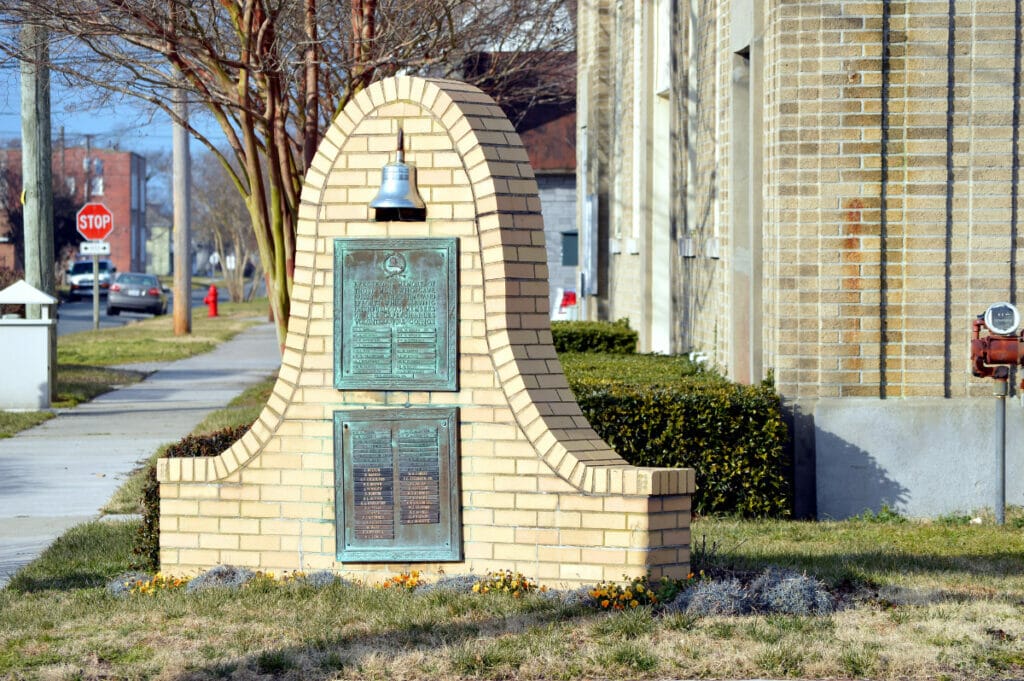 The Historic District of Cape Charles is made up of a whopping 526 buildings and 3 additional structures, all built in the heyday of the Chesapeake Bay town.
Added to the National Register of Historic Places in 1991, the buildings go all the way back to the 1880s when Cape Charles sprung up as a port town to get goods across the Bay.
Some of the must-see buildings are the US Post Office, Kellogg House, and the Seafood Headquarters.
Be sure to explore the piers and beaches in this area too – the white-sand beaches are a sight to behold!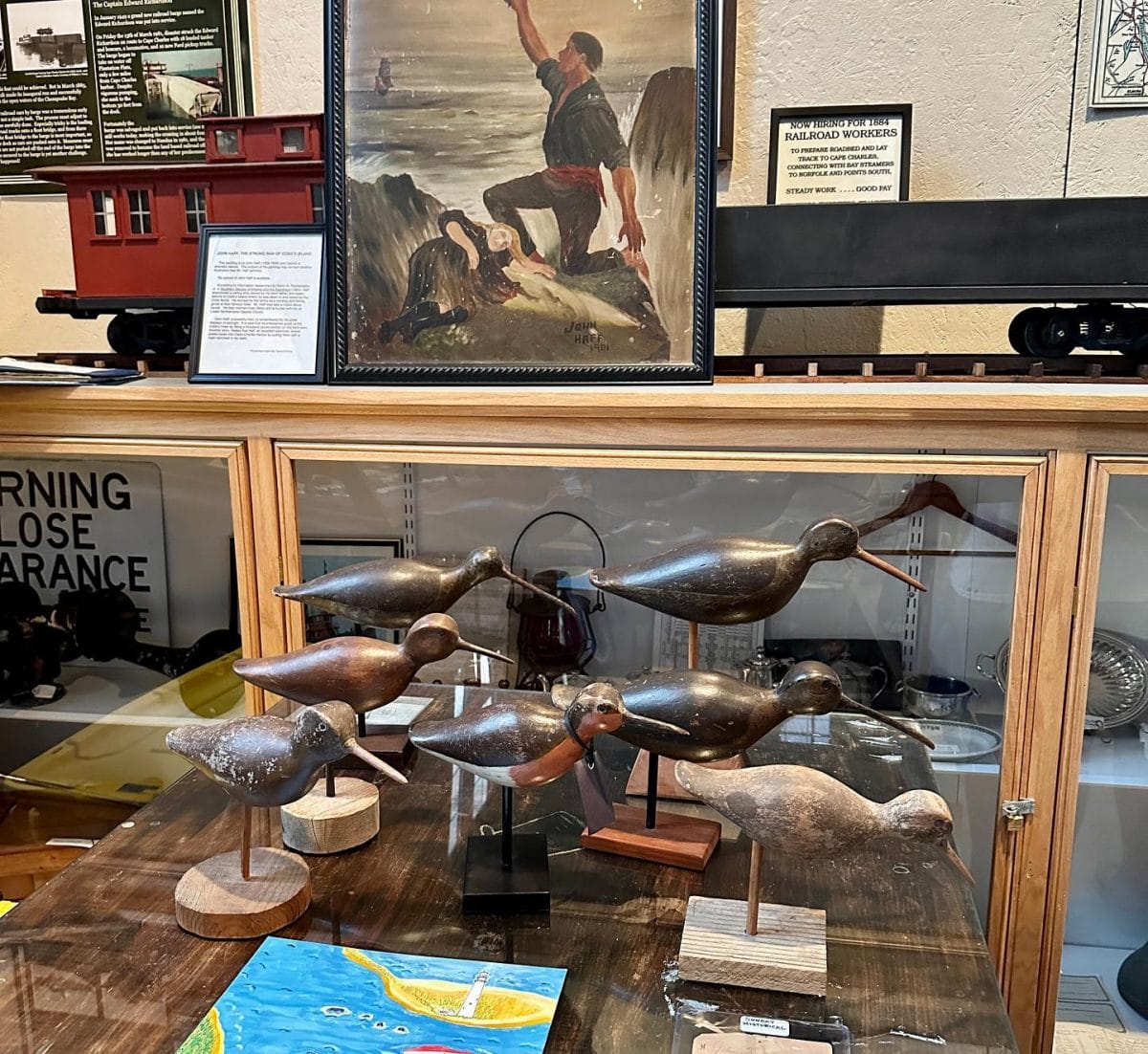 When you're in the Historic District be sure to pay a visit to the Cape Charles Museum and Welcome Center.
It's the perfect place to learn about the history and the town and the surrounding area, with a focus on its cultural diversity.
There is loads of information about the history of Cape Charles – in the form of documents, artifacts, and their amazing collection of preserved oral artifacts.
Don't miss the fantastic steam train exhibit and the railroad cars outside!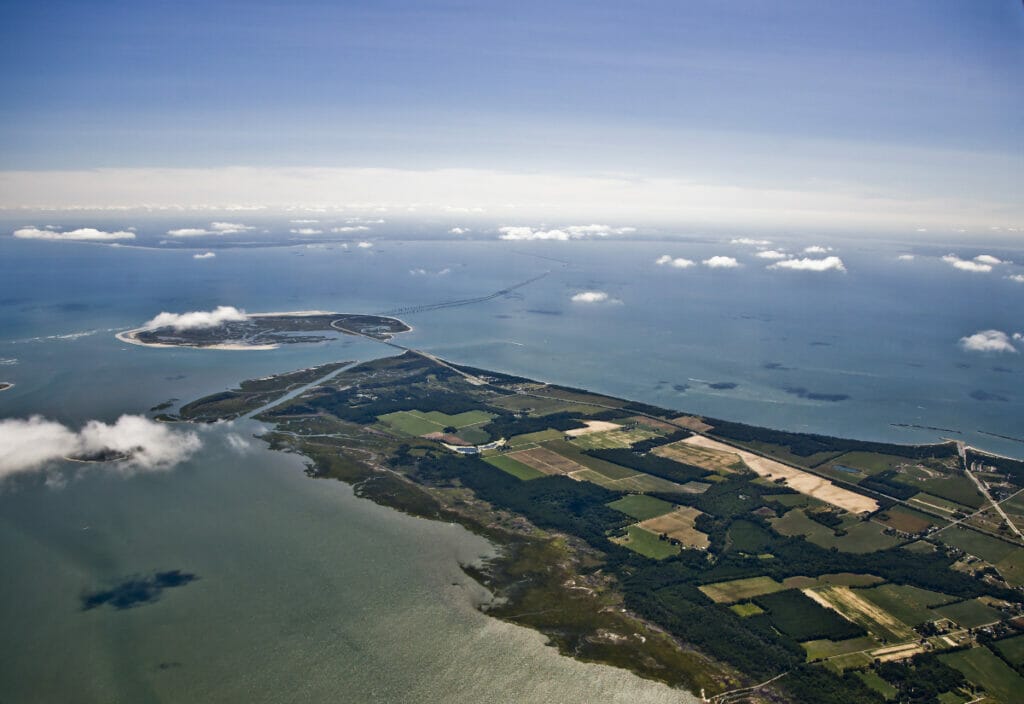 Another place to add to your list if you're a fan of flora and fauna, this 1,200-acre refuge is the perfect location for birdwatching in Cape Charles.
Enjoy exploring the picturesque surroundings on foot or by kayak and see how many species you can spot!
The protected habitats range from salt marshes to freshwater ponds, via grasslands and forests!
If you'd like a stunning sunset view (and who doesn't!), visit the Sunset Beach Resort – they offer their visitors beach access, and it's a wonderful place to watch the sun go down.
If you really want to get away from it all, a trip to Savage Neck Dunes is one of the top things to do in Cape Charles.
The windswept dunes are part of a beautiful nature area spanning nearly 300 acres.
Visit the stunning Chesapeake Bay beach and check out the wide variety of wildlife – as well as migratory birds, you may spot an Osprey!
This is a great place to go for a hike.
There are three trails on offer through the amazing scenery of this natural area.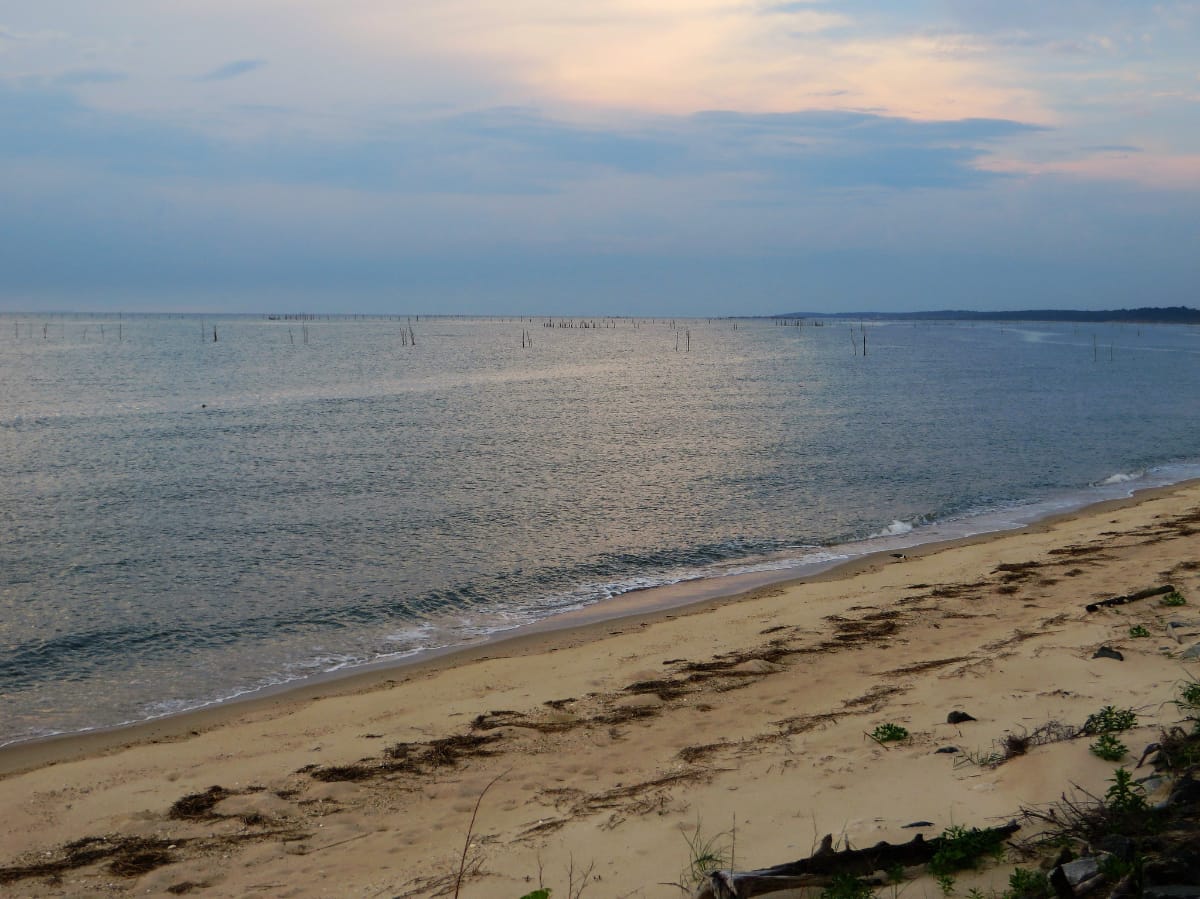 Let's head to the beach for more stuff to do in Cape Charles!
We're pretty sure this pristine stretch of white sand and clear water may be the cleanest beach in Virginia.
The beach is quiet and unspoiled, which combined with the picture-perfect scenery makes it a beachy paradise!
There are great facilities, including places you can hire a kayak or paddleboard.
Explore via water or stroll along the waterfront and watch the world go by.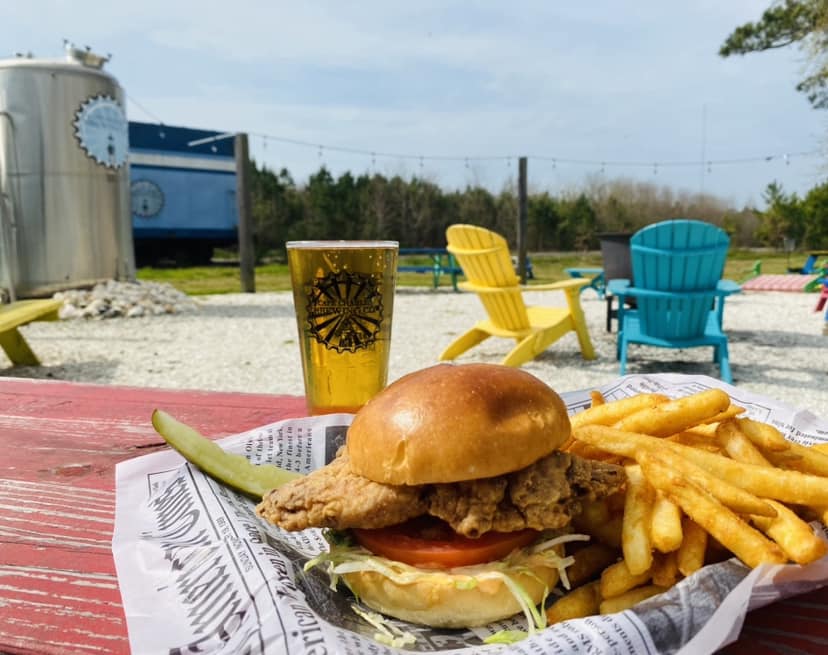 This family-owned brewery is a delicious addition to any trip to Cape Charles!
The brewery not only serves up its home-brewed beers, but it's also a popular seafood restaurant.
There are over 15 types of beer on tap, all of which are produced on-site.
They host events during the spring and summer, so check out their website ahead of your visit to see what's on.
Chances are you'll be enjoying some Cape Charles beer with great views and live music!
It may seem like there are a lot of outdoor activities on this list, but with Cape Charles having such a gorgeous setting we don't want you to miss a thing!
A great place to explore on your trip is the 29-acre is Cape Charles Natural Area Preserve.
There's plenty of wildlife to explore here, including more than 240 species of birds, so bring your binoculars!
Take a walk along the boardwalk through the forested area and onwards to a bluff that overlooks the Chesapeake Bay.
It's a stunning view, made all the more special by the unspoiled nature of the area.
11. Jet Ski!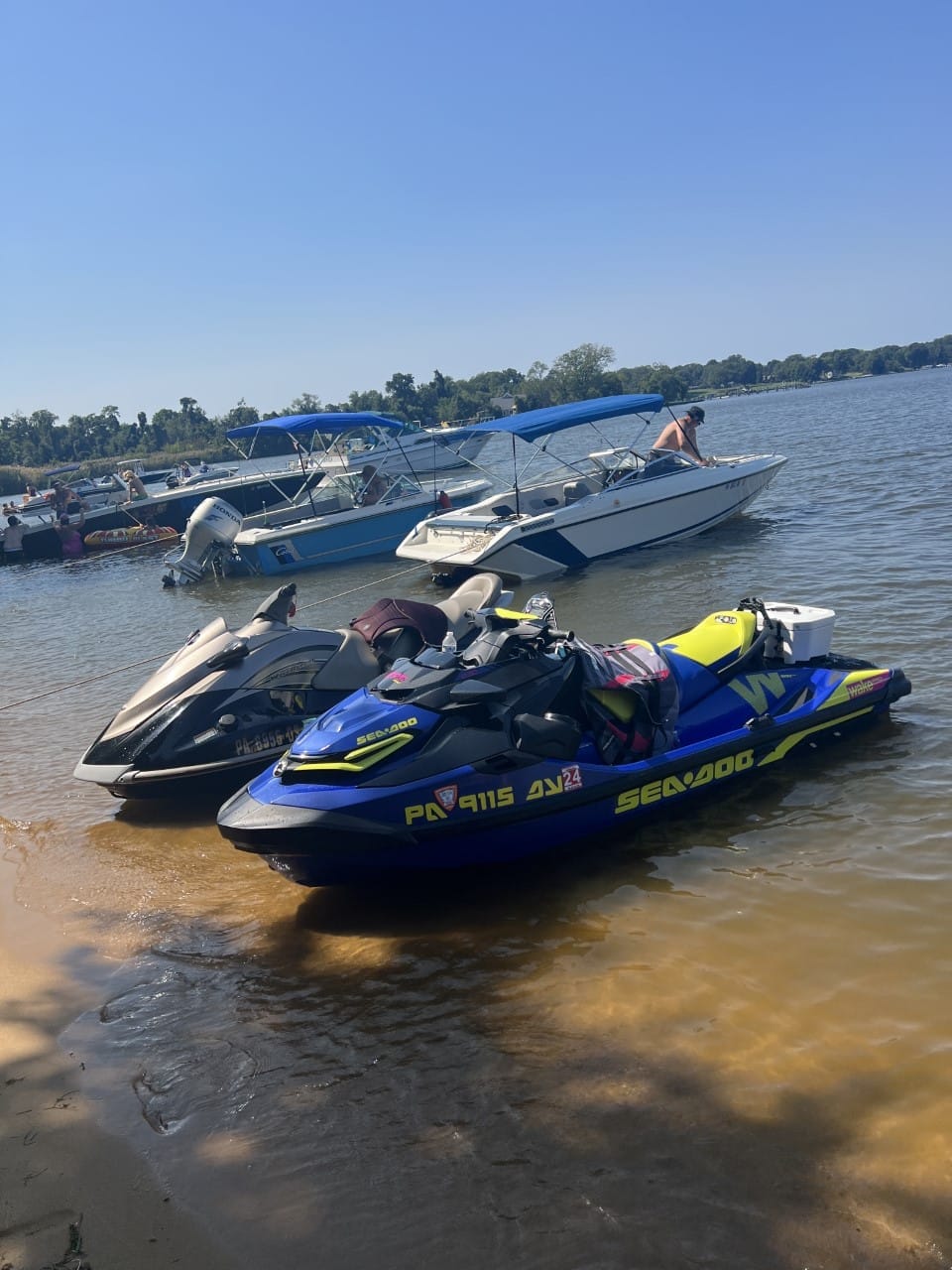 With the coast on three of its sides, it's no surprise that a lot of Cape Charles activities are water-based!
One of the fun things to do in Cape Charles is to hire a jet ski and speed over the Chesapeake Bay.
There's so much to see, and it's hard to think of a more thrilling way to explore!
If a jet ski is too high-octane, or you'd prefer to enjoy the scenery, many places locally hire out paddleboards or kayaks.
It may not get the adrenaline pumping, but you're more likely to spot some wildlife!
12. Local-ish Art
Time for a little retail and art therapy rolled into one at the enticing Local-ish Art co-op!
Head to the gallery to find a one-of-a-kind piece of art made by local Eastern Shore artists, some of whom are in residency at the gallery.
They will be more than happy to share the concept of Local-ish with you and take you through the art on display and for sale.
Recent visitors have come away with jewelry, photography, and paintings!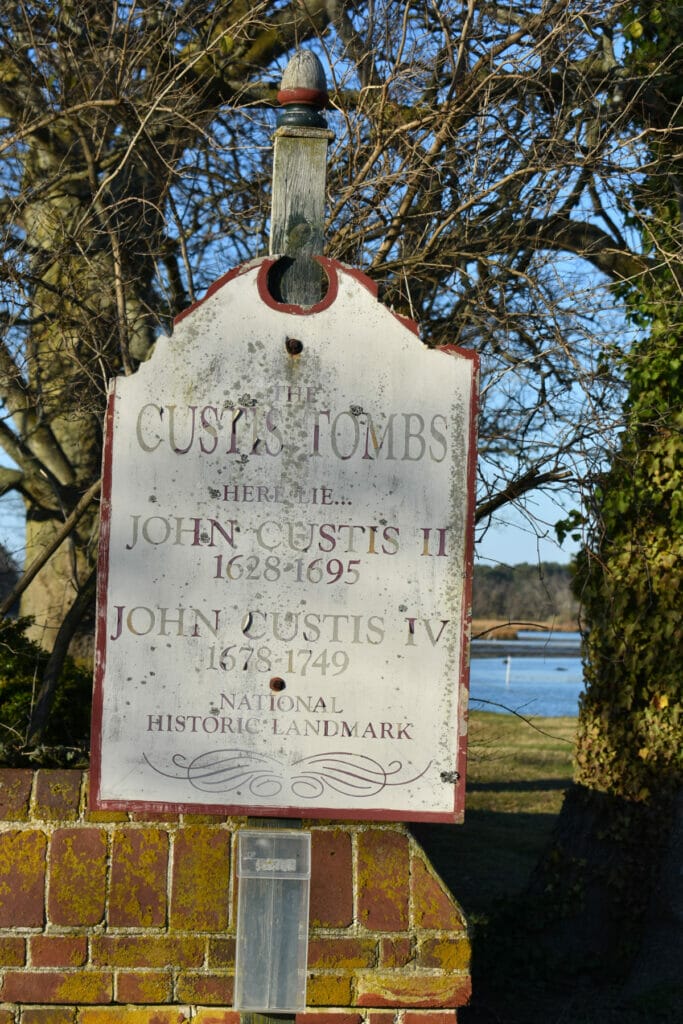 This is the kind of niche tourist hotspot that will either leave you cold or very excited indeed!
It really depends on whether you're a local history buff or not!
John Custis was a Virginian planter and politician, integral to Bacon's Rebellion of 1676 – we told you it was niche!
This is a great place to stop off at when you're in the area, and although the tomb is a little run down it's a really interesting bit of local history.
Created by gallery director Ellen Moore, the gallery showcases the very best local talent.
Come here to find paintings, drawings, sculptures, and jewelry.
Moore is from Missouri but settled in Cape Charles and appreciates the close community feel of the Virginia town.
The gallery has been delighting residents and visitors alike since 2014.
Pay it a visit and see what gems you can uncover!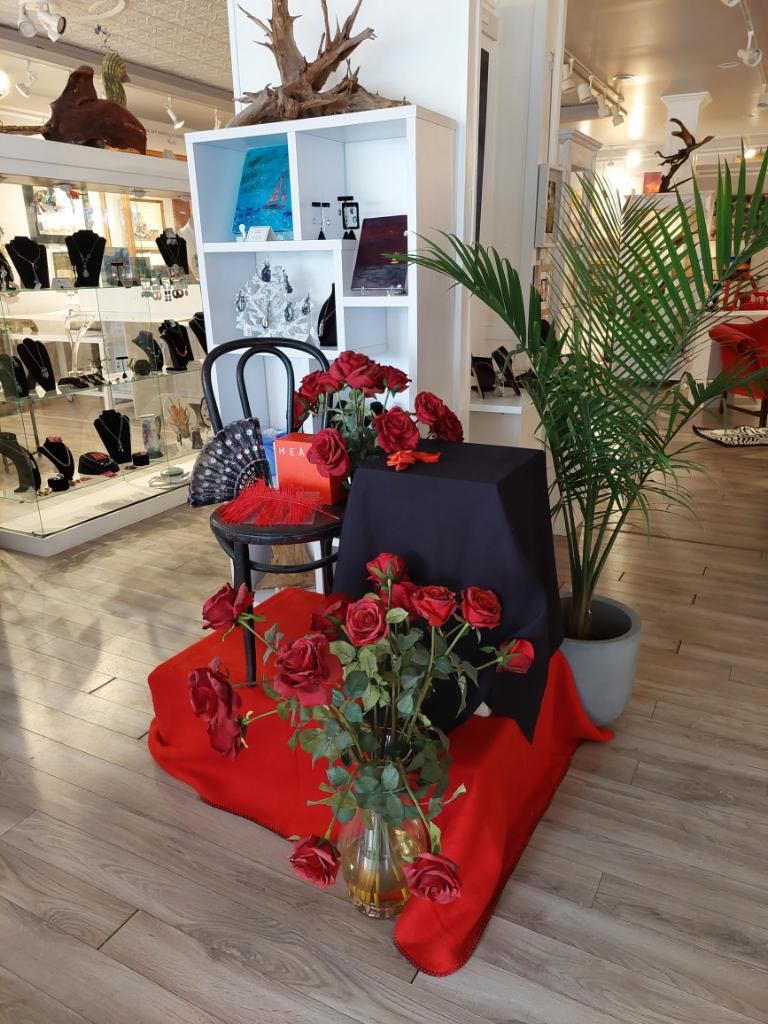 Another great place to visit is Lemon Tree Gallery, a haven for creatives in Cape Charles.
There are new events in the community space each week, ranging from plays to live music, and there are creative classes and activities to enjoy too!
Owner and artist Clelia Sheppard takes inspiration from her Italian heritage and the beauty of the Eastern Shore to create some truly awe-inspiring works.
Visit the gallery and you may just find some artists creating work in the studio!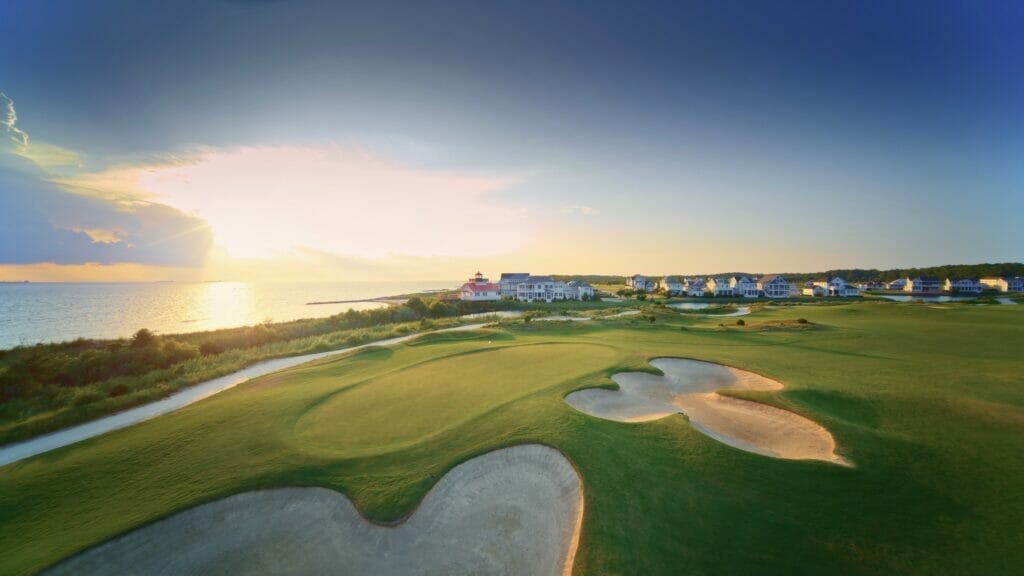 If you're staying at the Bay Creek Resort, it would be a crime not to take a swing at the amazing golf course.
Renowned as one of the best courses on the Eastern Seaboard, and ranked 12th in the US by Golf World, golfing at Bay Creek is one of the best things to do in Cape Charles, Virginia.
Head along and play the 27 holes designed by golfing greats Arnold Palmer and Jack Nicklaus.
Even if your game is rusty, you'll be soothed by the stunning views over the Chesapeake Bay!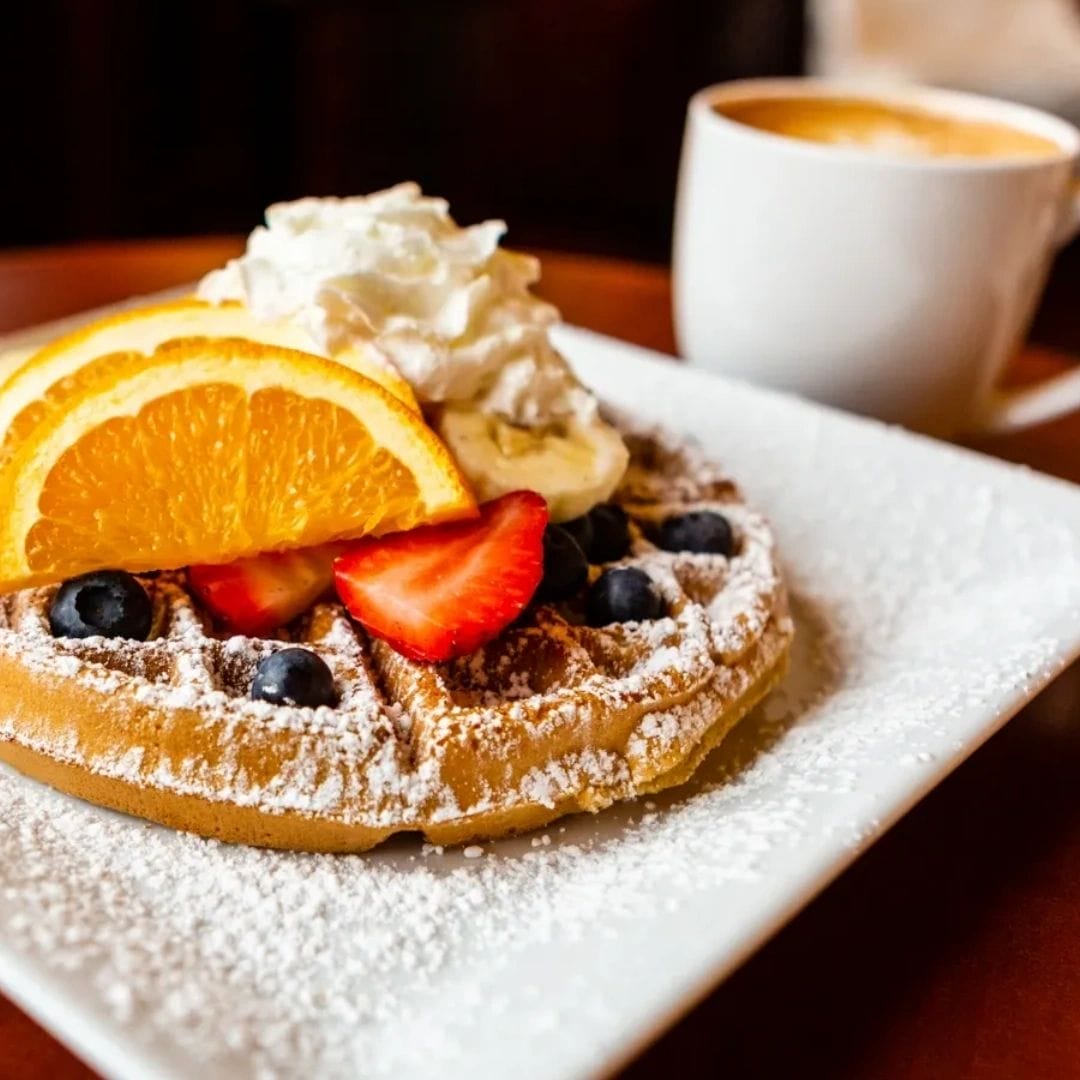 You can't beat a great cup of coffee, particularly one served in a historic building with great views.
If that sounds right up your street, head to Cape Charles Coffee House!
If you're passing, head there to enjoy your morning brew in the art deco building built in 1910.
They're also renowned for serving one of the best breakfasts in town, so make this your first stop before a day of Cape Charles sightseeing!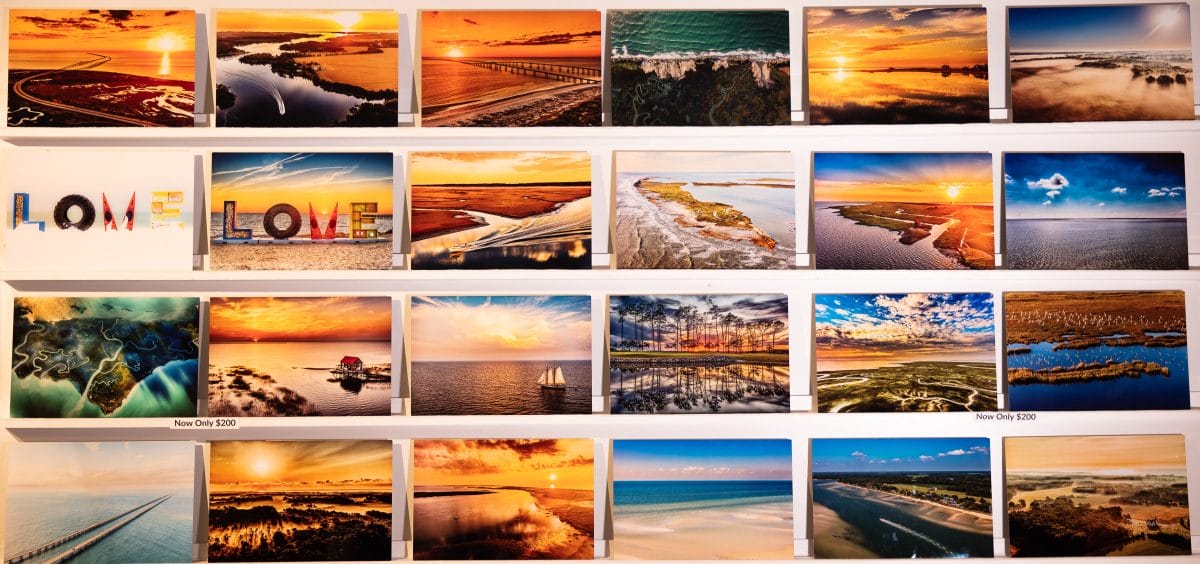 It's no secret that Cape Charles is in a gorgeous location on the Eastern Shore.
The natural landscapes, wildlife, and scenery inspire artists who work in all mediums.
Gordon Campbell creates intriguing photographs, unique in their composition – he shoots from a bird's eye view!
So, unless you're into skydiving, a visit to Altitude Gallery is the only way to see Cape Charles from every angle!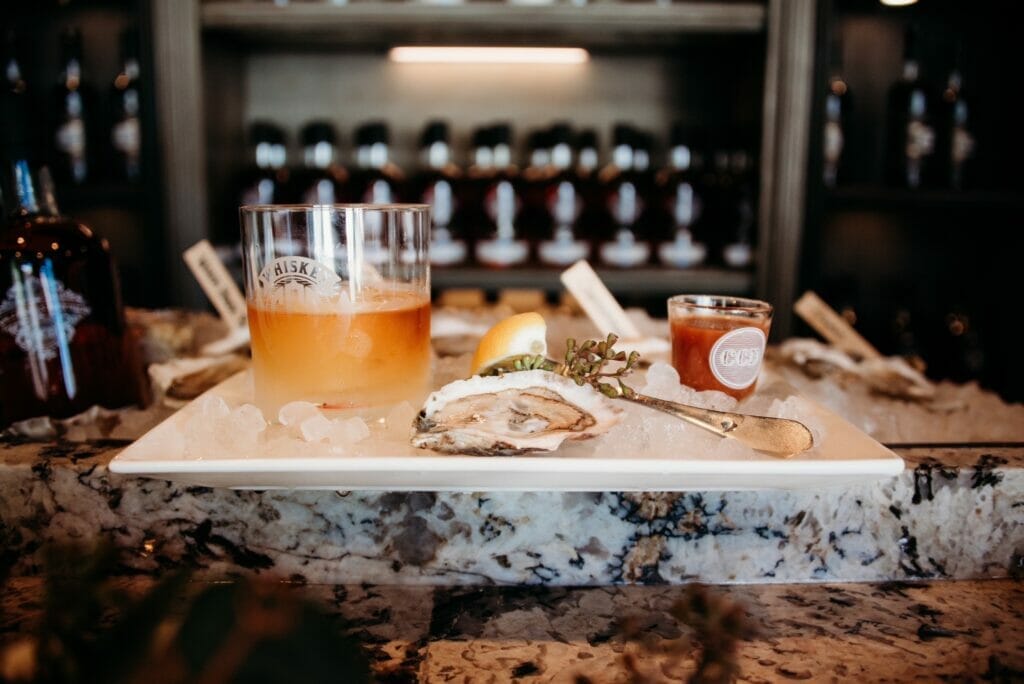 'Local' is quite the buzzword for Cape Charles businesses, and Cape Charles Distillery is no exception to this!
They take their inspiration from the local vistas, and all of their ingredients are locally sourced.
That means that the bourbon, whiskey, vodka, and moonshine you sample on your visit will be as local as can be!
The straight spirits are delicious, but we recommend trying the Maple Whiskey – a blend of aged whiskey and Amish maple syrup. Delicious!
Head to Smith Island to visit one of the top things to see near Cape Charles.
There has been a lighthouse on this spot since 1828, and this one was built in 1864.
The Cape Charles Lighthouse is the tallest in Virginia and the second-tallest in the US!
The skeleton-style lighthouse is a prominent feature on the Cape Charles skyline, and though you can't go inside it's well worth a visit!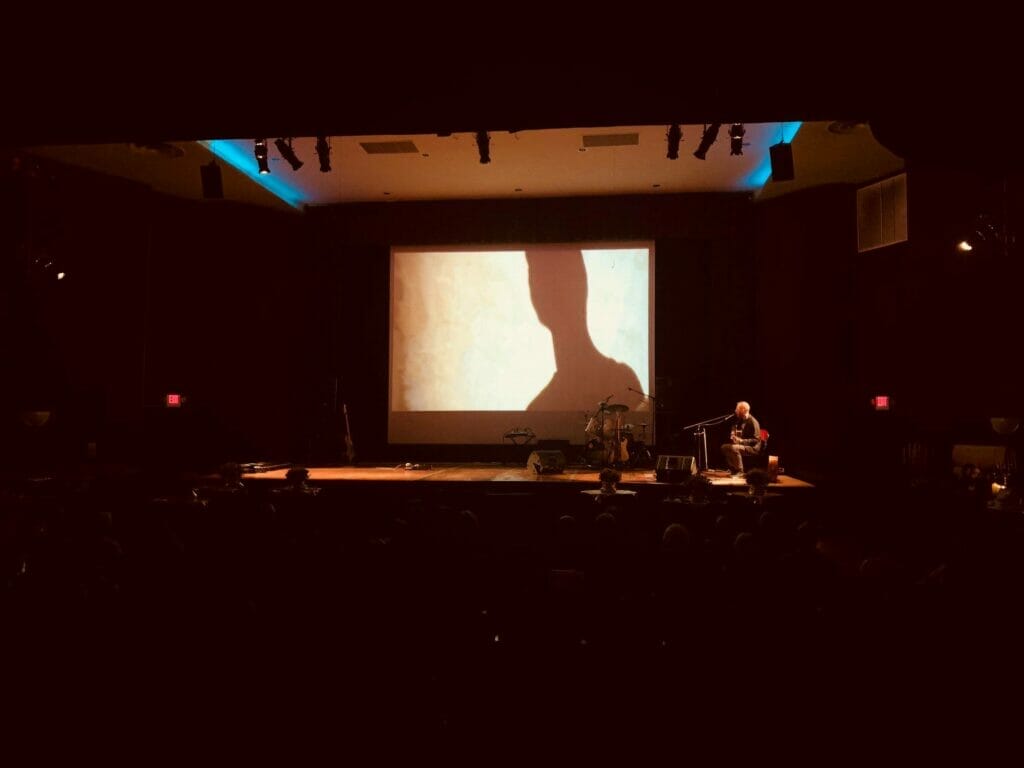 Visit this stunning example of art deco architecture for a great night out during your Cape Charles trip!
Built in the town's heyday, The Palace Theatre was a hub of entertainment but fell into disrepair as the town's star faded.
However, since 1997 the Palace has been lovingly restored and has now reclaimed its rightful place in the town's heart.
The Palace now screens indie films and has visiting Broadway shows on tour!
One thing that small towns are famous for is their community events.
From spring flings to harvest festivals, we love an excuse for a town party!
Cape Charles has an awesome Winter Wonderland, so if your visit coincides with the holiday season, you're in luck!
With carriage and hay rides, a bounce house, and lots of traditional games, your family will love the festive atmosphere!
Plus, kids will be delighted to see a certain jolly fellow with a red hat and a big white beard!
Very kind of him to take time out of his busy schedule to visit Cape Charles!
23. Visit the LOVE sign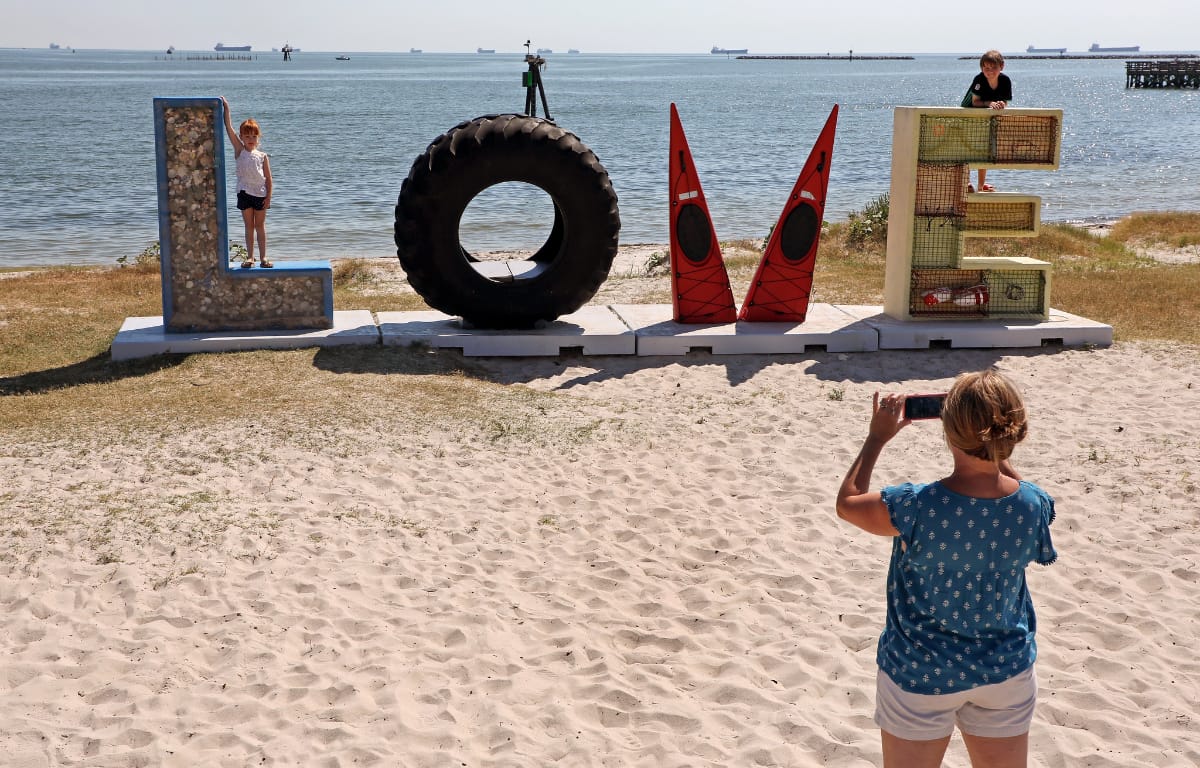 We love the LOVEworks signs scattered around Virginia!
As well as having a great sentiment, they are fabulous works of art too.
The Cape Charles sign on the beach has a stunning backdrop looking out over the bay and has been made with materials that sum up what Cape Charles is all about.
The 'L' is made with sea glass and shells.
The 'O' is a repurposed tractor tire.
The 'V' is two kayaks.
And the 'E' is made of crab pots.
24. Little Free Libraries
Have you heard of the Little Free Libraries?
They're book-sharing boxes in communities across the US!
There are three in Cape Charles (hint: one is close to the beach), so why not make finding them into a game for your family?
Finish with the beach box, and then you can all read your new finds on the sand!
25. Take a carriage ride
If romance is in the air or if you want to step back in time, take a carriage ride through Cape Charles's historic district!
Believe it or not, it's actually a cab service, and as far as quirky local Cape Charles things to do go this is top of the list.
Kids will love it too!
Want more of our Virginia guides? Check these out!
Get the All-American Travel Secrets!
Don't miss out on America's hidden gems!